If you travel a lot with your baby, your search for the best travel stroller is likely to boil down to Delta Clutch vs GB Pockit.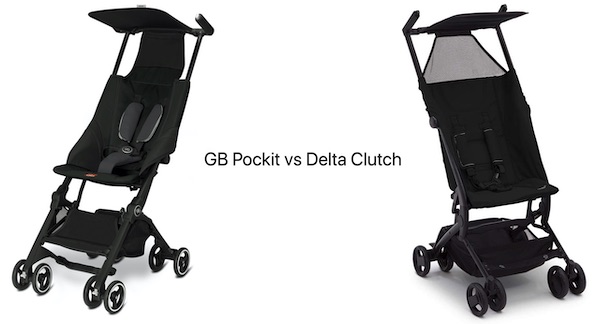 These two are among the most compact strollers out there. The fact that they fit easily in pretty much any airplane's overhead compartment explains why they are a top choice for most parents and guardians today.
As you probably know by now, the Delta Clutch and GB Pockit are very similar in design. Both of them seem high quality and are incredibly functional too. And this is what makes it challenging to decide between them. So, join me as we compare the Delta Clutch and the GB Pockit strollers side by side and find out which model fits your needs.
GB Pockit Stroller Review
Let me start by saying that the GB Pockit is a unique lightweight stroller, nothing like other strollers on the market. It has a capacity of 55 lbs, just like most regular strollers, and can be used with both toddlers and big kids (full list here).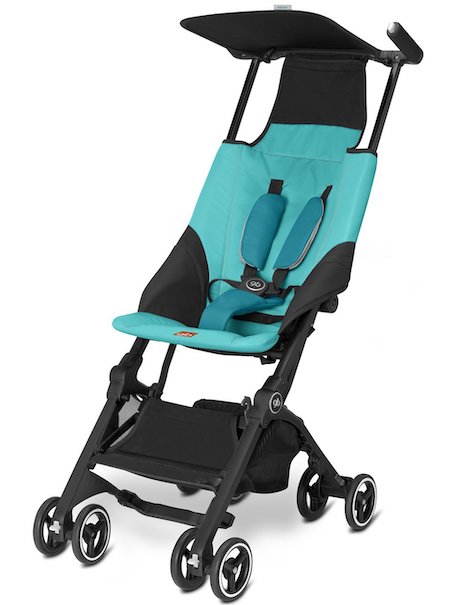 However, although it has a regular stroller seat with an adjustable 5-point harness, you'll realize that its backrest is not as heavily padded, and it does not recline. That's why the manufacturer recommends it for riders from 6 months. On the positive note, the backrest is long enough to accommodate tall, older kids.
The GB Pockit has a flat hood for a canopy. This sunshade only adds to the overall style of the stroller. It doesn't protect the baby from the sun as such, especially on from sides and front.
The storage space beneath the seat is quite small at 11 lbs. However, this compact design pays off in giving the GB Pockit an incredibly tiny fold of around 11.8″ x 7″ x 13.8″. Actually, it's the smallest folded stroller EVER! It meets carry-on regulations on (probably) all airlines. This stroller is the lightest you'll ever come across, too, at 9.5 lbs only.
Read more about GB Pockit in my full review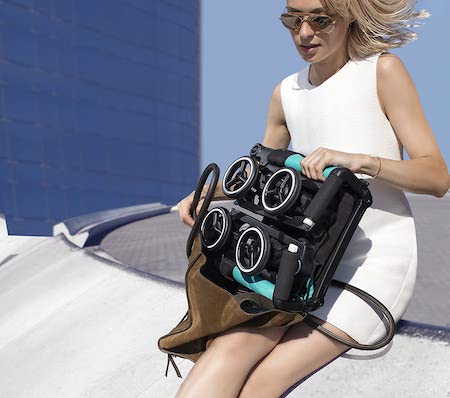 Delta Clutch Stroller Review
The Clutch stroller by Delta Children is an incredibly popular among parents looking for the best stroller for travel. It uses a regular stroller seat with a manufacturer-recommended weight capacity of 50 pounds. This seat is not adjustable, and its back support is not at 90 degrees, so it's best used with kids who can comfortably sit upright by themselves whenever they want to.
This stroller uses a 5-point harness system and doesn't have a footrest. It also has a sort of a sun visor that offers a bit of shade from the overhead sun.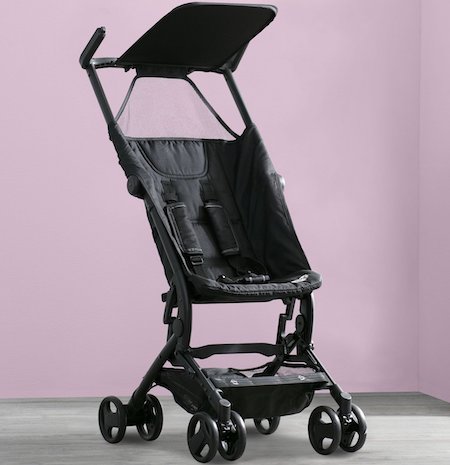 All of its 5.5-inch wheels have a dual-wheel configuration, and they are non-pneumatic. Importantly, the front wheels have suspension to flatten any bumps as well as a full-swivel mechanism for easy maneuverability.
The major selling highlights of Delta Clutch stroller are its 2-second fold and compact size. When fully folded, this stroller measures 19.7″ by 15″ by 5.9″. This size makes it possible to fit it in a zippered carry bag that it comes with. It meets carry-on standards on many airlines. And as it weighs only 11.7 pounds, you won't have any problems with lifting and carrying it.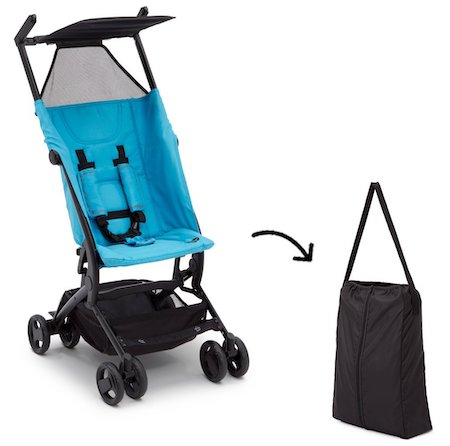 GB Pockit vs Delta Clutch: Similarities
Let's start with the features that these two lightweight strollers share.
Slim Design
These two strollers are engineered with city life and frequent travels in mind as their slim design depicts. When open, the GB Pockit measures 28″ by 17.5″ by 39.8″ while the Delta Clutch comes in at 29.5″ x 18.5″ x 39.8″. The difference is almost insignificant.
In my experience with strollers, I bet this is about the narrowest that they can get. This is a perfect size for a stroller that lets you slide breezily in crowded malls or airports and through narrow grocery stores or restaurant doors. Also, these two strollers are allowed in Disneyland and Disney World by far, which is a great relief.
Dual-Wheel Design
Another notable similarity of the GB Pockit and Delta Clutch is their double-wheel configuration. Considering the slim design of these strollers and the maximum weight that they are supposed to accommodate, I believe this is an incredible feature towards boosting the overall stability of the stroller.

Note that these are 'forever' foam tires and will never need to be inflated at any given time. Also, there's no chance that you'll ever have a flat tire that would need some repairs. This is a good thing for a stroller that is meant for travel.
Another essential feature to point out here is that both of these strollers' front wheels have a full swinging mechanism for excellent maneuverability. Also, you can lock them into one position when the terrain dictates so.
Similar Weight Limit
The GB Pockit and The Clutch stroller by Delta Children have almost the same maximum weight limits of 55 lbs and 50 lbs, respectively. Both of them also have slightly slanted non-adjustable regular seats that make them only usable by passengers from 6 months. It's very important that you adhere to these figures when purchasing either of these strollers as they greatly determine the levels of comfort and safety that the rider gets.
GB Pockit vs Delta Clutch: Differences
Although the design of these two strollers is very similar, they also differ in many ways. Here are the most important differences between The Pockit and The Clutch.
Size & Fold
This is the area that these two strollers are super focused on. The Clutch and The Pockit are among the most compact in the world today. However, a side by side comparison of Delta Clutch vs GB Pockit will reveal that the latter is slightly smaller both when opened and when folded.
The difference is by a few inches only, and I would consider it negligible for my needs. All in all, if you are after the smallest stroller of the two, the Pockit is going to interest you. The Clutch by Delta Children makes up for this by including a carry bag that makes carrying it around even easier, though.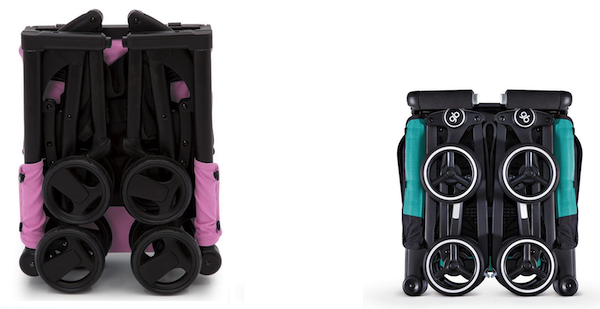 Both of them take only a few seconds and several steps to fold. The Clutch stroller has bigger fold than GB Pockit, although it's still very, very compact. Many airlines will allow you to take it as carry on (you should consult this with your airline just to be sure). Folded GB Pockit is the world's smallest stroller! Thanks to its compact size, you won't be needing to gate-check it at the airport as it can easily fit in (probably) all airplanes' overhead compartment.
If you often travel by train or bus, or have a small car, you'll appreciate the compact fold size of these strollers too. However, if you want a smaller stroller, that is accepted as carry-on by more airlines – GB Pockit will be better choice.
Weight
At 11.7 pounds, the Delta Clutch is already in the realm of the best lightweight strollers. But the Pockit is even lighter at 9.5 pounds. Does the 2-pound difference really matter? Not much, in my opinion. However, I imagine it might make a lot of difference for other traveling parents, especially when there's a need to travel as light as possible. So again, the GB Pockit is the winner here.
If you're looking for a stroller for older child, who will only sometimes ride in it, and you'll be often carrying the stroller on your shoulder, then it's also best to pick the lighter one.
Stability
Safety is key when taking your baby out on a stroller. While there are lots of other things that come into play here, stability is hands down one of the most important. Now, both of these strollers are well made and are very easy to push even with one hand. However, because of the lighter design, GB Pockit sometimes wiggles a bit, especially with more weight, and on uneven terrain. While it doesn't feel like it might collapse, you and the passenger might feel the shocks.
The Clutch stroller seems to be a bit less wobbly. It's still not recommendable for bumpy terrain, but with heavier passenger it feels slightly more sturdy. That being said, the Delta Clutch is the winner on this front.
Sunshade
Both of these strollers have a flat hood that I wouldn't call a canopy at least compared to what you find on standard stroller. All in all, that of the Delta Clutch is a few inches longer. Although both of them don't do much to protect the rider from sun rays coming directly from the front and sides, the Clutch's sunshade will do a slightly better job at keeping overhead rays at bay.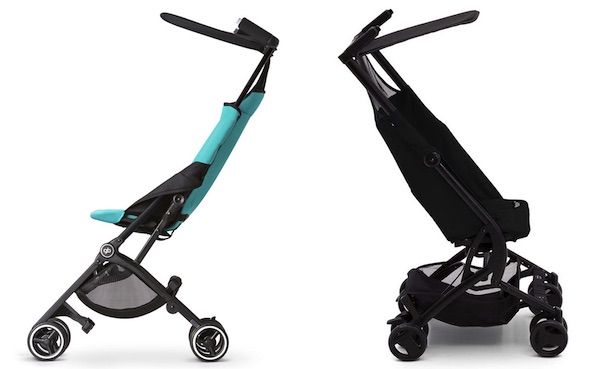 Wheels & Maneuverability
Another important aspect when analyzing the differences between Delta Clutch and GB Pockit is the ease of pushing.
Generally, both of these strollers are killers here, and they receive a lot of praise for allowing one-hand pushing even around corners. But the Delta Clutch has slightly larger wheels, which, when coupled with its overall better stability, makes its rides much smoother. This is a critical selling point, especially if you're buying it for a heavy 4-6-year old kid.
However, none of these strollers was designed for uneven terrain. As the wheels are small, you will feel the cracks and bumps on the handlebar, and the stroller may wiggle, especially on rough terrain.
Whether you choose The GB Pockit or The Clutch stroller, stick to flat, smooth surfaces.
What Other Parents Think About The GB Pockit & Delta Clutch
When comparing Delta Clutch vs GB Pockit, I also considered going through other parents' feedback on each of these strollers.
GB Pockit Stroller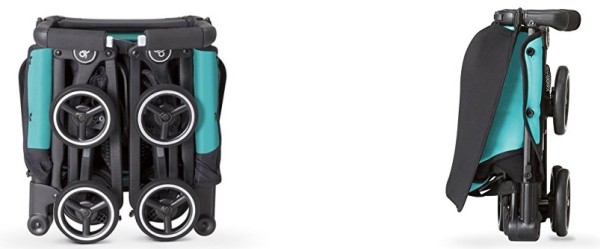 Going through GB Pockit reviews on Amazon, most parents seem to appreciate this stroller's compact size a lot. Of course, this is to be expected for a stroller that boasts the Guinness World Record for tiniest fold. Among other things, current users appreciate that this stroller's compact size makes it super easy to hop into cabs, trains, and trams. The convenience of fitting nicely in almost all planes' compartments is a game-changer.
A few parents report that they doubted whether the seat would be comfortable for their kids, considering that it is not adjustable. But as it turned out, most 6+ months kids seem to appreciate it to the extent of napping during the rides.
One of the things that I saw a few parents pointing out is its tendency to wiggle on beaten cobblestone pavements and gravel. But this does not necessarily render it unusable according to them. I would recommend using this stroller on smooth terrains, accordingly to its purpose.
The tiny sunshade has also received a lot of criticism, most parents note that it is almost useless a lot of the time.
A few parents also say that a carry bag would make an incredible addition to its overall usability too. However, others note that this would only add an unnecessary step when folding and unfolding the stroller. Instead of getting a bag, several parents recommend purchasing a pair of shoulder straps that you would leave on the handles.
Delta Clutch Stroller
Most The Clutch stroller reviews and feedback from current users are line with what I expected. A good percentage of its current users appreciate that it pushes easily, even with one hand.

Its ease of folding and unfolding has also received a lot of praise, and so has its zippered carry bag. On the same note, most users like that this stroller comes fully assembled right out of the box.
Switching gear to its not-so-good side, most buyers point out that the canopy is utterly useless.
A few of them also note that the basket is quite small too, although they say it's a tradeoff for having such a light and small stroller.
I came across a parent, pointing out that the stroller tends to get wobbly on more bumpy terrain, and as the child gains weight and height. But this complaint wasn't as common compared to what I saw with the GB Pockit.
Delta Clutch Stroller vs GB Pockit – Conclusion: Is The Original Still The Best Option?
Well, this is a difficult one. However, having gone through this comparison, it's easy to gravitate more towards one or the other, depending on which features are most important to you. If you're looking for a sturdy stroller for bigger and heavier child, The Clutch stroller seems to be the right choice.
Also, the fact that it comes with a carry bag for easy carrying when the stroller isn't in use means that you won't need to spend extra money on this accessory. Even better, you might want to purchase this stroller if you're looking to put your hands on an affordable travel stroller.
On the other hand, if space is at a premium in your apartment and you want a stroller that saves as much space as possible, the GB Pockit is the way to go. It's also the best choice for frequent air travels with a child. This stroller is around 2 pounds lighter too. These two pounds could be a game-changer when grabbing taxis and trains and when going through the airport. If you already know that you'll be carrying this stroller a lot (in a bag on your shoulder or in a backpack), you'll appreciate its ultra-lightweight design.
Keep in mind that the GB Pockit does not include a carry bag or straps, so you'll need to purchase these separately, which makes the whole purchase a bit more expensive. Regarding the issue of stability, I don't think that this is something to worry about, especially if you're going to use your stroller on pavements.
---
Pictures of GB Pockit belong to GB
Pictures of Delta Clutch belong to Delta Children