GB Pockit is probably the most famous lightweight stroller. Its innovative, revolutionary feature – smallest fold in the World – was an inspiration for other baby stroller brands.
Of course folding size in not everything. So what other features does GB Pockit have? What about its performance, maneuverability and riding comfort?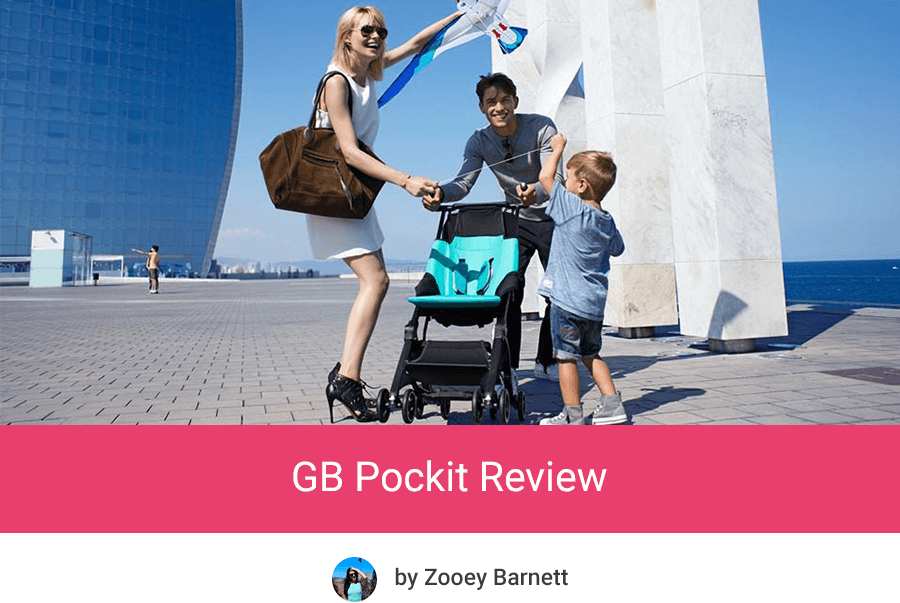 This article contains affiliate links.
I'm sure many of you wonder why so many parents love this stroller. How does this small and light stroller work on cracked sidewalks or in park? Are the wheels durable? And is the seat comfortable enough?
I will try to answer these and many more questions you might have so you could decide whether GB Pockit is the right stroller for you and your baby.
Stroller
Weight
Verdict

GB PockitCheck It On Amazon

Type: Lightweight Stroller

Weight: 9.5 lbs

Capacity: 55 lbs
LittleBabyGear Verdict:



Great stroller for toddlers and bigger kids, perfect for parents who often travel by plane or car and use public transportation
Psst! You may also want to check the newest model – GB Pockit Plus which is finally on the market. It has bigger canopy, reclining seat and can be used with a carrycot or car seat! Check it here.
GB Pockit Review – Features
If you often travel or like to go to the mall with your baby, compact and light stroller can definitely make your life easier. But a good stroller is not only small, lightweight and portable, right? It has to be strong to hold your baby securely. It has to be comfortable for you and your baby so you could both enjoy strolling and exploring the World.
Let's take a look at all GB Pockit features. What can this stroller offer parents, except for the World's tiniest fold?
Seat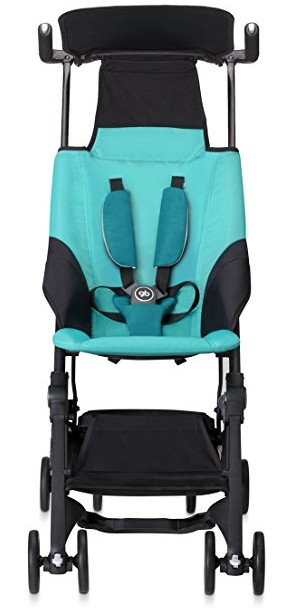 GB Pockit has a regular toddler seat that is suitable from 6 months. The back of the seat is not very thick, therefore it's suitable only for child who can sit unassisted and hold his head up.
Weight capacity is 55 lbs, and since the backrest is quite long (about 24 inches) and has adjustable torso length, this stroller is also suitable for tall toddler or older kid. I've read dozens of customer reviews and found out that many parents use this stroller for 4-year-old or even 5-year-old kids (find out more).
The seat doesn't recline so unless you're baby can sleep in sitting position, it won't be good for naps on-the-go. Some parents complain about the lack of reclining backrest, so before you buy this stroller make sure it's not a problem for you.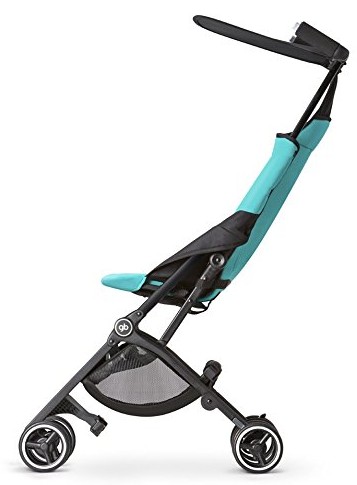 Keep in mind that the backrest is not fully upright either (it's not 90 degree angle). So if you have a very curious toddler who likes to sit straight, I'm not sure this seat will be comfortable for him. There is no calf rest or footrest either.
The seat is equipped with adjustable 5-point harness. You can fasten or loosen the straps and set them at different height as your child grows. The crotch strap and shoulder straps have nicely padded covers for the baby's comfort.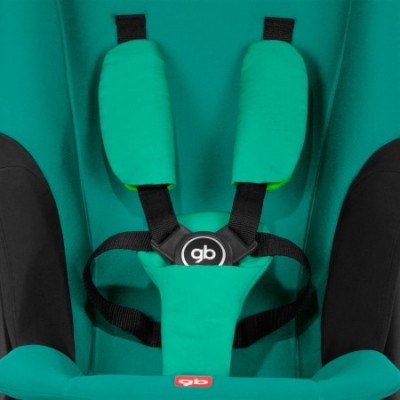 The whole seat is also very well padded and soft to the touch. You can also easily remove the fabric and throw into the washing machine. It's a big advantage.
Canopy
GB Pockit has very small canopy. It is just a flat hood over child's head. It doesn't protect the baby from the sun from the front and both sides either. This is the main parents complain about GB Pockit (read more).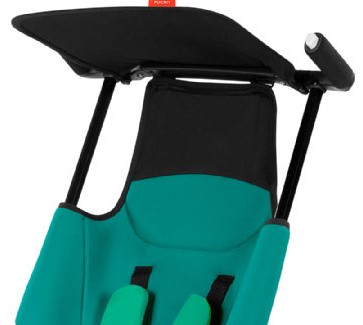 As you can see, the seat and canopy on GB Pockit are not ideal, they have some drawbacks. Remember that it is a travel lightweight stroller so the lack of several features is a trade-off for ultra-light and compact construction.
Keep in mind that the new model – GB Pockit Plus features reclining seat and bigger, rounded canopy that provides better shade from the sun. You can read my full review to find out more about this stroller features. GB Pockit Plus is already on the market and you can check its price and available colors here.
Wheels
GB Pockit has four dual wheels. They are really small – about 4.5″. However they are more durable than they look!
Front wheels swivel 360° which makes the stroller really nimble and easy to maneuver. You can also lock those wheels to increase stroller stability which is very useful on uneven terrain.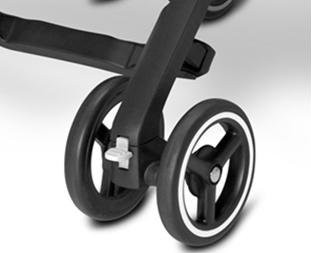 Keep in mind that GB Pockit doesn't have suspension therefore there's no shock-absorption. I don't recommend taking it on rough terrain. It's designed for flat surfaces and indoor use, so it's not perfect for cobblestone or gravel. It does handle cracked sidewalks and hard-packed dirt trails pretty well (it bounces only a little bit), but that's it.
Brake
There is a rear wheel parking brake, operated by foot. The pedal is placed between right rear wheels. It is small so it may be hard to set and release, especially in sandals or flip flops. I know that some parents do it by hand. I wish the brake pedal was bigger and more user-friendly.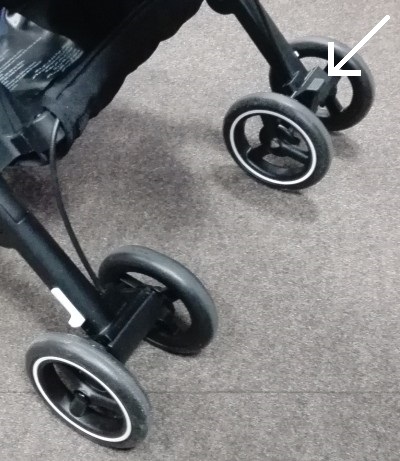 Handles
This lightweight stroller doesn't have one handlebar, instead there are two handles that allow for one-hand pushing. GB Pockit is very easy to steer and turn. However, pushing is convenient only for short and average in height parents. I've read that people over 6ft tall find the handles too low and they have to hunch over the stroller.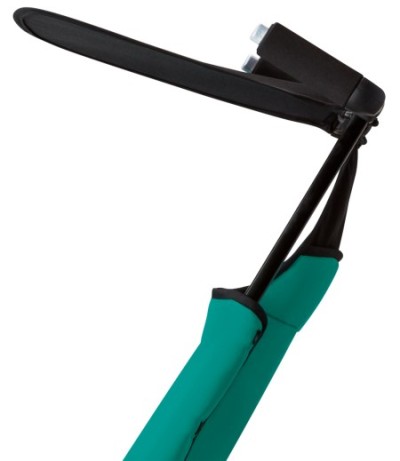 The height of the handles is not adjustable therefore if you're very tall this stroller may be less comfortable for you to push.
Storage Space
This is a lightweight stroller for travel so we can't expect it to have huge storage basket. The bin underneath the seat is small, but it has aweight capacity of 11 lbs. It can accommodate small diaper bag or small baby backpack. Moreover it is very easily accessible from the back and front.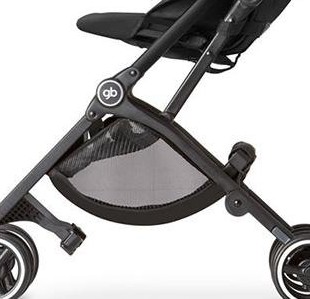 Size, Weight & Fold
This is the biggest advantage of GB Pockit and probably every parent knows already how tiny this stroller is.
Small size makes it perfect for trips to the mall and very easy to navigate through tight and crowded places. Fitting through narrow aisles in grocery stores or between tables in restaurants won't be a problem for GB Pockit.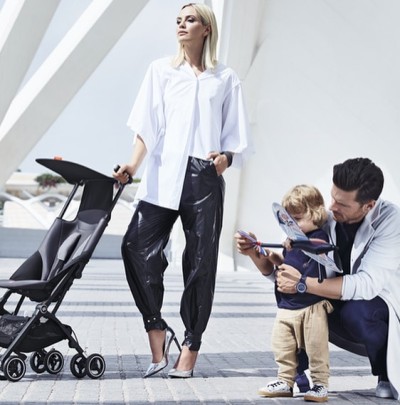 Moreover this stroller is light as a feather thanks to aluminum frame. It weighs only 9.5 lbs which is literally incredible! My purse is usually heavier than this! Such a lightweight stroller is very easy to carry up and down the stairs. You can even carry it around when you're baby is not using it – without any effort. Although it is so light, it's still very durable and strong. Amazing!
Fold size is the feature that make GB Pockit so special and so famous. It folds down into an ultra-compact package. Its folded dimensions are: 11.8″ x 7″ x 13.8″ which is unbelievable tiny. It is 2014 Guiness World Records most compact stroller!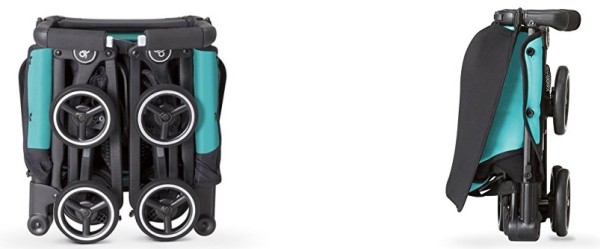 How to fold the GB Pockit? First you need to fold the canopy away and lock the front wheels. Then you need to fold the rear wheels by using the while lever above each wheel. Then you just have to press two white buttons one the handles and push the whole stroller down. When the stroller is closed you need to fold the wheels inwards and lock the whole package manually.
You can see the whole process in the video below. It's actually quite easy when you get used to it. Unfolding is even more simple.
Such a simple and tiny fold and small weight are very useful especially if you have a toddler who already can walk and only sometimes wants to ride in a stroller. You can fold GB Pockit when your child prefers to walk and simply throw it into your handbag or travel bag and carry on a shoulder effortlessly.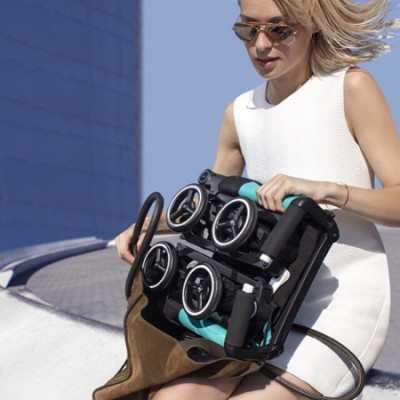 Moreover thanks to such a tiny fold size GB Pockit is perfect for parents who often travel by plane. It fits in overhead compartment and even underneath the seat on an airplane!
It's also great solution for those who often use the public transportation, have a small car and/or small apartment. It's super easy to store and transport.
Pros & Cons
Pros
Cons

Pros

---

+ Ultra-compact fold – perfect for parents who travel with their child by plane/ car/ train and use public transportation

+ Easy to store even at small apartment and in a small car

+ Very lightweight – you can carry it in your handbag effortlessly

+ Suitable for older kids (even 6 y.o.!)

+ Removable and machine-washable seat fabric

+ Slim and compact construction – perfect for narrow and crowded places like the mall, restaurants or Disneyland

+ Storage basket is easy to access

+ Easy, quick fold

+ Handles are very comfortable for short and average parents and allow for one-hand pushing

Cons

---

- Rather useless canopy – it doesn't cover the baby from the sun and it's very flimsy (often blows back)

- Seat doesn't recline

- Folding and unfolding takes some practice, it's a bit difficult at the beginning

- Small wheels are suitable mainly for flat terrain

- Handles are too low for tall parents (over 6ft tall)
What other parent think about GB Pockit?
You probably won't be surprised if I tell you that GB Pockit is one of the most popular strollers available on the market right now. It has been a best-selling lightweight stroller for a very long time, no wonder it has hundreds of customer reviews on Amazon (you can check the current number of reviews and overall rating here).
Parents must really love the original GB Pockit – last time I checked it was really highly-rated by the customers.
Here are the things that parents praise most often and the drawbacks they mention.
Compact fold is the biggest advantage of this stroller. It makes travel with baby much more easy. You can even take it on the plane as a carry-on, since it fits in overhead compartment and under the seat. This space-save is perfect for parents who have small apartment and/or small car.
Moreover, it doesn't take up much space when open either – it's a perfect companionship for shopping at the mall or going to the restaurants, museum etc. It's easy to navigate through crowds which is a big plus.
According to many parents this stroller is very durable and more sturdy than it looks (although it's not as strong as BOB joggers, which is obvious).
Another advantage is the removable seat fabric which is also machine-washable. Moreover this fabric is comfy and durable.
Although the basket underneath the seat is rather small, it can accommodate child's small backpack or a small bag. It's also easy to access from the front and back. Folding and unfolding takes some practice and gets easier when you get used to it.
The seat is roomy enough to accommodate even a 5 or 6-year-old child and many parents recommend it for toddlers or preschoolers who can walk, but sometimes like to ride in a stroller (especially on long-distance walks). It's a perfect solution during travels and trips to Disneyland. Big asset of the GB Pockit is that it's a great stroller for older kids and tall toddlers.
Parents don't complain about the wheels as much as you could expect. Of course they work best on the flat surfaces, but they can also handle hard-packed dirt roads and bricks. They are more wobbly on cobblestone or gravel. Lots of parents emphasize this is a travel stroller so you can't expend as cushioned ride as the jogging strollers provide, but GB Pockit gets the job done!
There are two main disadvantages that parents mention. First of all, the backrest doesn't recline at all. Customers also complain about the canopy – it is small and ineffective. It usually blows back, even in the slightest wind. Another small drawbacks are: lack of the travel back and shoulder strap.
If you want to read more reviews written by parents who own the GB Pockit – just click here.
Specification
| Stroller | Data |
| --- | --- |
| Stroller Type | Lightweight |
| Stroller Weight | 9.5 lbs |
| Weight Limit | 55 lbs |
| Stroller Dimensions | 28" x 17.5" x 39.8" (L x W x H) |
| Fold Dimensions | 11.8" x 7.1" x 13.8" (L x W x H) |
| Handlebar Height | 39" |
| Wheel Size | 4.5" |
Colors
Originally GB Pockit Lightweight Stroller was available in 6 color versions: Capri Blue, Dragonfire Red, Lizard Khaki, Monument Black, Posh Pink and Sea Port Blue. However there are new colors in 2018 collection: Laguna Blue, Sapphire Blue, Silver Fox Grey, Cherry Red and Satin Black (the same colors are available for the new Pockit+ stroller).
The availability and price may vary for each color so don't forget to check it, for example on Amazon.
Accessories
Image
Description
GB Pockit Travel Bag

– Very useful accessory that makes travel with Pockit more easy. It's also perfect for storing the stroller at home or in car. This travel bag matches GB Pockit dimensions perfectly.

GB Pockit Footmuff

– For chilly winter days you can add to your GB Pockit a cozy footmuff. It will protect your baby from cold, wind and snow. It's so warm and soft, you can be sure your kid will love it! The fabric and plastic insert make it very easy to clean.
GB Pockit vs GB Pockit Plus – Comparison
In February 2018 the new GB Pockit+ was released on the market. These two strollers have few similar features but there are also significant differences. GB Pockit Plus has all the features that the original GB Pockit lacked.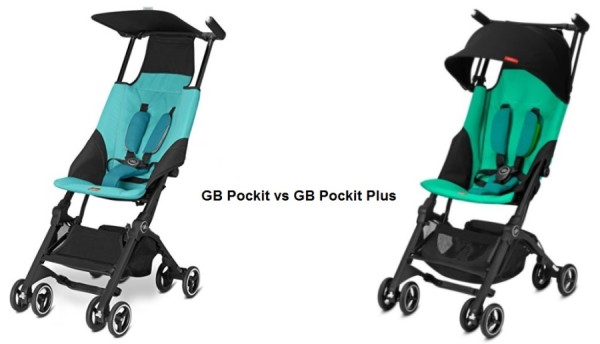 Seat: Many parents complain about the lack of reclining backrest on the original GB Pockit. The new model – GB Pockit Plus reclines to provide the baby with more comfortable ride.
Canopy: Lots of customers think the canopy on GB Pockit is useless as it doesn't protect the baby from the sun and wind at all. The upgraded model has bigger rounded canopy that gives the baby more shade from the sun.
Seating options for newborns: GB Pockit is suitable only for babies who can sit unassisted and it cannot be used from birth. On the other hand, GB Pockit Plus is compatible with GB and Cybex car seats (with proper adapters) and can be used from birth with a carrycot attached to the frame.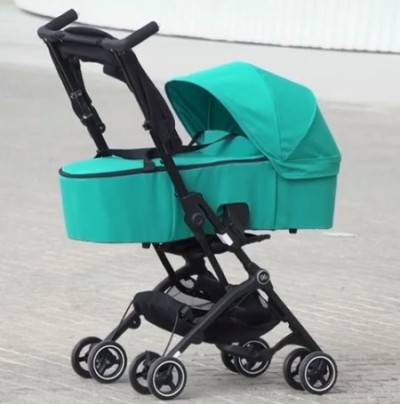 Weight & Size: The GB Pockit+ is about 3 lbs heavier, 1" wider and 0.5" higher than the original model.
Fold: Folding mechanism has stayed the same, but the folded dimensions has changed a bit. GB Pockit Plus folded dimensions are: 12.5″ x 7.8″ x 14.9″, in contrast to the older model dimensions: 11.8″ x 7.1″ x 13.8″. It's only a slight difference and the GB Pockit+ is still the most compact stroller in the World.
You can learn more about GB Pockit Plus in my full review or you can already check its price.
Keep in mind
The seat is suitable only for a child that has developed neck and head control. Moreover, there is no suspension so the stroller jiggles on more bumpy terrain.
3 Reasons Why You Will Love GB Pockit
1. It is great solution for parents who live in a small apartment and don't have a lot of free space.
2. Thanks to the tiniest fold in the World you can take it as a carry-on on the plane. No more waiting for the stroller after landing and no more worrying if it gets broken as a gate-checked luggage.
3. It's a long-term investments and can serve you as a stroller for big kid. You can use it for a preschooler who sometimes gets tires on long distances or a child with a medical condition. It's great for day trips for example to the zoo or Disneyland.
If this stroller doesn't meet your needs, check out my ranking of the best lightweight strollers for 2020. You can find there other awesome strollers that are compact and portable.
---
All pictures belong to GB. Source: https://gb-online.com
Your trust is really important to me: This post contains affiliate links. If you choose to buy something using these links, I receive a small commission, at no extra cost to you. Your support helps me run this blog. Thank you so much 🖤 Zooey