Are you curious about the new features and upgrades of the new GB Pockit Plus Stroller? We are all super excited about this new model of GB Pockit+ which will soon hit the stores.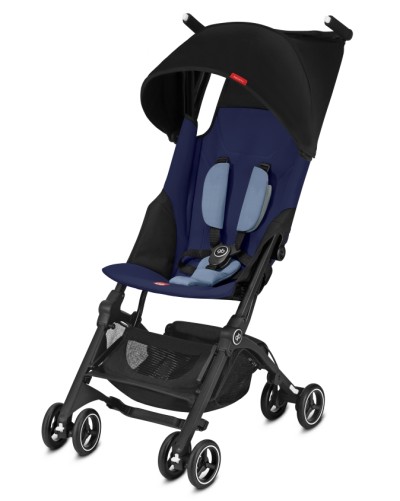 Probably every parent (and future parent) knows Pockit stroller. Through the last two years it was a HIT and definitely a best seller among lightweight travel strollers. Recently the brand announced that there will be new, upgraded model of their iconic stroller and just few weeks ago the new GB Pockit+ was presented at ABC Kids Expo in Las Vegas in October 2017.
Original Pockit was excellent lightweight stroller, designed for parents who are often on the go and travel with their kids, but to be honest it lacks many features that would provide comfort and convenience for parents and children. Although it features light construction and ultra-small fold (that fits in overhead compartment on airplanes), it doesn't have comfortable seat and proper sunshade.
Here you can read more parents' complaints on original GB Pockit
However, the manufacturer has realized (after many parents' requests) that strolling with baby is not only about moving from point A to point B, but it should be also enjoyable and comfortable for the baby and parent! And that's how the new GB Pockit Plus Stroller was created.
GB Pockit Plus – Review
So let's start with the new features that we all have been waiting for! Here's a sneak peek on the upgraded model.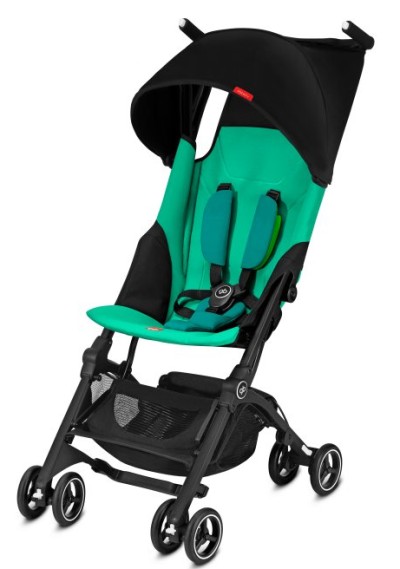 Seat
Lack of reclinable back rest was one of parents' complaints on the previous model of this stroller. The new model has really upgraded and more comfortable seat.
Recline
The new GB Pockit+ has multi-position recline now. Yeey! In the new version there is a strap and zipper on the back rest which allow to recline the seat.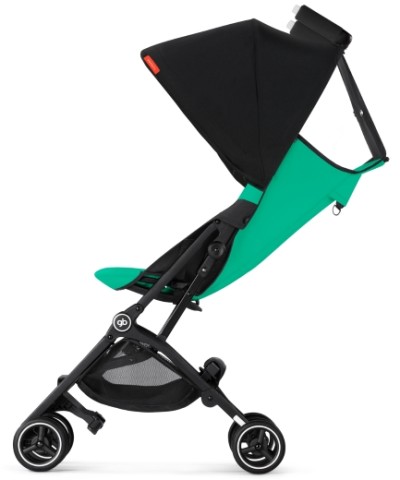 It doesn't go all the way down, but as for such a small travel stroller, it's sufficient. The recline is low enough for comfortable nap on-the-go.
Size
The second improvement of the seat is its size. GB Pockit Plus has wider and deeper seat than the older model. It's really great because thanks to it this stroller can accommodate older and bigger children!
I've read many parents reviews of original GB Pockit and I found out that some parents use it even for 5 or 6-year-old children. Now, thanks to more roomy seat preschoolers can feel even more comfortable and even older children can fit in GB Pockit+.
Here you can read more reviews written by other parents
Fabric
Third thing is the seat padding – there is an upgraded neoprene fabric which is really soft and comfy.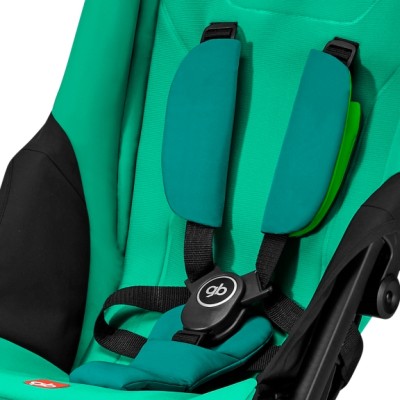 Options for newborns
Original Pockit is suitable only from 6 months, when the baby can sit unassisted and can't be used for newborns. However, the new model has two options that allow parents to use it for newborns.
GB Pockit Plus – infant car seats compatibility
First of all, GB Pockit Plus is compatible with GB and Cybex infant car seats (with special adapters – sold separately).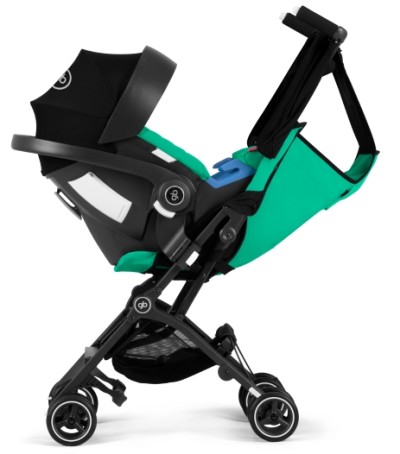 Parents can easily turn this stroller into a travel system and use it from birth. Thanks to this features GB Pockit Plus can be actually the only stroller parents will even need (especially if they don't plan long strolls with their newborn baby). Of course the infant car seat need to purchased additionally.
Cot To Go – Carrycot for GB Pockit Plus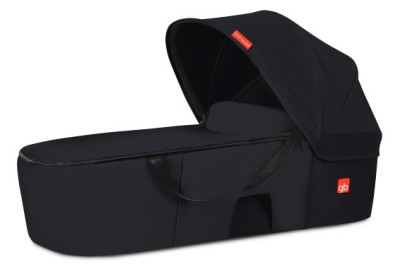 The is also another option to accommodate newborn – a carrycot that can be attached to the frame. This piece of gear is also sold separately.
Cot To Go is perfect option for parents who would like to travel with their newborn baby or infant who cannot sit yet. It weighs only 9.7 lbs.
It's suitable for babies up to 6 months/ 19.8 lbs. It offers completely flat position which properly supports infant's back and head. There is softly padded memory foam mattress. It has also good-sized canopy and apron that together protect little baby from sun and wind.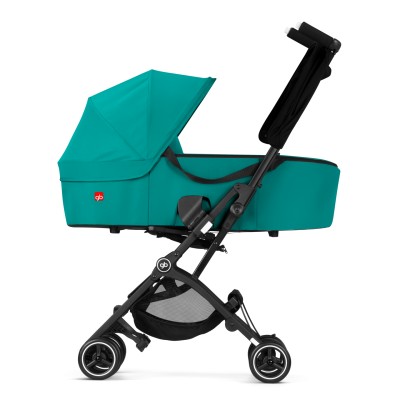 This carrycot has one more great feature – just like the stroller it also folds up into super tiny, compact package which easily fits in mom's handbag or carry-on luggage.Opening and folding takes literally few seconds!
Cot To Go is not only compatible with GB Pockit+, but also Qbit+. It should be available for purchase in December 2017/ January 2018.

That's not all new features!
Canopy
When GB presented their new stroller on ABC Kids Expo 2017 it turned out it has completely different canopy design (although at first the manufacturer wanted to keep the small shade).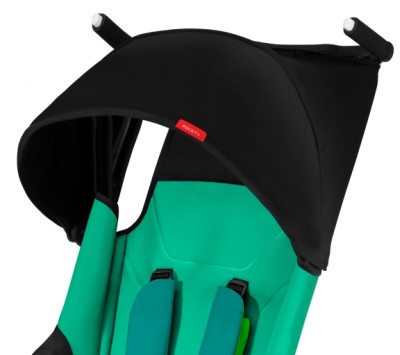 The new GB Pockit Plus stroller has bigger canopy to provide better cover from the sun, rain and wind. It's still not the biggest canopy on the market, but it's significantly bigger than in older model (that one actually doesn't cover baby at all).
The upgraded canopy has rounded shape and at least partially shades the child and the UPF 50+ fabric protects baby from harmful sun rays.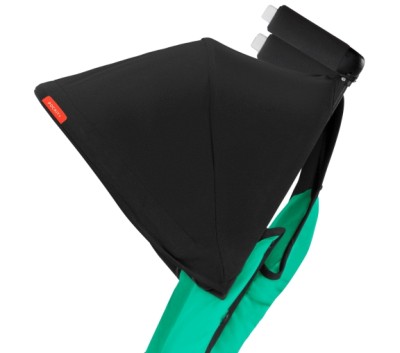 Size and weight
You are probably wondering if the new GB Pockit+ stroller is bigger and heavier because of these new features.
This upgraded model weighs more than original Pockit. The new GB Pockit Plus weight is 13 lbs (instead of 9.5 lbs), so it is a significant change. But it is understandable that the stroller has to be stronger and more robust to hold an infant car seat! However, it is still lightweight stroller, easy to lift and carry.
The size also has change, but don't worry, it's only a slight difference. When the stroller is open it's 1'' wider and 0.5'' higher.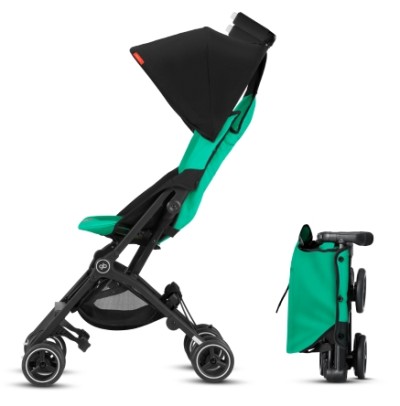 The most important thing is that the folding size has changed only a little bit and the GB Pockit Plus remains the tiniest stroller in the World. Its folded dimensions are: 12.5″ x 7.8″ x 14.9″ (instead of 11.8″ x 7.1″ x 13.8″). You still can bring it on the plane as it folds into small handbag-sized package. 🙂
Other features of GB Pockit+
Apart from these changes, Pockit Plus remains the same.
Folding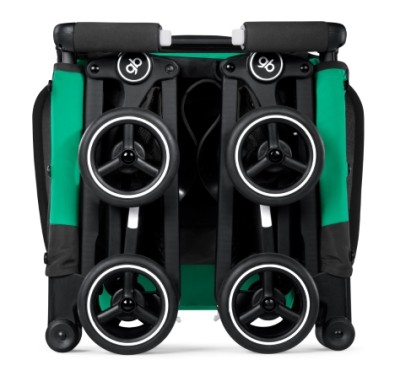 Folding mechanism hasn't changed and the new GB Pockit+ stroller has also an automatic lock. It prevents stroller from opening during storage and transportation. Besides, it stands on its own when folded so you can keep it under the table in a busy restaurant or coffee shop.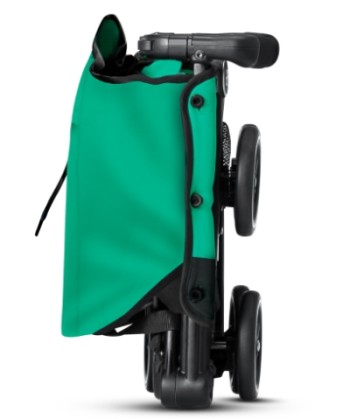 This space-saver is also perfect for parents who have small apartment or car with a small car trunk (besides, this stroller is so small when folded that you can keep it behind the seat or in your bag!).
Wheels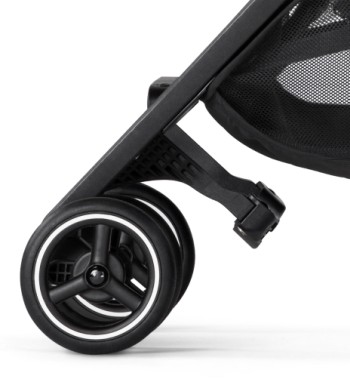 The new model also has swivel front wheels which can be locked for more rough terrain. However keep in mind, that these wheels are less than 5″ so they can handle flat surfaces, but are not suitable for bumpy terrain.
Maneuverability and ease of use
This stroller is so small and easy to maneuver that it can be pushed with one hand! On even terrain it rolls pretty smoothly, but I don't recommend you using it for off-road cruising.
Brakes
GB Pockit+ stroller has small brake pedal placed between rear dual wheels on the right side. Because of the size and location, this brake is pretty difficult to operate, however it's something that parents can get used to.
Storage space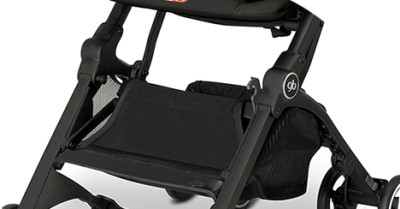 There is a storage bin under the seat which can hold up to 11 lbs, however it's really small so it may accommodate a tiny diaper bag or few baby items put separately (like a blanket, sippy cup, few diapers and some snacks). Good thing about this bin is that it has easy access.
Harness
These is a 3-point no-rethread harness which can be adjusted as the baby grows.
Capacity
The new GB Pockit+ can still accommodate passenger up to 55 lbs.
GB Pockit Plus – Video
Below you can see a video from ABC Kids Expo 2017 in Las Vegas, where GB brand presented three models of Pockit: original Pockit, Pockit+ and Pockit Go.
You're probably wondering what is this third model – Pockit Go. Well, it is the same frame than original Pockit has, but without any fabrics, which serves as just infant car seat carrier. As the baby grows up, parents can buy the fabrics additionally. But you can also buy a Pockit+ which is compatible with infant car seats and comes with the seat and all fabrics.
Comparison: GB Pockit vs GB Pockit Plus
Below you can see the differences between GB Pockit and GB Pockit+.
| | | |
| --- | --- | --- |
| Feature | GB Pockit | GB Pockit+ |
| Seat | No recline | Multi-position recline |
| Suitability for newborns | Not suitable for newborns, not compatible with infant car seats | Compatible with infant car seats and Cot To Got carrycot |
| Canopy | Tiny hood that doesn't give shade | Bigger, rounded canopy that covers the baby |
| Weight | 9.5 lbs | 13 lbs |
| Size (L x W x H) | 28″ x 17.5″ x 39.8″ | 28″ x 18.5″ x 40.3″ |
| Folded dimensions  | 11.8″ x 7.1″ x 13.8″ | 12.5″ x 7.8″ x 14.9″ |
GB Pockit Plus – Release Date
According to the latest information, GB Pockit Plus release date is scheduled for the beginning of 2018 (most likely January).
Although you can find on Amazon GB Pockit Plus, it's not the newest version (it doesn't have upgraded, bigger canopy). The real upgraded GB Pockit Plus Stroller is not available for sale yet. I will keep you posted as soon as this stroller hit the stores. Stay tuned!
In the meantime you can check what parents say about the original GB Pockit on Amazon.
GB Pockit Plus – Review Conclusion
I really can't wait for GB Pockit Plus Stroller. The original Pockit was a best seller, although it is rather minimalist stroller. The new model, which is still super compact and small has many features that increase baby's and parent's comfort, so I really have a feeling it is going to be one of the best umbrella strollers for 2018!
Keep in mind
This stroller works best for travel with baby or everyday use in the city. It's not suitable for rough terrain or unbeaten roads.
3 Reasons Why You Will Love GB Pockit+
1. It features the tiniest fold in the World which fits in overhead compartment on airplanes and mom's handbag!
2. With multi-position recline your baby can lie back comfortably and take a nap. And thanks to bigger canopy sun and wind won't disturb your sleeping child.
3. Thanks to compatibility with infant car seats and Cot To Go carrycot, GB Pockit+ can be used since birth and it can be the only stroller you will ever need.

Hello Moms! I am Zooey. I am a wife and a mother of three amazing kids: 3-year-old Haley and almost 1-year-old twins Jesse and Matthew. I am a jogger, cooker and blogger
If you have a question or a comment, do not hesitate to write to me! 🙂