Stokke stroller design is truly unique because it allows you to lower or raise the seat on the frame. This of course promotes bonding by facilitating eye contact and interaction with your little one.
But what about other features? Is Stokke Xplory v6 worth the money? What seating configurations does it offer and how long can you use it?
In our Stokke Xplory review you'll find the answers to these questions, so sit back and keep on reading!
This article contains affiliate links.
Stokke is a high-end, luxury brand, just like UPPAbaby, Bugaboo and Nuna. This means that Stokke baby strollers are pretty expensive.
The Xplory is probably their most famous model, which stands out from other strollers on the market thanks to its unique chassis design.
Lots of parents wonder if such design of the handlebar and leg rest is an advantage or rather a disadvantage.
I decided to find out whether Stokke Xplory is really comfortable for both – the child and parent, and whether it's worth the high price tag.
Stroller
Info
Info2
Price

Stokke Xplory

Convertible stroller: switch the main seat for carry cot or infant car seat
The seat can be raised higher on the frame to keep the baby closer to mom and dad
Fantastic large canopy with mesh vents

Cozy infant insert for added comfort and support
Fully adjustable, ergonomic handlebar for convenient one-hand pushing
Slim design for easy steering

Check current price & available discounts for:
How Do You Use A Stokke Stroller?
In 2018 Stokke released upgraded version of their iconic stroller – now called Xplory v6. The brand not only improved folding mechanism, but also redesigned the leg rest to be more ergonomic and comfortable.
In this review I'll focus on Stokke v6 stroller which is still the newest version of Xplory.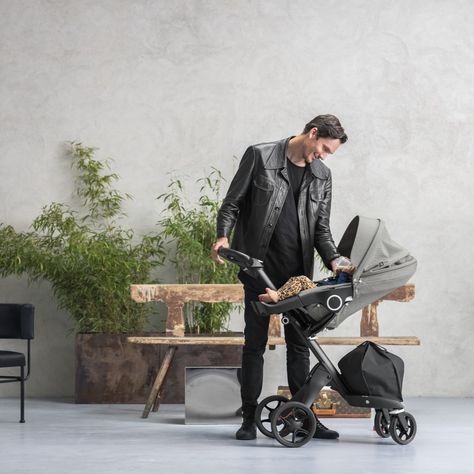 Seat
Stokke Xplory stroller has bucket-style seat that offers 3 recline positions in parent-facing mode, and 2 position in forward-facing mode. The most upright position is pretty straight allowing the child to look around and explore the world.
The lowest recline position in parent-facing mode is comfortable enough for a short nap on-the-go. However, you should keep in mind that when the child is facing out, the recline is not very deep (it's more like a "relax position"), not all toddlers will like napping in it.
Keep in mind that Stokke stroller is suitable only for infants who can sit unassisted – around 6 months, and the weight limit is 45 pounds (in Europe the maximum capacity is 33 lbs due to different safety standards!).
Stokke Xplory v6 seat height (backrest length) is about 20.5″ which means it's big enough to accommodate 3- or even 4-year-old child.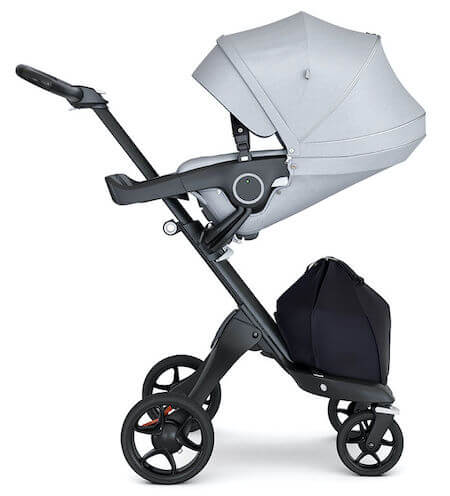 You can also use Stokke Xplory v6 2018 from birth, but you will need an infant car seat or carry cot – both sold separately (more on that later). Since the main seat doesn't offer fully flat (horizontal) position, I would not recommend using it for a newborn baby, as the support for baby's neck and head may not be sufficient.
What I like about Stokke stroller is the possibility to recline the seat with one hand, using a convenient lever, underneath it. You can also easily reverse the seat. It's important to notice that with Stokke Xplory v5 you had to remove the footrest first, with Stokke Xplory v6 stroller you don't have to do this, the seat easily clicks on and off the frame.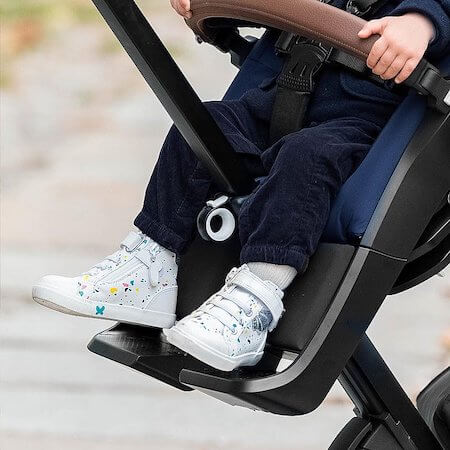 When the seat is in parent-facing mode, the main bar is in the middle of the calf rest. Lots of parents wonder if it's comfortable for the child to sit in it.
From my experience kids like to ride facing parents mostly when they are little. For an infant the handlebar is not an issue. Usually 1 or 2 year old toddler prefer to see the world while strolling, and in that mode the handlebar is behind the seat, so the child can easily rest their feet on the calf support.
However, if you toddler sometimes has separation anxiety and prefers to see mommy during the stroll, the bar can make the ride less comfy, but it really depends on your child preferences. Usually kids don't mind sitting with the handlebar between their knees, but for some toddlers this may be an issue.
What's also important, there is a significant different between Stokke v5 vs v6 calf rest which you can see in the picture below.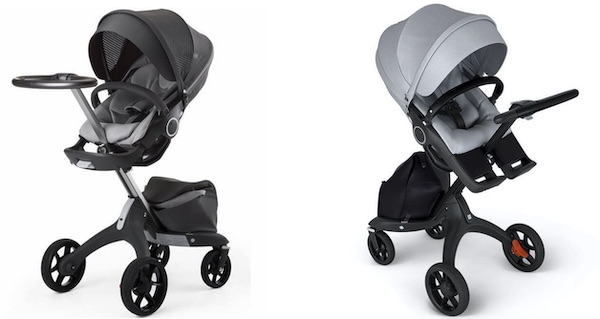 Stokke Xplory v5 had a gap between the seat bottom and the leg rest, so child's calved weren't actually supported. The newest Stokke Xplory v6 2018 has padding on the calf rest for added comfort. So if you're worrying about your baby's comfort and seating ergonomics, the Stokke Xplory v6 is definitely a better choice!
Another feature that I really like about Stokke Xplory stroller is the removable seat interior lining which is really cozy and plushy. The amount of padding is really generous. It provides additional support for baby's body and makes riding even more comfortable.
There are also cozy covers for harness shoulder straps. I only wish the crotch strap had a cover too!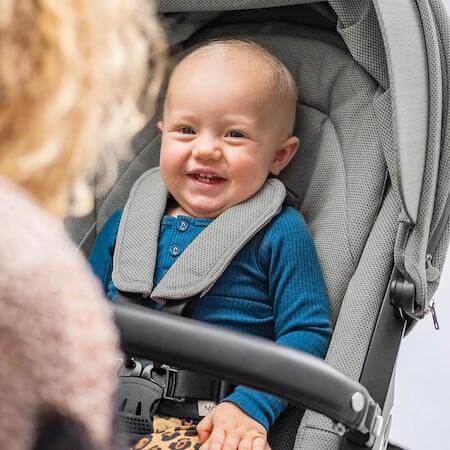 The thing that makes Stokke Xplory stand out from other strollers is the possibility to raise the seat higher on the frame. Thanks to this function you're able to keep your little baby closer to you which promotes bonding.
It's also very useful when you're in a restaurant because you can raise the seat to table height and use it instead of a high chair!
Stokke Travel System – Compatibility With Infant Car Seats
Stokke Xplory is compatible with BeSafe series infant car seats, approved and available in Europe.
Is Nuna PIPA compatible with Stokke?
Yes, Xplory works with Stokke Pipa by Nuna. It differs a bit from the original model of Nuna Pipa, but it's still an ultra-safe and lightweight infant car seat that works with the base or vehicle seat belt. Make sure to pick the right model if you want to create Stokke travel system.
>> You can find the Stokke Nuna Pipa car seat in The Tot store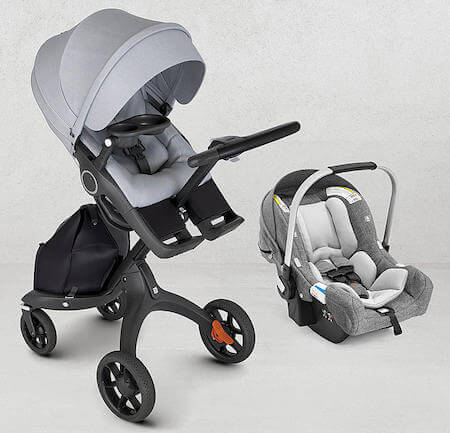 What's important, this infant car seat attaches to Stokke baby strollers without any adapters. It's very easy to connect both pieces, allowing you to use this pushchair from birth.
I've got good news for parents who prefer a different car seat brand. Xplory is compatible with multiple popular infant car seats from Maxi Cosi, Peg Perego, Graco and Chicco. For these models Stokke provides separate adapters.
Full list of infant car seats compatible with Stokke Xplory stroller:
Stokke BeSafe (no adapters required)
Stokke Nuna Pipa (no adapters required)
Maxi-Cosi Pebble
Maxi-Cosi Cabrio Fix
Maxi-Cosi Mico
Maxi-Cosi Prezi
Nuna Pipa
Peg Perego Primo Viaggio SL
Peg Perego Primo Viaggio Tri-Fix K
Peg Perego Primo Viaggio SIP 30/30
Graco Snugride 22
Graco Snugride 30
Graco Snugride 32
Graco Snugride 35
Chicco Keyfit 30
Stokke Carry Cot
This is the best way for using the Stokke stroller for newborn baby, especially if you plan on longer walks.
It's suitable from birth, up to 20 pounds. Just like the seat, it is height-adjustable, you can slide it up to keep your little bundle of joy closer to you.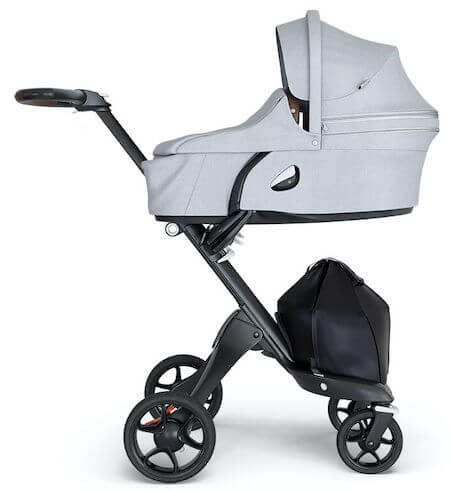 There is a cozy supportive mattress and extendable canopy that provides tons of shade. You don't have to worry about overheating either, because the canopy provides excellent ventilation thanks to mesh windows.
The carry cot also features handy pockets at the front where you can store your cell phone, keys or tissues to keep them always within reach.
Stokke carry cot is sold separately and it comes in more than 10 gorgeous colors (the availability may differ – here you can see which fashions are now in stock and check current discounts).
Keep in mind that Stokke bassinet is not approved for overnight sleep.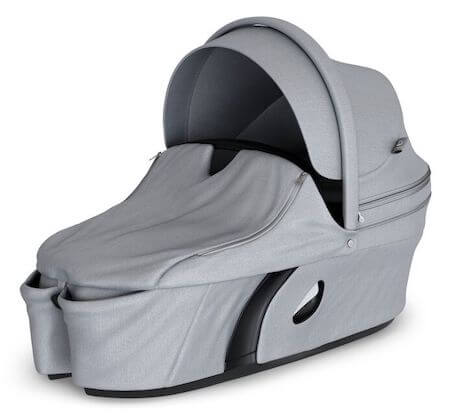 Canopy
This is one of the best features on Stokke baby stroller – really generous sun shade.
The canopy is extendable, there are 3 panels (1 opens with a zipper) and a sun visor. Fully extended hood cover the baby up to their knees so it really provides A LOT of shade.
The middle panel has additional zipper that allows you to reveal mesh under the fabric cover. It not only provides extra air circulation preventing the child from sweating, but also doubles as a peek-a-boo window.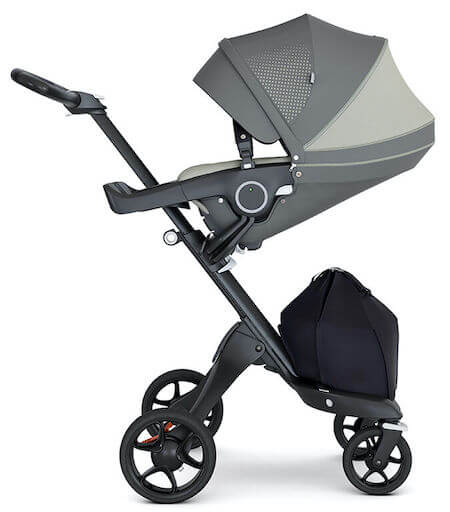 Handlebar
Stokke Xplory stroller features probably the most ergonomic handlebar ever! It's fully adjustable to make pushing and steering effortless and pain-less.
First of all, the handlebar slides up and down so you can adjust it to your height. No more slouching over the stroller, no more back pain.
This way you can also create more space behind the stroller. If you have longer legs you won't kick the back of the push chair with your feet while pushing it. What's also important is that Xplory features rounded rear axle to avoid this issue – very convenient!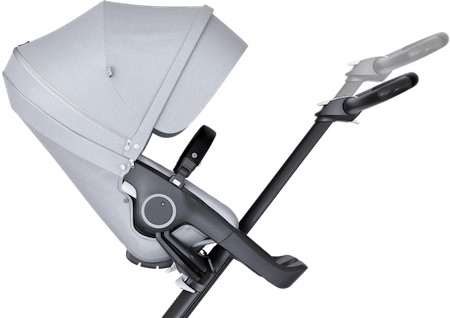 Moreover, you can also rotate the top part of the handlebar and adjust its axle to your liking. This way you will avoid wrist pain.
Generally speaking the handlebar on Stokke baby stroller makes navigation a breeze and even if you have a heavier passenger, pushing the stroller is very convenient.
Wheels
This convertible Stokke stroller has puncture-free wheels that handle urban surfaces, as well as gravel paths in parks and cobbled streets. Front swivel wheels can be locked for increased stability.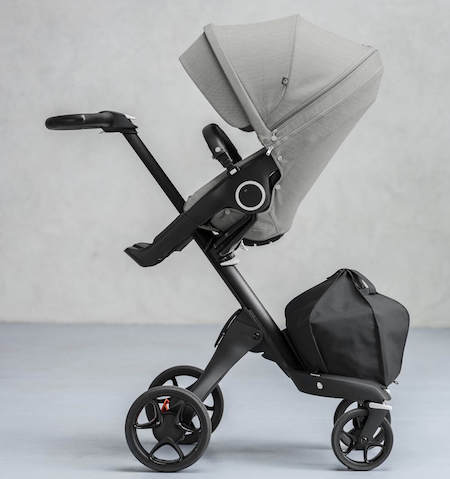 Although I wouldn't take Xplory for an excessive off-road stroll, it serves really well as a city stroller and it does work on slightly harsh terrain really well.
It is noteworthy that among all Stokke baby strollers, the Xplory is the only one that offers two-wheel mode. It's a useful feature when you want to get through sandy beach or pebbles, because it allows you to grab the stroller easily.
This unique function can be found only on high-end strollers like Cybex Priam or Bugaboo Fox.
I should also mention the parking brake. There is a red pedal next to the right rear wheel which works easily regardless the type of shoes you're wearing. You just need to press it to engage the brakes, and press again to release it. No need to worry about your pedicure. 🙂
Storage Space
Stokke stroller has unique storage space, because it doesn't look like the baskets that we usually see on baby strollers.
It's more like a shopping bag that you can detach and take with you wherever you go. It's fairly spacious and can hold up to 11 lbs of your essentials. This bag is made of a water repellent fabric so you can be sure your stuff is always safe and dry.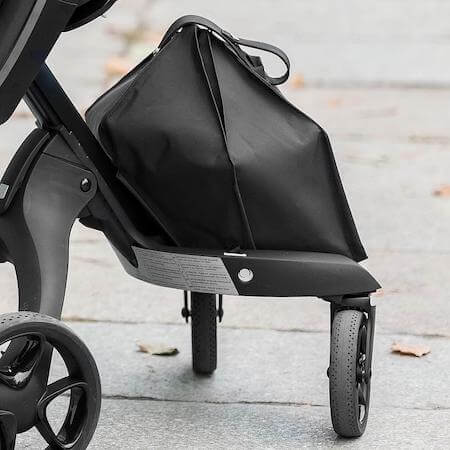 Folding
Stokke Xplory stroller closes easily with one hand, but it does feature two-piece fold which for some parents may be an advantage or disadvantage.
So first you need to remove the seat from the chassis. Then you need to slide the handlebar all the way down and then pull the white rounded trigger with one hand to fold the stroller frame. It's not very compact but it does fit in majority car trunks (you can find a useful list of "compatible cars" on Stokke website!).
The good thing is that the seat fits onto the folded chassis, so the whole thing doesn't take up massive space in the car trunk. Dimensions of folded Stokke stroller with the seat are: 41.3″ x 18.7″ x 20.1″.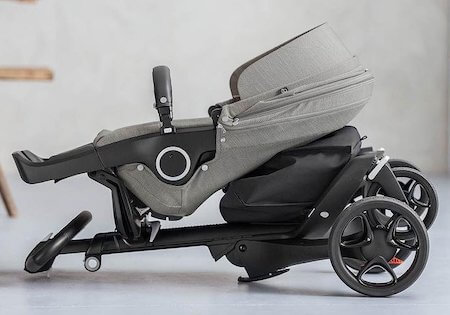 Weight & Size
With a toddler seat Stokke stroller weighs 28.2 lbs. It's a similar weight to other full-size convertible strollers like Nuna MIXX or UPPAbaby VISTA V2. It's not excessively heavy, but carry it up and down the stairs everyday may be a bit annoying and will require some strength.
The size of the stroller with the seat attached: 29.5″ – 40.2″ x 22.4″ x 35″ – 48.4″ (L x W x H). As you can see, Xplory is pretty slim, so you won't have any problems with navigation in narrow places.
Pros & Cons
Pros
Cons

Pros

---

+ You can raise the main seat higher on the frame to keep the child closer - which promotes bonding

+ Canopy provides lots of shade and proper air flow thanks to windows made of a breathable mesh

+ Includes cozy insert which additionally supports infant's back

+ Compatible with many infant car seats (some don't require adapters)

+ Very convenient to navigate thanks to narrow design

+ You can adjust handlebar height and angle = no back or wrist pain

+ Easy one-hand pushing

+ The stroller folds down quickly with one hand

+ Lots of beautiful fashions to choose from

Cons

---

- Whenever you want to take your stuff out of the shopping bag, you need to undo some clips which may be a bit of a hassle

- Not the lightest stroller out there

- Accessories are sold separately - the cost adds up

- Not all children like the leg rest which is separated by the handlebar

- Two-piece fold takes up quite a lot of space
Accessories
| Img | Info |
| --- | --- |
| | Stokke Carry Cot - If you want to use Xplory from birth you will need to add a bassinet. It provides best support for baby's back, neck and head. It's equipped with a large, extendable canopy, cozy apron, and two useful pouches so you could keep your valuables at hand. |
| | Stokke Nuna Pipa - You can also turn your Stokke Xplory into a travel system. By adding Stokke Nuna Pipa car seat you won't need any adapters which is very convenient. This model is very similar to original Nuna Pipa - it meets highest safety standards, it's lightweight and comfy for the baby. |
| | Stokke Xplory Footmuff - This is a very useful accessory if you live in a cold area. It keeps the baby warm and cozy, and protects from wind and cold. |
| | Stokke Xplory Sibling Board Rider - Stokke also offers a board for the older child to join the ride. If you have a 4 or 5 year old kid who sometimes gets tired on longer distances, this board will be very useful. |
| | Stokke Cup Holder - If you like to keep your water or coffee at hand during strolls, cup holder is a must have. It easily attaches to the handlebar giving you quick access to your beverage. |
| | Stokke Car Seat Adapters - Except for the Stokke Nuna Pipa and Stokke BeSafe car seats, you will need adapters for other brands' car seats like Chicco, Graco, Peg Perego and Maxi Cosi. Here you can see adapters for Chicco KeyFit 30. |
| | Stokke Parasol - This is the best way to protect the baby from heat during summer warm days, especially on hot days with no wind (it's better than fully extended canopy, because it doesn't block the air circulation). |
Colors
Stokke Xplory comes in multiple colors – but keep in mind the availability in stores may differ a lot. I recommend you to check here which colors are now in stock or on sale.
There are 10 fashions in Stokke lineup: Red, Black, Deep Blue, Brushed Grey, Black Melange, Grey Melange, Lotus Pink, Athleisure Pink and Athleisure Green. You can see all those colors (in that exact order) in the picture below.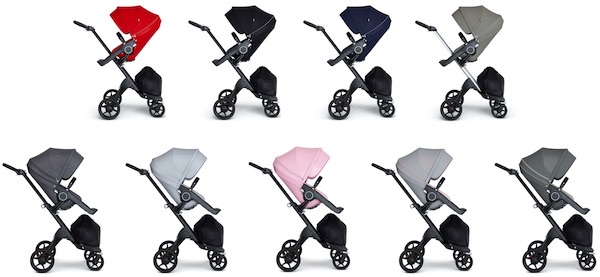 There is also limited edition called Xplory Balance and it's available in two fashions: Soothing Pink and Tranquil Blue. You can see them in the photo below. It comes with additional sun protection (which looks very similar to Nuna's Dream Drape) and a changing bag. The price of Xplory Balance is higher – because of the included accessories. I recommend you to check on PishPosh Baby if there are any discounts available right now.
---
Related articles:
>> Stokke Steps High Chair Review
---
All pictures belong to Stokke. Source: https://www.stokke.com/