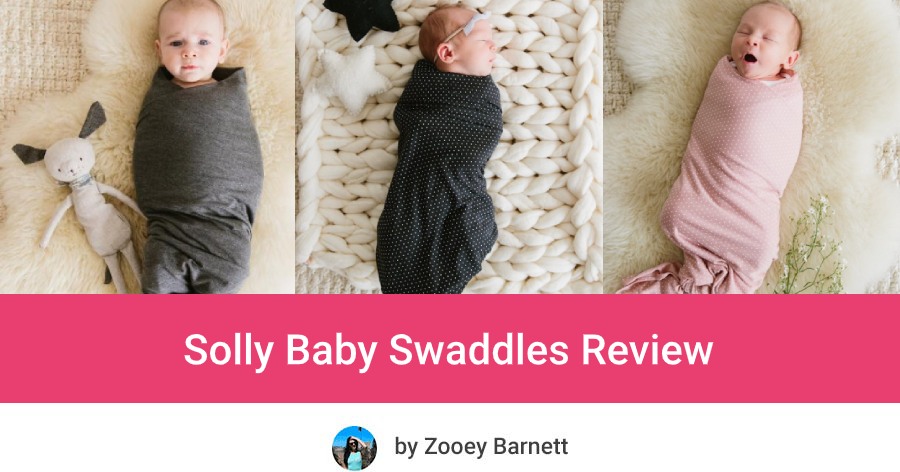 Solly Baby Swaddle is my second favorite product from this brand, right after their fantastic wrap (which I rave about in my review here).
There are lots of reasons why parents love Solly Swaddles: they are huge, made of breathable and stretchy fabric which makes swaddling easier for parents and sleeping more comfortable for the baby. Besides, these swaddles come in variety of cute colors and patterns which I'm sure you are going to love too!
Frankly, Solly swaddle and wrap has become my favorite newborn items – I wish I had them when I began my motherhood journey 5 years ago!
This article contains affiliate links.
Solly Swaddles Review
Why newborns love being swaddled? The answer is simple – it imitates the feeling of cozy, tight and warm womb which was their home for nine months of pregnancy!
When the baby is born and leaves this safe, well-known world, swaddling may give him/her the same experience of comfort and sense of security.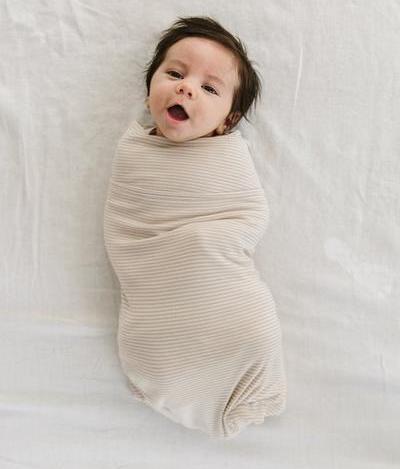 Lots of experts say that swaddling helps to reduce crying in infants and soothes them during painful colic episodes.
Thanks to ultra-soft and stretch Solly fabrics you can give your newborn the feeling of coziness and soothing snuggles. I'm sure you and your little one will love how soft it feels! Besides, it's ultra-gentle and doesn't irritate baby's delicate skin.
In my opinion Solly swaddle is the best kind of blanket for swaddling, because:
It's made of stretchy material;
It's breathable and prevents the baby from sweating;
It's cozy and soft – giving the baby the feeling of tightness and warmth similar to womb environment;
It keeps the baby snuggly and securely, but leaves the room for the hip joint to move, preventing them from dysplasia.
It's important to learn how to swaddle the baby correctly to avoid increasing the risk of SIDS and hip dysplasia. It's best to choose high-quality swaddler, specially designed for swaddling, not just some kind of old fluffy blanket.
Another crucial thing to remember is to always place the baby on their back, face up when you want them to sleep in the swaddle. You should monitor the baby during the nap and in case your baby rolls over on their belly, you should immediately place him/her on the back again.
Generally speaking, when your baby start to try to roll over (around 2 months) you should stop swaddling1.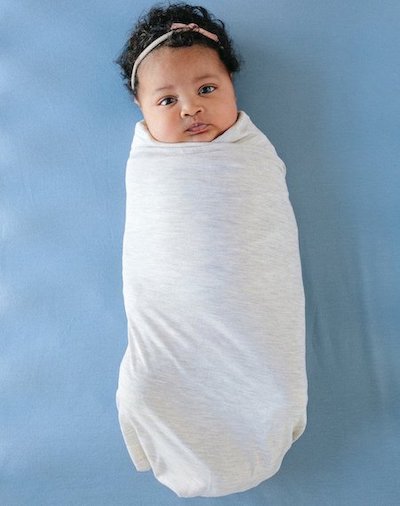 One more important tip: never leave loose fabric, especially near your baby face as it may increase the risk of suffocation.
Keep in mind that the risk of SIDS is increased when the baby sleeps on their stomach, regardless of being swaddled or not2! Remember: back to sleep, tummy to play.
Swaddling blankets are perfect for soothing colicky and fussy newborns, and helping them to fall asleep during the nap-time.
Psst! I will soon add a new article about swaddling basics: how many swaddles do you need, what is the difference between swaddle blankets, receiving blankets and muslin blankets. Stay tuned!
Hip-Healthy
When it comes to babywearing and swaddling, sometimes moms have concerns about their infants' safety and proper development of babies' hips.
That's why I always check the list of hip-healthy products3 and only choose baby carrier, baby wraps and baby swaddles that are safe for newborns' hips.
Of course it's important to learn how to position infant in the wrap or swaddle (I recommend you to consult with your medical provider or certified babywearing/swaddling advisor).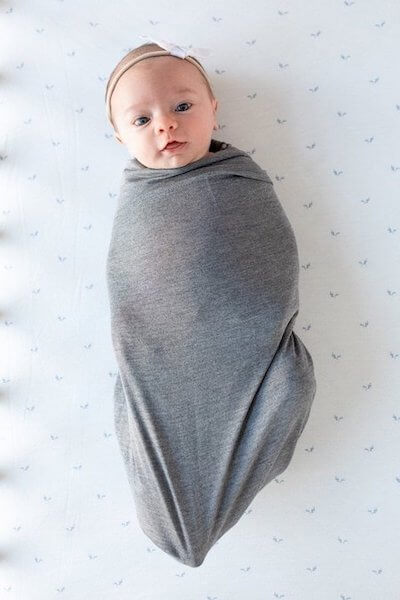 But it's also crucial to pick the products that are tested and approved as hip-healthy. This way your little one will be kept securely in the ergonomic position, supporting their body and allowing their hip joints to develop at natural pace. The legs should rest in fetal position, just like in the womb. Never swaddle your baby with hips and knees in an extended position, because this may lead to hip dysplasia.
The good news is that Solly Swaddles are recognized a hip-healthy by the International Hip Dysplasia Institute which means they are created with child's health and safety in mind (just like the Solly Baby Wrap).
The only thing that you need to do is to learn how to swaddle with Solly Baby. On brand's website you can find useful tutorials (watch them here), but you should definitely seek for a professional, medical advice too!
Keep in mind that the baby should be swaddled tightly, but there should be room for the hips to move. The child should be able to bend his/her legs at the hips4. Solly swaddles are stretchy enough to give the baby cozy feeling of tightness, without blocking movement of their hip joints.
Material
Just like the Solly Baby Wrap, the swaddles are made of the 100% certified Lenzing Modal fabric. It is sourced from the pulp of Austrian Beechwood trees.
First of all, this type of fabrics is very light, soft and delicate to touch. Lots of families say this is the softest swaddling blanket ever!
It wicks the moisture away and it's more breathable than cotton, viscose or even the Tencel material!
All of this makes Solly swaddle perfect for warmer climate and allows you to use it for your newborn all year round.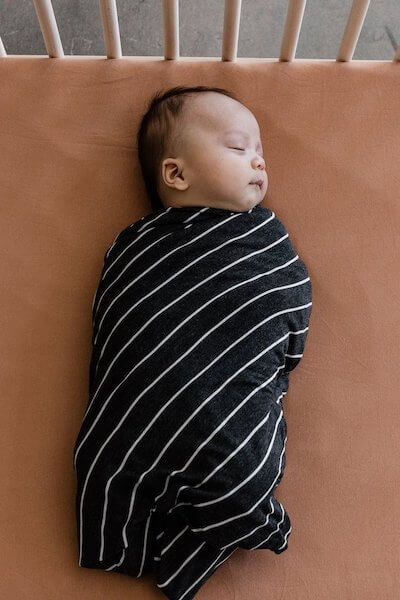 Moreover, the amount of stretch is just accurate. Thanks to it, all tying and swaddling is easier for mom, while the baby is kept securely and snuggly without any pressure points.
Solly Wrap is in my opinion the best breathable baby wrap, and the Solly Swaddles are the best airy and stretchy swaddle blankets.
Sometimes mom and dad may worry that their child will get overheated when wrapped in so many layers of the swaddling blanket. With some thick, heavy blankets made of artificial materials that block the air circulation, it's a real risk.
But you don't have to worry about it with Solly! Their material is so lightweight and allows the air to circulate through, so the baby doesn't get sweaty. Solly swaddle helps to reduce the risk of overheating. Another benefit is that it helps babies to maintain optimal body temperature. That's why it's so important to choose proper products for kids!
Cleaning
The good news is that Solly Baby Swaddle is machine-washable. In case of spit-ups or diaper blowout, it will be easy to clean it. You should wash it in cold water on a delicate cycle.
Size
Solly Baby Swaddles are large (52″ x 52″), making swaddling more convenient for first-time parents. The generous size allows you to achieve snug and cozy swaddle, leaving room from baby's hips to move – which is very important for their proper development.
What's also great, once your infant outgrows the "swaddle" period, you'll still be able to use Solly swaddle as blanket or nursing cover. It also doubles as a play blanket, perfect for family picnics.
Patterns
Solly Swaddles are available in multiple colors, including some with really cute and warm tones.
My favorite ones are: Oat Dot (cream base with ivory diamond pattern), Basil and Neutral Stripe (with beige stripes). Parents also seem to like Charcoal Stripe (black with white stripes) and Cottage Rose.
You can see some of the popular colors in the picture below.

Keep in mind that current availability may vary, besides the brand often offers new fashions, so don't forget to check their website.
How Many Swaddles Do You Need?
If your a first-time mom or dad it may be hard for you to decide how many swaddles you should buy. I recommend to get four to six, just so you could always have at least one clean at hand (when others need to be washed).
Where To Buy Solly Swaddle?
I recommend you to order your swaddles from Solly Baby official website. This way you can be sure you're getting the original product (and support small family-based company).
Right now there's a great promotion – if you buy two swaddles, you'll pay $40 ($46). All you need to do is:
Go to Solly Baby Website using this link
Browse their collection of baby swaddle blankets and pick your favorite two patterns
Enter this discount code: SWADDLE at checkout
Now you should see your discount!
If you have any questions about this swaddle, just let me know in the comment section below!
---
The purpose of this article is informative. It's not a substitute for medical consultation or medical care. Remember: safety first! The author of this article does not accept any responsibility for any liability, loss or risk, personal or otherwise, incurred as a consequence, directly or indirectly, from any information or advice contained here. The article contains affiliate links – your support helps us run this blog!
Source of pictures:
All pictures belong to Solly Baby. Source: https://sollybaby.com/