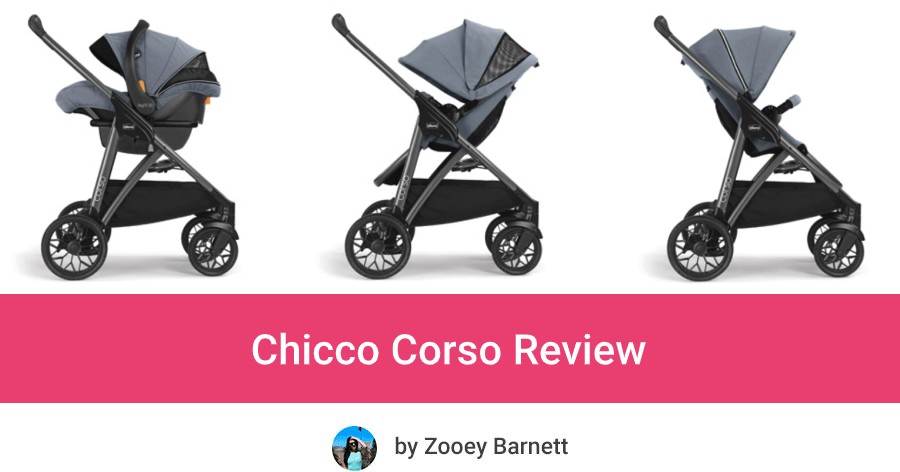 Chicco collection of travel systems has recently expanded with the new Chicco Corso Modular Travel System being released.
It's a modern-looking medium-priced stroller/car seat combo that includes KeyFit 30 Zip infant car seat. It has a lightweight frame and a reversible seat that can hold toddlers and bigger kids even up to 50 pounds.
How does Chicco Corso compare to other travel systems? For whom will it work best? Let's dive deeper into our Chicco Corso review!
Chicco Corso Review – Stroller Functions
Img
Info
Info2

Chicco Corso

It's an affordable travel system, it includes one of the best infant car seats with vented canopy, newborn insert and zip-open boot
Stroller weighs 23.4 lbs
One-hand easy folding

The seat is reversible and removable - you can use Corso as a lightweight car seat frame
There is a lot of storage space (large basket + a few pockets)
Toddler Seat
Corso stroller has a standard seat with capacity of 50 lbs. It does feature multi-position recline but it's recommended for babies from 6 months. Nevertheless, the lowest position is near-flat and comfortable for napping during a stroll. The recline mechanism is user-friendly, there is a convenient lever on the back of the seat which you can operate with one hand.
It is noteworthy that Corso has a bucket-style seat which means the whole seat reclines, not just the backrest. UPPAbaby VISTA and Baby Jogger City Select have the same type of seats.
The leg rest also flips up and down for added comfort.
I really like that Chicco stroller has leg rest with built-in footrest so you don't have to worry about dangling feet. In Corso the child is sitting in an ergonomic position.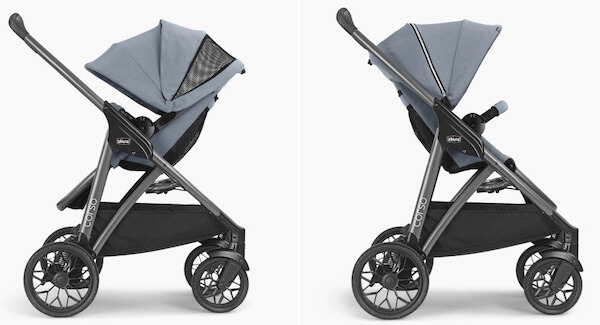 What's interesting, Corso is the only Chicco travel system stroller that offers reversible seat. It's a huge advantage because you can keep your baby closer to use and keep an eye contact and when he/she gets older and prefers to see the world, you can easily reverse the seat.
This seat is also equipped with a bumper bar which has a fabric cover.
Another thing that I like about Chicco Corso travel system is the fact that you can remove the seat fabric with ease and wash in the washing machine. It's good to know that in case of a diaper blowout or spit-ups, the fabrics will be easy to clean.
Canopy
Corso offers really good coverage from the sun, better than other Chicco strollers. The sun hood has 4 panels, including 1 that opens with a zipper.
Moreover, you can remove the fabric cover from one panel and reveal the mesh underneath it. It's a good solution for warmer days, because it provides additional ventilation and keeps the baby from sweating. This mesh panel doubles as a large peek-a-boo window, so when your toddler is facing out you can still keep an eye on him/her.
Infant Car Seat
This Chicco travel system comes with KeyFit 30 Zip Infant Car Seat. It's suitable from 4 up to 30 pounds/ 30 inches tall.
The best thing about this travel system is the fact that you can remove the main seat and replace it with the infant car seat. This makes the whole combo much lighter.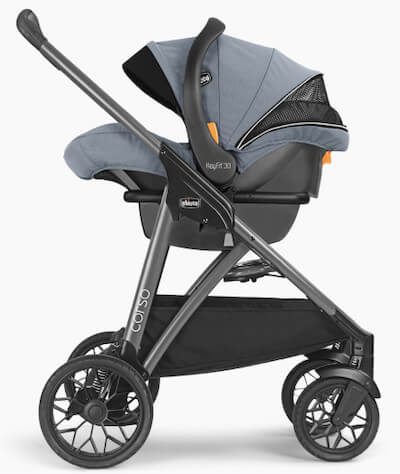 I know that some parents prefer to have strollers that allows to click in the infant car seat onto the toddler seat, but this makes the combo heavier and more bulky.
I like the fact that you can use Chicco Corso as a lightweight car seat frame. The stroller frame itself weighs only 17.3 lbs, Chicco KeyFit 30 Zip weighs 9.6 lbs. If you had to keep the main seat, the whole set would be 6 pounds heavier, which means you would have to push 33 pounds!
Now, let's see what features the KeyFit30 Zip has. It's important to notice that it is he same infant car seat as the iconic Chicco KeyFit 30, just with the additional zippered boot and zip-open mesh windows on the canopy.
This is one of the most popular and highly-rated infant car seats in the US. For the installation in the car you have two options: the stay-in-car base or the vehicle seat belt. The latter one is very useful if you often use taxis. The best and safest solution is of course to use it with the base, which you can keep installed in your car. One car seat base is included with Corso travel system, if you need a second base for another car, you will need to purchase it separately.
The base uses LATCH system with special tightener technology that minimizes car seat movement. Besides, there is a spring-loaded leveling foot and two bubble level-indicators hat help to verify whether the car seat base is at the right angle.
Other safety features include 5-point harness and high-quality dense foam that absorbs energy to protect the little passenger in case of an accident.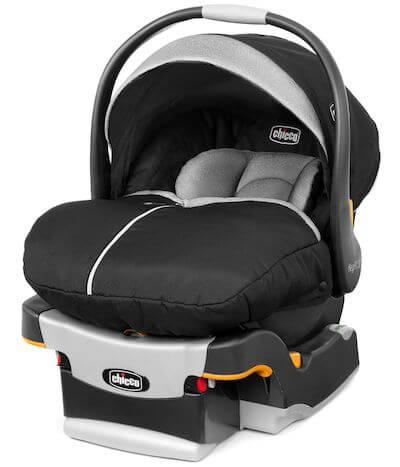 KeyFit30 Zip is equipped with a newborn insert that supports baby's head and body. It's very cozy and plush. You can remove it at any time, when your child fits in the car seat comfortably and doesn't need the additional support anymore. The insert is designed to support newborns from 4 up to 11 lbs.
As I mentioned earlier, this infant car seat has a zip-open boot to keep your baby warm and cozy in colder weather. For summer months and warmer temperatures Chicco added a zippered mesh window on the extendable canopy – it provides extra airflow to protect the baby from overheating.
In my opinion, the removable and machine-washable seat pad is another huge advantage.
It is noteworthy that KeyFit 30 Zip attaches to the Corso stroller with an adapter. Everything clicks easily and it takes literally just a few seconds to connect both pieces.
Nevertheless, it's another piece of gear that you always need to remember about when you go out with your little one.
On the positive note, the adapter is included with the Corso travel system, so at least you don't have spend any extra money on it.
PRO TIP: If you'd prefer to have a different Chicco infant car seat, I've got good news for you. There's possibility to purchase the Corso stroller separately and add any of the Chicco infant car seats! The adapter with the click-in attachment is included with the stroller. Currently, you can get Chicco Corso stroller on Amazon. You can also browse Chicco collection of KeyFit car seats there.
Handlebar
Chicco Corso travel system has a non-adjustable handlebar, fixed at 42.8″ from the ground. I wish its height was adjustable, but hey – this is an affordable stroller so it can't have it all.
The height is convenient for average in height and tall caregivers. For a very short person they handle may feel slightly too high, causing wrist pain after long strolls.
Wheels & Suspension
Chicco Corso stroller has 10.3″ rear wheels and 8.3″ front wheels with EVA foam tires. I'm not a fan of this type of wheels, but Corso tires are threaded which makes them a bit more versatile and suitable even for a slightly rough surfaces. Obviously they work best on flat terrain like a pavement, but gravel driveway or shorter grass shouldn't be a problem either.
To make the ride smoother Corso is equipped with adjustable rear-wheel suspension. For walking through city streets and cracked sidewalks, it works great.
Keep in mind that even with the treaded tires, Corso stroller is not suitable for jogging! (These are not pumped tires)
Storage Space
Corso is equipped with a medium-size storage basket with two integrated bottle-pockets. The bin is spacious enough to accommodate mom's diaper bag or some shopping bags. Access to the basket is pretty easy from the back with the elastic mesh basket back wall.
There are also useful storage pockets on the back of the seat: two large mesh pouches and one zipper pocket, where you can put your wallet, phone and other essentials that you want to keep at hand.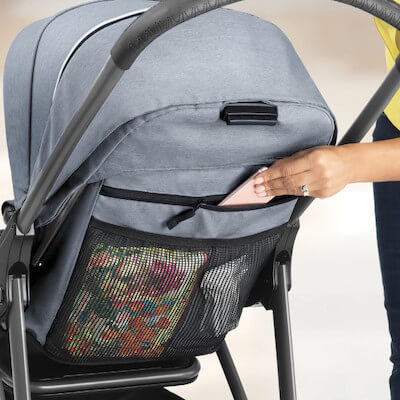 Size, Weight & Folding
Chicco Corso is a full-sized stroller. It is 24.8″ wide which means it fits through doorways, elevators and stores aisles with no problem.
With toddler seat, Corso weighs 23.4 pounds which is not that bad as for a standard stroller. It's lighter than UPPAbaby VISTA, Cybex Balios S and Bugaboo Fox. It's only 0.4 pound heavier than famous Chicco Bravo Trio.
Regarding the folding – parents who have already bought this travel system, rave about the one-hand folding. It's. Very easy to close and open the stroller, you can do it with the seat attached (the seat is foldable too) or removed.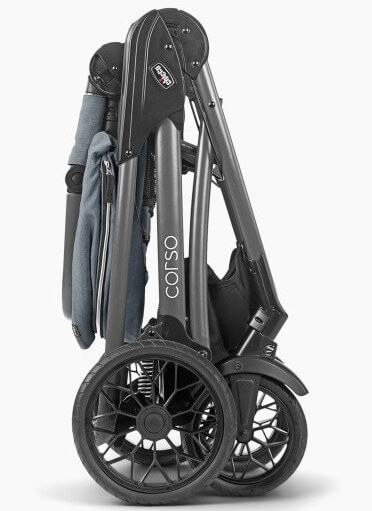 To fold the stroller you just need to use the handle hidden underneath the seat. It's very convenient and I'm pretty sure you won't have problems with it, even when you're on your own doing shopping at the mall and need to load Corso into your car trunk.
This stroller also stands on its own when folded, which is a big plus.
Pros & Cons
Pros
Cons

Pros

---

+ Reversible seat for growing child's changing needs

+ Deep recline for comfortable napping

+ Switching between the seat and infant car seat is really simple

+ Vented canopy for warm weather

+ Great infant car seat included (highly-rated as one of the safest car seats in the US)

+ Wheels roll smoothly on urban surfaces

+ Spacious storage basket plus additional pocket - plenty space for parents' necessities

+ Stroller frame is really lightweight

+ Easy one-hand folding

Cons

---

- Non-adjustable handlebar, may be too high for short parents

- To attach infant car seat you need to install special adapter first

- No accessories available (no snack tray or parent organizer)
Accessories
Unfortunately there are no accessories for Corso yet, and I'm not sure if there are going to be any. According to recent information from the brand website, Corso is not designed to accept child snack tray or parent tray. There is no bassinet for this buggy either.
Colors
Right now Chicco Corso comes in two colors: Silverspring and Hazelwood, which you can see in the picture below.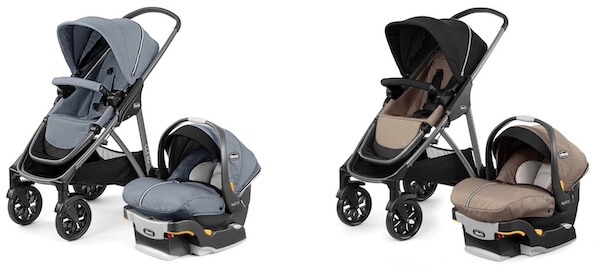 What's important, soon there will be a slightly different, more luxurious version of this travel system combo – Chicco Corso LE. It will be available in two fashions: Veranda and Hampton and each of them will have leatherette brown handlebar and bumper bar.
This combo will include Chicco KeyFit 35 infant car seat which is suitable up to 35 lbs/ 32 inches. This car seat differs from the KeyFit 30 Zip, as its includes a reversible insert that supports newborn's body, adjustable headrest, and extendable leg rest to accommodate growing baby.
Chicco Corso LE is not available yet, but just in case you decide to wait for it – this version will be a bit pricier than standard Chicco Corso Modular Travel System.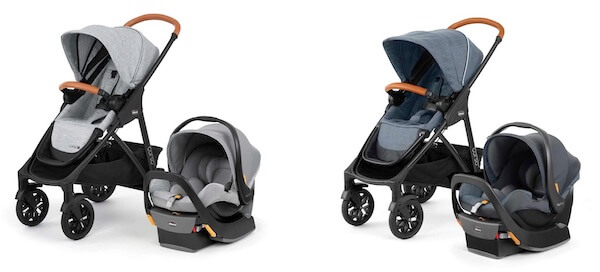 ---
The purpose of this article is informative. It's not a substitute for medical consultation or medical care. Remember: safety first! The author of this article does not accept any responsibility for any liability, loss or risk, personal or otherwise, incurred as a consequence, directly or indirectly, from any information or advice contained here.
Source of pictures:
Pictures of Corso travel system and KeyFit 30 Zip belong to Chicco. Source: https://www.chiccousa.com/