GB collection of strollers expanded significantly in 2019. The brand released two new version of their iconic, ultra-lightweight and tiny stroller. In this article we will focus on GB Pockit+ All-City. Compared to other models, this one has completely different wheels and a few other improved functions.
Generally speaking the All-City model is very similar to the first model of GB Pockit Plus. It's very lightweight and portable, features reclining seat and compatibility with infant car seats. However, many features were upgraded and this new stroller has different design. This in turn caused changes in weight and fold size of the stroller, but more on that later.
Now, the most important question, that probably all parents considering the purchase of GB Pockit stroller have, is: "Is GB Pockit Plus All-City better than regular GB Pockit Plus?". I will help you to find the answer and choose the stroller that is best for your lifestyle.
GB Pockit+ All-City Review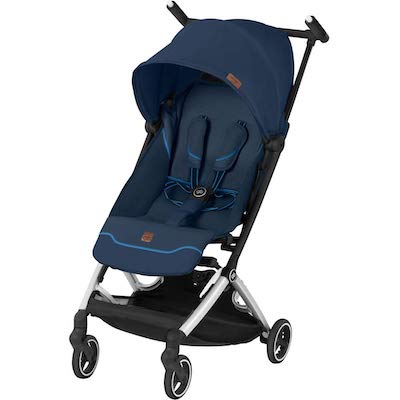 Let's start with the feature that distinguishes All-City among other strollers from GB Pockit collection.
Wheels & Suspension
This new version has redesigned wheels which are now single, not dual like the wheels on Pockit or Pockit+. Front wheels are 5.3″, the rear ones are 5.7″. As you can see they are slightly bigger than wheels on previous models.
Nevertheless, they are still on a small side and most suitable for "smooth city surfaces" – as the brand's website says.
But according to parents who own this stroller, it works surprisingly good on cracked pavement and cobblestone!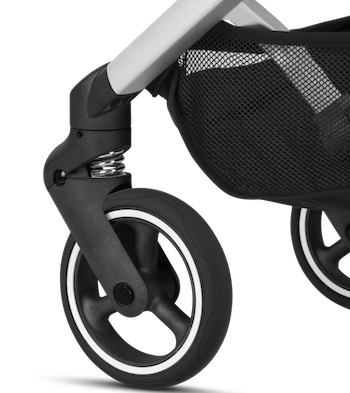 There is also built-in spring suspension in the front wheels to cushion the ride a bit and allow you to operate the stroller more easily. This is another difference between this new model and the previous GB Pockit+ which lacks suspension.
The front wheels are pivoting so the stroller should handle tight corners and narrow places really well.
I haven't heard any complaints about the wheels suddenly locking or anything like it – which is a good thing of course.
Frame
The new GB Pockit Plus All-City also has redesigned frame – it has a different shape and color. I think it looks more sleek now. See the difference in the picture below where I compare All-City and the original Pockit Plus.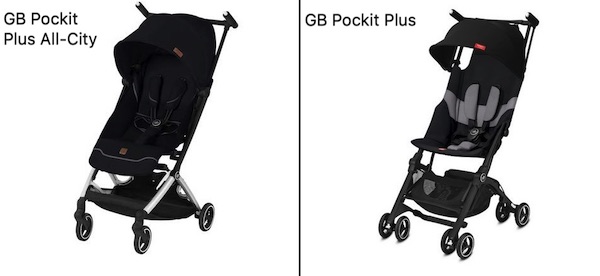 Seat
Similar to other strollers from GB Pockit lineup, this one has a seat suitable from 6 months up to 55 pounds.
The stroller has adjustable backrest which you can lower with one hand to give your baby more comfortable place for a nap. This is an infinite recline which means you can set the backrest at any angle you want. Just keep in mind the lowest position is not flat (it's about 50-60 degrees from vertical). To raise the backrest again you will need to use both of your hands.

There is one significant difference in terms of recline between Pockit+ All-City and other models: when the seat is fully reclined there is no gap between the backrest and the canopy, like on other models. I think it's a good change because these holes were not practical during colder months.
It's important to notice that the highest backrest position is not fully upright either – keep that in mind because not all toddlers like to ride in a seat that is always a bit reclined.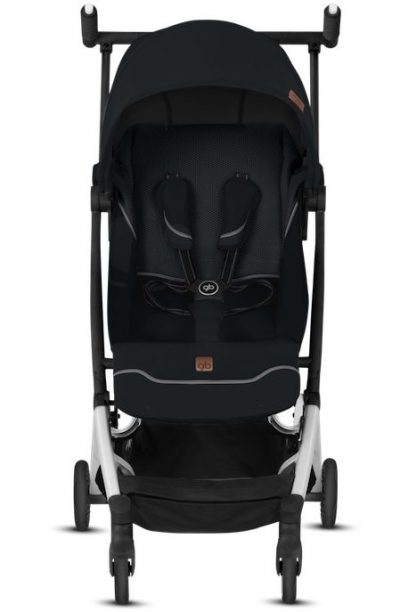 I really like the fabric and padding on the seat – it's more generous than on other strollers from GB Pockit collection. The is nice mesh cover on the backrest to prevent the child from getting sweaty.
I can't fail to mention that Pockit All-City also has adjustable calf rest – this is a completely new feature in Pockit collection. For infants and toddlers who like to nap during strolls, this addition will be very useful!
Seating Options For Newborns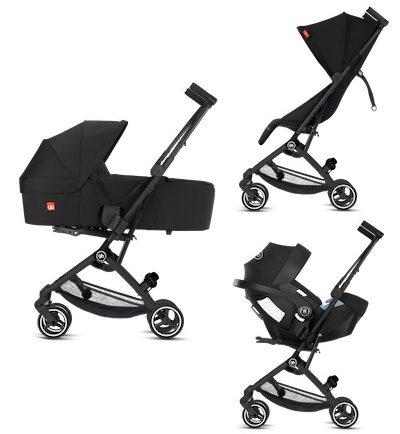 The main seat is not newborn-ready, but there are two options to make this stroller suitable from birth. This new GB Pockit+ All-City is compatible with a carry cot called Cot To Go, as well as GB and Cybex infant car seats.
As you can see you can turn your GB Pockit Plus All-City into a travel system or even a lightweight pram!
Canopy
It has the same shape as the canopy on Pockit Plus 2018, but it's a bit bigger.
I'm not going to rave about this canopy. It's better than the hood on the first GB Pockit stroller, but don't expect it to always keep the sun out of your baby's eyes!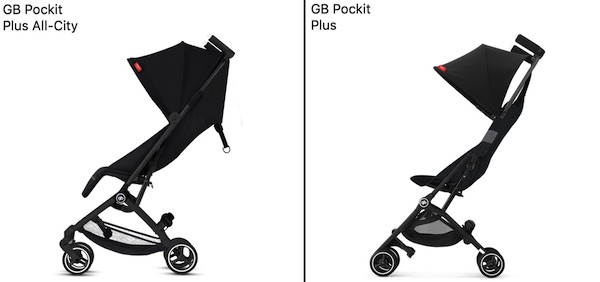 Handles
The handles have the same design as the handles on other GB Pockits, but they are slightly higher. This is actually a good change because the handles on previous models feel a bit low – for a short person like me they are okay, but for someone taller they might feel less comfortable. Taller handles on the Pockit+ All-City will probably fit more users.
Storage Space
This is not a secret that the storage basket on Pockit and Pockit+ is tiny and can only fit a very small diaper bag.
The new Pockit+ All-City has more spacious basket – the difference is not huge but I'm happy about it anyway!
Weight, Size, Fold
As I briefly mentioned earlier, change in wheels and frame design caused changes in stroller's weight and fold dimensions.
The new GB Pockit Plus All-City weighs about 13.3 lbs and its folded dimensions are: 12.6″ x 7.9″ x 18.9″. As you can see it's slightly heavier than the 2018 model (which weighs 13 pounds), and the fold is a bit bigger (regular Pockit Plus fold: 12.5″ x 7.8″ x 14.9″).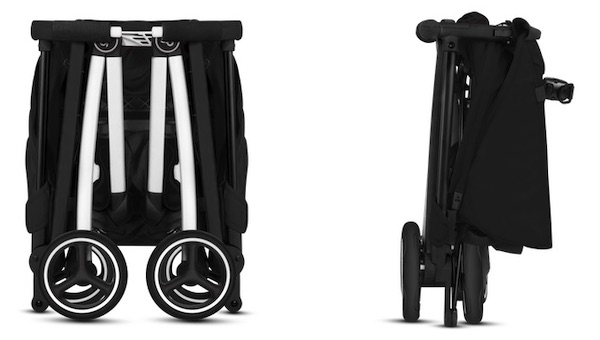 I can't fail to mention that All-City is significantly heavier than the first GB Pockit stroller. The original model is about 3.7 lbs lighter and folds into a very compact package (11.8″ x 7.1″ x 13.8″) which is noticeably smaller than All-City fold.
Nevertheless, this new stroller is super tiny and compact and meets carry on regulations probably on all airlines. I still recommend you to check your airline regulations before your trip, just to be sure.
After folding Pockit+ All-City stands on its own which makes it easy to store at home or in the car. Besides, it's so small that it won't take up a lot of space in your closet or hall. You can even put it in your bag!
Overall Performance
I think the improvements made for GB Pockit Plus All-City make it more convenient to use – not only as a travel stroller but also as an everyday city stroller. It's more comfortable for the little passenger during prolonged use.
Pockit+ All-City handles slightly bumpy terrain surprisingly well. Thanks to added front-wheel suspension it holds up really impressive and it can handle small cracks. On rougher terrain you may feel some vibrations but the stroller doesn't wiggle that much and the child feels less shocks. Nevertheless, I wouldn't recommend using this stroller off road or on very bumpy roads.
Release Date
The new GB Pockit Plus All-City is in the stores from May 2019. You can find it in many online stores, for example on Amazon or on PishPosh Baby.
Pros & Cons
Pros
Cons

Pros

---

+ Small and lightweight design

+ Easy to carry

+ Fits in overhead lockers on most airplanes, behind the driver's seats and even in mom's purse!

+ Works very decent on slightly rough terrain (like cobblestone)

+ Easy to steer and navigate in small space

+ In comparison to other Pockits: more comfortable seat and more elegant look

+ In comparison to Pockit Plus: easier folding

Cons

---

- Basket is a bit bigger than on other Pockits but still on a small side
What other parents say about GB Pockit+ All-City?
I checked this stroller's online reviews to find out if parents love it so much as other Pockits. It hasn't had so many reviews yet, but it seems like it's getting more and more popular and parents really like all the upgrades.
As the biggest advantages customers mention: easy maneuverability and very compact size – perfect for traveling by airplane. Folding works better on this stroller than on previous Pockit Plus which is a big plus!
Reclining seat and bigger canopy are the two things that may encourage you to choose this model instead of original Pockit – according to some parents.
Previous buyers seem to like the single wheels and added suspension as well – this stroller handles old streets and bumpy sidewalks with no problem.
The main complaint is the small basket under the seat. Some parents say that additional organizer or pockets for keys and phone would be very useful.
All in all, it seems that parents like the improvements that were made for Pockit+ All-City. GB has really put a lot of effort to fix the issues that parents were facing with the regular Pockit Plus.
I encourage you to visit Amazon and read the reviews written by customers who had really bought this stroller – it may help you to make your decision whether All-City suits your needs. Click here to go to Amazon.
Specification
| Stroller | Data |
| --- | --- |
| Stroller Type | Lightweight |
| Stroller Weight | 13.2 lbs |
| Weight Limit | 55 lbs |
| Fold Dimensions | 13.4" x 7.9" x 16.5" |
| Wheels Size | Front - 5.3", Rear - 5.7" |
Colors
At the time of writing this review, this new stroller comes in 6 colors, but keep in mind the fashion collections change often, and the availability changes too. Make sure to check which colors are for sale right now and choose your favorite one. My favorite is definitely the Night Blue.

Comparison: GB Pockit Plus All-City vs GB Qbit Plus All City
| Feature | GB Pockit Plus All City | GB Qbit Plus All City |
| --- | --- | --- |
| Design | | |
| Weight | 13.3 lbs | 17 lbs |
| Folding | Always requires using both hands | One-hand folding possible |
| Fold Size | More compact fold, allowed as carry on by many airlines (12.6" x 7.9" x 18.9") | Still compact, but exceeds carry on dimensions (10.6" x 16.9" x 22.8") |
| Wheels | Smaller wheels | Bigger front & rear wheels - Qbit can handle more types of terrain |
| Suspension | Front-wheel suspension - good performance even on slightly rough terrain | All-wheel suspension (like on bigger and more high-end strollers) - Qbit works quite well even on gravel, cobblestone and cracked concrete without a lot of shaking |
| Handlebar | Two separate handles | One single handlebar |
| Steering | Requires both hands most of the time | One-hand steering possible |
| Window | No peek-a-boo window or mesh vents | Mesh seat top vent for extra air-flow and checking on the baby (usable when the seat is reclined) |
| Recline | The recline is okay for toddler's quick nap on the go | Deeper, near-flat recline |
| Footrest | Fabric cover on the footrest, less easy to clean from muddy shoes | Plastic footrest, easier to clean |
| Storage Basket | Small basket that can fit a small diaper bag, easily accessible form the front and back | Bigger basket that can hold a medium-size diaper bag |
| Brake | Unique, horizontal footbrake on the supporting axle above the rear axle (it may be a bit less convenient to use, because you need to lift you foot higher) | Vertical footbrake on the rear axle (similar to brakes on dozens of other strollers) |
| Best Application | Traveling by airplane, train or car, and not very extensive daily city use (like short walks and running errands) | Traveling by car or train, daily use (especially if the roads and sidewalks near you are not perfectly smooth) - but keep in mind that the competition in this category is HUGE |
Keep in mind
The wheels are bigger than on previous Pockit strollers and now there is also front-wheel suspension but this is still a small and very lightweight stroller – not suitable for bumpy trails and any off-road use!
3 Reasons Why You Will Love GB Pockit+ All-City
1. Folding mechanism works smoother than on previous Pockit Plus. Whether you're at the airport or shopping mall and need to quickly close the stroller, you won't have problems with it.
2. Spring suspension in front wheels makes the ride more comfortable for the child.
3. Small and easy to navigate in tight places. Once folded – it takes up a little space.
If you came to the conclusion that Pockit+ All-City doesn't meet your need, I invite you to read my ranking of the best lightweight strollers or check the most amazing strollers available on the market in 2020 – here.
---
All pictures belong to GB. Source: https://gb-online.com/en-en/strollers/pockit-plus-all-city/