GB is about to release a new version of their iconic, ultra-lightweight and tiny stroller! Last year the brand updated the canopy, added reclining backrest and infant car seat compatibility. This time GB completely changed the wheels!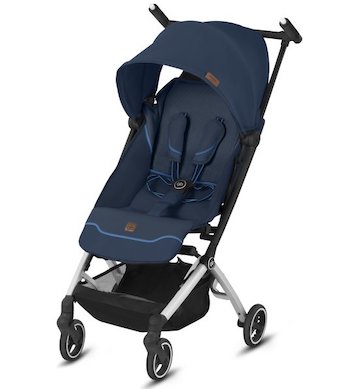 GB Pockit Plus All-City Review – What's new?
This new version has redesigned frame and single wheel design. Front wheels are 5.3″, the rear ones are 5.7″. They are still small and most suitable for "smooth city surfaces" – as the brand says on their official website.
When the GB Pockit+ All-City is finally out, I will definitely check how it handles sidewalks in my neighborhood (which are not very smooth).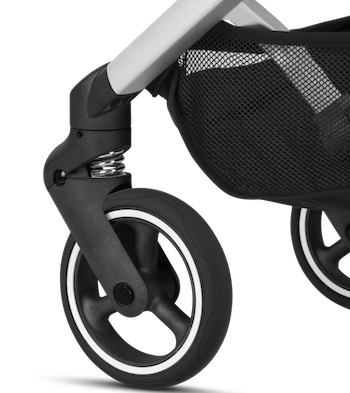 The front wheels have also built-in suspension to cushion the ride a bit and allow you to operate the stroller more easily. The wheels are pivoting so the stroller should handle tight corners and narrow places really well. But we have to wait a bit to see if the small front wheels are not locking.
Except for that change, the stroller stayed basically the same and has the same features as GB Pockit Plus 2018.
Other features of GB Pockit Plus All-City
Reclining backrest 
The stroller has adjustable backrest which you can lower to give your baby more comfortable place for nap. This is an infinite recline which means you can set the backrest at any angle you want. Just keep in mind the lowest position is not flat (it's about 50-60 degrees from vertical).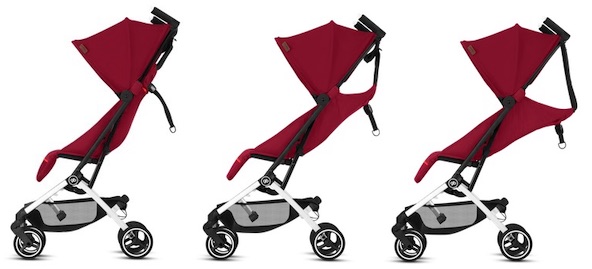 Options for newborns 
This new GB Pockit+ All-City is compatible with a carry cot Cot To Go, as well as GB and Cybex infant car seats.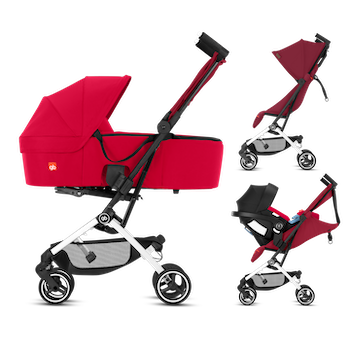 Canopy 
It looks exactly the same as the canopy on Pockit Plus 2018, so it's more generous than the hood on the first GB Pockit stroller, but it's still rather small.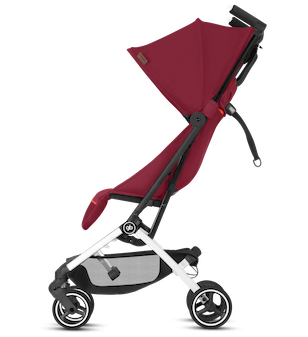 Weight & Size 
Earlier I said the stroller stayed the same as the 2018. Well, it's not completely true.
The new GB Pockit Plus All-City weighs about 12.6 lbs and its folded dimensions are: 13.4″ x 7.9″ x 16.5″. As you can see it's slightly lighter than the 2018 model, on the other hand fold is a bit bigger.
It's still super tiny and compact and meets carry on regulations probably on all airline (check your airline regulations before your trip, just to be sure).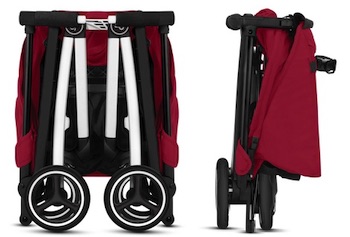 After folding Pockit+ All-City stands on its own which makes it easy to store at home or in the car. Besides, it's so small that it won't take up much space in your closet or hall. You can even put it in your bag!
GB Pockit Plus All-City – New fashion lineup!
This new model will be available in four colors: Velvet Black, Night Blue, Rose Red and Vanilla Beige. My favorite is definitely the blue one!

Release Date
You'll probably curious when this new Pockit Plus All-City is going to be available for sale! The stroller should hit the stores is 2019, but there is no official date yet.
Stay tuned for latest info about GB Pockit Plus All-City! 
In a meantime you may want to check my ranking of the best lightweight strollers or see the most amazing strollers available on the market in 2019 – here.
---
All pictures belong to GB. Source: http://gb-online.com/en-en/strollers/pockit-plus-all-city/