You want to start jogging and you're in the search of a jogging stroller that will get smoothly though all kinds of terrain? Or maybe you train for 10K or marathon? Whether you're a beginner or advanced runner, BOB Alterrain PRO is one of the top running strollers that you can get right now, if you want to take your kiddo on the jogging session with you.
Keep reading and you'll find out why I can't stop raving about this new stroller!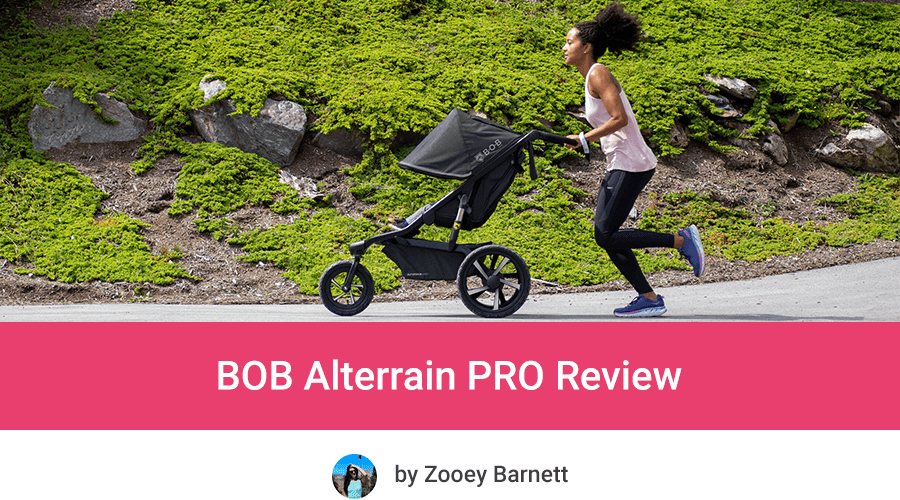 Not so long ago BOB introduced a new addition to their jogging strollers family: BOB Alterrain PRO. I'm guessing this stroller will gradually replace the old BOB Revolution PRO. It has almost identical features, but in a nicer, sleeker and more up-to-date package.
Right now, it's one of the best-equipped jogging strollers on the market! Below you can read my opinion about its functions and find out how this stroller compares with others in this category.
Stroller
Info

BOB Alterrain PRO
Check It On Amazon

Truly all-terrain stroller: handles gravel, sand, mud, rocky trails and snow
Large canopy gives lots of shade (plus it's 100% waterproof)
Generous seat padding makes the ride very comfortable
Plenty storage space for all your belongings
New sleeker frame = easier, one-hand fold
Folded stroller locks automatically and stands on its own
BOB Alterrain PRO Review
As a jogging mommy I couldn't resist to take this new arrival for a spin. In this review I will tell you more about BOB Alterrain PRO features and answer the question that you probably have: Is it really better than old BOB Revolution PRO? Is it good for beginners or only advanced runners? And most importantly: Is it worth the extra money?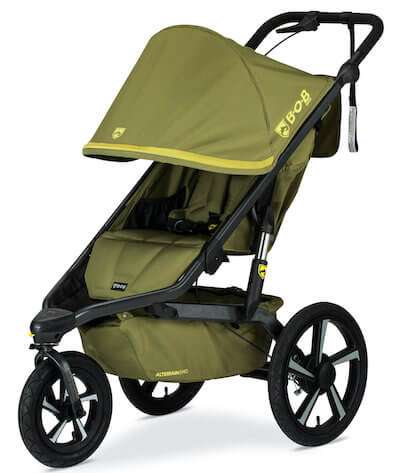 Frame
Just a quick look at the new Alterrain PRO and you'll notice that it has a completely different frame than BOB Revolution PRO or BOB Revolution FLEX 3.0. You may ask: what difference does it make? Well, the frame shape matters a lot because it affects the way the stroller folds and how compact it is.
Even though Alterrain PRO has almost identical fold dimensions as Revolution PRO, it features much easier folding – which can be done with one hand, and stands on its own! But more on that later.
In addition to making the folding more convenient, this frame has one more advantage. It simply looks better! It's sleeker and more stylish. I really like its simplicity. Of course the stroller look is not the most important thing, but hey! You'll be using it for 3-4 years (or maybe even longer!), so it should suit your style, right?
In my option the new BOB Alterrain PRO design is more up-to-date, and looks similar to Thule Urban Glide 2 (scroll down to see my comparison at the bottom of this page).
Seat
BOB Alterrain PRO features roomy seat with max. weight capacity of 75 pounds and max. height capacity of 44 inches. The seat dimensions are the same as on BOB Revolution PRO and FLEX 3.0 which lots of parents have been using for 4 or even 5 year old kids. Alterrain PRO seems to provide the same comfort for older children.
You will love how much padding the seat has. It is called Compression Seat. It's so cushy and soft. Moreover, BOB finally took care of that strip under knees. If you're not familiar with this issue I will just tell you that other BOB strollers have fantastic padding but there is an annoying strap right under baby's knees that is made of rough fabric and irritates baby's skin. BOB Alterrain PRO doesn't have this issue because the strap under baby's knees is padded too. The whole seat is comfy and supports baby's body during the ride.
There is one more amazing thing about the padding that I need to tell you. There is additional support pillow in the lower part of the backrest to keep your child hips more securely. So even when you're running at higher speed, your little passenger won't get bumped around in the seat.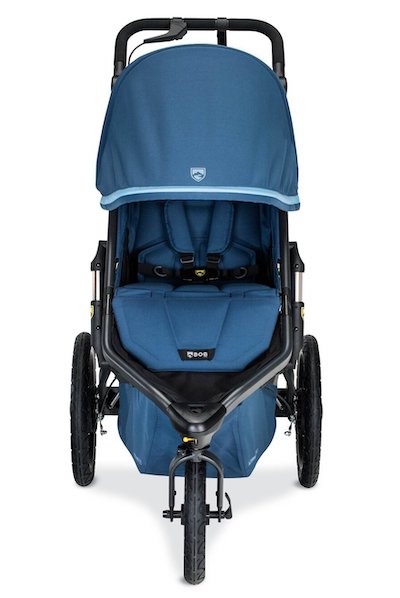 Moreover, the seat fabric is water resistant which makes it easier to clean with a wet cloth. And it won't get soaked when it starts to rain during your running session.
Another fantastic feature that I can't fail to mention is the no-rethread harness. It's very easy to adjust, because you don't have to pull the straps in and out of the holes (which we all know is super annoying).
Recline
As for a jogging stroller BOB Alterrain PRO provides really impressive recline. The backrest goes almost all the way down so it's very comfortable for naps on the go. However, you should keep in mind that you should not run with the stroller with reclined seat – the child should sit more up.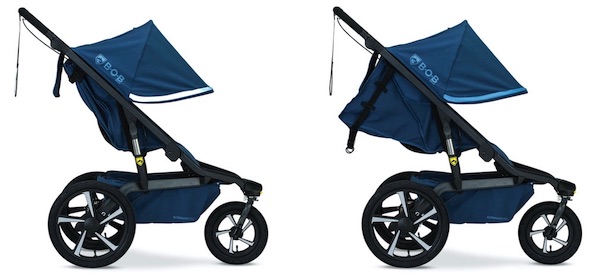 Age recommendations
According to the manufacturer the main seat is suitable for baby from 8 weeks – for walks only and from 8 months for running.
Nevertheless, if you want to use this jogging stroller for an infant (from birth or 8 weeks), I would recommend using it with an infant car seat. It would be best to start using the main seat for walks when the child can sit more upright and for running when the child has fully developed neck and head control and sits unassisted. It's always best to consult with the pediatrician whether your baby is ready for jogging.
Compatibility With Infant Car Seats – BOB Alterrain PRO Travel System
As I've mentioned above, this jogger can be used with an infant car seat and there are a few car seat brands that are compatible with it.
BOB Alterrain PRO works with: BOB/Britax, Chicco, Peg Perego. The adapters, necessary for attaching the car seat to the stroller frame, are not available yet. These accessories should arrive on the market Summer/Fall 2020.
IMPORTANT UPDATE: When we were doing this review, there was information on BOB website that they were going to release adapters for Graco, Cybex, Maxi Cosi, Nuna and UPPAbaby infant car seats too. However, according to latest info there are no release dates for these adapters and we're not sure if they'll be manufactured at all. 🙁 It's a bummer because brands like Nuna or UPPAbaby offer awesome infant car seats and lots of parents uses them.
If you're about to purchase BOB Alterrain PRO keep in mind that there are no adapters available yet, so you won't be able to use it for an infant right now. You can still use it for running with 8+ months old baby though.
Canopy
This new jogging stroller comes with 2-panel canopy that provides lots of shade for the little passenger. No matter if the seat is fully up or fully reclined, this canopy will keep the sun out of your baby's eyes.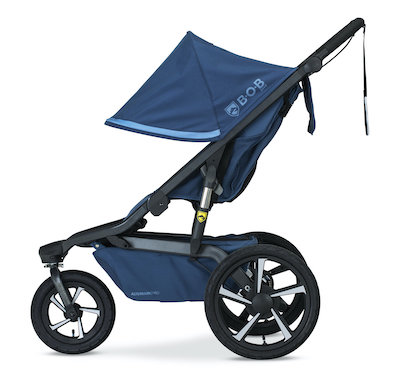 The fabric that the canopy is made of is 100% waterproof, windproof and gives UPF 50+ protection. Thank to that, you can use Alterrain PRO throughout the year, regardless the weather.
I like that when the canopy is fully extended, the fabric is tight and doesn't wrinkle.
The canopy has also two peek-a-boo windows – one is made of plastic, the other is made of a mesh. Good thing is that they close with magnets – not a noisy Velcro!
Handlebar
As a high-end jogging stroller BOB Alterrain PRO could not miss an adjustable handlebar. It rotates up and down, from 31 to 48 inches (from the ground). I would prefer an extendable one, but at least this one has a really wide range of height settings (9 positions). Even very short and very tall people will find it comfortable. The lowest setting is great for older siblings who sometimes want to push the stroller.
Although I'm not a fan of handlebars with foam cover, because they are prone to tearing, I still like the one that BOB Alterrain PRO has. There are bumpers that protect the foam from tearing when the stroller is self-standing.
There is also a safety strap attached to the handlebar which you should put around your wrist. This way the stroller won't roll away from you.
Wheels & Suspension
This new BOB stroller has a 3-wheel design – which is typical for jogging strollers. It makes it more maneuverable and easier to turn. The front wheel is 12″, the rear wheels are 16″. If you're looking for a stroller for sand – BOB Alterrain PRO is the perfect choice. With these large wheels you'll be able to get through sandy beaches and unbeaten trails.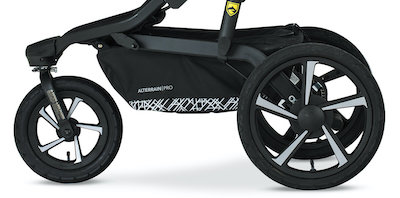 Of course the tires are air-filled – it's the only type of a tire that makes a stroller suitable for jogging.
Thanks to these pneumatic tires the stroller rolls nicely, even on harsh terrain, and the ride is always smooth for the baby. Remember that the front wheel is lockable – when you go over bumpier terrain or run at higher speed you should lock the wheel in straight position.
But it's not all about the wheels, another crucial thing is the suspension. BOB Alterrain PRO has a SmoothShox® Suspension System that cushions the ride when you go over bumps. With such an equipment you can run with your BOB on sidewalks, gravel, grass, bark chips, even mud! It's also a good stroller for winter as it can handle larger amounts of snow.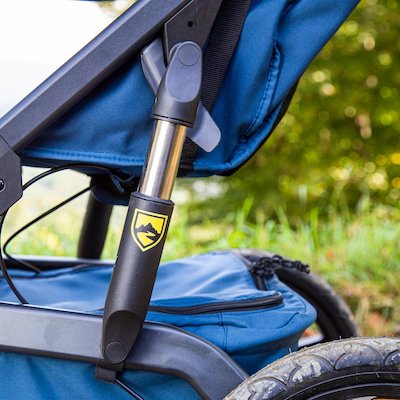 What you're going to love about this jogging stroller are the reflective rims and spokes – which make you more visible in lowlight. If you like evening walks or early morning jogging, it's a very useful feature and I'm glad BOB have added it to all color versions of Alterrain PRO stroller.
Brakes
If you're looking for a stroller for hiking, this is the best one you can get. The new BOB Alterrain PRO features two brakes: flip-flop friendly parking brake, operated by foot, and additional handbrake for controlling the speed when you go downhill.
Thanks to the brake operated by hand, which works similar to a bicycle brake lever, you can always control the stroller and you're able to slow down whenever you need.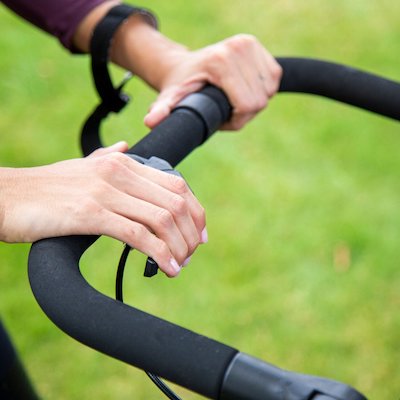 Storage Space
All BOB jogging strollers have impressive storage basket, but for BOB Alterrain PRO it has been redesigned and now it's more capacious.
This basket can easily accommodate a large diaper bag or a few shopping bags. What you're going to love is the zippered cover for the basket. You won't have to worry about your valuables getting wet or falling out! All your belongings will be securely stored.
Moreover there are additional 5 storage pockets for small items: 2 inside the seat where you can put your kiddo's sappy cup, snacks or small toys, 2 at the back of the seat and 1 at the handlebar – where you can keep your phone (it's big enough to fit large smartphones).
Folding
This is the part that I like the most about the new BOB Alterrain PRO. Folding mechanism is WAY BETTER than the folding mechanism on other BOB jogging strollers.
You just need to lift the calf rest – underneath it you'll find a handle with a yellow button. You need to press the button and twist the handle – the stroller will collapse in half. The best part is that you can fold the stroller with just one hand! This new folding mechanism is very similar to the one that Thule Urban Glide 2 has.
Moreover it stands on its own and locks automatically – which is another huge improvement when we compare this stroller to BOB Revolution PRO or FLEX.
The size of the fold is still pretty big and may not fit in small car trunk, but I'm so glad BOB finally have made folding much easier: one-hand and one-step.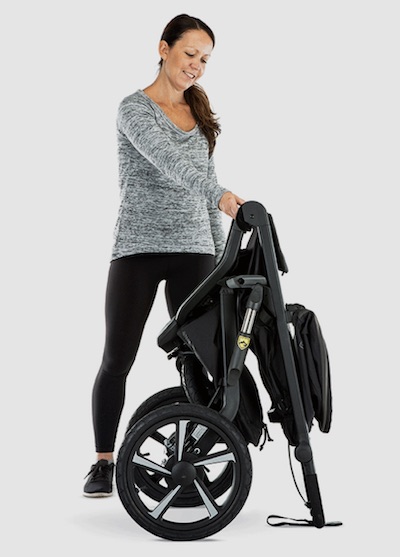 In case you wonder whether this jogging stroller fits in your car trunk, here are the dimensions of folded BOB Alterrain PRO: 39.3″ x 25.5″ x 16″ (L x W x H). To make it a bit more compact you can always take off the rear wheels, which takes just a moment. This way the stroller will be 6 inches shorter, 4 inches narrower and 3 inches flatter.
Size & Weight
BOB Alterrain PRO is a heavy-duty vehicle, it's built to handle all kinds of terrain, including sand, mud and snow! Therefore it's not a surprise this stroller is big and heavy.
It weighs 32.3 pounds, so it is significantly heavier than BOB Revolution FLEX and PRO. Actually, it's one of the heaviest single jogging strollers right now! Well, it's a tradeoff for having high quality, ultra-safe, comfortable and truly all-terrain jogger!
BOB Alterrain PRO is 25.5″ wide, similarly to other jogging strollers, and 46″ long. It may be difficult to steer in narrow space like between shelves in a small grocery store, but keep in mind this stroller is mainly designed for outdoor use, and for many parents it may feel too clumsy for everyday errands and shopping.
Pros & Cons
Pros
Cons

Pros

---

+ Awesome wheels and suspension that make the ride smooth

+ Handles all types of terrain

+ Very comfy and supportive seat

+ Large canopy covers the passenger up to his knees

+ Lots of storage space, useful pouch for a phone at the handlebar

+ Handy zippered cover for the basket

+ Easy one-hand fold

+ Reflective details that keep you more visible in the dark

Cons

---

- Heavy = difficult to lift and carry

- Quite large fold
BOB Alterrain PRO – Colors
The brand-new BOB Alterrain PRO comes in 4 colors: Black, Olive, Blue and Lunar. As I've mentioned above, all color versions have reflective accents on rims and spokes, as well as on the canopy to keep you more visible. The Lunar fabric has even more accents that glow in the dark – so it's a perfect choice for evening jogging enthusiasts. If you'd like to check the availability and compare prices of different colors, I recommend you to visit Amazon, one of BOB's official sellers.

Specification
| Stroller | Info |
| --- | --- |
| Stroller Type | Jogging |
| Stroller Weight | 32.3 lbs |
| Weight Limit | 75 lbs |
| Width | 25.5" |
| Fold Dimensions | 39.3" x 25.5" x 16" |
| Handlebar Height | 31" - 48" |
Other Versions
Soon there should be a different version of this stroller – slightly cheaper – called BOB Alterrain. This model will lack some of the "PRO" features: handbrake, zippered cover for the storage basket, reflective details on the wheels and 100% waterproof canopy fabric. If you feel like these features are not so that important to you, go for the BOB Alterrain and save a few dollars.
Keep in mind this version has a different color scheme: Black, Teal, Grey and Lilac.
The exact release date of BOB Alterrain is yet to be confirmed.
Accessories
| Pic | Info |
| --- | --- |
| | Handlebar Console - No worries if the storage basket and 5 pockets are not enough for you! BOB offers additional parent console that easily attaches to the handlebar. It has two cup holders and one zippered pouch where you can stash your phone, keys and change. |
| | Handlebar Console with Tire Pump - This organizer includes two beverage holders, one large pouch with Velcro closure and a few small mesh pouches for keys, change or tissues. The tire pump, which is very useful to keep always at hand, is included! |
BOB Alterrain PRO vs Thule Urban Glide 2
Generally speaking these two strollers are very similar in terms of performance, because they can handle all kinds of terrain, including gravel, snow, mud, grass and rocky trails. Thanks to hand brakes both these joggers are suitable for hiking.
Nevertheless, there are some differences, especially in terms of size and convenience in daily use, which may encourage you to go for one or the other. Check the list of differences below.
| BOB Alterrain PRO | Thule Urban Glide 2 |
| --- | --- |
| Roomier, wider seat (14.5") | Narrower seat (12.4") |
| Bigger canopy - more cover from the sun | Smaller canopy |
| Narrower frame for easier fitting through doorways (25.5") | Wider frame (27.2") |
| More storage space - large basket + 5 pockets | Large basket with zippered cover + 3 pockets |
| Useful storage pocket for the phone and keys at the handlebar | Storage pocket for small valuables inside the basket |
| Wider tires with more thread = even better traction on rough terrains | Suitable for all types of terrain |
| Fabric footrest | Plastic footrest, easier to clean from mud or sand |
| Heavy (32.3 lbs) | Much lighter (25.3 lbs) |
| Bigger fold (39.3 x 25.5 x 16 in) | A bit smaller fold (34.2 x 27.2 x 13.3 in) |
| Bicycle-style hand brake - may be hard to squeeze at the beginning | Twist hand brake (easy to use) |
| Compatibility with infant car seats: no adapters available yet (Britax, Chicco & Peg Perego adapters should be available this summer, there might be adapters for other brands too but there are no release dates yet) | Compatibility with infant car seats: Maxi Cosi, Cybex, Nuna Chicco, and lots of other popular car seat brands including Britax, Graco, Peg Perego, Safety 1st, UPPAbaby - with Universal Adapter |
Keep in mind
For some parents this stroller may feel pretty bulky and too big for everyday use (shopping, running errands). It is massive, but you need to remember what it was designed for: the most difficult terrain, running and hiking.
3 Reasons Why You Will Love BOB Alterrain PRO
1. Run or walk wherever you want – this stroller is built to handle even the mud and sand!
2. Super comfy and supportive seat that holds your child securely during your running sessions.
3. Lots of features for parent's convenience: easy one-hand fold, magnetic peek-a-boo windows, zippered storage basket and big pocket for your smartphone at the handlebar.