If you're familiar with LittleBabyGear a little bit, you know that I'm a stroller addict 🙂 And when I thought I've seen it all in the world of strollers and nothing can surprise me, Bugaboo presented new addition to their lineup: Bugaboo Ant. Let me tell you one thing: this lightweight stroller blew me away.
I must admit – when I saw Bugaboo Ant price, before I had a chance to check out the stroller on my own, I thought "that's quite a lot as for a travel stroller". But then I saw how beautiful it is and that it has all those features that parents dream about to have on their lightweight stroller! It made me realize that it's totally worth the money and will quickly become one of the best lightweight strollers for travel (full list here).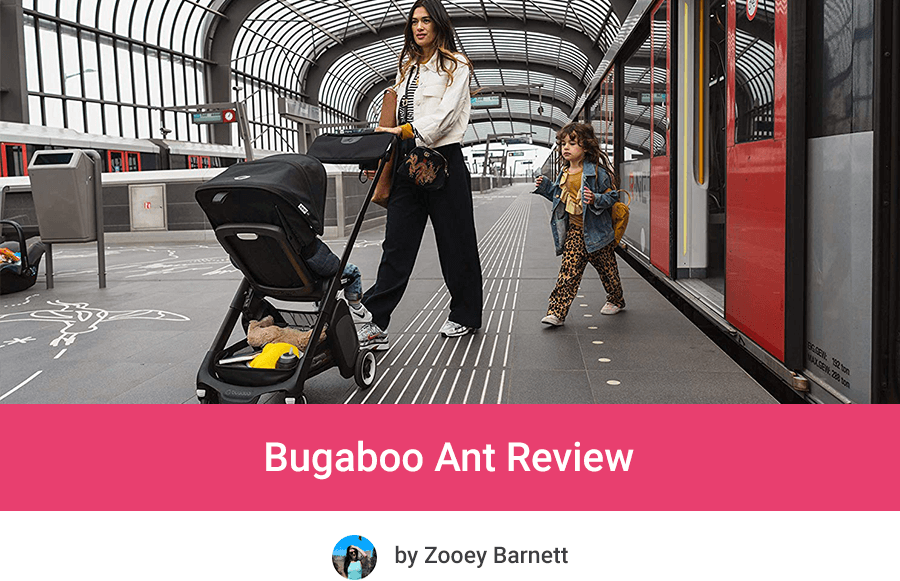 This article contains affiliate links.
But is it really flawless? We can't ignore the fact that parents have found some issues. How serious are they? Should they stop you from buying Ant?
I will answer these questions in my in-depth Bugaboo Ant stroller review. Here's everything you need to know to decide whether this stroller is splurge-worthy.
At the end you'll find a new comparison of Bugaboo Ant and BABYZEN YOYO2.
Image
Info
Verdict
Promo

Bugaboo Ant 2020 Check Price On Amazon

Type: Lightweight Stroller

Weight: 15.8 lbs

Capacity: 50 lbs
LittleBabyGear Verdict:
High-quality stroller that looks beautiful and cute. It's a perfect choice for those who often travel with their little one (best for baby between 6 and 24 months)
Current Sale: Save 25%!

Bugaboo Ant Stroller Review (2019/2020)
Let me begin by pointing out that Bugaboo Ant 2019 and Ant 2020 are exactly the same stroller. The only thing that has changes for 2020 is the collection of accessories. The brand has released carry handle and footrest accessory for Bugaboo Ant travel stroller.
Below you can find all details about Ant – features that make this stroller super convenient, as well as some small drawbacks that I found.
Ready?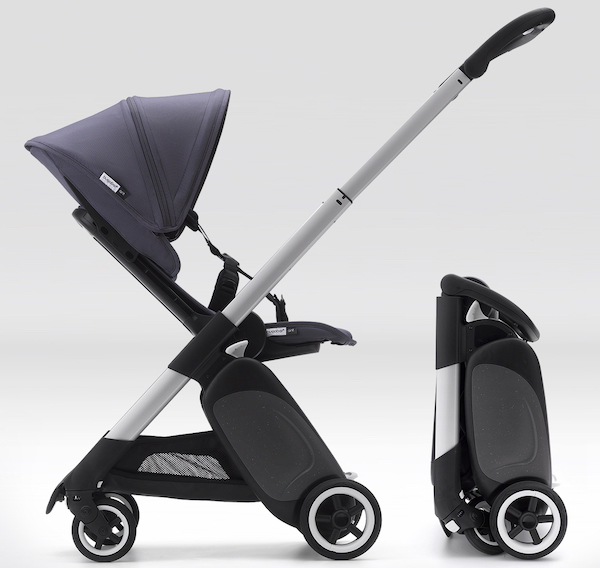 Seat
Bugaboo Ant seat is completely different than everything we've seen on other strollers.
First of all, this is one of the two lightweight strollers with reversible seat, which weigh less than 16 pounds (the other one is Cybex Eezy S Twist). This only shows how rare feature this is among compact and light strollers.
And what is so special about reversible seat? You realize how important this feature is, once you become a parent. We all want to keep an eye on our little baby and prefer when they are riding facing us during the first few months. But once children get older and more interested in everything that surrounds them, they prefer to ride facing out.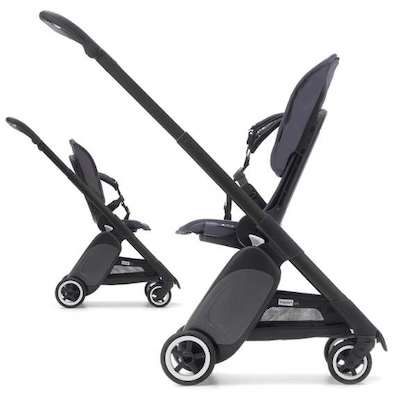 But as I mentioned earlier, I found some small drawbacks – and the mechanism that allows you to reverse the seat is one of them. It's not that it's difficult, it just requires a few steps so at the beginning it may feel a bit complicated.
What you have to do is to slide the backrest down (yes, the back moves up and down!), fold the canopy in (yes, it folds inwards!), fold the leg rest and push the seat all the way to the back (or to the front, depending on the direction of the seat). Then you can slide the whole seat unit out of the stroller frame, reserve it and slide it in again and open the whole seat.
I know it sounds like a lot of work but you get used to it after a while.
To see how the whole process looks like, watch the video at the end of my review.
Nevertheless, reversible seat is something really rare among all strollers. It's a privilege to have it on a lightweight stroller! 🙂
As I mentioned above, the backrest on Bugaboo Ant stroller is extendable. When it's fully extended the seat height is 22″. The lowest height is 16.1″. That's why the seat may seem a bit small at the first glance, fortunately it extends as the child grows!
Keep in mind that there is no gap between the backrest and canopy, meaning there is no additional space above the backrest, and under the canopy. 22″ is the max. head height for this stroller.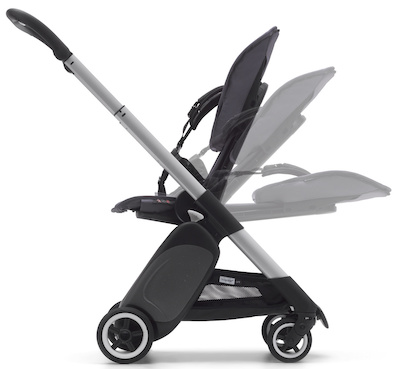 Another feature that your child will particularly love is the TRULY UPRIGHT position. Seriously, this is probably the only (good-quality) travel stroller that allows the toddler to sit really up.
All you need to do is to squeeze the buckle on the back of the seat and push the backrest forward to make it fully upright. If your toddler is like all of my three kids, and can't stand riding in reclined seat, gets nervous or bored, Bugaboo Ant will be a game changer.
This lightweight stroller offers near-flat recline, when facing in, which is perfect for the nap on the go. But it's not fully flat, so I wouldn't recommend it for a newborn baby – especially since the seat doesn't have any side walls that would create enclosed space for small infants. I think the backrest itself is just not enough to support newborn's delicate back. Ant seat is best option for child who can keep their head up without any assistance.
The good thing is that lowering and raising the backrest is truly one-handed. You don't have to deal with straps – there is a lever that you can conveniently press with one hand.
IMPORTANT NOTE: Bugaboo Ant has 2 recline positions when the seat is facing out, and 3 positions when it's facing parents. Why can't the seat be fully reclined when facing the world? It's designed this way for safety reasons – to keep the stroller stable and well-balanced.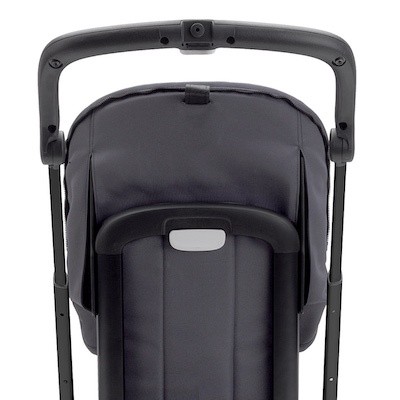 What's important, Bugaboo has decided to upgraded the Ant accessory collection for 2020 and added a useful accessory – a leg rest.
Keep in mind that it's sold separately. Even the Bugaboo Ant 2020 doesn't include it. The brand wanted to make the stroller as light as possible, so they skipped the leg rest and give parents the ability to get it separately, if needed.
The Ant leg rest adds extra comfort for toddlers. Whether the seat is facing in or out, you can attach the footrest and adjust it into 3 positions.
The best thing? Bugaboo Ant stroller folds down with the footrest attached and it doesn't change its dimensions!
>>Check availability & price for Bugaboo Ant leg rest
Infant Car Seat Compatibility
Bugaboo Ant is another lightweight stroller that allows you to attach infant car seat – making it suitable from birth.
You just need special adapters that connect the stroller and car seat. Bugaboo Ant is compatible with Nuna Pipa Lite, Nuna Pipa Lite LX, Cybex Aton 2, Cybex Aton Q, Clek Liing, and Maxi Cosi infant car seats.
Keep in mind that it's not working with original Nuna Pipa (because of a different width). It's not compatible with Bugaboo Turtle either.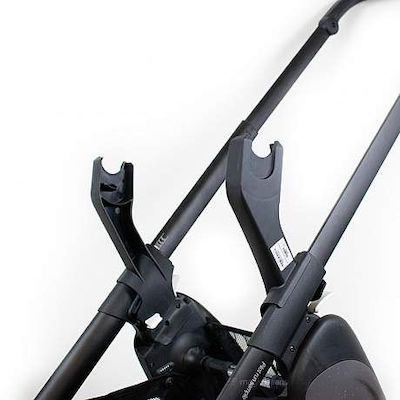 The adapters are already available for purchase. You can find them on Amazon or on PishPosh Baby.
Canopy
Parents often complain that lightweight strollers for travel have small canopies that don't provide enough shade from the sun.
I was really happy to see that Bugaboo Ant has extendable UPF50+ canopy – there is additional, third panel that opens with a zipper. In upright position the child is protected from sun rays really nicely. When the seat is laying flat the amount of shade is smaller, but still better than on many other compact strollers.
What you are also going to love about Bugaboo Ant 2019/2020 is the peek-a-boo window. It's made of mesh so it provides additional ventilation and there's no Velcro – so it's silent.
I'm glad that Bugaboo added the viewing window to their newest stroller, because their other strollers (like old Donkey and Fox 2019, Bee5) missed this important feature!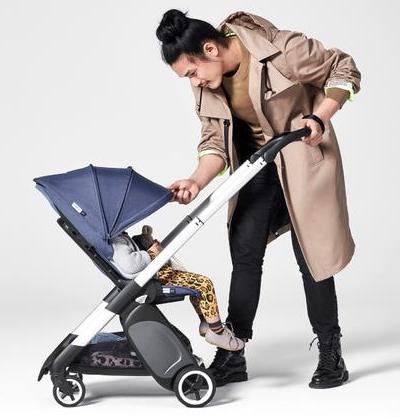 Handlebar
This is one of a few lightweight strollers with adjustable handlebar. It is telescopic so it slide up and down – it's another super rare feature among compact strollers! You have two settings to choose from: 37.4″ or 40.9″.
But that's not all – the top part of the handle also rotates! So you can adjust its angle and forget about the wrist pain after a long stroll.
Telescoping handlebar is really awesome because it ensures tall parents with long legs have more space behind the stroller and don't kick it while walking.
If you and your partner differ in height (or if you are really short or very tall), you will love this handlebar!
It also works like a suitcase handle, but more on that later! 🙂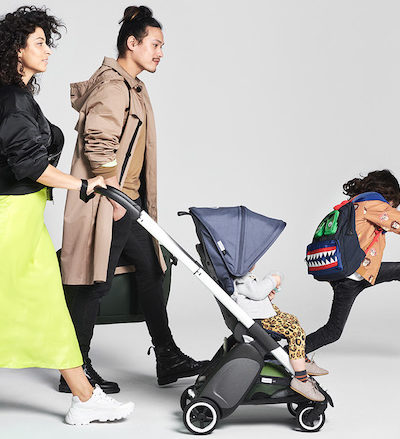 Wheels
I'm a fan of Bugaboo wheels with foam-filled tires which imitate the feeling of air-filled tires. You can find them on iconic Bugaboo strollers like Donkey, Fox and Cameleon.
I'm very happy that the brand added the same wheels – of course in a smaller size – to the Bugaboo Ant travel stroller.
Front wheels are 4.7″, the rear wheels are 5.9″.
Of course because of the size, the wheels are not suitable for off road or super bumpy terrain, but they work really impressive on urban surfaces, like cracked pavement, cobblestone or grass. There is also suspension in front and back that smooths the ride.
The side panels, on both sides of the storage bin, support the suspension and make the stroller more rigid.
Storage basket
One more feature that will blow your mind is the storage basket with capacity of 17.6 pounds. It's another feature that is not that common on lightweight strollers.
The basket has two separated parts. The front one is ideal for storing a diaper bag. It is easily accessible from the front so you won't have to struggle to get your things in and out of the basket.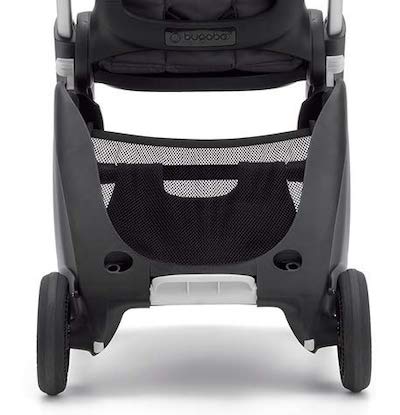 There rear part of the basket is like a mesh pouch and it can easily fit all your valuables like phone, wallet or even a small purse. What is really awesome is that you have the access to this pouch even when the stroller is folded!
If you're taking your Bugaboo Ant travel stroller as carry on, you can put your necessities, some toys or snacks to the mesh pouch and keep them always at hand.
I'm sure you are going to love Bugaboo Ant design and those smart solutions.
Weight
I was a bit afraid that because of so many features (like reversible seat, telescoping handle, modern reclining mechanism, big canopy etc.) Ant will be much heavier than other lightweight strollers. I was so surprised when I found out it weighs only 15.8 pounds, so it's actually similar to BABYZEN YOYO+, UPPAbaby MINU and Baby Jogger City Tour 2!
Carrying it up to 3rd floor or loading to the car trunk won't be a problem for sure.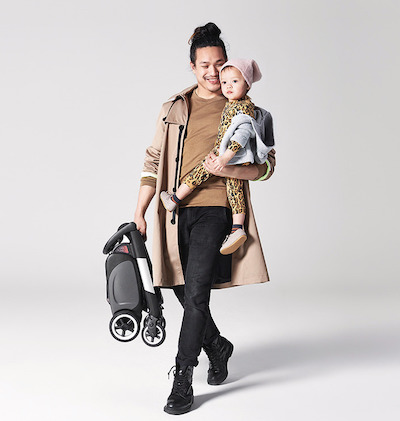 Fold
Although the folding is a multi-step process that takes practice, you are going to love the compact size of folded Bugaboo Ant.
I've already told you about the first steps because they are the same for reversing the seat and folding the stroller.
So you start with closing the seat unit and once it's fully folded, you lift two white toggles located on both sides of the stroller frame and the stroller collapses into a compact package that looks like a small suitcase (see the full process here).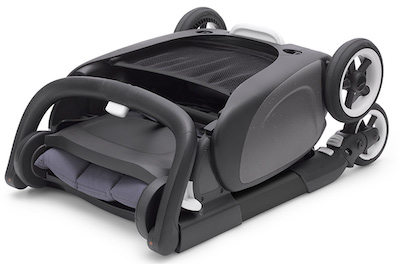 And it even works like a suitcase because you can pull it with the handle! Just adjust the height of the handlebar and you can pull your Bugaboo Ant just like another piece of luggage.
It's super convenient solution when you have to move quickly through crowded airport.
Of course you can slide the handlebar in, rotate in down and you're ready to get on a plane.
Folded Bugaboo Ant dimensions are: 9.03 x 14.96 x 21.65 inches. This means that it meets carry on regulations of some airlines and you can actually take it on board! Another reason to love Ant.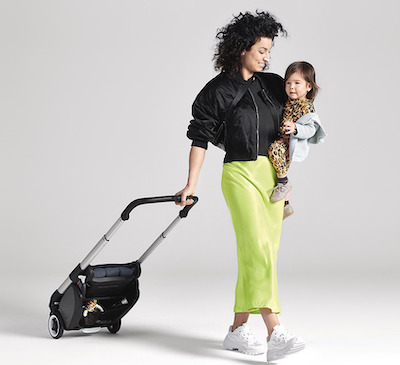 Some parents have complained about the lack of carrying strap. Fortunately, Bugaboo Ant 2020 collection of accessories includes it. You can get it separately, just like the leg rest. It's available here. The good news is that it's not expensive.
Pros & Cons
Pros
Cons

Pros

---

+ Child can ride facing you or the World

+ More upright seat position than on other strollers

+ Usable from birth thanks to compatibility with some infant car seats

+ Fully adjustable handlebar (height and angle)

+ Generous canopy - bigger than on other lightweight strollers

+ Compact fold that fits in overhead bins on some airplanes

+ Easy to carry (weighs less than 16 lbs) or pull (like a suitcase)

+ Looks gorgeous

+ Different parts of the stroller can be customized and there are multiple color choices

+ Quite spacious storage basket - bigger than on other lightweight strollers

Cons

---

- Folding is a few step process and takes more time than folding other lightweight strollers

- Not great for tall toddlers - best up to 2-2.5 years

- It's expensive and getting additional accessories make the whole purchase even pricier
What Parents Think About Bugaboo Ant
I checked online Bugaboo Ant reviews to find out whether parents love it or find it overpriced.
It turns out that it has a lot of positive reviews. Bugaboo Ant owners like its compact fold which is perfect for flights and cruises. Another advantage is high weight limit which not all lightweight strollers offer. Reversible seat is another feature that parents rave about. Besides, this stroller allows you to attach a board for the second kid and it still feels light to push with two kids!
As for such a small stroller it's really sturdy and can even handle cobblestone! The quality is awesome – like on other Bugaboo strollers.
The seat is a bit narrow – lots of parents have been using Ant with 3 and 3.5 year old kids, but their arms usually stick out.
The are some flaws that customers often complain about – especially the fold mechanism. There are some additional steps and it takes a lot of practice to learn how to fold and open the stroller. But once you get used to it, it gets easier.
I've also heard that some parents have problems with the fold and flimsy handlebar. Bugaboo has responded to those complains very quickly. If your Bugaboo Ant has any of those issues, watch the video by Magic Beans – it should help to solve those problems. 🙂
I recommend you to read customer reviews on Amazon on your own as well.
As I've briefly mentioned above, the lack of carrying strap was another parents' complaint. It's really great that Bugaboo listens to its customers. Bugaboo Ant 2020 accessory collection includes the carrying strap, as well as the leg rest.
Specification
| Stroller | Data |
| --- | --- |
| Stroller Type | Lightweight |
| Stroller Weight | 15.87 lbs |
| Weight Limit | 50 lbs |
| Stroller Width | 15.8" |
| Fold Dimensions | 9" x 15" x 21.6" (LxWxH) |
| Handlebar Height | 37.4" - 41" |
| Wheels Size | Front - 4.7", Rear - 5.9" |
Bugaboo Ant Accessories
Bugaboo Ant is one of the most expensive lightweight stroller, unfortunately it doesn't include any accessories! If you want to customize your stroller and add some convenience items, you will need a flexible budget. The selection of accessories available for example on Amazon is huge.
| Image | Description |
| --- | --- |
| | Bugaboo Wheeled Board - Ant allows you to attach the wheeled board to its frame. The board can hold up to 44 pounds and it's a great solution for older sibling to join the ride. |
| | Bugaboo Ant adapters for infant car seat - If you want to use your Ant from day one you will need an infant car seat. These adapters are necessary so you could install the car seat. Ant is compatible with some of the Cybex, Nuna and Clek infant car seats. |
| | Bugaboo Ant Organizer - If you want to have additional storage space, to keep your valuables within reach, this organizer is a must-have! It easily attaches to the handlebar and fits a mobile phone, documents, keys and a few other small items. |
| | Bugaboo Ant Transport Bag - This bag is very useful not only when you need to transport your Ant in a car trunk and you don't want it to get dirty. It's also perfect for storing the stroller at home, when it's not in use for a long time. |
| | Bugaboo Ant Footmuff - To keep your little one comfy and warm during winter strolls I recommend you to add this footmuff. If you live in an area where winters are really cold, you will definitely need this accessory. |
| | Bugaboo Ant Rain Cover - If you like long walks you need to be prepared for all weather conditions! You can still recline the stroller while in the rain cover. And when it's not in used, you can fold it flat and store in the basket below the seat - it takes little space. |
Bugaboo Ant Video Review
7 Reasons Why Bugaboo Ant Will Blow Your Mind
Reversible seat – It's one of the two lightweight strollers on the market, equipped with a reversible seat! It's a huge advantage because you can change the direction your child is facing, depending on their age and mood.
Truly upright seat – Toddlers usually get bored in a seat that is reclined even in the most upright position. And you can't blame them – the world is a new and fascinating place for them and they want to see everything. But finding a stroller that has really upright seat is almost impossible. That's why I think this is the biggest advantage of Bugaboo Ant. It really allows the child to sit straight, look around and observe everything.
Adjustable handlebar – Ant comes with 2in1 handlebar – it's telescopes in and out and rotates as well! You won't find it on any other stroller. This handle makes pushing equally convenient for short, average and tall parents.
Extendable canopy – Although this is not the biggest canopy I've ever seen, it's much bigger than canopies on many other lightweight strollers.
Small fold & lightweight construction – Folded Bugaboo Ant fits in storage compartments on airplanes (check it with your airline prior to your travel) and it's very easy to lift and carry.
Suitcase style – You can actually pull it like a suitcase with the handlebar (and adjust it to your height of course) so it's very convenient for crowded places. Moreover, when the stroller is folded you have a quick access to one part of the basket where you can put your necessities to keep them at hand. It's a very practical solution. I found this pouch very useful when you're getting through airport and want to keep a few diapers and some wipes always at hand.
Customization & beautiful look – This is something I haven't mentioned yet, but my Bugaboo Ant review wouldn't be complete if I haven't told you about the stroller look and how you can customize each part of it! You can choose the color of the frame and there are also a few choices for the seat and canopy. The fabric and all color versions look so cute and high quality. My favorites colors are Grey Melange and Steel Blue which you can see in the pictures below (it's the first one and the last one)! You can also change your canopy later and buy it separately in a different color. That's not all. The wheel caps and the side protectors can be customized too. Bugaboo is famous for their strollers personalization, and their lightest model – Ant, is no exception.

You can already order your Bugaboo Ant!
>> Check the offer on PishPosh Baby or on Amazon <<
Bugaboo Ant vs BABYZEN YOYO 2
Parents often wonder how Bugaboo Ant compares to the new YOYO2. What are the main differences? Which of these two lightweight strollers works better?
Here's our quick comparison: Bugaboo Ant vs BABYZEN YOYO 2.
Weight & Fold: YOYO is 2 pounds lighter than Ant and has a bit smaller fold. It's much easier and quicker to fold down (less steps to follow), and it includes a carry strap. If you want a shoulder strap for Ant, you need to pay extra. On the other hand, Ant handlebar doubles as a pull handle – you can pull folded Ant just like a suitcase.
Seat Size: Both strollers are suitable from about 6 months/ when the baby can sit unassisted. YOYO 2 has a capacity of 39.7 lbs, while Ant can accommodate a child up to 50 lbs. The setback on Bugaboo stroller is extendable – from 16.1″ to 22″. However, there is no additional head space above the backrest (the canopy is connected to the seatback). The backrest on YOYO stroller is about 17″ tall, but there are additional 8″ above it. Altogether there are about 25″ from the bottom of the seat to the top of the canopy. Even though YOYO seat doesn't extend, it offers more head space for growing toddler. YOYO seat is also slightly deeper and about 3 inches wider (!), and it has fabrics on the sides for added comfort.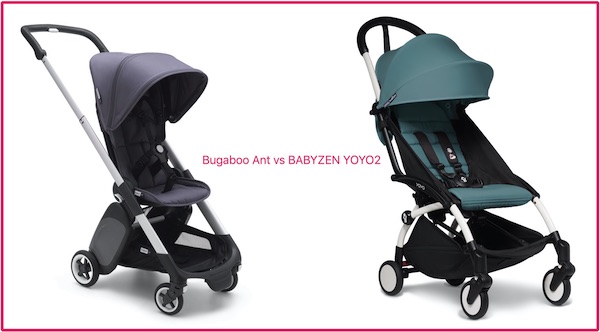 Reversible Seat: YOYO has a sling-type seat (fabric attached to the stroller frame), while Bugaboo stroller has a seat unit: there is a rigid seat frame underneath the fabric. Ant seat is reversible, YOYO has only facing-out seat. Reversing the Ant seat is a bit of a hassle, which I explained in the above review, but still good to have this feature.
Recline: Ant has fixed recline positions – 3 when facing in, 2 when facing out. The lowest recline is deeper than on BABYZEN stroller. Moreover, Ant has more upright seat in the highest position.
Leg Rest: Both 2020 Ant and 2020 YOYO2 offer additional leg support – but these accessories are sold separately (the price is basically the same). The Bugaboo leg rest is a bit longer though.
Canopy: Bugaboo lightweight stroller has a bit more generous canopy which gives more shade for the child. Moreover, I prefer Ant mesh peek-a-boo window over YOYO plastic window.
Handlebar: BABYZEN stroller has fixed handlebar – 42″ from the ground. Bugaboo Ant has adjustable handlebar with two positions: 37.4″ or 40.9″ for shorter and taller parents.
Wheels & Suspension: YOYO has all wheels in the same size (5.3″) and 4-wheel suspension. Ant has 4.7″ front wheels and 5.9″ rear wheels, and all-wheel suspension. What I like about the Ant wheels is that the foam-filled tire is a bit thicker.
Storage Space: YOYO has decent storage basket with capacity of 11 lbs, plus additional zippered pocket on the back of the canopy. Ant has more spacious bin, with higher weight limit – 17.6 lbs. Moreover, the basket is divided into two compartments, and when the stroller is folded you have the access to one of it! It's super convenient for getting through the airport as you can keep your necessities at hand.
Configurations For Newborns: You can use your YOYO stroller from birth if you add Newborn Pack 0+ fabrics. It is fully flat, and looks like a small bassinet with cozy apron. In this configuration the baby faces parents. On the other hand Bugaboo offers a cocoon for the Ant stroller, however I've heard lots of complaints about the cocoon not fitting the main seat. It seems like the US version of Ant doesn't recline fully flat (more like 170 degrees) and the cocoon sometimes doesn't fit properly. And since the seat is not fully flat I wouldn't recommend it for newborns.
Compatibility With Infant Car Seats: Both strollers work with some infant car seats from Nuna, Cybex, Maxi Cosi and Clek. The list of compatible models is almost the same.
Coming soon: full comparison of Bugaboo Ant vs BABYZEN YOYO2. Stay tuned!
---
Pictures of Ant belong to Bugaboo. Source: https://www.bugaboo.com/
Picture of YOYO2 belongs to BABYZEN. Source: https://www.babyzen.com/
Your trust is really important to me: This post contains affiliate links. If you choose to buy something using these links, I receive a small commission, at no extra cost to you. Your support helps me run this blog. Thank you so much 🖤 Zooey