Nuna MIXX and UPPAbaby CRUZ V2 are one of the famous high-end strollers. In our Nuna vs UPPAbaby comparison we'll take a closer look at the differences and similarities, check what are their benefits and downsides, to help you decide which one suits your needs and lifestyle better. Are these two convertible strollers splurge-worthy?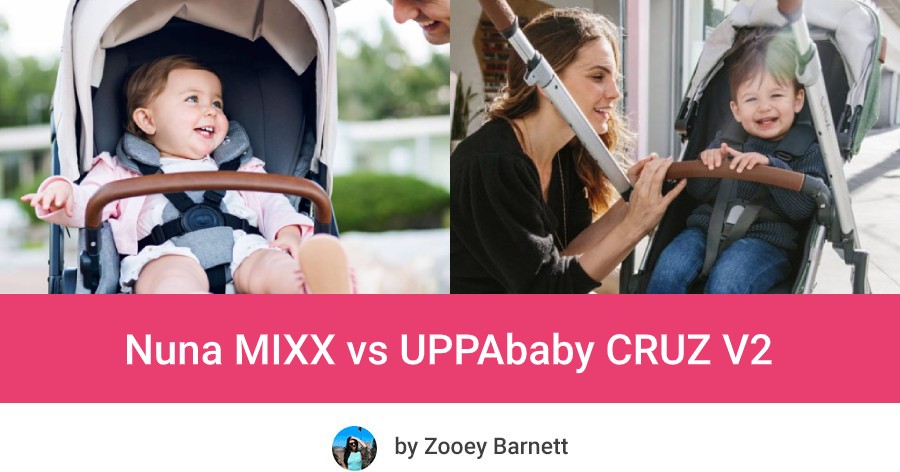 In this comparison we will answer the most urgent questions: Is Nuna better than UPPAbaby? What is so special about UPPAbaby? Are these two brands worth the money?
Keep on reading to find out more!
This article contains affiliate links.
| Nuna MIXX | UPPAbaby CRUZ V2 |
| --- | --- |
| | |
| Single, convertible stroller | Single, convertible stroller |
| Suitable from birth up to 50 lbs | Suitable from 3 months up to 50 lbs |
| Features lay-flat recline position for newborn baby | Doesn't offer flat recline |
| Reversible seat | Reversible seat |
| Compatible only with Nuna infant car seats (adapter included) | Works with UPPAbaby car seat (no adapter needed) and other brands: Maxi Cosi, Nuna, Cybex, Chicco |
| Nuna doesn't offer standing board | Allows to attach PiggyBack Board for older sibling |
| All-season seat with winter cover and summer mesh; fabrics are machine washable | Standard seat, fabric is not removable |
| 3-panel canopy with multiple mesh vents and sun visor | 3-panel canopy with 2 mesh vents |
| Handlebar adjusts from 38" to 42" | Handlebar adjusts from 40.5" to 43" |
| 7.5" front wheels & 11" rear wheels | 7" front wheels & 10" rear wheels |
| All-wheel suspension | All-wheel suspension |
| Big storage basket for large diaper bag | Almost twice as big storage basket |
| Weighs 27 lbs (without arm bar and winter seat liner) | Weighs 25.5 lbs |
| Fold: 34" x 23.5" x 18" | Fold: 33" x 22.8" x 16.5" |
Nuna MIXX vs UPPAbaby CRUZ V2 – Differences & Similarities
Let's start our comparison of UPPAbaby versus Nuna by checking what's included with each stroller.Then we will move onto strollers' features and we'll see which one performs better.
What's Included
Both strollers are pricey so everyone would expect them to come with at least some accessories included in the basic package.
All items included with CRUZ V2 are: stroller with toddler seat with bumper bar, toddler seat insect shield and toddler seat rain cover.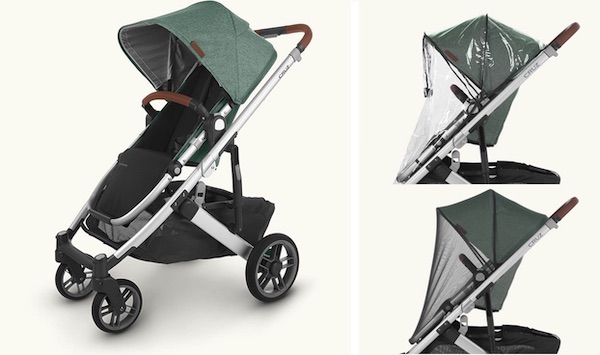 MIXX includes: stroller with all-season toddler seat (with dual seat insert), bumper bar and ring adapter for Nuna Pipa infant car seat series.
All other accessories like cup holders, travel bags or child trays must be purchased separately. Keep scrolling to read more about Nuna vs UPPAbaby add-ons.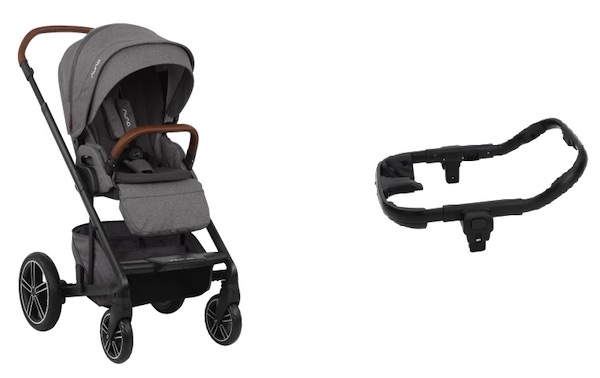 Nuna MIXX vs UPPAbaby CRUZ V2 – Price
All the upgrades made for 2020 UPPAbaby CRUZ V2, caused that its price increased in comparison with older CRUZ 2019. Now CRUZ V2 price is almost identical as MIXX 2019 price.
Depending on the color CRUZ V2 costs $649.99-$679.99. What's interesting most of the colors from the previous lineup are more expensive, while most of the new 2020 colors are cheaper.
Nuna MIXX costs $649.95-$669.95, depending on the color (the Oxford color is most pricey).
Nuna MIXX vs UPPAbaby CRUZ V2 – Toddler Seat
The main seat is probably the biggest differences between these two convertible strollers.
UPPAbaby toddler seat is suitable from 3 months (at least the US version), up to 50 pounds. It features multi-position recline, however because of budget-style design it doesn't offer fully flat position (bucket style seat means that the whole seat tilts, not just the backrest). The leg rest is also adjustable and flips up and down.
According to the manufacturer, Nuna toddler seat is suitable from birth, up to 50 pounds. It doesn't have a bucket-style seat like CRUZ – which means its backrest reclines separately from the rest of the seat. The leg rest goes up and down too. If you recline the seat all the way down and move the leg rest all the way up, you will create a space similar to carry cot. According to Nuna you can use this position from birth.
Although I would recommend using a bassinet for newborn babies for longer strolls, it's good to know that Nuna offers newborn-friendly flat recline for shorter walks.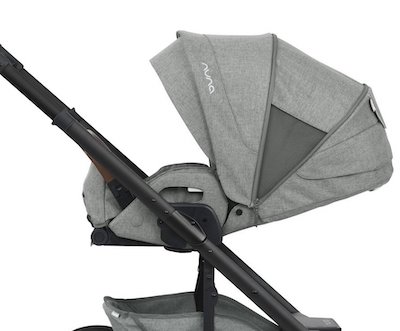 Each stroller comes with a 5-point no re-thread harness which is super easy to use and adjust as the baby gets taller. I like Nuna harness a bit more – because it features padded covers for the shoulder straps, crotch strap and the middle buckle, so nothing digs into or irritates baby's skin. Unfortunately UPPAbaby harness has padded covers only on the shoulder straps.
In 2020 CRUZ seat went a makeover and now it's bigger and more comfy for a growing toddler. The backrest is now 20″ long and the leg rest is 11″ long (2″ longer than in previous version). All in all, CRUZ V2 should accommodate 3-3.5 year old child with ease. Nuna MIXX 2019 is roomy enough to accommodate a 3-year-old.
The seat on CRUZ V2 and MIXX is reversible which means your little passenger can ride facing you or the world. It's a very useful feature because it's best to keep younger infants facing parents, while toddlers usually prefer to ride facing out because it's more interesting to them to look around and just look at mommy!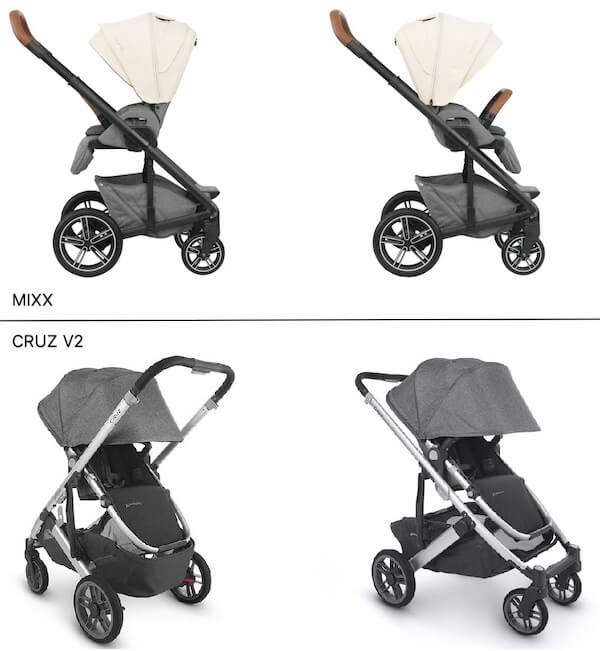 The biggest difference between Nuna versus UPPAbaby seats that distinguishes MIXX stroller is its all-season seat.
MIXX comes with a bamboo seat liner that wicks the moisture away. This cozy and cushy padding will keep your baby warm during winter walks.
You can remove this liner at any time and reveal the mesh backrest. It makes MIXX stroller perfect for hot summer weather as it provides additional airflow inside the seat.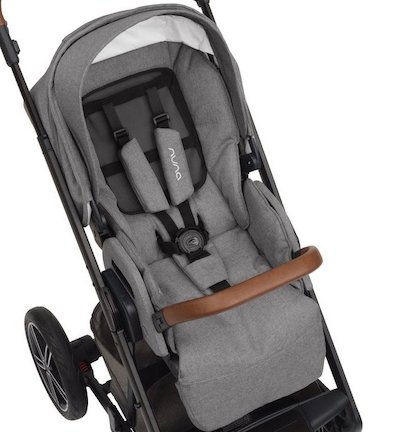 Regardless of the weather, Nuna stroller will keep your baby nice and cozy, and free from sweating. Besides, the seat fabric is removable and machine-washable (just in case you need to clean it after spit-up or diaper blowout)!
CRUZ V2 doesn't have all-season seat. Although the material and padding feel nice, they are not as great as those of MIXX. Moreover, UPPAbaby only recommends hand-washing for their fabrics.
I think the all-season seat makes the Nuna MIXX totally worth the money!
WINNER: In terms of size, I would say that CRUZ V2 wins because it has longer backrest for taller kids. However, considering the lay-flat recline and two layers for summer and winter on Nuna seat and its breathability – I think the MIXX is a true winner here.
Nuna MIXX vs UPPAbaby CRUZ V2 – Bassinet
For each stroller you can purchase separate bassinet. Frankly, Nuna and UPPAbaby bassinets are THE BEST ONES that you can now find on the market. Four features that distinguish them are: coziness, ventilation, protection from sun and being approved for overnight sleep.
I always recommend adding a bassinet if you want to use your stroller from birth for longer walks. It provides most comfortable environment for the newborn baby, giving them privacy for undisturbed sleep. Besides it's supportive and suitable for their delicate back. And by giving the baby more room to wiggle around, it reduced sweating (in a car seat baby is surrounded by protective foam which doesn't allow for airflow).
Each bassinet features mesh window on the canopy and offers complete cover from the sun. CRUZ bassinet has extendable sun visor that block harmful sun rays. MIXX bassinet includes Dream Drape – amazing black mesh cover that fully shades the baby without reducing the airflow in the bassinet.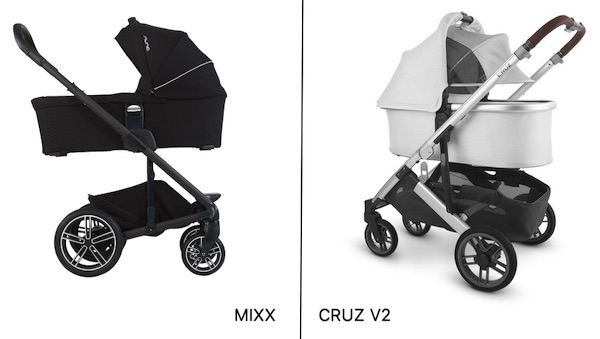 There is one feature that makes the Nuna MIXX series bassinet to stand out: it folds down flat! Thanks to compact fold, it takes less space in a car trunk, and storing it for the next child is also much easier.
Best best thing about these bassinets is the possibility to use them for overnight sleep. Just the bassinet on a special stand and place it beside your bed. Awesome solution for parent who live in a small apartment. Bassinet can be used a baby's bed during an overnight visit to grandparents or family trip.
The stand for Nuna bassinet is really awesome because you can also attach the standard toddler seat to it and use it as a portable high chair! It's so convenient!
On the other hand – for UPPAbaby stand you can get a special fabric insert and turn it into a laundry hamper, when your baby's outgrows the bassinet!
Speaking of outgrowing – it's worth to mention that MIXX bassinet is suitable up to 20 pounds/27 inches, while CRUZ V2 bassinet can accommodate baby up to 20 pounds/25 inches (or until your baby can push up on their hands and knees).
>>Check the Nuna bassinet and bassinet stand
>>Check the UPPAbaby bassinet and bassinet stand
WINNER: Considering the size, fantastic Dream Drape and the ability to use bassinet stand with toddler seat as a portable high chair – I think the winner here is Nuna.
Nuna MIXX vs UPPAbaby CRUZ V2 – Infant Car Seat Compatibility
Both Nuna MIXX 2019 and UPPAbaby CRUZ V2 2020 can be converted into a travel system.
MIXX stroller comes with a ring adapter which allows you to attach any of the Nuna Pipa series car seats.
Infant car seats compatible with Nuna MIXX:
Original Pipa
Pipa Lite
Pipa Lite LX
Pipa RX
Pipa Lite R
Only these infant car seats are tested and approved for use with the 2019 MIXX.
The ring adapter makes the car seat click in and out easily for breeze installation and transition to car. Nevertheless, this adapter is an additional accessories that you need to remember about.
Unfortunately Nuna MIXX is not compatible with car seats from other brands!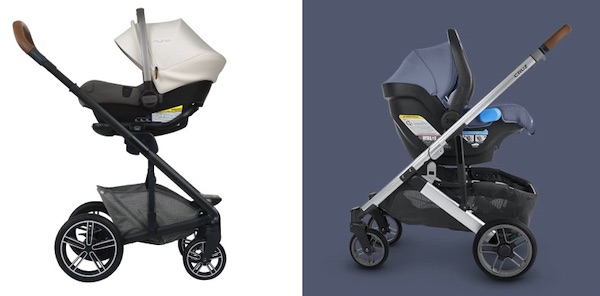 CRUZ V2 stroller works with UPPAbaby MESA infant car seat without any adapters – so it's very convenient. You can attach and detach the car seat with one-hand simple button on the car seat handle. It takes just a few second to move the car seat from the stroller to the car.
Moreover, CRUZ 2020 is compatible with many other car seat brands – but for these models you will need a special adapter.
Infant car seats compatible with CRUZ V2:
UPPAbaby MESA
Chicco KeyFit & KeyFit 30
Nuna Pipa Series
Maxi Cosi Mico, Mico Max 30, Mico NXT, Mico AP, Micro Max Plus, Citi, Cabrio & CabrioFix (not compatible with Maxi-Cosi Pebble)
Cybex Aton, Aton 2, Aton Q & Aton M
WINNER: The CRUZ V2 is obvious winner here as it works with a lot of different car seat model from other brands, and doesn't require adapter for infant car seat from the same brand.
Nuna MIXX vs UPPAbaby CRUZ V2 – All Seating Configurations
Both these convertible strollers offer 4 configurations for one child only. These are not expandable strollers – you cannot attach second seat for sibling.
Each allows you to install the toddler seat facing in or out, infant car seat or bassinet.
One noteworthy thing is that you can attach a glider board to UPPAbaby CRUZ V2 (called PiggyBack Board) for older sibling.
Unfortunately Nuna doesn't offer any standing boards for MIXX, you could try a universal glider board. But since this stroller was not tested with a glider board, it's hard to tell how it would affect its stability and maneuverability.
WINNER: The CRUZ V2 stands out, being compatible with UPPAbaby gliding board for second child.
Nuna MIXX vs UPPAbaby CRUZ V2 – Canopy
The canopy is one of the best features, both on MIXX and CRUZ. There are however some differences between them so let's compare UPPAbaby vs Nuna canopies and see which one gives better sun protection.
CRUZ V2 features redesigned, new canopy with two peek-a-boo windows made of mesh – for additional air circulation. The sunshade is made of UPF 50+ material. There are 3 panels, one opens with a zipper. When fully extended this canopy sticks out really far, giving the baby lots of shade.

MIXX canopy also features 3 panels, including 1 that opens with a zipper. There is additional sun visor, back and side mesh vents and peek-a-boo window. When the canopy is fully extended, it gives similar amount of shade as UPPAbaby.
However, it's worth to mention that some parents complain about MIXX canopy stability. When the seat is reclined and the canopy fully extended, it does not always stay in place.
WINNER: I prefer the canopy on UPPAbaby CRUZ V2.
Nuna MIXX vs UPPAbaby CRUZ V2 – Handlebar
The handlebar on UPPAbaby stroller and Nuna stroller works the same, but the height settings are different.
CRUZ V2 handlebar telescopes in and out from 40.5″ to 43″ from the ground. MIXX handlebar extends from 38″ to 42″ from the ground, offering 3 settings.
I think the wider range of setting on MIXX is better for parents of different heights.
The fact that these convertible strollers come with telescoping handlebars is a huge advantage. For taller parents with long legs, each of these handlebars extends further from the stroller, creating more space behind it. Thanks to that tall person doesn't kick the back of the buggy while pushing it.
It's worth to mention that UPPAbaby uses real leather for the handlebar (and bumper bar), while Nuna offers leatherette covers.
WINNER: I would say that CRUZ V2 wins as a stroller for taller parents, while MIXX wins as a stroller for shorter caregivers, or those who differ in height a lot.
Nuna MIXX vs UPPAbaby CRUZ V2 – Wheels & Suspension
MIXX has slightly bigger wheels than CRUZ V2. Nuna stroller has 7.5″ front wheels and 11″ rear wheels, while UPPAbaby stroller has 7″ wheels in the front and 10″ wheels in the back.

Another difference between Nuna versus Uppababy wheels is the material. MIXX has foam-filled rear wheels and plasticky front wheels. UPPAbaby has polyurethane wheels.
Both strollers have all-wheel suspension. For CRUZ V2 it's a new feature. Lots of parents complained about the old version of CRUZ in last few years as it didn't provide smooth ride and it was shaking a lot even on small bumps.
This has been improved and the new CRUZ 2020 has not only new, bigger and more sturdy wheels, but also better suspension to keep your child more comfortable on different terrains.
Nevertheless, according to some parents Nuna MIXX rear wheels have more all-terrain thread which makes this stroller suitable for more type of surfaces like grass, gravel or dirt roads.
Don't expect any of these strollers to roll on sandy beaches though.
WINNER: I think the winner here is Nuna stroller, because it's a breeze to push and handles uneven ground really well.
Nuna MIXX vs UPPAbaby CRUZ V2 – Brakes
I love how the brakes work on both MIXX, and CRUZ V2. The fact that both brakes are flip flop friendly is a huge advantage.
On Nuna stroller we have a pedal with two color indication: you need to press the red part to engage the brake, and press the green part to release it.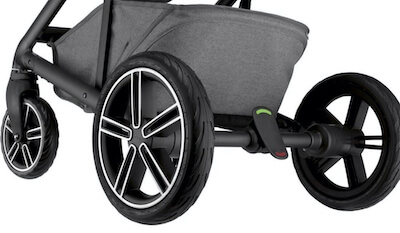 UPPAbaby CRUZ V2 brake is a bit different: there are two separate pedals. The one on the right side of the rear axle with red indicator is for parking the stroller. You just need to press it with the bottom of your shoe.
The green pedal on the left side is for release the brakes. Press it, and the stroller with roll again. Just keep in mind that the new enlarged storage basket sticks out pretty far which can make a bit harder to reach the pedals without hitting the basket with your shoes.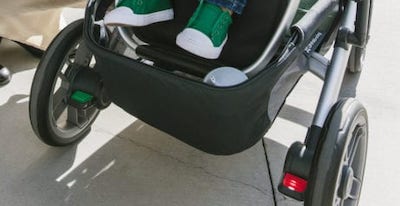 As you can see both these convertible strollers have sandal friendly brakes (press to engage, press to release). You will appreciate this feature, especially if you have tried using a brake that requires lifting the pedal. With these two strollers you won't have to worry about hurting your foot or ruining your pedicure!
WINNER: In my opinion, in this category Nuna wins.
Nuna MIXX vs UPPAbaby CRUZ V2 – Storage Basket
UPPAbaby is famous for its enormous storage basket both on VISTA and CRUZ strollers. Now the new 2020 CRUZ V2 has even bigger basket than the previous version of the stroller! It's longer and have higher capacity – 30 pounds! It's giant and will easily hold your diaper bag and few additional shopping bags. One thing that I'm not a fan of is the rear axle that goes through the center of the basket. Fortunately it doesn't block the access to your stuff.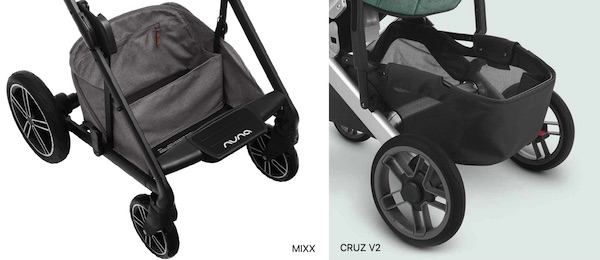 Nuna MIXX basket is spacious too, but not as big as CRUZ's. You can use the built-in divider to keep your smaller items in two separate pouches or use the whole basket without dividing it to pouches. You will fit there a large diaper bag with no problem. There is a zippered pocket at the back of the basket for your small valuables like keys.
By the way, on the back of the seat MIXX has additional small open pouch where you can keep your phone.
WINNER: Considering the size and capacity of Nuna vs UPPAbaby storage basket the clear winner is CRUZ V2 stroller.
Nuna MIXX vs UPPAbaby CRUZ V2 – Size & Weight
If you wonder which stroller is bigger and heavier, Nuna MIXX vs UPPAbaby CRUZ V2, the answer is: the Nuna stroller.
It is not only wider and taller, but also significantly heavier (around 2.5-3 pounds). Even though Nuna MIXX 2019 is quite heavy as for a single stroller, it feel very light and pushes with one hand with no effort.
Check the table below to compare these two strollers dimensions and weight.
WINNER: CRUZ V2 is smaller and lighter than MIXX stroller, that's why it wins in this category.
Nuna MIXX vs UPPAbaby CRUZ V2 – Folding
Both these city strollers fold down very easily within few seconds. However the mechanism works completely different.
Nuna MIXX 2019 features clamshell fold. Both wheels stay on the ground, the whole time and the stroller locks automatically. How to fold it? First you need to lift two toggles on both sides of the handlebar – it's the only thing that requires using both hands. Other steps can be done with just one hand. Then you move the handlebar forward, over the seat. Then you need to collapse the seat, and you're ready to go.
The best thing is that you can pull Nuna stroller like a suitcase. Moreover, you can fold it with seat facing in or out. I prefer to fold it when the seat faces the world, as the seat collapses inward, and all fabrics are protected from dirt.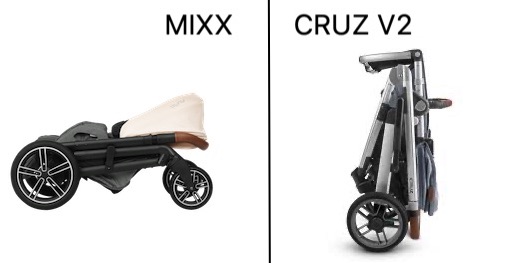 CRUZ V2 folds down in a different way – it stands on its own on the rear wheels and handlebar. There is automatic lock too. To fold it, you need to lift two toggles on the handlebar, just like with MIXX.
Then the pushchair collapses in half with the seat fabric on the outside. Although it doesn't touch the ground, it may get dirty in a car trunk unfortunately. Be careful when you store and transport it.
Which stroller is more compact: UPPAbaby CRUZ V2 or Nuna MIXX?
Both when open and folded CRUZ V2 is more compact. MIXX stroller has slightly bulkier fold (1.5″ difference).
WINNER: Frankly, even though MIXX is a bit bigger when folded, I prefer the way it folds down (fabric folds inside), and the fact that you can pull it behind you like a suitcase.
Specification
| | Nuna MIXX | UPPAbaby CRUZ V2 |
| --- | --- | --- |
| Open Size (L x W x H) | 37" x 23.5" x 44" | 37.5" x 22.8" x 40.5" |
| Fold (L x W x H) | 34" x 23.5" x 18" | 33" x 22.8" x 16.5" |
| Weight | 27 pounds (without an arm bar and winter seat liner) | 25.5 pounds |
UPPAbaby vs Nuna – Fashion Lineup
UPPAbaby offer much wider range of colors for CRUZ V2 than Nuna for MIXX.
The newest 2020 CRUZ comes in 9 colors: Alice, Sierra, Finn, Hazel (all from newest 2020 collection), and Emmet, George, Jordan, Jake and Bryce (kept from previous collections).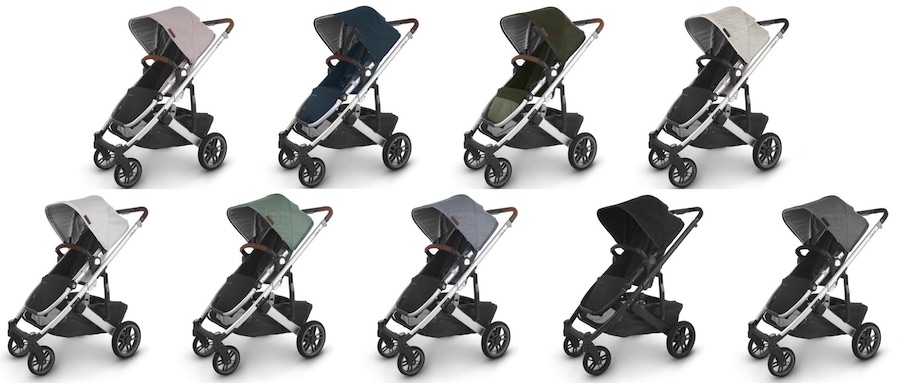 MIXX 2019 is available in 4 color: Birch, Caviar, Granite and Oxford. Some stores offer it in Bleu and Verona colors too (it was available when the stroller was released and then discontinued, but some shops still have it).
>> Check my full review of Nuna MIXX

Accessories
As I've briefly mentioned at the beginning, there's plenty accessories available for both strollers.
Some of the add-ons that you can get for UPPAbaby Stroller:
Bassinet and Bassinet Stand, Infant SnugSeat, infant car seat adapters for various brands, PiggyBack Board, additional Seat Liner, Travel Bag, Child Snack Tray, Parent Organizer, Cup Holder, Cozy Ganoosh (footmuff).
For Nuna MIXX 2019 you can purchase additionally:
Bassinet and Bassinet Stand, Child Tray, Cup Holder, Rain Cover, Wheeled Travel Bag.
As you can see UPPAbaby has bigger collection of extra items that you can get for their stroller.
How about the prices? Which accessories are more expensive: Nuna vs UPPAbaby?
Interestingly, most of the accessories have almost identical prices. However, it's noteworthy that Nuna bassinet is much cheaper than UPPAbaby bassinet. On the other hand, travel bag for Nuna stroller is much more pricey than UPPAbaby travel bag, probably because it has wheels the make the transportation much more convenient.
>> Browse UPPAbaby CRUZ V2 Accessories
>> Browse Nuna MIXX Accessories
Final Decision – Is Nuna MIXX Or UPPAbaby CRUZ V2 Better?
I always say that MIXX is the best Nuna stroller. It's versatile, high-quality, offers great ventilation to keep the baby cool in a stroller and it also looks gorgeous!
On the other hand, the upgrades that UPPAbaby made for CRUZ V2 are really awesome. Finally its performance on different terrains has been significantly improved and its price is adequate to the quality.
So which of these two luxury single strollers is better: UPPAbaby vs Nuna?
I think Nuna MIXX is better choice than UPPAbaby CRUZ V2 if you're looking for a stroller ready to use from birth. MIXX offers flat recline suitable for newborns, which is a great solution if you don't want to pay extra for the bassinet.
Besides, it's all-season seat with bamboo layer for winter and mesh backrest for summer makes this stroller a fantastic choice. The ventilation inside the seat is another reason why this stroller is worth the money.
Reasons to choose Nuna MIXX:
All-season seat that prevents the child from cold in winter and overheating in summer
Good air circulation inside the seat thanks to breathable materials and multiple vents in the canopy
Lay-flat seat recline suitable from birth
Possibility to detach seat fabrics and clean them in a washing machine
Wheels and suspension good for multiple types of terrain
Bassinet stand that works with the toddler seat too and creates a portable high chair
Gorgeous fabrics
Downsides:
Quite heavy – carrying it up and down the stairs every day may be challenging
Doesn't work with other car seat brands (not tested for other brands than Nuna)
On the other hand, CRUZ V2 will be a better choice if you want a bit smaller and a few pounds lighter stroller than Nuna. It's easier to carry it up and down the stairs or load into the car trunk. I think that parents living in an apartment building with no elevator will prefer it.
UPPAbaby will be a better option if you want an infant car seat from a different brand than Nuna. CRUZ V2 is compatible with many car seat brands, in contrast to Nuna.
Just keep in mind, it's best for walks on flat or slightly uneven terrain, on bigger bumps it may not perform that well.
Reasons to choose UPPAbaby CRUZ V2:
Lighter than Nuna stroller
A bit smaller fold
Roomier seat to growing toddler
Compatible with many infant car seat brands
Doesn't require adapter for Uppababy Mesa car seat
Works with PiggyBack Board – a standing board for older sibling
Giant storage basket
Wide range of colors to choose from, lots of cute fashions
Downsides:
To make the standard seat suitable from birth you will need to spend some extra money on Infant SnugSeat or get a bassinet to be able to use the stroller from birth
Bassinet more expensive than Nuna carry cot
Suitable for less types of terrain than Nuna
When folded the seat fabric is outward which makes it prove to dirt
>> I also recommend you to read my comparison of Bugaboo Bee 5 vs UPPAbaby CRUZ V2
---
Sources:
---
The purpose of this article is informative. It's not a substitute for medical consultation or medical care. The author of this article does not accept any responsibility for any liability, loss or risk, personal or otherwise, incurred as a consequence, directly or indirectly, from any information or advice contained here.