Are you wondering what are the differences between Bugaboo Cameleon 3 Plus vs UPPAbaby VISTA V2? Which one will be right for you and your baby? Are they really worth the money?
Check my detailed comparison of these two luxurious and pricey strollers, and find out what are their advantages and limitations!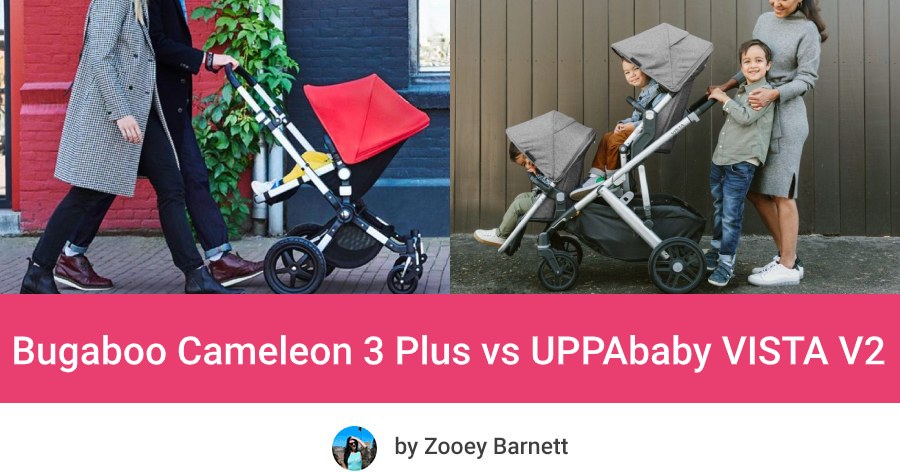 Bugaboo and UPPAbaby are one of the famous and most popular stroller brands. If you're looking for a stroller and have more flexible budget, you may be hesitating between iconic VISTA vs Cameleon. They are both convertible strollers, suitable from birth, work great on harsh terrain and look gorgeous.
But which one is actually better? Let's find out which of these two pushchairs will meet your family needs.
This article contains affiliate links.
Bugaboo Cameleon 3 Plus vs UPPAbaby VISTA V2 – Differences & Similarities
Without further ado, let's jump right into our comparison and let's find out which of these two convertible strollers performs better.
| Bugaboo Cameleon3 Plus | UPPAbaby VISTA V2 |
| --- | --- |
| | |
| Single, convertible stroller | Convertible, expandable stroller |
| One seat frame that converts from bassinet to toddler seat (two separate sets of fabrics included) | Bassinet and toddler seat are separate (both included in the basic set) |
| Toddler seat suitable from 6 months up to 37.5 lbs | Toddler seat suitable from 3 months up to 50 lbs |
| Seating configurations only for 1 child | 9 seating configurations for 2 kids |
| Reversible, reclining bucket-style seat | Reversible, reclining bucket-style seat |
| Reversible, telescoping handlebar (39"-44") | Telescoping handlebar (39.5"-42.5") |
| Compatible with Bugaboo Wheeled Board for older sibling | Compatible with UPPAbaby PiggyBack Board for older sibling |
| Compatible with Bugaboo, Britax, Nuna, Cybex, Maxi Cosi, BeSafe & Kiddy car seats (all require adapters) | Compatible with UPPAbaby car seat (no adapters needed), Nuna, Cybex, Maxi Cosi, Chicco (adapters required) |
| 6" front wheels & 12" rear wheels | 8" front wheels & 11.5" rear wheels |
| 2-wheel position for getting through snow and sand | - |
| Adjustable front wheel suspension | All-wheel suspension |
| Medium storage basket with capacity of 8.8 lbs | Giant storage basket with capacity of 30 lbs |
| Weighs 21.2 lbs | Weighs 27 lbs |
What's Included
First, let's see what you are going to receive when you order each of these luxury strollers.
With Bugaboo Cameleon3+ the basic box includes: chassis with wheels and storage basket, seat frame with two types of fabrics (for toddler seat and for the bassinet), canopy, bumper bar (which doubles as a carry handle) and rain cover.
UPPAbaby VISTA V2 basic package includes: frame with wheels and storage basket, toddler seat with bumper bar, rain shield and bug net, bassinet with bug net and travel storage bag.
The most important difference here is that with VISTA you have separate toddler seat and bassinet, while with Cameleon you have one seat frame, and depending on your needs you attach toddler seat fabric or bassinet fabric.
With Cameleon storing the bassinet (for example for the next child) is easier, because you have only the fabric which doesn't take up a lot of space.
On the other hand, attaching and detaching different seat fabrics takes time, fortunately you only do it twice – first time when you receive the stroller and assemble it for your newborn baby, and second time when your baby outgrows the bassinet and is ready to sit in a toddler seat.
Another noticeable difference is that with VISTA you get more accessories than with Cameleon.
What's interesting the price for basic set is lower for VISTA V2. The difference in price between UPPAbaby VISTA V2 vs Bugaboo Cameleon 3+ is usually from $30, even up to $200, depending on the colors! You can check exact price of VISTA V2 here, and the price & discounts for Cameleon3+ here.
Bugaboo Cameleon3+ vs UPPAbaby VISTA V2 – Toddler Seat
Cameleon seat is suitable for babies who can sit upright (usually around 6 months) and has weight limit of just 37.5 pounds (in the US). This is significantly smaller capacity than VISTA seat's – which is usable from 3 months up to 50 lbs.
The design of both seats is quite similar – these are bucket-style seats. This means that when you recline them, the whole seat tilts back, not just the backrest. Both Cameleon and VISTA offer multiple-position recline, but there is no fully flat position.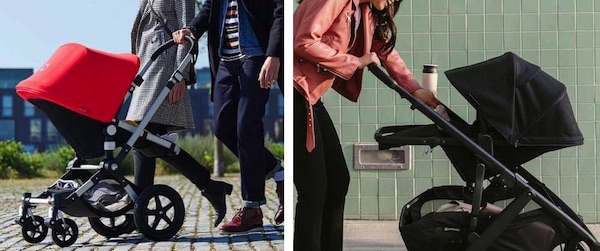 Both seats are reversible and you can change the direction the baby is facing with two simple clicks.
Another common feature between VISTA and Cameleon is the adjustable foot rest.
A huge difference between UPPAbaby VISTA V2 vs Bugaboo Cameleon3 Plus is the fact that the latter has machine-washable seat fabrics. UPPAbaby only recommends hand washing for their seat fabrics.
Bugaboo Cameleon3+ vs UPPAbaby VISTA V2 – Bassinet
As I've mentioned earlier, with Cameleon you don't get a separate bassinet, only the bassinet fabrics and apron that fits on the same seat frame as the toddler seat fabrics.
Bugaboo bassinet is suitable up to 20 lbs. If you invest in a Bugaboo bassinet stand you'll be able to use it for overnight sleep.
UPPAbaby bassinet has capacity of 20 lbs, and it is approved for overnight sleep as well. You just need the UPPAbaby bassinet stand.
I must admit that when it comes to the bassinet I prefer the UPPAbaby over Bugaboo. Frankly, I think the UPPAbaby bassinet is one of the best (if not THE BEST) bassinets currently available on the market.
It has a vented base, perforated mattress and mesh vents in the canopy to provide your little one with good air circulation and prevent them from overheating. Unfortunately Bugaboo bassinet lacks all those vents – the bassinet base is a wooden board and the canopy doesn't have any mesh windows.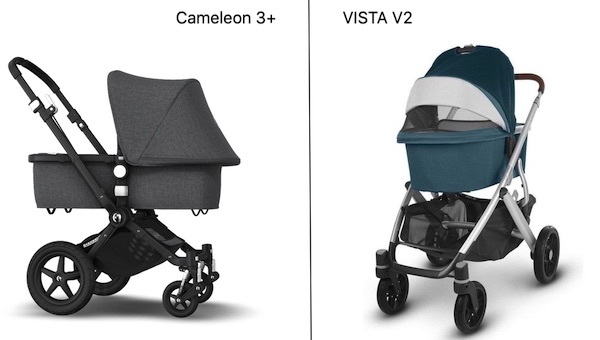 Bugaboo Cameleon3+ vs UPPAbaby VISTA V2 – Infant Car Seat Compatibility
I would say that in terms of car seat compatibility VISTA V2 is better than Cameleon 3 Plus.
First of all, it works with Uppababy Mesa infant car seat which attaches directly onto the frame – no adapters needed. Besides this, VISTA is compatible with many other brands and provides adapters for them (sold separately).
Infant car seats compatible with UPPAbaby VISTA V2:
UPPAbaby MESA (no adapter required)
Cybex Aton and Cloud Q series
Maxi-Cosi Mico Max 30, Mico Max Plus, Mico AP, Mico NXT, Mico, Citi, Cabrio and CabrioFix
Nuna PIPA, PIPA Lite, PIPA Lite LX, PIPA Lite R, and PIPA RX
Chicco KeyFit, KeyFit30 and Fit2
Bugaboo Cameleon 3 Plus is compatible with Bugaboo Turtle, but even though it's the same company, you will need to need special adapters and pay extra for them! Cameleon3+ also works with few other brands like Britax, Maxi Cosi, Cybex, Nuna.
Infant car seats compatible with Bugaboo Cameleon 3 Plus:
Bugaboo Turtle by Nuna
Britax Romer Baby-Safe Plus II
Britax Romer Baby-Safe Plus SHR II
Nuna Pipa Lite
Nuna Pipa Lite LX
Nuna Pipa Icon
Maxi-Cosi Pebble
Maxi-Cosi Pebble Plus
Cybex Aton M i Size
Cybex Aton Q
Cybex Aton 5
Cybex Aton Q i-Size
Cybex Cloud Z
BeSafe iZi Go X1
BeSafe iZi Go Modular
Kiddy Evolution Pro2
Important note: All infant car seats from the above list, except for the Britax, work with the same adapters available here. Keep in mind that other brands (like 4Moms) provide their own adapters that allow to connect their infant car seat with Cameleon.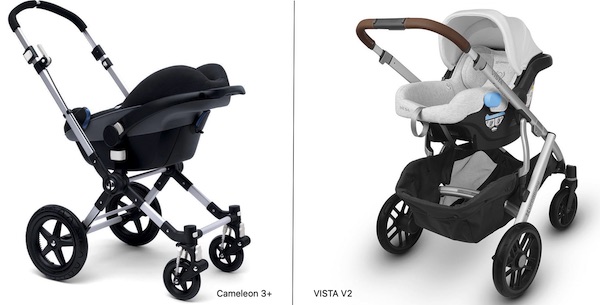 Bugaboo Cameleon3+ vs UPPAbaby VISTA V2 – Option To Expand
This is another advantage of VISTA V2, which makes UPPAbaby a better choice for growing family.
Cameleon 3 Plus allows to attach just one seat, or one bassinet, and doesn't expand. You can attach a wheeled board for older sibling though.
UPPAbaby 2020 VISTA V2 expands from a single to double stroller allowing you to attach second toddler seat, second bassinet or second car seat. Altogether there are 9 configurations for two children.
There is also a standing board (called PiggyBack Board) for the third oldest child to join the ride.
If you plan on having more children soon, and would like them all to fit in one stroller, then UPPAbaby will be a smarter investment.
Even though I'm not a fan of all double seating configurations (like the toddler seat at the top and infant car seat at the bottom), if you're looking for a stroller for growing family and debating between VISTA vs Cameleon, only the former one is expandable.
>> Check my comparison of VISTA and City Select expandable strollers
Bugaboo Cameleon3+ vs UPPAbaby VISTA V2 – Canopy
2020 VISTA has redesigned canopy that has now 3 panels (one opens with a zipper) which provide A LOT of shade for the little rider. There are two mesh windows with magnets, allowing you to check on the baby without disturbing their nap time. They also double as air vents.
Bugaboo Cameleon canopy also has 3 panels, including one zippered-open. When it's fully extended, it's giant and shades the baby even better than UPPAbaby!

I only wish there were a pee-a-boo window! It would be really handy for checking on the baby and would increase the airflow inside the seat.
Therefore, even though the Bugaboo canopy is bigger than UPPAbaby's, I prefer the latter one for its awesome ventilation and viewing windows.
Bugaboo Cameleon3+ vs UPPAbaby VISTA V2 – Handlebar
Both strollers have very similar handlebar – which extend by telescoping. Cameleon handle slides from 39″ to 44″, while VISTA handlebar adjusts from 39.5″ to 42.5″. This mades both strollers very comfortable to push for shorter and taller parents. Thanks to telescoping handlebars, tall person with long legs will have more space at the back and will be able to push it without kicking the rear axle or basket.
The huge difference here is the fact that Cameleon3+ handlebar is reversible. You can flip it over to the other side, allow you to put the bigger wheels forward, when you need to get through harsh terrain.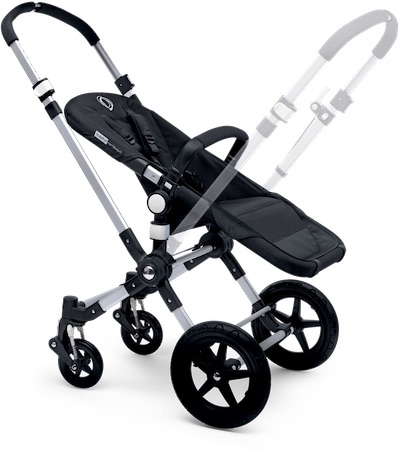 Bugaboo Cameleon3+ vs UPPAbaby VISTA V2 – Wheels, Suspension & Brakes
This is one of the biggest differences between Bugaboo Cameleon3+ vs UPPAbaby VISTA V2.
The newest 2020 VISTA has 11.5″ rear wheels and 8″ front wheels made of polyurethane. There is an all-wheel suspension that cushions the ride and allow you to get through grass, gravel or cobblestone.
The newest Cameleon has 12″ rear wheels and 6″ front wheels. It has adjustable suspension in the front swivel wheels to give the growing baby comfortable ride.
Normally I would say the front wheels are too small for my liking, but: As I briefly mentioned earlier, with Cameleon 3 Plus you can reverse the handlebar and put the big wheels forward – which will help you to ride over bumpier terrain. Moreover, this convertible stroller has unique feature – two-wheel position for getting through snow or sandy beach!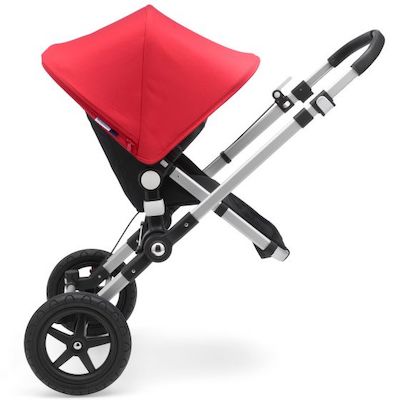 Even though the front wheels on Cameleon are smaller, overall versatility of the wheels, suspension and two-wheel position, are really impressive and make the stroller multi-functional and suitable for various types of terrain.
Regarding the brakes – it's another difference between these two convertible strollers. VISTA has a footbrake, with two pedals on the rear axle (red for engaging the brake and green for releasing it). It's a sandal-friendly brake as you only need to tap it to engage or disengage it, no need to lift it with your foot. With the new, longer storage basket, these pedals are slightly harder to find with a foot, but that's a minor issue.
On the other hand, Cameleon 3 Plus stroller has a hand-operated brake, located on the right side of the handlebar. It's noteworthy, that this hand brake doesn't look like a bicycle brake – it's just a small lever that you flip up on down. Very easy to use and definitely flip flop friendly!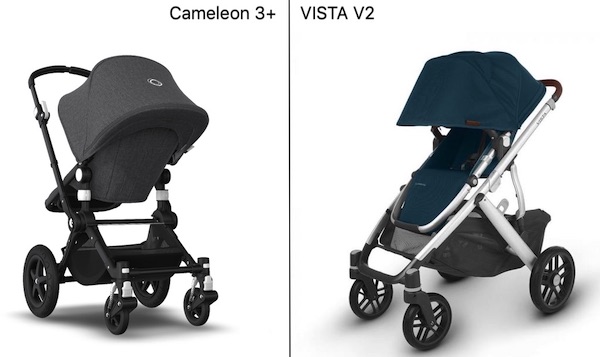 Bugaboo Cameleon3+ vs UPPAbaby VISTA V2 – Storage Basket
Let me start by saying that you won't find bigger storage basket than UPPAbaby VISTA V2 has! It's long, has capacity of 30 lbs and it's super easily accessible from the back. It fits not only a large diaper bag but also few additional grocery bags! You will need that space when you go for a day trip with two or three kids!
The storage bin on Cameleon is decent, but obviously not as impressive. It has weight limit of only 8.8 pounds (capacity of 22 liters). The latest version of the stroller – Cameleon 3 Plus has redesigned and improved basket with easiest access from the back and front.
Bugaboo Cameleon3+ vs UPPAbaby VISTA V2 – Size, Weight & Folding
If you're wondering which stroller is lighter and more compact: UPPAbaby VISTA V2 versus Bugaboo Cameleon 3 Plus, then the answer is Bugaboo.
It has slightly smaller footprint and it's significantly lighter – it weighs almost 6 pounds less!
All of this makes Cameleon better choice for parents who will frequently need to carry the stroller up and down a few flights of stairs and for moms who will be often on their own lifting and packing the stroller to the car trunk etc. Bugaboo stroller is more portable, easier to lift and carry. A bit smaller size makes it also easier to maneuver in tight place like in a small grocery stores.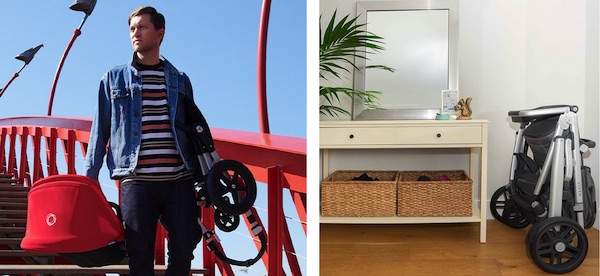 In contrast to UPPAbaby VISTA V2, Bugaboo Cameleon doesn't fold with the seat attached. The process of folding it is very simple, but removing the seat makes it a bit longer.
You will need to use both hands to fold down the Cameleon 3 Plus.
VISTA V2 can be folded with the seat attached, and to start the process you will also need both hands (two lift the toggles on the handlebar), the rest of the folding can be done with one hand which is a plus.
I compared both strollers when folded without the seat (two-piece fold) and it turns out Bugaboo is slightly smaller.
| | Cameleon 3 Plus | VISTA V2 |
| --- | --- | --- |
| Weight | 21.2 lbs | 27 lbs |
| Size (L x W x H) | 35" x 24" x 39-44" | 36" x 25.7" x 39.5-42.5" |
| Fold (seat removed) | 12" x 20" x 35" | 13" x 25.7" x 32" |
Bugaboo Cameleon3+ vs UPPAbaby VISTA V2 – Colors & Customization
VISTA V2 is available in 9 fashions, including 5 from previous collections and 4 new patterns: Finn, Sierra, Hazel, Alice, Bryce, Emmet, Gregory, Jordan and Jake.
Bugaboo is famous for their offer of customization – you can choose the color of the frame, seat, canopy, bassinet, and bassinet canopy. And you can even change the canopy separately, choosing one of multiple fashionable designs.
On PishPosh Baby you can see some of the popular color configurations for Cameleon 3+.
You can also see here various fashionable canopy patterns that you can purchase separately.
Accessories For Bugaboo & UPPAbaby
Let's see what you can additionally get for your VISTA V2 and Cameleon3 Plus, and how expensive these extra add-ons are.
UPPAbaby: Rumble Seat, Bassinet and Bassinet Stand, Mesa Infant Car Seat, PiggyBack Board for third oldest child, car seat adapters, cup holder, parent console, baby snack tray, travel bag, footmuff and many more.
Bugaboo: Turtle Infant Car Seat, car seat adapters, Comfort Wheeled Board, breeze sun canopy, transport bag, baby snack tray, cup holder, smartphone holder, insect net, bassinet rain cover, parasol, footmuff, breezy seat liner, and many more.
The prices for the accessories are actually very similar and fairly pricey. The advantage of VISTA V2 is that you can add additional stroller seat for second child and use it as a double stroller, while Cameleon 3+ is just a single stroller and does not expand.
Final Decision: Should You Get Bugaboo Cameleon or UPPAbaby VISTA?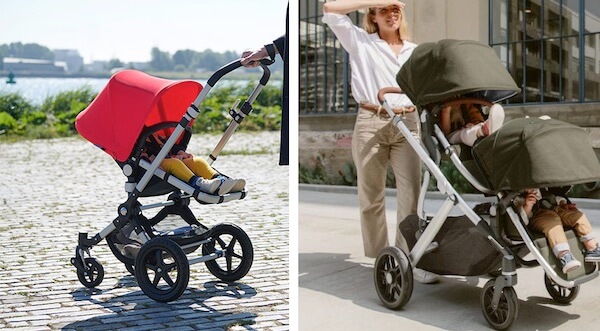 Both these convertible strollers look beautiful, give you lots of versatile function, and are made of high-quality materials to ensure long usability.
The biggest difference between Cameleon and VISTA is that the latter one expands into a double stroller and can be used for two kids. Cameleon works only with one toddler seat, one bassinet or one infant car seat.
VISTA allow you to add two seats, two bassinets, two infant car seats or mix the seats for babies at different age. Therefore if you plan on having more kids close in age and want them to use one stroller – then UPPAbaby VISTA V2 will be a better choice.
When we compare VISTA V2 vs Cameleon 3 Plus as single strollers, we can say that each has some advantages and some limitations.
Cameleon 3 Plus will work great for city dwellers, living in an apartment building, who will often need to carry their stroller. It's lighter and more portable. Even though it weighs around 21 pounds, it has really good wheels and suspension for different types of surface. And thanks to two-wheel position you'll be able to drag it over snow and snow! It's also fully customizable when it comes to seat and canopy designs which fashionable moms will love.
If you want a portable stroller that handles harsh terrain, and you don't mind its lower capacity, smaller storage basket or more hassle with folding, then Cameleon will suit you!
On the other hand, if you'd prefer a stroller with higher weight limit, giant storage basket, and easy to fold, and you don't mind that it weighs 27 pounds, then you will love VISTA. It has tons of features for parents and child convenient, and rides smoothly even on rough surfaces like grass or gravel.
>> Learn more about VISTA V2 in my full review
---
Sources:
---
The purpose of this article is informative. It's not a substitute for medical consultation or medical care. The author of this article does not accept any responsibility for any liability, loss or risk, personal or otherwise, incurred as a consequence, directly or indirectly, from any information or advice contained here.