If you decided to splurge on a stroller for your baby, you will probably end up debating between Nuna vs UPPAbaby. These two strollers are very similar and trying to pick the best one can make be really hard.
In my comparison I'll answer the most burning question: Which stroller is a better investment – UPPAbaby VISTA V2 or Nuna MIXX?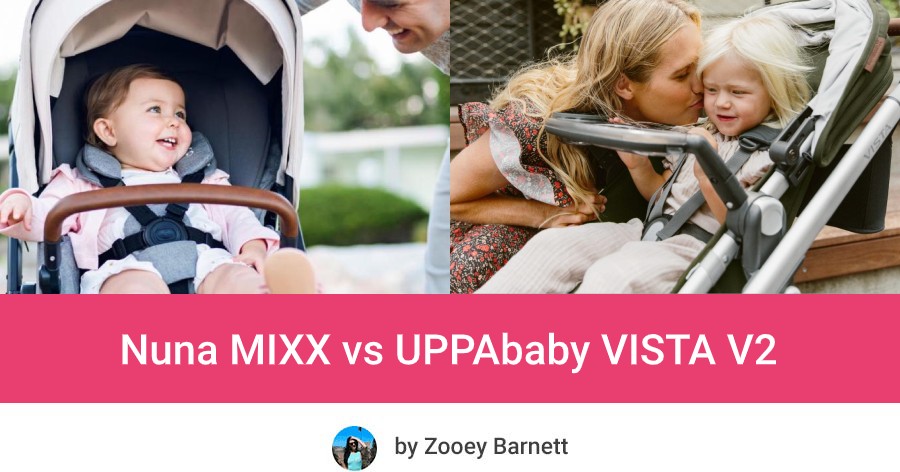 When you are out strolling with your baby, you want them to be as comfortable as possible, so which stroller is the one that gives them the best ride in town? Let's compare the UPPAbaby Vista V2 vs Nuna MIXX and see which is the right one for you!
This article contains affiliate links.
Nuna MIXX vs UPPAbaby VISTA V2 – Differences & Similarities
At the first glance these two strollers seem to have a lot in common: each features reversible seat with large canopy, rolls on a good-quality wheels and pushes with one hand with ease. Beautiful design and gorgeous fabrics are another common advantage.
But what distinguishes VISTA V2 is the ability to expand it to a double stroller.
On the other hand, MIXX stands out thanks to its amazing all season seat, lay flat recline that allows to create a bassinet-like space for a newborn baby.
So which of these two convertible strollers is really the best one? Let's find out!
| MIXX | VISTA V2 |
| --- | --- |
| | |
| Convertible, single stroller | Convertible, expandable stroller |
| Bassinet sold separately | Comes with bassinet (much higher price) |
| All-season seat with mesh layer for summer and Bamboo cover for winter | Classic seat (no removable covers, no mesh vents) |
| Backrest reclines separately from the seat | Bucket style seat (the seat reclines as a whole) |
| Carrycot-like mode for newborns (fully flat recline + lifted foot rest) | Seat suitable from 3 months, no flat recline |
| Accommodates only 1 child | Expands into a double stroller for second child, allows to attach a standing board for older sibling |
| 3 panel canopy with sun visor and 4 mesh windows | 3 panel canopy with 2 mesh windows |
| Handlebar adjusts from 38" to 42" | Handlebar adjusts from 39.5" to 42.5" |
| 11" rear wheels filled with foam & 7.5" front plasticky wheels | 11.5" rear wheels & 8" front wheels made of polyurethane |
| Big storage basket | Storage basket almost twice as big with capacity fo 30 lbs |
| 27 lbs (without armbar and winter cover) | 27 lbs (true weight) |
Nuna MIXX vs UPPAbaby VISTA V2 – What's Included
When checking the differences of the UPPAbaby versus Nuna, the first thing that draws your attention is all the extras that come with the VISTA V2 as part of the package.
The basic set of 2020 UPPAbaby VISTA V2 includes:
Stroller with toddler seat, bumper bar, rain shield and bug net
Bassinet with a bug cover and bassinet transport bag
If you purchase the basic package of Nuna MIXX you'll receive:
Stroller with all-season toddler seat and bumper bar
Ring car seat adapter (which is just for the Nuna Pipa Series)
Indeed, the UPPAbaby costs more initially, but when you add up the costs to get the same items for the Nuna stroller, the price turns out to be around the same.
However, with Nuna MIXX you have an option to save some money because you can actually skip the bassinet. The main seat converts into a carrycot-like space suitable from birth! Keep on reading to learn more about it.
Nuna MIXX vs UPPAbaby VISTA V2 – Toddler Seat
Although Nuna and UPPAbaby toddler seats have quite a few similarities, such as the easy one-hand recline adjustment, possibility to attach the seat in both directions, and the no re-thread harness.
However, there are more differences between those seats than similarities, and they actually may have a huge impact on your decision whether to go for Nuna MIXX or UPPAbaby VISTA.
2020 VISTA V2 has a bucket-style seat – when you recline it, the whole seat tilts backwards. This stroller doesn't offer fully flat recline which means it's not designed for newborn babies. You can use the main seat from 3 months, up to 50 lbs.
To use the stroller from birth, you have two options to choose from: the bassinet or investing in the Snug Seat which attaches to the main seat making it suitable for newborns.
It's worth to mention that the leg rest is fully adjustable too.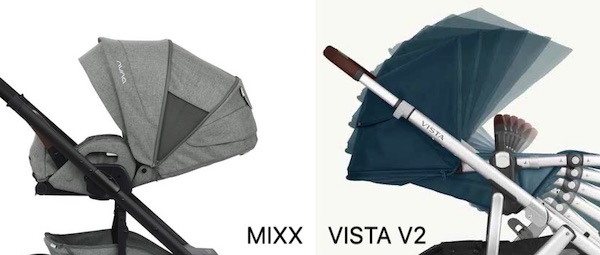 Nuna Mixx seat works different than VISTA V2 seat, the backrest reclines backwards separately from the seat. It offers fully-flat recline, and you can also lift the leg rest all the way up, snap it to the seat fabric and this way you will create a space that looks like a small carrycot. According to Nuna it's suitable from birth, and gives your newborn baby privacy for undisturbed nap.
I think it's an awesome solution for parents who don't want to spend extra money on the bassinet and will be using the stroller only for short walks during the first few months. If you like longer strolls I would recommend investing in a bassinet, as it provides more space for the baby, better support for their delicate back and neck. Besides, the baby is well secured in it as the bassinet has rigid walls.
Important note: only the bassinet is approved for overnight sleep, the main seat is not.
The biggest difference between Nuna vs UPPAbaby is probably the all-season seat that Nuna stroller features. It has a mesh backing under the Bamboo seat insert. The mesh works great on those hot days, as it increases the ventilation inside the stroller. You simply remove the insert and get more airflow.
On colder days the Bamboo liner will keep your baby warm and cozy. It has also moisture-wicking properties.
According to parents who have been using this stroller, the all-season seat is what makes Nuna Mixx worth the money.
Last noteworthy this is that both VISTA V2 and MIXX use a no re-thread harness, so as your baby grows you can quickly and easily adjust the height and length of the straps. It's very user-friendly. I like the harness on Nuna stroller a bit more as it has padding on the crotch strap and under the middle buckle. Nothing irritates baby's delicate skin, and nothing digs into their belly.
>> Read more about Nuna and its features in my full review
Nuna MIXX vs UPPAbaby VISTA V2 – Bassinet
UPPAbaby comes with a bassinet included in the price. I always say that this is one of the best bassinets ever. It's really breathable, thanks to vented base, perforated mattress and mesh windows in the canopy.
Moreover, it is overnight sleep approved so you can move it straight from the stroller to the bassinet stand.
Great solution for the first few months for parents who don't have a lot of free space at home and would prefer to skip the crib.
MIXX 2019 does not come with a bassinet, but there is one available for separate purchase, and it compares well to the UPPAbaby's.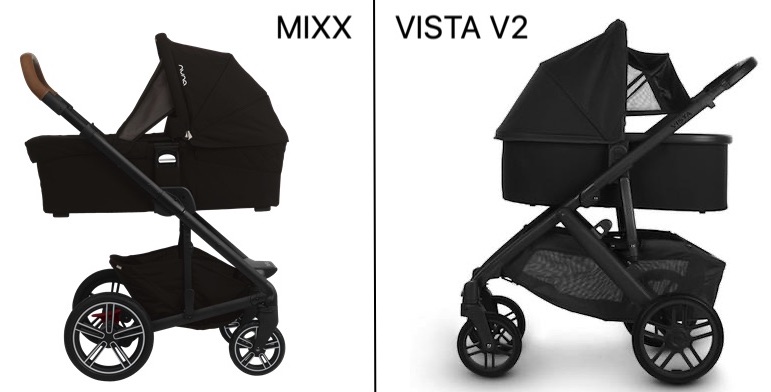 It's very roomy, has mesh vents in the canopy too, and has one unique feature that I love – the mesh Dream Drape that provide excellent shade from the sun and gives baby more privacy when it's time for a nap on-the-go. It's approved for overnight sleep as well, you just need the Nuna Bassinet Stand.
There is also one more fantastic and useful feature – you can use the bassinet stand with the toddler seat as well – as a portable high chair. Isn't it an awesome solution?!
Even though Nuna seat reclines flat, I highly recommend getting the bassinet as it's more supportive and more comfy for a newborn baby, especially on longer walks.
FYI, if you buy the baby stroller Nuna + bassinet it'll still be about $150-$200 cheaper than VISTA V2!
Infant Car Seats Compatible With MIXX & VISTA V2
When it comes to infant car seat compatibility the clear winner is UPPAbaby, as it works with the Uppababy Mesa without any adapters, it just clicks directly in. Frankly, UPPAbaby VISTA with MESA Infant Car Seat has been my favorite travel system for A LONG time.
Moreover, you can purchase adapters to fit several other companies' car seats:
Cybex Aton and Cloud Q series
Maxi-Cosi Mico Max 30, Mico Max Plus, Mico AP, Mico NXT, Mico, Citi, Cabrio and CabrioFix
Nuna PIPA, PIPA Lite, PIPA Lite LX, PIPA Lite R, and PIPA RX
Chicco KeyFit, KeyFit30 and Fit2
The Nuna is compatible only with the Nuna PIPA Series car seats and requires the Ring Adapter to connect both pieces. This adapter is included with the stroller so at least you don't have to spend extra money on it.
But it's an additional item that you need to remember about to always have with you, and additional thing that you need to do to attach the car seat onto the stroller which makes the whole process a bit longer.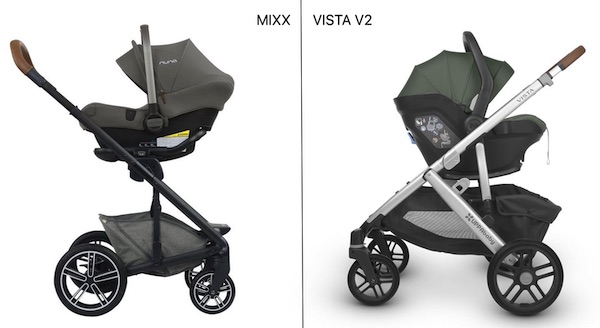 Nuna MIXX vs UPPAbaby VISTA V2 – Option To Expand & Seating Configurations
With Nuna you can have the seat facing forward or facing you. You can switch it for the Nuna Pipa Series infant car seat or Nuna MIXX Series Bassinet.
With VISTA V2 you have 13 seating combinations, including 9 for two kids. In a single mode the main seat can face parents or the world, and you can replace it with an infant car seat or bassinet at any time.
Having a good stroller for one baby is a must, but what do you do if another bundle of joy comes along? An option to expand the stroller from single to double is a great solution! This is another section where Vista V2 wins. It can be easily expanded to accommodate a baby and a toddler. This makes it a good choice for parents who plan on having kids close in age.
If you have twins, you can purchase an extra bassinet and toddler seat and use VISTA V2 as a tandem double stroller.
>> More information about VISTA V2 and its expanding options in my full review
Unfortunately, the Nuna MIXX is a single stroller and it doesn't expand.
So if you're debating between Nuna MIXX versus UPPAbaby VISTA V2, and you plan on having second child soon, then UPPAbaby is better choice.
What's noteworthy, there is a Nuna double stroller – called Nuna Demi Grow – which expands from a single to a double mode, just like VISTA. I wrote a detailed review of Demi Grow here.
Interestingly, UPPAbaby offers a PiggyBack Board which attaches to VISTA's rear axle allowing older sibling to join the ride.
Nuna doesn't offer standing board for MIXX stroller.
Nuna MIXX vs UPPAbaby VISTA V2 – Canopy
Even if you love basking in the sun, your baby's skin needs a good protection. All babies hate having sun in their eyes! That's why it's so important to have a big canopy on the stroller.
The sunshades on both these convertible strollers are really impressive – each has 3 panels (including 1 panel that opens with a zipper), and MIXX has additional flip out sun visor. Plus, they both offer UPF 50+ protection.
VISTA V2 has two peek-a-boo mesh windows with magnetic seals, so there is no noise to wake your baby.
MIXX has one peek-a-boo window, additional mesh vent below it, and extra venting meshes on both sides. On warm weather it provides significantly better air circulation and keeps the baby cool.

On the downside, a few parents complained about the stability of MIXX canopy when it's fully extended and the seat is fully reclined.
I do like VISTA 2020 V2 canopy a bit more. It has been recently redesigned and now it's slightly bigger than Nuna's, offering more shade for the baby.
A particularly nice feature on the UPPAbaby canopy is that it can be adjusted up to provide more room as your toddler grows.
Nuna MIXX vs UPPAbaby VISTA V2 – Handlebar
When pushing a stroller on long walks, you want to make sure you have a good grip and its height is adjusted accordingly to your height (to avoid wrist pain, slouching and back pain).
Handlebars on both strollers are very similar and extend by sliding up. MIXX handlebar slides from 38″ to 42″, while VISTA height settings range from 39.5″ to 42.5″. As you can see the MIXX a bit wider range of settings, making it even more comfortable to push for shorter parents.
On the other hand, both strollers work fantastic for tall parents as they telescope out creating more room behind the stroller. Caregivers with long legs won't have to worry about kicking the rear axle and basket and hurting their feet.
There are particular two features that make me prefer the MIXX handlebar: leatherette grip (as opposed to VISTA's real leather cover) and the possibility to use the handle to pull the stroller behind you, when it's folded down – just like a suitcase.
Nuna MIXX vs UPPAbaby VISTA V2 – Wheels, Suspension & Brakes
You can't always stay on a nice flat sidewalk, right? So what are these two strollers like when it comes to bumpier terrain?

UPPAbaby VISTA V2 has 11.5″ wheels in the back and 8″ wheels at the front with tires made of polyurethane. There is a new suspension built in all wheels that makes for a smoother ride on multiple surfaces. I wouldn't bring VISTA on wooded trails with roots or sandy beach, but on cracked pavement, cobbled street, grass or gravel driveway it does the job really well.
Nuna MIXX has foam-filled rubber tires on the rear wheels (11″) and plasticky front wheels (7.5″). There is an all-wheel suspension system that really helps smooth out the bumps and cracks on the road.
The only thing that I don't like about MIXX are the front wheels, or to be specific – the material they are made of. But even with those plasticky wheels, this convertible stroller glides smoothly and won't let you down even on harsh terrain.
But if I had to choose UPPAbaby VISTA V2 vs Nuna MIXX, just by the wheels and suspension, I would go for UPPAbaby stroller as it's slightly smoother.
Now let's take a look at the brakes.

The Nuna stroller has a larger brake pedal on the rear axle, which is marked red and green for on and off. The brake is flip flop friendly so you won't hurt your foot!
The UPPAbaby brake is located next to the right wheel and it changes color to red or green, when the brake is engages or released. You don't have to lift it with your foot, it's a tap-to-engage & tap-to-release brake! So there's no need to worry about your pedicure!
There's one thing you should keep in mind though. VISTA's basket is really long and sticks out a bit, which can make it a bit harder to find the brake pedal with your foot, without kicking the basket fabric.
Nuna MIXX vs UPPAbaby VISTA V2 – Storage Basket
Most parents end up carrying a lot of stuff with them, even when they are just going for a simple walk with their baby. Therefore a spacious storage basket under the stroller seat is a must-have. And this is where the UPPAbaby VISTA V2 surpasses Nuna stroller (and all other strollers out there to be honest!).

The UPPAbaby storage basket is enormous and easily accessible from the back, no matter what configuration you have the seat or bassinet in. It can hold up to 30 pounds (!) and has a storage pocket for your phone or keys.
The Nuna does have a big basket as well, just not as large as VISTA. There is a foldable divider, therefore you can use the basket as a whole or divide it into two pouches to keep your belongings in order. There is a small zippered pocket for you valuables and one additional open pouch on the back of the seat. I think it's most useful for keeping your smartphone within reach.
Nuna MIXX vs UPPAbaby VISTA V2 – Size, Weight & Folding
You won't need super strength to lift these strollers, but they are not exactly lightweight either. Both weigh almost exactly the same: 27 lbs (*MIXX weighs 27 lbs without an armbar, and winter seat liner; the true weight is around 28 lbs). When in use, the UPPAbaby stroller has a little shorter footprint, but at the same time it is 2 inches wider.
When it is time to pack up, you want it to be with as little fuss as possible, and both these strollers deliver. With VISTA you need to pull the triggers on both sides of the handlebar, and fold the seat backwards. It locks automatically and stands on its own. I just wish the seat fabric weren't on the outside, as it's prone to dirt in the car trunk. You need to be careful when you transport it.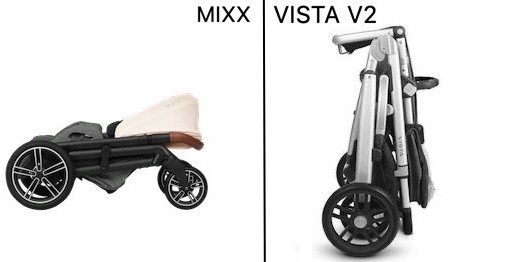 Slightly different but just as easy, with the Nuna MIXX you flip the seat forward, pull the triggers on the handlebar, and fold it forward, and then you can use the handlebar to pull it around on its wheels.
As you can see the Nuna stroller folds completely different and instead of standing, it "lays" flat on its four wheels.
Which stroller is more compact: Nuna vs UPPAbaby VISTA 2020? The difference in the fold size is not huge and it rather should not be a deal breaker when choosing between these two buggies.
Specification
| | MIXX | VISTA V2 |
| --- | --- | --- |
| Weight | 27 lbs (without belly bar and winter seat liner) | 27 lbs (true weight) |
| Size (L x W x H) | 37" x 23.5" x 44" (max.) | 36" x 25.7" x 39.5-42.5" |
| Fold size | 34" x 23.5" x 18" | 17.3" x 25.7" x 33.3" |
Fashions Available For Nuna Stroller vs UPPAbaby VISTA V2
VISTA 2020 V2 is available in 9 colors. The new 2020 collection includes: Alice, Sierra, Finn and Hazel. From previous 2018/2019 collection the brand kept: Emmet, George, Jordan, Jake and Bryce. You can see all those colors in the picture below.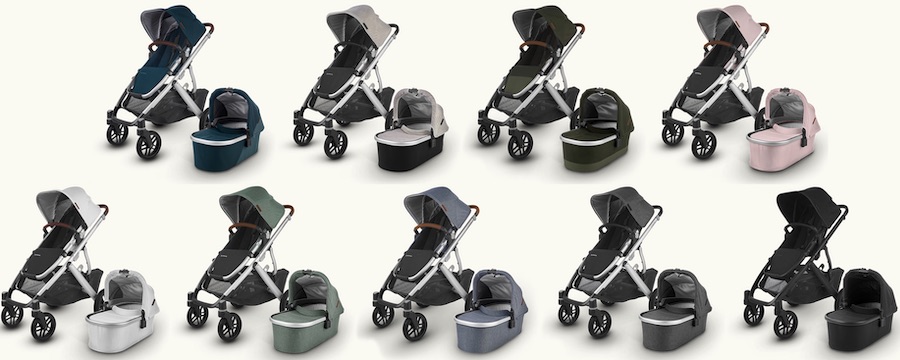 MIXX 2019 doesn't offer that huge selection, as it comes in 4 colors: Birch, Caviar, Granite and Oxford. Some stores still offer it in discontinued Bleu and Verona colors. Even though the choice is smaller, the fabric and fashions are gorgeous!

Accessories For UPPAbaby & Nuna
UPPAbaby selections of add-ons is really impressive. Some of the accessories that you can get are:
Bassinet, Bassinet Stand, Rumble Seat (sibling seat), Infant SnugSeat, infant car seat adapters for various brands, PiggyBack Board, additional Seat Liner, Travel Bag, Child Snack Tray, Parent Organizer, Cup Holder, Cozy Ganoosh (footmuff).
Nuna brand offers these extra items for separate purchase:
Bassinet, Bassinet Stand, Child Tray, Cup Holder, Rain Cover, Wheeled Travel Bag.
Final Decision – Is Nuna MIXX or UPPAbaby VISTA V2 Better?
So when it comes down to UPPAbaby vs Nuna, there are a few things you need to consider to choose the one that will work better for your baby.
If a stroller that expands from a single to a double sounds like a better plan for you, then VISTA V2 wins he competition.
However, if we focus on comparing VISTA vs MIXX just as single strollers, they turn out to be very similar and all really depends on your preferences! I created a list of the most important advantages – consider which features are more important and useful for you. I hope this will help you with your decision.
Reasons to choose VISTA V2:
Roomy seat with higher weight capacity, should accommodate a child up to 3.5 years
Larger canopy
Fantastic breathable bassinet
Compatibility with many car seat brands and possibility to attach UPPAbaby car seat without any adapters
The largest even storage basket
Great wheels and suspension that won't let you down on rougher terrain
Wider selection of colors
Slightly smaller fold size and around 1 pounds lighter design
Option to expand for the second child
Possibility to attach a standing board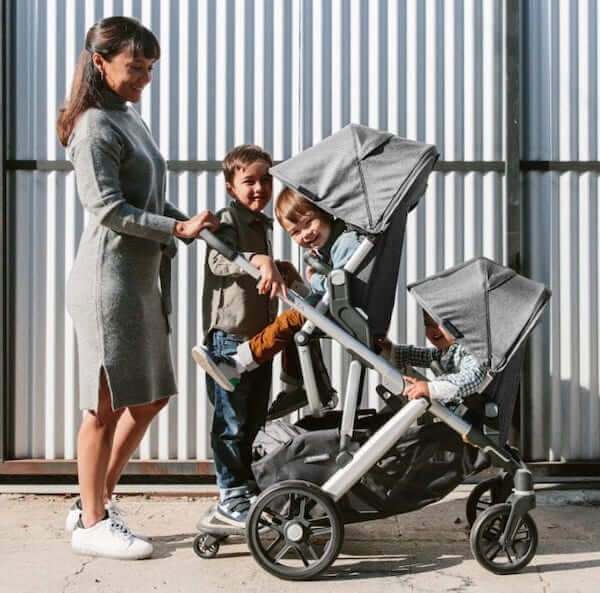 Reasons to choose Nuna MIXX:
Awesome all-season seat with two layers: breathable mesh for summer, cozy Bamboo liner for winter
Removable and machine-washable seat fabrics
Lots of vents on the canopy
Lay-flat recline suitable from birth
If you decide to get the bassinet you'll be able to use it for overnight sleeping with a stand (which also works as a portable high-chair, if you attach a toddler seat onto it)
Wider range of handlebar height settings
Possibility to pull the folded stroller like a suitcase
Ring adapter for Nuna Pipa Series car seats included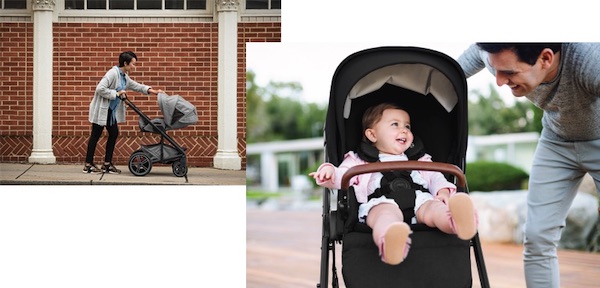 ---
References
---
The purpose of this article is informative. It's not a substitute for medical consultation or medical care. The author of this article does not accept any responsibility for any liability, loss or risk, personal or otherwise, incurred as a consequence, directly or indirectly, from any information or advice contained here.