UPPAbaby VISTA 2018 has been released only few months ago and now we are waiting for the new model – UPPAbaby VISTA 2019! Are you super excited about the new version of this iconic stroller? Maybe you're wondering which model you should go for: VISTA 2019 or VISTA 2018 or maybe VISTA 2017? Here you will find the answer.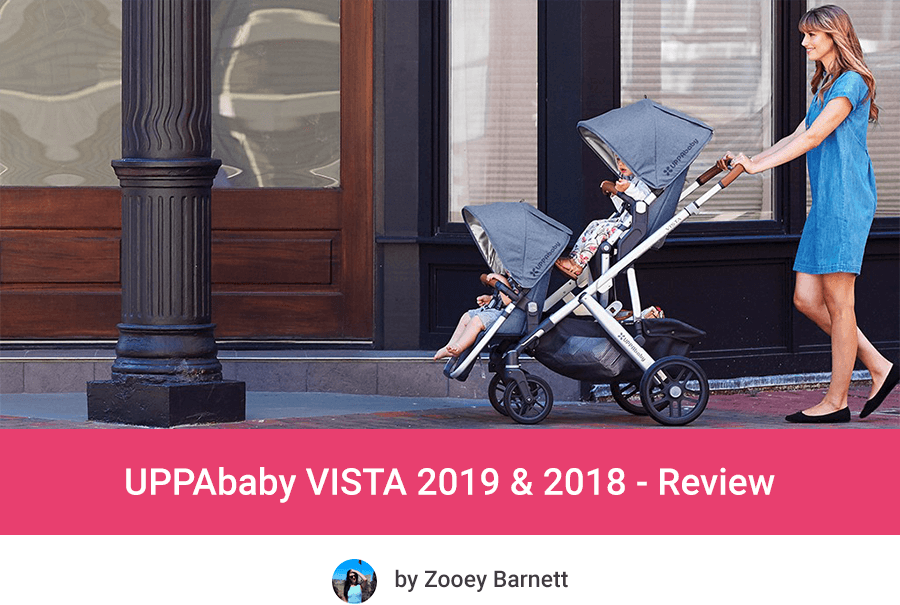 Let me tell you a little bit about the updated VISTA 2019 and VISTA 2018 and show you awesome new features and functions that stay the same over the last two years. Both models are definitely one of the best convertible strollers in 2018 and 2019.
UPPAbaby VISTA 2018
It looks beautiful and sleek
All materials and fabrics are top-notch
It can accommodate even 3 kids at once!
The bassinet is roomy, breathable and approved for overnight sleep
The main seat features deep recline and hassle-free harness
It's very easy to maneuver and it glides like a breeze
You'll fit all of your gear in the HUGE storage basket
According to many customers it's worth the money
Price range: $$$$$
Last update on 2018-11-13 / Affiliate links / Images from Amazon Product Advertising API
In this article you'll find information about UPPAbaby VISTA 2019 release date and comparison with previous version!
UPPAbaby VISTA 2019 Review – What Has Been Changed?
There are no functional upgrades for VISTA 2019. The only thing that has been changed is the color lineup.
If you're planning to buy the newest version of UPPAbaby VISTA in 2019 you will have 3 new colors to choose from: Spenser, William and Bryce. UPPAbaby is keeping Gregory, Emmet, Jordan, Henry, Jake and Denny as well. Loic and Taylor are discontinued.
Okay, so let me tell you a bit more about the new premium fashions.
Spenser is a grey tartan plaid with yellow accents. This model will include full-grain moss leather handlebar and bumper bar. The fabric feels soft, almost like a cashmere!
Moreover the bassinet has cozy, soft textured heather grey lining which also feels like cashmere. The texture looks a bit like perforated, very breathable.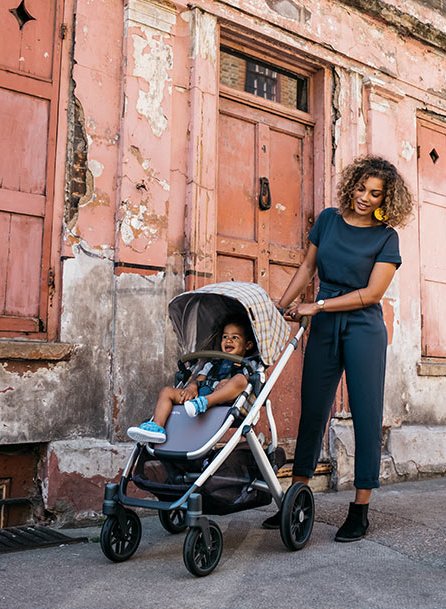 William is a Chambray Oxford fabric. It's blue with white and navy accents. This fashion includes full-grain navy leather bumper bar and handlebar.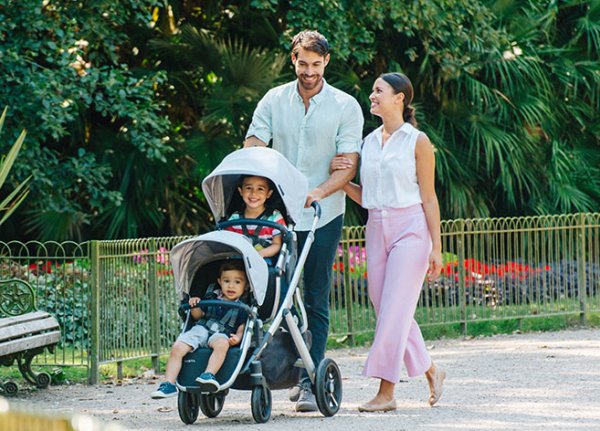 Bryce is a white marl. This is all-white model, a bit shiny. It comes with chestnut bars (darker than the bars in Loic from last year). Bryce is going to replace Loic, but keep in mind it has different texture – it's more like texture on Henry.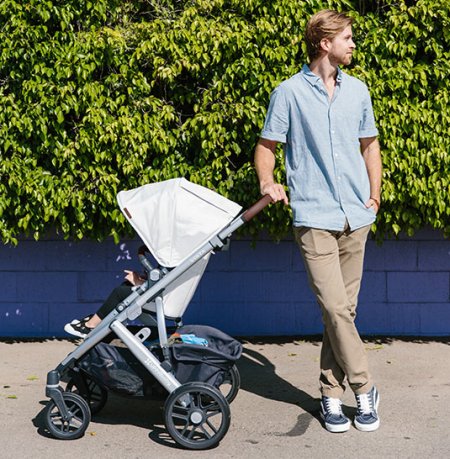 In previous years bassinets were always black and only the canopy and apron have the same color as the stroller. This will change, at least for these 3 new colors. The bassinets will have matching colors.
William and Bryce bassinet has the same color as the stroller canopy. Spenser bassinet has grey bottom, but the canopy and apron are the same tartan plaid as stroller canopy.
Apart from these changes in fashions, UPPAbaby VISTA 2019 stays exactly the same as VISTA 2018. They have the same functions and features.
UPPAbaby VISTA 2019 Release Date
According to the information on brand's website, UPPAbaby VISTA 2019 is launching in February 2019.
When this stroller is out, I will update this article and let you know what other parents think about it.
UPPAbaby VISTA 2018 Review – Upgraded Features
Let's start with a quick sneak peek on VISTA 2018 upgrades and new features.
Fashions & Fabrics
There are two main collections of fashions: Mélange and Core. The brand offers 9 colors for VISTA 2018.

All Mélange fashions look really stylish and chic and have clear texture.
I'm really excited that VISTA 2018 comes in Gregory color – moms' favorite fashion for UPPAbaby CRUZ 2017. Yaay!
In my opinion Henry and Gregory are the most beautiful versions. They seem to be very similar, however the Gregory is a bit more grey-ish, which you can see in the picture above.

Keep in mind that current availability and the price may vary for different colors. You can check which color versions are available now and compare their prices by clicking here.
There are new fabrics for the canopy and the seat. Even at first glance I can tell that UPPAbaby used really high-quality materials.
What is really great about the new fabrics and colors is that they are rather mat and less shiny than VISTA 2017.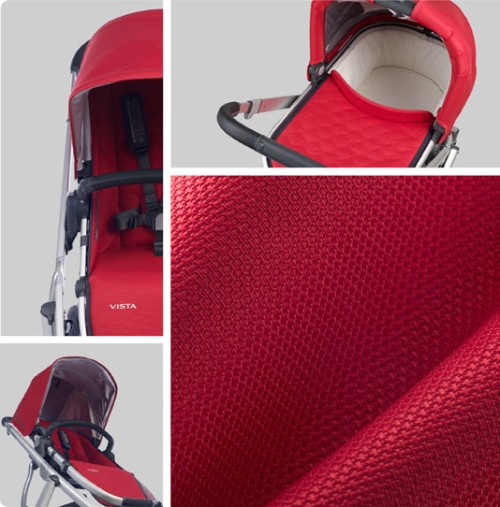 Frame
There is new upgraded frame, which is now powder-coated, instead of carbon-coated. It is more mat and less susceptible for scratching.
Handlebar
All of the fashions for 2018 are equipped with REAL leather handlebar and bumper bar. The leather is available in brown and black color. According to the manufacturer this material doesn't contain any chemicals. Big plus for UPPAbaby. Besides, these new leather bars give the stroller smart look.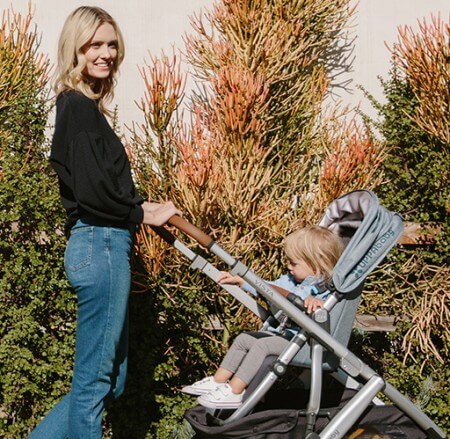 Wheels
Another change is the front wheel design. In the new UPPAbaby VISTA 2018 the front wheel mirrors the rear wheel – it has the same shape and tread pattern, and it is more rounded.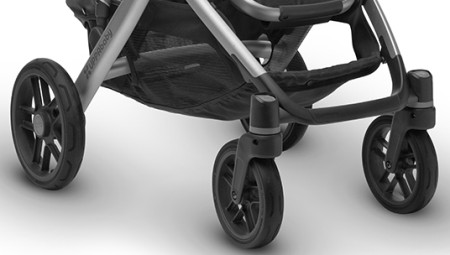 Bassinet
UPPAbaby has also upgraded the bassinet. It has more squared shape thanks to which it has 2.5 inches longer mattress. This change allows to accommodate taller infants and gives your baby more room to grow. And you don't have to worry if the whole bassinet get bigger or bulkier – it has exactly the same size.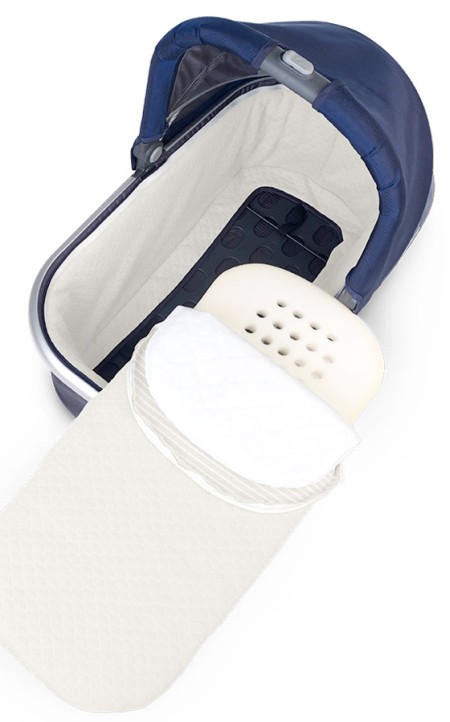 Beside this small change, the bassinet stays exactly the same. It's fully breathable thanks to vented base and perforated mattress pad. You can also unzip the back of the canopy to provide extra air-flow during hot days. Thanks to these features your little one will stay cool and comfy – no sweating, no overheating!
Big canopy with extendable pop-out sun visor fully covers the baby and protects from harmful sun rays at the same time. Therefore you could enjoy summer strolls without worrying about sunburns.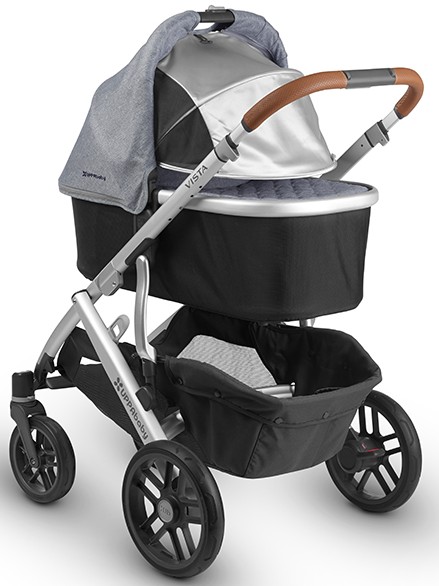 And if something spills out or your baby vomits during the stroll you will be able to clean the bassinet without any problems. The inner liner and boot cover are easy to remove and you can throw them into the washing machine.
There is one more advantage of UPPAbaby Bassinet – it is approved for overnight sleeping, if you add UPPAbaby Bassinet Stand (check it here) .
---
Apart from these upgrades, the new UPPAbaby VISTA 2018 remains the same high-quality, expandable and convertible stroller. The same features you can find on the newest UPPAbaby 2019.
Now, for those of you who are not familiar with VISTA, I present the main features that are similar for the 2017 and 2018 model. You can also read my full & comprehensive review of VISTA 2017.
Unchanged features of UPPAbaby VISTA 2018
Aside from these small changes, other features stay the same for VISTA 2018.
Canopy
The newest model has the same, large and extendable sunshade which provides really great coverage from the sun. Moreover there is a pop out sun visor made of special fabric that protects baby from harmful UV rays.
There is also silent peek-a-boo window that provides extra ventilation and allows parent to check on the little passenger at any moment.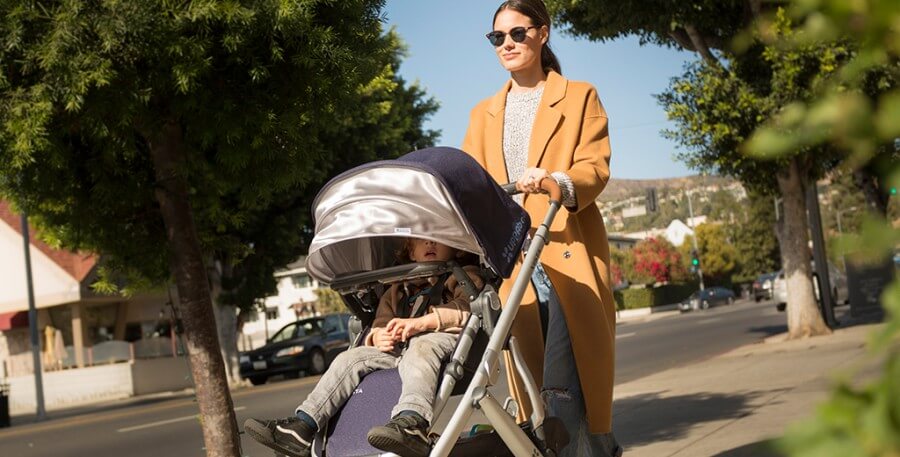 Another great thing about VISTA 2018 sunshade is that you can slide it up a bit, when your baby gets taller. Thanks to this feature the child has more room to grow.
Handlebar
Each model of VISTA: 2016, 2017 and 2018 is super convenient to push and navigate. Thanks to extendable telescoping handlebar shorter and taller parents can easily steer the stroller – without wrist fatigue and back pain.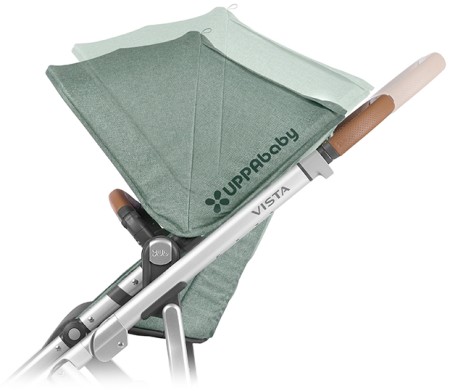 Moreover, when taller parents slide the handlebar out, they have more room behind the stroller so they don't kick the back of it during strolling.
Seating options
VISTA 2018, just like the previous models, can be used from birth with a bassinet or infant car seat (MESA – without any adapters, or many other car seats – with adapters). From 3 months you can use the regular toddler seat, which can accommodate a passenger up to 50 lbs. As you can see it really grows with the baby.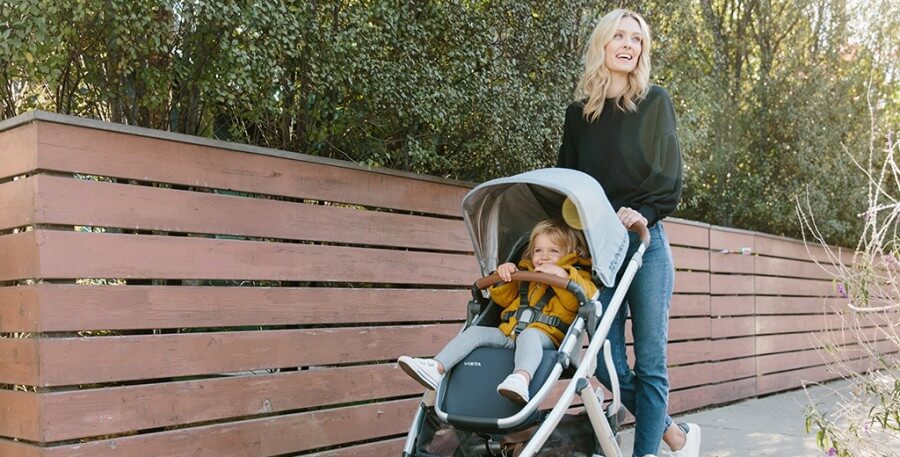 The main seat remains multi-position recline. VISTA 2018 has the same awesome one-hand mechanism for recline (instead of common straps which require using two hands). You just pull a lever and the seat reclines deeply to provide comfy place for naps on the go.
Moreover, this seat is reversible, so your baby can face you or the surrounding. You can easily reverse the seat, depending on your baby's age and mood.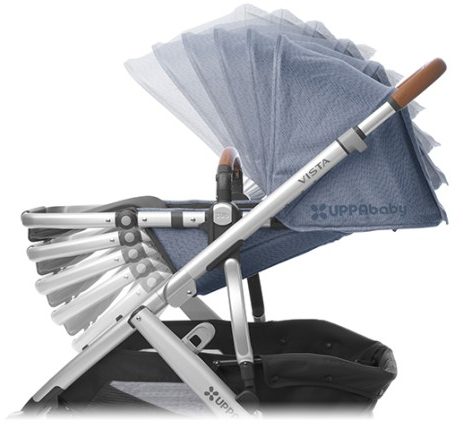 VISTA 2018 also expands to accommodate second child – you can add second bassinet, car seat or Rumble seat for a toddler.
Keep in mind that although both seats look very similar, the Rumble Seat has lower weigh capacity (35 lbs instead of 50 lbs).
The newest model is also compatible with PiggyBack board therefore VISTA 2018 can accommodate up to three kids.
The only thing that I don't like about expanded VISTA is the combination of bassinet and toddler seat. As you can see in the picture below, the bassinet has to go below the toddler seat. I definitely prefer to keep younger baby closer to me (especially a newborn). Good thing is that you can attach the infant car seat in upper position.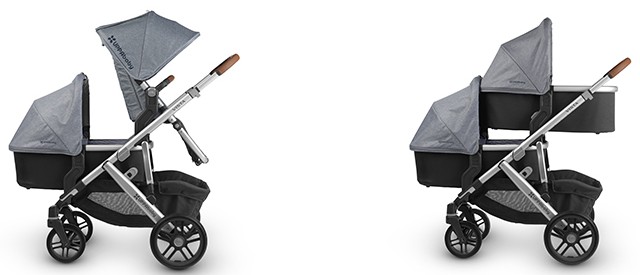 Another common issue with expandable strollers is the combination of two bassinets – they are very close to each other and the upper one completely covers the lower one, so you can't see your baby, unless you close the canopy.
Parents who plan on using VISTA 2018 for two kids of different age, should keep these issues in mind.
To see other fantastic expandable strollers click here. If you need a single convertible stroller check my ranking of the best modern strollers.
Storage basket
Newest model of UPPAbaby iconic stroller has the same enormous basket under the seat with the capacity of 30 lbs. Thanks to it you will always have enough space for all of the baby gear and shopping bags.
Weight, size & folding
The newest VISTA weighs 26.6 lbs and is 25.7 inches wide. It's not the lightest model on the market but it's a decent weighs as for such a versatile and multi-purpose stroller.
The fold remains one-hand and super quick. VISTA 2018 also has the same automatic lock and self-stand.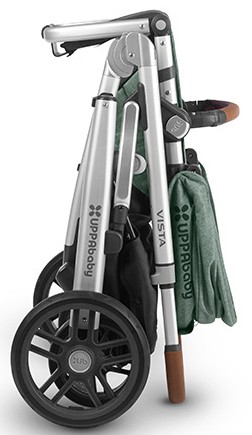 Specification
| | |
| --- | --- |
| Stroller type | Convertible |
| Stroller weight | 26.6 lbs (frame + toddler seat) |
| Weight limit | 50 lbs (toddler seat) |
| Stroller dimensions  | 25.7″ x 36″ x 39.5″ (WxLxH) |
| Folded dimensions  | 25.7″ x 17.3″ x 33″ (WxLxH) |
| Handlebar height | 39.5-42.5" |
Performance and ease of use
If you have ever read other parents reviews of UPPAbaby VISTA, you already know that this stroller glides like a breeze. All parents love how smoothly it goes over many types of terrain. The newest version is no difference!
As for a standard stroller, it has quite big wheels (8″ in the front and 11.5″ in the back) and all-wheel suspension to cushion the ride over bumps.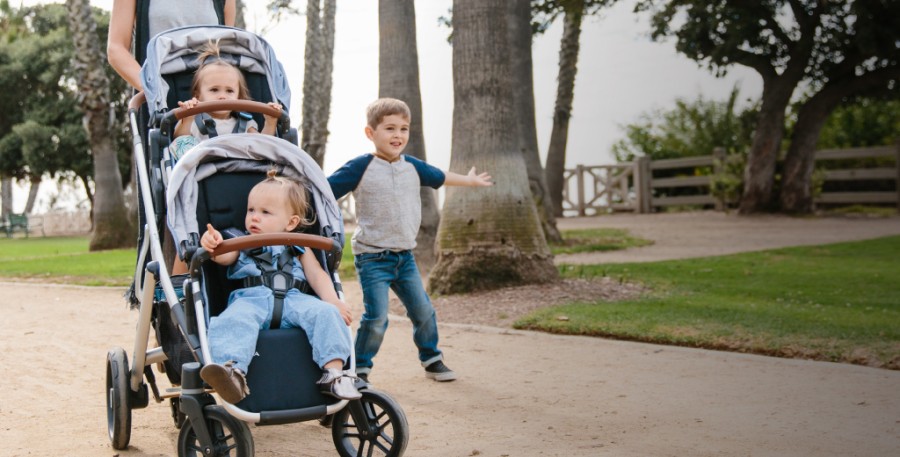 Although the wheels are not air-filled like in joggers, they can go over pretty much any type of terrain: old sidewalks, cobblestone, grass, gravel, snow… maybe not the beach sand, but it is still pretty impressive as for an everyday stroller!
Last year the manufacturer upgraded the rear wheels to new, polyurethane ones which are lighter and slimmer. Thanks to them the stroller is 1.5 lbs lighter and 1″ narrower than 2016 model. Of course the VISTA 2018 has those wheels as well.
With the upgraded front wheel design (they added more tread to the front wheels) VISTA 2018 rolls even smoother. And you don't have to worry about the punctures – these wheels are non-inflatable.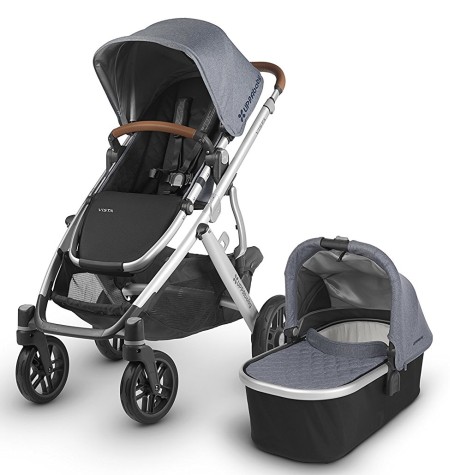 This stroller is very nimble, easy to maneuver and turn. When you use it as a single stroller you can push it with one hand almost effortlessly.
However, you should remember that especially when you turn VISTA into a double stroller, it gets more clumsy, so it can be more difficult to steer in tight spaces or crowds. In this case you will need two hands for pushing.
Pros & Cons
To sum up my review I put the major advantages and disadvantages in the table below. Keep in mind that it's just mine opinion. 🙂
Pros
Cons

Many seating combinations – the stroller grows with the baby and adapts to growing family
One of the best bassinets for 2018 – it provides proper ventilation, big canopy shields baby from the sun and wind, it's spacious and super comfy
Easy, one-hand recline and huge canopy on toddler seat
Each seat click onto the frame easily, reversing the seat takes few seconds
Oversized basket with HUGE weight capacity – I can easily fit there my two diaper bags
Good-sized wheels and suspension make the stroller suitable for many types of terrain – even gravel and snow
Maneuvers like a breeze
Adjustable handlebar makes pushing convenient for all-height parents
Beautiful colors and high-quality fabrics
Durable, made of excellent materials
Strong and robust frame
Rain & bug shields included with the stroller
Responsive customer service

I'm not a fan of certain seating combinations: bassinet+bassinet and bassinet+toddler seat (but it was not a deal breaker for me)
Lifting it to the car trunk is doable, but if I had to carry it up and down the stairs few everyday it would be annoying and difficult, especially right after the birth
With two seats is a bit more difficult to turn and steer in crowds
Pricey stroller, expanding it to a double is an additional cost
UPPAbaby VISTA 2018 Release Date
Few months ago the brand announced that UPPAbaby VISTA 2018 release date is scheduled for February 2018. UPPAbaby did not disappoint us! The new upgraded VISTA 2018 is for sale from February 1st.
You're probably wonder how much UPPAbaby VISTA 2018 costs. It is a high-end product, now with more useful features to make strolling with a baby even more convenient and pleasant. The price is very similar to the previous model, however some color versions are a bit more expensive. Would you like to check the current price? Just click here.
In the picture below you can see all parts that you receive with UPPAbaby VISTA 2018.

What other parents think about UPPAbaby VISTA 2018?
I always check customer reviews on Amazon to find out what other people think about the product I'm about to buy (especially when it's so expensive like VISTA). Last time I checked VISTA 2018 on Amazon, it's had few reviews already and I'm sure there will be more opinions soon, so don't forget to check it on your own – you can do it here.
According to customers VISTA is very easy to push and turn. It rolls very smoothly. Enormous basket where you can fit ALL of your gear, even for a weekend trip is another advantage. Moreover parents love the bassinet, which is a bit extended in the new version, and the whole stroller looks just beautiful. Parents praise the craftsmanship, quality of fabrics and colors.
Customers say folding is easy but the stroller is not very convenient to carry. Removing and adding seats/attachments is quick and easy. However the seating option where the bassinet is on the bottom position and toddler seat is on top is not good. One parent says it's too bumpy for an infant in the bassinet.
One person complains the parking brake doesn't always unlock properly. Moreover this stroller is not very convenient for public transportation as it's hard to pop the wheels up to get over the gap when you're boarding a metro or train.
Accessories
Both UPPAbaby VISTA 2018 and UPPAbaby VISTA 2019 come with a standard toddler seat, bassinet, bumper bar, bug shields for bassinet and toddler seat and rain cover for toddler seat. This stroller is expensive so it would be really weird if it didn't come with any accessories.
Nevertheless, there are few other items that you can purchase separately to make using VISTA even more enjoyable. Below I present you some of the accessories which are sold separately.
| | |
| --- | --- |
| | UPPAbaby Carry-All Parent Organizer – It easy attaches to the handlebar and allows parents to keep their essentials and valuables within reach. There are three storage pouches for your wallet, keys, phone and some snacks. They can also double as a beverage holders. |
| | UPPAbaby Cup Holder – Useful accessory that allows mom and dad to keep their water at hand. |
| | UPPAbaby Snack Tray – It offers a convenient place for kid's snacks and sippy cup. |
| | UPPAbaby Infant SnugSeat – You can add this cozy and soft insert to the toddler seat so your infant could feel even more comfy and secured in it. It provides additional head, neck and spine support for younger infants. |
| | UPPAbaby Rumble Seat – If you want to use your VISTA for two kids who can sit unassisted, you will need to add the Rumble Seat. Notice that it has lower weight capacity (35 lbs) than regular toddler seat. |
VISTA 2019 vs VISTA 2018 vs VISTA 2017 – Which model is better?

In my opinion VISTA 2017 was really awesome and high-quality and definitely one of the best strollers on the market. The new features and upgrades for 2018 are useful and make this stroller even more convenient to use. Changes for 2019 make this stroller more elegant and beautiful.
If you have few extra dollars, I would definitely recommend you to go for VISTA 2018, but if you have to stick to your budget, the 2017 model won't let you down for sure! If you're a fashion lover, VISTA 2019 will be the best choice, but keep in mind the premium colors may be more pricey.
Check if you can get any discounts for VISTA 2017 or see the latest price for VISTA 2018.
Keep in mind
When you convert VISTA to a double stroller it is quite heavy and large, so it can be difficult to steer with one hand through tight spaces. Also, it is one of the most expensive strollers.
3 Reasons Why You Will Love UPPAbaby VISTA
1. This stroller is a guarantee of high quality, durability and safety. 
2. It can be your only stroller and serve you even for three kids at a time.
3. As for such a big stroller, well-equipped stroller, it features really compact fold – easy to put in a car trunk and store in a small apartment.
Do you plan on buying UPPAbaby VISTA 2018? This is a pricey stroller so make sure it really meets your needs. Don't forget to check customer reviews and available discounts (click here to skip to Amazon).
This stroller is not what you need? Here are other awesome strollers for 2018.
All pictures belong to UPPAbaby. Source: https://uppababy.com/