Are you super excited about the new model of UPPAbaby VISTA 2018? Maybe you're wondering if it's worth waiting for or if you should rather go for the 2017 model? Here you will find the answer.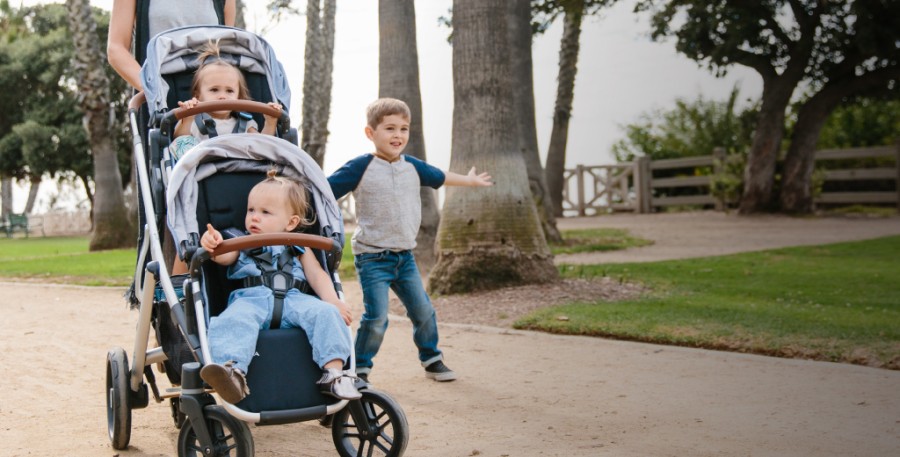 UPPAbaby VISTA 2018 – Review
Let me tell you a little bit about the new updated VISTA 2018 and then I will also show you awesome features that will stay the same for the new model.
At the end of my review you will find information about pricing and UPPAbaby VISTA 2018 release date!
Here's a sneak peek on VISTA 2018 upgrades and new features.
Fashions & Fabrics
There are two main collections of fashions: Mélange and Core. The brand offers 8 colors for VISTA 2018. Here are the fashions for both collections:
Mélange: Henry, Gregory, Jordan and Emmet
Core: Jake, Loic, Jenny, Taylor
All Mélange fashions look really stylish and chic.
I'm really excited that VISTA 2018 will be available in Gregory color – moms' favorite fashion for UPPAbaby CRUZ 2017. Yaay!
There are new fabrics for the canopy and the seat. Even at first glance I can tell that UPPAbaby used really high-quality materials.
What is really great about the new fabrics and colors is that they are rather mat than shiny like in the VISTA 2017.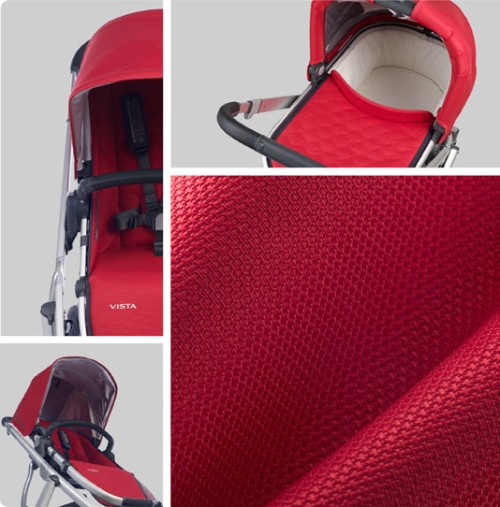 Frame
There is new upgraded frame, which is now powder-coated, instead of carbon-coated. It is more mat and less susceptible for scratching.
Handlebar
All of the fashions for 2018 are equipped with REAL leather handlebar and bumper bar. The leather will be available in brown and black color. According to the manufacturer this material doesn't contain any chemicals. Big plus for UPPAbaby. Besides, these new leather bars give the stroller smart look.
Wheels
Another change is the front wheel design. In the new UPPAbaby VISTA 2018 the front wheel mirrors the rear wheel – it has the same shape and tread pattern, and it is more rounded.
Bassinet
UPPAbaby has also upgraded the bassinet. It has more squared shape thanks to which it has 2.5 inches longer mattress. This change allows to accommodate taller infants and gives your baby more room to grow, however the whole bassinet didn't get bigger or bulkier.
---
So these are all of the changes made for the new UPPAbaby VISTA 2018. Apart from these upgrades, it remains the same high-quality, expandable and convertible stroller.
Now, for those of you who are not familiar with this VISTA, I will present the main features that are similar for the 2017 and 2018 model. You can also just read my full & comprehensive review of VISTA 2017.
Other features of UPPAbaby VISTA 2018
Canopy
The newest model has the same, large and extendable sunshade which provides really great coverage from the sun. Moreover there is a pop out sun visor made of special fabric that protects baby from harmful UV rays.
Seat
The main seat remains multi-position recline. VISTA 2018 has the same awesome one-hand mechanism for recline (instead of common straps which require using two hands).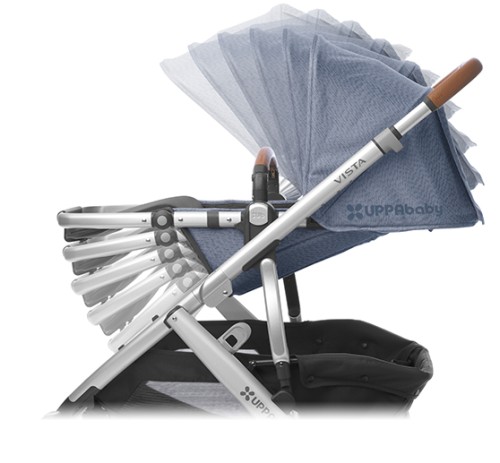 Other seating options
VISTA 2018, just like the previous models, can be used with a bassinet or infant car seat (MESA or many other car seats). It also expands to accommodate second child – we just need to add second bassinet, car seat or Rumble seat for a toddler.
Keep in mind that although both seats look really similar, the Rumble Seat has lower weigh limit (35 lbs instead of 50 lbs).
The newest model is also compatible with PiggyBack board so it can accommodate up to three kids.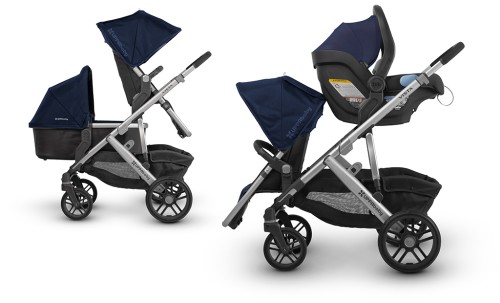 Storage basket
Newest model of UPPAbaby iconic stroller has the same enormous basket under the seat with the capacity of 30 lbs. Thanks to it you will always have enough space for all of the baby gear and shopping bags.
Weight and size
Just like the model from 2017, the newest VISTA weighs 26 lbs and is 25.5 inches wide.
Folding
The fold remains one-hand and super quick. VISTA 2018 will also have the same automatic lock and self-stand.
Performance
If you have ever read other parents reviews of UPPAbaby VISTA, you already know that this stroller glides like a breeze. All parents love how smoothly it goes over many types of terrain. The newest version will be no difference!
As for a standard stroller, it has quite big wheels (8'' in the front and 11.5'' in the back) and all-wheel suspension to cushion the ride over bumps.
Although the wheels are not air-filled like in joggers, they can do pretty much any type of terrain: old sidewalks, cobblestone, grass, gravel… maybe not the beach sand, but it is still pretty impressive for an everyday stroller!
Last year the manufacturer upgraded the rear wheels to new, polyurethane ones which are lighter and slimmer. Thanks to them the stroller is 1.5 lbs lighter and 1'' narrower than 2016 model. Of course the VISTA 2018 will still have those wheels.
And with the upgraded front wheel design in VISTA 2018 (they added more tread to the front wheels) I'm sure it is going to roll even smoother.
Ease of use
Each model of VISTA: 2016, 2017 and 2018 is super convenient to push and navigate. Thanks to extendable telescoping handlebar it can accommodate shorter and taller parents.
However, you should remember that especially when we turn VISTA into a double stroller, it gets more clumsy, so it can be more difficult to steer in tight spaces or crowds. In this case you will need two hands for pushing.
Keep in mind
When we convert VISTA to a double stroller it is quite heavy and large, so it can be difficult to steer with one hand through tight spaces. Also, it is one of the most expensive strollers.
3 Reasons Why You Will Love UPPAbaby VISTA 2018
1. This stroller is a guarantee of high quality, durability and safety. 
2. It can be your only stroller and serve you even for three kids at a time.
3. As for such a big stroller, well-equipped stroller, it features really compact fold – easy to put in a car trunk and store in a small apartment.
VISTA 2018 or VISTA 2017 – which model is better?
In my opinion the previous model was really awesome and high-quality and definitely one of the best strollers on the market. The new features and upgrades for 2018 are useful and make this stroller even more convenient to use.
If you have few extra bucks, I would definitely recommend you to go for VISTA 2018, but if you have to stick to your budget, the 2017 model won't let you down for sure!
UPPAbaby VISTA 2018 Price
You're probably wonder how much will UPPAbaby VISTA 2018 cost. According to manufacturer official website the price will range from $899 to $929. So it'll still be a high-end product, now with more useful features to make strolling with a baby even more convenient and pleasant.
UPPAbaby VISTA 2018 Release Date
The brand recently announced that UPPAbaby VISTA 2018 release date is scheduled for February 2018. Can't wait!
Stay tuned for more information

Hello Moms! I am Zooey. I am a wife and a mother of three amazing kids: 3-year-old Haley and almost 1-year-old twins Jesse and Matthew. I am a jogger, cooker and blogger
If you have a question or a comment, do not hesitate to write to me! 🙂