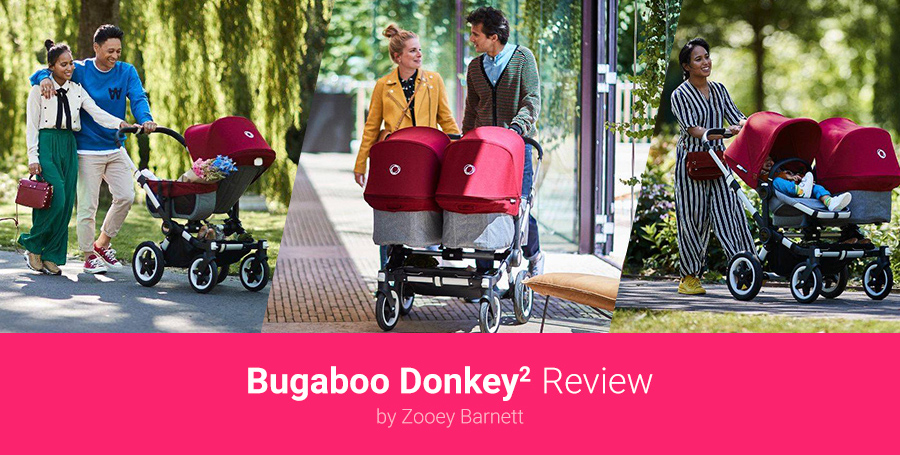 Now Bugaboo has released the second, upgraded version of their iconic stroller – Bugaboo Donkey2 that hit the stores in November 2017. Are you curious about the new features and Donkey 2018 price? Here you will find all information!
Check out my Bugaboo Donkey2 2018 review and find out why it is still one of the best strollers in 2020!
Stroller
Data
Verdict
Price

Bugaboo Donkey2


Stroller type: Convertible, expandable stroller

Capacity: Suitable for 1 or 2 kids

Weight limit: 37.5 lbs per seat
LittleBabyGear Verdict:



Stroller for parents who value flexibility and need multi-functional stroller that will grow with their family

Check Availability & Price:

Amazon / PishPosh Baby Store
This article contains affiliate links.
Bugaboo Donkey2 Review (2018)
Let me start by saying that Bugaboo Donkey has been already a great stroller. If you have read some of my reviews, you know how much I love convertible strollers. And Bugaboo Donkey is convertible in every sense of this word. It gives parents flexibility of switching between different seats and from a single to a double version.
And to be honest, this stroller is a symbol of luxury. Strolling with Donkey is so stylish! No wonder so many moms have fallen in love with it!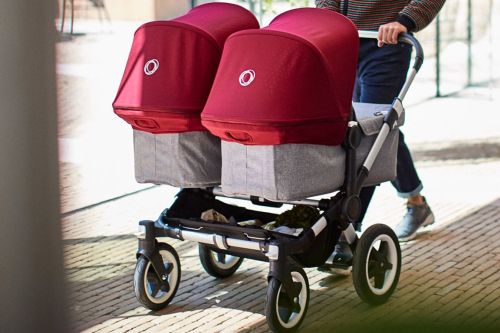 Manufacturers went even further and upgraded their famous stroller to provide parents with even more convenient and comfortable vehicle.
What changes were made for Bugaboo Donkey2?
Bugaboo Donkey2 2018 – Wheels
The new Bugaboo Donkey 2018 has completely different wheels with foam-filled tires. This is probably the biggest change for Donkey2.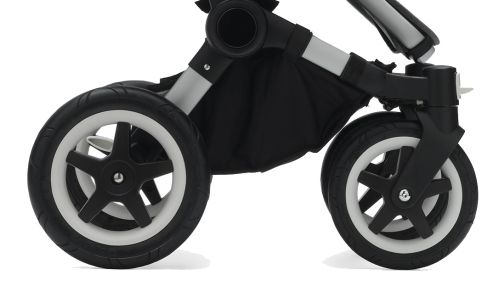 The previous version features air-filed tires which are great for smooth ride over different types of terrain like pavement, cobblestone or grass, but they have one big flaw: they deflate.
It may be quite annoying because you have to remember about pumping the tires once in a while and there is also a risk of having flat tire during a stroll. Donkey was the only stroller from Bugaboo family that has pumped wheels and manufacturer decided to change that.
The new Bugaboo Donkey2 has foam-filled tires that aren't deflatable. These brand new wheels are really awesome because they imitate the feeling of air-pumped tires! So with the new Donkey2 you get the same smooth, stabile ride but without the problem of deflation and punctures. How great is that?!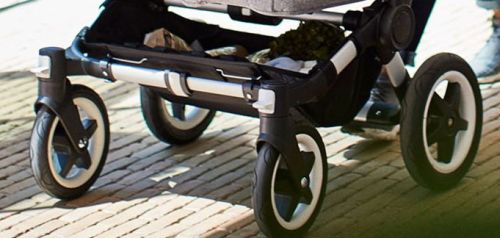 I've got also a good news for those parents who already have Bugaboo Donkey – you can purchase the new wheels for the previous version of the stroller! Big plus for Bugaboo.
Bugaboo Donkey2 2018 – Frame & Suspension
Bugaboo also upgraded the frame. Now it is even more stable and doesn't wobble. With such a solid frame you can be sure Bugaboo Donkey2 will serve you for YEARS!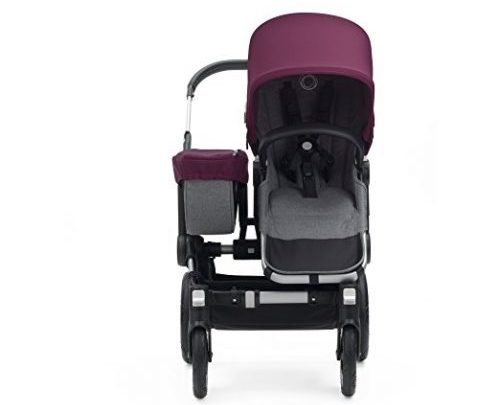 Bugaboo Donkey2 2018 has also updated all-wheel suspension which provide even greater stability, easier pushing and more smooth ride. Moreover, the weight distribution is really great so even if you use this stroller for an infant and toddler, the stroller will remain sturdy and won't pull to one side.
Bugaboo Donkey2 2018 – Side luggage basket
The new Bugaboo Donkey has upgraded side luggage basket. It comes with the same color as the base fabric (you can check the new color options below). Side luggage basket has a cover now which is very useful because it keeps your valuables safe. It's also protects your essentials from rain or snow.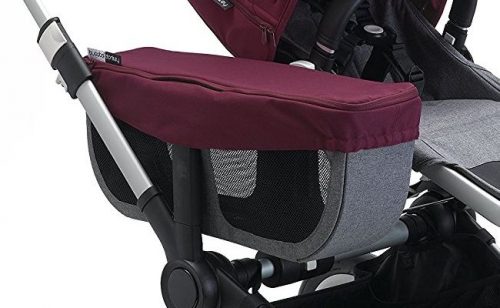 The cover is also very handy if you have a very curious toddler who grabs everything that is within his reach and likes to throw things (like mine :)). In the previous version of Donkey child could easily reach into the side basket and take of the stuff, in the new version for 2018 this problem is solved.
Even when the side luggage basket is covered you will still have quick access to your necessities thanks to a zipper in the cover. So you don't have to pull out the whole cover every time you want to take out your phone, you just easily unzip it. Clever solution, Bugaboo!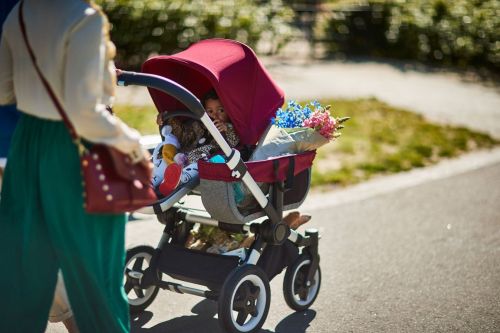 Side luggage basket on Bugaboo Donkey 2018 has also two handles so you can take this basket to the grocery store with you!
The biggest upgrade for side luggage basket is the capacity. Previous version could hold 11 lbs, the new side luggage basket for Bugaboo Donkey 2018 can hold 22 lbs! You can fit a lot of stuff there, keep baby's essentials at hand or use it as a basket for shopping. It's awesome upgrade.
Bugaboo Donkey2 2018 – Customization & Fabrics
The previous version of Donkey has black base fabric and you could choose only the color for the canopy. The new 2018 Bugaboo Donkey2 offers HUGE customization. You can choose from a lot of different color versions and make your own Donkey2 that suits your style! >> Check out currently available color versions <<

First of all, you can choose the frame color: aluminum or black. Then you can customize the color of base fabric which is the color of bassinet base, apron, toddler seat and side luggage basket. Here you have three options: black, grey mélange and blue mélange.
And of course you can choose the color of the canopy and cover for side luggage basket. Here you have ELEVEN color variants: ruby red, olive green, black, sunrise yellow, sky blue, soft pink, red mélange, blue mélange, grey mélange, Waves print and Botanic print. The last two colors are available in Signature Collection.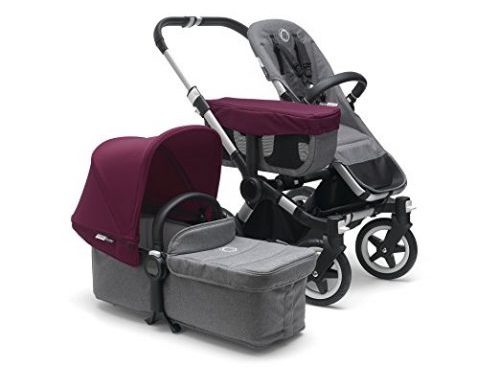 So as you can see the side luggage basket matches the seat, and its cover matches the canopy which gives Bugaboo Donkey2 really cool look!
Bugaboo also changed the fabrics texture. The canopy fabric from the Core Collection is now more flexible and comes in mélange which means it is slightly thicker. If you'd prefer more sturdy canopy, you can choose a fabric and color from The Premium or Signature Collection.
There's one more upgrade: the apron fits bassinet much tighter now and thanks to that it covers the baby better.
Here you can also watch a video about all of changes made for the new 2018 Bugaboo Donkey2.
So these are the main changes made for the new 2018 Bugaboo Donkey2! Apart from these changes Bugaboo Donkey stayed awesome, convertible and expandable stroller.
Bugaboo Donkey2 2018 easily expands from a single stroller to a double stroller. This is a great solution for parents who have one child, but plan on having another baby in the future. Just like the previous version, the new Bugaboo Donkey 2018 has three version: Mono, Duo and Twin.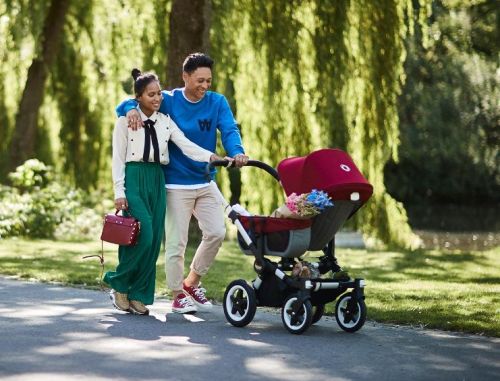 Mono version can be used with a bassinet, a toddler seat or an infant car seat. In this version the second seat is replaced by a side luggage basket. If you'd like to turn your Donkey to a double stroller you just need to undo the clips on the frame and expand the frame out. It takes literally few seconds! If you'd like to see the price for Bugaboo Donkey2 Mono – click here.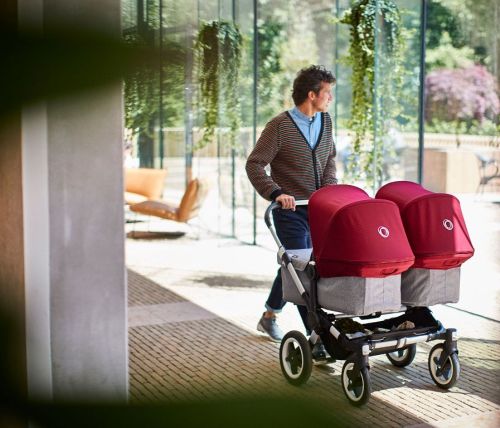 Double Bugaboo Donkey2 can be used in Twin or Duo mode. You can click into the frame two bassinets, two toddler seats or one of each. This stroller is perfect for parents of twins or kids at different age. Keep in mind that the price for both versions differs. You can compare Bugaboo Donkey2 Twin and Bugaboo Donkey2 Duo for example on PishPosh Baby – here is Twin version and here is Duo.
I must admit I'm a big fan of bassinets, although I know how irritating it is to take the sleeping baby out of the car seat and trying to put her/him to sleep all over again in a bassinet. But I also know that my boys were sleeping better during strolling in a bassinets than in car seats. Only the bassinet provides completely flat position which is the best for sleeping infant.
I understand that not every parent has to be pram fan and this stroller is a perfect solution. We can install onto the frame not only bassinets, but also infant car seats. And when the babies grow up a little bit, we can change them for toddler seats.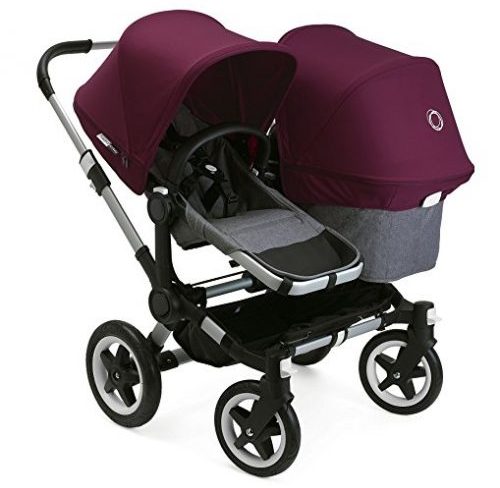 Switching between bassinet and toddler seat (and infant car seat) is a piece of cake, everything easily clicks into the frame. Toddler seats are also reversible and can be used from 6 months up to 37.5 lbs. The new 2018 Bugaboo Donkey2 is also compatible with Maxi-Cosi and Chicco infant car seats – you just need a special adapter for it.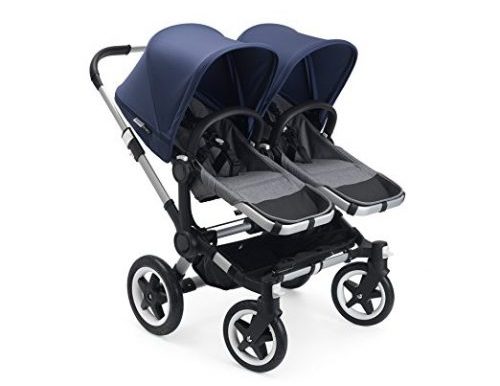 Even when the stroller is fully loaded it's very stable and you can push it with one hand. Although this is a side-by-side stroller it fits through doorways without any problems and have surprisingly tight turning radius. And thanks to those big, foam-filled wheels you can take it to the park, cobblestone or even snow!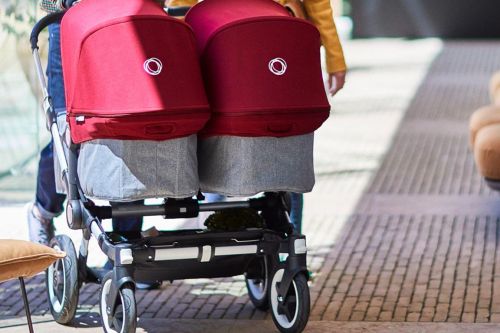 You're probably wondering if the new 2018 Bugaboo Donkey2 didn't get more bulky or something. You don't have to worry! The specification of the stroller stayed the same.
The new Bugaboo Donkey 2018 is still 23.6'' wide in Mono version and 29'' in Twin and Duo versions. It weighs just 0.1 lbs more (29.2 lbs for the previous version and 29.3 lbs for the newest version). Stroller folded dimensions also didn't change (20.5'' x 23.6'' x 36.6"). The only thing that has changed is the side luggage basket capacity, which was upgraded from 11 lbs to 22 lbs!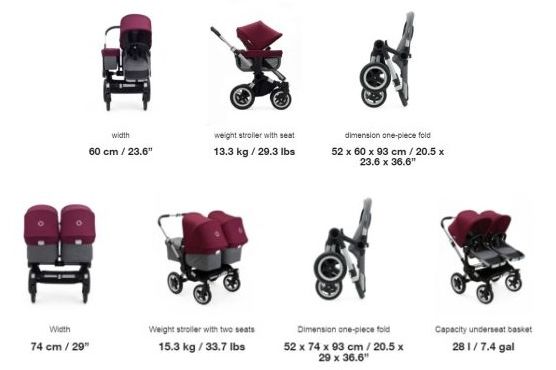 If you want to read more about other features of this amazing stroller (that remained unchanged from previous model), below you can find my review of Bugaboo Donkey 2017.
Bugaboo Donkey 2017 Review
Bugaboo Donkey has been a reliable stroller for me for over a year now. I'm aware that not every mom is a big fan of jogging as I am. That's why I decided to test a different double strollers when my twin boys were born, not only joggers. My first choice was obviously famous Bugaboo Donkey.
If you haven't heard about this stroller yet, or you're trying to decide between the previous and newest version, here are basic information about its features. Most of the features are the same for Donkey and Donkey2 (apart from wheels, suspension, colors and side luggage basket). I marked the differences.
If you're still unsure which version to choose – let me know in a comment! 🙂
First of all, this is a convertible type of stroller. It consists of double seat frame and different seating options: two bassinets and two toddler seats. Sometimes Donkey is sold as a whole set with all seats, but you can also purchase the base and the bassinets separately. Bugaboo Donkey can be also used for newborns thanks to compatibility with major infant car seat brands.
In the picture below you can see how Donkey can be converted from a single to a double stroller and back. The pictures show previous version of Bugaboo Donkey.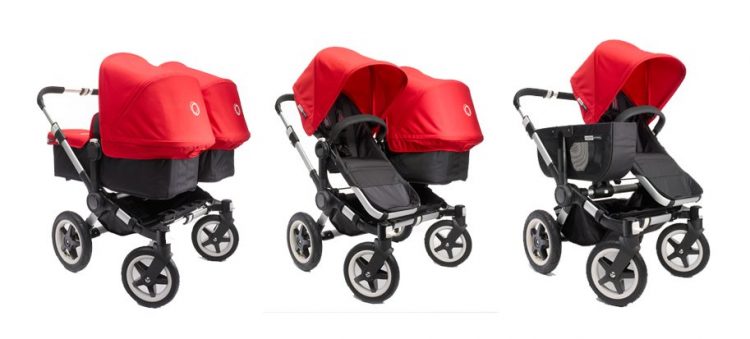 As you can see Bugaboo Donkey has many add-ons and seating options so every mom will definitely find something for her and her babies! Bugaboo gives parents a lot of flexibility and you can create your own Bugaboo Donkey stroller with the accessories and features you want and need!
The whole set might be quite expensive, but it is a good investment and I'm sure that this different seats will serve your passengers for many years and will grow with them. We can use the Donkey as a first stroller for newborns, with bassinets or infant car seats, and then as a stroller for toddlers with two regular seats.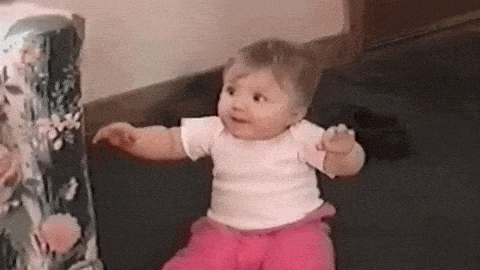 Bugaboo Donkey 2017 Twin is very stylish and riding in it is so much fun! Let's see what this stroller may offer you. Below you will find all of the important informations.
Bugaboo Donkey Twin is a double, side-by-side frame that can be used with different seating options. You can use it as a stroller for only one child and replace the second seat with a basket for your essentials.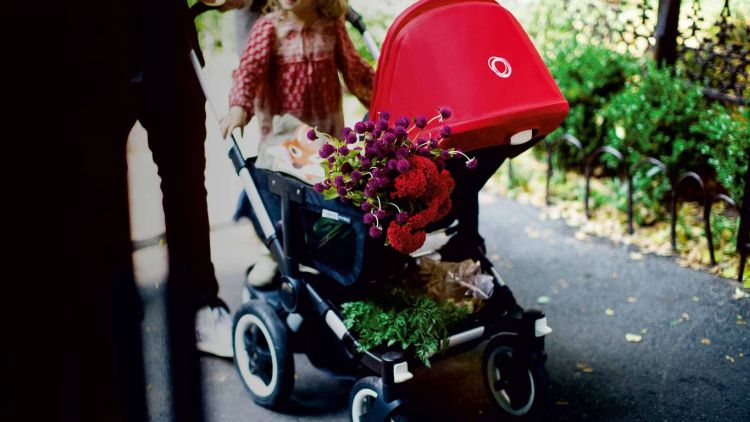 In this version we have two baskets (the second is underneath the seat) so we can be sure there is enough place for the baby's diapers, wipes, clothes and other stuff that we may need during the stroll (and of course our shopping bags!). The extra basket which is located next to the seat is a perfect place for our essentials (like purse, phone or keys) and baby's food and drinks or toys.
Donkey can be also used as a double stroller. It offers many seating options. We can swap onto the frame two bassinets, two infant car seat, two toddler seat or use different type of seats, depending on our babies' age.

You can push your newborn babies in infant car seats. You can turn the Donkey into a pram by replacing one or both car seats with stylish bassinets. This is the best option if you want your babies to ride in a completely flat position. That's how I started using this stroller for my Jesse and Matthew. Then you can switch the car seats and bassinets for normal seats for toddlers.
The best thing in Bugaboo Donkey is the fact that you can ride with two different seats (which is great if you have an infant and a toddler). Another advantage: if you are using toddler seats, one can be facing you while the other one is riding forward. Therefore babies can look at their parents, see each other or look at the surroundings and discover the World.
A variety of seating options gives a lot of flexibility and makes the stroller really multifunctional which is very important for parents of two small babies.
Wheels
The Donkey 2017 has pretty large wheels. The front wheels are 10" and the rear wheels are 12". The tires are pneumatic which makes the stroller really easy to maneuver and turn, even in tight spaces. The front wheels are swiveling and lockable. Fixed wheels make stroller more stable and swiveling wheels make it more agile.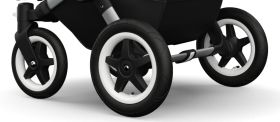 Whatever seat you decide to install, pushing the stroller is very smooth and easy. When I was pregnant I was afraid that going for a stroll or shopping with two babies would be difficult and I thought that double stroller have to be huge and bulky. Bugaboo Donkey Twin has surprised me! It's really easy to navigate and push.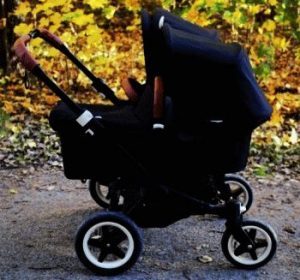 Besides, it handles turns and corners very well. Thanks to air-filled tires it works great even on tough terrain! I had no problem with pushing it on a grass or gravel park paths. Remember that these tires require inflating once in a while.
Bugaboo Donkey Twin is also equipped with four wheel suspension but it's not as great as in joggers of course. This stroller works excellent for strolling around the city, but it can also handle grass, sand and dirt roads.
It is worth to notice that the wheels has been changed for the newest Bugaboo Donkey2 2018 for foam-filled ones. The new Donkey2 has also upgraded suspension. Remember about those two differences when you decide to buy Bugaboo Donkey.
Brake
This feature is one of the most important things in the strollers, because baby's safety depends on it. The Bugaboo Donkey Twin has one parking brake which is foot-operated.
This brake is very easy to set and to release, even while wearing sandals or high heels. Once the brake is set, the stroller is immobile. I really like the brake in this stroller.
Handlebar
The handlebar is adjustable and has eleven different heights so it means the stroller is short and tall parents friendly. This is a big advantage for parents of different height. My husband is much taller than me, but he can easily extend the handlebar.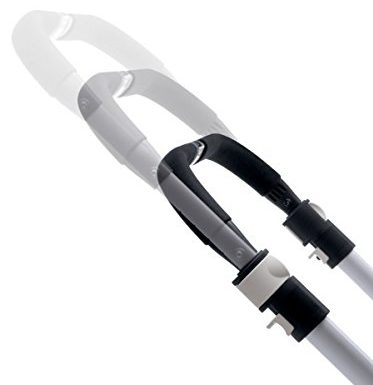 In many strollers the handlebar is adjustable by rotating, so tall parents often push the stroller while being really close to it and are very likely to hit the frame with their feet.
This issue is solved in Bugaboo Donkey Twin with extendable and telescopic handlebar, which I really like. Thanks to it, tall parents won't be kicking the pushchair during strolling. This handlebar is pretty similar to the one that VISTA has.
Canopy
Bugaboo Donkey Twin is actually a frame so it doesn't have sun shade of its own. Bassinets and toddler seats canopies have appropriate size and will give your passengers nice coverage.
Nevertheless, the canopies have two downsizes: poor ventilation and no peek-a-boo windows. But you don't need to worry about being not able to see your babies. The seats can be facing the parent. This means that you can keep an eye on your little passengers the whole time.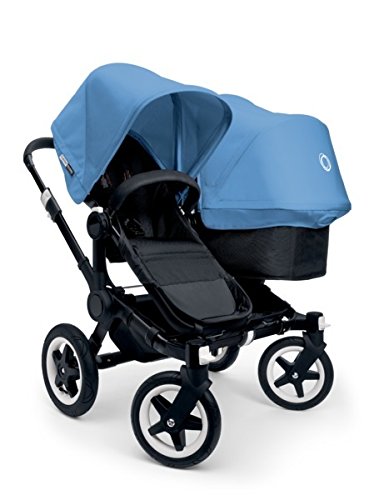 On the market there is a specially designed canopy with great ventilation and sun coverage from head to toe which can be purchased separately. So if you worry about the lack of air-flow, you can replace the normal canopy this awesome sunshade. You can see it below.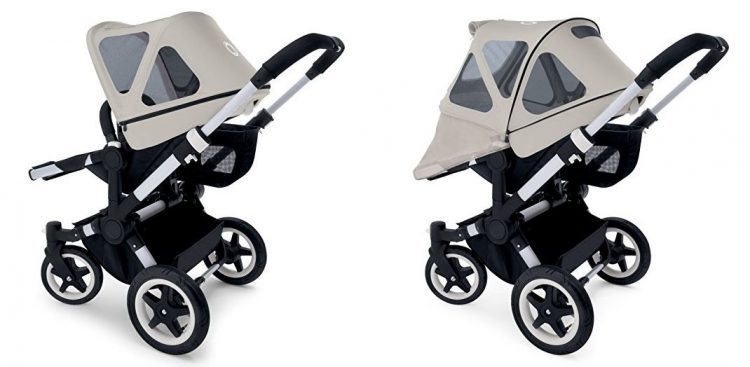 Seats
You can push the Bugaboo Donkey with two bassinets, two toddler seats, two infant car seats or just one of them.
First of all, you can use only one seat (mono) and the other seat replace with an additional basket. This is great option for parents who have one baby but they are planning to expand their family and want a stroller that will grow with them.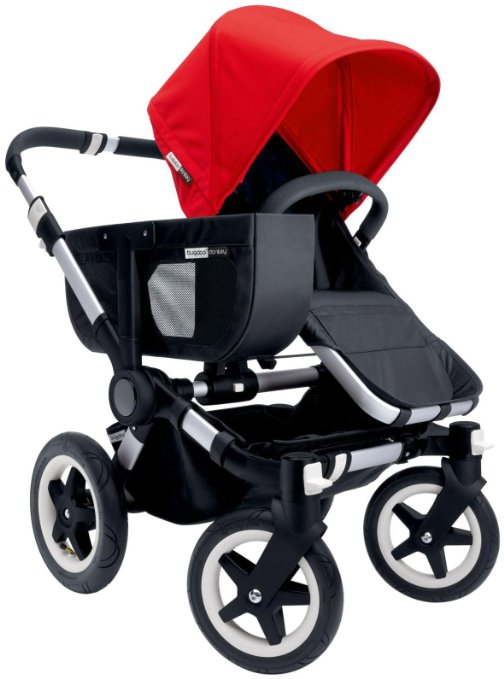 You can also use the Donkey as a double stroller for twins (like I'm doing) and install onto the frame the same two seats. Bugagoo Donkey Twin can be used with two bassinets or two toddler seats. Maximum capacity for each regular seat is 37.5 lbs.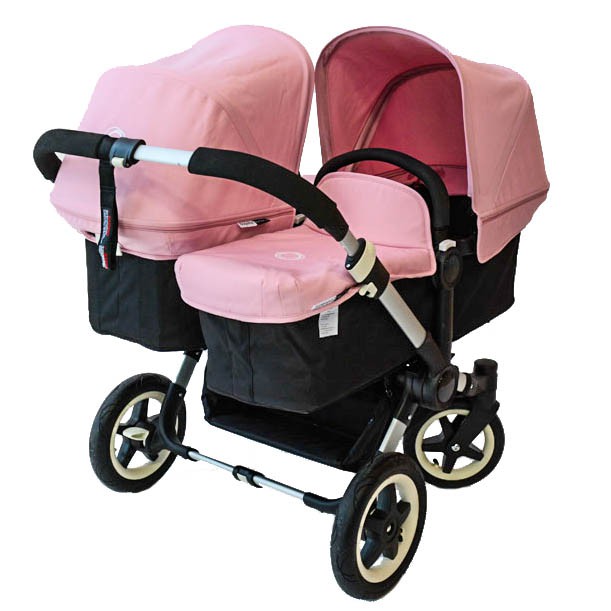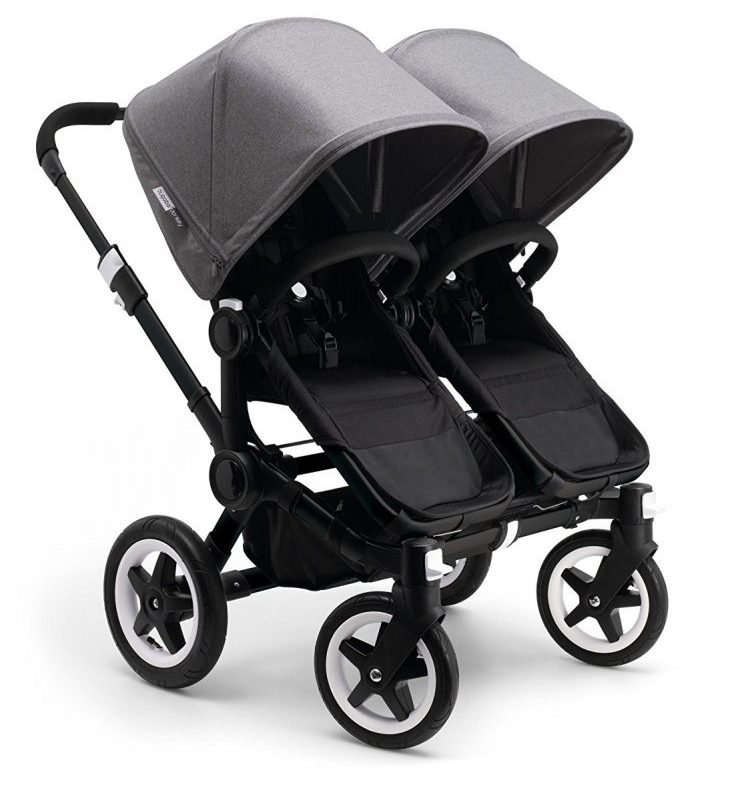 You can also mix different seats if you have an infant and a toddler. Just click the bassinet and regular seat into the frame and you're ready to go! Donkey is very multifunctional and gives parents plenty of flexibility. I love it!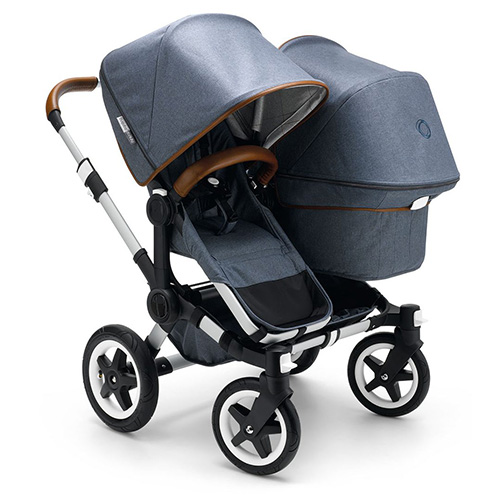 The toddler seat is equipped with belly bar, which I really like. Your little ones can sit facing you or the surroundings. Each seat is fixed independently so you can set them in opposite directions and your toddlers can face each other!
When the seats face forward there are two recline positions and when they face parent there are three recline position (you can fully recline the seats but your kids won't be lying completely flat).
Reclining seats are great feature because during the stroll toddlers want to sit upright and look at surroundings, but they often get bored or tired at some point and in this stroller they can nap in near-flat position.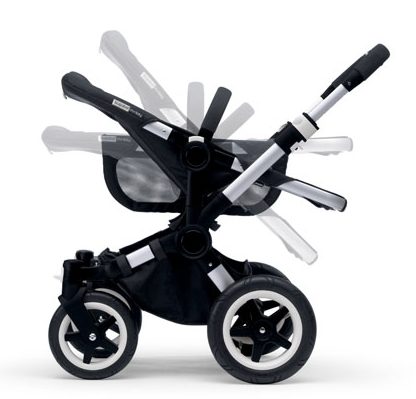 Storage underneath the seats
The Donkey is equipped with one storage bin below the seats. I have to admit I wish it was a little bigger. When you go outside with two babies you need A LOT of things. This bin is quite small, but it holds medium-sized diaper bag. It isn't deep enough to fit bigger bag, but it is wide so you can keep a lot of small stuff there. However, I have never had problems with fitting my essentials into it.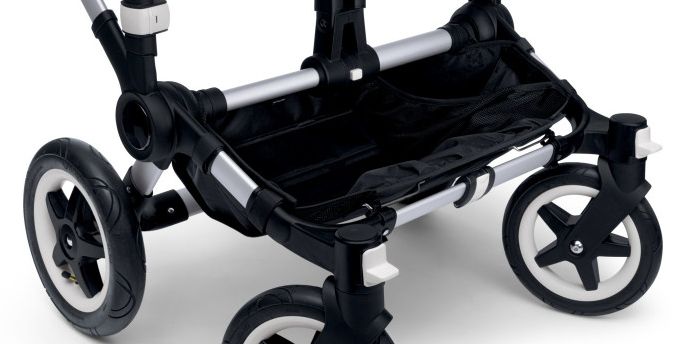 You can access the bin from the back, front and both sides, which is great feature. I heard some moms complained about the basket's accessibility. I guess it might be a little difficult to reach out for some big things, but only when we use bassinets. When we use the stroller with car seats or toddler seats, the basket is very easy to access.
With two bassinets, it might be pretty difficult to take out large things like a whole pack of diapers, but taking out small things (like one diaper, piece of snack or a bottle) is still easy.
If you decide to use only one seat, you can replace the other one with additional storage basket.
>> Check out the previous version – Bugaboo Donkey 2017 on Amazon <<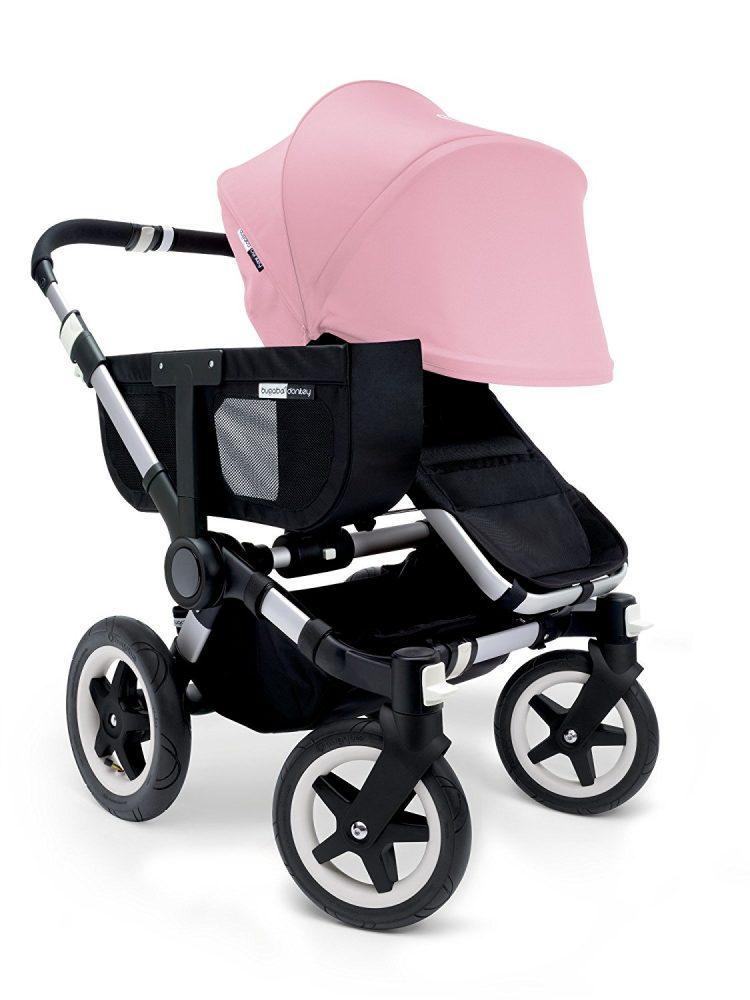 Folding, storage, transport
To fold the Bugaboo Donkey Twin you just remove the seats and then fold the frame which takes about five steps. Big advantage is automatic lock, therefore once you've folded the stroller, you can be sure it will stay closed. Besides, the folded frame is self-standing.
The dimensions of the folded stroller are: 20.5" x 23.6-29" x 36.6". To fold and unfold the Donkey you will need your both hands, but the process is rather easy. You can also take off the wheels which makes transport and storage more easy.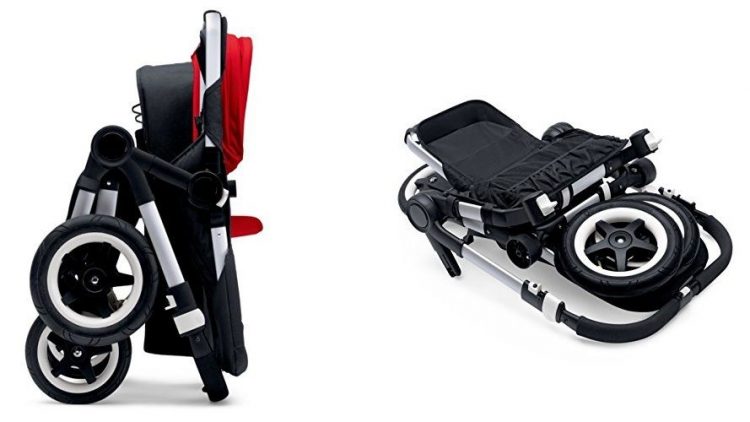 Weight
As probably every double stroller Donkey is also quite heavy, but as for a twin buggy it is very slim! The frame itself weighs 28 lbs. There are definitely lighter stroller frames on the market, but this one is not the heaviest one. Nevertheless, you should keep it in mind, especially if you will have or had a C-section.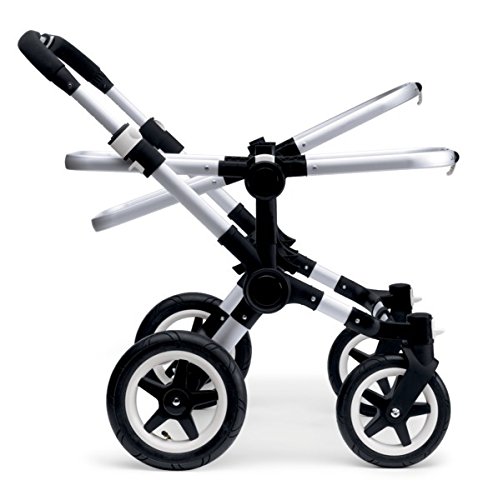 If we are using Bugaboo Donkey as a single stroller with additional basket (Mono version) the frame is few inches narrower than in Duo or Twin versions.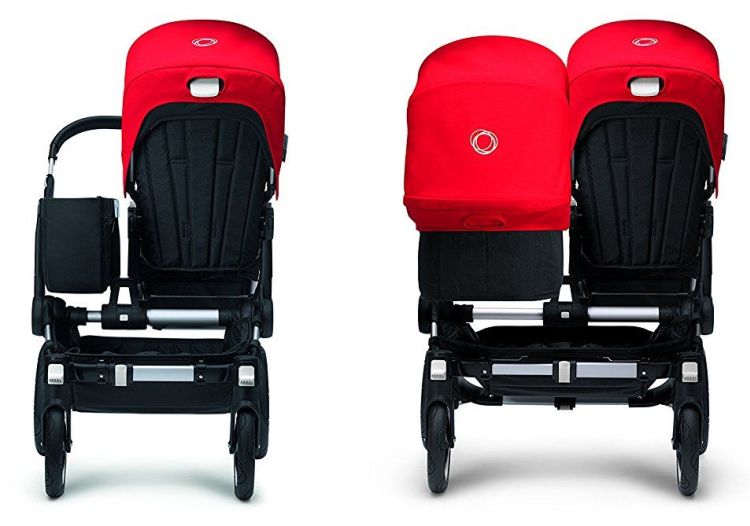 Bugaboo Donkey – infant car seat compatibility
The Bugaboo Donkey Twin can be used with a lot of models of infant car seats. For example: Maxi Cosi Mico, Mico AP and Mico NXT, the Chicco KeyFit and Britax B-Safe 35. If you want your little passengers to ride in car seats you just have to snap them into right place and make sure they clicked in. There is no extra straps to use which is very convenient.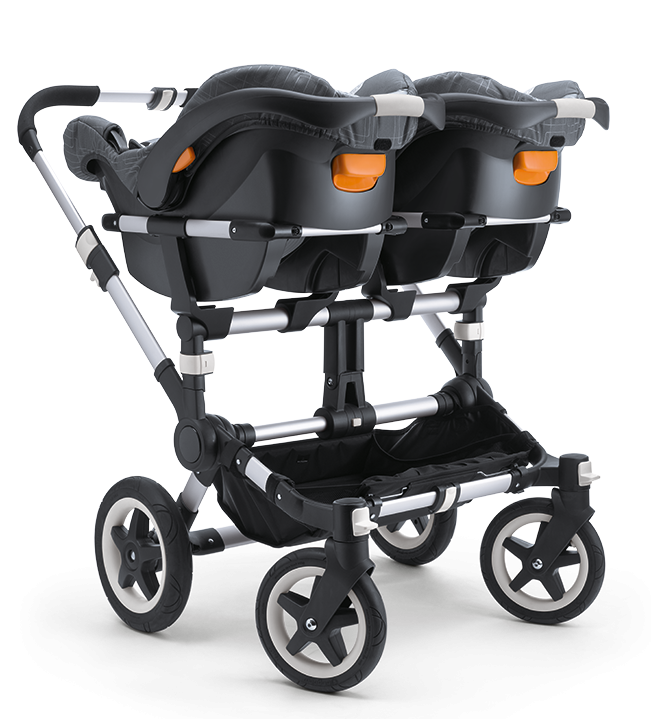 Are you a parent of two and considering buying Bugaboo Donkey Twin? I hope that my review provided you with the information you needed and helped you to make the best decision!
Donkey & Donkey2 – Pros & Cons
Pros
Cons

Pros

---

+ You can use it as a single or double stroller, for twins or newborn and toddler or two toddlers

+ Thanks to big wheels it is a breeze to push it around town

+ Many seating options

+ Seats can be facing forward or facing parent

+ Easy folding and switching between the seats

+ Many color versions; the stroller looks very stylish

Cons

---

- Pretty heavy and bulky

- No accessories included (no cup holder or parent tray)

- High price (but you can use it for couple of years at least)
➞ Check other parents reviews on Amazon
Accessories for Bugaboo Donkey 2017
The complete set for two babies includes: stroller frame with wheels, two bassinets, two toddler seats, two frames for bassinets and seats, two frames for canopies, two canopies and leg covers, two bumper bars, one bin and additional basket, one pump and two rain covers. All of the accessories you can see in the picture below.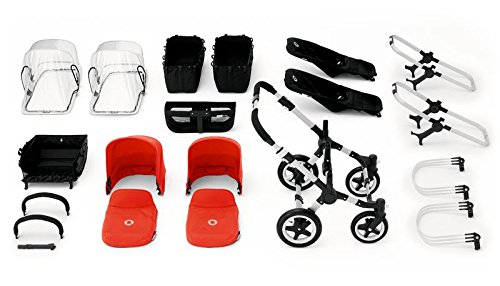 Notice that Bugaboo Donkey Twin doesn't come with a parent tray or cup holder. The whole set is very well equipped, but there are few extra accessories worth considering: cup holder, parent tray, car seat adapter, bug shield, umberella and travel bag. It's pretty common, most of the strollers don't come with these accessories and usually we have to buy them separately.
Video about using Bugaboo Donkey 2017
Color versions for Bugaboo Donkey 2017
We can choose color of the frame – it can be black or black with silver elements. The base is available in two color versions: black and sand. There are also eight color versions for the canopy and bassinets: black, petrol blue or ice blue, red, white, grey, denim and pink. We can combine the colors and choose the seats or bassinets in two different colors.
There is also available a new special edition named "Weekender". It has blue seats and canopies, ass well as the basket under the seats, but the handlebar and bumper bars are brown. This version is very stylish.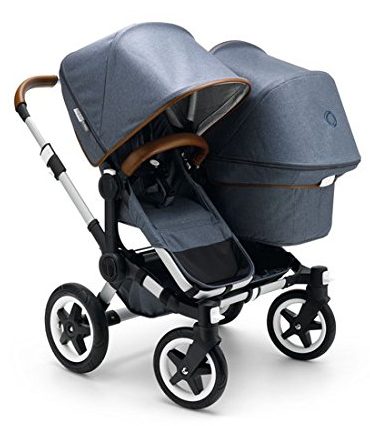 Personally, I've chosen the silver frame with ice blue canopies. There are so many color versions and options so I'm sure all parents will find the best version for themselves!
>> Here you can check Bugaboo Donkey 2017 on PishPosh Baby <<
Specification – Bugaboo Donkey 2017 & 2018
| Stroller | Data |
| --- | --- |
| Stroller Type | Convertible, expandable stroller |
| Stroller Weight | Frame: 28 lbs, with two seats: 33 lbs |
| Weight Limit | 37.5 lbs per seat |
| Stroller Dimensions | Max. 29.5" x 38.5" x 43.3" (WxLxH) |
| Fold Dimensions | Max. 20.5" x 29" x 36.6" |
| Handlebar Height | Max. 43.3" |
You can also find some information about Bugaboo Donkey on the brand's official website.
Bugaboo Donkey2 2018 vs Bugaboo Donkey 2017
If you're still hesitating which version to choose or wondering what are the differences, here is my comparison – Bugaboo Donkey2 2018 vs Bugaboo Donkey 2017.
| | Bugaboo Donkey2 2018 | Bugaboo Donkey 2017 |
| --- | --- | --- |
| Wheels | Foam-filled tires | Air-filled tires |
| Suspension | Upgraded, more smooth all-wheel suspension | All-wheel suspension |
| Frame | More solid frame, less shaky | A slightly more shaky frame |
| Side luggage basket | Holds up to 22 lbs, has a cover to protect our valuables | Holds up to 11 lbs, no cover |
| Color version | Lots of new colors | Less colors to choose from, less options for customization |
| Fabric | More stretchy fabric on the canopy; apron fabric fits the bassinet more tightly | Thinner fabric on the canopy |
| Price (Mono Set) | See current price on PishPosh Baby | See current price on PishPosh Baby |
You're probably asking yourself "which model to choose: Donkey 2018 or Donkey 2017?".The changes made for the Donkey 2018 are fantastic and they not only apply to stroller's look, but also improve its general performance. That's why I would recommend to buy the new model. It is a little bit more expensive, but if you have bigger budget – don't hesitate. However, the previous (and cheaper) model also works admirable and won't let you down. So if you have smaller budget, go for the older model.

Bugaboo – celebrity brand
Bugaboo is a very popular brand, especially among celebrities. Their strollers are fashionable, stylish and pretty fancy. Many famous actress and singers stroll with their kids napping in one of the Bugaboo models. What celebrities have Bugaboo strollers?
Both Nelly Furtado and Hilary Duff have Bugaboo Cameleon. Chris Hemsworth is a proud owner of Bugaboo Donkey which I describe in this article. Adriana Lima's daughter Valentina rides in a Bugaboo Bee. Sienna Miller has got the same model! If you would like to see pictures of famous people with Bugaboo strollers visit my Pinterest!
Bugaboo Donkey vs UPPAbaby VISTA (2017)
My Bugaboo Donkey Twin review would not be comprehensive, if I didn't compare it to another great and convertible stroller. Here I present you my comparison of Bugagoo Donkey Twin Stroller and UPPAbaby VISTA. I will present you some features that are similar in both strollers and few major differences between them.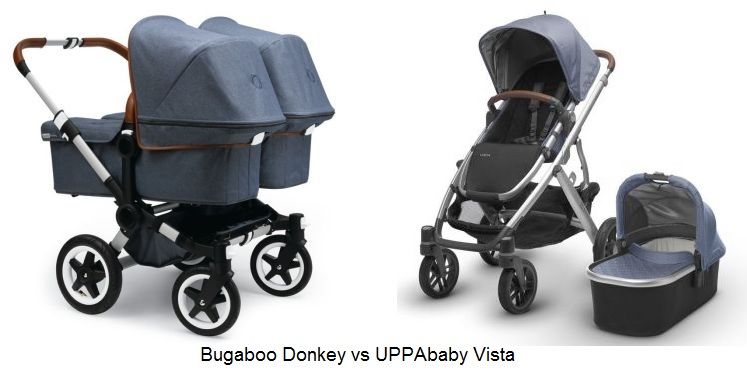 Similarities
Both strollers are convertible, multifunctional and suitable for one or two kids.
Vista and Donkey have an option of installing infant car seats, bassinets and toddler seats onto the frame.
Both strollers have four wheel suspension and lockable front wheels.
The newest Bugaboo Donkey2 has foam-filled wheels like Vista.
Both have one foot-operated brake.
Donkey and Vista have extendable, telescoping handlebar.
Both stroller have automatic lock and can stand on their own after folding.
Differences
Vista has more place for baby's gear. It has HUGE basket underneath the seat, way bigger than Donkey's (it's probably the biggest basket on the market!). Bugaboo Donkey offers additional basket if we are using the Mono version, but when we are using this stroller for two kids, we have only one basket under the seats and it's pretty small, definitely smaller than Vista's basket.
Donkey has little bigger wheels than Vista (10" vs 8" in the front and 12" vs 11.5" in the back).
In contrast to Donkey, Vista has a color indicator which shows if the brake is released or set.
Donkey's canopy doesn't have peek-a-boo windows. Vista has a big peek-a-boo window with a great quiet magnetic closure. Besides, Vista's canopy has better ventilation and SPF +50 protection. It is worth mentioning that Bugaboo offers a canopy with great air flow and pee-a-boo window, but it is sold separately.
Vista is much lighter than Donkey. Vista's frame weighs only 20 lbs and Donkey's frame is 28 lbs.
Bugaboo Donkey Twin comes only with a rain cover, but Vista has also a bug shield included in the set.
Vista is actually a single stroller with an option of adding a second seat (car seat/bassinet/toddler seat). If we purchase a special adapter we can have many different seating options. Donkey in turn is a double stroller frame that offers three version: mono, duo and twin.
Oh, there is also one more difference: Vista can accommodate actually three kids at the same time. The brand offers a special platform (Piggy Back) for the third kid to stand or sit on it. This is really awesome option for a preschooler.
Keep in mind
No matter if you choose Bugaboo Donkey2 or regular Donkey, it is quite big and heavy stroller and it takes a lot of space, both when it's open and folded. Besides, although this stroller is an investment for many years, it is a BIG EXPENSE for new parents. It's one of the most expensive buggies on the market.
Reasons to buy Bugaboo Donkey
My rate:
1. Both Bugaboo Donkey and Bugaboo Donkey2 are designed for parents who live in an urban area, but the wheels can handle any type of terrain.
2. This stroller will provide your little ones with comfortable ride in a stylish vehicle.
2. Whether you choose the Bugaboo Donkey 2017 or Bugaboo Donkey2 2018, you will love this stroller for its versatility and ability to use different seating options in single and double version.
4. It is very fashionable, but also very functional stroller and it will serve you from day one for many years.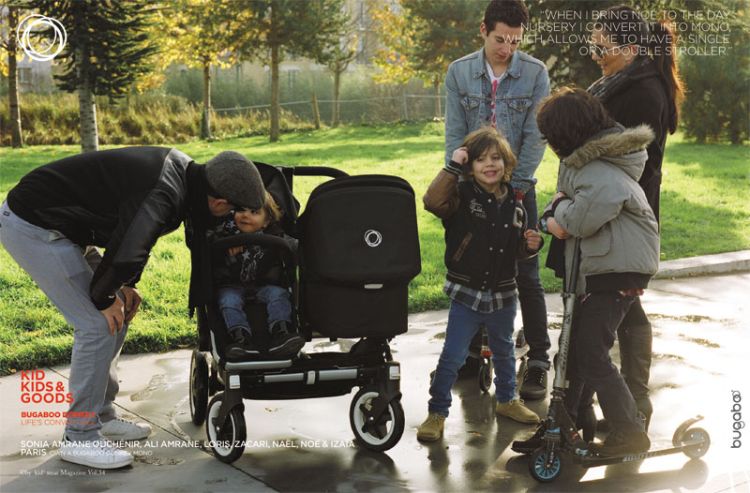 Bugaboo Donkey – Best Application
This stroller is the best for parents:
of newborn twins who are looking for a stroller that will serve them for couple of years, from day one to toddlerhood;
of two little children of small age difference: a newborn and a toddler;
who plan to have the second baby very soon after the first one;
living in an urban area, who plan to stroll in parks, do shopping and run errands with the baby, therefore need an agile stroller;
that value the innovative, stylish and fashionable products;
who value flexibility and want to have multifunctional stroller;
who want just one stroller for their babies, therefore it should be compatible with a bassinet and a car seat;
that want to have a free choice of seat they use on each occasion. This stroller is a convertible one – it can be used as pram, travel system or standard stroller for toddlers. Furthermore, it has three versions: mono, duo and twin! Excellent!
I hope you enjoyed reading my Bugaboo Donkey review. If you have any question about this stroller – do not hesitate to contact me!
---
All pictures of Bugaboo Donkey and Donkey2 belong to Bugaboo. Source: https://www.bugaboo.com
All pictures of UPPAbaby VISTA belong to UPPAbaby. Source: https://uppababy.com
Your trust is really important to me: This post contains affiliate links. If you choose to buy something using these links, I receive a small commission, at no extra cost to you. Your support helps me run this blog. Thank you so much 🖤 Zooey