Light, durable and multi-tasking stroller with excellent performance – that's how we can describe UPPAbaby CRUZ is a few words. Hundreds of parents have already fallen in love with it and praise its multifunctionality and reasonable price.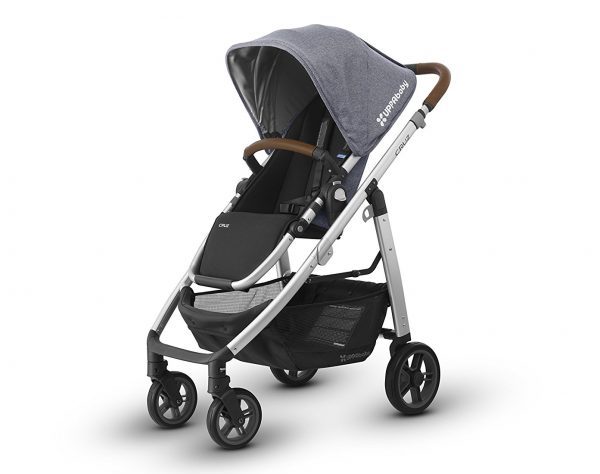 UPPAbaby CRUZ is a small brother of the VISTA stroller. It is a standard and compact stroller with regular seat that can be turn into a travel system, if you decide to purchase also an infant car seat. UPPAbaby offers a Mesa Car Seat which can be attached to the frame in the same place as the seat, without any adapters! CRUZ is also compatible with many other infant car seat brands, but you will need an adapter for them.
Stroller name
Type
Weight
Capacity
Best application

UPPAbaby CRUZ 2017

Standard stroller
21.5 lbs
From 3 months
to 50 lbs
Everyday city stroller
In this article I reviewed CRUZ 2017 and 2016. Both versions are pretty similar, but there are few upgrades in the newest version. If you would like to find out what features 2016 and 2017 versions have, just keep scrolling!
Great thing about CRUZ is that the passenger can face parent or the surroundings and the seat has multi-position recline. The seat can be reclined with only one hand thanks to the wonderful system.
You just need to push one button to raise or lower the seat, instead of pulling two straps which always require using two hands (and moms usually don't have two free hands! :)). The same reclining system is in VISTA.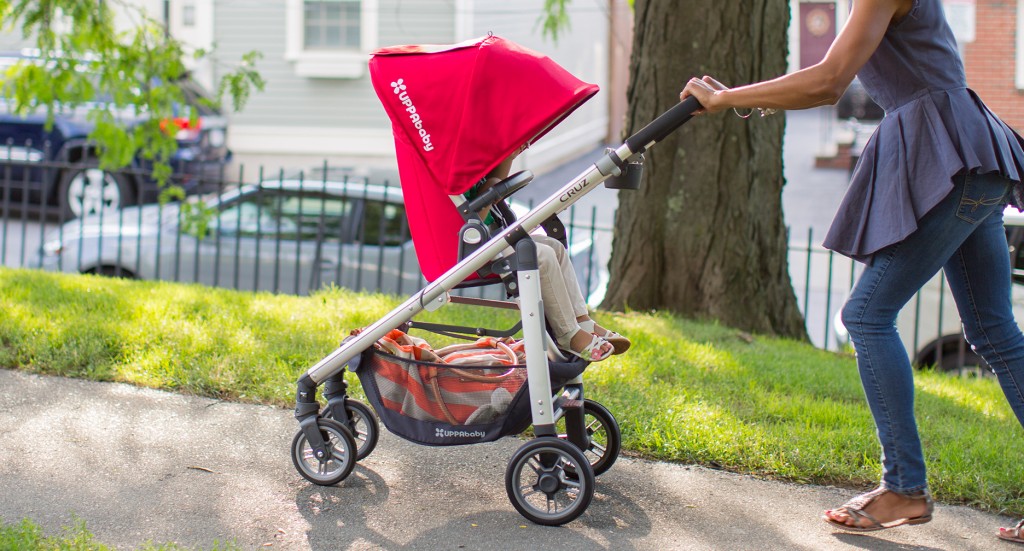 What is included in the set
Frame made of aluminum alloy
The seat
Rain and bug shields
Bumper bar
UPPAbaby CRUZ – Features
Let's see what functions UPPAbaby CRUZ can offer your family! Most of the features are the same or similar for 2016 and 2017 model.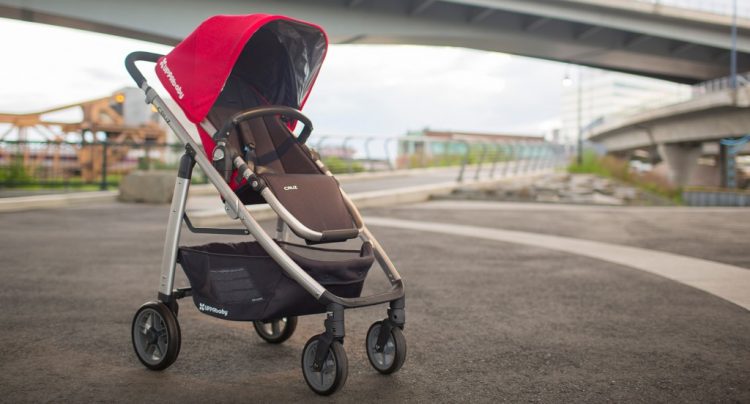 UPPAbaby CRUZ Wheels
CRUZ 2016 has specially designed AirGo plastic wheels filled with foam. They provide cushioned ride and are very lightweight thanks to foam filling. This tires absorb shocks and never go flat! The new model – Cruz 2017 has different wheels – you can read more about it below.
Wheels in this stroller are much smaller than VISTA's. The front ones are 7" and the rear ones are 8.5". These wheels are not enough to go with CRUZ for an off-road cruise, but they work fine when you stroll around the town, where the terrain is even.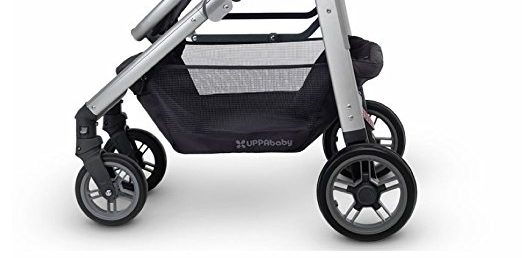 The stroller rolls nicely and smoothly, but for turning you will need to use both hands (turning may be a little bit difficult because of the longer wheelbase). CRUZ handles grass and gravel pretty well. In addition, the front wheels can be locked for better stability and easier pushing on tougher terrain.
This stroller doesn't have typical suspension system like many other products, but the wheels are shock-absorbing and they provide comfort ride. For many moms foam tires are convenient feature, because they don't require inflating once in a while.
Handlebar
UPPAbaby CRUZ has extendable telescoping handlebar which makes this stroller short and tall parents friendly. The adjustment button is placed in the center of the handle and it is easy to press with one hand.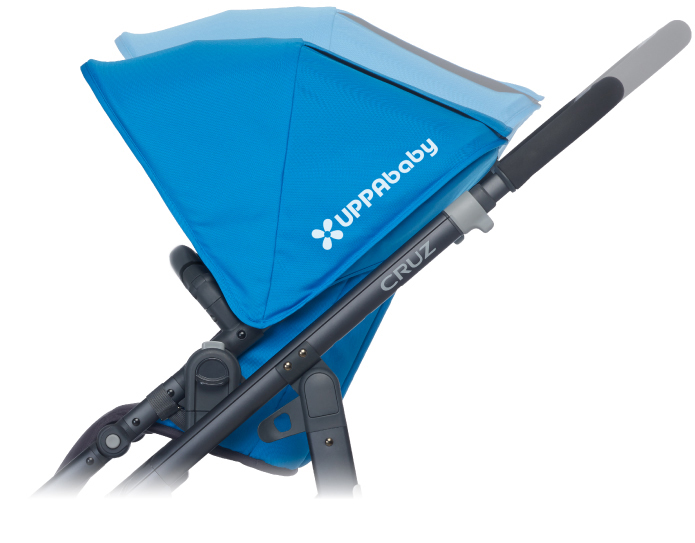 In 2016 model the handle bar is covered with foam, expect for the adjustment button which is made of plastic. Bugaboo Donkey  has similar, telescoping handlebar.
Seat
This model has multi-position recline seat. To recline the seat we just need to push one button, so there's no need for using both hands. It is very easy and convenient.
The seat can be fully reclined, but not completely flat. The lowest position is 27.8 degrees from the ground and it is very comfortable for the baby to take a nap during strolling. Moreover, the passenger can ride forwards of backwards. Reversible seat is awesome, because when baby is younger he can ride facing the parent, and when he's older he can ride facing the World.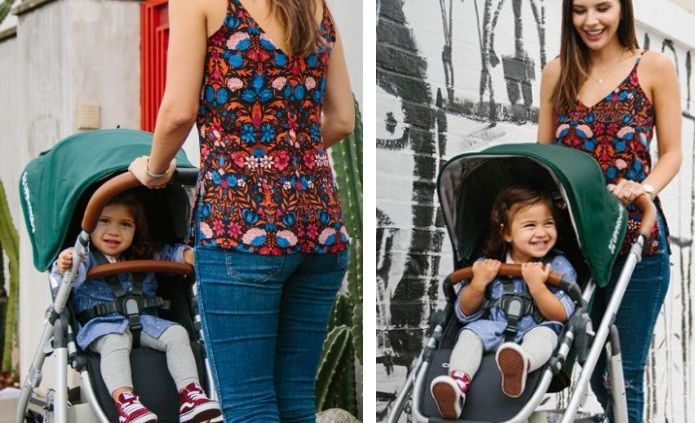 According to manufacturer the main seat can be used from 3 months up to 50 lbs and 40". There is also a bumper bar to protect the baby from falling out of the stroller.
Great thing about CRUZ is that you can use it since day one with Infant SnugSeat which is a special pillow that gives your little one perfect neck and head support. The SnugSeat (sold separately) is to be installed in the main seat so you don't have to buy another gear to use this stroller for a newborn.
Infant SnugSeat can be used from birth until the baby is 22 lbs. On the market there is also a UPPAbaby CRUZ bassinet which you can purchase separately and turn the stroller into a pram (bassinet weight and height limit is 20 lbs and 25").

UPPAbaby CRUZ travel system
You can also turn it into a travel system with MESA infant car seat (without any adapters!) or some of the Chicco and Maxi-Cosi car seats which are compatible with CRUZ with an adapter.
Personally, I think MESA car seat is wonderful option because you can attach it without an adapter, so you don't another piece of gear to remember about. It really makes life easier.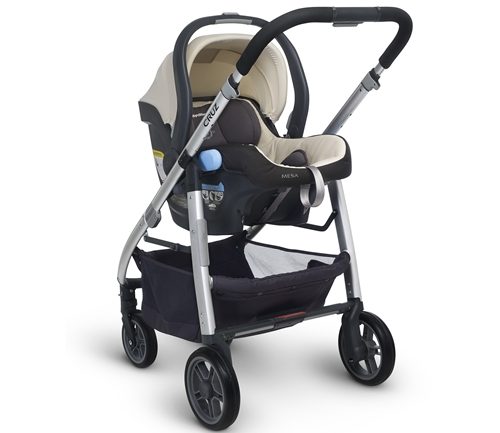 Removing and changing the seat is very easy and can be done without any struggle. I am very small and short person and I did not have any problems doing this. After the seat is attached to the frame it is not moving or wobbling.
Notice that the newest model of CRUZ can be turned into a stroller for two kids. On the market there is a UPPAbaby CRUZ PiggyBack, which is an additional platform where the older child can stand during a stroll.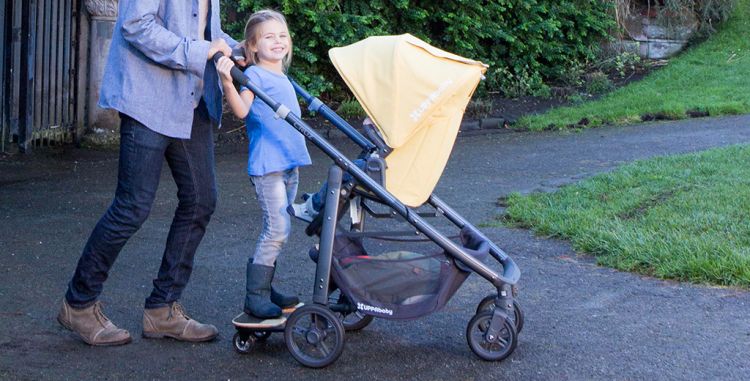 Psst! If you are looking for a standard stroller that is compatible with infant car seats, check out my ranking of the best convertible strollers in 2019.
Leg and footrest
Both VISTA and CRUZ have adjustable many-position leg and footrest which is very unusual in this category of strollers. Footrest is made of plastic therefore there is no problem to clean it. For me, it is a big advantage.
Canopy
The stroller has big extendable canopy with pop out sun visor which gives really big shade. The best part of this canopy (and really RARE feature) is that you can adjust it to your baby height – you can slide it up few inches. Your baby has more room to grow and you can use the stroller for longer period even for an older child!
The canopy is equipped with SPF 50+ to protect your little passenger from harmful UV rays. When the canopy is fully open there is an extra ventilation.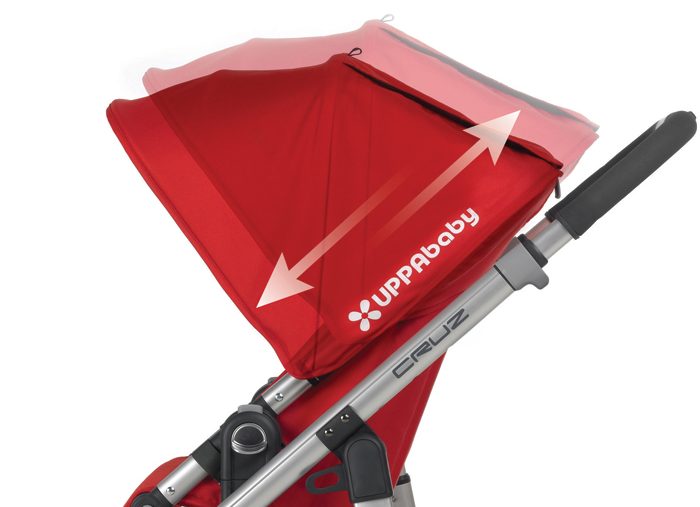 It is also equipped with mesh peek-a-boo window that allows you to check on your passenger during the whole ride. This window has a magnetic closure which every parent loves because it doesn't make noises like Velcro closure 🙂 Another big advantage of CRUZ.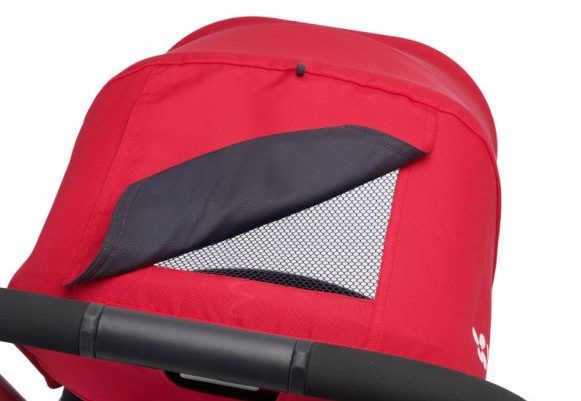 Brakes
CRUZ has a parking brake operated by foot. There is a one big red pedal in the middle of the back of the frame, close to the basket. The brake is easy to set and release even while wearing sandals.
Five-point harness
It is very easy to put on and take off the harness. Adjusting the shoulder height and crotch strap position is also very simple. Thanks to the adjustable crotch strap you will definitely find a good fit for your passenger. The release button is placed in the middle and also is easy to use.
UPPAbaby takes care of our baby's safety so he could enjoy comfortable and undisturbed ride.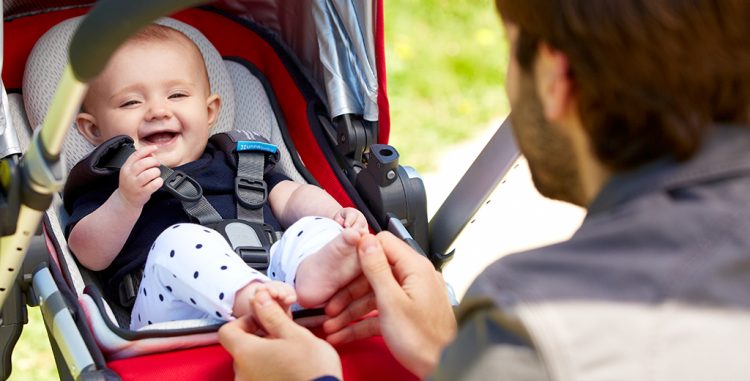 Storage
UPPAbaby CRUZ has a large basket below the seat where you can keep your daily essentials – up to 25 pounds! I'm sure it will be enough for bag of diapers, baby clothes, wipes, snacks, drinks, your bag and big shopping bag!
This basket has very easy access from behind the seat and both sides. And what's important – no matter what is the position (angle) of the seat, it is very easy to use the bin.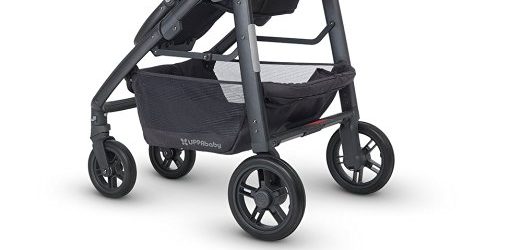 Folding
Parents praise UPPAbaby CRUZ for easy folding and unfolding. The two-step process is easy-peasy.
You can fold it with the seat attached or without it. CRUZ has automatic lock and stands on its own when folded. Dimensions of the folded stroller are: 22" x 14.9" x 36.5" (W x H x L).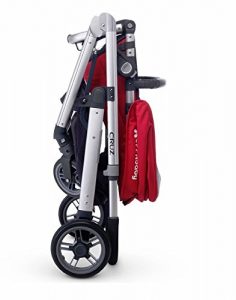 Unfolding also requires two hands and two steps and takes few seconds. We can fold CRUZ while standing, but opening requires bending over. This pushchair is pretty simple for transporting.
For public transportation I recommend not to take off the seat (it is too much hassle), but transporting in a car trunk may require taking off the seat to make the stroller more compact. It's a piece of cake and take two seconds.
Assembly is also very easy and can be done in less than 10 (or even 5!) minutes.
Size and weight
CRUZ is 22.25" wide and weighs 21.5 lbs which means it is smaller, slimmer and lighter than VISTA. It has a much lighter frame than VISTA, which weighs 5 lbs less.
Quality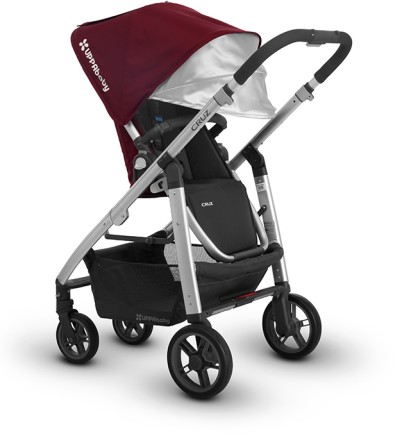 UPPAbaby products are top-quality and CRUZ is an example of it. The material on the seat, canopy and basket is soft and can be easily cleaned with wipes or water with soap. The bottom of the basket is made of plastic so it will retain its shape and won't drop low when loaded with these 25 lbs. 🙂
The peek-a-boo window is made of mesh which is very easy to see through.The frame is made of aluminum alloy and it weighs only a little above 14 lbs. Every piece of the stroller attaches well and the whole buggy is very sturdy. The design is simple but stylish.
Accessories for UPPAbaby CRUZ
The stroller comes with a rain cover and bug shield so your baby will be protected from rain, wind and insects. Those shields are really useful if you live in area where it rains often or there are a lot of mosquitoes.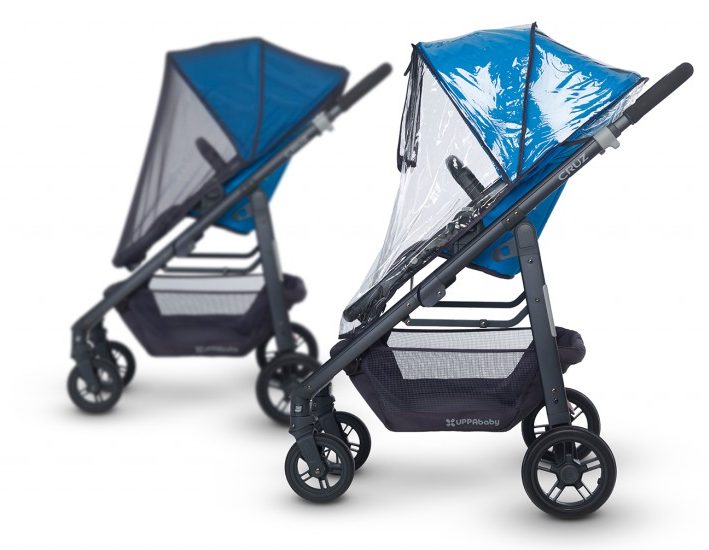 UPPAbaby CRUZ – Specification
Stroller type
Standard stroller
Stroller weight
Frame: 15 lbs, Seat: 6.5 lbs
Weight limit 
50 lbs
Stroller dimensions
22.25" x 37" x 39.5-42" (WxLxH)
Folded dimensions
With the seat attached: 22" x 14" x 37"
Without the seat: 22" x 12" x 37" (WxLxH)
Seat to canopy
20-22"
Handlebar height
39.5-42"
UPPAbaby CRUZ 2017 Review
Just like in the older version, with the main seat that is included in the set, we can use UPPAbaby CRUZ 2017 from 3 months to 50 lbs. We can also use this stroller for a newborn if we purchase additionally a bassinet or Infant SnugSeat.

Another great option of CRUZ 2017 is that we can turn it into a travel system, by using it with MESA infant car seat or many other car seat with an adapter. Besides, UPPAbaby CRUZ 2017 has many advantages: the frame is very compact, main seat can be facing front or rear, there are four reclining positions and we can recline the seat with one hand!
The handlebar is telescoping extendable, the sunshade is adjustable, made of a soft material and has UPF 50+ to protect our little passenger from harmful sun rays. Folding the stroller is pretty simple, no matter if the seat is attached or not.
There is one more great thing about UPPAbaby CRUZ 2017: it has extra large basket under the seat with 25 lbs weight limit! I think every mom will love that feature!
"In my opinion UPPAbaby CRUZ 2017 is one of the greatest strollers on the market today." ~ Zooey
UPPAbaby CRUZ 2017 – New Features
UPPAbaby has released the new version of CRUZ for 2017, but actually it is pretty similar to the previous one. However, there are few upgrades, that are worth mentioning.
| | |
| --- | --- |
| Dimensions | CRUZ 2017 is 1.5" shorter than 2016 version. Other dimensions and the weight remained the same. |
| Colors | UPPAbaby CRUZ 2017 has new color versions: Sabrina (pink), Greory (graphite), Austin (green), Loic (white), Pascal (grey), Taylor (dark blue), Dennison (bordeaux), Jake (black fabric and frame). |
| Handlebar and bumper bar | The newest version of CRUZ has upgraded handlebar and bumper bar. The new genuine leather bars are included in Austin, Hunter and Loic versions. We can also purchase separately these new leather covers for other color versions and models. |
| Fabrics | The canopy is now made of new, woven fabric. This material is smoother and softer, and it won't wrinkle as much as the fabric on the previous version. The sunshade has also the same UPF 50+ protection. |
| Canopy | The canopy works better on UPPAbaby CRUZ 2017. Now it stays in place better, because it locks when we pull it up or down. |
| Wheels | CRUZ 2017 has all new wheels. The stroller is equipped with never-flat PolyUrethane tires. There are lighter and more durable. |
What other parents think about UPPAbaby CRUZ 2017?
I checked that other parents say about UPPAbaby CRUZ 2017 on Amazon. Parents praise CRUZ for being much lighter and easier to steer in crowded places than VISTA.
They also like the big basket, option of adding an infant car seat, one-hand pushing, smoothly rolling wheels, light frame, compact fold and sleek look. The main things that parents complain about are: no one-hand folding, accessories sold separately.
Pros & Cons
Pros
Cons

Lockable pivoting front wheel
Shocks absorbing plastic wheels that never go flat
Adjustable telescoping handlebar
Extendable and adjustable canopy with SPF 50+ and peek-a-boo window with silent magnetic closure
Reclining toddler seat
The stroller can be turned into a travel system, pram or stroller for two kids
Lightweight frame
Bug and rain shields included
Large basket below the seat with weight capacity of 25 lbs

Small wheels not good for rough terrain (but great for city use)
No suspension system
Parent and child tray and cup holder not included
UPPAbaby CRUZ Accessories
Nowadays strollers usually don't come with a lot of accessories. However, UPPAbaby CRUZ includes two shields (rain and bug shield) which is a big advantage. Beside these two accessories, CRUZ doesn't come with other convenient items.
There are few useful products which can be bought separately. You can purchase child and parent tray and a cup holder. Below you can see the best accessories for UPPAbaby CRUZ.
| | |
| --- | --- |
| | Carry-All Parent Organizer – Good-sized bag that can be easily attached to the handlebar. Thanks to it parents can keep their essentials like keys, wallet, phone and snacks within reach. |
| | Parent Organizer – This is a smaller version of an organizer that can be attached to the handlebar. It has only few pockets and a holder for bottles. |
| | SnackTray – It is a child tray that can be installed instead of a belly bar. There is a place for some snacks and a holder for sippy cup. |
| | Cup holder – I really like this cup holder because it attaches to the side of the frame. This place is really nice considering baby safety. And it doesn't cost much! |
| | Travel Bag – Easy-to-use bag where we can put folded CRUZ. It makes transportation and carrying more easy. If you are planning to travel with CRUZ or transport it in a car trunk this travel bag might be very useful for you. |
Car seats compatible with UPPAbaby CRUZ
This stroller can be used with MESA Car Seat. It attaches to the stroller frame in the same point as the seat and canopy (you have to take off the seat first, to attach other gear). MESA works without any adapters which is very convenient.
CRUZ is also compatible with many other infant car seat brands, that work with an adapter: Maxi-Cosi Mico, Mico AP, Mico NXT, Citi, Cabrio, CabrioFix, Nuna Pipa, Cybex Aton, Aton 2, Aton Q, Chicco Keyfit and Keyfit 30.

UPPAbaby CRUZ vs UPPAbaby VISTA – what are the differences?
I decided to compare VISTA and CRUZ, because these strollers have many similar features, but also couple of differences. CRUZ is smaller than VISTA so it is a better option for strolling around neighbourhood, taking baby to busy shops or restaurants and using public transportation. If you are deciding UPPAbaby VISTA vs CRUZ, here is the list of differences.
Features
CRUZ
VISTA
Weight
Frame 15 lbs, Seat 6.5 lbs
Frame 20 lbs, Seat 7.5 lbs, Bassinet 8.4 lbs
Size
Unfolded: 22.25"W x 37"L x 39.5"H
Folded with seat attached: 22"W x 14"L x 37"H
Folded without seat attached: 22"W x 12"L x 37"H
Unfolded: 26.5"W x 37"L x 39.5"H
Folded with seat attached: 26.5"W x 14"L x 33"H
Folded without seat attached: 26.5"W x 13.5"L x 33"H
Wheels
Plastic, filled with foam; smaller than VISTA
Foam filled, rubber
Suspension
No suspension, only shock-absorbing wheels
All-wheel suspension
Basket
Weight limit of 25 lbs
Weight limit of 30 lbs
Max. number of children
2 (with additional accesories)
3 (with additional accessories)
Accessories included
Frame, Toddler seat, Toddler seat rain and bug shield, Bumper bar
Frame, Bassinet, Bassinet bug shield, Bassinet storage bag, Toddler seat, Toddler seat rain and bug shields, Bumper bar
If you like UPPAbaby products as much as I do, you can also take a look on my review of UPPAbaby G-LUXE lightweight stroller.
Keep in mind
Neither CRUZ 2017, none CRUZ 2016 is suitable for off-terrain strolling. Although the wheels work great on many types of surface, they don't handle unbeaten roads.
Accessories like parent organizer or cup holder need to be bought separately.
3 Reasons Why You Will Love UPPAbaby CRUZ
1. This stroller is an amazing solution for parents who are looking a long-lasting, durable stroller, that will serve them from day one till toddlerhood – for one kid at a time. 
2. If you have only one baby you don't want to push bigger stroller than you need to. CRUZ is light and compact enough, yet high-quality and well equipped.
3. This stroller is perfect for urban parents who need a stroller for running daily errands and small enough to transport in a car.
UPPAbaby CRUZ Review – Conclusion
UPPAbaby CRUZ is one of the best strollers for every day city use. It has many great features that everyone will find something for themselves. I find this stroller perfect for strolling around the city, it works great on the pavement, and with the large basket under the seat you can do shopping with it for weekly supplies for the whole family. 🙂
If you purchase the SnugSeat or infant car seat you can use this stroller from newborn to toddlerhood. CRUZ offers high-quality, great features and amazing performance and it is a pleasure to use it.
It will meet almost any need you can have and it is definitely worth its price. If you are looking for a quality stroller that you will use mostly in the city and that will serve you for couple of years, UPPAbaby CRUZ is a great choice.
---
All pictures belong to UPPAbaby. Source: https://uppababy.com