Cybex Balios S is definitely one of the best strollers that came out last year. And now this multi-functional and stylish stroller has new look thanks to new fashion lineup! Here's why Cybex Balios S 2018/2019 is so awesome.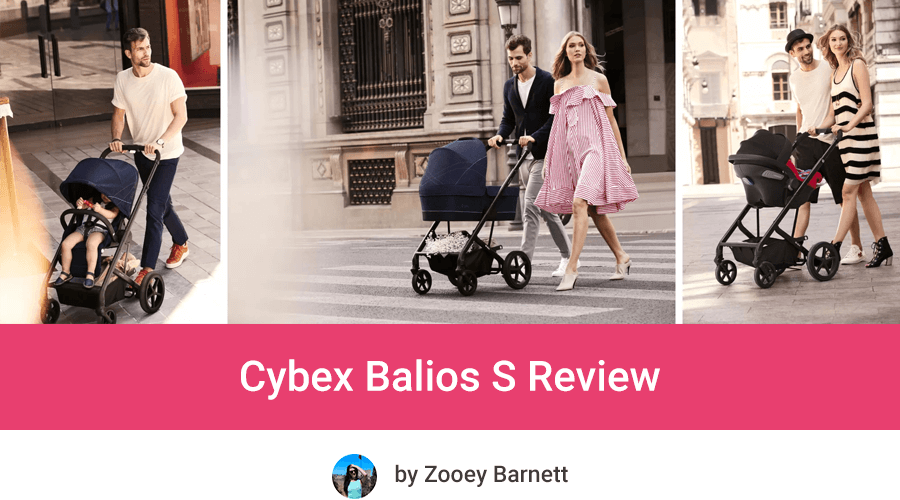 This is a full-sized everyday stroller, really well quipped, yet very compact and not excessively heavy. It features few seating options (including near-flat recline) to serve parents from birth to toddlerhood. And the best part is the canopy – I've never seen such a HUGE canopy!
Key features:
Near-flat recline for comfortable napping
Want to use it from birth? Just add carrycot Cot S, infant car seat (GB or Cybex) or Cocoon S
Long, extendable canopy for exceptional protection from wind and sun
All-terrain wheels & suspension – so you could stroll wherever you want
Big storage basket and telescoping handlebar – for parents convenience
Hassle-free folding
Chic look & high-quality fabrics (check available colors on PishPosh Baby / on Amazon)
Price range: $$$
This article contains affiliate links.
Cybex Balios S Review – Stroller Features
This is brand new stroller from Cybex that has hit the market in the Spring 2018. It has modern, minimalist design and it's made of high-quality materials. For 2019 Cybex Balios S has a new appearance (new colors and fashions added to the lineup). In terms of functionality Balios S 2019 stayed the same.
This all-in-one stroller offers several seating options which make it suitable for newborns and toddlers. It can be used since day one up to about 4 years.
You can find more "infant to toddler" strollers in my ranking of top-quality convertible strollers for 2020.

Let's take a closer look at the awesome features of Cybex Balios S 2018/2019.
Seat
The regular seat is reversible so your child can face you or the World. Reversing the seat is very easy thanks to memory button. Everything simply clicks into the frame.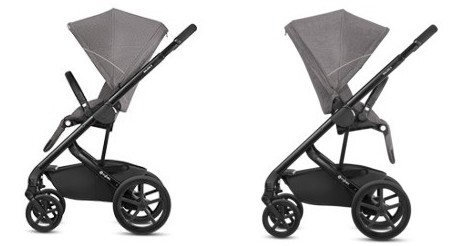 There is 3-position recline with near-flat position which make this stroller suitable for smaller and younger infants. To recline the seat you need to use a lever on the back of it, so it is a one-handed system. Very quick and easy.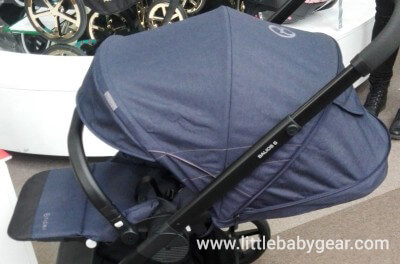 There is also independently adjustable leg rest, that also has 3 different positions. This stroller has also a step that older and taller children can use as a footrest. Keep in mind, that it's unadjustable and can be used only when the seat is facing forward.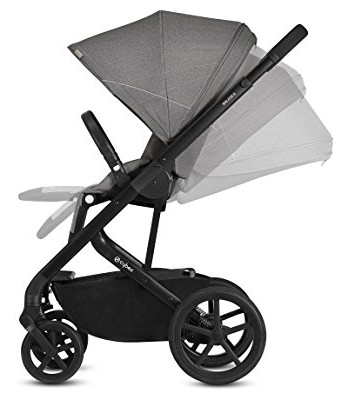 Another great thing is that Balios S comes with a bumper bar. Many strollers don't include this accessory and you have to pay extra for it, so it's a big advantage of Balios S. It rotates and opens from both sides which simplifies putting the baby in and out of the seat.
The regular seat is very roomy and padded with soft fabric. At the first glance you can tell the fabric and craftsmanship are high-quality.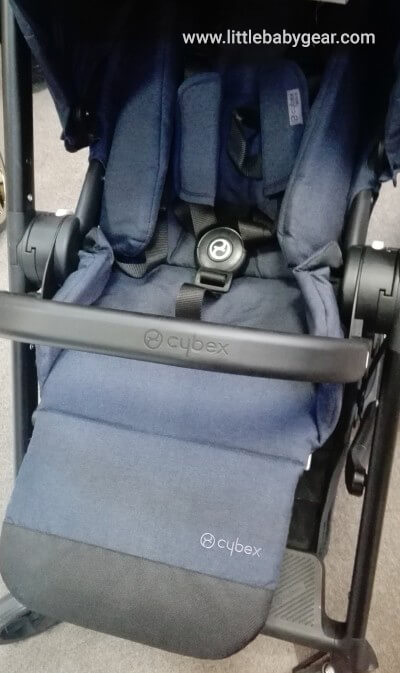 The seat has 5-point harness with easy to adjust straps and smooth buckle in the middle. I also love the padding – it's so soft and nice to the touch.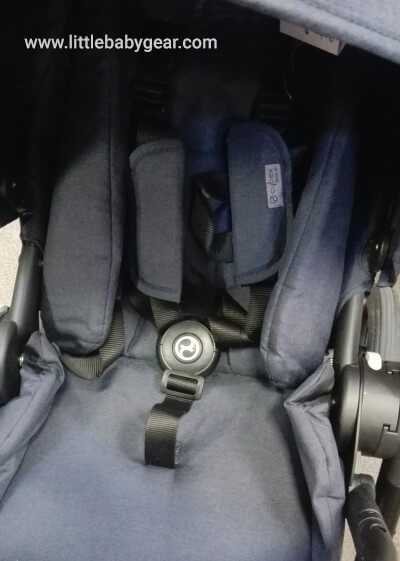 There is one more feature worth to mention. The seat is placed pretty high – suitable for eating at the table. So it can be even an alternative for highchair seat!
Seating options for newborns
According to the manufacturer the regular seat can be used from birth (when it's fully reclined, with leg rest fully raised). To be honest, it's probably the deepest recline on standard stroller I've seen!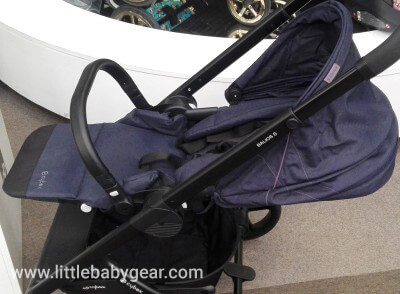 However, I would still use additional attachment that provides even more supportive surface and enclosed space. Parents can attach additional newborn cocoon (Cybex offers special one for Balios S) to provide proper support for your newborn's back, neck and head.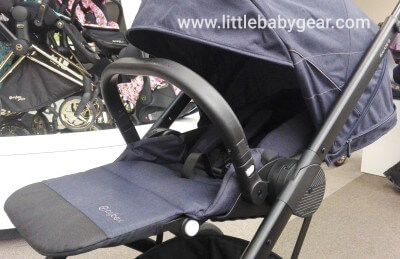 There is also possibility of attaching bassinet or infant car seat to make this stroller perfect for newborns.
Infant car seat compatibility – Cybex Balios S Travel System
There are additional car seat adapters (available separately here) so parents can turn this stroller to a travel system. Cybex Balios S 2018/19 is compatible with Cybex and GB infant car seats. If you want to use this stroller as travel system you need to remove the regular seat and attach the car seat to the frame.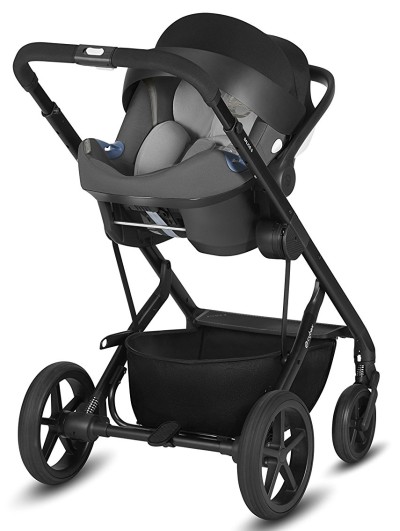 Cot S – Cybex Balios S Pram
Parents can also turn this stroller into a pram with a bassinet called Cot S. It is really big and roomy. There is 2-panel canopy with sun visor and apron that protects infant from sun, wind and rain.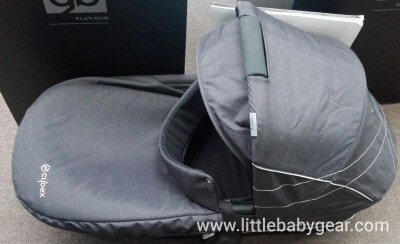 Check the Cot S on PishPosh Baby
This bassinet is also equipped with memory foam mattress that provides the best surface and support for newborn's back. This is very spacious, comfy and sheltered place for the youngest babies.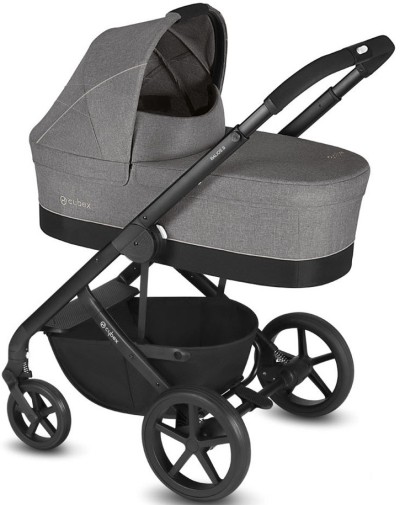 Newborn cocoon
The regular seat reclines near-flat but you can add newborn cocoon for better back support. It's smaller than bassinet Cot S, but provides proper support and completely flat position. This cocoon is also equipped with two covers – one for summer and one for winter, to protect your child from cold and overheating at the same time.
There are openings in the back of the cocoon for the stroller harness. Although it does provide enclosed space for newborn baby, I recommend buckling the child in the harness, mostly because the cocoon doesn't have long and rigid sides like carrycot.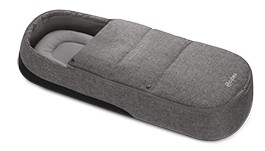 Ass you can see Cybex Balios S 2018 is truly 3-in-1 stroller and thanks to so many seating options it can be the only stroller that parents would ever need.
Canopy
This is the best feature of Cybex Balios S 2018. It has enormous, truly XXL sun canopy! It extends by unzipping the third panel and there's also flip out sun visor. It really covers the baby from head to toe! Anyway, see for yourself – the picture below shows fully open canopy, when the seat is reclined.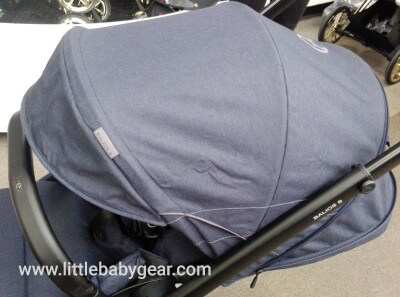 When you use the canopy in extended 3-panel version, there is a silent, mesh peek-a-boo window so you can check on your little one whenever you want. It also gives nice extra ventilation. This sun hood is made of fabric with UV 50+ protection.

Handlebar
Cybex Balios S 2018 has adjustable push bar which telescopes in and out. There are 4 different setting, so parents of any height can comfortably steer this stroller.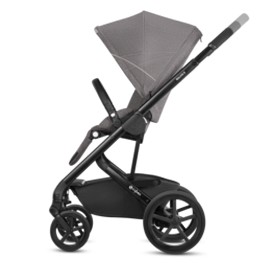 Wheels
This new model from Cybex has all-terrain rubberized wheels. You don't have to worry about inflating or having flat. The rear ones are bigger, while the front ones are pivoting and can be locked for better stability on rough terrain.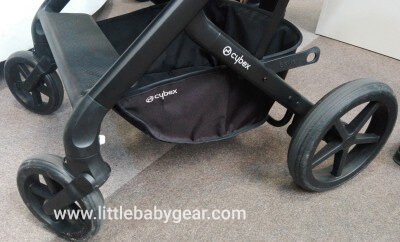 There are visible spring on all wheels which give nice suspension, so you can be sure the ride will be comfortable even on harsher surfaces. You can take this stroller over pavement, cobbled streets, grass or gravel and it will remain sturdy and smooth.
You can see how the suspension works here:
Brake
This model is equipped with a single action brake, located in the middle of the rear axle. It's sandal-friendly, easy to press and release.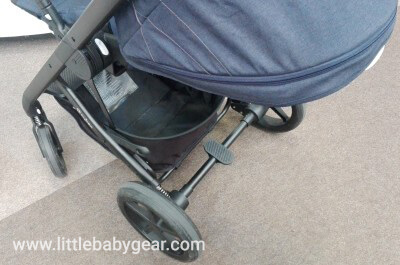 Just keep in mind the pedal is close to the storage basket, so be careful when you press with your foot.
Storage basket
The basket under the seat is really big and capacious. It can easily accommodate large diaper bag and shopping bags. The seat is mounted high so you can fit big and long items in the basket and have easy access to them. The weight limit is about 11 lbs.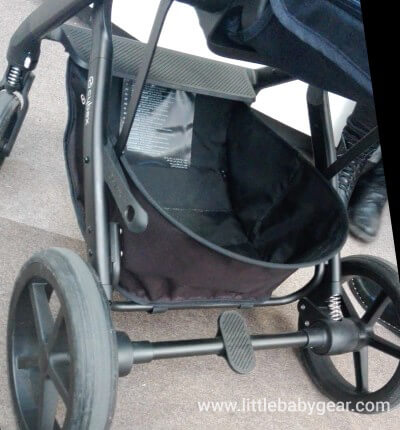 Size & Weight
I'm really happy that this full-sized stroller is not clumsy and bulky. Its dimensions are: 31.10" x 23.62" x 39-43.31" (L x W x H), so you won't have any problems with narrow sidewalks or tight corners.
Cybex Balios S 2018/19 weighs about 24 lbs which is not that big for such a well-equipped and multifunctional stroller. You will be able to carry it up and down the stairs or lift it to the car trunk.
Folding
Folding is two-step, but you can do it using one hand and it takes literally few seconds. You just need to bring the backrest to the front and then push the handlebar down. It's a piece of cake! And you can do it with the seat attached, both rear and front facing.

The stroller stands on its own when folded and there is also convenient handle so parents can easily carry Balios S between home and car.
Folded stroller is fairly compact, especially if we consider it is a full-sized buggy! Dimensions of folded Balios S are only: 16.14" x 23.62" x 29.53" which simplifies storage and transport. It fits in most of car trunks and doesn't take much space at home.
Ease of use & overall performance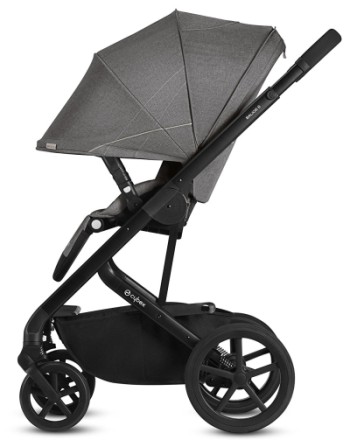 Balios S is a breeze to push and maneuvers so smoothly! On flat surfaces you can navigate and turn it with one hand!
The wheels and suspension work better than on Balios M and you can actually take this stroller on more difficult terrain (not only city sidewalks).
Pros & Cons
Pros
Cons

Pros

---

+ Probably the deepest recline on a full-sized stroller

+ Compatibility with infant car seats, carrycot and newborn cocoon

+ Long canopy covers the baby from head to toe

+ Mesh peek-a-boo window gives extra ventilation

+ Adjustable handlebar for short and tall parents

+ Quick, one-hand folding

+ Works on many types of terrain, even on gravel and grass

+ Fabrics are beautiful and nice to the touch

+ Spacious storage basket

Cons

---

- Weighs about 24 lbs which may be a lot for some parents

- Accessories (like cup holder, rain cover) are not included and may be quite pricey
Color versions
For 2019 Cybex Balios S has a new fashion lineup and parents have a really vast choice.
There is a standard collection that still includes Denim Blue, Manhattan Grey and Lavastone Black from last year (with black frame and black handles), as well as two new colors: Fancy Pink and Tropical Blue. I must tell you, I love the melange fabrics!
In 2019 Cybex offers also Denim collection that includes Denim Blue, Manhattan Grey and Lavastone Black with silver frame and brown handles.
There are many more colors for fashion-oriented moms. Fashion collection includes 4 models: Respect, Love, Trust and Strength, while Cybex for SCUDERIA FERRARI collection includes: Victory Black and Racing Red models.
You can see some of the color versions of Cybex Balios 2019 below.

Keep in mind that each color may have different price, so make sure to check it before you decide to purchase this stroller (see which colors are currently available on Amazon or on PishPosh).
Accessories
Image
Description
Cot S

– This is one option for parents who want to use Cybex Balios S from birth. It provides spacious, comfortable and sheltered place for newborns.

Cybex Cocoon S

– Since Balios S seat reclines almost fully flat you can simply add the cocoon and the stroller is suitable for newborn baby! Cocoon S gives extra support for newborn's head and neck and provides enclosed space for sleeping baby. Cybex Cocoon S is also compatible with Cybex Eezy S Twist!

Footmuff

– Useful accessory for those you live in colder area or just like winter strolls.

Kid Board

– Perfect solution for older sibling. Thanks to it your older kid can also have a ride when he get tired of walking.

Rain cover

– If you live in area where it rains often, it is a must have. You can keep this useful shield in a storage basket, just in case.

Organizer

– Although the storage bin is really spacious, many parents likes to have this additional organizer to keep their essentials at hand.
There are also other accessories which allow parents to customize their Cybex Balios S. There is a snack tray, cup holder, adapters for infant car seats, parents gloves and changing bag. You can check more additional accessories here.
Cybex Balios S – Release Date & Pricing
Cybex Balios S has been released on the market in Spring 2018, while the new colors and fashions have been added for 2019.
As for such a multi-purpose stroller it's not super expensive (it's not cheap either, but it's less pricey than Priam, Mios and cheaper than other strollers like UPPAbaby CRUZ and VISTA). You can check the current price of Cybex Balios S 2018/19 on Amazon – just click here. You can also find this stroller in PishPosh Baby store.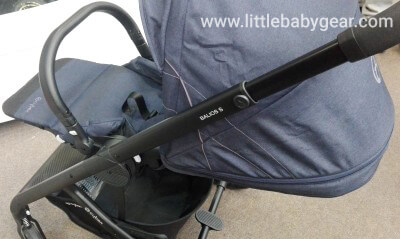 If you're feeling like this stroller doesn't meet your expectations, you can also check out my ranking with other amazing strollers.
Cybex Balios S Review – Conclusion
Keep in mind
This is an everyday full-sized stroller, so it's heavier and bigger than lightweight travel strollers. For example it's heavier than Cybex Eezy S Twist. It's still quite compact, but doesn't fit in overhead compartment on airplanes.
3 Reasons Why You Will Love Cybex Balios S 2018/19
1. This stroller has the biggest canopy ever! It provides full coverage, but you don't have to worry about the ventilation. Mesh window gives extra air-flow. Thanks to these features you can be sure your child is well protected from the harmful sun rays and overheating at the same time.
2. It has every feature that parents may need: all-terrain wheels, large storage basket, adjustable telescoping handlebar – all to provide convenient and easy use. It won't let you down during shopping, running errands, off-road cruising and road trips.
3. It has many seating options suitable for newborns and toddlers – it can be your primary and only stroller.
Pictures with the sign www.littlebabygear.com were taken by me. Other pictures belong to Cybex (source: https://cybex-online.com/en/pushchairs/balioss.html & https://store.cybex-online.com/itm/cybex-collections/cybex-gold-values-for-life/balios-s-values-for-life.html)
Your trust is really important to me: This post contains affiliate links. If you choose to buy something using these links, I receive a small commission, at no extra cost to you. Your support helps me run this blog. Thank you so much 🖤 Zooey