Recently more and more parents goes rollerblading with their baby in a stroller. Are you wondering if rollerblading with stroller is safe? How to start and which stroller is the best for this type of activity?
Here is all you need to know to find the best stroller for rollerblading and to keep your little one safe during the ride.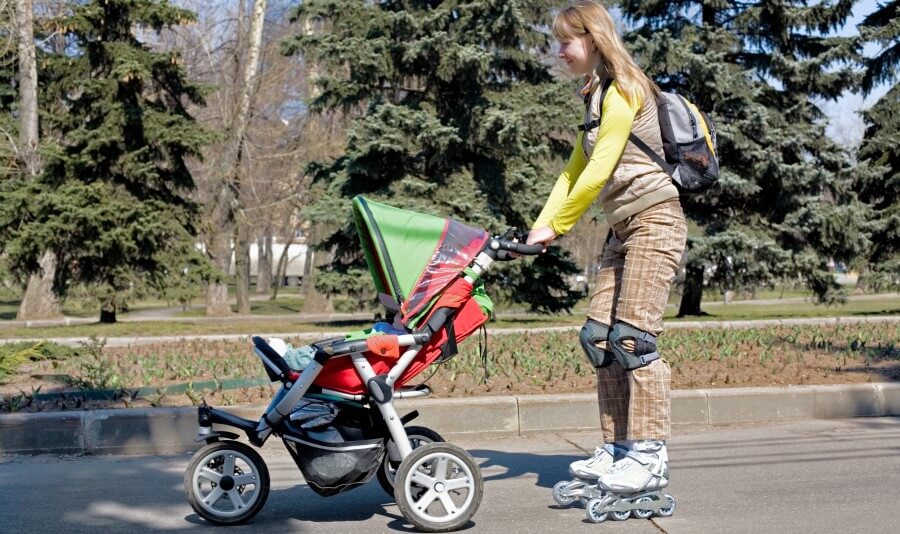 Whether you're a beginner or advanced rider there are few things that you need to keep in mind if you want to use a baby stroller for rollerblading.
It may be a fun activity not only for parents but also for the baby. And it may help you to lose weight after pregnancy. But safety first!
Want to rollerblade with a stroller? Get a jogging stroller!
There is one basic rule that you should remember: the best stroller for rollerblading is a jogging stroller. I know that some parents use standard or even lightweight strollers for it and say that jogger is a waste of money.
But in my opinion it's not safe to use standard or lightweight stroller for rollerblading and I don't recommend it. These types of strollers don't have necessary features to keep you and your baby safe during the ride
What features am I talking about? I'll explain in a second.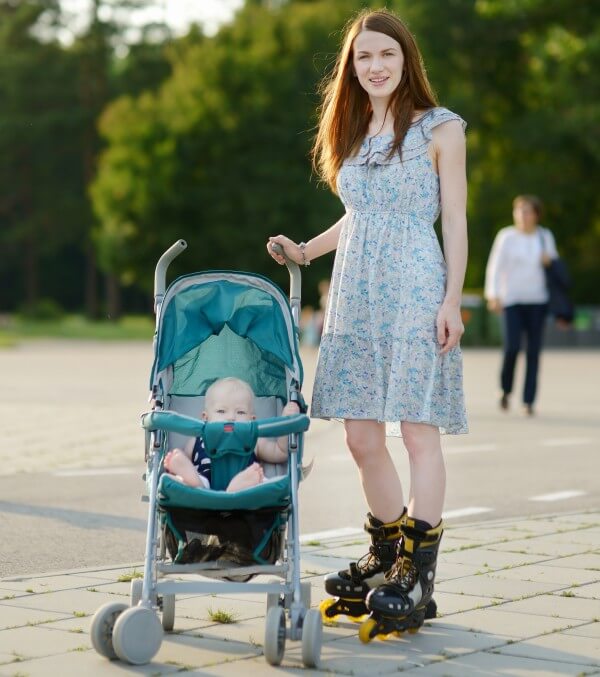 When you're rollerblading you move faster than when you're strolling. That's why stroller's construction and safety features are even more important in this case.
There are few functions that a good stroller for rollerblading must or should have. And only jogging strollers have these features, but not every model.
Below I present you 4 strollers that I recommend for rollerblading. I picked these strollers because they have the necessary features and some of the extra, handy functions. You can find more good quality joggers for 2020 here.
Stroller for rollerblading – Must-have features
1. Handbrake
When you're strolling or jogging having a handbrake is useful, but not necessary. For more serious running, especially on hilly terrain this type of brake is even more useful.
But when you're rollerblading with a stroller, handbrake is a must-have. You'll be moving at higher pace and it may be really difficult to stop the stroller only by using the hill brake on your rollerblades. And of course you won't be able to press the parking brake with your foot while wearing rollerblades.

Handbrake is a necessary feature because you will have the full control over the speed and you'll be able to stop the stroller quickly when needed. It's good to have the control within reach.
Not all jogging strollers are equipped with handbrake, that's why not every jogger is suitable for rollerblading. You can find a handbrake on high-quality jogging strollers like Thule Urban Glide 2, BOB Revolution PRO and Baby Jogger Summit X3.
When it comes to Thule Urban Glide 2 parents like the new twist handbrake and parking brake operated by foot. Both are easy to use. Parking brake is very secure, while the handbrake is useful for quick stops.
Customers at Amazon praise BOB Revolution PRO brakes as well and say they are easy to use. Handbrake is nice addition, especially if you like going down the hill.
According to other parents Baby Jogger Summit X3 handbrake may be hard to squeeze at the beginning, but thanks to this addition the stroller feels more safe. Parking brake is easy to press and release in sport shoes.
One more thing. There is even more advanced type of a handbrake, that not only allow you to slow down but also serves as a parking brake. Not many jogging strollers offer this type of a handbrake. There is one model with dual deceleration & parking handbrake that I can recommend you – Chicco TRE Jogging Stroller.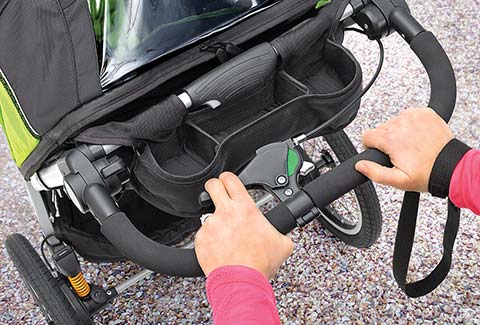 According to customers at Amazon this handbrake is very nice, useful feature. Some parents mention that it needs some adjustments at the beginning and using it takes some practice, but it works good.
So, whether you're going to use a jogging stroller for rollerblading only or sometimes for running as well, handbrake is a must.
2. Suspension system
Rollerblading means higher speed and that means your baby will be exposed to more bumps and shocks. You don't want your little one to get bumped around right? That's why suspension is another necessary feature.
It will soak up shocks and smooth the ride for the baby. And for you as well.
This is the reason I don't recommend using standard or lightweight strollers for rollerblading. In these types of strollers baby would feel every bumps and crack. It wouldn't be good for his spine, neck and head.
To prevent your baby from getting hurt use only jogging strollers for rollerblading.
All 4 jogging strollers: Chicco TRE, Thule Urban Glide 2, BOB Revolution PRO and Baby Jogger Summit X3 that I recommend here, have amazing suspension system. It allows you to go over more rough terrain and makes the ride more comfortable for the baby.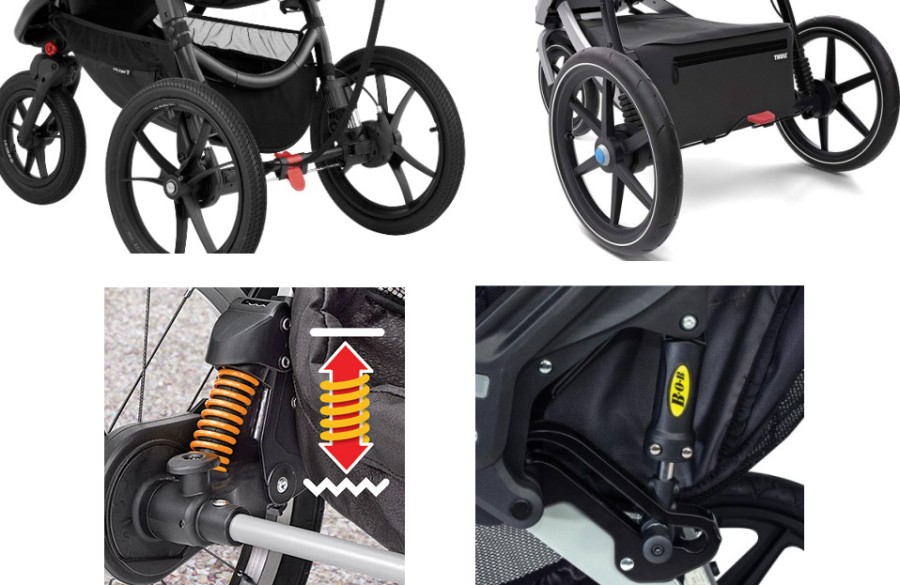 Moreover, Chicco TRE Jogging Stroller and BOB Revolution PRO have adjustable suspension system! You can adjust it to the type of terrain you're going over or child's weight. Awesome feature.
According to customers at Amazon all these 4 strollers can handle rougher terrain like gravel, grass and unbeaten roads. So they will also handle rollerblading on cracked sidewalks or asphalt without too much shaking and bouncing.
3. Three big pumped wheels with front swivel/lockable one
Jogging strollers typically have 3-wheel construction with air-filled tires and the front wheel usually swivels but can be also locked for running at higher speed or rougher terrain.
Having that feature is even more important if you're going to rollerblade with the stroller.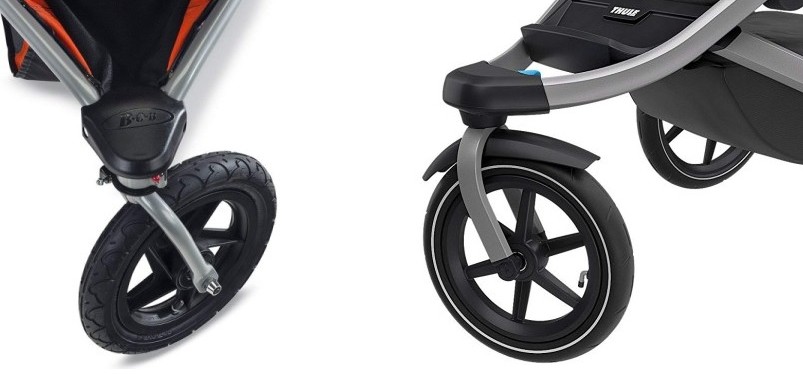 All four running strollers, that I recommend here, have that function.
But that's not all. Two of these strollers are especially worth considering: Chicco TRE Jogging Stroller and Baby Jogger Summit X3. These models have remote wheel lock on the handlebar!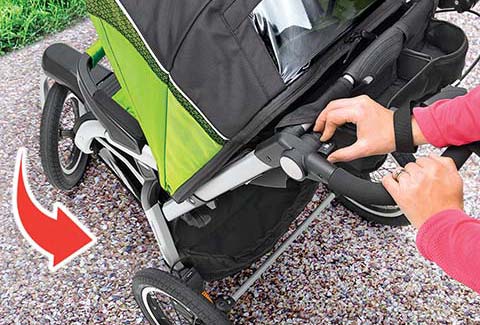 This means that you don't have to bend and lock the front wheels with your hands (and get dirty). You have the lock on the push bar, within reach.
It's really handy and makes rollerblading with a stroller much easier.

4. Sturdiness
This is another reason why I don't recommend rollerblading with a lightweight stroller. It's just too light, delicate and prone to fall over when you're riding at higher speed or going over an obstacle.
If you want to rollerblade with a baby stroller, it has to be strong, stable and sturdy. All four models: BOB Revolution PRO, Thule Urban Glide 2, Chicco TRE and Baby Jogger Summit X3 guarantee you that!
Each of these stroller weigh from 25 to 30.5 lbs – they are not light so lifting them to car trunk may be difficult, but thanks to strong construction they are less prone to tip over. Still they are very easy to steer and maneuver.
5. 5-point harness
It's quite obvious that when you're rollerblading with stroller your baby should be buckled in the seat with 5-point harness.
All jogging strollers that I've picked for my ranking are equipped with 5-point restrain (it's a standard now actually).

I checked at Amazon whether parents find the harnesses user-friendly.
5-point harness on Chicco TRE may be a bit stiff at the beginning but after a while it gets smoother.
When it comes to Thule Urban Glide 2 customers agree the straps are easy to adjust and the harness keeps baby well-secured in place. One parent mention the straps may be too rough for baby's bare skin.
BOB Revolution PRO wins in this category. Customers really like its harness. They praise its quality and nice padding for baby's comfort. Besides, this is a no-rethread harness so adjusting it is very simple.
I didn't find any negative opinions about Baby Jogger Summit X3 harness either.
6. Wrist strap
All my favorite jogging strollers for rollerblading are equipped with a safety strap that you should put around your wrist. The leash will prevent the stroller from running away from you.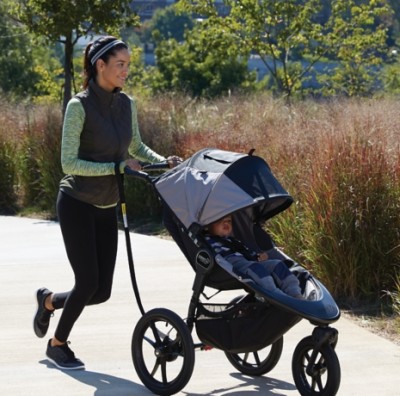 But be careful when using the wrist strap, because when you slip or something you will pull the stroller with you and it may fall backwards.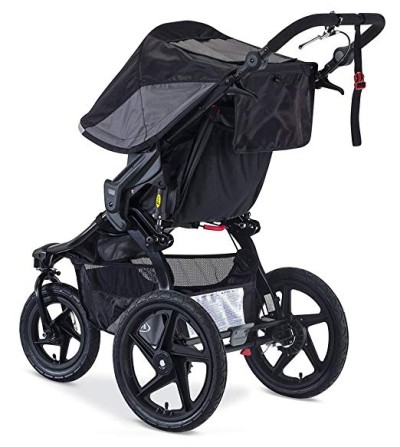 7. Adjustable handlebar
Height-adjustable handlebar is another feature that is useful when strolling or jogging, but necessary when rollerblading with baby stroller.
Mostly because you'll be significantly taller when wearing rollerblades so you'll need a higher handlebar to avoid wrist fatigue and keep the proper posture without slouching.

Rollerblading with stroller is funny and pleasant but not if you have to slouch over the push bar or when your hands hurt. Adjustable handlebar allow you to avoid these issues.
Chicco TRE, Thule Urban Glide 2 and BOB Revolution PRO give you adjustable, rotating handlebars. The latter one has even 9 height settings even for very short and tall parents.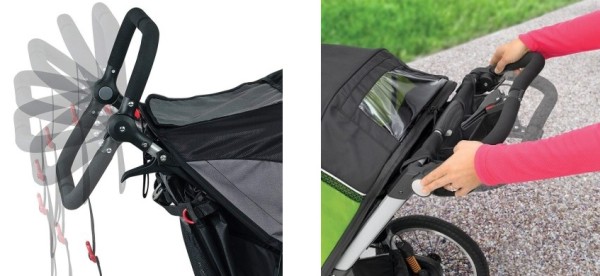 Unfortunately Baby Jogger Summit X3 has non-adjustable handlebar which I think is a big disadvantage in this case. Lots of parents say this stroller is less comfortable to push for tall parents so I guess it can be used for rollerblading rather by a short person.
Nevertheless, I've included Summit X3 jogging stroller in this ranking because it has other must-have features that I've mentioned above.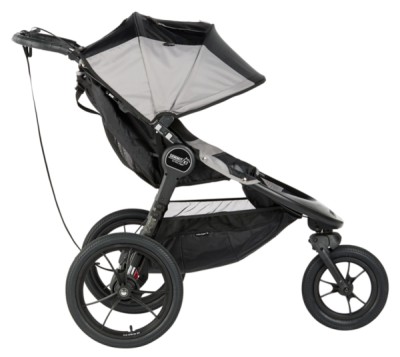 8. Large canopy with peek-a-boo window
During the ride your baby may be exposed to sun rays. To prevent your little one from sweating and getting sunburns, you should choose a stroller with large, extendable canopy.
All fours joggers that I recommend here have really generous sun shades that lots of parents praise. Each of these canopies will keep the sun out of baby's eyes.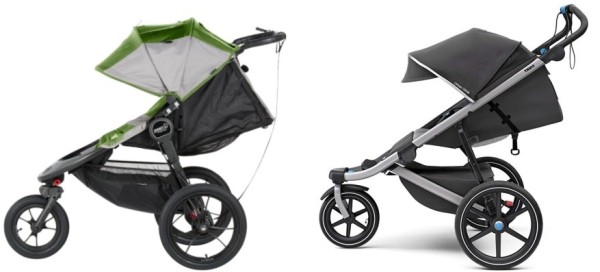 Moreover each of these strollers is equipped with a peek-a-boo window (Summit X3 has even two windows!) which in my opinion are necessary if you want to rollerblade with a stroller.
When you're on a stroll you can simply stop and check on your baby from the front or both sides, but when you're exercising on rollerblades you don't want to stop every few minute to check on your little one. Riding next to the stroller wouldn't be safe either…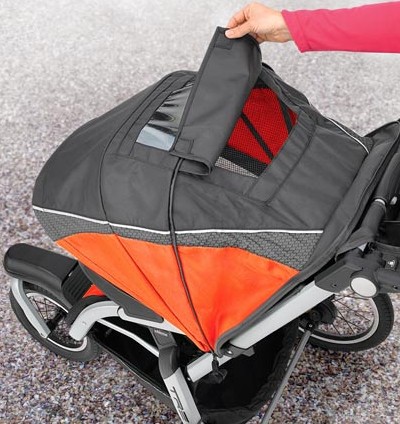 That's why the viewing window is so important here – it gives you the ability to keep an eye on your little rider the whole time.
I like Thule Urban Glide 2 and Chicco TRE for magnetic closure for peek-a-boo windows. I definitely prefer it over noisy Velcro on BOB Revolution PRO and Baby Jogger Summit X3.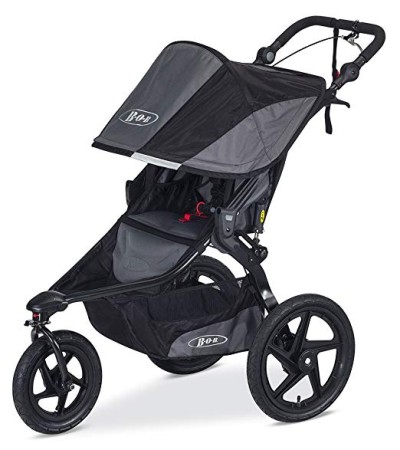 Useful accessories
1. Parent console or organizer
This is not a must, but when you start rollerblading with a stroller you'll quickly realize that having your essentials like phone or bottle of water within reach is really important.
All jogging strollers have basket under the seat for all your gear, but if you had to stop every time you're thirsty or want to check your phone, bend down and reach for to the basket, it would be really inconvenient.
Having a parent console or organizer on the handlebar is very useful. It allow you to keep all your necessities and valuables always at hand.
Only the Chicco TRE Jogging Stroller comes with a parents console included which is a big advantage. It has two beverages holders and a pouch for small items like phone and keys.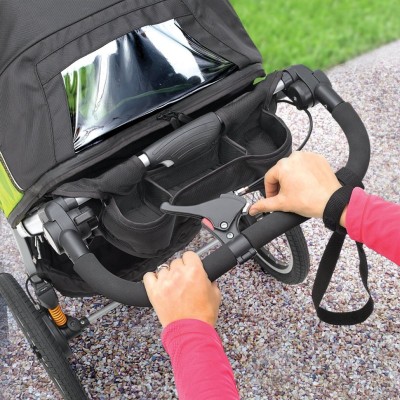 Other strollers are equipped with a pocket on the seat back. But I don't think reaching for a water to it is convenient or safe. So with these strollers you will have to spend extra money on additional organizer or console.
All three models (Thule Urban Glide 2, BOB Revolution PRO and Baby Jogger Summit X3) offer this accessory, but it may cost you few dollars extra. Keep that in mind because you will need a bigger budget if you decide on one of these strollers.
2. Bumper bar
I find a bumper bar quite useful, especially when you're running or rollerblading with a stroller.
It is an additional safety feature. It prevents your baby from falling out and it's something that the child can hold on to, when you're exploring outdoors.
Only one stroller, from my 4 recommended models, comes with bumper bar. Chicco TRE has a belly bar included in the price. Big plus. Generally speaking this model is most affordable among these 4 strollers and best equipped, in terms of accessories.
If you want a stroller for rollerblading, but you have to stick to your budget, this one is a good choice.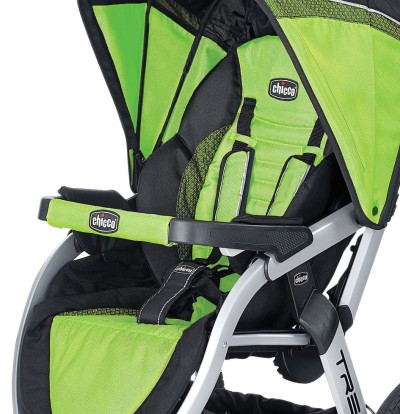 For Thule Urban Glide 2 you can purchase a bumper bar separately (check it here). Baby Jogger Summit X3 has option of installing a bumper bar as well.
However, there's no bumper bar for BOB Revolution PRO. For this jogging stroller you can only purchase a snack tray and you child can hold on to it as well.
I really hope that my buying guide, safety tips and recommendation will help you to find the best stroller, that will allow you to enjoy rollerblading while keeping your baby comfy and safe.
---
Sources: