Is this premium brand worth the hype? Are Hello Bello diapers safe and free of chemicals? How to get them at lower price? If you're looking for safest baby diapers, you have to read my Hello Bello Review!
This article is not a substitute for medical advice. It may contain affiliate links.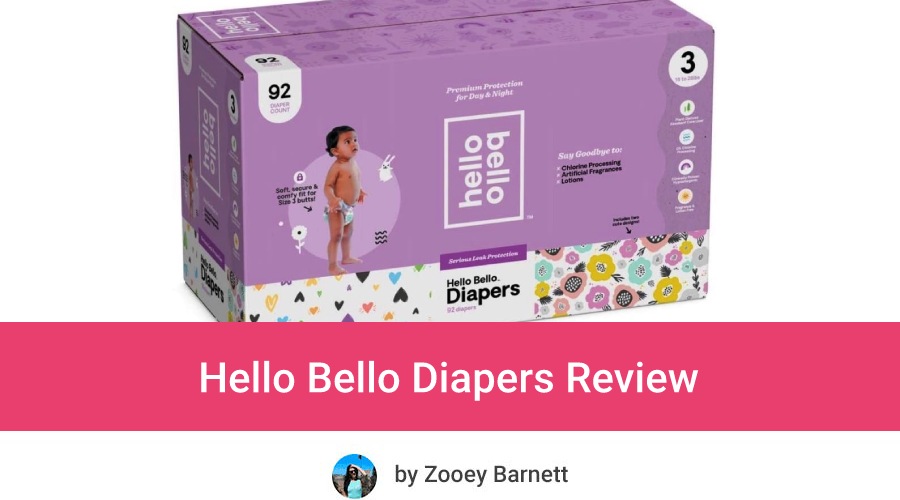 I have recently done a huge research on non-toxic diapers. Lots of parents who can't or don't want to use cloth diapers, wonder whether there is a greener alternative to majority of disposables which contain lots of chemicals – harmful for babies and for the environment.
It turns out that there are a few eco-friendly baby diapers that are also safer for baby's delicate skin (my full list).
Hello Bello Diapers are one of the best options. Even though they are not biodegradable or compostable, they are a greener choice among disposable diapers. What you are going to love about Hello Bello Diapers is their simple ingredients list that doesn't contain nasty chemicals.
Moreover, they are much less expensive than many other non-toxic diapers or even regular disposables!
Let's find out what's inside these diapers and what are the reasons to buy (or skip) them!
Hello Bello Diapers Review
Hello Bello is a brand co-founded by Kristen Bell and Dax Shepard. Parents often ask whether this celebrity brand is safe and worth the hype. In my Hello Bello Review you'll find all important information you need before getting these diapers. Let's find out whether Hello Bello is a good deal.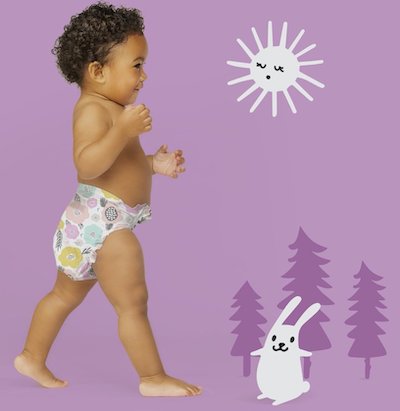 What's Inside Hello Bello Diapers – Ingredient List
Hello Bello Diapers are made with sustainably harvested fluff pulp which is TCF – Totally Chlorine Free. TCF means that bleaching process didn't use chlorine or its derivatives and didn't generate dioxins. According to experts this is the safest bleaching method available right now.
Just like ALL disposable diapers, Hello Bello diaper uses SAP – Super Absorbent Polymer – which makes it efficient at sucking the liquid. Some parents worry that SAP may be harmful for babies, but according to experts the amount of SAP in baby diapers is safe (especially that it's not in direct contact with the skin)1. Keep in mind that SAP can be found in all disposables, without it, the diaper wouldn't absorb any moisture. SAP is unfortunately non-biodegradable.
What's important, moms who have been using these diapers agree that they are really absorbent and can hold a lot of liquid. In Hello Bello Diapers reviews moms often mention that these nappies are good at preventing leaks and blowouts.
What distinguishes Hello Bello from many regular and green disposables, is that the absorbent core is lined with a corn-derived PLA nonwoven fiber. This plant-based type of fiber is 100% biodegradable therefore it has lower environmental impact and it's anti-bacterial.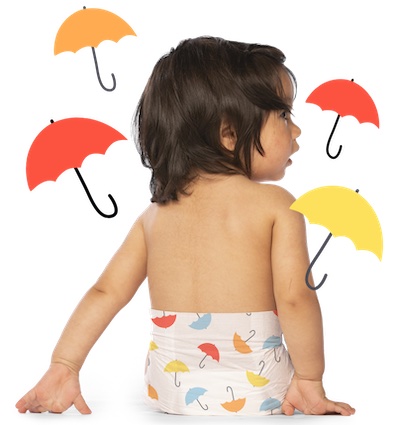 However, some babies have allergy to corn and for them Hello Bello may not be the right choice. But keep in mind that majority of disposables contain a certain amount of corn, it's in diaper rash creams too!
It's noteworthy that Hello Bello Diapers are not organic – even though they are greener than many regular disposables, they still contain some synthetic materials. The top sheet that directly touches baby's skin is made from polypropylene fiber. It's ultra soft and nice to the touch. Some parents even say it feels like the softest fabric ever.
The back sheet of Hello Bello diaper is made from polypropylene/polyethylene fiber. Unfortunately, all of these fibers are not natural and not biodegradable.
If you're looking for non-toxic diapers that are safe for baby's sensitive skin, you'll love the ingredients list of Hello Bello Diapers. They are fragrance-free, they don't contain any lotions, latex or chlorine. Moreover, Hello Bello Diapers are free of: phthalates, TBT, DBT and MBT.
Lack of harmful chemicals makes these diapers a good choice for baby with sensitive skin, prone to irritations. I also went through dozens of Hello Bello Diapers reviews and haven't found any complains about diaper rashes or skin allergies. Some parents even say that these toxin-free diapers have helped them to get rid of skin rashes caused by other disposables!
According to parents Hello Bello diaper feels really soft and seems to be very comfortable for babies. It's stretchy enough to fit baby's bum well and prevent leakage, but it doesn't block the air circulation (which is crucial if you want to forget about skin irritations). Besides, it's elastic and leaves some room for wiggle so that the baby can feel comfortable and enjoy scooting, crawling, walking or running around the house.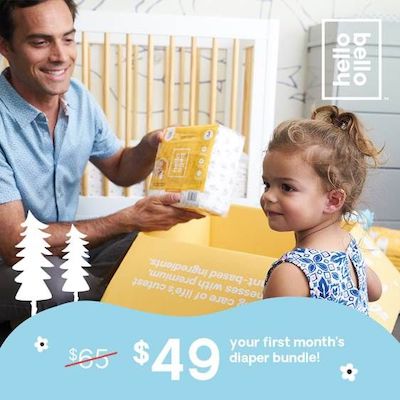 Use code EXTRA25 to collect your discount
Are Hello Bello Diapers Safe?
In many ways Hello Bello Diapers are safer than regular disposables – they don't contain nasty chemicals that could lead to skin irritations. Since they are free of artificial fragrances, lotions, latex, phthalates, TBT and chlorine, they are less likely to cause allergies and diaper rashes. Hello Bello Diapers are non-toxic, hypoallergenic and according to parents they work really well for babies with sensitive skin.
One of the most important things for me, when searching for safest diapers, was to find diapers that don't break and don't leave gel or crystals (the absorbent) on baby's skin. Even though SAP is claimed to be safe, I don't want my baby's privates to get in direct (and prolonged) contact with it. Fortunately, Hello Bello nappies are really strong and I've never experienced any issues like broken diaper or crystals on baby's bottom.
Are Hello Bello Diapers Biodegradable?
Some components of Hello Bello diapers can degrade, however these chemical-free diapers are not as highly-biodegradable as other green options2. If you're looking for biodegradable diapers check out Eco Pea Co Diapers or Andy Pandy Diapers.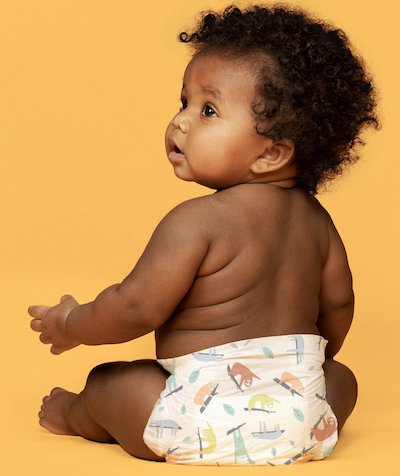 Are Hello Bello Diapers Absorbent?
According to dozens of parents the absorbency of these non-toxic diapers is comparable to regular (chemical) disposables! They can hold a lot of moisture and don't leak.
However, some customers recommend Hello Bello Nighttime Diapers for overnight use because they are even more absorbent and don't feel as damp after night. Daytime diaper may feel a bit wet on the outside after night, but it doesn't leak or make onesies or crib mattress wet. It just may feel a little bit damp. That's why nighttime diapers are better choice for overnight use, especially if your little one is a heavy wetter.
Overall, lots of parents are satisfied with Hello Bello absorbency. This diaper doesn't sag even when there's lots of wees or poo inside.
Sizes
Daytime and nighttime diapers are available in 7 sizes, while the training pants come in 4 sizes for toddlers and older kids.
What's important only the diapers in newborn, 1 and 2 sizes have a wetness indicator. Bigger sizes don't have it. For me it wasn't a dealbreaker, but I think you should be aware of that before deciding to get these nappies.
Designs
Kristen Bell and Dax Shepard's brand offers probably the CUTEST baby diapers ever. You have dozens adorable design to choose from and there are new prints added every now and then. I'm pretty sure they will attract your little one's attention!
You can choose diapers with koalas, lions, cats, fairies, stars, alphabet and many, many more! Just check out the picture below – you can see there some of the popular designs.
Keep in mind that some of the prints are available only in specific sizes.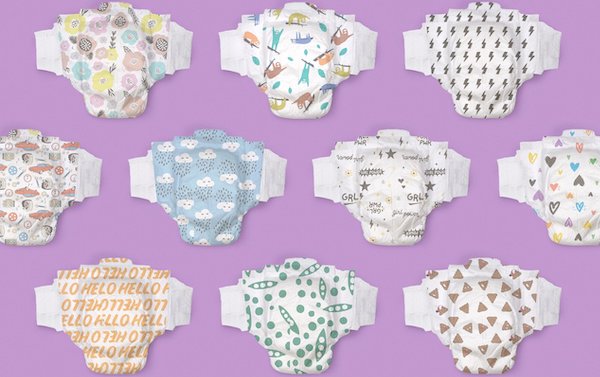 Is Hello Bello Diaper Bundle Worth It?
As this is celebrity baby products brand, some parents assume that it's expensive. On the contrary, Hello Bello is quite affordable!
The cheapest way to get Hello Bello diapers is to opt for their subscription plan. What distinguishes them from other diaper brands, is how convenient the subscription is and how easy it is to cancel it at any time!
To create your diaper bundle you can choose two different sizes of diapers (which is really cool if you have a newborn baby and toddler), and up to 7 packages. Then you can choose your favorite prints – there's a lot of colorful and adorable designs and I'm sure you and your little one will love all of them.
What's really awesome about Hello Bello subscription is that you get 4 packs of Hello Bello wipes (which according to some parents are THE BEST baby wipes out there), one FREE care product, and 15% discount on other Hello Bello products. Oh, did I mention that the shipping box doubles as an imaginary box and turns into something creative like a rocket ship, lantern box or treasure box? How cool is that?!
PRO TIP: Right now you can get your first month's diaper box for $49 ($65)! This means that Hello Bello diapers are cheaper than Honest, Dyper, Andy Pandy, Pampers or MamaBear. You can cancel subscription plan at any time, at no cost. With code EXTRA25 you can grab your $16 discount here.
Considering that you can pay only $49 for the first month supply (up to 245 diapers!) and receive some extras like the wipes and freebies, Hello Bello turns out to be one of the most affordable option among greener and non-toxic diapers!
As a mom of three I know how much money we spend on diapers, that's why I love Hello Bello diaper bundle so much. The subscription plan gives you awesome chemical-free diapers at pocket-friendly price.
Is It Easy To Cancel Hello Bello?
If you're thinking about getting Hello Bello subscription, you may be wondering if it's easy to cancel it and if you can do it at anytime.
I tested Hello Bello diaper bundle subscription on my own and I have to admit that the cancelation process is very simple
You can cancel Hello Bello subscription at any time and it's easy to do. You can do it on their website or by calling their Customer Support. I prefer the online method, because it's really quick. You just need to log in to your account on HelloBello.com and choose My Bundle section – where you can cancel your Hello Bello. You can also edit it or delay it in the same section
Keep in mind that if you want this change to take effect before your next bundle box ships, you need to cancel it within 48 of receiving the reminder email (before the shipment date that you have selected).
Hello Bello Reviews – What Other Moms Say About These Diapers?
According to moms, what distinguishes these diapers is how soft they are. They are ultra-soft like cotton and feel like super comfy cloth nappy!
Another thing is that Hello Bello diaper feels thinner than regular diapers, but it's still very absorbent. It doesn't break, there are no leaks or blowouts. The snaps hold on really well, and the diaper is quite flexible so it fits baby's bottom nicely, without blocking the air circulation or limiting baby's movements.
Parents also say that Hello Bello diaper is really durable and the quality is better than in many regular and green nappies. There are no issues with diapers getting broken and leaving crystals (the absorbent) on baby's skin. This is a huge plus.
One of the biggest advantages of these diapers is that they are chemical-free. They don't contain harmful phthalates3 or TBT, there's no latex, chlorine, perfume or lotion. They seem to be working really well for baby's with sensitive skin or skin problems like eczema.
Moms also rave about adorable designs – the choice is SO VAST. And the best thing is that you can choose up to 7 different prints if you decide to get the bundle box.
The only downside that a few moms mention is that if you use daytime diapers for night and your kid is heavy wetter, the diaper may feel damp after night. But it doesn't wet baby's onesies or the bed, so it's not a dealbreaker actually. Moms recommend getting Hello Bello nighttime diapers for overnight use as they are more absorbent.
Pros & Cons
pros
cons

Pros

---

+ Good at preventing leaks and blowouts

+ Stretchy, fit baby's bottom really well

+ Chemical-free and chlorine-free

+ Lots of super cute prints to choose from

+ Diaper bundle comes with extras and freebies (other Hello Bello products)

+ One of the most affordable non-toxic disposable diapers - great choice if you're looking for pure diapers but you're on smaller budget (Pro tip: Get 25% off with code EXRA25 here >>)

+ Premium quality - no broken diapers, no gels on baby's bottom

Cons

---

- Made from synthetic (plastic) materials, not organic

- Only some parts of these diapers are biodegradable
Hello Bello vs. Honest
These two premium brands seem to offer very similar products. Is there really a difference between Hello Bello and Honest diapers? Which are better and safer, and cheaper? Here's my comparison: Hello Bello vs. Honest.
Materials: Both brands use some of the synthetic (plastic) materials for diapers top or back sheet. So whether you choose Honest or Hello Bello, keep in mind that they are not organic and not biodegradable.
Ingredients: These are two non-toxic options. Both Hello Bello and Honest offer chemical-free diapers. If your little bundle of joy has sensitive skin and often struggles with irritations, diaper rashes or eczema, and you're looking for clean and safe diapers, both brands are a good choice.
Designs: There are 20+ prints available for Hello Bello and Honest diapers. These two companies have probably the widest choice of adorable designs!
Price: This is a major difference between these two diaper brands. Hello Bello turns out to be much more pocket-friendly option.
The standard price for Hello Bello 1 month supply is $65 and you get 119-245 diapers, depending on the size you choose, 4 packs of wipes, one free care product and 15% discount on other products from Hello Bello line.
Honest diapers 1 month bundle box costs $79.95 and you get 126-224 diapers, 4 packs of wipes and 15% discount on care products (there are no freebies).
PRO TIP: If you're on smaller budget, now you have a perfect opportunity to get Hello Bello chemical-free diapers at much more affordable price! Here you can get $16 OFF your first month bundle. This means the cost per one diaper is as low as $0.20 (for size N & 1) and you'll receive FREE Hello Bello care product of your choice! Use code EXTAR25 at checkout to collect your discount. Don't miss out on your opportunity to save money, this promo ends soon!
Hello Bello Diaper Review Summary – Is It Worth Buying In 2022?
Overall, I think that Kristen Bell and Dax Shepard's baby line is worth recommendation. If you're looking for safe baby diapers that are free of nasty chemicals, but don't want to spend a fortune every month, this is definitely one of the best choices.
These nappies are clean and non-toxic which makes them a fantastic choice for kids with sensitive skin, prone to irritations. They can hold a lot of liquid, and prevent leaks and blowouts really well. Parents also rave about their softness and adorable prints that babies LOVE.
Lots of previous reviewers also recommend other baby products from this company – some moms say that Hello Bello water wipes are THE BEST out there. Diaper rash cream is another product that customers love. By the way, you can get it FOR FREE with your first month bundle (check out the freebies here)!
---
The purpose of this article is informative and entertaining. It's not a substitute for medical consultation or medical care. Remember: safety first! The author of this article does not accept any responsibility for any liability, loss or risk, personal or otherwise, incurred as a consequence, directly or indirectly, from any information or advice contained here.
All pictures belong to Hello Bello. Source: Hello Bello