Hello Bello and Honest Co are two celebrities brands which are extremely popular these days. Are these diapers really that good, safe and eco-conscious as advertised? And which of these two is a better choice: Hello Bello or Honest Co?
This article is not a substitute for medical advice. It contains affiliate links.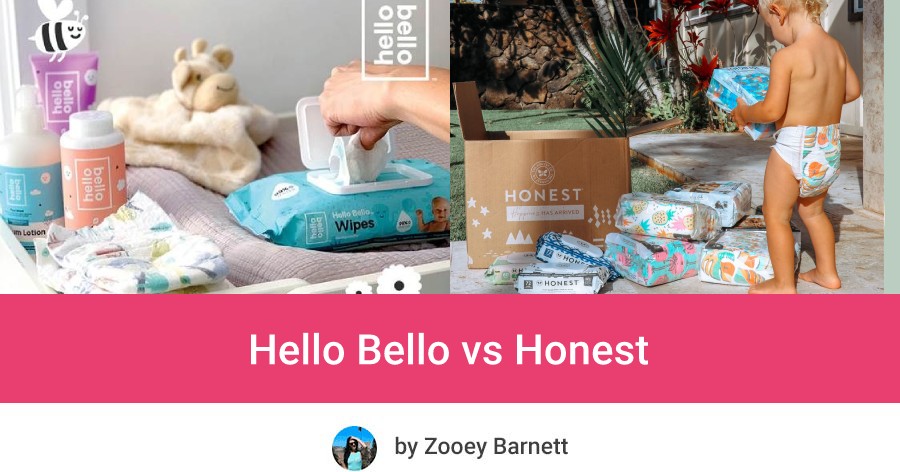 Some diaper companies such as Honest and Hello Bello are taking the necessary steps to ensure their diapers are safe for baby's skin and free of harmful chemicals. Some of the steps taken by these brands include the use of chlorine-free bleaching method, as well as lack of fragrances, alcohol, latex, phthalates and heavy metals in diapers.
This means that these diapers are less likely to trigger allergic reactions on your child's sensitive skin.
At first glance, Hello Bello and Honest diapers seem to be very similar in terms of ingredients, design, and colorful prints. The biggest differences between these two brands are: tendency to cause diaper rashes, efficiency at preventing blow outs and leakage, and price.
Let's dive into the nitty-gritty of the Hello Bello vs. Honest diapers wrangle to unveil the best of the two.
Best Features
❤️ Free of nasty chemicals
❤️ Less likely to cause diaper rash or itching
❤️ Softest diapers ever
❤️ Great toxin-free diapers at reasonable price
❤️ Chemical-free
❤️ Absorbent partially replaced with corn- & wheat-based materials
❤️ Very absorbent
❤️ Wide selection of adorable prints
My Opinion
✨ Monthly bundle includes: up to 245 diapers, 240 water wipes, 1 freebie, 15% discount on other products, creative box
✨ Monthly bundle includes: up to 224 diapers, 288 water wipes, 15% discount on other products
Availability & Price
More expensive than Hello Bello
Affordable & Great For Sensitive Skin
Best Features
❤️ Free of nasty chemicals
❤️ Less likely to cause diaper rash or itching
❤️ Softest diapers ever
❤️ Great toxin-free diapers at reasonable price
My Opinion
✨ Monthly bundle includes: up to 245 diapers, 240 water wipes, 1 freebie, 15% discount on other products, creative box
Very Absorbent
Image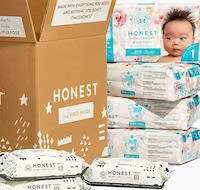 Best Features
❤️ Chemical-free
❤️ Absorbent partially replaced with corn- & wheat-based materials
❤️ Very absorbent
❤️ Wide selection of adorable prints
My Opinion
✨ Monthly bundle includes: up to 224 diapers, 288 water wipes, 15% discount on other products
Availability & Price
More expensive than Hello Bello
LittleBabyGear Verdict: Are Hello Bello Diapers Better Than Honest?
According to many parents, you can't go wrong with either Hello Bello or Honest. Their diapers are absorbent, ultra-soft and safer than major disposables.
Personally I prefer Hello Bello diapers and other products from their baby line.
For us HelloBello worked better. We didn't experience any problems with diaper rashes or skin irritation and itching. Besides, these were the softest disposables we used!
We chose them because they are chlorine-free and don't contain harmful chemicals like latex, phthalates or TBT, and there's no artificial fragrance.
They were efficient during daytime and prevented leaking and blow outs really well.
One of the huge advantages of Hello Bello diapers is their price – these are probably the best safe diapers at affordable price.
PRO TIP: We decided to get their subscription because it's the most cost-effective option. We even got the first month box 25% cheaper (you can also get the discount here – your discount code is EXTRA25).
Hello Bello Baby Line
Hello Bello is a fairly new brand founded by Kristen Bell and hey husband Dax Shepard. They mission is to provide more eco-friendly and toxin-free diapers for babies with sensitive skin at more affordable price.
Beside diapers, this celebrity brand offers other baby care products like shampoo and body wash, bubble bath, wipes and diaper rash cream, as well as home care products like laundry detergent, multi-surface cleaners and hand soap. All of these products are designed without harsh chemicals which makes them perfect for sensitive skin, atopic dermatitis, eczema and skin prone to allergic reactions.
All of my kids have atopic skin so I was excited to test these products. What's more, they turned out to be cheaper than many other hypoallergenic brands!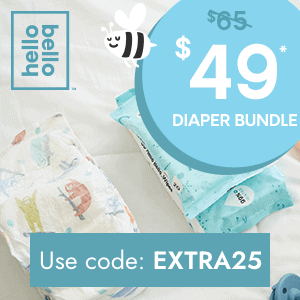 Honest Co. Baby Line
Honest brand was co-founded by actress Jessica Alba and Christopher Gavigan. Their mission seems to be similar to Kristen Bell and Dax Shepard's mission: they strive to develop more eco-friendly, safe, chemical-free, effective products for families at more pocket-friendly price.
They offer lots of products for babies like diapers and wipes, diaper rash cream, shampoo and body wash, face and body lotion, bubble bath; skincare products for moms, backpack diaper bags and even face masks; as well as home products like cleaners, sanitizers and soaps.
However, just by comparing a few products with Kristen Bell's baby line, you will realize that Honest is not as affordable as Hello Bello. More on that later.
Honest vs Hello Bello Diapers: An In-Depth Comparison
Let's start with a comparison of Hello Bello and Honest Co. baby diapers. I gathered all important information about their design and effectiveness, as well as subscriptions cost difference.
Ingredient List
Hello Bello diapers are rated as TCF (Totally Chlorine Free). This means that Kristen Bell's diapers have been processed without chlorine and this process doesn't generate dioxins. It's the most eco-friendly bleaching process available right now.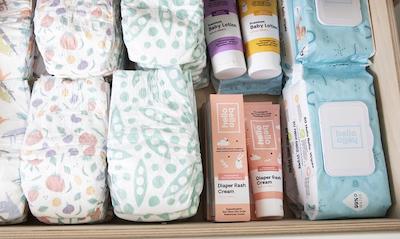 Moreover, these diapers are made out of lotion-free, fragrance-free, phthalate-free, and latex-free ingredients.
Another item on the ingredients list is the Super Absorbent Polymer (SAP). SAP is found in all disposable diapers because its purpose is to absorb as much liquid as possible to keep the baby dry. Regardless of its synthetic nature, SAP is considered to be safe to use in diapers. This is largely attributed to the fact that it is not in direct contact with your baby's skin. If you want to read more about SAP – check out my article about the safest diapers.
Hello Bello uses a PLA non-woven fiber that is made out of corn. The PLA fiber is used to line up the absorbent core and it is 100% biodegradable. It should however be noted that this substance can trigger allergic reactions in children with corn allergies.
Soft polypropylene fiber is used on the top layer sheet to cover the skin of the baby. The material is so soft that a large number of parents have reviewed the Hello Bello diaper as the softest diaper ever.
Hello Bello has made it their mission to eradicate toxic materials from their products. That mission is translated to their diapers which don't contain harmful chemicals such as phthalates, DBT, MBT, and TBT.
Honest diapers have pretty much the same ingredients list. Just like Hello Bello, they use sustainably harvested fluff pulp and are not processed with chlorine. They also come free of latex, fragrances, lotions, alcohol, and other allergic chemical additives.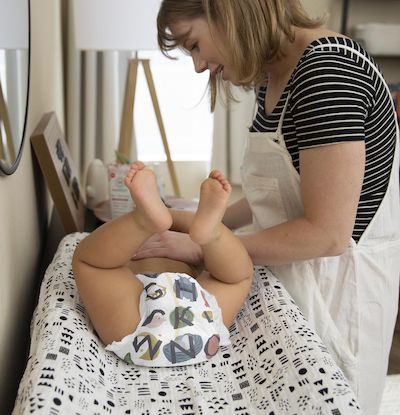 The use of citrus extract and chlorophyll in the Honest diapers helps in blocking bad smells and odors. It supposed to provide a clean, fresh and comfortable feel to your baby. In general, I'm not a fan of extracts in baby diapers, I prefer simpler ingredient list.
The absorbent core is partially made out of a bio-based material that contains wheat and corn. Using corn and wheat on the absorbent core is a great innovation for the diaper industry. This is because it minimizes the need for a synthetic Super Absorbent Polymer. Nevertheless, Honest Co diaper do contain SAP, just like all disposables, and it makes it really good at sucking the moisture. Keep in mind that corn and wheat used in these nappies may lead to allergic reactions.
We can find plant-based PLA fiber in Jessica Alba's diaper, but there are also petroleum-based materials like polyethylene, polypropylene, spandex. They are plastic, not organic.
As you can see both diaper brands use quite similar ingredients, the major difference is wheat and corn in Honest diaper used as an absorbent and some extracts used for blocking bad odors.
One thing that Honest diaper provides that Hello Bello does not is the detailed map showing material sources. The detailed map can be found on Honest website and it showcases all of the materials they use, pinpointing where they were obtained.
Other than that Kristen Bell and Jessica Alba companies design pretty much similar diaper.
>> In-depth review of Hello Bello Diapers
Safety
What's most important, both brands are much safer choice than popular (chemical) disposables. They both use more natural and organic materials than synthetic ones. They also lack chorine (both are TCF), latex, fragrances, lotions or alcohol.
The only thing that you should keep in mind is the use of corn in Hello Bello, and the use of corn+wheat in Honest Co, especially if your little one has allergy. It's also important to remember that corn can be found in other disposables, and it's probably in you diaper cream for rash too!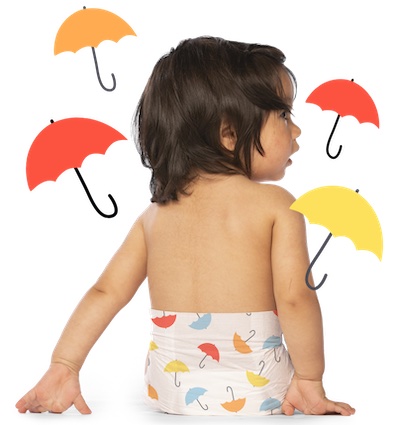 My babies have very sensitive skin and eczema, therefore we have to carefully choose products for them. Hello Bello worked fantastic for all my kiddos and didn't irritate their skin. My daughter and my sons didn't get diaper rash – not even once! And we didn't have any problems with itching, in contrast to some other popular diaper brands.
Keep in mind that all babies are different and two children with sensitive skin may react differently to the same diaper.
Nevertheless, lots of parents who have kids with eczema rave about Hello Bello and how gentle they are for atopic skin.
On the other hand, I've heard a few complains about Honest Co diaper causing rashes. Some parents say that this brand doesn't work that well for eczema. One of my sons got a mild rash too, but the other two were completely fine.
At the end of the day, you will have to follow your mama instinct and choose what you think is best for your little one. And in most cases, it's largely a matter of trial and error.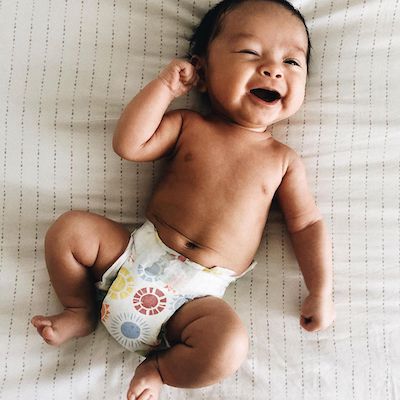 There's one more thing to consider when it comes to diaper safety.
Lots of moms complain that diapers like Huggies or Pampers often leave gel crystals on baby's bottom. These crystals are SAP. It's believed to be safe, if it's not in direct contact with the skin. However, it's not good if the nappy tears easily and leaves gels on baby's bottom!
And this is the important thing that sets Hello Bello and Honest Co. apart from other disposables. I've never experienced this issue with these diapers! I went through dozens of reviews written by other parents and they also testified that Hello Bello and Honest baby diapers don't break and don't leave gel residue on child's skin. This is a huge advantage.
Biodegradability
As you may have noticed, some of the products used in these diapers are not natural. Because of the use of petroleum-based materials, these disposables are not biodegradable or compostable. They will end up in the landfills anyway.
Both of these companies have received criticism for not going greener, but for most parents, they are green enough thanks to being chlorine-free and chemical-free.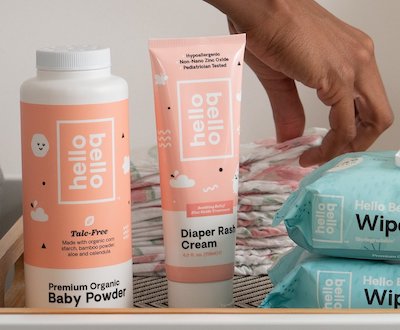 Absorbency
Beside safety, diapers efficiency is an important factor. Which brand offers more absorbent diapers: Honest or Hello Bello?
They are both comfortable with soft textures and secure elastic bands for strapping your child in. The diapers are also flexible and elastic to fit your child comfortably as they move around and prevent leaks at all time.
Honest Co. diapers are one of the most absorbent diapers out there. Parents who switched from other brands to Honest said that they were the best diapers in terms of absorbency. Honest diapers include leak protection that helps in preventing leaks and blowouts.
Moms also recommend nighttime diapers for overnight use because they prevent leakage better. They are available in sizes 3-6 (from 16 lbs).
The Hello Bello diapers are really good at absorption too. They don't sag when filled with pee and poop.
There's one thing that you should keep in mind. Hello Bello daytime diaper is rather not good for overnight use if you have a heavy wetter. My boys used to pee a lot during the night and daytime diaper would feel really damp in the morning or would even leak. Thankfully Hello Bello has now nighttime diapers which are more efficient and hold more moisture. If your babe is a heavy wetter, I would recommend getting those nighttime nappies – you can add them in the subscription box. They are available in sizes 3-6 (from 14 lbs).
There is one more important difference between these disposables. Hello Bello has wetness indicator only on sizes N, 1 and 2, while the newest version of Honest Co nappy features wetness strip on all sizes.
Sizing & Designs

Both diapers come in seven sizes. The N size fits newborn babies under 10 pounds, while the largest size (6) fits 35+ pound children. They also have various cute designs that are adorable enough to attract your kid's attention.
Both brands make super cute and adorable designs, but at the time of writing this comparison (January 2022) Honest Co has wider collection of available patterns.
Hello Bello offers 15+ designs with cute prints of donuts, water melons, dragons, squirrels, cacti, pineapples, sloths, celestial objects, shapes, alphabet… just to mention a few. Honest has 30+ designs, including Lamas, Donuts, Pandas and Hot Air Balloons. Remember that some designs are provided in specific sizes, besides the lineup changes every few weeks.
Both brands claim to be using dye-free inks for those colorful prints.
There's one important difference that I have to mention: Honest also offers plain white diapers.
Hello Bello Diaper vs. Honest – Cost Difference
If you want to buy Hello Bello, I recommend you to use their official website where you can get the most cost-effective option – monthly bundle box that includes diapers and wipes. You can also buy this brand diapers and other products at Walmart (in-store and online) and at a few other retailers.
What's important, Walmart and other retailers offer single packs of diapers, without the subscription. It's a bit more expensive option, but it allows you to test them before you commit yourself to a monthly subscription. On HelloBello.com you can only choose subscription, not single packs.
PRO TIP: I love shopping on Amazon, but I don't recommend getting Hello Bello on Amazon because they are few times more expensive! There's a way to save 25% and get Hello Bello at cheapest price here >> Use code EXTRA25 at checkout.
With Honest you have even more options. You can buy this brand diapers on their website – you can choose a pack, box (one-time or monthly subscription) and diapers & wipes subscription. This nappies are also available at various retailers like Walmart, Target, Amazon and others.
Price Comparison (One-Time Purchase)
Hello Bello
Pack of 35 newborn diapers = $9.16
Cost per one diaper = $0.26 (Walmart)
Honest
Pack of 32 newborn diapers = $10.95
Cost per one diaper = $0.34 (Honest.com)
You should note that these diapers are a bit more expensive than traditional plastic diapers, but they are still more pocket-friendly than organic bamboo diapers like Andy Pandy.
If you're on smaller budget, Hello Bello is your best option.
Hello Bello vs. Honest Company – Which Diaper Subscription Is Best?
The subscription plans are the cheapest and most logical option for most of us parents.
Hello Bello stands out in this regard by providing the best diaper subscription plan between the two with included freebies, wipes and discounts, and lower price tag.
Below you can see a quick comparison of both bundle boxes.
Price Comparison (Monthly Bundle Box)
Hello Bello
119-245 diapers (depending on size)
240 plant-based water wipes
1 freebie
15% discount on other care products
Price: $65 (or $49 for the first month with my discount)
Honest
126-224 diapers
288 wipes (100% plant-based, 99% water wipes)
15% discount on care products
Price: $79.95
As you can see there's $15 cost difference. Honest box comes with 28 more wipes but it doesn't make up for the price discrepancy.
To sum up, I would say that Hello Bello is a better choice especially for parents on a small budget, who are looking for safe and toxin-free diapers. If you want to save even more money, use this link to get your first month box 25% OFF (code: EXTRA25)!
The company provides several steps to set up your subscription. You first choose the sizes you want (you can pick two different sizes if you have kids close in age), then your favorite designs (maximum of 7 packs of diapers), before ending up on the freebie page.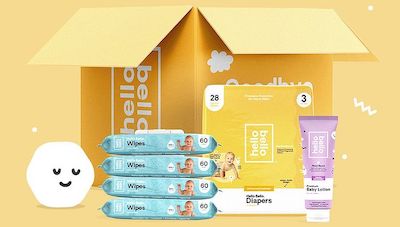 The freebie page is the fun part. It gives you the option to choose a free Hello Bello product during your first bundle. The freebies include their home care, personal care, and body products. My daughter loves their bubble bath, we also recommend diaper rashes cream.
After the freebie page, you will be directed to add extra products with a 15% discount. Each bundle also includes 4 packs of 60 count wipes – lots of parents say that these are the best water wipes EVER!
The total cost of this monthly subscription will set you back just $65, making it more affordable than Honest subscription plan.
Every once in a while Kristen Bell adds a free gift for subscribers (e.g. socks in May last year).
What's more, the packaging box doubles as an imaginary box and transform into sandcastle, rocket ship, winter box, or other creative things.
Honest Co. also gives you the option to choose the sizes you want (you can even choose all 7 different sizes!) and your favorite designs. They offer a one-time purchase for $96.45 and a subscription plan for $79.95 per month. The subscription includes 4 packs of 72 count wipes, 15% discount on other stuff, and a gift included every 3rd purchase.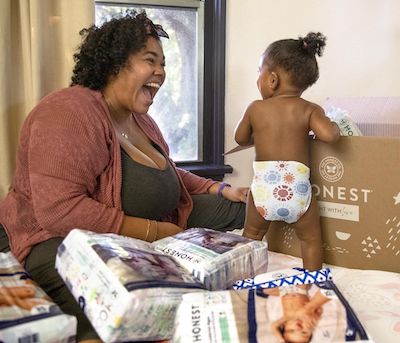 Other Products Cost Comparison
I compared other products that my daughter and sons have been using. The quality is similar and all of them turned out to be working really well for their sensitive skin, so I'm just going to focus on the price point.
Hello Bello Bubble Bath vs Honest
Hello Bello: $6.98 for 10oz. (0.7 per ounce)
Honest: $11.99 for 12oz. ($1 per ounce)
Hello Bello Diaper Rash Cream vs Honest
Hello Bello: $10.98 for 8oz. ($1.37 per ounce)
Honest: $9.95 for 2.5 oz. ($3.98 per ounce)
Hello Bello Wipes vs Honest
Hello Bello: $6.68 for 180-count pack ($0.04 each)
Honest: $18.95 for 288-count pack ($0.07 each)
As you can see Kristen Bell's baby line turns out to be more pocket-friendly option, basically all of her products are cheaper. I recommend these baby care products to any mom who is looking for safer options that don't cost a fortune.
Is Hello Bello Or Honest Better?
These are both great options for your baby and you can't go wrong with either of them.
The choice is going to boil down to the freebies, cost and personal preference. The main advantage Hello Bello diapers have over Honest is that they are less likely to cause diaper rashes and trigger allergic reaction. Besides, they have much lower price.
On the other hand, the reasons to choose Honest may be their bigger collection of prints and ability to choose plain-white nappies. Besides, they seem to be slightly better at preventing blowouts, but in my opinion in most cases it's a matter of choosing the right size.
---
The purpose of this article is informative and entertaining. It's not a substitute for medical consultation or medical care. Remember: safety first! The author of this article does not accept any responsibility for any liability, loss or risk, personal or otherwise, incurred as a consequence, directly or indirectly, from any information or advice contained here.
Source of pictures: