Are you debating between Solly Baby Wrap and Ergo Aura? These two lightweight baby wraps are excellent choice for comfy and safe babywearing and will make your life easier in the first months with a new baby.
But which one is actually better: Solly or Ergo Aura?
This article is not a substitute for medical advice. It may contain affiliate links.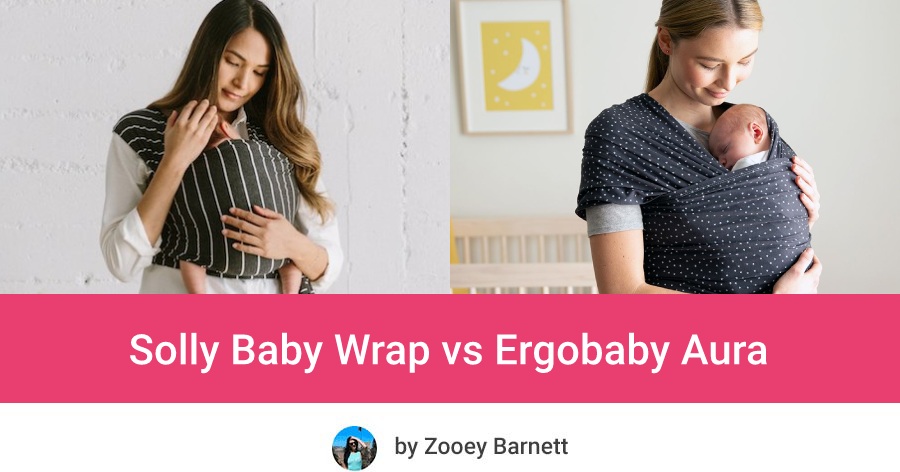 Solly Baby Wrap and Ergo Aura seem to be very similar – both are made of breathable and stretchy fabric and are suitable from birth up to 25 lbs. They are most comfortable for wrap cuddles during the first few months.
Are there any differences between these two baby wraps? How to pick the best one?
I hope my comparison of Solly Wrap vs Ergo Aura will make your decision easier!
Solly Baby Wrap vs Ergo Aura Baby Wrap – Differences
These two baby wrap carriers have a lot in common, but there are some significant differences that can make you prefer one over the other.
| Wrap | Image | Favorite Color | My Personal Choice For | Most Comfortable For |
| --- | --- | --- | --- | --- |
| Solly Baby | | Favorite colors: Basil & Oat Dot | My verdict: Coziest & safest wrap, great for any type of weather thanks to ultra-breathable and lightweight fabric | Most comfortable for: All sizes from petite to plus size (ladies size 22/24) |
| Ergobaby Aura | | Favorite color: Twinkle Grey | My verdict: Best wrap for warm weather for parents on smaller budget | Most comfortable for: All sizes (up to ladies size 20/22) |
Fabric
The most significant difference between Solly Wrap and Ergo Aura is the type of fabric. Solly is made from Lenzing Modal, while the Ergo Wrap is made from viscose (sourced from eucalyptus and acacia).
Both materials are lightweight, thin, and breathable – which makes both wraps great choice for summer, warm weather and hot climate.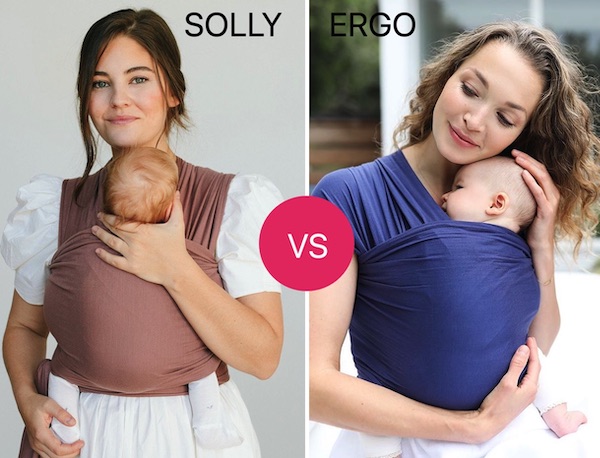 However, the Solly Wrap seems to be more airy and finer. Modal fibers are stronger and in general this material is great for use in which the fabric is treated a bit more harshly. This makes it more durable which is a huge advantage.
I'm sure that you will fall in love with Solly Wrap and just like other parents you will want to use it everyday for couple of hours. Stronger and more durable fabric is a huge benefit.
Moreover, the fabric that Solly Baby Wrap is made from, is incredibly soft and cozy – parents who own a few baby wraps say that this is THE SOFTEST wrap ever. It has just the right amount of stretch in it – it's easy to find the right tightness for the baby and it doesn't sag.
Nevertheless, Ergo Aura is still worth recommendation. When we compare it to majority of stretchy baby wraps (like Boba or Moby) it turns out to be more breathable and lightweight. It's still a good choice for warm weather, especially if you're on smaller budget. According to parents this wrap is stretchy and firm enough to hold the baby snuggly and provide proper support. It doesn't sag or loosen after a while. Moms also rave about how secure the baby feels on their body.
Colors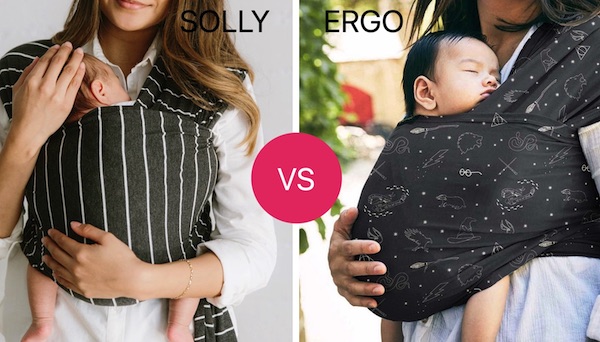 Aura Baby Wrap comes in 8 designs. Most of them are single-colored, but you can also get a wrap with dots or Harry Potter-inspired print. I would say these fashions are cute and simple, but there's no thrills.
Solly comes in 10+ designs and most of them are really fashionable and have adorable prints.
I prefer Solly collection, but of course it's a matter of personal taste! You should choose a wrap that suits your style – something that you will LIKE TO WEAR.
My favorite Ergo Aura print is this Twinkle Grey, my favorite Solly fashion is Oat Dot and Basil (you can find them here).
Price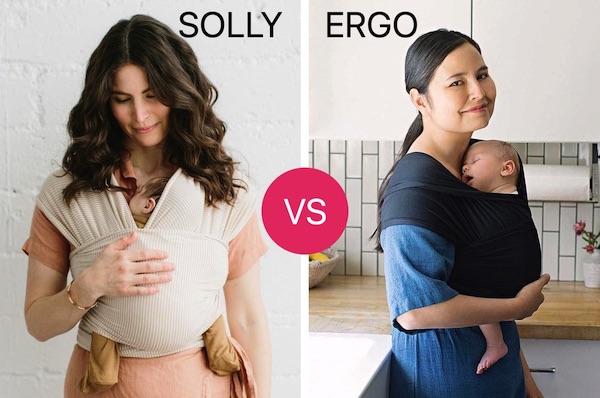 Another important difference between these two wraps is the price. Ergo Aura is a medium-priced wrap (here you can check currently available discounts), while Solly is more high-end product – although it's not the most expensive wrap on the market.
More "advanced" and airy fabric, plus cute and stylish prints, make Solly more expensive option. If you're opting for the softest and most breathable wrap ever, Solly is definitely worth the money!
My Personal Choice
LittleBabyGear Verdict: Is Solly Baby Wrap or Ergo Aura better?
Personally I prefer Solly Baby wraps and my favorite prints are: Oat Dot & Basil.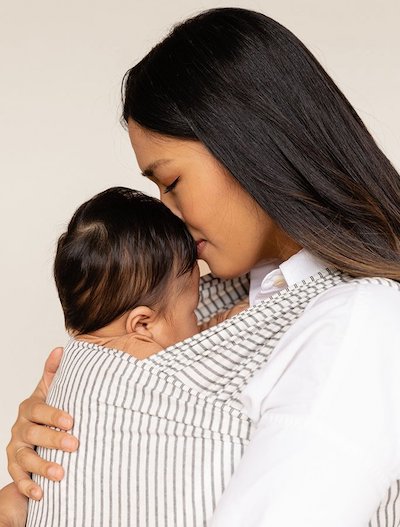 For me Solly Wrap worked better. Baby felt asleep in it immediately and it was our lifesaver when our little one was colicky and fussy.
This was the best and most often used baby item that I bought in the first year! We used it for around 10 months, before switching to bigger, soft-structured carrier.
It's the lightest and most breathable baby wrap I have ever tried. I've never felt hot or sweaty on our walks, even in summer. Plus it looks so gorgeous!
It was comfortable to wear, I've never felt any pressure or pain in my back. I could use it 3 or 4 time a day for couple of hours!
PRO TIP: I bought Solly Wraps on sale (10% off) with code LITTLE10. Check here if this discount code is still working. You can save quite a few bucks!
Solly Baby Wrap Review
Solly is one of the hip-healthy baby wraps, suitable from birth up to 25 lbs. It's most comfortable to wear in the first months – with newborn or young baby. Most parents recommend it up to 9 months.
This wrap is made from Lenzing Modal (from Beechwood Trees) which makes it buttery soft and airy. Lots of moms who live in hot and humid or very warm climate (like in Miami) use Solly and agree that it's the most breathable wrap ever. It's perfect for summer. The fabric wicks away moisture so you always stay dry and cool.
It works well in winter too, because even if you or the baby sweat a bit, it will pull the moisture away from your skin so you don't get chilly.
Moreover, Solly Wrap fabric is silky soft and has just the right amount of stretch in it. Lots of parents who tried multiple baby wraps, say that some wraps have too much give in them. Solly is just perfectly stretchy. You can easily get the right tightness for your little one, it doesn't sag, loosen or squeeze the baby.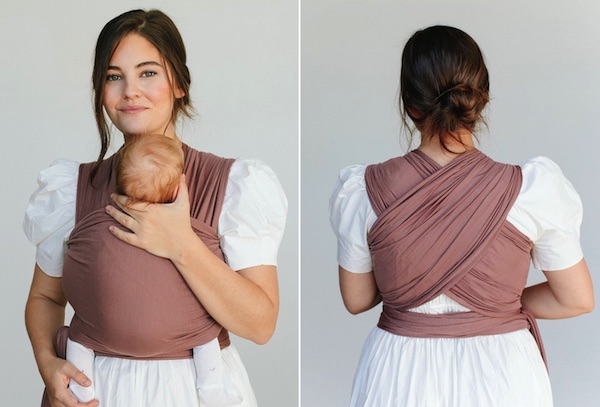 Solly allows to wear the baby in inward-facing front carry position. It's the only safe position that you can use with stretchy wraps. Solly is ergonomic and holds the baby in natural, healthy position with M-shaped legs. It doesn't put pressure on baby's hip joints or crotch area. It supports baby from knee to knee and doesn't force the baby to straighten their spine.
Moms agree that Solly is easy to put on, especially if you practice it a few times in front of a mirror. However, tying it takes time. Parents also recommend to put Solly on before going out, because it's REALLY LONG and you don't want to end up with those long ends dragging on a parking lot and getting dirty. I recommend you to check out these Solly tutorials which will make tying much easier.
Because Solly Wrap is 5.5 yards / 5 meters long, for a petite person this may seem like a lot of fabric. It may also mean more layers around your body. But Solly fabric is airy, light and thin, therefore you don't have to worry about sweating. Long fabric makes Solly perfect for all sizes – I know that moms wearing ladies size 22 find it very comfortable!
Lots of moms say that their babies immediately calm down or even fall asleep when putted in Solly Wrap. It reduced crying in infants, helps with colic and soothes fussy babies. And of course it frees your hands so you could take care of home duties or run around after the rest of your children.
Moms also rave about Solly Baby Wrap gorgeous design and wide variety of beautiful prints. You can browse currently available colors here.
If you need more information about Solly Wrap, read my detailed review here.
Ergobaby Aura Wrap Review
Ergo Aura is a medium-price option. It may be a great choice if you're looking for lightweight and breathable baby wrap, but you want something cheaper than Solly or Beluga.
It's made from eucalyptus and acacia viscose – this fabric is really light and thin, and allows the air to circulate through. Although it's not as breathable as Solly, it works really well in warm weather and protects you and the baby from overheating.
It's definitely lighter and more breathable than Boba or Moby wraps, but less than Solly.
Besides, this fabric is soft and delicate for baby's skin – no skin irritations to worry about.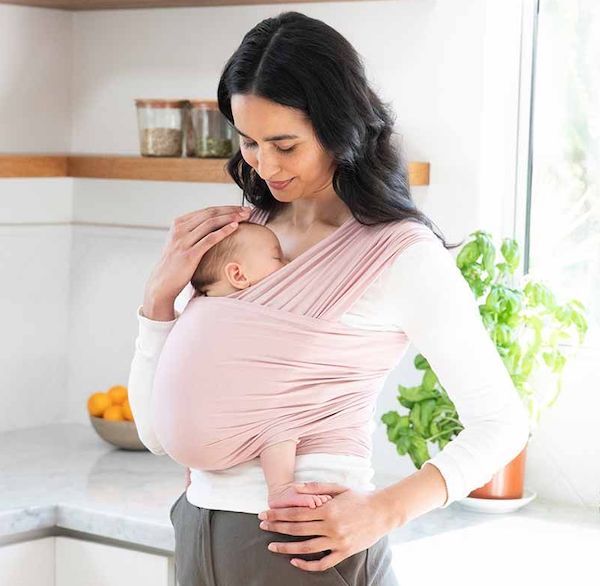 I feel like Aura is a bit more stretchy than Solly which means it may take more time and practice to get the right tightness. Although it doesn't loosen with time, it may stick away a bit or feel like it's sagging a bit, so you need to practice how to tighten a few times to master it. It's a bit more challenging than with Solly Wrap.
What distinguishes Ergo Aura is that it has contrasted stitching on the rails to make wrapping and tying easier. If you're new to babywearing, this may be really useful and will help you to learn how to put Aura on quicker.
You can wear your baby on your front (facing you), outward or back carrying is not recommended. Here you can find useful tutorials – they are extremely helpful for learning how to put Aura on.
You can use Aura from 8 to 25 lbs. What's interesting previously this wrap had a weight limit of 35 pounds, but it has been decreased to 25 pounds. Although Ergo Aura is strong enough hold heavier babies, the brand recommends it up to 25 lbs – it's most comfortable and safe then!
Ergobaby Aura Wrap is about 5 meters long therefore it's a one-size-fit-all. However, because it's so long, it's best to put it on before you leave your home to avoid dragging long ends on the ground.
Just like Solly Wrap, Ergo Aura has built-in pocket for convenient storage. It fits in a diaper bag with ease, which makes it perfect for travel.
This baby wrap is also machine-washable, therefore in case of a diaper blowout or spit-up it will be easy to clean.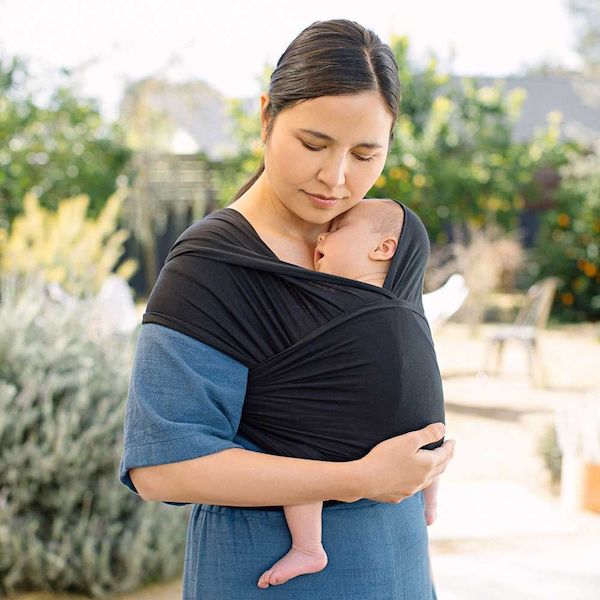 Parents who own Ergo Aura agree that it works awesome for newborns and small babies. Lots of them say that in the first months, the wrap is more comfortable and feels more secure than soft-structured carriers.
Babies love being cuddled in Aura Wrap. It soothes the baby while giving you free hands so you could done more around the house. It's a lifesaver in the first months with the new baby, not only for new parents, but also for those who have more kids to keep up with!
Ergo Aura Wrap is available in multiple single-color designed, as well as simple but cute prints.
BTW, if you're looking for wrap for baby girl and thinking about getting this Aura in Blush Pink, you should know that it's more dusty rather than bright, as some parents noted. I actually like it more in person than in pictures!
---
Other articles you may like:
>> Ranking of top baby carriers (including baby wraps and soft-structured carriers)
>> Solly vs Beluga – Comparison Of Baby Wraps
>> Boba or Solly Baby – Which One Should You Buy?
---
The purpose of this article is informative and entertaining. It's not a substitute for medical consultation or medical care. Remember: safety first! The author of this article does not accept any responsibility for any liability, loss or risk, personal or otherwise, incurred as a consequence, directly or indirectly, from any information or advice contained here.
Source of pictures: