Wrap baby snuggles are the best! If you're looking for a stretchy wrap that you could use in the first weeks and months, you have probably came across Solly Baby and Beluga Baby wraps. They are perfect for keeping little one close to mama while giving her a few precious hands-free moments.
This article is not a substitute for medical advice. It may contain affiliate links.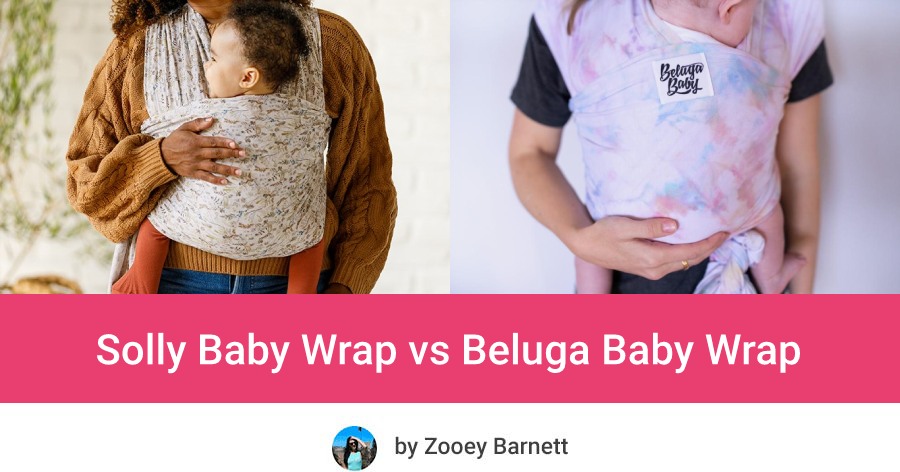 Using baby wrap for wearing your newborn baby or infant has tons of benefits, if you have the right equipment and learn how to tie it and position the baby properly. To make babywearing safe and enjoyable for the both of you, you will need a comfortable wrap that is safe for baby's hips and will keep your little one secured in ergonomic position.
Solly Baby and Beluga Baby are one of the best choices as they are both approved as hip-healthy, they are fantastic for any type of the weather, plus they are the softest and coziest wraps ever! They give babies the sense of security, warmth and closeness – similar to the way they felt in the womb.
You may be debating between Solly Wrap vs Beluga Wrap especially if you live in hot and humid climate (Miami mamas LOVE them!).
Solly Wrap and Beluga Wrap are one of those high-end boutique baby wraps that are extremely popular among new moms. They seem to be very similar with their breathable and lightweight fabrics.
Both Solly and Beluga can be used from birth and have a weight limit of 25 lbs. These baby wraps offer one carrying position: the baby is on your front, facing inward.
So is there really a difference between Solly Baby and Beluga Baby that would make you fall for one over the other? Which one is the best between these two? Below you can find detailed comparison of these baby wraps!
LittleBabyGear Verdict: Is Beluga Baby or Solly Baby better?
According to many parents, you can't go wrong with either Solly Baby Wrap or Beluga Baby Wrap. They are both crazy soft, lightweight, breathable and pretty.
Personally I prefer Solly Baby wraps and my favorite prints are: Oat Dot & Basil.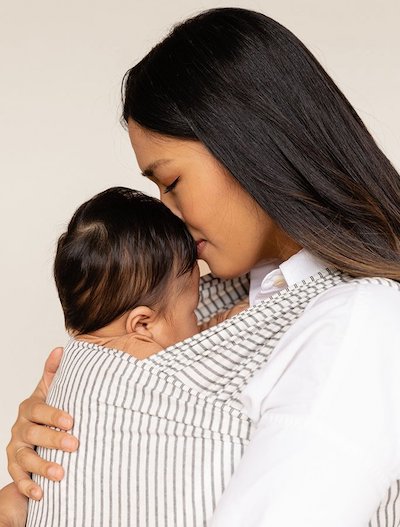 For me Solly Wrap worked better because it's not that ultra-stretchy as Beluga which was important for me when my babe was in "wiggle worm" phase.
I'm also a petite mom and my breast are on the smaller side, so I could easily breastfeed in Solly (by the way, my BFF who wears size 22 love her Solly Wrap too!).
It's the lightest and most breathable baby wrap I have ever tried. I've never felt hot or sweaty on our walks, even though we have 70+ degree weather for most part of the year.
PRO TIP: If you buy Solly Wraps now you will get 10% discount! This is a limited time offer so don't miss out on this opportunity. >> Grab your discount here << with code LITTLE10.
Solly Baby vs Beluga Baby – Main Differences
Let's find out which baby wrap is better: Beluga Baby or Solly Wrap?
Fabric
Solly Wrap is made of 100% certified Lenzing Modal fabric made from wood cellulose (from beechwood trees). It's a type of rayon fabric.
It makes Solly Baby Wrap ultra breathable, thin (but still very strong) and lightweight.
Modal feels buttery-soft – some parents who have tested multiple baby wraps, say that this is the SOFTEST WRAP EVER.
What's more, parents agree that this is the most breathable wrap on the market right now, it doesn't make you or the baby overheated.
The fabric makes Solly Wrap perfect for summer and warm climate. With Solly you won't be sweating buckets like with many other wraps or baby carriers!
It's also a good choice if your baby is more sensitive to fluctuations in temperature.
Solly fabric wicks the moisture away from the skin, keeping you nice and dry. It's helpful for protection from overheating in summer weather, but also from getting cold in winter.
Moreover, this type of fabric gives Solly Wrap just the right amount of stretch. This makes it easy for your to wrap around your body, tie and adjust it. It's super cozy for your baby, cuddles them against your chest, but it's still elastic and stretchy so it doesn't put pressure on baby's joints and keeps them in natural, ergonomic, flexible position.

On the other hand Beluga Wrap is made of 66% rayon (from bamboo cellulose), 28% cotton and 6% spandex. This combination makes Beluga even more stretchy, so it may take a few tries to find the right tightness.
Moms who are new to babywearing sometimes worry that the baby doesn't feel secure in the wrap or looks like he's dropping.
Because Beluga Wrap is naturally elastic and very stretchy, it often needs to be tied tighter than you think it does. However, you should be careful with all that stretch in Beluga.
Some moms have shared that they tightened it way too much the first few times, because they were scared the baby was too low and not supported enough. Then they realized the baby was not comfortable at all and too much "squeezed".
According to some parents it takes a bit longer to learn how to get the perfect tension.
The bamboo-based fabric of Beluga Baby Wrap wicks moisture away and helps to regulate body's temperature protecting you and the baby from getting hot.
Solly Wrap fabric suits me better, because it feels thinner for me and it's not that ultra-stretchy (the amount of stretch is just enough). However, if you'd prefer more elastic and thicker fabric, Beluga Wrap may be better for you.
In some reviews written by parents who own the Beluga and Solly, I found out that Solly works perfect when the baby is little, during the first months (0-6 m) because it's easier to find the right tightness and cozy fit.
However, some parents say that with Solly, when the baby gets older, it may be a bit more difficult to find the snug fit without tying it too tight. On the other hand, because the Beluga is more stretchy the child may be able to take his arms and shoulders out. If your baby gets fussy or wiggles a lot, this is something to keep in mind.
Length & Sizes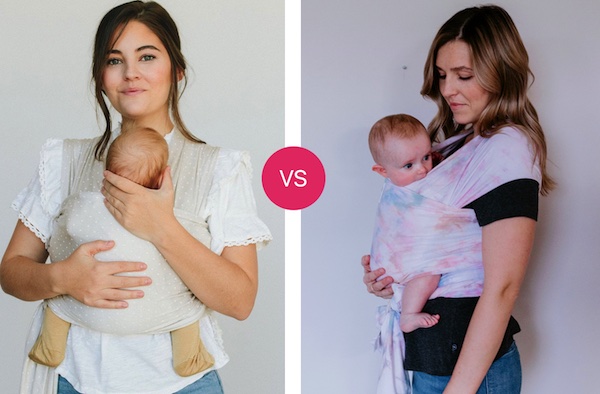 Solly Baby Wrap comes in one size – it's a 5.5 yards / 5 meters long piece of fabric. It fits plus-size moms wearing sizes 18-22 (it should be okay for size 24 too).
It's important to notice that Beluga Wrap is shorter: 4.6 yards / 4.2 meters. The brand recommends it up to size 20/22 (ladies size). You can also purchase longer version of Beluga Wrap if you need some extra length (5.2 yards / 4.8 meters).
If you're petite and you're debating between Solly and Beluga wraps, the latter option may be a better fit – there would be less fabric around your body. As some moms say "it's better not to have a much of excess fabric to deal with".
For parents with larger frame I think Solly Baby is better choice because it's longer and more breathable.
If you want to share your baby wrap with other caregivers who have much different body type than you do, Solly Wrap is better choice (you could also get extended version of Beluga, but it's much more expensive).
Price
Solly Baby Wrap and Beluga Baby Wrap are in the same price range, although some colors of Beluga are $5 more expensive than Solly.
However, if you're looking for longer wrap that would fit chubbier person, Beluga is even more expensive than Solly ($12 pricier).
What I love about Solly Baby is their awesome promotions. If you decide to get your wrap now, you can save a few dollars! > You can grab your 10% discount here <
As far as I know, Beluga doesn't offer any discounts or bundles right now.
Reasons To Buy Solly Baby Wrap
Extremely lightweight and breathable – If you live in hot and humid climate with 80+ degree weather for majority of the year, this is a perfect solution. It won't make you feel hot or sweaty. If you live in mild climate, you will appreciate that you can dress as usually under the wrap.
It's really easy wrap around your body – according to many parents it's easy to get the right fit and tightness.
It's comfortable to wear – the weight distribution is even and it doesn't strain your shoulders or back. Plus, it's buttery-soft and delicate for baby's skin.
Lots of pretty and adorable prints – You can find some stylish and fashionable design, as well as neutral and classic prints. You'll definitely find one (or a few!) that will suit your outfits.
Great investment – Babywearing in a wrap has so much benefits and it frees your hands. Once you get a good hang of it, you'll be using your Solly Wrap all the time throughout the first year!
What To Keep In Mind
Because the Solly is less stretchy than Beluga, it may be slightly more difficult to nurse in it. It keep the baby snuggly, so you can be sure they are safe and secure. But when you want to breastfeed you have to loosen it and adjust, so it takes more time and hassle, plus you may feel your baby's position is not secured or ergonomic anymore. However, this may be related to your breast size – if your breasts are on the smaller size, you probably won't experience issues with nursing at all!
You may also want to read my other wrap comparisons:
Reasons To Buy Beluga Baby Wrap
Ultra-soft fabric – it feels so cozy and nice to the touch. You and your baby are going to love it!
Lightweight and breathable – even though I found it slightly less airy than Solly, it's still a fantastic choice for warm weather and hot climate. It will prevent both of you from sweating and overheating.
More convenient for breastfeeding – it's so stretchy that you can easily find a good position for nursing, without readjusting or loosening the fabric. Your baby stays in ergonomic position with good support and you can nurse with no hassle. It makes breastfeeding easier especially for moms with larger breasts.
Lots of colors to choose from – there are 10+ colors and prints in Beluga collection so I'm sure you find something that will suit your taste.
What To Keep In Mind
Some parents say that Beluga feels a little too stretchy. It may be hard at the beginning to get the right tightness (moms say that they have tied it too loose or too tight first few times). Moreover, if you have a fussy baby or he/she likes to wiggle a lot, you need to be more careful because Beluga has more give in it. Some babies are able to wiggle in it too much, or take their arms and shoulders out of it.
Solly Baby Wrap Review
The wrap by Solly Baby is designed for wearing baby on your front, facing inward. You can use it from birth up to 25 lbs. According to parents who own Solly Wrap, it's mostly useful for the first 9 months, although some parents have used it throughout the first year.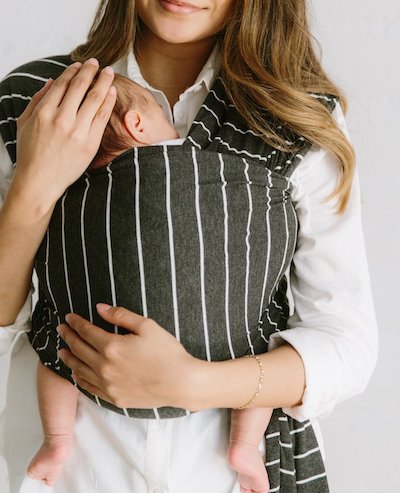 Solly Wraps are manufactured in Los Angeles. They are made from silky soft material which is really thin, lightweight and crazy breathable! It wicks away the moisture and allows the air to circulate through to keep you and the baby dry. It's so much more breathable than majority of baby wraps and carriers (which are usually made of cotton or polyester).
Parents who live in hot and humid climate (e.g. Miami) say that Solly Baby Wrap is THE BEST baby wrap for summer and warm weather. Mommy and baby don't get sweaty or overheated which allows them to enjoy babywearing for longer periods.
Solly is 5.5 yards / 5 meters long so there's plenty of fabric even for plus-size parents. Moms wearing ladies size 22 say it fits them really well (it should also fit size 24).
Whether you're petite or have a larger frame, or want to share the wrap with other caregivers who have a different body type, Solly Baby Wrap will work perfect – it's long enough to adjust to all body types!
BTW, even though Solly is long, it folds down really neatly and it has built-in storage pocket. When it's folded, it's a size of a wallet, so it easily fits in any diaper bag.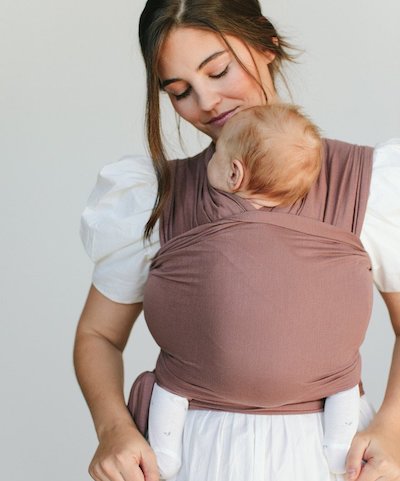 Once you practice tying a few times, it's really easy to put Solly Wrap on and adjust it. It keep the baby in natural spread squat position with M-shaped legs. It supports baby's legs (from knee to knee) and reduced the risk of hip dysplasia. It doesn't force the baby to sit in unnatural straight position, on the contrary it allows the baby to maintain naturally rounded back (C-shaped spine).
Solly is super comfortable to wear and according to parents who own it, the weight distribution is even and you don't feel any pain in your shoulders, back or pelvis. Some parents use Solly everyday for several hours and agree that's it's SO COMFORTABLE and it feels so lightweight to carry the baby around!
Parents also agree that Solly Wrap helps to soothe fussy infants and some of them instantly fall asleep in it. The wrap keeps the baby cuddled securely against your chest – it's so nice and cozy, just like in the womb.
And when the baby is calm and happy, mama can finally have a moment for herself, play with other kids or do some household duties. Parents who own Solly Wrap agree that it's a lifesaver and with your hand being free you can do so much more around the house. Previous customers recommend Solly Baby Wrap to new parents, as well as parents of multiple children.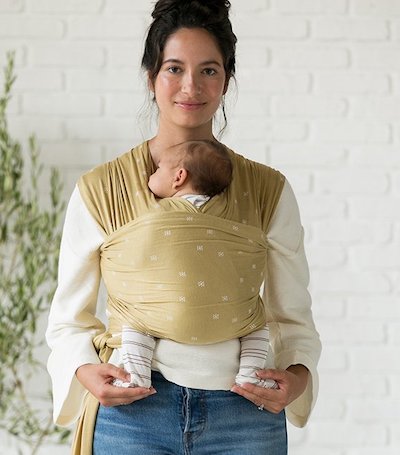 There's one more thing that parents love about Solly: it comes in multiple color versions and all of them are SO BEAUTIFUL!
Parents also rave about Solly Wrap quality and say that without it, they wouldn't be able to get things done.
Beluga Baby Wrap Review
Beluga Wrap is made from a blend of bamboo rayon, cotton and spandex.
According to many parents this baby wrap has much more give in it than other stretchy wraps. On the one hand it's a huge benefits because you can easily nurse while wearing it, plus it's elastic enough to support bigger babies without squeezing them in. Lots of moms say that this stretchy wrap is perfect if you have bigger breasts and want to breastfeed.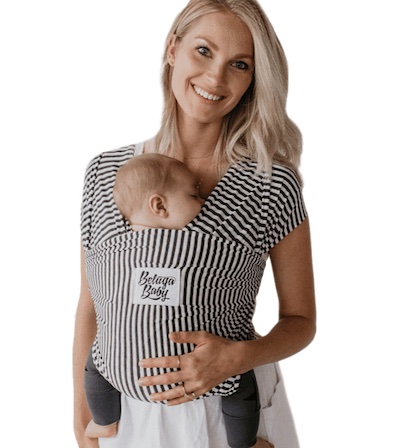 However, the flexibility of this wrap makes it a bit more difficult to tie at the beginning – it takes more time to learn how to get the right tightness (to prevent baby from sinking in it). As one mom wrote "it took some time to get used to the stretch".
The good thing is that Beluga Baby has shared a few tutorial videos and parents say they have helped them a lot.
Keep in mind that because Beluga Wrap is so stretchy, older infants who wiggle a lot may be able to take their arms and shoulders out of it or change position. Keep an eye on that.
Parents rave about Beluga Wrap breathability and agree that it works well for summer weather. Another advantage is that the wrap feels so soft and cozy, while still being very supportive and strong.
Beluga Baby Wrap is suitable from birth up to 25 lbs and most parents say it has served them until baby's first birthday.
With Beluga your can wear your baby on your front, facing inward (stretchy wraps cannot be used in other positions).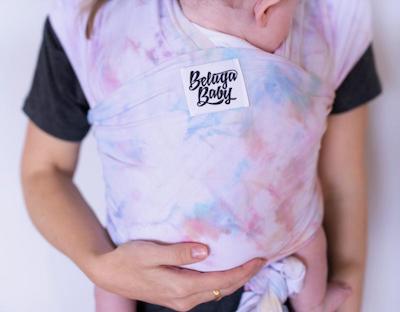 What's important Beluga Baby Wrap has been recognized as hip-healthy by the International Hip Dysplasia Institute. This means that (if your use it properly) it keep the baby in ergonomic and healthy position called spread squat (or frog position) with M-shaped legs and C-shaped spine.
This position ensures proper support for baby's legs, hips and back and allows their hips develop at natural pace. There's no pressure on baby's hip or shoulder joints and the risk of hip dysplasia is decreased.
Lots of parents say that Beluga Baby Wrap is so cozy, that it immediately soothes their fussy little ones and they love napping in it.
Mamas love wearing their little ones close to their heart with Beluga Baby Wrap. It's keeps the baby so snuggly, and it feels really comfortable for the wearer too. It distributes baby's weight evenly across mom's body, without putting pressure on their shoulders, back or hips.
Lots of moms use Beluga Wrap for a few hours each day and confirm it feels comfortable and don't cause any back pain.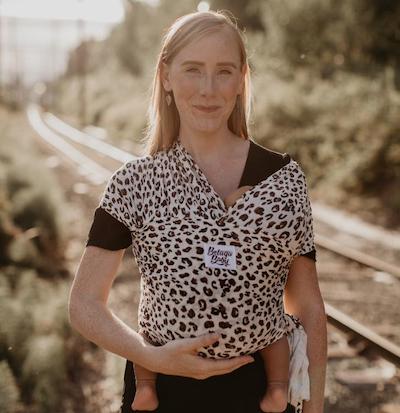 According to Beluga Wrap owners it's a game-changer for new moms and helps them to get things done around the house, make dinner or do groceries while their baby is sleeping soundly on their chest.
It's a life saver for moms of 2+ children too, because it helps you to keep up with the rest of the kids. Some moms also say that babywearing with this wrap has helps them to deal with post-partum anxiety.
Beluga Wrap comes in two sizes. Standard size is 4.6 yards / 4.2 meters long and it works well for moms wearing size 20 (or even 22). If you need some extra fabric you can choose Extended Beluga Wrap which is 5.2 yards / 4.8 meters long. Both versions are available in lots of cute colors, and are handmade in Canada.
---
The purpose of this article is informative and entertaining. It's not a substitute for medical consultation or medical care. Remember: safety first! The author of this article does not accept any responsibility for any liability, loss or risk, personal or otherwise, incurred as a consequence, directly or indirectly, from any information or advice contained here.
Source of pictures: