Looking for the best nursing pajamas or night dress that will keep you comfy throughout pregnancy and beyond? I pick the most comfortable sleepwear for new mamas – which you can wear at home & at hospital!
This article is not a substitute for medical advice. It contains affiliate links.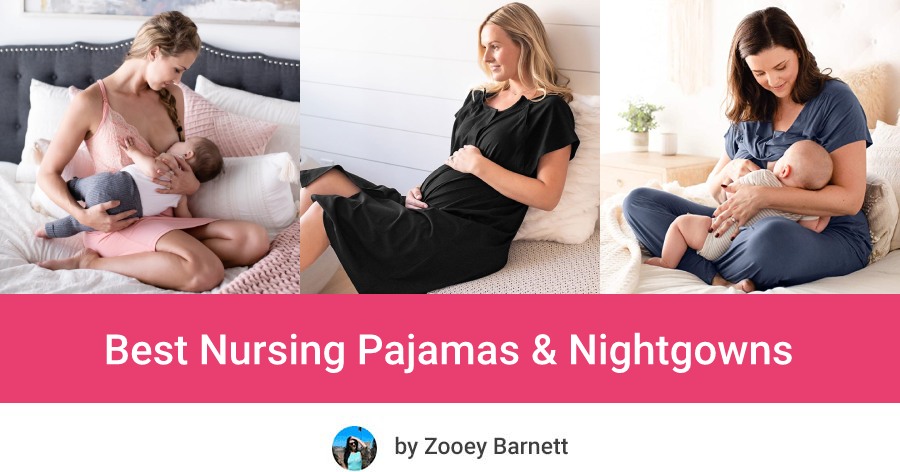 Comfy nursing nightgown or loose maternity pajamas are a must have! They will not only keep you comfortable during and after pregnancy, but they will also make you feel more pretty.
Besides, being able to wear a beautiful, cozy pajamas or nightie at hospital, will make you feel "normal" and may give you confidence boost! There are so many lovely nursing pajamas to choose from – and they are so much better than tatty hospital gowns.
And then, when you're resting at home with your newborn baby, sleeping or lounging in your new, soft and cute pajamas will feel so much better than wearing those old, worn out pants and stained tops.
So how to pick the best nursing pajamas and what features to look out for? Keep on reading and I'll explain everything to you.
Best Features
❤️ Soft, stylish and versatile pajamas for pregnancy, postpartum and breastfeeding.
❤️ Beautiful nightie with romantic lacy neckline. Provides good support for breasts and gives lots of room for growing belly.
❤️ Great, cheap, basic pajamas with nursing top and shorts with adjustable waistband.
Best & Coziest Pajamas
Best Features
❤️ Soft, stylish and versatile pajamas for pregnancy, postpartum and breastfeeding.
Best Nightgown
Best Features
❤️ Beautiful nightie with romantic lacy neckline. Provides good support for breasts and gives lots of room for growing belly.
Cheapest Pajamas
Best Features
❤️ Great, cheap, basic pajamas with nursing top and shorts with adjustable waistband.
Last update on 2022-09-26 / Affiliate links / Images from Amazon Product Advertising API
9 Best Nursing Nightgowns & Pajamas For Pregnancy, Labor, Postpartum & Breastfeeding
Here are the most comfy maternity & nursing pajamas with tops and pants, as well as the best nursing nightgowns – chosen and recommended by moms.
This ultra-soft maternity pajamas will keep you comfy all night long. It's designed to make nighttime feedings easier and it looks so stylish that you can even wear it outside the house!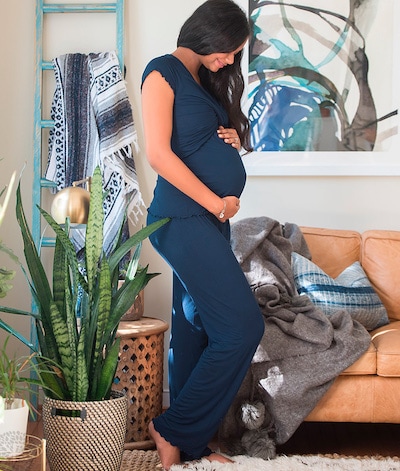 The material is silky soft and lightweight to keep you cool throughout the night. Loose pants have wide waistband so they are comfortable to wear during and after pregnancy. You can wear the band high up or below your belly (or C-section scar). It won't dig in or rub your skin. I think it's a huge advantage. These pants have also useful pockets.
Short-sleeve ruched top with double-layered fabric makes breastfeeding in the middle of the night so much easier. You can simply take your breast out through the openings when your little one wakes up for feeding. If you're wearing a nursing bra to sleep, you will have a quick access to it as well.
These nursing Pjs fit moms wear sizes 2-18.
Lots of moms use this nursing pajama set as loungewear – it's so comfy, soft and breathable, you will never want to take it off! From my experience, these nursing pajamas are perfect for pregnancy, right after birth and throughout the breastfeeding journey. These are also fantastic pajamas for the hospital.
PRO TIP: If you'd prefer more slim-fit nursing sleepwear, I recommend you these Kindred Bravely Jane Nursing PJs. Long pajama pants and long sleeve top fit snugly and keep you warm throughout the night or when you rest during the day. This cozy sleepwear can become your loungewear or long underwear – whenever you need an extra layer. I love the top, which has openings for easy nursing access. By the way, last time I checked some colors were 20% OFF – check here if the sale is still on.
This is nursing nightgown is my ABSOLUTE FAVORITE and here's why.
It's made from a soft and light fabric, so it's ultra comfortable to wear. It's not too thick so it won't make you sweaty at night. You can easily nurse in it, because it has convenient clip-down cups – just like your nursing bras! It's easy to unclip the cup with one hand – you won't have to struggle with it when your baby wakes up at 2 a.m. for nighttime feeding.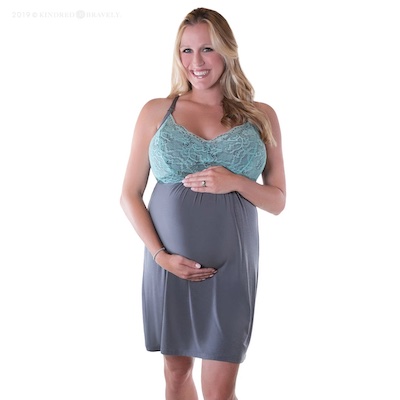 Thanks to racerback design, the shoulder straps always stay in place and don't fall down.
The cups have inner side slings that provide light support – exactly what you need at night. They will keep your breasts slightly lifted, but not squeezed or tight.
This nightgown has empire waist so there's lots of room for growth. Whether you have a growing baby bump or postpartum belly it will fit you well. I love the fact that there are no bands that would dig in or hurt you.
Mamas rave about this cute nightie and how good they feel in it.
It has flirty lace bodice with racerback, and it comes in 3 beautiful colors. I think the black version is the best, it looks so beautiful with its flattering neckline!
If you're looking for feminine maternity nightgown it's one of the best options. And it's quite affordable which is also important because as a new mom you will have tons of expenses.
The only downside I found in moms' reviews is that the cups don't provide full coverage for larger breasts. Other than that moms seem to love this nightgown – they say it's lovely and makes them feel sexy.
If you're on tighter budget, I recommend you this simple nursing nightgown by Motherhood Maternity. This is one of my favorite brands for maternity clothes, nursing pajamas and underwear, because they offer great quality at an affordable price.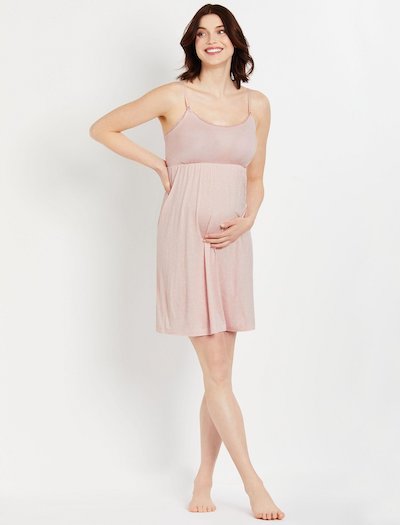 This jersey knit nightgown feels crazy soft and cozy. What distinguishes it, is its fabric – it's made from a rayon which is much more breathable than synthetic fabrics like viscose or polyester. What does it mean for you? It will keep your skin dry and comfy, even during summer nights.
Besides, this type of fabric has also moisture wicking properties and allows the air to circulate through. You won't feel sweaty and sticky in these pajamas! Touch of spandex makes also makes them stretchy, therefore the gown easily expands as your belly gets bigger. And thanks to empire waist, there are no bands or stitches that would dig into your baby bump.
Generally speaking, this nightie is designed for relaxed fit, it's not tight and there are no pressure points. I think this is perfect sleepwear for pregnancy, postpartum and beyond because it easily adjust to your changing body shape.
It has narrow, adjustable shoulder straps with clip-down function for easy nursing access.
There are built-in pads to prevent leaking – this is really cool feature, because you WILL LEAK a lot during the first few weeks before your lactation settles down. Inner side slings will support your bust. But of course you can also wear your nursing bra under this nightgown, if your breasts need extra support, lift and protection from leakage.
PRO TIP: If you're not used to wearing a bra to bed, but you'd prefer nightgown that provides more shape and support for your bust, I recommend you

this nightie with molded cups

. The top part looks basically like a maternity bra! It will provide extra support for your bust without squishing it. It will also keep your breasts lifted a bit and separated (no mono-boob). This may be a better choice if you have larger and heavier boobs. Nursing in this night dress is also very simple, thanks to clip-down openings.
This maternity nursing nightgown is available in 4 sizes and 5 lovely color versions. In my opinion the pink and black ones look really pretty and romantic with decorative lacy neckline. If you want to add some flirty look to your sleepwear, without spending a fortune, this is an awesome choice!
This is another great nursing nightgown at low price. It's designed to make you feel comfy during and beyond pregnancy. Lots of moms have packed this nightie in their hospital bags to wear it before and after the delivery.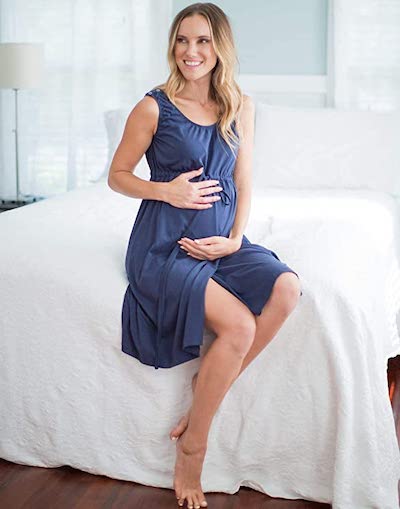 Baby Be Mine Nursing Gown has sewn-in adjustable empire waistline – you can tighten or loosen it, depending on how big is your belly. You'll be able to always find the perfect fit. There is also elastic neckline.
Both shoulder straps have snaps for easy breastfeeding and skin to skin contact. You should keep in mind one thing – there's noting to hold the back strap up so it may fall. It may be a bit hard to snap it back up, especially if you had C-section and feel pain when trying to twist.
Other than that, this maternity and nursing nightgown is awesome and has lots of useful features. There is a discreet front flap which allows you to move freely around the house or hospital without flashing, but it also ensures quick and easy access for fetal monitoring, ultrasound or other medical examinations.
There are also snaps in the back along its entire length which offer you full coverage and give quick epidural access.
Some moms noticed that various color versions feel differently. The single-color night dresses (like the black or grey ones) are noticeably softer and made from more stretchy fabric than gowns with prints – which feel a bit stiffer. Keep that in mind when choosing colors.
By the way, Baby Be Mine Nightgown is available in multiple cute designs and patterns. My favorites are: grey, sky blue and navy blue. These labor gowns are designed to fit different body types, they work for plus size mamas really well too (pre-pregnancy size 22).
This is an awesome cheap pajama set which can be used also as loungewear. It includes short sleeveless top and shorts with adjustable waistband. The quality is surprisingly good for the price.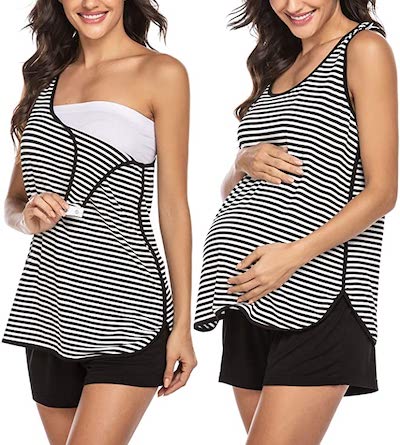 Loose nursing tank short has snaps on both to make midnight breastfeeding effortless. You can easily pop your breast out – it's really simple to do even when you're half-awake!
You can also wear a nursing bra underneath the top if you prefer to. With clip-down shoulder straps you will always have easy access to your bra. I think that sleeveless tops are much more breastfeeding-friendly than T-shirts with openings for breasts, because they are easier to use if you like to sleep in a bra (and most nursing moms do!).
There are a few color options and patterns to choose from. I think the tops with strips are best – they look stylish enough to be worn outside the house!
What moms really love about this Ekouaer maternity pajamas are the shorts. They have adjustable waist so you can always adjust the size to your growing belly during pregnancy. The waistband is also easy to contract, so when you start to get back into shape after having the baby, you'll still be able to use this nursing sleepwear.
The extend the bottoms basically up to 5XL and as small as M size! It's so great to have adjustable short because your weight and the shape of your pregnant and post-pregnant body will change a lot. Some moms complain that it takes a while to figure out how to adjust the bottoms. But once you get a good hang of it, it's really simple.
Mamas seem to like these nursing pajamas for being soft and very comfortable, especially in the last months of pregnancy. However, some women complain about the shorts looking a bit weird. They are extremely functional, and thanks to the adjustment they are useable for a very long time, but they are not really fashionable.
This labor gown is so much more comfortable and cozier than tatty hospital gowns and moms love its convenience features.
It was designed with your comfort in mind – it's soft like your favorite T-shirt, but it's also functional and has all features that health care professionals recommend.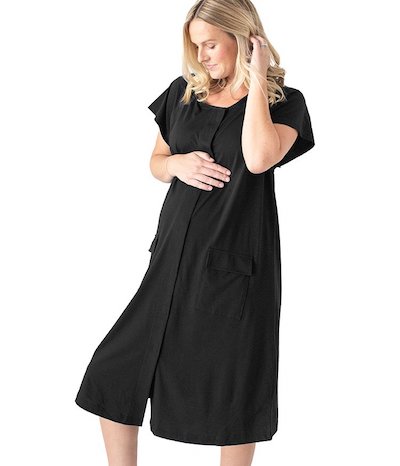 It has front and back openings with Velcro closures along its entire length. It's way more comfy and gives you more discretion than gowns with strings at the back which don't fully cover your body. This means no one will see your butt as you walk around the maternity ward (I hate hospital gowns for that)! Besides, the strings are usually hard to tie and dig into your skin when you lie down – Velcro is way better solution here.
You can open the front completely when it's time for ultrasounds, fetal monitoring, or when the doctor checks your C-section incision. It also allows you for skin-to-skin contact with your newborn baby which is extremely important for both of you.
The back of the gown also opens fully and ensures easy epidural access.
There are also openings with snaps along both shoulders which give you quick and easy access to your breasts. This gown makes it easy to nurse when you're in hospital. Besides, it's so functional that mamas love to wear it when they are back at home, during the postpartum period. It's so soft and cozy.
The thing that mothers love most is the fact that they can have their own comfortable gown when they are in pain, with easy access for epidural, C-section and breastfeeding after delivery.
The only complaint that I found in online reviews is the fact that Kindred Bravely delivery gown is rather not for plus-size moms.
Make sure to check sizing chart before you decide to purchase it. The gown comes in two sizes. Smaller one fits baby bumps up to 45 inches, while the bigger version fits baby bumps up to 51 inches.
By the way, you can choose from 4 color versions, my favorite one is the Grey Heather. It's not flashy, but it's also not as "sad" as hospital gowns.
PRO TIP: If you'd prefer a delivery gown that looks even more stylish and feminine, I recommend you this Motherhood Maternity Women's 3 in 1 Gown – for labor, delivery and nursing. It has openings with snaps at the back and front that ensure convenient access for medical examination or during labor. If will give your the comfort and coverage you need when you're at hospital, as well as when you're recovering at home.
If you're looking for pajama set with robe that won't cost you an arm and a leg, this sleep set by Motherhood Maternity is probably the best option!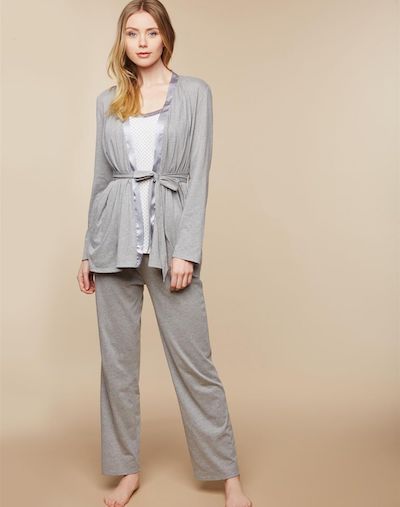 Loose pajama pants have wide, stretchy waistband – it won't rub your skin or dig into your pregnancy or postpartum belly.
Sleeveless nursing top has narrow, adjustable straps with clips that ensure easy access for breastfeeding. According to mamas this type of top is best for breastfeeding, and much more convenient than T-shirt with openings. When you need to nurse in the middle of the night, the clips will be easy to operate with one hand.
The top has also built-in shelf bra that provides extra lift for breasts. I really like that it only provides light support and not TOO MUCH support. It's not tight and it doesn't squeeze your breasts – this is the last thing nursing mama needs during the night!
These maternity pajamas come with a satin trim robe that you can tie above your belly. It's long enough to cover your bum. It has flattering look and it's so cozy that mamas don't want to take it off! The robe will give you extra discretion when you're in hospital or when the guests visit you and your newborn baby at home.
Another reason to love Motherhood Maternity nursing sleepwear is the beautiful and stylish design. The top has V-neck with decorative satin trim. Moreover, these maternity pajamas are available in 3 colors. They are gorgeous and not flashy at all. You will feel so pretty wearing this sleep set! It also feels super soft and cozy – just perfect for lounging around the house.
The only complaint I've found about these maternity nursing pajamas is the shelf bra – not all women like it. Some of them would prefer to wear their favorite nursing bra underneath the top. Other moms say the built-in bra is really comfy and supports the bust well during the night.
Overall, I think these are one of the best nursing pajamas – they are functional, comfortable, beautiful and pretty inexpensive.
Ekouaer nightie is one of the cheapest best nursing pajamas out there. You can wear this flattering dress throughout the pregnancy and when you breastfeed your little one.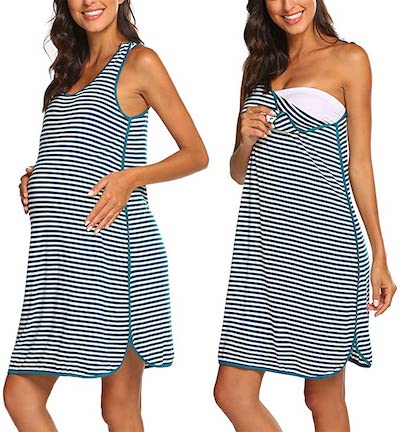 This maternity nightgown has pretty simple design. It's designed for a loose fit. Thanks to soft and stretchy fabric, it hugs your changing body and growing belly, without being too tight or restrictive. This silky soft fabric feels really light and breathable and doesn't wrinkle. I went through mothers online reviews and it seems like most of them agree that this nursing nightgown is incredibly comfortable!
Each shoulder strap has two snaps for easy breastfeeding. It will also make skin-to-skin contact easier. Keep in mind that you may need to twist a bit to fasten the straps back up, which may be a bit hard after the delivery and C-section. I do prefer pajama tops and night dresses with clip-down straps, but I'm not going to complain about the snaps – this is a small drawback for such a cheap nursing nightgown.
Although the back doesn't open for epidural placement, this night dress is still pretty good choice for the hospital – it's loose enough to ensure easy access for medical examinations. You can wear it before and after the labor.
There's one more thing that women like about this maternity nursing nightgown – it looks so cute! Whether you use it as a sleepwear or loungewear, you will feel pretty and comfy in it.
And because it's pretty inexpensive, mamas usually get 2 or 3 dresses, in case one gets ruined with blood stains or to always keep one available when the other needs to go to the wash.
This is one of the best nursing pajamas. It comes with full length pants, nursing cami with racerback design and matching robe. It's rather on the higher end, but according to previous customers it's worth the splurge. One of the mamas who have bought Cosabella PJs even wrote "every new mom deserves to treat herself to this beautiful pajama set".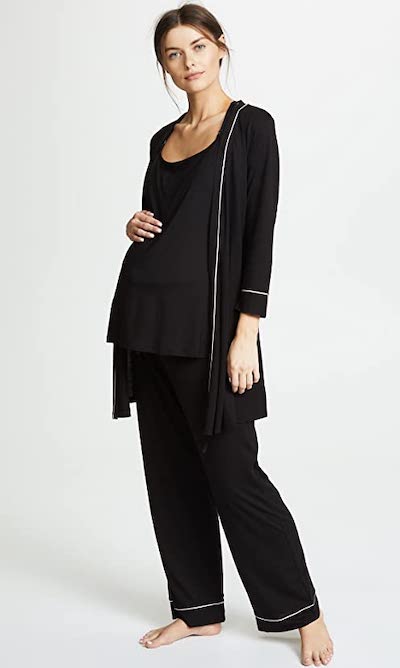 Lots of new moms feel "blah" after the delivery, and these cute maternity nursing pajamas makes you feel feminine and pretty again.
Besides, it looks stylish and conservative enough, so you could wear it when you have guests.
Lots of moms said that it was wonderful to have this gorgeous set and not to be in the hospital gown all the time.
It's made from a blend of modal and cotton, which makes it buttery soft, lightweight and breathable. It doesn't irritate delicate skin or rub sore nipples. The fabric has just the right amount of stretch in it, therefore it will fit you well during pregnancy and postpartum when your body changes a lot. Pants has elastic waistband so they are comfy to wear with a growing baby bump and then when your body heals after the delivery.
Besides, mamas recommend getting the black version – just in case you accidentally bleed through a bit. But you don't have to worry about blood stains – Cosabella nursing pajama set washes really well! What's also important, even after frequent washing it holds up nicely.
The cami adjustable clip-down straps for quick nursing access. They will also make pumping much easier. Thanks to racerback style, the straps will stay in place when you breastfeed and won't slide off.
There are also built-in slinged cups that provide light support and lift.
What I also like about this nursing pajama set is its relaxed fit – there's plenty room for your baby bump or postpartum belly and nothing digs in.
---
The purpose of this article is informative and entertaining. It's not a substitute for medical consultation or medical care. Remember: safety first! The author of this article does not accept any responsibility for any liability, loss or risk, personal or otherwise, incurred as a consequence, directly or indirectly, from any information or advice contained here.
Source of pictures:
Picture at the top of the article was created with photos that belong to Kindred Bravely brand. All pictures of Kindred Bravely pajamas and gowns belong to Kindred Bravely brand. Source: https://www.kindredbravely.com/
Pictures of Motherhood Maternity sleepwear belong to Motherhood Maternity brand: https://www.motherhood.com/
Picture of Baby Be Mine night dress belongs to Baby Be Mine brand. Source: https://www.babybeminematernity.com/
Pictures of Ekouaer nightwear belong to Ekouaer brand. Source: https://ekouaer.net/
Picture of Cosabella sleepwear belong to Cosabella brand. Source: https://www.cosabella.com/