Parents love lightweight strollers that are suitable for newborn babies. In 2019 we all have more options to choose from as Baby Jogger City Tour 2 hit the stores in February, as an upgraded version of the original City Tour stroller.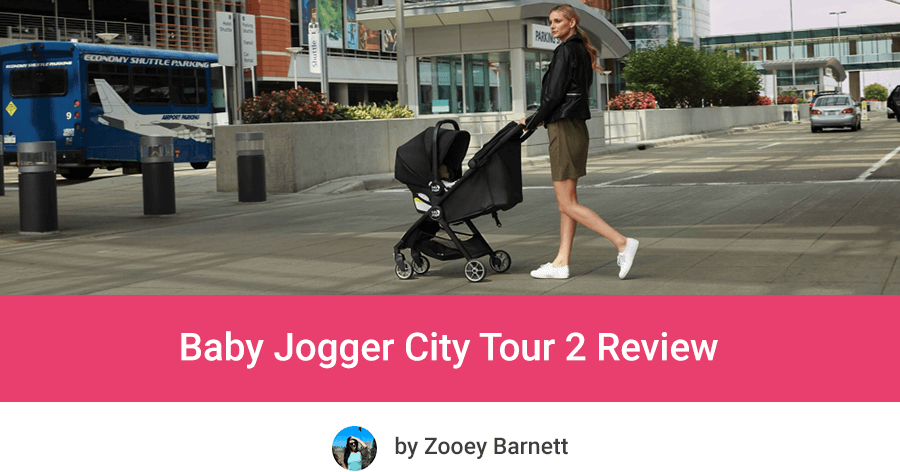 This post contains some affiliate links. Please read my disclosure for more information.
I'm a fan of Baby Jogger brand, because it's a guarantee of a high-quality at a reasonable price. And I'm very happy that every few years they upgrade their iconic strollers to answer parents requests.
In 2019 Baby Jogger launched the new version of their famous lightweight stroller. The upgraded Baby Jogger City Tour 2 2019 has a few nice features that parents were waiting for.
Last year Baby Jogger made a different version of City Tour – City Tour LUX which is a bit bigger and looks different than the original stroller. On the other hand, the new improved City Tour 2 has very similar appearance to the original model, but includes lots of new functions.
Let's see what this new lightweight stroller can offer you and your little one.
Baby Jogger City Tour 2 2019 Review – All New Features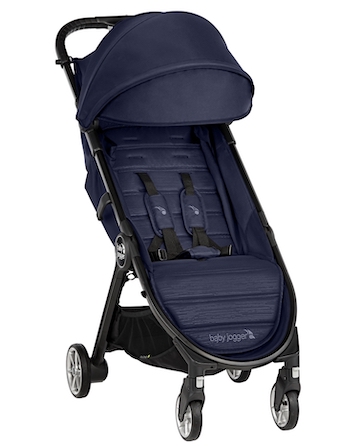 This is not a completely new model, it's very similar to the original City Tour, but the upgrades for 2019 are major and can make City Tour 2 your only stroller.
Before I move on to my review of City Tour 2 stroller, a few technical details. I divided this article into two section – in the first part I will show you all the new features, then in the second part I will briefly present the functions that haven't changed.
At the end you will find my ultimate comparison of Baby Jogger City Tour vs Baby Jogger City Tour 2 vs Baby Jogger City Tour LUX. It should help you to decide which of these 3 strollers will suit you best. I invite you to read my reviews of other strollers as well. Here's LUX and here's the original City Tour.
Baby Jogger City Tour 2 is suitable from birth
This is the biggest change that we can find on this upgraded model. If you're familiar with the original Baby Jogger City Tour you probably know that some parents complained about the lack of seating options for newborn babies.
The brand listened to all those complains and the new Baby Jogger City Tour 2 can be used from day one. You have two different seating options for your newborn baby.
Bassinet
This is another important change – the new Baby Jogger City Tour 2 2019 can be used with a carrycot.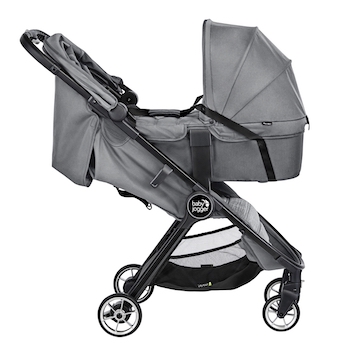 To attach it, you will have to recline the seat first and then install the adapters onto the frame. The bassinet simply clicks in.
Of course this accessory is sold separately (you can find it here).
Infant car seat
Yes! Baby Jogger City Tour 2 accepts infant car seats! It's a great news.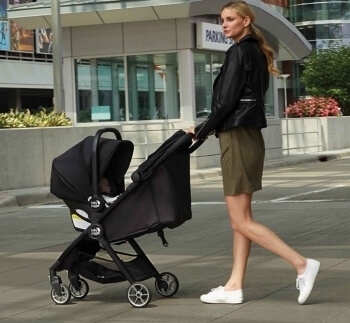 To convert this stroller into a travel system you will need special adapters that will allow you to click-in the car seat.
As for now, there are adapters for Baby Jogger City GO and Graco Click Connect infant car seats. You can buy them here.
It's a very convenient solution for parents who don't want to buy a large pram only for the first few months (or simply don't have enough space for it at their home). Thanks to this important upgrade you can use City Tour 2 from day one with an infant car seat and quickly move your baby from the car to the stroller.
Baby Jogger City Tour 2 has deeper seat & adjustable leg rest
This is great news for Baby Jogger fans! The new model finally has deeper seat – something that all parents were really waiting for!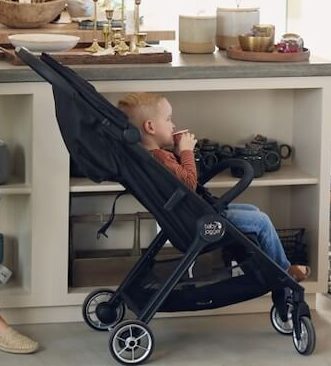 There were many complains about the original City Tour seat being too shallow – lots of parents were saying their kids are literally slipping off the seat. This won't be a problem any more. 2019 Baby Jogger City Tour 2 has increased seat depth and it's more comfortable for toddlers now.
Moreover, now the leg support easily flips up and down. Thanks to this function, this lightweight stroller is perfect for a nap on the go.
Whether you want to use City Tour 2 for a small infant or a toddler who still needs his nap during the day, they will be able to prop their feet up and lie comfortably.
I'm really glad that Baby Jogger added this features.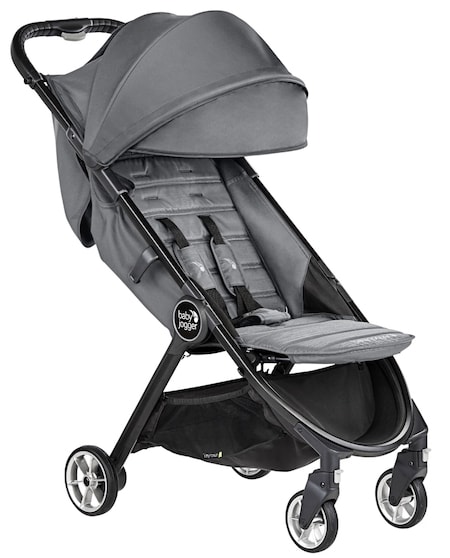 Baby Jogger City Tour 2 has upgraded folding mechanism & different fold size
When collapsed, the stroller looks the same way, but the folding mechanism is a bit different. Now you have two buttons on the handlebar (instead of one) – you need to slide the top button to the side and then press the lower button to fold the stroller.
This advanced folding mechanism is similar to the one we can find on the UPPAbaby MINU.
Once you deal with the buttons, the folding process looks exactly the same as on original City Tour. The stroller folds down into a small package and locks automatically. All is doable with one hand. Unfortunately, City Tour 2 still doesn't offer self-standing fold.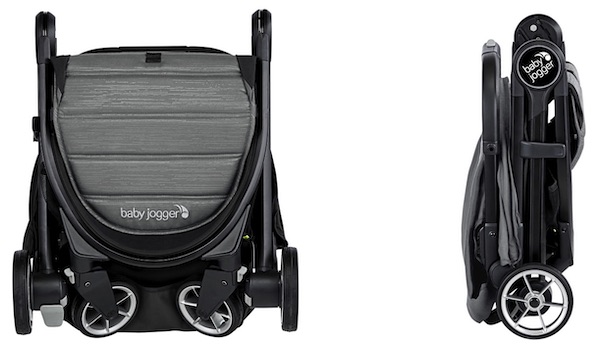 Fold dimensions are slightly different. When folded, Baby Jogger City Tour 2 2019 is: 21.6″ L x 16.9″ W x 6.8″ H. So it's actually a bit smaller and flatter. The weight hasn't changed – it's still slightly above 14 lbs!
Great thing about this stroller is that it comes with a travel bag so you could easily carry it in the museum, Disneyland, at the airport or simply down the stairs in your apartment building. It also makes storage much more simple and protects the stroller from dust.
There is one thing that you should know about this travel bag – it has one shoulder strap, in contrast to the old City Tour bag which had backpack-style straps. Some parents say it's rather a downgrade than an upgrade.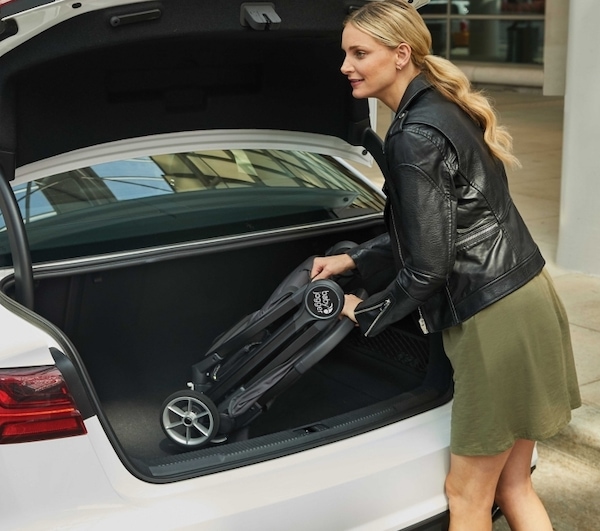 Baby Jogger City Tour 2 has new colors
This is the only thing that has changed, when it comes to City Tour 2 appearance. Now the stroller looks more stylish and the fabric is a bit shinny. There are three colors in the catalogue: Jet (black), Seacrest (dark blue) and Slate (silver). On Amazon you can check which ones are currently available. Personally, I like the Seacrest the most, but that's just my opinion. 🙂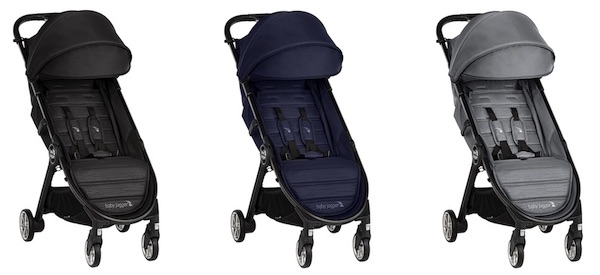 As you can see the bigger difference between original Baby Jogger City Tour and the new upgraded Baby Jogger City Tour 2 is that the latter one is designed not only for toddlers, but can also accommodate newborn babies.
Baby Jogger City Tour 2 – Features That Haven't Changed
Not all features has been redesigned or upgraded, some are the same as on the original version of Baby Jogger City Tour.
Near-flat recline
This new stroller for 2019 features deep recline which is very impressive as for such a small stroller. It's not fully flat though.
The recline mechanism is still the same as on old model – buckle with straps – that can be operated with one hand when you lower the backrest, but with two hands when you raise it. This is probably the most common mechanism in low-budget and medium-priced strollers.
Canopy
This new model has the same, UV 50+ canopy with three extendable panels, sun visor and peek-a-boo window. The shape is a bit different, but overall size and the amount of shade it provides is the same.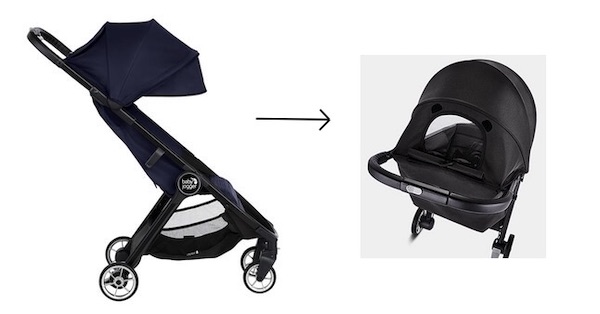 Handlebar
The handlebar has fixed height which means you cannot adjust it to your height. In my opinion it's most comfortable to push for short and average parents, for a tall person (over 6ft) it may feel a bit too low.
What I like about this handle is that it's rubberized, just like on the original City Tour stroller. No foam covers that would easily tore apart.
Wheels
Just like the previous version, Baby Jogger City Tour 2 has rather small wheels that are suitable mostly for flat surfaces, but short grass or cobblestone shouldn't be a problem for them either. Front wheels are also lockable, which gives the stroller more stability on rougher surfaces.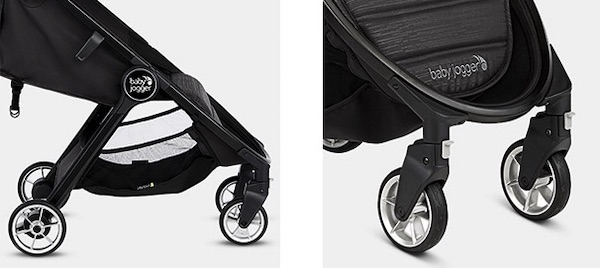 This is a city and travel stroller so don't expect it to handle sand or gravel. Oh, and keep in mind that "Baby Jogger" is just the name of the brand – this stroller is definitely not designed for running.
Storage
The basket underneath the seat stayed the same. It's not tiny, but not large either. It's just sufficient for a medium diaper bag.
According to other parents who own this stroller the basket is decent as for such a compact stroller. However, some of them point out that the material could be stronger and more durable.
Specification
Baby Jogger City Tour 2 2019 – Release Date
Baby Jogger City Tour 2 launched in February 2019. It's available for example on Amazon, as well as on PishPosh Baby. Please keep in mind the availability and price of different colors may vary. I recommend you to check different online stores and see which colors are available and if there are any discounts available.
Pros & Cons
More pictures & videos of Baby Jogger City Tour 2
View this post on Instagram
View this post on Instagram
View this post on Instagram
Accessories
Baby Jogger City Tour vs Baby Jogger City Tour 2 vs Baby Jogger City Tour LUX (Comparison)

The biggest differences we can find between the original City Tour and City Tour 2. The new model has deeper seat (finally, yay!!), features infant car seat compatibility and can be used with a bassinet. Another difference between City Tour and City Tour 2 is that the latter one has adjustable calf support, upgraded folding mechanism and slightly smaller fold.
On the other hand, the new Baby Jogger City Tour 2 seems quite similar to the City Tour LUX, at least when we consider the features, not the appearance. So you may want to ask: what is the difference and which stroller should I choose: City Tour 2 or City Tour LUX? Major difference between these two models is weight and fold size. City Tour 2 is lighter than the City Tour LUX and features more compact fold. That makes it a better choice for parents who often travel by car, train or plane.
But City Tour LUX has some advantages as well. It has reversible seat which is super useful as the baby grows. The whole seat unit is removable, so when you want to use this stroller with infant car seat or bassinet, you attach it to the frame, not onto the seat. Of course, it requires removing the regular seat first which may be a bit annoying, but thanks to that the stroller doesn't get much heavier when you add the car seat or carrycot.
With City Tour 2 the carrycot and infant car seat attach onto the regular seat (here we don't have removable seat unit), so the stroller gets heavier in this configuration.
Price is another thing to consider – the old City Tour is the cheapest out of these three strollers, while City Tour LUX is the most expensive one.
Conclusion – Which Stroller Should You Buy?
Here is my opinion on who should buy which stroller:
Baby Jogger City Tour is a great choice for toddlers, especially those skinny and small ones, best up to 18-24 months. It works best as a second stroller or travel stroller. It's also good option for parents on a small budget, because since the other two models have been out, there are often great discount for this one.
Baby Jogger City Tour LUX is more luxury stroller that you can use from birth with additional attachments. It's lighter than many other everyday strollers, yet it includes one rare feature – reversible seat. It's also quite compact, but it's not a good choice for those who travel a lot and want to take their stroller as carryon.
Baby Jogger City Tour 2 is an improved version of City Tour stroller and thanks to new features it can be both – your primary stroller (with additional attachments), as well as a travel stroller. Now it's more comfortable for small infants, as well as bigger toddlers – thanks to deeper seat.
---
All pictures belong to Baby Jogger. Source: https://www.babyjogger.com
Your trust is really important to me: This post contains affiliate links. If you choose to buy something using these links, I receive a small commission, at no extra cost to you. Your support helps me run this blog. Thank you so much 🖤Zooey