What are the best baby spoons for serving your little one their first mashed-up foods? It's best to get a dedicated spoon designed with child's comfort and safety in mind!
Here you can find baby-approved and recommended by the experts best utensils for children starting solids, as well as the best baby spoons for self feeding and baby-led weaning.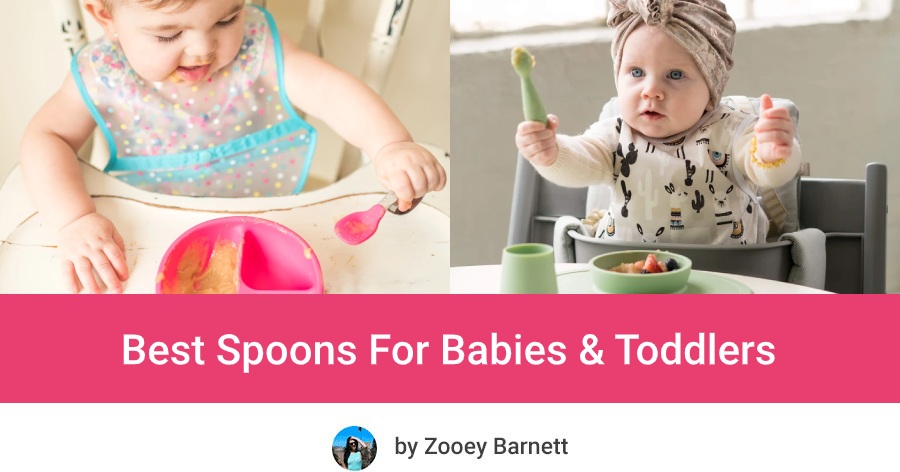 This article is NOT a substitute for medical advice. Content and pics may contain affiliate links.
In the blink of an eye your little bundle of joy is 6 months old and ready to start solids. It's one of the most important and thrilling developmental milestones.
Your baby can finally experience different tastes and textures and it's so exciting to watch them trying their first yummy purées.
When this exciting moment finally comes, it's best to have a few baby utensils to try. Why should you invest in a baby spoon, instead of using a normal teaspoon?
First of all, baby spoons are better choice because they are small and fit just right into wee ones mouth. They allow you to scoop just the right amount of food that your baby will easily chew and swallow.
Moreover, the soft tip of the spoon for babies, is gentle on their delicate gums (especially when they are teething). The best baby spoons double as teethers and allow the infant to massage their sore gums with it.
Baby spoons have an ergonomic handle that parents can conveniently hold while serving their children purées.
And when your infant gets older and wants to scoop their foods on their own, spoons that are specialized for self-feeding will be most useful, because they have special shape – easy to grab and manipulate for those tiny hands. This way the chances that food will end up in your little one's mouth, not the tray or floor, are higher!
Self-feeding spoons with ergonomic handle will come in handy at some point for parents who are following the baby-led weaning too.
My Personal Choice: EZPZ Tiny Spoons
Pic
Why

Get It Directly From EZPZ

Best feeding & self-feeding spoons
Soft silicone doesn't hurt baby's gums
Small spoon tip - ideal for baby's little mouth

Sensory bumps and raised rim prevents from gagging

Wide grip - easy to hold
It double as teether
Available in multiple cute colors
Now it's time to answer the questions: Which utensils for babies should you buy? There are so many options on the market, it can be a little confusing.
Do you go with plastic, silicone, bamboo or metal baby spoons? A shallow, deep or specialized tip? Short, long, curved, fatter or thinner handles? I know you may feel dizzy already!
You may have to try a variety of spoons before you find the one your baby accepts. But don't worry, whether you're looking for the first stage baby spoons or utensils for self-feeding, I prepared this Baby Spoons Guide to help you narrow down your choice.
Let's find out what are the best baby utensils on the market in 2022!
Which Spoon Is Best For Baby?
To help both the baby and the mom establish a pleasant eating routine, baby companies have come up with a variety of both toddler spoons and baby spoons. Whichever one you decide to get for your little one, here are some standard things you should always be looking for.
BPS, PVC, lead, latex, phthalate, BPA free – Most infant spoons nowadays are free of BPA and other potentially harmful substances, but always double check. BTW, all baby utensils that are sold in the US, must meet Consumer Product Safety Commission (CPSC) safety standards3 and must undergo tests at CPSC.
Dishwasher safe – choose a feeding spoon for babies that you can toss in the dishwasher, so you don't have to hand wash and sanitize the spoons after every use (although most of them are easy to clean by hand too).
Get a spoon set or even better, buy a few different types of spoons – It's worth keeping a bunch of baby spoons at hand. Let's face it, one or two spoons will usually end up on the floor during each feeding session. Moreover, kids have different preferences and their feeding needs change as they grow, so it's worth testing a few different spoons.
Below you can see my list of baby-approved best feeding spoons – that are recommended by experts and parents. You may need to experiment with a few to find your baby's favorite.
The best baby feeding spoons are:
1. EZPZ Tiny Spoon (Set Of 2)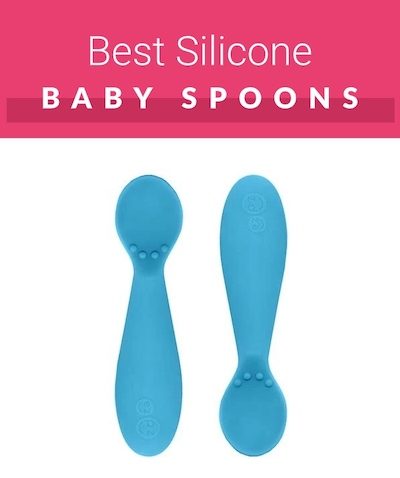 The EZPZ Tiny Baby Spoons have some unique features, such as the sensory bumps and raised rim. These prevent your baby from putting the spoons too far into their mouth and gag. There are also 2 bumps on the base to stabilize the spoon when you put it down.
The bowl is very shallow and holds the perfect amount of food for infant's mouth.
EZPZ Tiny Spoons are made of food-grade silicone, so they are very soft on baby's gums, especially if they are teething. They also have a narrow bowl to easily fit in baby's mouth. And there is a slight arc which assists in the developing of lip closure.
The design is targeted both to baby led weaning and babies who start eating purees and learn to self-feed. There is a shorter & thicker handle that's easier for the infant's hands to grasp.
Although this is one of the best silicone spoons for your little one to learn feed themselves, there is one negative. It can work as a normal baby starter spoon, but for some parents the handle may feel a bit too short. But this way it's more convenient to hold for baby's who want to take feeding duties into their own tiny hands.
Suitable from 4 months, EZPZ spoons double as teethers!
My rate:
EZPZ also offers this mini-utensils pack for toddlers that includes the spoon and fork. They feature firmer nylon heads for learning to scoop and pierce their food.
>>Check out my ranking of kids placemats with a review of EZPZ placemat
2. Green Sprouts Baby Feeding Spoon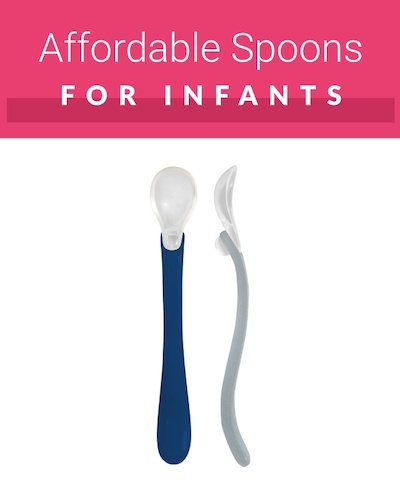 The Green Sprouts Baby Spoons are one of the best baby spoons for transitioning your baby to pureed food. The bowl is soft silicone, so it is easy on baby's mouth.
These gum-friendly spoons are also designed with the mom comfort in mind and have an ergonomic curved handle that is convenient to hold during feeding. The handle is a firmer rubber for better support as well.
When you need to put the utensil down it has a built-in rest. This ensures that the silicone soft tip does not touch any surfaces.
Parents like the clear material of spoon tip, because you can see how much is left.
You will have to take a little more care when cleaning these spoons because they get stained by certain foods like carrots or sweet potatoes. The good news is that they are dishwasher safe, and very easy to clean by hand too.
PRO TIP: Green Sprouts also offers other set to aid in your baby and toddler's development. This Learning Spoon Set

includes first stage baby spoon with long handle – easy to hold for parents, and a self-feeding one with a special easy to grasp contoured handle.
3. OlaBaby Feeding + Training Spoon Set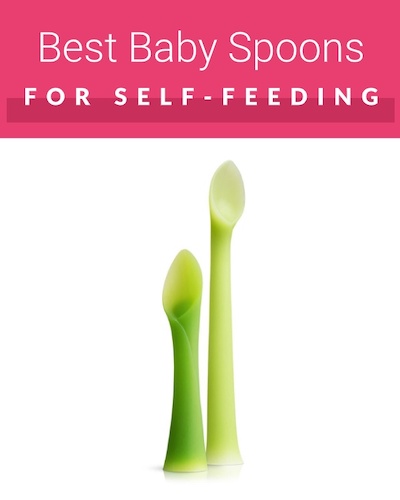 The Olababy Feeding and Training spoons have a very unique look, kind of like asparagus, but that funky look has a function. They are ergonomically designed for your and your baby's hand.
The longer "stemmed" spoon is for the mommy assisted stage of eating. When your baby is ready to feed themself, there is the shorter "stemmed" self-feeding spoon.
Both spoons have suction-cups on the bottoms so when they are not in use, they stay in a hygienic upright position. They are designed to stick to pretty much any surface.
The tips of these spoons are flexible and provide easy scooping, cutting, and even slicing soft foods. They are shallow and small to decrease the risk of choking by limiting the amount of food your baby (or you) scoops up at once.
Not only does the shorter stem spoon encourage your baby to self-feed, but it also acts as a soother when the little one is teething. Your baby and your baby's sore gums will surely appreciate this.
It turns out that babies really like OlaBaby special shape. This set is a perfect choice because it serves babies as they grow: from their first solids to self-feeding.
Besides the set mentioned here, OlaBaby has other feeding sets available:
Baby First Feeding Set – 1 training and 1 feeding spoon + a steam bowl
Baby Advanced Feeding Set – 1 training spoon + a steam bowl
Essential Feeding Gift Set – both spoons, bowl + 2 bottles (4 oz & 8oz) – this is all-in-one set that will serve your baby throughout all stages: from bottle feeding to the introduction of solid meals (you can get it on Amazon)
4. Munchkin White Hot Safety Spoons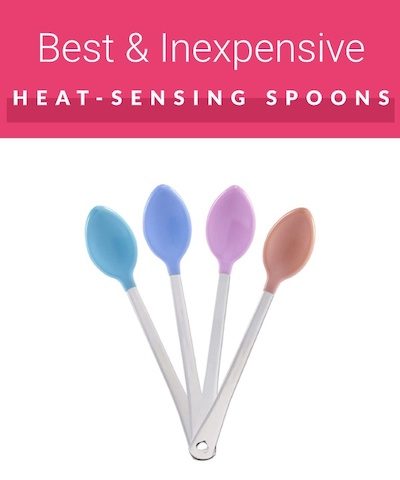 As the name suggests, the Munchkin spoons have a heat sensing tips and let you know when baby's food is too hot. The top of the spoon turns white when the food is at or above 110°F (43.3°C). This feature is very helpful especially for new parents. Sometimes it's tricky to figure out if the meal has the right temperature.
This Munchkin heat-sensor spoon will make your first feeding sessions easier and help you avoid burning your little one's mouth.
Munchkin baby spoons returns to their normal color once the food has cooled down to a safe temperature. This spoon is best for smaller babies starting to eat solids. It has a shallow bowl and longer handle for that period when you do most of the feeding yourself.
It's noteworthy that this dishwasher-safe spoons have a tip made of soft silicone, and a stainless steel handle.
One set includes 4 spoons and it's really inexpensive. It will serve you from 3 months, until your child is ready to self-feed.
PRO TIP: This shallow spoon is not so good for babies learning to feed themselves. For self-feeding, it's best to have a different all-silicone spoon with shorter easy-to-hold handle. However, for the first stage, when mom or dad offers the food, this is a great, functional and budget-friendly choice.
5. BEABA First Stage Baby Utensil Set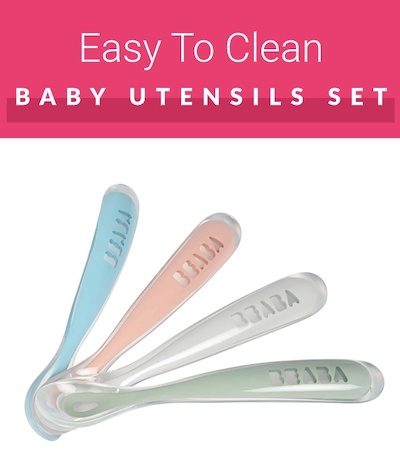 There are more imitations of the BEABA First Stage silicone baby spoons on the market today, and for a good reason. They were the original silicone spoons for babies, offered more than 20 years ago. Only few changes have been made, because they don't really need them.
BEABA has an ultra-soft spoon bowl and it's all-silicone, so you know it is gentle on the baby's gums. Like in most baby spoons there are no metals or hard plastics. The spoon depth is just right so your little one doesn't get too much food at once and the edges are super smooth.
BEABA is a top-rated baby spoon, its handle has an ergonomic design, so feeding is easy no matter the angle. The curve and length of the handle also makes getting the last scoop of food from the jar a breeze. Moreover, it has a simple but ingenious design: there are no crevices, so no leftover food gets stuck and there is no built-up.
One drawback is that although this spoon works great, it tends to discolor very easily.
BEABA also offers toddler spoons, called appropriately, Second Stage Toddler's Self Feeding Spoons. This one has a redesigned handle to keep the spoon bowl off of surfaces.
6. NumNum Pre-Spoon GOOtensils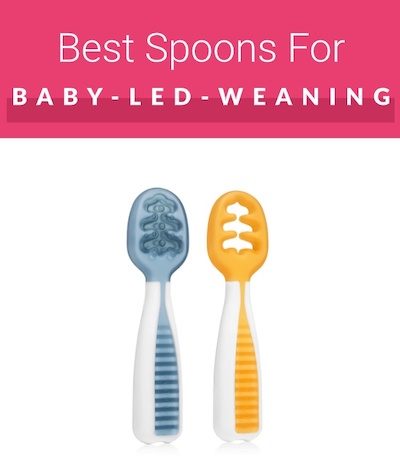 The NumNum Pre Spoon Gootensils are not spoons actually, and they are designed in a different way. These are the pre-spoons, and there's a reason for their funky design. In contrast to other spoons, NumNum has a flat head so there's no balancing, no scooping.
The handle is contoured and thicker making it very easy for your baby to hold. Because there is no wrong way to hold it, your baby does not need to balance it. And the fat, ridged design makes it easy for babies to grip.
This an amazing feature when your baby is learning to self-feed and just starting to use utensils. Experts recommend NumNum Pre-Spoons for baby-led-weaning.
Each pack has two different pre-spoons with different features. Stage One pre-spoon has dimples and a raised textured surface. This allows the pre-spoon to capture just the right amount of baby food. It can also double as a teether and soothe sore gums.
Stage Two has food channels to capture more food and hold it in place. It works for thicker foods too. It can be used once your baby has better hand eye coordination and has mastered the food-to-mouth motion. And by food I mean jar or homemade blends, oatmeal, mashed solids, and the like. Again this is not a spoon so it is not going to hold peas & carrots (unless mashed).
As good as they are for training, you will finally need to switch to a spoon anyway.
When your toddler gets wrist rotation – necessary for scooping and balancing – you can switch to a spoon. NumNum recommends to transition from Pre-Spoon GOOtensil to a spoon around the 24 months of age.
PRO TIP: At the beginning, it's tricky for the baby to navigate with a spoon from the plate to mouth. They lack hand eye coordination and their wrists are not flexible enough to use a spoon properly. That's why self-feeding is so messy at the beginning!
To help your little one you could get a bendable utensils (like these ones) that you can bend to the angle your baby needs! Also you will not need to buy straight spoons as you can simply straighten this one when your child is older and has better wrist rotation. But keep in mind that spoon head is made of harder plastic material and may not be as gentle on your baby's gums as silicone ones. Moreover, the spoon and fork are quite big so may be a better choice for older babies.
7. Avanchy Bamboo Baby Spoons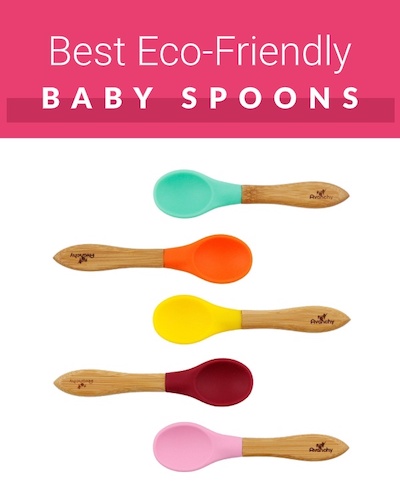 The Avanchy Bamboo Baby Spoon is a more organic option for older or possibly bigger babies. This is because of the larger spoon bowl. Although this is a bamboo spoon it has a food grade silicone covering on the bowl, so it is gentle on your baby's gums.
The shorter, slightly fatter handle makes it ideal for your baby to grip. This wooden spoon has a reinforced neck and is ergonomically designed making it easier for your baby to handle.
All of that makes this eco-friendly spoon more suitable for toddler who already know how to feed themselves and are familiar with utensils.
Because of the bamboo material, it's not dishwasher-safe.
The only real complaint about these spoons is the size of the bowl. It may be too big for infant's mouth. For younger babies these Avanchy infant spoons will be a better choice – they have a longer handle (more convenient for parents who are serving the food) and narrower head.
8. OXO Tot On The Go Feeding Spoon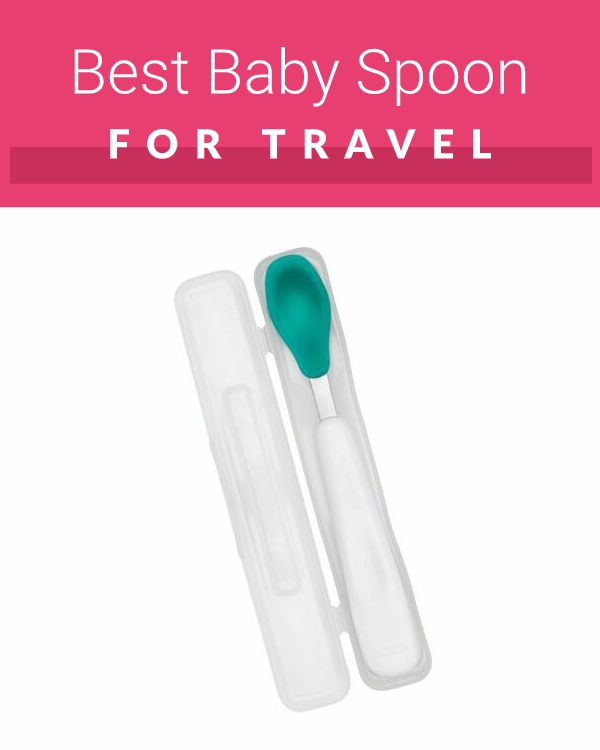 The OXO Tot Feeding Spoon is perfect for meals on the go as it comes with a travel case.
This travel spoon is very compact and neatly into its carrying case. You can easily toss it into your diaper bag and it won't take up a lot of space. The travel case will keep your baby spoon clean and germs-free when you're out and about.
This shallow spoon has a small, soft bowl which is great for scooping up all the food out of the jar or wiping the leftovers off of your little one's face. The tip is narrow – ideal for small infants.
It has a contoured handle which makes it comfortable for feeding at any angle. Although the spoon part is made of silicone, part of the handle is made of stainless steel.
All those features make OXO a better choice for spoon feeding, rather than self-feeding
Some parents have also noticed that the handles are a bit heavy and can fall out of bowls.
You can also choose The OXO Tot Spoon without the travel case – it's available on Amazon as a set of two. Moreover, the OXO Tot offers softer all-silicone spoons which may be better choice for even younger babies starting solids, who are teething.
9. Boon Squirt Baby Food Dispensing Spoon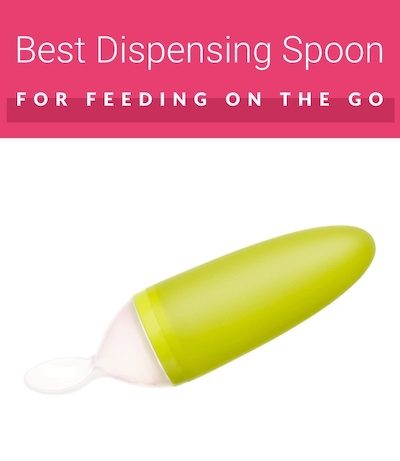 Boon baby spoons are ideal if you are often out and about or travel, as they make meals on-the-go super easy. Boon Dispensing Spoon hold up to 3 ounces of puréed food.
All you need to do is load it up and squeeze the sides of the handle to dispense the puree into the tip of the spoon. You can control how much food goes on the spoon and feed your baby with just one hand.
It's a game-changer for easy one-hand feeding on the go! It is so convenient not to have to deal with messy spoons and jars while out.
The spoon bowl comes with a cap to keep it clean when not in use.
This is a spoon best suited for stage 1 baby food, but can be used for stage 2. Just be aware that if there are any chunks, even small ones, it will clog the dispenser. Also if the food is thinner than a puree you might have some leakage.
10. NUK Kiddy Cutlery Spoons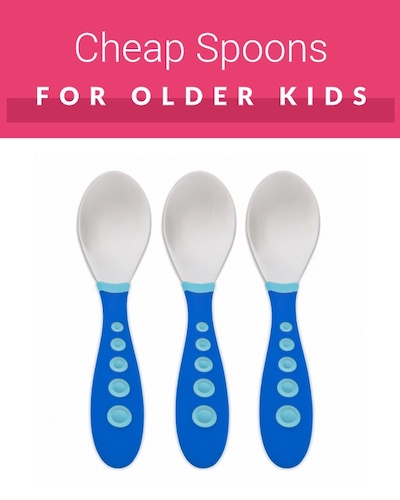 These NUK baby spoons are made mainly for the toddler range (18 months+). They are designed for kids who have already mastered using a spoon and don't have gum sensitivity anymore. If that's the case, they are ready to ditch the silicone and start getting used to new type of utensils.
NUK is a great choice if you want to introduce your toddler to metal spoons – but it's important to notice that only the spoon bowl is made of stainless steel. This helps your toddler pick up food much easier, as opposed to a more flexible silicone spoon.
The tip is rounded smooth for safety and comfort.
However, the handle is not made of metal, because it would be heavier and not as comfortable to hold. NUK has soft easy grip handle that is perfect for your toddler's hands.
The spoon is designed in a way to keep it from making a mess on the table and keeping germs off the spoon. The design is incorporated into the other toddler utensils that are available as well (forks and knives).
The bowl of the spoon is quite shallow so your toddler may have to work a little harder to get food to their mouth, especially peas. But the NUK Kiddy Cutlery Set is great value and very durable.
These are good spoons for toddlers who are already pros at eating independently.
What Age Do Babies Start Using Spoons?
According to CDC, you can start introducing solids when babies are about 6 moths old1, so it's best to have your feeding spoons at the ready.
Babies normally start to show signs that they are ready to hold spoons and feed themselves between 10 and 12 months of age2. You might find yours wanting to do this a little earlier. Either way, this is where things start getting messy.
You will need to be a little more prepared for feeding time now. This means more clothes for cleaning, more baby feeding spoons, plates, bowls, and placemats to clean, and more patience from you. This is going to be a messy time so the best thing to do is see this as fun and exciting time when your baby is mastering new skills.
As your baby tries to hold the feeding spoon remember that coordination is not their strong point yet. The food will be on the table, tray, on the floor, on you, on your baby, and even, on occasion, in your baby's mouth.
So you already know that you will those small bite-size utensils to spoon-feed your baby around 6 months of age. Around 12 months of age your toddler will be eager to use a spoon for self-feeding (and then in the blink of an eye, he/she will be mastering using the fork!).
How Many Baby Spoons Do I Need?
This a question asked by every new parent. There is no right answer, but you need a few for sure. You should always have a couple ready when feeding your little one because they will end up on the floor. Feeding your baby is a messy endeavor, but so much fun too.
If you don't want to end up running back and forth between baby's high chair and kitchen sink every time the spoons ends up on the floor, I recommend you to get 3-6 baby spoons.
Besides, all infants have different preferences, and it may take some time to find the best feed spoon for your little bundle of joy.
Can I Use A Normal Spoon To Feed Baby?
Are you wondering whether you really need baby spoons, or if you could just skip them and use a normal spoon?
I know that on some forums you can read that it's okay to use a teaspoon to feed a baby and you only need one. Well, some moms may do this, but it's not convenient and not safe for the baby either!
Here are the main reasons why you should not use a normal spoon for feeding the baby:
Normal spoon's bowl is too wide and too long for baby's mouth which means higher risk of gagging.
It holds too much food for baby's small mouth and can lead to choking.
It has sharper edges that can be painful to your baby's gums especially when they are teething.
It's heavier than baby spoons and when it hits baby's gums or developing teeth it hurts.
It's more difficult for the infant to balance and maneuver it because it's heavier and the handle is inconvenient for tiny hands.
The thing to remember when picking the best baby feeding utensils, it is not about what you like. This is a choice that your baby makes. You need to get the right baby spoon for THEM. This means ending up buying a few different ones, but look at that face and tell me they aren't worth it.
Types Of Baby Spoons
Baby utensils are available in a variety of shapes, material, sizes and purposes. In general there are a few different types of baby spoons:
Baby spoons with long handle – This is the best choice for parents who want/need to feed their babies. Some of baby spoons are long so parents won't have to overextend their arm and wrist to reach their baby's mouth.
Baby spoons with short handle – It's easier for small hands to hold shorter and thicker grip. This is the best baby spoon for teaching the child independent feeding.
Travel spoons – Some spoons are really compact and come with a neat carrying case.
Heat-sensing spoons- This safety feature makes the spoon to change color when the food is too hot for the baby.
Eco-friendly, organic spoons – For eco-conscious parents there are spoons that are made of bamboo or other natural, organic and toxin-free materials.
Bendable & loadable spoons – There are a few baby spoons with more fancy design that allows you to load puree into a built-in dispenser or to bend them when your little one needs extra help during the mealtime.
Baby-led-weaning spoons – They are recommended by experts for younger babies and help them to learn the food-to-mouth motion. Usually they have more funky design like the NumNum pre-spoons or OlaBaby asparagus-shaped spoons.
---
The purpose of this article is informative. It's not a substitute for medical consultation or medical care. Remember: safety first! The author of this article does not accept any responsibility for any liability, loss or risk, personal or otherwise, incurred as a consequence, directly or indirectly, from any information or advice contained here.
Source of pictures: All pictures come from official website of each brand and belong to that brand. Sources: