Willow and Spectra S1 Plus are, without a doubt, the leaders in the world of electric double breast pumps. Both of these are equally effective at expressing your breast milk, which is key if you plan to pump exclusively or create a freezer stash.
But these pumps are worlds apart right from the design to how they work. And as you're about to find out, each of them shines in some areas but falls short in others. So, which pump performs better – Spectra S1 Plus or Willow?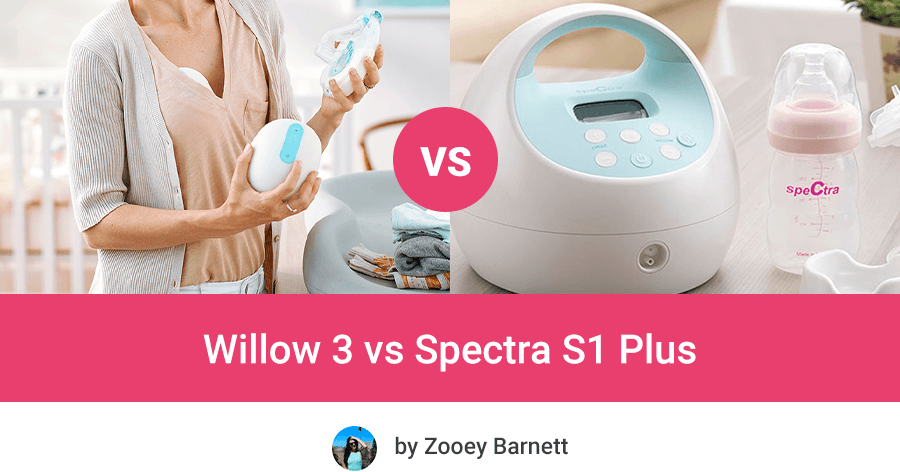 This article is not a substitute for medical consultation
I'm excited to take you through each of these pump's features, strengths and possible drawbacks. Hopefully, you should be able to decide which pump is best for your needs by the end of this article.
Let's start with a short review of each!
Spectra S1 Plus Review
S1 is one of the best rated Spectra electric pumps. Typical to regular electric pumps, this one has a standalone pump unit that creates the vacuum necessary for milk expression and a breast kit consisting of two flanges (also called breast shields), each with a wide-neck milk collection bottle.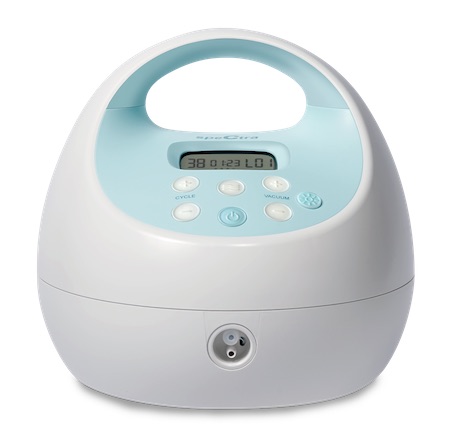 Spectra S1 is a closed system breast pump, and it's often marketed as hospital-grade, which is not entirely correct. It's an electric HOSPITAL-STRENGTH pump. The thing with Spectra S1 is that it packs tons of suction strength (270mmHg) akin to the pumps used in hospitals. It's obviously stronger than majority of electric pumps. Therefore, it's very likely to suit most moms more so who have a low milk supply. At the same time, it's cheaper, more lightweight (only 3 lbs), and quieter, at 45 decibels than hospital-grade pumps.
>> Check out the best pumping bras for Spectra
Willow Gen. 3 Review
Willow is a revolutionary wearable model that ditches the cords and tubes to offer you a hands-free pump that fits inside your bra. This design offers you an all-in-one double breast pump that you can use while commuting, working on your office desk, or simply reading. Since the battery is built into the motor unit, the only time that you'll need a wall socket is when charging the pumps.
Willow pump has a suction strength of 35-245 mmHg and a rechargeable battery that could last you a whole day of pumping at work.
Spectra S1 Plus vs. Willow Gen. 3 – Pumps Comparison
It's clear that both electric breast pumps differ a lot. Now let's take a closer look at their design and performance. Which one is more user-friendly and works more efficiently?
Design
While both of these are electric double breast pumps, they are very different in terms of design. Spectra S1 has a rather traditional approach. It consists of a separate pump unit connected to the breast shields by a pair of tubes. The pump looks very stylish, though, and not anything close to the bulky, industrial hospital pumps.
All the pumping components of Willow connect into a single unit that fits inside the bra. So, unlike Spectra, you won't have a separate pump motor sitting beside you with suction tubes dangling all over when pumping.
With Spectra S1, all the controls are nicely arranged on the face of the pump motor. There are buttons to let you increase or decrease vacuum suction and cycles, and another one that you use to switch between massage and expression modes.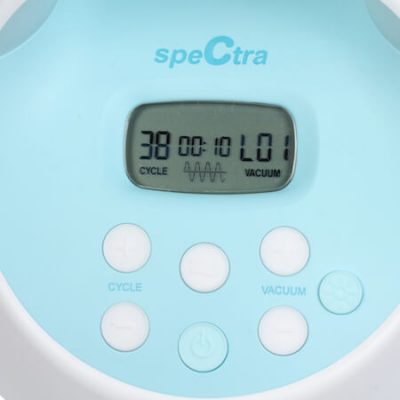 Spectra S1 Plus also has a nightlight function with 2 brightness levels. This is a handy little feature that makes it possible to pump at night without switching on the lights or lamp.
While we are still at it, the control panel of Spectra S1 has a sizable LCD screen that displays your cycle and vacuum settings. It also shows how long you've been pumping, which again is very helpful.
On the other hand, Willow control buttons are located at the top of the hub. It has a set of 3 control buttons. The first, from the top, lets you start and pause pumping. The second in the middle lets you adjust the suction strength, while the last one is the power button.
Willow does not have a screen. However, this is a smart Bluetooth-enabled device that you can connect to your phone via the Willow App. This App shows real-time data on the current suction level, current phase, and battery level. In addition, it will keep the track of your pumping history.
>> Read our article about different types of breast pumps and choose what's best for you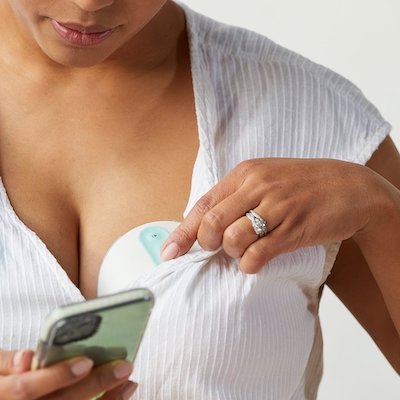 Battery & Charging
Both of these have built-in rechargeable batteries. Spectra S1 Plus requires only one charger. The battery takes around 4 hours to charge fully and will last up to 3 hours of pumping.
Depending on how often you pump and the duration of each session, this battery could last you a couple of days before the need for recharging.
By the way, it's possible to use Spectra S1 as it charges. That's a plus in case you forgot to charge the batteries earlier.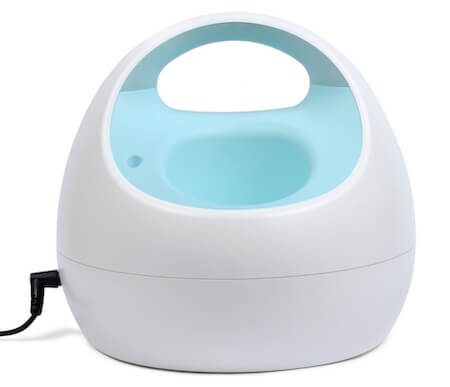 Each Willow Pump has a built-in battery that requires about 2 hours to charge fully. Unfortunately, the package comes with only one wall charger, and this doubles the total charging time to 4 hours. You can buy another charger, though.
With the batteries full, Willow will last around 5 pumping sessions. For a working mom, this is enough juice to last you the entire day at work. But unlike Spectra, you can't use Willow while it's plugged in. Remember to charge it at the end of each day, so it's ready for you the following morning.
Milk Collection Kit (Flanges & Milk Containers)
Spectra S1 Plus comes with a pair of 24mm and 28mm flanges, but you can also get the breast shields in 20mm and 32mm sizes (see how to size Spectra flange here).
The flanges are connected directly to Spectra wide neck milk collection bottles. And there are backflow protectors that prevent overflow milk from getting into the suction tubes. This prevents the contamination which is a huge advantage.
Willow Generation 3.0 has two flanges, and you have 3 size options to choose from: 21mm, 24mm or 27mm. It's crucial that you get this size correct as it highly affects your comfort when pumping. Here's how to size Willow flange.
Unlike Spectra, Willow pumps into specially designed disposable bags (which work as storage and freezing bags as well) or the newly released reusable containers (SOLD SEPARATELY). These two nestle nicely in the cavity between the pump and the flange and comes off easily too.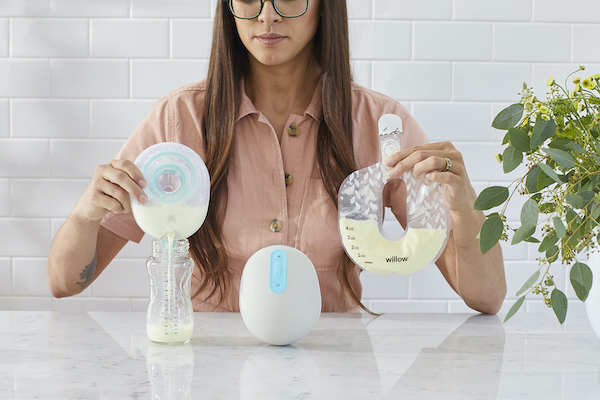 What You Get With Each Pump
Spectra S1 Plus Pump Package:
Motorized pump unit with a built-in rechargeable battery
2 sets of breast shields/flanges in two sizes (24mm and 28mm)
2 tubes
2 backflow barriers
2 duckbill valves
2 backflow protectors
2 storage bottles
AC wall adaptor
Spectra s1 manual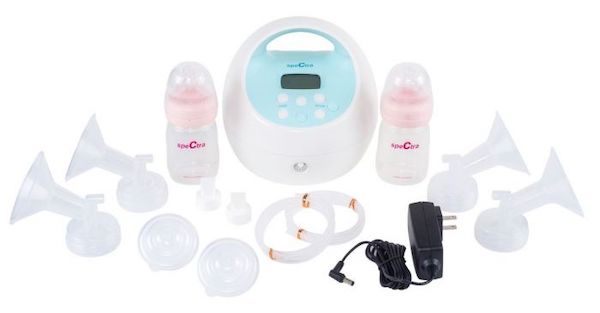 Willow Generation 3 Pump Package:
2 pumps – one for each breast
1 set of flanges (2 pieces): 21mm, 24mm or 27mm
2 flextubes
24 spill-proof milk bags
2 cleaning brushes
1 charger
Willow pump manual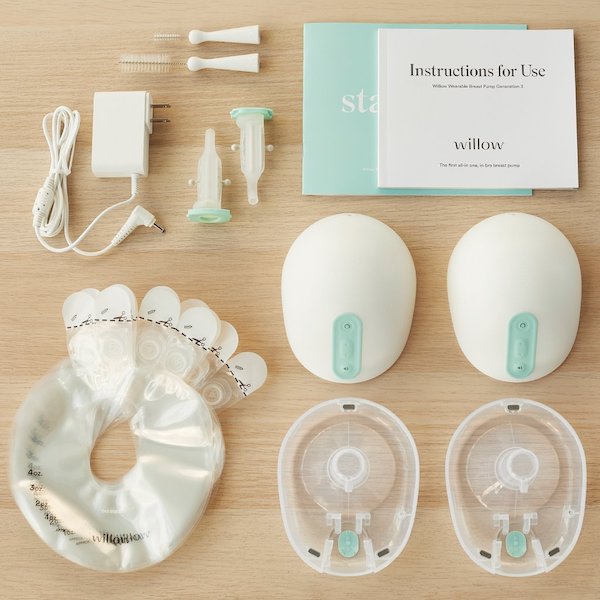 How These Electric Breast Pumps Work
The fact that both of these pumps are electric means that most of the hard work that comes with manual breast pumps is eliminated. Setting them up is a breeze too, and I appreciate that both of these brands have detailed manuals with pictorial guidelines on how to assemble all the components. Overall, it should take around 2 minutes at most to have both of these pumps ready.
Latching should be easy as well, especially if you're not new to breast pumping and if you're keen to get the perfect flange size. I should note that most new moms tend to have a hard time getting a perfect latch with Willow at first. But this complaint isn't common with Spectra S1 users. The good thing is that Willow offers an online consultation.
Pumping Modes, Cycles & Vacuum Strength
Both of these pumps have 2 pumping stages. Willow calls its' Stimulation and Expression phases while Spectra S1 Plus dubs them Massage and Expression modes.
Stimulation/massage mode refers to the initial quick cycles that the pumps make to encourage milk let-down. After let-down, the pumps go-to expression mode.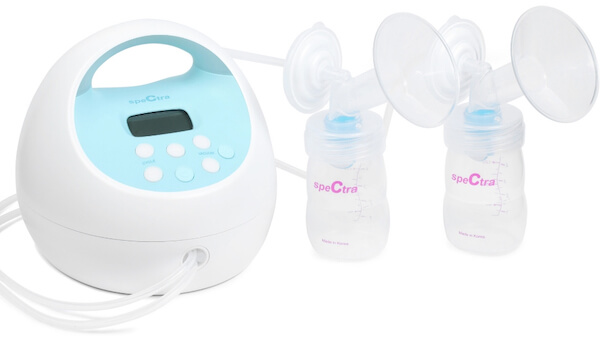 These stages mimic the baby's natural feeding process, but they differ slightly. Spectra S1 makes 70 cycles per minute in the massage stage. You can't change the number of these cycles (the speed), but you can change the suction strength between 1 and 5.
Once you detect milk let-down, you'll need to initiate the expression stage by pressing the mode button once. In the expression phrase, you can adjust the cycles from 38 to 54 CPM and the suction strength from 1-12. Spectra S1 Plus suction strength is 270 mmHg at level 12, which is very close to hospital-grade pumps.
Willow 3.0 makes 60/90 cycles, and its suction strength ranges from 60-245 mmHg.
A notable difference between Spectra S1 and Willow is that the former one gives you total control of the massage and expression modes. And you can switch between the 2 phases mid-session as you wish.
On the other hand, Willow 3 is designed to transition from stimulation to expression mode automatically within 5 minutes if you have a good latch. Unfortunately, you can't go back to stimulation mode once you get to the expression phase. The value that you can change at any time is the suction strength.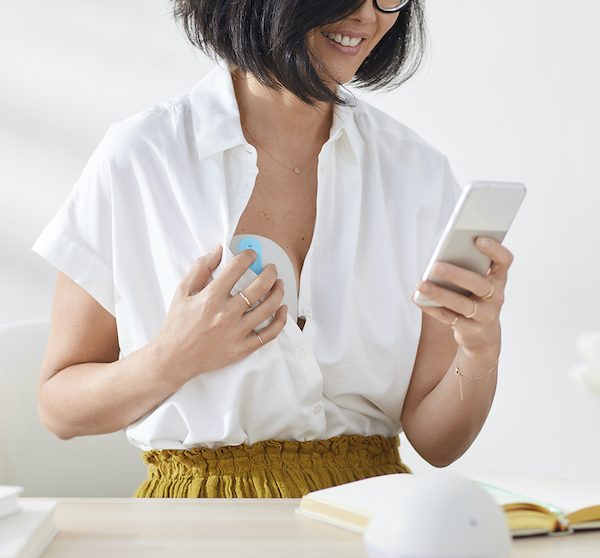 Do You Value Hands-Free Pumping?
After getting a good latch and transitioning to expression mode with Willow, you'll have both of your hands frees for other activities since the pumps stay inside the bra. This is almost impossible with Spectra since the bottles need to stay supported.
However, there are a couple of helpful pumping bras that allow to pump hands-free with Spectra. You might want to check them out if this sounds like a great idea.
Another noteworthy thing is that when using Willow disposable bags, you can pump comfortably even when lying flat or bending over, and the milk won't leak. However, the reusable containers have a small hole at the top that lets milk out when you bend. With Spectra, you need to stay upright.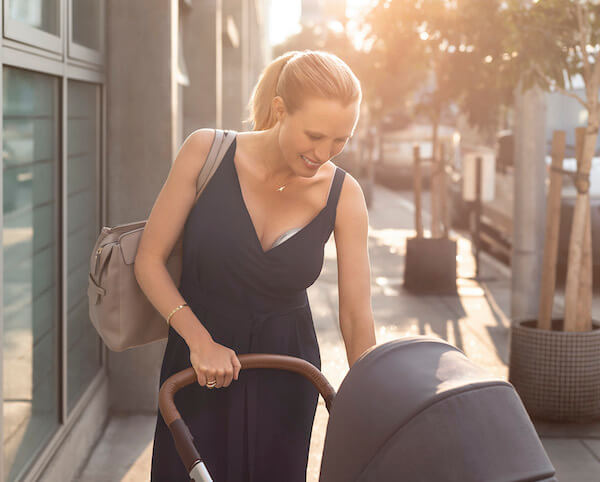 >> Read more about Willow hands-free pumping
Cleaning
You'll need to clean all parts that touch the milk with both pumps, but this is generally easy. The less pieces you need to clean, the easier it is.
How to clean Spectra S1 Plus? The parts that need to be cleaned are flanges, duckbill valves, and bottles (if you'll transfer the milk to another storage container). You don't need to clean the backflow barriers, unless there's moisture or milk in them. Other than the membrane and the silicone valves, all other parts of the Spectra pump are dishwasher-safe.
Don't wash the tubing. However, if you notice milk inside it, follow the manufacturer instruction on how to deal with it. Many experts say it's difficult to clean the tubing properly to avoid mold etc. It's better to replace it with a new one.
How to clean Willow? It has fewer parts that need to be cleaned. These are 2 flanges, a pair of flextubes, and the reusable containers. All of these are dishwasher-safe too.
Storing The Milk
With Willow, the disposable bags are refrigerator-safe and freezer-safe. However, if you plan on pumping more often or exclusively you will need A LOT of these bags which is not the most cost-effective way.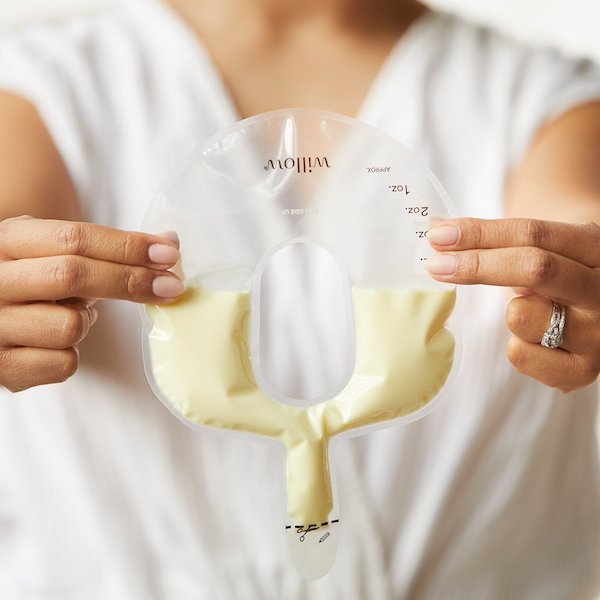 Reusable milk container is more pocket-friendly option in the long run, but you'll need separate bottles or containers for storage or freezing if you want to create a stash.
Spectra milk bottles are refrigerator-safe as well. You can also feed the baby directly from these bottles by attaching the nipples. Spectra flanges are compatible with Philips Avent and Mam baby bottles. However, you'll need a kit for most other bottle brands, including Evenflo, Comotomo, Medela, and Tommee Tippee. There are also kits that allow you to pump directly into storage bags with Spectra S1.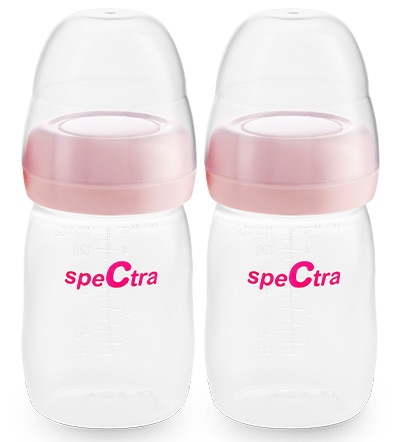 Accessories
Spectra S1 Plus pump comes with everything that you need. The first thing that may want to purchase alongside the pump is the tote that goes for around $40. You might also want to add some extra Spectra Wide-Neck bottles or neck adaptor that will allow you to pump into other narrow neck bottles.
With Willow the thing that you may want to buy additionally is the reusable milk container (the set includes 2). It might be necessary to purchase an extra charger ($39). If you wish to pump into the storage bags, you will need to get a stash of them as well.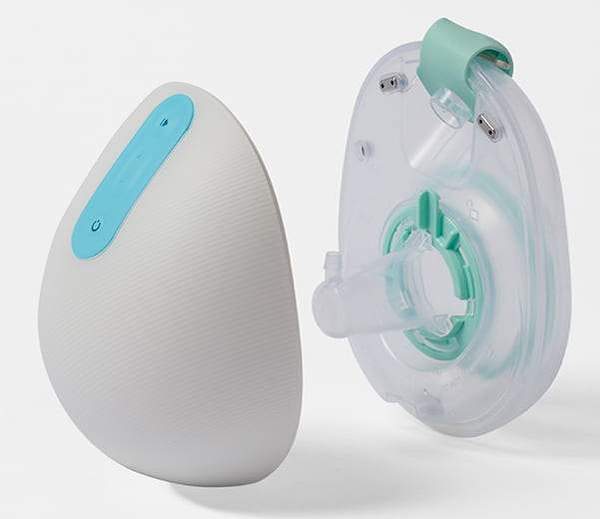 You'll also get replacement parts for all the components with both pumps.
Price
Wllow 3.0 costs $499, but the cost of additional bags can add up real quick. Luckily, you can get the reusable containers, which, although pricey at first, will eliminate the need for disposable bags.
On the other hand, Spectra is sold at $200-$230, depending on where you get. Even with the additional accessories, this one is much cheaper than Willow.
Willow vs Spectra S1 – Insurance Cover
Thanks to the Affordable Care Act (ACA), most insurance companies now cover most breast pumps, including Spectra. Make sure to contact your insurance provider to get more information about Spectra S1 insurance cover.
Most companies are still reluctant when it comes to Willow owing to its price, but some have started offering partial or full coverage. I also advise you to check with your insurance provider if they can cover your Willow Pump.
What Other Moms Say
The most significant selling feature of Willow 3.0 is its tubeless and wireless design. Most moms appreciate that unlike standard electric double breast pumps, they can continue to do other things while they pump. Most of its current users also report that Willow has great suction.
For working moms, especially those who work away from home, Willow seems to be the real deal thanks to its level of portability and quiet operations too.
Notably, most moms agree that Willow is expensive and has a learning curve for first-timers. However, a large number of them still recommend it to others.
Spectra S1 is one of the best-rated models among other pumps of its type, primarily because of its high adjustability, good suction, and reliable rechargeable battery. From the online reviews, most of its current users seem to be moms who are EPing.
A good number reports that the pump is holding on well even after several months of continuous usage. Most of them also agree that the suction is excellent, with a few of them saying that they can express faster while yielding more. There were a few reports of the pump reducing suction after 5-6 months, though.
Final Decision – Strengths & Limitations Of Each Breast Pump
Willow
Who will love Willow:
Office moms who want to work at the desk while pumping

Busy moms who fancy the experience of hands-free pumping

Moms who have well-established lactation
Those with a flexible budget
Why Willow may not be the best choice for you:
You're on a tight budget
You're struggling with low milk production
What to keep in mind when buying Willow:
It has a learning curve
It uses special collection bags and containers which increase the cost
Most insurance companies are yet to cover it
Spectra S1 Plus
Who will love Spectra:
Moms who require lactation support
Mothers struggling with low milk supply
Moms who are considering exclusive pumping
Anyone who wants an affordable hospital-strength quality pump
Parent who want a lightweight, yet strong pump
Why Spectra may not be the best choice for you:
You're seeking a hands-free, wearable breast pump
What to keep in mind when buying Spectra:
Although Spectra S1 Plus is pretty light and portable, it's not a good choice for pumping at work – it takes some space and it's hard to hide all those tubing and the motor
It may not be the best choice for travel either
---
The purpose of this article is informative. It's not a substitute for medical consultation or medical care. Before you start breast pumping and/or have any doubts about yours or your baby health condition, seek for a medical consultation.
---
Source of pictures:
Pictures of Spectra S1 Plus belong to Spectra. Source: https://www.spectrababyusa.com/ and https://spectra-baby.com.au/
Pictures of Willow Pump belong to Willow. Source: https://shop.willowpump.com/