Would you like to explore the outdoors with your baby or lose some weight by jogging with a stroller? I've got a great jogger for you, that won't cost you a fortune: Joovy Zoom 360 Ultralight.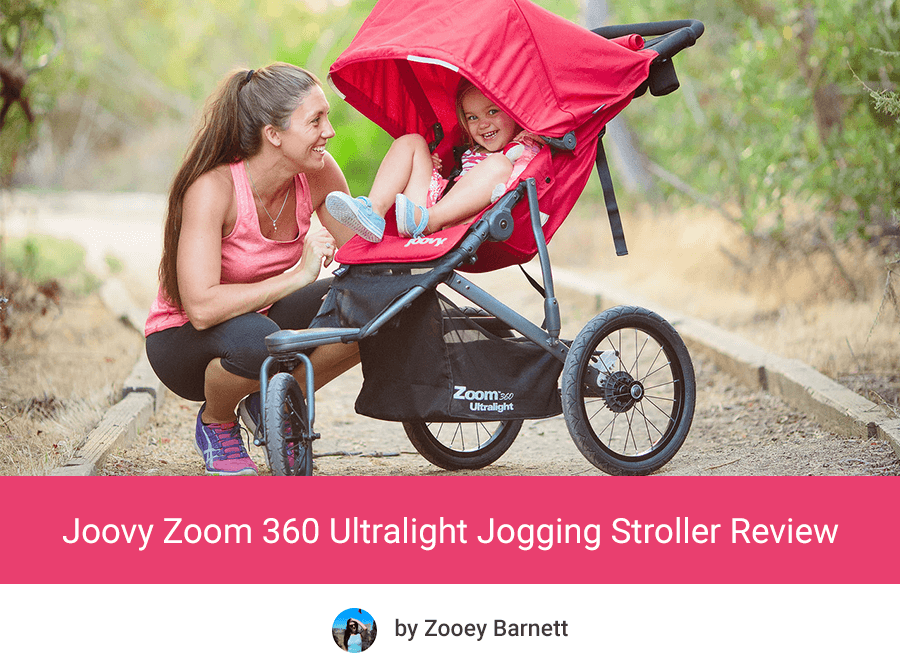 This jogging stroller was designed to handle even the rough, bumpy terrain and provide comfortable ride for the baby and parent.
It has tons of great features: shock-absorbing suspension, large wheels that go even over grass, gravel and bark chips, roomy seat and huge canopy that perfectly shades the baby.
It is big and definitely less convenient for narrow places like grocery store aisles or crowded sidewalks, but it's perfect for those who want to escape from the busy city center and enjoy outdoors with their baby.
Stroller
Info
Verdict

Joovy Zoom 350 Ultralight

Type: Jogging Stroller

Weight: 26.2 lbs

Capacity: 75 lbs

Price:

$$

$$$

LittleBabyGear Verdict:



High-quality toddler jogging stroller for off-road trips, going to the park, woods or beach. It's useful for big kids and often serves as a stroller for a child with special needs.
Whether you like long walks through the park, quick jogging sessions, or day off-road trips, Joovy Zoom 360 Ultralight will definitely satisfy you.
Joovy Zoom 360 Ultralight Review – Features
This is one of the lightest jogging strollers on the market, but what other features does it have for baby's and parent's comfort?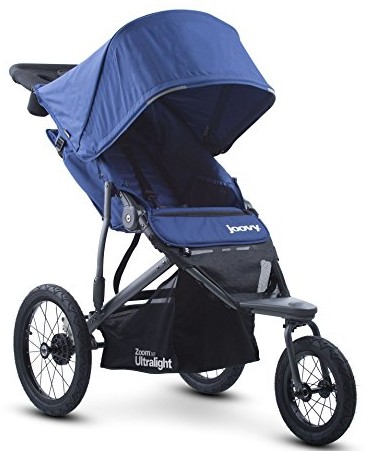 Seat
This jogger has really roomy seat that can accommodate bigger kids. It's 14″ wide and the backrest is 22″ long. From the bottom of the seat to the top of the canopy there are 24″. This seat can accommodate a passenger up to 75 lbs (!) and 42 inches tall, but if you fold the canopy even a taller and older child can fit it (even 47″ tall).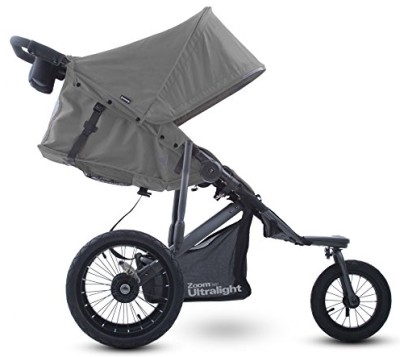 To recline the seat you need to use two strips, one on each side of the seat. I'm not a fan of this mechanism. You need to be very careful to loosen both strips equally, so the backrest won't tilt to one side. Besides, you will rather need two hands to lower and raise the seat.
The recline is infinite which means you can stop at any angle that is comfortable for your baby. However, the lowest position is not completely flat. Joovy Zoom 360 Ultralight features deep, near-flat recline, but it's not suitable for newborns. You can us this seat only from 3 months.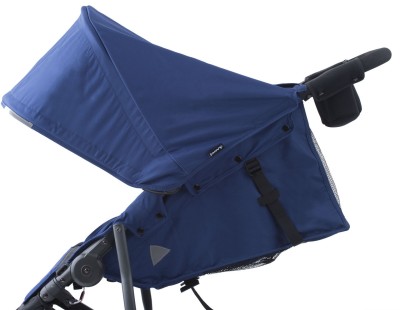 Oh, and there's one more thing. If you want to use this stroller for taller child (over 42″) you will be able only to use the upright position as the seat has mesh top and taller kid would have his head stick out of it. But the recline is awesome for younger and smaller babies.
The vented seat top is very useful on summer days as it gives extra air circulation.
The seat is equipped with adjustable 5-point harness. I only wish the straps had padded covers as they might be a bit harsh for infant sensitive skin. Beside this, the harness is easy to use and keeps baby securely in place really well.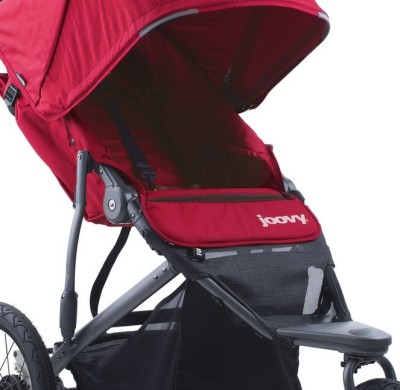 The calf rest is made of the same fabric like the rest of the seat. Keep in mind that it's not adjustable. The lower part of the leg rest and the footrest are made of mesh (that's one reason why the newest version of this stroller is lighter). This mesh fabric is easy to wipe down with wet cloth, in case it gets dirty from baby's muddy shoes or something.
There's one more thing. Joovy Zoom 360 Ultralight seat is placed a bit higher than on other strollers. So the baby sits up higher and has a better views of surroundings. I really like it that way and I see that my kids enjoy this position as well.
Even though you can use the regular seat from 3 months, use it only for walking and wait until your baby is 6-8 months old, before you start running with the stroller. It's crucial for infant's spine and head development.
Compatibility With Infant Car Seats – Joovy Zoom 360 Ultralight Travel System
This stroller can be used from birth – you just need to turn it into a travel system. Joovy Zoom 360 Ultralight is compatible with many infant car seats from Britax, Chicco, Graco, Cybex, Maxi-Cosi, Peg Perego and UPPAbaby.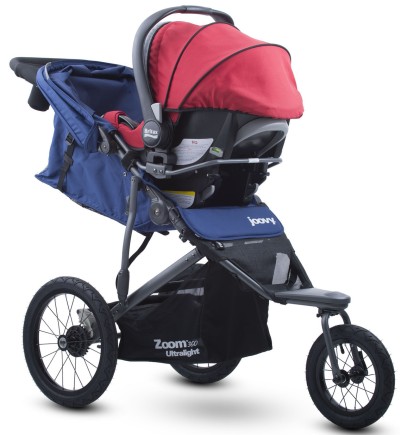 Keep in mind that you will need a special adapter, different for each brand, that allows to attach the car seat to the stroller.
You can use Joovy Zoom 360 Ultralight for newborn baby if you add the infant car seat, but only for walks. Never jog with the infant car seat, it's not safe and can have negative influence especially on baby's spine and brain.
Canopy
Joovy Zoom 360 Ultralight Jogging Stroller has nice big canopy with two panels. It doesn't go super low, but it is very roomy and sticks out far, so it blocks the sun out of baby's eyes and even covers baby's torso. Love it!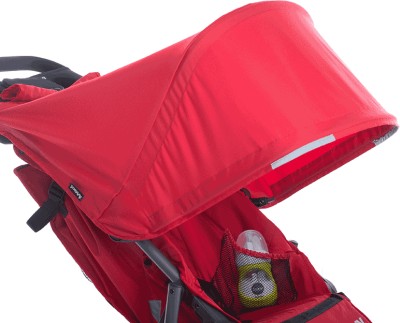 There is a peek-a-boo window made of plastic, not mesh, so it doesn't provide extra air-flow but at least allows parent to check on the baby during the stroll. I only wish it had magnetic closure, instead of that noisy Velcro, but it's not a big deal.
Handlebar
This jogger has non-adjustable handlebar, set at 41 inches from the ground. I've read a lot of customer reviews and all parents agree this push bar is comfortable for average in height and tall people, but it's too high for short parents (less than 5'4″).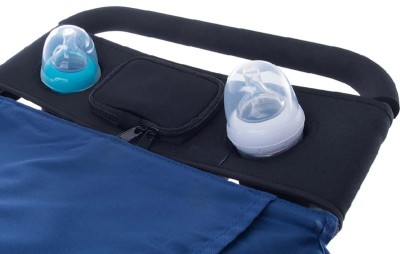 So taller parents can comfortably push this stroller without slouching over it (which could cause back pain), but short parent may not be able to see over the canopy and they may experience wrist fatigue.
I also prefer adjustable handlebar, since my husband is 1ft taller than me. For such a petite woman like me this stroller is a bit too high.
Wheels & Suspension
Now let's talk about the advantages of Joovy Zoom 360 Ultralight. It has large wheels with pneumatic tires which can handle all types of terrain and provide cushioned ride.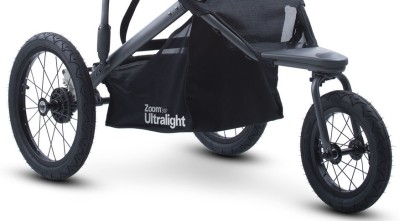 Front wheel is 12″ and the rear wheels are 16″. As in many other jogging strollers the front wheel swivels which makes this jogger nimble and easy to maneuver (for example on short walks on pavement). You can also lock this wheel when you want to run faster or go over harsher terrain.
The tires are air-filled which means you need to remember about inflating them once in a while to keep them in a good shape. Great thing about this jogger is that it comes with a tire pump! You can always keep it in the basket below the seat, just in case.
This stroller has built-in shock absorbing suspension. Thanks to this features Joovy Zoom 360 Ultralight glides smoothly over dirt trails, gravel paths, broken roads, bumps and even the bark chips. It's amazing!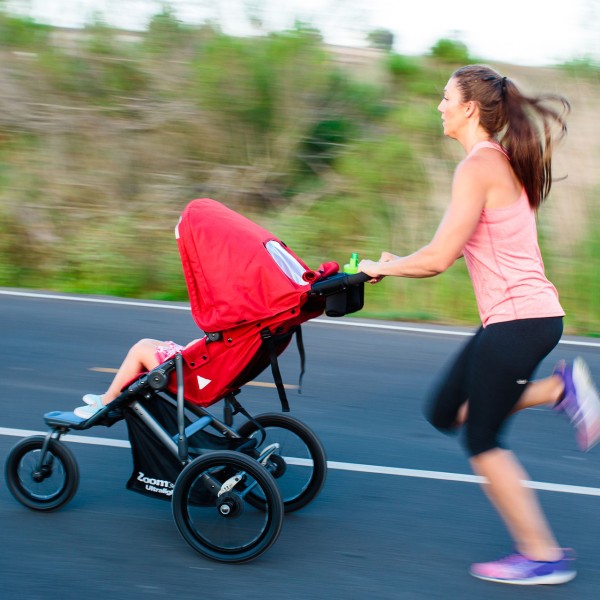 If you like off-road trips or running over more challenging terrain, this stroller won't let you down.
Moreover it's very easy to push and steer, even with one hand. Some parents say that operating this stroller is so comfortable and it feels so light, that it's even better than umbrella strollers.
Brake
Joovy Zoom 360 Ultralight has one-step linked parking brakes. The bar that you need to push or lift to engage/disengage the brake is stiff and according to some parents it's difficult to use, especially at the beginning. Just keep in mind that pressing and disengaging the brake does require using some force.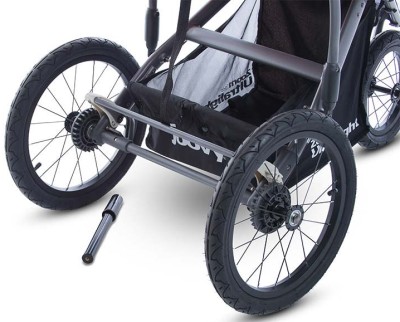 This brake is definitely not flip flop friendly, but I'm guessing you won't be jogging in flip flops, right? 🙂 Beside this, the parking brake works really nice and locks the stroller properly.
Some parent complain about the lack of handbrake, which would be very useful when going downhill.
Storage space
This jogging stroller has good-sized storage basket so you will be able to fit there all of your necessities for outdoor workout or day trip. This basket can accommodate a medium-sized diaper bag and there'll still be extra room for a bottle of water or baby blanket.
There is also a special place in the basket for the tire pump, that is included with the stroller. So in case the tires go low, you will have the pump at hand.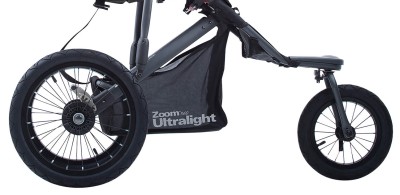 The only thing I don't like about this storage bin is the bar in the middle of it which makes the access a little bit harder. It's a minor flaw, but I had to mention it.
What I love about Joovy Zoom 360 Ultralight is the included parent organizer. This stroller has reasonable price and you don't even have to pay extra for the organizer! Big advantage.
It attaches to the handlebar with Velcro and includes two holders for beverages (for example for your small bottle of water and baby bottle) and one zippered pouch for valuables like keys and phone.
Size, Weight & Fold
This stroller is big, I'm not going to lie to you. But I didn't expect it to be small – it has to be strong and robust to accommodate a heavy passenger (up to 75 lbs!) and hold the infant car seat.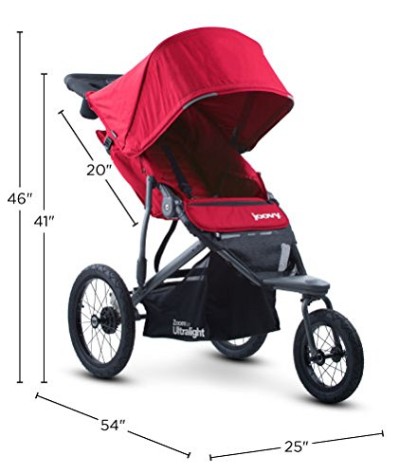 It's 25″ wide, so it's not wider than standard single strollers and it easily fits through doorways.
Although it's so big, it's not excessively heavy. Joovy Zoom 360 Ultralight weighs 26.25 lbs which is really nice as for a jogging stroller. Some standard everyday strollers weigh more!
You should keep in mind that the name "Ultralight" doesn't mean this stroller is light as a feather and portable like an umbrella stroller. It's just much lighter than the older model.
Now let's talk about folding. The process is fairly easy, but not every parents like it. First, you need to lift the calf rest. There is a safety button which you need to push and then pull the handle and the stroller will close in half. It has automatic lock and when the front wheel is locked straight forward, the folded stroller stands on its own.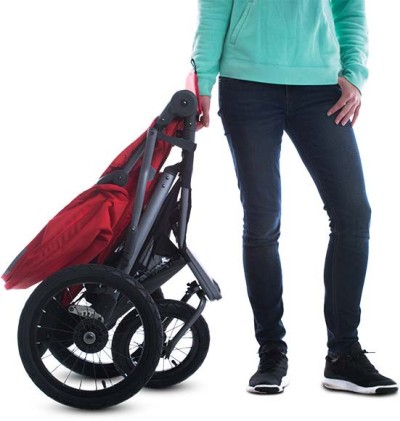 To be completely honest, folded Joovy Zoom 360 Ultralight takes up quite a lot of space. Its dimensions are: 34″ x 25″ x 19″. To make it more compact you can remove the wheels which is very simple and takes few seconds. Some parents say it's a bit annoying that you need to do it every time you want to put this stroller into the car trunk (if you have a small car), but I think it's a small trade-off for such a heavy-duty, all-terrain jogger.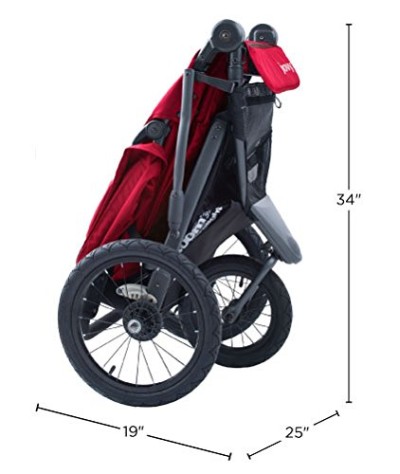 Pros & Cons
Pros
Cons

Pros

---

+ Deep recline for comfy naptime

+ High seat gives baby better view

+ Large canopy provides great amount of shade

+ Handlebar comfortable for average and tall parents

+ One-hand, smooth maneuverability

+ Feels very light

+ Glides like a breeze over rough terrain

+ Suspension soaks up bumps

+ High-quality, durable, sturdy

+ Parent organizer and tire pump included

+ Reasonable price

Cons

---

- Handlebar is too high for short parents (less than 5'4")

- Brake is a bit hard to press and lift

- Access to the storage basket is difficult because of the bar

- Large, not ideal for tight places

- Fold is not very compact
What other parents think about Joovy Zoom 360 Ultralight?
This is one of the most popular, highly-rated jogging strollers right now. I gathered the most important information that parents mention most often.
The biggest advantage of this stroller is the smooth ride that it provides. Thanks to big wheels and shock-absorbing suspension it glides even over rough terrain (like gravel, grass and rocky trails).
It's also very easy to push with one hand and maneuvers like a breeze, even with a heavy child in it. Many parents say the high seat is an advantage, because the baby has better view and even can eat at the table while remaining in the stroller.
Lots of customers praise Joovy Zoom 360 Ultralight for good quality of the materials and included accessories. It's durable and feels very light, even with heavy passenger. Large and wide canopy that provides excellent shade is another advantage.
Moreover the seat is very comfortable and some parents use this stroller for children with special needs (they can't use the recline, but the seat is roomy enough to accommodate even 6 or 7-year-old kid). This stroller has been very helpful for those parents.
According to some parents this stroller is fairly easy to fold and open and the wheels pop off easily to make it more compact. However, for other customers folding is more challenging and they complain that they have to take off the wheels to fit this stroller into the trunk.
There are some drawbacks. This stroller is big, so it's not ideal for narrow or crowded places. It does take a lot of space – when open and folded. The handlebar (and the whole stroller) is high, that's why short parents complain it's less comfortable for them.
The storage basket is decent, but the bar in the middle blocks the access to it. The brake is rigid and for some parents difficult to engage and disengage.
Specification
| Stroller | Data |
| --- | --- |
| Stroller Type | Jogging |
| Stroller Weight | 26.25 lbs |
| Weight Limit | 75 lbs |
| Stroller Dimensions | 54" x 25" x 46" (LxWxH) |
| Fold Dimensions | 34" x 25" x 19" (LxWxH) |
| Handlebar Height | 41" |
| Wheels Size | 16" (rear ones) and 12" (front one) |
Joovy Zoom 360 Ultralight – Colors
Joovy Zoom 360 Ultralight comes in 4 color versions: Black, Blueberry, Red and Charcoal.

If you want, you can check which colors are available right now and see the current discounts.
Accessories For Joovy Zoom 360 Ultralight
It's really awesome that this affordable jogging stroller comes with two accessories included: parent organizer and tire pump.
There are however two other accessories that you may purchase separately, depending on your needs.
Image
Description

Car Seat Adapters

– If you want to stroll with Joovy Zoom 360 Ultralight from birth you have to attach the infant car seat to the stroller. To do this, you will need proper adapter, designed or specific car seat brand. It's great that this jogger is compatible with so many different models of infant car seats (apart from Britax adapters, you can also find adapters for Chicco, Graco, Maxi-Cosi, Cybex, Peg Perego and UPPAbaby).

Rain Cover

– I love long-distance jogging and few times when I was few miles from home it started to rain heavily. Thankfully I always have the rain cover for my jogger in the storage basket. Thanks to the rain shield your child will stay dry and cozy.
Joovy Zoom 360 vs BOB Revolution FLEX
These two strollers have been one of the most popular joggers for a long time already. Parents often wonder what is the difference between Joovy Zoom 360 Ultralight and BOB Revolution FLEX, especially since they vary in price so much (sometimes the difference is over $150!).
Both jogging strollers are very good-quality and suitable for any type of terrain. However they have few different features, which I listed in the table below. Here's my comparison: Ultralight Joovy Zoom 360 vs BOB Revolution FLEX.
| | Joovy Zoom 360 Ultralight | BOB Revolution Flex |
| --- | --- | --- |
| Age Recommendation | Some parents use it as a stroller for kids with special needs or tall preschoolers (even 6 and 7 years old) | Most often parents use it up to 3 years, occasionally for 4 and 5-year-old kids |
| Recline | Two-hand | One-hand |
| Harness | The straps are not padded | Shoulder straps have padded covers |
| Infant Car Seat Compatibility | Britax, Chicco, Cybex, Graco, Maxi-Cosi, Peg Perego, UPPAbaby | Britax, Chicco, Graco, Peg Perego |
| Canopy | Extendable 2 panels, plastic peek-a-boo window with Velcro closure | Similar canopy with the same features, but it extends further |
| Handlebar | Non-adjustable, 41" from the ground (convenient for average and tall parents) | Adjustable, 9-positions from 34.5" to 48" from the ground (convenient even for very short and very tall parents) |
| Front Wheel | 12" | 12.5" |
| Suspension | Yes | Yes, adjustable (two shock positions for passenger under and over 40 lbs) |
| Brakes | One-step parking brake operated by-foot, the bar is quite stiff and hard to press and lift | One-step parking brake operated by foot, very easy to use even in sandals |
| Storage Basket | A bit difficult to access because of the bar in the middle | Easy to access from the back |
| Included Accessories | Parent organizer, tire pump | No accessories included (all sold separately) |
| Weight | 26.25 lbs | 28.5 lbs |
| Fold Size | 34" x 25" x 19" | 39" x 25.4" x 16" |
| Colors | 4 (Black, Blueberry, Reb, Charcoal) | Color versions 6 (Black, Lagoon, Canyon, Meadow, Red, Lunar) |
Apart from these differences, Zoom 360 and FLEX are similar. Both strollers have wide, roomy seat with vented top. Both joggers have non-adjustable calf rest and footrest. They have large wheels with air-filled tires that make them suitable even for harsh, bumpy terrain.
Keep in mind
This stroller takes a lot of space when it's open and folded. If you have really small car trunk, it's better if you compare it with the dimensions of folded Joovy Zoom 360 Ultralight, before you make your purchase. If you have a small apartment you should also consider if you have enough room to store this stroller.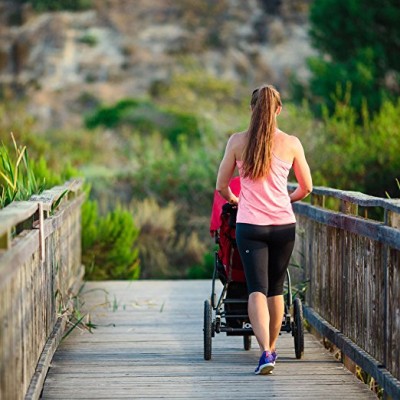 One more important thing: you can use this stroller for taller and older kid (over 42″ tall), but you won't be able to recline the seat and baby's head will lay on the mesh seat top and canopy fabric when it's closed (and probably touch the top of canopy when it's open).
For some parents it's a disadvantage, because it's less comfy for the baby for longer strolls, but for others it's very useful for example for going to the doctor or mall. I know that some parents use this stroller even for 6-year-old kids with some medical conditions (like autism or epilepsy) for getting around the city or running some errands and it works fine for them.
3 Reasons Why You Will Love Joovy Zoom 360 Ultralight
1. It's an inexpensive jogging stroller. It includes parent organizer and tire pump which is a nice touch. All of that for a reasonable price.
2. With this stroller you can go wherever you want to explore the outdoor with your baby. It glides smoothly on all types of terrain and it's so easy to push even with one hand.
3. Joovy Zoom 360 stands out because it's one of the lightweight jogging strollers. It's not as bulky as other jogging strollers, but still it's solid and strong!
Do you consider buying this stroller? Before you purchase it, make sure it really meets your needs – read what other parents who own Joovy Zoom 360 Ultralight, think about it.
This jogging stroller doesn't meet your needs? Check out other awesome strollers that you can run with – here is my ranking.
---
All pictures of Joovy Zoom 360 Ultralight and its accessories belong to Joovy. Source: https://joovy.com
All pictures of BOB Revolution FLEX belong to BOB. Source: https://www.bobgear.com