Are you expecting and looking for an all-in-one lightweight stroller that you could use since birth till toddlerhood? Or maybe your baby can already sit and your primary buggy seems to be too bulky and heavy and you want to switch to more compact and portable stroller? You probably wonder what is the best lightweight stroller for toddler.
Well, if you answered "yes" to any of these questions, then I would like to introduce you to an awesome and super light stroller, loved by so many parents: Mountain Buggy Nano.
Stroller name
Type
Age recomendation
Capacity
Best application
Lightweight stroller
Main seat – from 6 months
Newborn Cocoon – from birth
Main seat – 44 lbs
Newborn Cocoon – 19 lbs
Well equipped lightweight stroller for newborns and excellent lightweight travel stroller for toddlers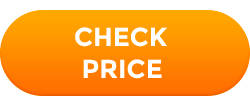 In my Mountain Buggy Nano review I will show you the most important features of this stroller. You will find here also my list of advantages and disadvantages and my final assessment of Nano stroller.
Mountain Buggy Nano Review – Main features
Let's start with features that Mountain Buggy Nano can offer us.
Seat
The main seat in Mountain Buggy Nano is suitable for toddler, from 6 months to 44 lbs. The seatback is 17.5'' long and there are about 27 inches from the bottom of the seat to the top of the canopy. The seat is pretty large, especially for such a compact stroller. Nano can accommodate even a 4-year-old child!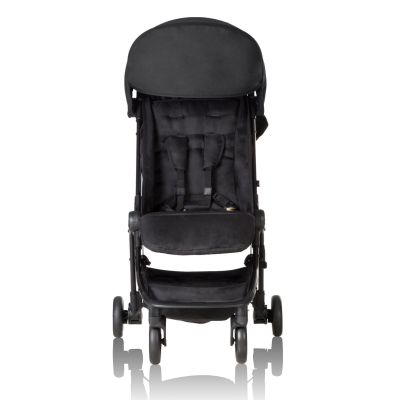 There is a leg rest that can be adjusted as the baby grows to provide maximum comfort. It also makes napping more comfortable. The stroller has also a step where taller children can rest their feet during strolls.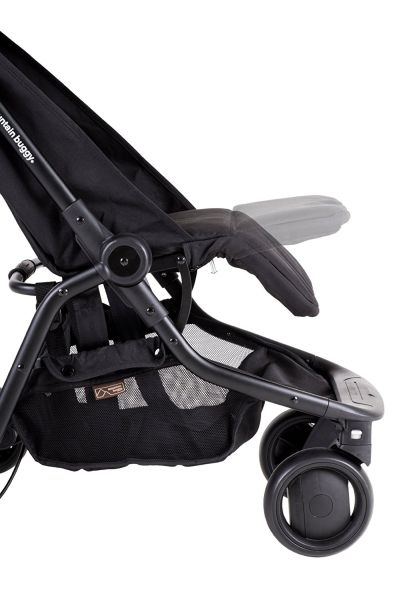 Although this is a lightweight travel stroller, manufacturers didn't forget about child's comfort. Toddlers also like to take naps while on the go – here they can lie back comfortably on a multi-position reclining seat.
To lower or lift the seat up we just need to pull the strap on the back of the seat, it's very easy to do. The main seat doesn't feature flat position, but goes down enough for comfortable snooze.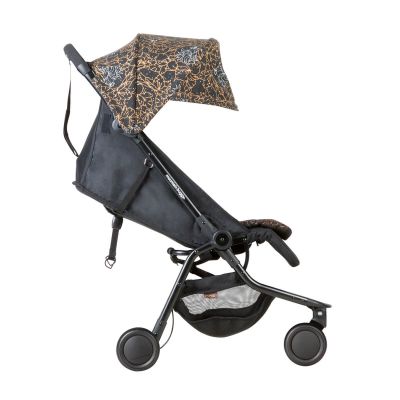 At the top of the seat there is a mesh window that provides great air-flow. We can also open it with a Velcro for even better ventilation during hot days or cover it during cold days. This cover is a new features, added to the newest version of the stroller – Mountain Buggy Nano V2. Aside from this mesh window, there is no peek-a-boo window but you can keep an eye on your baby through this one!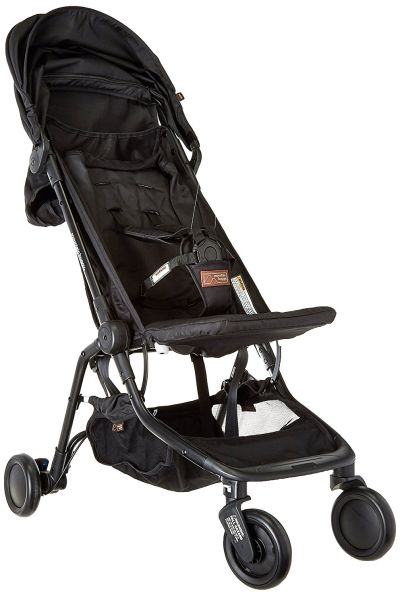 Toddler seat is equipped with a 5-point harness that unbuckles in two steps. First we have to push two red buttons, then squeeze a buckle. It is easy to do for parents but almost impossible for a toddler. Another plus for Mountain Buggy Nano.
Seating options for newborns
What I really like about Mountain Buggy Nano is that we can easily turn it into a travel system and we don't need to purchase any additional adapters for it! This stroller is already equipped with on-board adapter for car seats.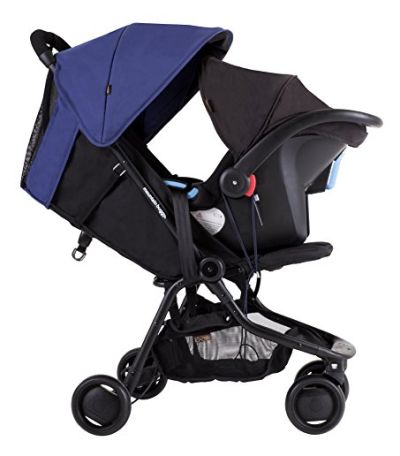 Thanks to Nano, we don't have to worry anymore about taking baby out of the infant car seat, putting into a stroller and waking him up. We can just simply install the car seat into the stroller seat with belt-style adaptors. It's easy and for me it feels really secure. It's amazing that a lightweight stroller offers the stability suitable for infant car seat.
Travel System is not only great solution for parents who often drive with their kids or want to run quick errands. It's awesome mostly because we don't need any other strollers! Since day one we can use this stroller with infant car seat and then switch it to a toddler seat. In both cases this stroller is super light and easy to transport. Perfect!
Another advantage of this lightweight stroller is that we can use it with a cocoon for newborn babies. It offers completely flat position, designed for delicate newborn spine. In the picture below you can see how it looks.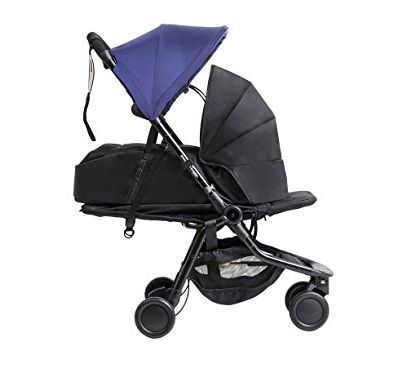 Mountain Buggy Newborn Cocoon is suitable from birth up to 6 months or 19 lbs. It is 28″ long, 12″ wide and 18″ high with canopy/ 7″ high without canopy. It weighs only 3 lbs. So the whole stroller in a "newborn version" weighs only 16 lbs which is super light! There are also two carrying handles so we can easily transport the baby from the stroller to home.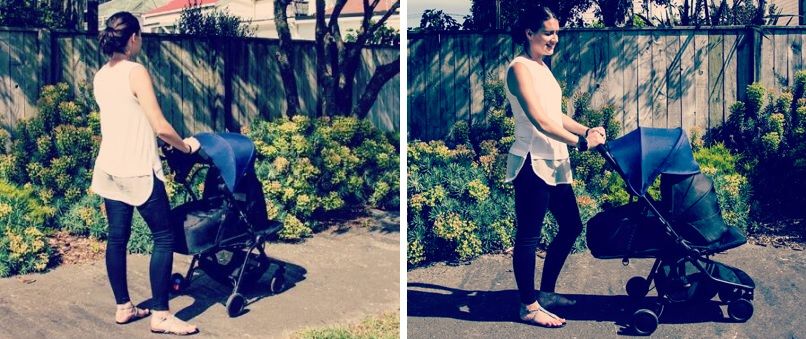 Who said that you cannot have a lightweight stroller for newborn? Mountain Buggy Nano serves parents since day one! I just love it.
Newborn Cocoon is compatible with the newest version of Mountain Buggy Nano V2, MB Mini, Swift, Urban Jungle, Terrain and Duet.
This Cocoon is sold separately for around $80. Check it out >> here <<.
Canopy
As you can see in the picture below, Nano has two panel canopy with a flick out sun visor. In the newest model Mountain Buggy Nano 2016 the sun hood is bigger and the sun visor is made of the same solid material as the whole canopy, not mesh like in the previous version.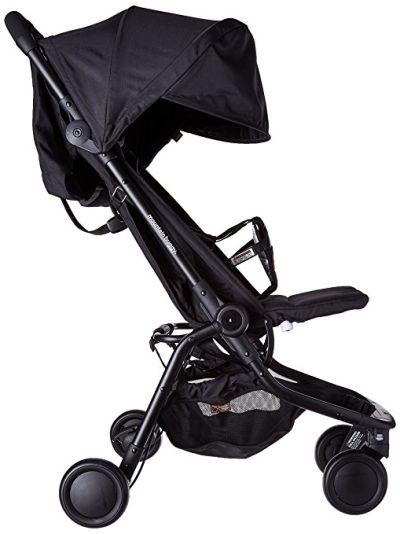 I always read other parents reviews to give you bigger perspective on the product. Some parents using Mountain Buggy Nano have been complaining that the canopy opened itself when they were trying to lift the folded stroller up. Of course I decided to check it.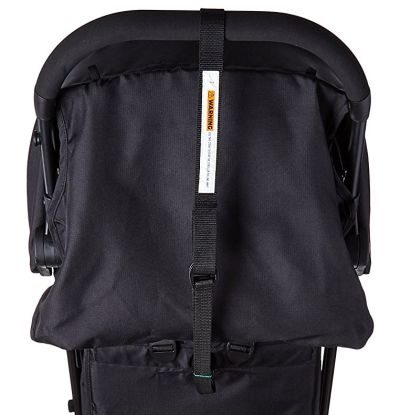 Well, some parents were confused why Nano has a running strap, like a jogging stroller. In fact, this is a strap to secure the canopy in closed position. I've tested it and it keeps the canopy closed, so problem solved!
Wheels
Nano has 5.5″ wheels, the front one are swiveling and can be locked in straight position for more difficult terrain. With locked wheels you can go over gravel or grass and you won't stuck on every bump.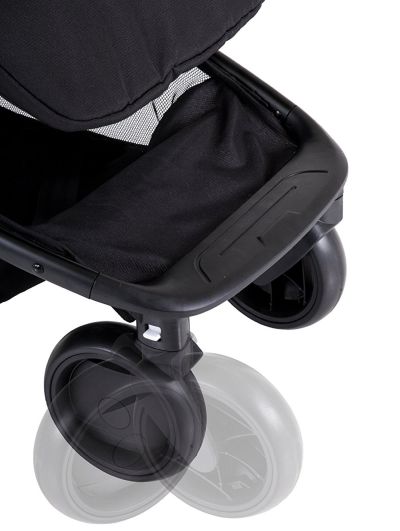 Although Mountain Buggy Nano is not all-terrain stroller, it handles sidewalks, pavement, cobblestone and gravel paths really well. It's perfect for parents who plan on travelling to Europe and visit some old towns like Rome, Florence or Paris.

Brakes
There is a single action brake with color indicators, super easy to operate. To lock the stroller we need to step on the red part and to release we need to step on the blue part.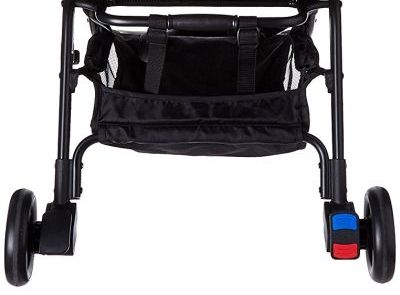 Handlebar
Nano's handlebar has fixed height at 38.5″ from the ground. This is the most convenient height for parents from 5′ to 6'3″. The handlebar height and shape is really nice, I never kick the back of the stroller while walking (I'm 5'2″). My husband (he's 6'2″) hasn't got any problems with it either and he says this stroller is very comfortable for him to push.
Maneuverability and ease of use
Mountain Buggy Nano is super convenient to operate, push and turn. It's light and maneuvers smoothly and thanks to a perfect weight distribution going over curbs is not a problem anymore! We can easily lift the front wheels up and hop over curb.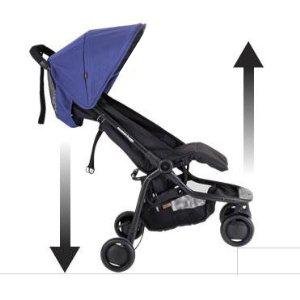 Moreover, Nano is very slim which makes it easy to push with one hand and convenient for using public transportation or navigating through store aisles.
This stroller is equipped also with a rear-wheel suspension, which is pretty rare among lightweight strollers! Of course this stroller is not design for off-road strolling, but this suspension can absorb small bumps. Big advantage for a lightweight stroller. Moreover, I like how sturdy Nano is.
Weight and folding
Mountain Buggy Nano was designed for parents who are often on the go or travel with their children and need a stroller that is compact, quick to fold and portable. This stroller meets all of those need!
Mountain Buggy Nano weighs only 13 lbs which makes it easy to lift to put in a car trunk or just carry. We can use this stroller for a newborn baby (with an infant car seat or newborn cocoon) and such a small weight is perfect for moms who had C-section or have problems with their backs.

Folding Nano takes two steps and is also very simple. It requires using two hands and little practice, but it's not difficult. Once you get used to it, it will be a piece of cake and you will do that in few seconds. First, we need to press two buttons to drop the canopy behind the seat and then fold the stroller down by grabbing a handle behind the seat.
Below you can see on the video how to fold Mountain Buggy Nano.
There is an automatic lock which simplifies storage and transportation. Folded stroller dimensions are: 12″ x 22″ x 20″. It takes really small space in a car trunk, garage or closet so storage is also super simple. If you don't have much space in your home or car, this stroller will suit you!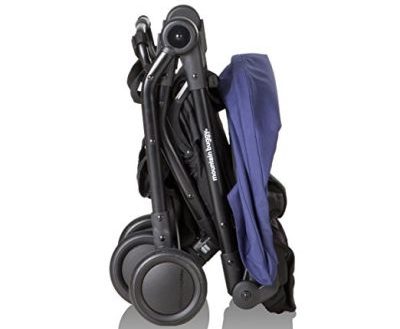 Mountain Buggy Nano fits into overhead compartments in most of the airplanes. It meets carryon luggage regulations for most of the airlines (to be sure check out specific regulations before your trip).
Some parents ask what's so special about taking stroller as carryon, when you can just gate check it. Well, it is a convenient option to take a stroller with you and fit it into overhead compartment. You don't have to worry it will get broken or ripped and you don't have to wait for it after landing.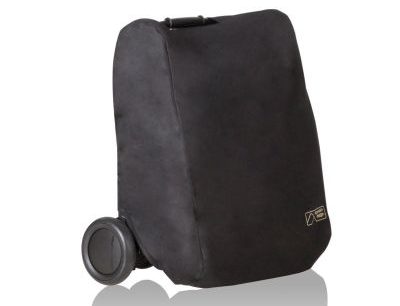 I took my Mountain Buggy Nano for a trip to Europe and after 9-hour flight I was really happy I could just walk out off the plane and put my daughter into the stroller immediately after landing. I didn't have to wait for gate checked stroller or worry if it was going to show up intact.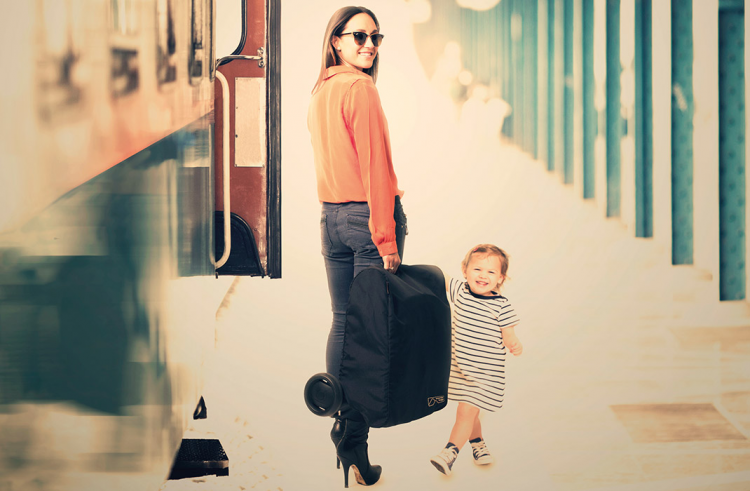 This stroller is great for travelling by plane, train and car not only because of its small weight and compact size. It also includes a travel bag!
Besides, we can carry the stroller with a handle or shoulder strap (in or without the travel bag) or pull it like a suitcase because the wheels stick out of the travel bag! I love that I can carry this stroller on one shoulder and my baby on the other hand. With Mountain Buggy Nano travelling with baby is a breeze!
As you can see Mountain Buggy Nano is not only an awesome lightweight stroller for newborn or toddler but also perfect lightweight travel stroller!
Storage space
This is a lightweight stroller therefore the basket under the seat is not the biggest one, but it offers decent storage space. We can fit there baby's essentials. We can access the basket from the back and front.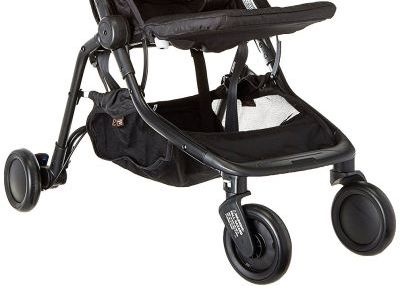 What I like about this basket is that it won't sag even if it's fully stuffed. As for a lightweight stroller Nano' basket is pretty great.
Accessories included
I really love that Mountain Buggy Nano comes with a travel bag – especially useful during traveling by airplane and train. It has also built-in universal adapter for infant car seats, so there is no need to purchase additional adapter for specific brand.
Pros & Cons
In my Mountain Buggy Nano review I tried to show you this stroller's high-quality and awesome features. Of course there is still room for improvement. Here's my list of Nano's advantages and disadvantages.
| | |
| --- | --- |
| Pros | Cons |
| It can be used since day one (with Newborn Cocoon) till toddlerhood | Rather small canopy |
| Converts easily into a travel system thanks to compatibility with probably every infant car seat, adapter is included | No tradicional peek-a-boo window, only the mesh window at the top of the seat back |
| Main seat has adjustable leg rest | No parent and child tray, no cup holder |
| Wheels can handle sidewalks, gravel paths and cobblestone | Folding requires using two hands |
| Easy to use brake | |
| Convenient to push with one hand, maneuvers very smoothly | |
| Super light, can be carried with a handle or shoulder strap or pulled like a suitcase | |
| Folds in few seconds into a small package – perfect for travel by plane/ train/ car; includes travel bag | |
Need more reasons to buy?
Check out dozens of positive Mountain Buggy Nano reviews written by other parents!
Specification
| | |
| --- | --- |
| Stroller type | Lightweight |
| Stroller weight | 13 lbs (frame + main seat), 3 lbs (Newborn Cocoon) |
| Weight limit | 44 lbs (main seat) / 19 lbs (Newborn Cocoon) |
| Stroller dimensions (LxWxH) | 32" x 22" x 38.5" |
| Folded dimensions (LxWxH) | 12" x 22" x 20" |
| Handlebar height | 38.5" |
Mountain Buggy Nano V2 (2016)
I've always been a fan of Nano stroller, but the newest version is even cooler. Manufacturers have really listened to parents calls and added new features to make Mountain Buggy Nano even more convenient to use.
What is the difference between the newest version Mountain Buggy Nano V2 and older version?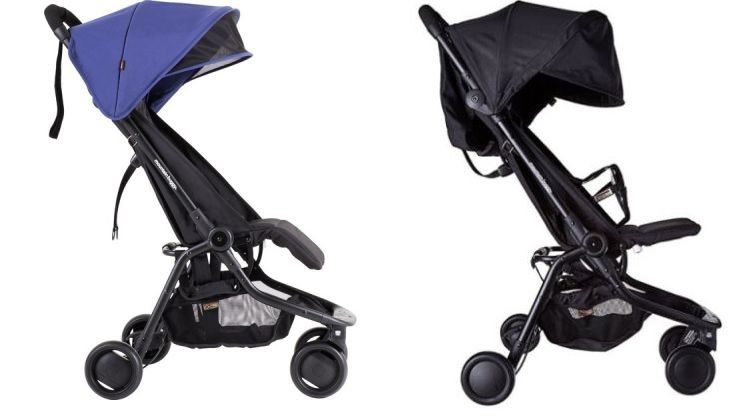 First of all, Mountain Buggy Nano 2016 is 1'' narrower, reclines 30% deeper, has larger canopy with solid flick out sun visor (instead of mesh) that goes a little bit lower, slimmer wheels and mesh window with fabric overlay on the seat back when the seat is reclined.
Besides, the seat go to near-flat position and is compatible with Newborn Cocoon Carrycot – when we attach it to the seat it will provide fully flat position for newborns.
Of course these are not huge changes, rather minor fixes that customers needed.
Color versions
Mountain Buggy Nano comes in four regular color versions: Black, Ruby, Nautical and Silver.

There are also two special color editions for Mountain Buggy Nano V2: Year of Rooster and Year of Monkey which look really awesome.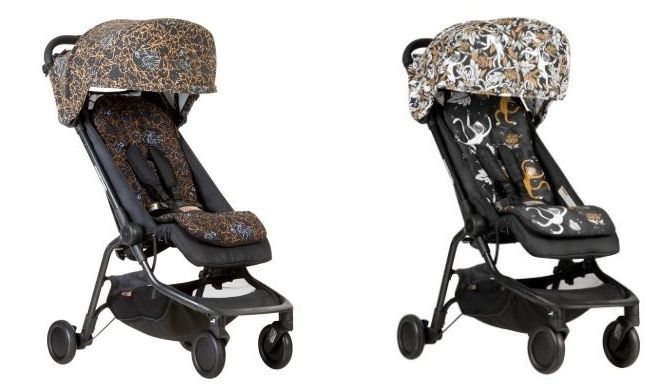 Accessories
| | |
| --- | --- |
| | This newborn carrycot provides fully flat position, suitable for newborns and infants; thanks to it we can use Mountain Buggy Nano since birth. |
| | This freerider connects to the rear axle of the stroller (thanks to universal connector included it fits to Mountain Buggy strollers and other stroller brands). Great option if you have two kids at different age, one can ride in a stroller and the older one on the freerider. |
| | This child tray provide a convenient place for baby's snacks and beverage. Kids always get hungry when on the go, in my opinion this tray is a must! |
| | This parent organizer is compatible with every Mountain Buggy stroller, it just belts around the handlebar. Thanks to it you can keep your essentials within reach. There are pouches for beverages and zippered storage for keys, phone, wallet and other parent's necessities. |
| | This set includes mesh sun cover (which can also serve as insects shield) and rain cover. Both shields provide nice air-flow. If you live in area where it rains a lot or where's a lot of sun or plan on traveling to those places – this is a must. |
| | This umbrella is compatible not only with Mountain Buggy strollers, but also other brand's. It helps to protect baby from rains, sun and heat. |
| | This thing makes you love winter strolls. It will keep your hands warm and dry. It simply zips to stroller's handlebar. Fits to Mountain Buggy's and other brand's strollers. |
Final assessment
Mountain Buggy Nano V2 is really awesome and has many applications. 
Parents can use it as all-in-one stroller, because this lightweight stroller has options for newborns and toddlers. It can also serve as a lightweight travel stroller for parents who often fly or drive.
Mountain Buggy Nano is also great for day trips to the ZOO or Disney World – it's convenient to use for parents and very comfortable for the little passenger. It can be also used as an everyday stroller, for trips to the mall or restaurants.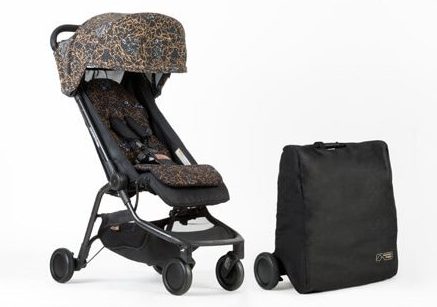 You can also keep it in your car trunk or behind your seat (it takes up really small space). It allows you to get in and out of the car quickly any time you need to run some quick errands. Nano can also work as a stroller for big kid or older toddler. It's great for 3 or 4-year-old who can walk, but gets tired on long distances and sometimes want to hop on and get rest.
To sum up, it combines the best features of different types of strollers. It's light and compact like umbrella stroller, but well equipped like full-sized strollers. It can be the only stroller you will even need.
Mountain Buggy Nano V2 can serve you as a primary lightweight stroller for newborn or secondary lightweight travel stroller for toddler. It's sturdy, easy to push with one hand and very versatile. Compared to other buggies in this category, this is one of the best lightweight strollers for traveling with babies at different ages.


Hello Moms! I am Zooey. I am a wife and a mother of three amazing kids: 3-year-old Haley and almost 1-year-old twins Jesse and Matthew. I am a jogger, cooker and blogger
If you have a question or a comment, do not hesitate to write to me! 🙂