I thought that when it comes to baby strollers I've seen everything! But the new Ergobaby 180 Reversible Stroller has really surprised me with all its awesome features that all moms (and dads) dream about.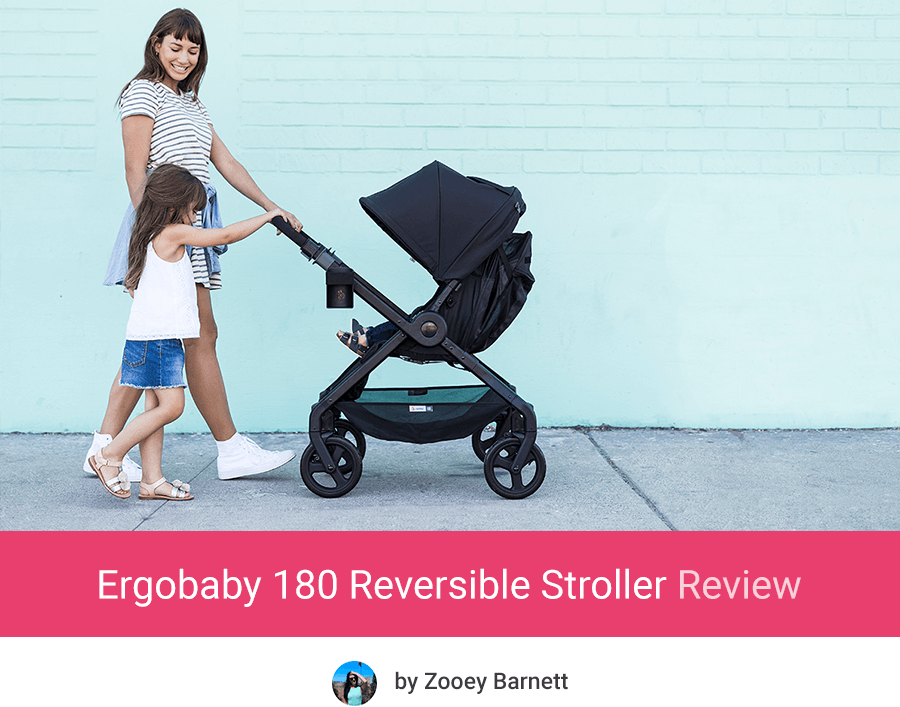 There are three main features that I need to tell you about right away: reversible handlebar, oversized canopy + vented seat top and 4 swiveling lockable wheels for ultimate maneuverability in the city jungle.
Of course there is much more to love about this stroller. Keep reading and you'll find out everything you need to know before you decide to buy this buggy. Of course I couldn't fail to mention some small drawbacks either. Ready?
Here is my honest Ergobaby 180 Stroller review!
Image
Data

Ergobaby 180 Reversible Stroller

Check Availability & Price:
Amazon / Ergobaby official website

Lightweight reversible stroller
Near-flat recline for comfortable napping
Converts into travel system with many different car seats
Height-adjustable handlebar for short and tall parents
Storage basket easily fits large diaper bag
Great features for hot weather: extra large canopy and mesh seat top
Unlock all four wheels and enjoy ultra-easy steering and turning
Awesome infant-to-toddler stroller for urban parents
Ergobaby 180 Stroller Review
This is first stroller made by Ergobaby, brand well-known for its fantastic baby carriers. It is a single stroller, designed for one child and can hold up to 50 lbs.
Ergobaby 180 Reversible Stroller easily converts into a travel system – thanks to compatibility with infant car seats (adapters sold separately).
Stroller seat
The main seat on Ergobaby stroller features deep recline. It's almost fully flat, therefore it is suitable for smaller infant (about 3 months), especially if you add special Ergobaby Comfort Cushion for baby's neck and body support.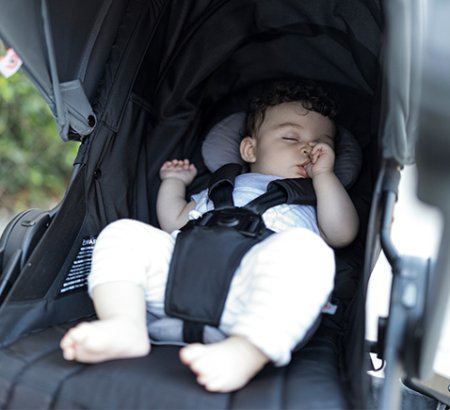 Although the manufacturer says the seat is newborn-ready, I would still adding the infant car seat if you want to use this stroller from birth.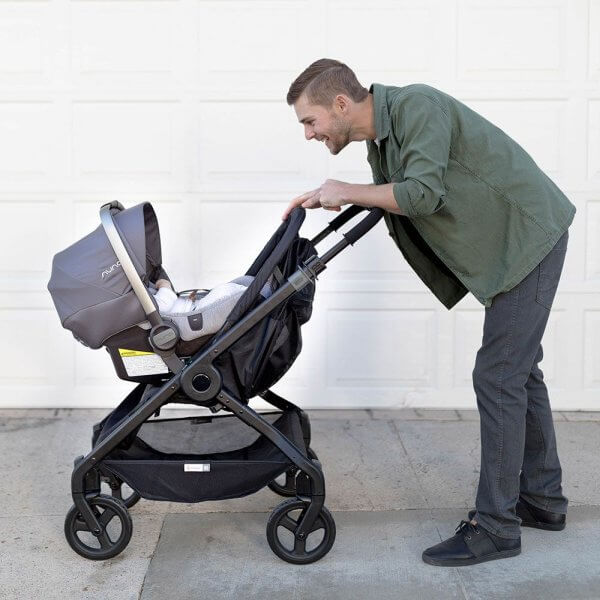 You can lower the backrest using one hand – there is a buckle on the back of the seat that you need to squeeze. However to lift the backrest you will need two hands – one to hold the strap and one to slide the buckle up again. Some parents complain this reclining system is old-fashion (when compared to built-in lever) but it's still easy to do!
PRO TIP: When your baby is napping, use both hands to recline the seat. Tighten/loosen the strap with one hand and use the other hand to hold the backrest and lower it slowly so you don't wake up your baby.
Another great thing about Ergobaby stroller is the vented seat top. But it's not just a small window – the mesh part is really large! This makes Ergobaby 180 perfect stroller for summer! The mesh panels provide wonderful air circulation and protect the baby from sweating and overheating during hot weather.
Of course there is a cover for the mesh panel – to keep baby comfy and warm even on chilly days.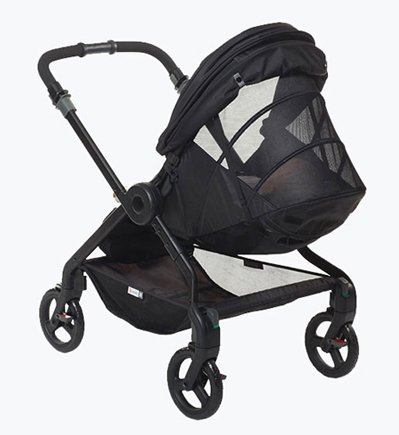 The main seat on Ergobaby 180 Reversible Stroller is equipped with calf rest and footrest – both non-adjustable.
I would prefer to have a leg rest that can be lifted up, especially that together with the full recline it would create really comfortable space for napping. For some parents it may not be that big of a deal, but I had to mention it.
NOTE: If you have a little baby who's feet barely reach the seat edge, the seat will still be comfortable for napping. But for older child who doesn't likes to nap with his feet down, it may be less comfy because he won't be able to prop his feet up.
I really like the padding on Ergobaby stroller seat. It's deep, cushy and very comfortable. If your baby likes to nap during strolls, he will feel cozy it this stroller for sure.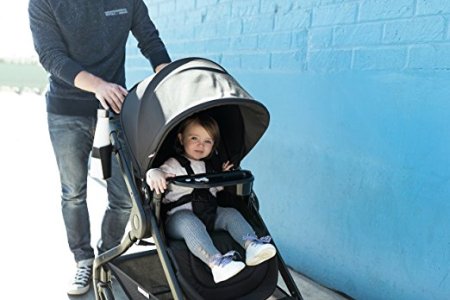 There is also 5-point harness with release button in the middle – very user-friendly for parents, still difficult for baby's little fingers. The straps are easily adjustable.
I've heard some parents complaining that the harness is big and difficult to adjust for small babies.
PRO TIP: The shoulder pads are wide enough so you could add a strap adjuster (clip) to make them more thight for little infant. Not every harness allows for that.
The seat allows you to attach a snack tray which also has a place for baby's sippy cup. This accessory is sold separately (you can find it on Amazon or on Ergobaby website)
Compatibility with infant car seat
Ergobaby 180 Stroller can be used with many different car seats from Graco, Chicco and Britax. Recently the brand also added adapters for some of the Cybex and NUNA infant car seat.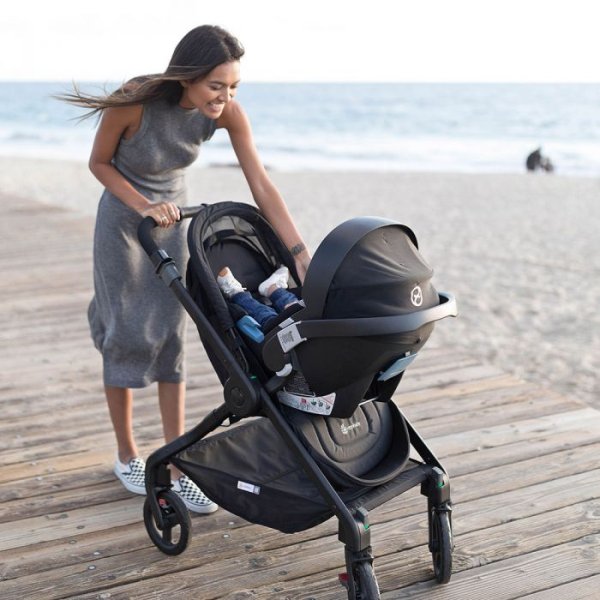 Canopy
This is another feature that makes Ergobaby 180 an awesome stroller for summer. It has large 3-panel canopy that provides tons of shade for the baby when fully extended. It's one of the greatest canopies I've even seen!
You'll love the fact that canopy covers the baby even when the seat is reclined! If your baby hates the sun is his eyes, wakes up and cries, this sunshade will be a game changer for you.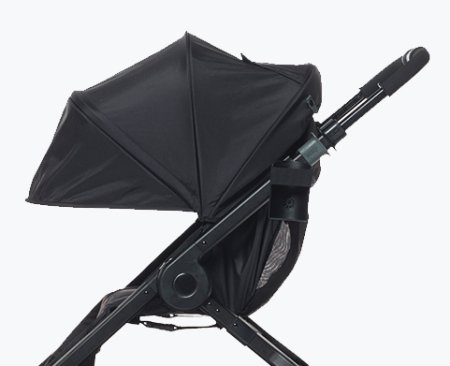 Your baby will be able to nap comfortably and the canopy will keep the sun out of his eyes. Besides, such a generous sunshade protects the little passenger from harmful sun rays and getting sunburns. This is excellent stroller for hot weather or for example Florida climate.
If you're looking for the best stroller for summer you should definitely consider Ergobaby 180 Reversible. The canopy is so huge you won't need to throw a blanket or cloth diaper over the canopy (which is not safe actually) to get extra shade!
Oh, and there is a small peek-a-boo window with silent, magnetic closure so you could check on your little one whenever you want!
Handlebar
This is probably the best feature on Ergobaby stroller. Just like the name says – this is a reversible stroller.
Ergobaby 180 offers easy reversibility from parent-facing mode to front-facing mode. Flipping the handlebar works very smoothly.
Thanks to reversible handle your baby can ride facing you or the World and you can change it in few seconds.
Just pull the levers on both sides of the handlebar, reverse it and… that's it! It's as easy as it sounds.
Stroller with reversible handle is such a convenient solution!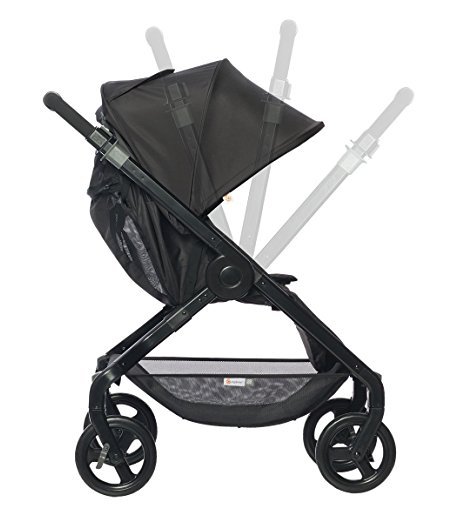 It's really awesome that Ergobaby stroller is reversible because most parents prefer when their newborn baby faces them, but older kiddos usually prefer to ride facing front and observe surroundings.
And here you don't have to detach the seat, lift it and reverse it. Here everything is hassle-free. Just flip the handle to the other side and your baby rides in different direction.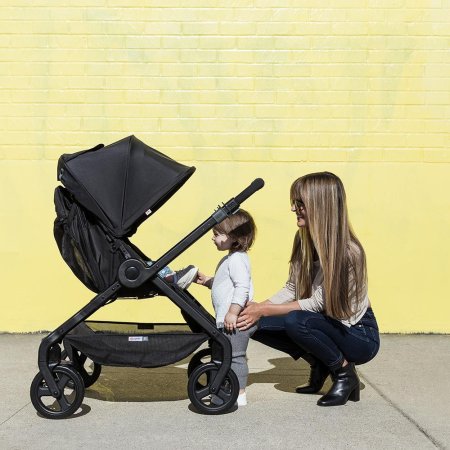 Oh, there one more great thing about this handlebar – it is also height-adjustable! It extends from 39″ to 42″ inches from the ground. The height settings are convenient for short, average and tall parents (I would say from 5′ up to 6'3″).
And because the handlebar telescopes, not rotates, it gives more room behind the stroller which is essential for parents who have long legs so they don't kick the back of it.
LOVE IT!
PRO TIP: Last time I checked on Ergobaby website you could get this stroller for $299 ($399)! Make sure to check if the discount is still available.
Wheels + Brakes
The wheels on this reversible stroller are not super big but hey – this is a city buggy for everyday use, not an all-terrain stroller. And it serves that purpose really well.
The tires are made of EVA foam.There is no suspension system therefore I would recommend using this stroller mainly on flat terrain like pavement, bricks or hard-packed gravel. It may not perform that well on uneven terrain and the baby would feel shocks.
There is however one more cool feature that we can find on this reversible stroller. All four wheels are swiveling and lockable!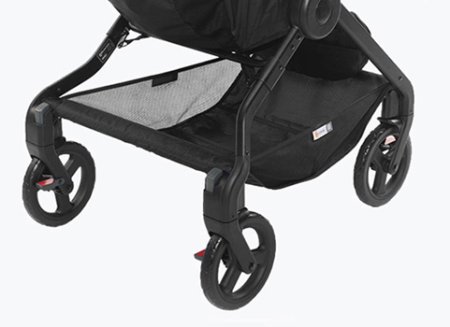 So there is an option of 4-wheel steering. In this mode all four wheel swivel a full 360 degrees (similar to a suitcase). It make the stroller very agile and easy to operate. The turning radius is so tight! And you can push it from side to side.
Of course 4-wheel steering is most comfortable on smooth surfaces – it will be very useful when you're at the mall or airport, or in a grocery store. Or smooth pavement.
When you're strolling on cracked sidewalk, grass or gravel path you should lock the rear wheels. Each wheel has independent lock – simply tap the wheel lock with your foot, roll them into straight position and that's it (check the video below to see how it works).
PRO TIP: When you change the position of the handlebar in 2-wheel steering mode, remember about unlocking the wheels that will be in front and locking the wheels that are closer to you.
Once you lock the wheels, make them spin a little bit so the lock could engage (maybe roll backwards for a while), before you start strolling forward.
It takes some time to get used to it but once you get it, it's quick and easy.
If you're going over a bit more challenging terrain you can lock all four wheels for greater sturdiness.
Moreover each wheel has separate brake. The pedals are quite small but still fairly easy to press and lift (if you're wearing open toe shoes lifting the pedal may be more difficult).
Storage Basket
When you have a baby you realize how important it is to have spacious storage basket. You'll need that space for your diaper bag, maybe a blanket, extra towel or your jacket. It's useful to have big storage bin that can also hold few shopping bags.
The basket on Ergobaby stroller is big and capacious. It's not giant, but it will easily hold large backpack diaper bag and there'll still be some room for other items.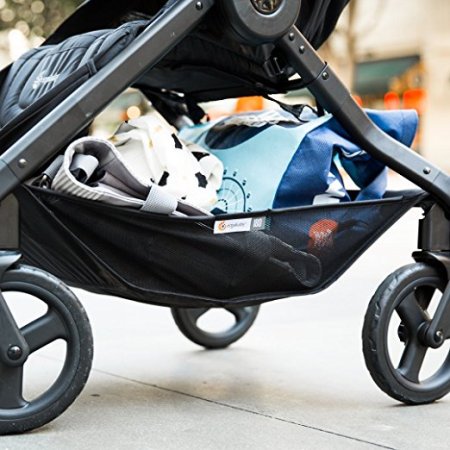 Just keep in mind that the sidewalls of the basket are quite short. Be careful because loose items may fall out.
The bin is easily accessible from behind the seat. When the seat is fully reclined the access is more difficult and may require bending down a bit. You can also take some small items out from both sides.
NOTE: Since the footrest doesn't flip up you don't have the access from the front. This means that when the stroller is in parent-facing mode, you don't have direct access to the basket. Therefore you need to go behind the stroller to take your stuff out.
There is also one storage pocket on the back of the seat – where you put the straps for reclining the seat. The pouch is big enough to hold mom's cellphone, wallet and a bottle of water or some snacks.
This pocket is very handy especially when the seat is facing front, because it allows you to keep your essentials within reach.
When you use parent-facing mode you don't have any pockets near you, but there is a cup holder where you can put your beverage (it has adjustable strap therefore it fits various sized bottles and cups). Big plus for including this accessory.
Fold
Folding Ergobaby stroller is very simple – you just need to pull the handle in the middle of seat and it will close in half and lock automatically. It can be easily done with one hand. You may need to push the canopy fabric down a bit to make it more compact.
The stroller stands on its own when folded – but you need to slide the handlebar in.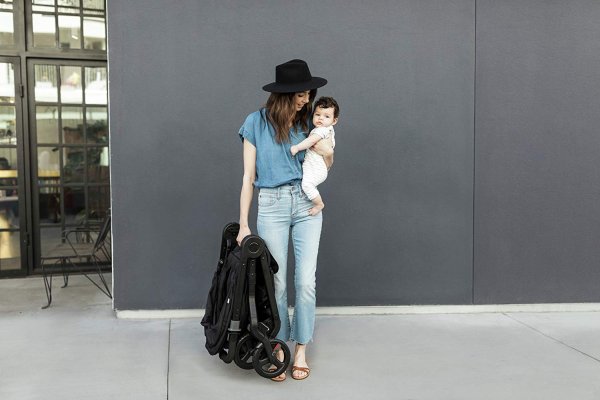 There are two things that I'm not a fan of, when it comes to Ergobaby stroller fold. It folds outwards, so the whole fabric is exposed to dirt. Besides, it stands on the handlebar which has foam cover – prone to rip. Be careful when you store it in your home or car trunk.
The handle that you use for closing the stroller may also serve you for carrying it.
Fold size is fairly compact, especially considering this is a standard, convertible stroller. The dimensions are: 30″ x 23.5″ x 14″. It fits probably in all car trunks.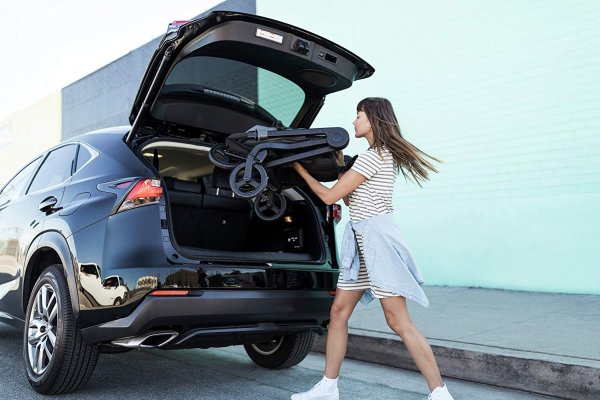 Opening the stroller is a bit more complicated. But it's still doable even when you hold the baby in one hand, you just need to practice it few times. First unlock the stroller (there is a button on the frame), unfold the handlebar and then open the rest of the stroller. You may need to help yourself by using your knee, if you're using only one hand.
There is also a green indicator on the side of the seat that informs you whether the seat is in correct and safe position for strolling. Great feature!
Size & Weight
Ergobaby 180 Reversible Stroller is quite lightweight – it weighs only 20 lbs. It is very impressive especially when we compare it to other convertible, everyday strollers like UPPAbaby CRUZ or VISTA, Britax B-Free or Chicco Bravo Trio.
This reversible stroller is 23.5″ wide so you won't have problems with any doorways or elevators.
Pros & Cons
Pros
Cons

Pros

---

+ Cushy, comfortable seat with deep recline

+ You don't have to detach and lift the seat to reverse it – there is reversible handlebar instead (all hassle-free)

+ Perfect for summer hot weather: huge canopy fully shades the baby + vented seat top gives good air flow

+ Silent peek-a-boo window for checking on the baby

+ Travel system option – compatibility with many popular car seat brands

+ Handlebar telescopes in and out

+ 4-wheel steering makes the stroller ultra-maneuverable (perfect for shopping mall and airport)

+ Each wheel has independent lock and brake

+ Spacious storage basket + useful pocket on the back of the seat

+ One-hand, quite compact fold

+ Fairly lightweight (only 20 lbs)

Cons

---

- Non-adjustable leg rest

- Unfolding the stroller is more difficult if you want to do it with one hand

- No suspension system – this stroller is designed only for flat or slightly uneven surfaces
What other parents think about Ergobaby 180 Reversible Stroller?
I checked the reviews written by customers on Amazon and Ergobaby official website to find out what other parents say about this reversible stroller. There are few main features that majority of parents love about it.
Parents agree that folding is a piece of cake, some even say this is the easiest stroller fold they have ever seen.
Large canopy with silent window is another advantage. Mesh back works perfect during hot days. Of course height-adjustable and reversible handlebar is another asset and parents love how smooth it flips to the other side.
The stroller is fairly lightweight and easy to lift, yet very well-built. Most parents say the storage basket is sufficient for big diaper bag.
Adjusting the wheels and steering is tricky at the beginning and you need to try it few times to get used to different steering options of locking and unlocking wheels.
But once you figure it out it's very useful and when 2 wheels are locked the stroller is easy to maneuver even with one hand (on flat terrain).
See more customer reviews on Ergobaby official website
Okay, we've got all the nice functions that parents love. How about disadvantages? Are there any features that parents complain about?
As I've already mentioned, getting used to 360-swivel wheels and locking options takes some time. According to many parents this stroller is not all-terrain – it bounces on bumpy surfaces and sometimes wheels may get stuck on bigger cracks on the ground. It works great for grocery shopping, trips to the zoo, park or playground.
Parents also complain about non-adjustable footrest which may be less comfortable for older kids who still like napping in the stroller. For some parents the frame feels quite bulky, although it does fit through standard doorways.
Lack of snack tray at this price point is disappointing for many parents – you need to pay extra for it. For now Ergobaby doesn't offer a parent console for this stroller, let's hope it will change soon!
Another thing that some parents complain about is how the stroller unfolds. It requires some practice, but still it's quite difficult to do with one hand. It's weird because folding is so simple!
Read more reviews written by parents on Amazon
Specification
| Stroller | Data |
| --- | --- |
| Stroller Type | Standard, convertible stroller |
| Stroller Weight | 20 lbs |
| Weight Limit | 55 lbs |
| Stroller Dimensions | 35.5" x 23.5" x 40" (L x W x H) |
| Fold Dimensions | 30" x 23.5" x 14" (L x W x H) |
| Handlebar Height | 39" - 42" |
| Seat Depth | 11" |
| Max. Head Height | 24" |
Color versions
Ergobaby 180 Stroller comes in 5 color versions. The seat is always black, but you can choose the color of the sun canopy: Teal, Misty Blue, Graphite, Black or Red. Keep in mind that the availability for different colors may vary. Don't forget to check which colors are currently for sale.

Currently there is also one premium fashion – Marigold – which is the effect of Ergobaby and Baby Tula cooperation. Just take a look at Marigold canopy – isn't it a beauty?!
Keep in mind that the Ergobaby X Tula 180 Reversible Stroller Marigold is a limited edition. The quantity is limited, therefore if you like this stroller don't wait any longer to purchase it (additional black canopy included)!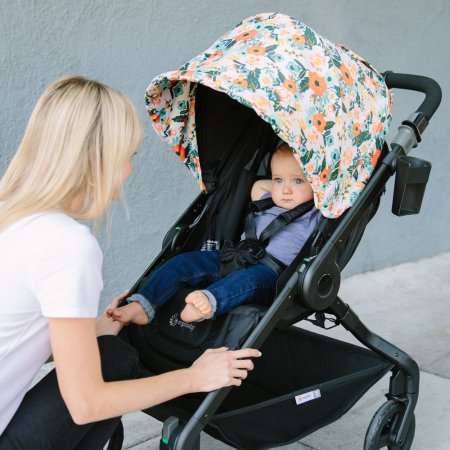 Accessories for Ergobaby 180 Stroller
This reversible stroller comes with a cup holder. Other accessories are sold separately – check them below.
Image
Data
Comfort Cushion

– this body pillow cocoons infant and supports his spine and neck. Perfect addition for the first year.

Weather Shield

– This cover protects baby from rain, snow and wind, without blocking air flow. Thank to it you'll be able to use your Ergobaby stroller all year round.

Snack Tray

– If you want your baby to have his snacks and sippy cup always at hand, this is a great addition.

Adapters for NUNA and Cybex car seats

– These adapters allow you to attach NUNA Pipa and NUNA Pipa Lite, as well as Cybex Aton, Aton 2 and Aton Q onto the stroller frame. The stroller can be folded with adapters attached.

Adapters for Britax car seats

– With these adapters you can use Ergobaby stroller with Britax B-Safe 35 and B-Safe 35 Elite car seats. You don't have to remove these adapters before folding the stroller.

Adapter for Graco and Chicco car seats

– These adapters are compatible with most of Graco infant car seat(including Snugride Click Connect 30, 30LX, 35, 35LX, 40 and more) and Chicco infant car seats (including KeyFit, KeyFit 30 and more).
Keep in mind
There is no bassinet option. The stroller seat reclines almost fully flat and Ergobaby offers additional body support pillow for small infants. According to manufacturer the main seat is suitable from birth.
However I would still recommend using it from at least 3 months and from birth only with the infant car seat. But of course it's up to you.
3 Reasons Why You Will Love This Reversible Stroller
1. This is one of the best strollers for summer. Thanks to awesome large canopy and vented seat top your baby will be protected from sunburns and overheating.
2. Ergobaby stroller has reversible handlebar – there's no need to detach and lift the seat.
3. There is option of 4-wheel steering. It gives exceptional maneuvering in narrow grocery store aisles and crowded malls.
Are you thinking about buying this stroller? Don't forget to read other reviews written by parents who own Ergobaby stroller and check if there are any discounts available. If this stroller doesn't suit your needs, see other convertible models in my ranking here.
All pictures belong to Ergobaby. Source: https://ergobaby.com