Did you know that storing breast milk at wrong temperature and heating it in a standard bottle may destroy its precious nutrients and immunological value? Fortunately, there is a solution for that – let me introduce you to Nanobebe baby bottle.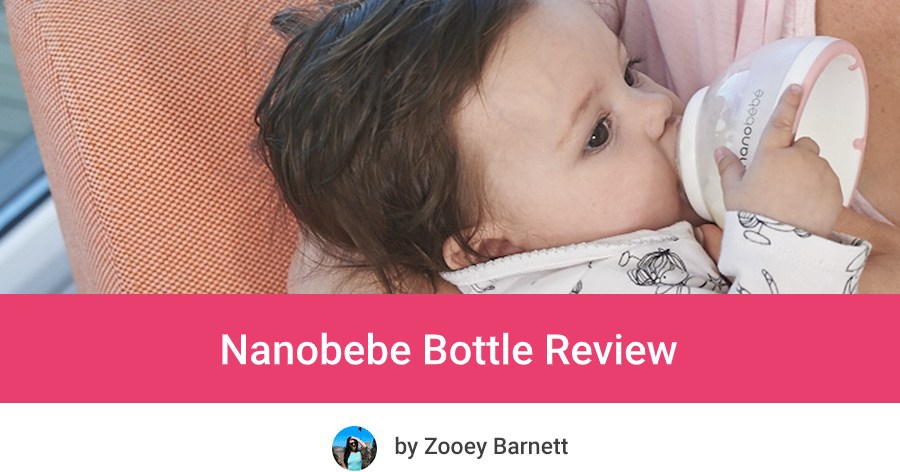 Breastfeeding your baby is one of the most beautiful experiences you will have as a mother. It brings the two of you close, with the baby receiving not just food but also love, sense of closeness and security, and warmth. However, the breastfeeding journey is sometimes interrupted by uncontrollable factors, such as mom having to go back to work faster than expected.
The Nanobebe was invented by two dads, who realized how important it is for the baby to be fed with breastmilk.
They realized the main problem with bottle feeding that parents usually are not aware of: storing the milk at room temperature for too long and quick warming it, damages precious nutrients in the milk. This basically means that even if bottle-fed babies receive breast milk, it has decreased nutritional value.
Furthermore, realizing that a baby might refuse the bottle, as he/she is used to the mother's breast, they opted for a patented design – bottle shape that resembles mom's breast. This is how this unique bottle for breastfed babies came to life.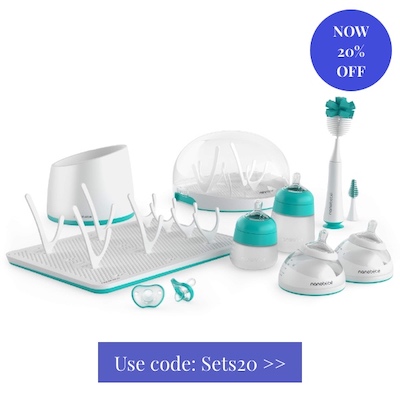 It is a bit pricier than standard bottles, and lots of parents wonder if it really works and if it's worth the money. In my Nanobebe review I'll check whether this innovative baby bottle can be useful for parents switching from breastfeeding to bottle-feeding. I'll show you all its advantages and disadvantages.
This article contains affiliate links.
What You Should Know About This Bottle
There are plenty of feeding bottles to choose from. Why is Nanobebe any different? If you are breastfeeding, you are already familiar with the nutritional value and additional benefits of your milk.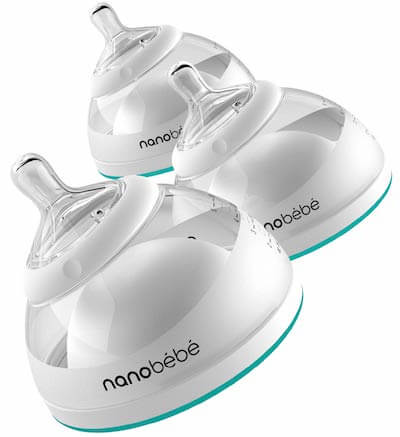 Nonetheless, if you cannot breastfeed for various reasons, but still want your baby to benefits from your breast milk nutrition value1, while being bottle-fed, you should consider other solutions. And the best one seems to be Nanobebe bottle. It finally allows moms to keep on breastfeeding, even if it is different from what we imagined.
Moreover, it will save your precious time allowing you to pump directly to the bottle which you can use to store your breast milk, and then use it to feed your baby.
These are some of the most important features to remember about this baby bottle:
Designed to resemble mom's breast to facilitate bottle feeding. Lots of parents who have been using it agree it's the best bottles for breastfed baby who refuses bottle. There's higher chance that your little one will accept this bottle.
It is the best baby bottle for breast milk – thanks to its shape the milk cools down and warms up faster than in standard bottles, preserving its valuable nutrients (more on that later)
Can be used to pump the breast milk directly into the bottle, thanks to its pump adaptor.
It's an all-in-one feeding system – pump, store, warm and feed the baby using the same bottle
Feeding bottles are stackable – They take less space in the fridge. Each bottle comes with a storage cap. Thanks to anti-slip silicone bottom you don't have to worry about tipping over and milk spills.
These are anti-colic baby bottles – features advanced nipple venting system to reduce infantile colic and gassiness in breastfed babies
It has a breast-like non-collapsible nipple that is easy to latch on. Each bottle comes with slow flow teat, but you can also upgrade it to faster flow as the child grows. There are 4 flow rates available: slow, medium, fast and Y-cut – very fast. What's also great is that now the brand also offers 5th flow rate – special nipple for preemies and newborns. It's important to check which teat flow is most comfortable for your infant, to avoid swallowing air during feeding and painful gassiness or colic.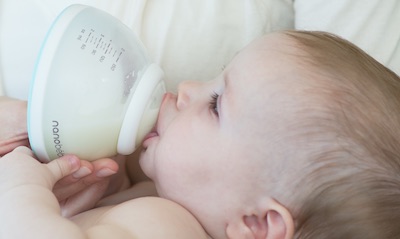 You can buy bottles and useful accessories separately or as a set (which is usually more affordable option):
Starter Set (20% OFF*) – includes 4 bottles, Smart Warming Bowl for quick and even warming, pacifiers, silicone nipples and breast pump adapters.
Newborn Gift Set (20% OFF*) – includes all items mentioned above, plus additional microwave steam sterilizer and drying rack.

*Use code Sets20 to get the discount
How Does It Work?
It has a unique geometry, mimicking the breast of the mother. Therefore it reduced the risk of the baby refusing the bottle.
The breast milk spreads evenly in the bottle creating a thin layer. Thanks to that the milk cools down quickly and reaches ideal refrigerated temperature even 2 times faster than in standard bottles.
This very important, because if you store your breast milk at room temperature too long, bacteria grow in it quicker. It should be store in the fridge as quickly as possible to keep its immunological and nutritional properties2. Usually parents don't realize how crucial this is. With Nanobebe cooling down so quickly, there is higher chance the milk will remain its valuables.
Another thing that parents usually don't think of, that can destroy breast milk nutrients is warming. In a standard bottle the milk warms unevenly – often creating hot spots.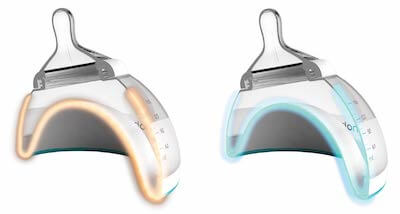 The shape of Nanobebe solves this problem – since the milk in spread into a thin layer it warm up evenly, at safe temperature, 2-3 times faster than in standard bottles! With such a quick preparation time, your milk is not exposed to overheating, and its precious nutrients are not damaged. Furthermore there is less risk of hot spots that could burn your little one's mouth. Besides, your hungry infant finally doesn't have to wait so long for his/her yummy bottle. 🙂
The warming bowl (sold separately or included in the Starter Set and Newborn Set) is perfect for preparing a bottle, allowing for the milk to warm at a safe temperature. You can use it at home, it's also convenient for preparing the milk when you're on the go.
Baby bottle designed by Nanobebe, can be used right from the start. In fact, they represent the perfect choice for a newborn who is only familiar with breastfeeding. An older baby can rely on the bottle to learn how to self-feed. Given its form, it can be easily held by the baby himself/herself.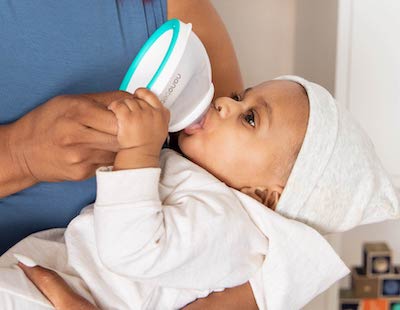 It's important to mention that because of that shape, you will need to hold your baby in almost horizontal position, as if you were nursing. Otherwise, the will be some milk left at the bottom, and usually moms don't like if their precious liquid wastes! Therefore I wouldn't recommend this bottle for babies who prefer semi-upright feeding.
Thanks to the anti-colic system (nipple vents) the air pressure inside the bottle is decreased, therefore there is lower risk of swallowing air and suffering from tummy aches.
Another advantage is the fact that the bottle can be connected to lots of standard breast pumps, so the mother can pump directly into it and thus save a lot of time.
Pros & Cons
Pros
Cons

Pros

---

+ Makes the transition from breastfeeding to bottle-feeding much easier

+ Unique shape - baby bottle resembles a breast and thus reduces the risk of bottle refusal

+ Milks warms quickly, preserving its nutritional values

+ Can be connected to a breast pump to speed up bottle feeding

+ No collapsing nipples

+ Made of BPA free material

+ Very easy to clean

+ Two sizes of bottle available: 5oz and 8oz, 5 different nipple flow rates to choose from

Cons

---

- Pricier than standard bottles

- Risk of leaking
How Do You Pump Into A Nanobebe Bottle?
It is very simple. To pump into a Nanobebe bottle, you just need to connect it with your pump using a special adapter, and then you can express your milk directly into the bottle. In my opinion this is a huge advantage, as it saves you time and effort.
Depending on your baby's needs, you can give it to him/her on the spot or save it for later.
What pumps work with Nanobebe?
Lots of standard breast pumps are compatible with Nanobebe Adapter. Nanobebe works with Medela, as well as Spectra, Ameda, Lansinoh, Evenflo and many other pumps with standard or wide neck. The brand provides two sets of adapters for two types of neck.
This is one of the reasons for which this is the best baby bottle for breastmilk!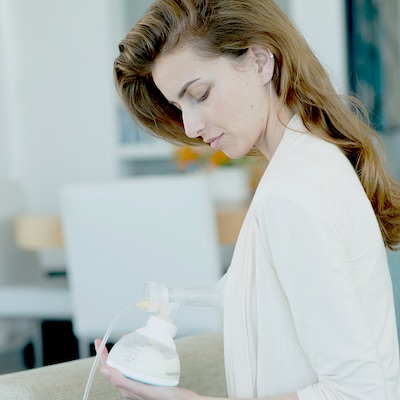 Can Nanobebe Bottles Be Used For Formula?
Nanobebe bottle can be used for formula, but it is advised to prepare the meal in another vessel and then pour it in. This bottle was designed primarily for breast milk, but if you need to supplement with formula, you can also put formula in it!
Can You Microwave Nanobebe Bottles?
Yes, you can microwave Nanobebe bottles, but the manufacturer recommends using the their warming bowl for that purpose. This way the milk warms up evenly at safe temperature, without getting overheated.
Generally speaking I don't recommend microwave for preparing the milk for your little one as it often creates hot spots. I wrote more about it in this article <<
What Are Nanobebe Bottles Made Of?
The Nanobebe bottles are made of Polypropylene (PP), the base of the bottle is made of Thermoplastic elastomers (TPE), while the nipple is made of silicone. These materials do not contains BPA, PVC, lead, phthalates that would be potentially harmful for the baby.
How To Clean It?
It can be easily cleaned with hand and it's dishwasher-safe. It's very easy to disassemble, and there are no hard-to-reach places, no nooks and crannies.
What's also cool is that you can sterilize these bottles in a pot of hot water. According to the brand this won't cause any damage!
After each use, you can also sterilize it using the Nanobebe Steam Sterilizer (if you don't want to get the whole Newborn Set that includes the sterilizer, you can purchase it separately). It's the most recommendable way to keep all your Nanobebe bottles clean and safe.
Nanobebe Stage 1 vs. Stage 2
The brand offers two types of bottles: Stage 1 5oz bottle, and Stage 2 8oz Transition Bottle for older infant's growing needs and appetite. Although they differ in size, both of them are suitable for breastmilk and formula.
Both have the same unique shape that makes it easier for babies to hold the bottle on their own and encourage them to self-feed. The larger bottle is just as easy to clean as the smaller one, and you can also pump directly into it, using special adapter. It still has stackable design, and its shape makes it faster to warm and cool than standard bottles.
Nanobebe Breastmilk Bottles vs. Nanobebe Flexy Bottles
IMPORTANT 2022 UPDATE: Except for the Nanobebe Breastmilk Bottle and Nanobebe Stage 2 Transition Bottle, the brand offers now two new bottles: these 5oz and 9oz Flexy Silicone Bottles. Their leaning shape and breast-like soft material makes them a great help when you're trying to wean your baby off your breast.
The main difference between breastmilk bottles and these new bottles is that the former ones are made from plastic, and the latter ones are made from silicone. Flexy bottles work better for formula-feeding than original Nanobebe bottles, plus they have a bit different shape which you can see in the picture below.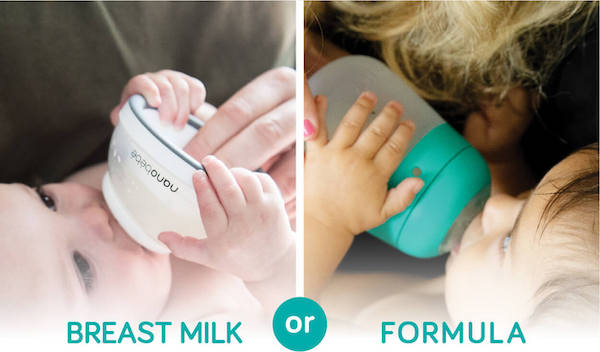 Nanobebe Reviews – What Other Parents Say About It?
The reviews about this bottle are positive, with parents saying that their baby loved holding and feeding with it. These bottles have been appreciated by mothers who wanted to pursue breastfeeding, yet needed an alternative to the breast. The fact that they could pump directly into the bottle was a big plus.
Parents say that it really warms up quickly as it should be, being a perfect choice for those looking for baby breastfeeding bottle that protects breast milk immunological and nutritious values.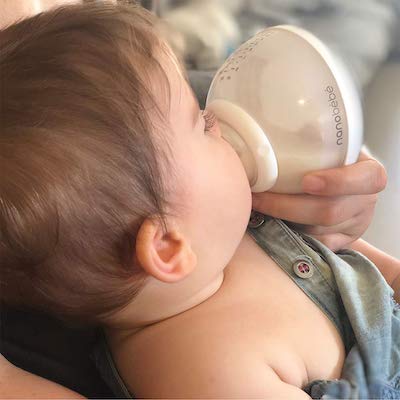 It is easy to clean, allowing parents to save a lot of time. Another advantage is the fact that they are easily stackable, allowing one to save storage space.
As stated in the Nanobebe bottles reviews, there is one disadvantage – a risk of leaking if the bottle is not screwed tight. If you carefully screw the bottom part, you shouldn't experience any issues with spilling or leaking.
Accessories
| Img | Description |
| --- | --- |
| | Breast Pump Adapters - Wide- and narrow-neck adapters allow you to pump directly to your Nanobebe bottle. Compatible with majority of standard breast pump. |
| | Microwave Steam Sterilizer - This universal sterilizer fits most microwaves and allows to sterilize bottle and accessories, as well as small breast pump parts in just 4 minutes. According to the manufacturer this way 99% of household bacteria are killed and the content remains clean and sterile for 24 hours. |
| | Slim Drying Rack - It allows all your feeding equipment to dry properly before safe storing. You can adjust the peg arrangement to your needs, and even detach them for easy storage, when you're not using it. |
| | Smart Warming Bowl - This bottler warmer was designed accordingly to medical guidelines. It allows you to warm the breastmilk in a bowl of warm water - at temperature that is safe for immunological and nutritional values of the milk and prevents it from overheating and nutrients damages. Its shape ensures fast and even warming. It doesn't require electricity so you can use it on the go too! Keep in mind it doesn't heat the water - you need to do it on your own. According to previous buyers, this accessory is worth the money if you're using Nanobebe bottles everyday. |
| | Breastmilk Storage Bag & Organizer - These flat bags spread the milk into a thin layer. Thanks to that the milk cool quickly - which reduced bacteria growth. It also thaws quickly and evenly to prevent nutritional values. What's important - you cannot pump directly into Nanobebe storage bags. You should pump into the bottle (using special adapter) and them pour the milk into the bag. After that you can keep them in the refrigerator or freezer (here's more information on how long you can store the breastmilk). Useful organizer allows to store the bags without taking too much space and helps you to use the in the right order (first in, first out). If you want to make a breastmilk stash this is a very handy accessory. |
| | Different Nipples - Each Nanobebe bottles comes with slow flow nipple, but you can change them at any time depending on your baby's age and feeding needs. It's important to choose the right nipple flow - if it's too fast or too slow baby will swallow air bubbles during feeding which can lead to colic or winds. Double Vented Nipple comes in 4 flow rates: slow flow, medium, fast and Y-cut. |
| | Preemie & Newborn Nipple - The brand offers a different nipple with special flow for preemies and newborns. |
| | The Bebe Backpack - The brand has just added to their collection awesome diaper bag made of a waterproof fabric with tons of storage space for all your necessities when you go out with your little one. It also includes changing mat with useful pockets for diapers and wipes! And what's important this diaper bag has backpack straps so it's super convenient to carry. |
Final Assessment
In conclusion, this is a great bottle, allowing babies to keep on receiving breastmilk, even if you cannot directly breastfed them. LittleBabyGear has chosen Nanobebe as the best bottle for breastfeeding baby who refuses bottle, as well as best bottle for breast milk.
It's definitely worth trying! It has a lot of benefits to offer but, as always, parents should test it and see if it suits their baby's preferences.
The thing with probably every bottle is that baby can love it or hate it. Each child has different preferences and feeding needs, different latching capability. So just like with any other bottle, you will need to check if your little one accepts Nanobebe and how it suits your needs. Anyway, in my opinion it's still one of the best bottles, especially if you have been breastfeeding your baby3 and now you need to switch to bottle-feeding.
Have you given these bottles a try yet? Let me know in the comment section below!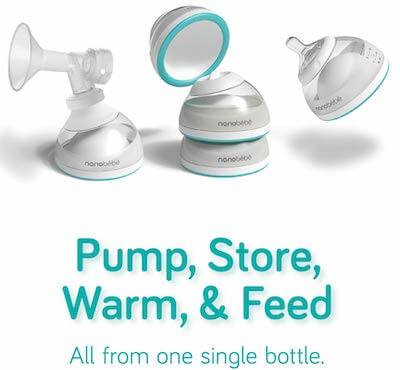 ---
Sources of pictures:
All images of Nanobebe bottle belongs to Nanobebe.
---
The purpose of this article is informative. It's not a substitute for medical consultation or medical care. Remember: safety first! Consult your doctor/pediatrician in case of any doubts. The author of this article does not accept any responsibility for any liability, loss or risk, personal or otherwise, incurred as a consequence, directly or indirectly, from any information or advice contained here.
Your trust is really important to us: This article includes affiliate links to products that we think are useful for our readers. If you make a purchase through these links, we may earn a small commission at no extra cost to you. Your support helps us run this blog – thank you!