A portable bottle warmer will come in handy for all busy and active parents, who like traveling or who are often out and about with their babies. You may find it challenging and stressful to warm up the milk when on-the-go, especially if your hungry baby gets fussy and refuses colder bottle!
If you need to find a way to warm the milk without an electricity and even without the access to warm water the best solution is portable bottle warmer.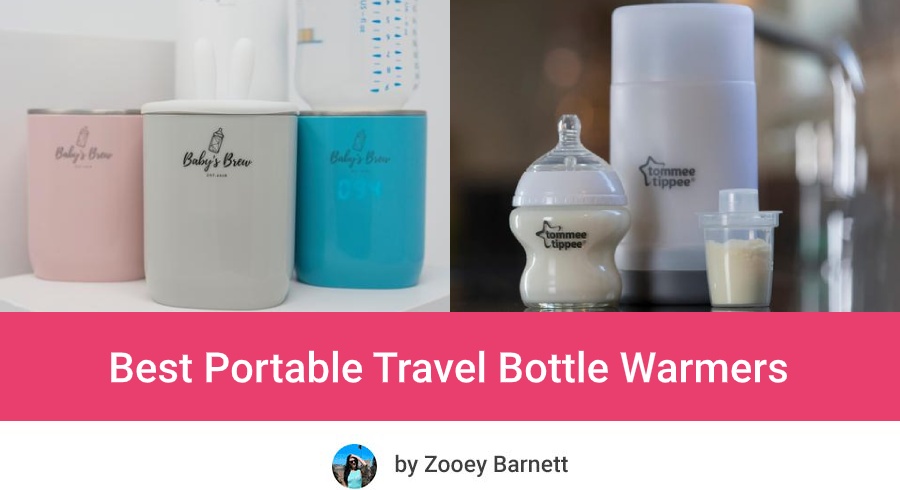 This article is NOT a substitute for medical advice. It contains affiliate links.
This handy device isn't just useful for traveling. It is a life-saver when you are at a restaurant, on a field trip, spending your day in Disney or zoo, or traveling by plane! A portable bottle warmer will get the milk nice and warm quickly whenever your baby gets hungry.
The reason why babies prefer warm or lukewarm milk is because it mirrors the temperature of breast milk which is around 98-98.6°F (36.6-37°C)1.
A portable baby bottle warmer will help you serve the milk just as your baby likes it, no matter where you are.
To help you pick the right travel bottle warmer, check out the following top picks.
4 Best Portable Bottle Warmers – Reviews
If you go to your web browser and start looking for the best travel bottle warmer for breast milk, formula, or regular milk, you'll realize that there are so many options. I might say even too many. For that reason, I have compiled a list of the best travel bottle warmers.
As you will see, I will include all the relevant features, pros, and cons, so you'll have everything you need to choose the right bottle for you and your needs. At the end of the list, I'll present the winner (in my opinion). In case you can't make up your mind, this suggestion can help you out.
The Baby's Brew was invented as the first portable baby bottle warmer battery-operated. That made this bottle warmer unique in 2019, as it was the only baby bottle warmer with battery as the power source.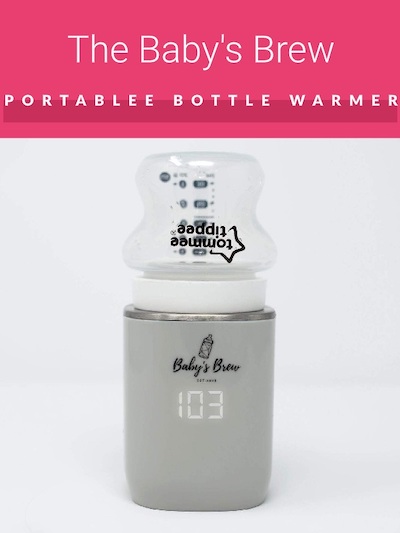 It allows you to warm your breast milk to 4 different temperatures, including 98.6°F which is the safe and familiar for breastfed baby temperature, as I've mentioned earlier.
It can be used for both formula and breast milk. Baby Brew bottle warmer is perfect for breast milk bottles as you won't need to deal with unnecessary formula dispenser. In case you do need a formula dispenser, opt for their Baby Brew Portable Bottle Warmer Pro Set.
How does The Baby's Brew work?
The Baby's Brew works on rechargeable battery (charger included in the set). For me it turned out to be so much better than I expected – so easy and convenient to use.
To use The Baby's Brew warmer:
First remove the silicone cover that protects it from dust.
Check if the silicone ring is in place, around the warming plate.
Flip the warmer and attach it to your baby bottle by carefully screwing it on top of it.
Flip it over again – the liquid is now touching the warming plate.
Press the button on the bottom of the warmer to select the temperature.
That's it! Easy-peasy!
What distinguishes Baby's Brew among portable bottle warmers is that you can actually set your preferred temperature. There are 4 temperature settings: 80°F (room temperature), 98.6°F (your body's temperature, ideal for breastfeeding babies), 104°F (for other liquids) and 113°F.
That wide range of settings was designed to meet different feeding needs, whether your baby is on breastmilk or formula.
The highest setting I would recommend for preparing the bottle BEFORE your baby gets actually hungry, for example if you know that you won't be able to use the warmer exactly when your little one needs the bottle. Warm it and just leave it to cold down a bit. The brand also recommends this setting for acid reflux.
Before you serve the milk, always check its temperature on the inside of your wrist.
The lower temperature settings – 80°F and 98.6°F allow to preserve the essential nutrients from your body and protect them from damages that heat could cause. These settings makes The Baby's Brew the best travel bottle warmer for breastmilk.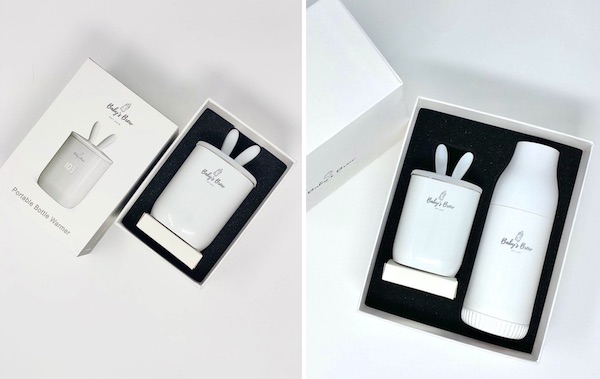 One more noteworthy thing is that Baby's Brew brand also offers a formula dispenser, included in the Pro Set (check it out here). It's costs only $10 more than the warmer itself! If you'll be using this travel bottle warmer for formula, I think it's a good investment.
The formula dispenser is also very easy to use. One push equals one scoop of formula.
What baby bottles are compatible with The Baby's Brew warmer?
What's important, you can use this portable bottle warmer with all the most popular wide-neck baby bottles. If your bottles has a different neck – don't worry! The brand offer lots of adapters, each costs $9.99.
The Baby's Brew Bottle Warmer is compatible with Nanobebe, Dr. Brown's, Comotomo, Tomme Tippee, NUK, Philips Avent, MAM, Playtex, Olababy, Evenflo, Lansinoh, Spectra, and many more. You can see all available adapters on Baby's Brew website.

What parents think about The Baby's Brew warmer?
Parents praise the battery life, accurate warming, compactness, great design, and helpful customer service (they help you with any issue you might have).
In The Baby's Brew reviews we can't find that many complaints. However, some parents note that it can take a while to warm the milk when the battery is not fully charged.
Pros
Cons

Pros

---

+ Works on rechargeable battery - no need for electricity when warming up the milk

+ The slow heat technology ensures that there are no dangerous hot spots in the milk

+ It fits most wide neck bottles

+ You can use adapters if it's not compatible with your bottle model (adapters available for the majority of popular baby bottle brands)

+ You can use it for most pre-made formulas (except for Similac Alimentum, Enfamil A.R., and other thick based formulas)

+ The milk is usually ready in 5-10 minutes

+ Holds a charge for up to 12 hours

+ You can bring and use this travel bottle warmer on a plane!

+ Formula Dispenser (included in Pro Set) is dishwasher-safe

Cons

---

- Doesn't come with a storage bag or a case
Tommee Tippee is another popular choice among traveling parents. It is multi-function because you can use it as bottle and food warmer.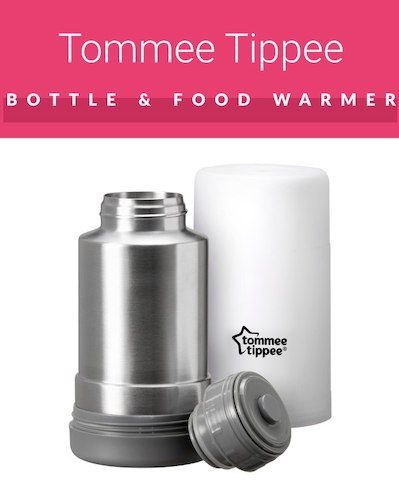 It is possible to warm breast milk, formula, and baby food in it. The design is compact and it can fit in your diaper bag which is perfect for traveling.
How does Tommee Tippee Bottle Warmer work?
The portable warmer doesn't use any external warming source. The thermal flask is in charge of keeping the water warm and ready to heat the milk or food.
To use this bottle warmer, you need to pour boiling water into the thermal flask before you hit the road. Make sure you have securely screwed the cork and fastened the lid. When you want to warm your baby's bottle, pour the water from the container into the lid and place the bottle in it. I recommend you to make sure that the water is not too hot, because it could destroy valuable nutrients in the breastmilk, or even break the plastic bottle.
This warmer is compatible with most popular baby bottles, regardless of the brand.
What parents think about Tommee Tippee Warmer?
What most parents like about this bottle warmer is that it keeps the water hot for a long time. The container adds another layer of insulation. It can warm the bottle in less than 10 minutes (depending on how hot the water is).
Some parents complain about leaking and having difficulties with screwing the cork back on.
Pros
Cons

Pros

---

+ No electricity required

+ Keeps the water warm for hours

+ Can be used for baby food as well

+ BPA-free

+ The outer lid is just the right size a baby feeding bottle

Cons

---

- Not very different from a regular thermos

- You cannot set up the temperature
The next best travel baby bottle warmer comes from Papablic. To be more specific, it is their Mini Portable Travel Baby Bottle Warmer.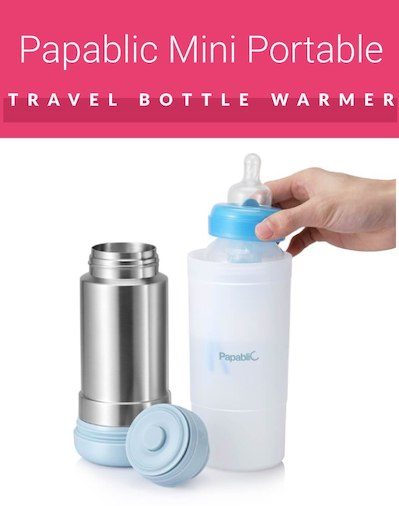 Its lightweight and compact design make this portable bottle warmer attractive to parents. You can store it in your bag and carry it with you wherever you go.
How does Papablic Warmer work?
It operates similar as Tommee Tippee's bottle warmer. You need to pour the water in the thermal flask first. It will keep the water hot until you need it to warm the bottle. When you want to make the baby bottle, place it in the warming cap. Don't forget to press the lock button. Then, pour to water into the warming cap and wait until it warms the milk to your preferred temperature. As you can see the order of actions is reverse, when we compare it with the Tommee Tippee Warmer.
Make sure to check milk's temperature on your wrist before you serve it to your little one!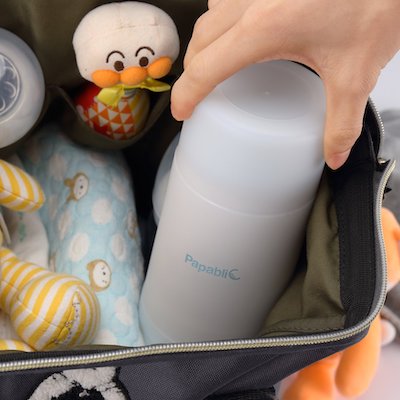 This portable baby bottle warmer is compatible with Papablic Closer to Nature bottles and majority of standard-sized baby feeding bottles.
What parents think about Papablic Warmer work?
This bottle warmer was mostly praised for its durability and quality (it keeps the water hot for 6-8 hours), compact design, and affordability.
Parents say that it can only warm up 2-3 bottles at most so it's not convenient for long trips. They also note that it can be tricky to properly screw the lid on.
Pros
Cons

Pros

---

+ Keeps the water warm for hours

+ Fits many popular bottles: Medela, Dr.Brown's, Philips Avent and Evenflo

+ No electricity or batteries needed

+ Simple to use

Cons

---

- It doesn't hold much water

- It's NOT compatible with Tommee Tippee or Comotomo bottles
Finally, we have come to the final product on this list of the best portable bottle warmers. Let me introduce you to the Munchkin Travel Car Baby Bottle Warmer.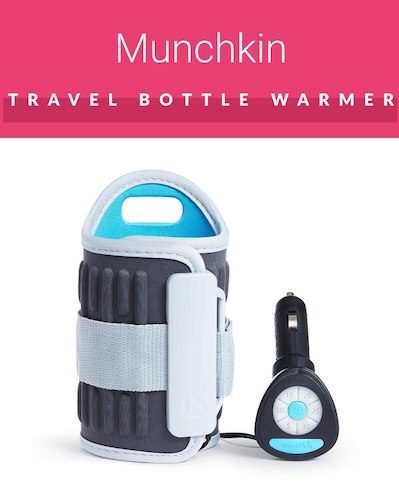 As the name suggested, this bottle warmer plugs into car adapter outlets. This makes it great for road trips. You can use it to warm up the formula and breast milk.
How does Munchkin Warmer work?
Plug it into the car adapter outlet and set up the timer. On the digital display you will see the temperature, as well as the remaining warming time.
This portable baby bottle warmer should work with most bottles and fit in majority of car cup holders.
What parents think about Munchkin Warmer?
Parents noted that this travel baby bottle warmer is lightweight, easy to carry around on the trips and when you run errands in the city, and is effective at keeping the milk warm.
The biggest issue that the parents have with Munchkin Bottle Warmer is its warm-up time. Some of them said that it took them about 40-50 minutes to warm up a bottle of chilled milk. Another issue that parents expressed is that the car adapter has an unusually large diameters.
Pros
Cons

Pros

---

+ Long cord

+ Lightweight

+ Timer display lights up for night use and shows remaining warming time

Cons

---

- You can't set up the desired temperature, just the time

- It takes about 20-30 minutes to warm up the milk or even longer if it's already chilled
And The Winner Is…
After all these portable bottle warmers reviews, we have all the information that we need to decide which one is most useful. The award for the best bottle warmer for travel goes to…The Baby's Brew.
What makes it the best travel bottle warmer in my opinion? It has a beautiful design, it is battery operated, it lasts for up to 12 hours, there are no leaks, and it is extremely compact which is very important when traveling.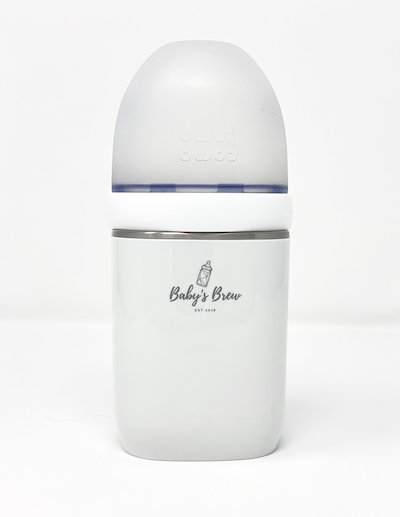 What distinguishes The Baby's Brew among other portable bottle warmers is that you can set up the preferred, safe temperature to preserve milk nutrients from too high temperature and damages. It's intuitive and easy to use. Besides, it's the best bottle warmer for travel by airplane, because you can bring it and use it on board!
It's also easy to move from one room to another therefore it can be your only bottle warmer, for at-home use as well.
If my kids were still bottle-feeding, Baby's Brew would become our companion wherever we go.
Best Travel Baby Bottle Warmer – Buying Guide
Before you take your credit card and purchase your new favorite portable bottle warmer – here are a few important things you should keep in mind.
Portable Bottle Warmers vs. Standard Bottle Warmers
The main difference between standard bottle warmers and portable bottle warmers is the need for electricity. For standard bottle warmers, you need an electrical outlet. That's why they are impractical for travel.
Besides traveling, portable baby bottle warmers are useful when you're running errands, relaxing in the park, commuting, or whenever you are outdoors with your little one. They are especially handy when you want to serve your baby the breastmilk from your fridge stash.
Busy parents will fall in love with this accessory.
When You Might Need A Portable Bottle Warmer
If are still thinking about whether you really need a portable baby bottle warmer, here are some situations when it comes in handy:
Traveling by plane – You can take some of the portable bottle warmers on a plane. Among the warmers on my list, The Baby's Brew bottle warmer is safe to be used on a plane.
Going to a restaurant – Forget about asking the waiter to bring you hot water and all that commotion.
Running errands
Road trips
Spending time in nature
Day trips to Disneyland or the zoo
Types Of Portable Bottle Warmers
If you want to warm a baby bottle without being dependent on the charging outlet you should opt for travel bottle warmer.
Depending on how it operates, there are 4 main types of portable warmers for baby bottles:
Battery-operated – I think they are most handy and reliable.
USB – They are charged via USB cable.
In-car bottle warmers – They can be plugged into your car's cigarette lighter or power socket.
Flask baby bottle warmer – This is the thermal bottle for hot water that works as a regular thermos, but includes additional lid where you place the bottle.
Flask-type warmers have probably more disadvantages than other types. You should never put the milk in a boiling or hot water, so before you place your bottle in the warming lid, make sure the water is warm, but not super hot! If the water is too hot it will destroy nutritional value of the breastmilk. Besides, it may break the bottle (not all plastic bottles are suitable to be put in hot water). You should always use warm water.
Features To Look Out For
Now, the big question: What features should the best portable bottle warmer have?
Of course it will highly depend on your needs. For example, if you often run errands with your baby and you need the milk to be ready fast, don't go for a bottle warmer that takes up to 30 minutes to warm the milk.
Or, if you are traveling by plane or a car, and there aren't many stops, you might want to consider using bottle warmers that don't require water. Otherwise, the turbulence or the bumpy road can create a scenario where the water ends up all over you and burns you.
Besides, if you're traveling only with the carry-on, you won't be able to bring the bottle of hot water on board with you. In that case battery-operated travel bottle warmer, like The Baby's Brew, is better choice.
If you're searching for best travel baby bottle warmer, consider the following:
When will you use it the most?
Is it safe for both: the breastmilk and formula?
How long do you need it to last on one charge (or how long does it keep the water hot)?
What temperatures you want to reach? – Higher temperature demands more time so you'll need a more powerful warmer
Would you like to be able to choose your preferred temperature?
How easily and quickly does it work?
Is it compatibility with the feeding bottles that you use?
Is it portable?
Can you bring it on a plane?
How compact is it and how much space does it take in a diaper bag?
Would you like to use it for warming up baby's food as well?
Advantages Of Portable Bottle Warmers
Being a travel-loving parent isn't easy. That's why I'm so fond of portable bottle warmers. It helps to merge parent role with passionate traveler role. These are some of the advantages of portable bottle warmers that I'd like to point out:
You can warm the bottle when you are traveling.
They are perfect for parents who are often on-the-go with their baby.
You don't have to bother anyone (waiter, hosts, etc.) to warm up the milk.
Milk reaches the desired temperature in a few minutes – it's usually slower than with a regular electric bottle warmer, on the other hand it doesn't create hot spots in the milk that could burn baby's mouth.
You can feed your little one whenever you want – no more "wait till we get home sweetie".
How Do You Warm Bottles When Traveling?
The best way to warm bottles when traveling is to use a portable bottle warmer, whether it is a rechargeable battery-operated bottle warmer, in-car bottle warmer, thermal bottle for hot water or USB-type warmer.
I would say that if you're on the go, on a day trip or travel by plane – the most handy and convenient solution is battery-operated bottle warmer. Keep in mind it may not be possible to use thermal bottle with hot water on a plane!
If you're on a road trip – you may want to use in-car bottle warmer or the battery-operated one.
If you're outdoor exploring nature, sightseeing or hiking – the easiest way to warm the milk will be to use warm water (thermos-type bottle warmer) or a warmer that works on batteries.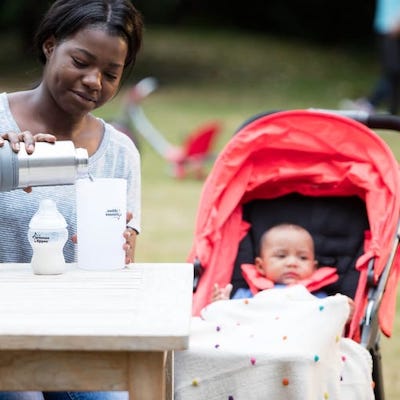 How Do You Warm A Baby Bottle Without Electricity?
Using a portable bottle warmer is one option to warm baby's bottle without electricity. It's important to choose the right one – if you don't have access to electricity or just look for a more affordable way to warm the bottle, it's best to choose a flask-type bottle warmer.
If you're at home and want to warm a baby bottle without electricity, just hold it under running warm tap water, or put it in a pot / bowl full of warm water. It's the easiest way. Keep in mind that your baby doesn't need hot milk, the best is the body temperature. Besides, you should never put milk in hot or boiling water because it will destroy its nutrients. Moreover, some plastic bottle may melt in very hot water!
Final Thoughts
As much as our world revolves around our little ones, we shouldn't dismiss our old life because we have a new family member. Let the baby adapt to your lifestyle. With portable baby bottle warmers, you can go wherever you like and your baby will still get its warm meal along the way.
This simple product is more than just another gadget. It helps you to live your life the way you want and keep your baby satisfied. Isn't it amazing how lucky we are to live in the decade when so many handy baby accessories can make our mom-life easier?
---
Sources of pictures:
---
The purpose of this article is informative. It's not a substitute for medical consultation or medical care. Remember: safety first! Consult your doctor/pediatrician in case of any doubts. The author of this article does not accept any responsibility for any liability, loss or risk, personal or otherwise, incurred as a consequence, directly or indirectly, from any information or advice contained here.
Your trust is really important to us: This article includes affiliate links to products that we think are useful for our readers. If you make a purchase through these links, we may earn a small commission at no extra cost to you. Your support helps us run this blog – thank you!