Are you one of those parents looking for the best diaper pail and hesitating between Diaper Genie versus Munchkin Step? These are extremely popular diaper pails on the market right now, but there are many differences between them. If you want truly odor-less diaper pail you need to read my comparison!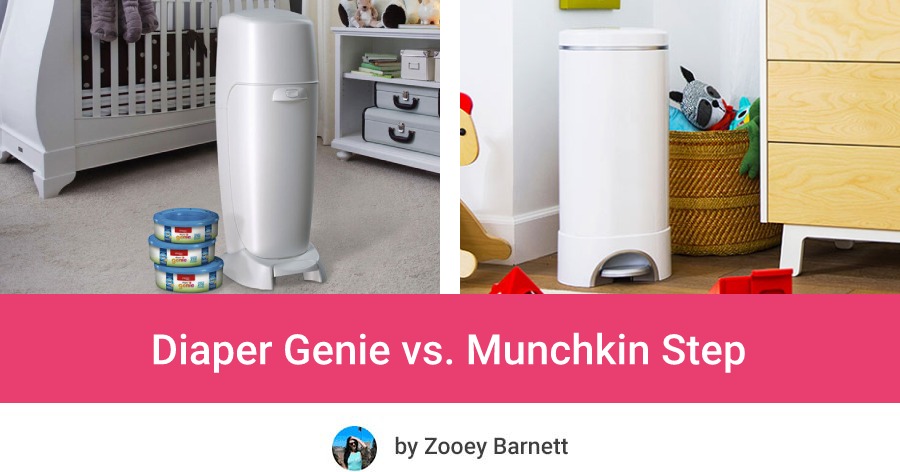 This article is NOT a substitute for medical advice. It contains affiliate links.
There is something that all babies have in common: they make dirty diapers.
With my kids I did mixed diapering. This means that I used cloth diapers during the day and disposable diapers overnight. With my method, it took me a long time to fill up a diaper pail and those diaper contents that were in there had a chance to, well, percolate.
Now, I asked my sis (a busy mom with 2 under 2) about her diaper routine. She uses only disposable diapers with both of her babies and is a dedicated diaper pail user.
We both agree: diaper pails are essential for the convenience of disposing of stinky diapers and odor containment.
Without a diaper pail, parents have two options. You can either throw them in your regular trash cans, and live with smelly air in your nursery or other room of your house, or make multiple trips to your garbage bin or outdoor trash can each day.
Neither of these are very practical, which is why having a quality diaper pail that contains odors well is essential for new parents.
If you've narrowed down your choice to Playtex Diaper Genie Complete vs. Munchkin Step Diaper Pail, my comparison should help you make the final decision. In this article you'll find my diaper pail reviews, based on my own experience.
Let's find out which one of these two is the best diaper pail for odor containment.
Best Features
❤️ Works better than Genie at locking poopy odors in
❤️ Doesn't release stinky smell into the room when you open the lid
❤️ More stylish design, looks nice in baby nursery
❤️ Includes 1 extra travel diaper pail FOR FREE
❤️ Fits up to 35 newborn diapers
❤️ Easy to use foot pedal for hands-free diaper disposal
❤️ You can find knockoff refills at more affordable price that work with Genie
❤️ It's easy to change the bag
advantage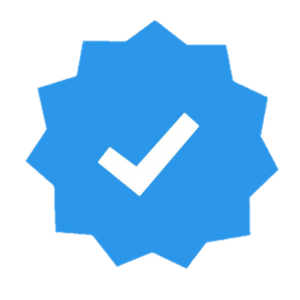 4000+
positive reviews from verified buyers!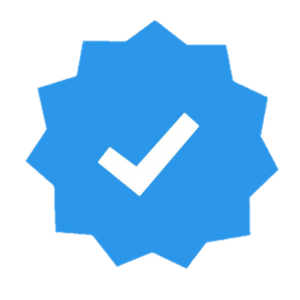 Recommended by
19500+
parents!
My Personal Choice
Best Features
❤️ Works better than Genie at locking poopy odors in
❤️ Doesn't release stinky smell into the room when you open the lid
❤️ More stylish design, looks nice in baby nursery
❤️ Includes 1 extra travel diaper pail FOR FREE
advantage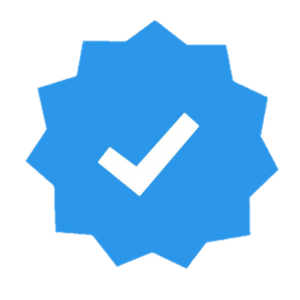 4000+
positive reviews from verified buyers!
Best Features
❤️ Fits up to 35 newborn diapers
❤️ Easy to use foot pedal for hands-free diaper disposal
❤️ You can find knockoff refills at more affordable price that work with Genie
❤️ It's easy to change the bag
advantage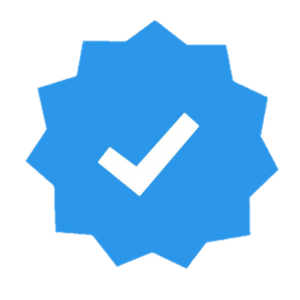 Recommended by
19500+
parents!
Last update on 2022-11-28 / Affiliate links / Images from Amazon Product Advertising API
Diaper Genie Complete Vs. Munchkin Step – Main Differences
Let's compare two of the best diaper pails out there – the Diaper Genie Complete and the Munchkin Step pail.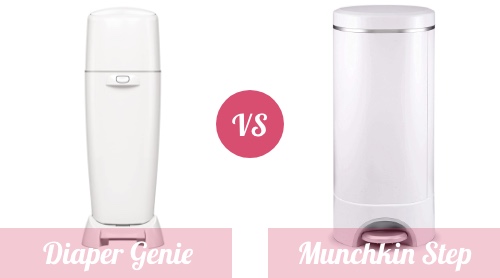 Capacity
It's obvious that parents want to choose a pail that holds more diapers.
The Diaper Genie Complete has a capacity of 25-35 diapers, while the Munchkin Step can hold approximately 30 before you need to change the bag. Of course the amount of diaper that fits in the bag depends on the diaper size.
Closure
The Diaper Genie Complete has inside flaps (like a shelf) that close or open in time with the lid. The Munchkin has a special mechanism, a self-sealing system, that squeezes closed in the center of the pail.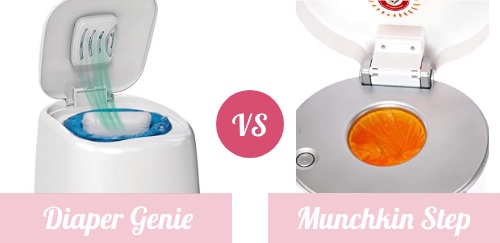 According to many parents Munchkin Step design is better for odor-control, while the Genie always releases a bit of the sticky smell into the room when you open the lid.
Anti-microbial
The Genie pails advertise that they are anti-microbial – the pail itself, as well as the liner bags, this helps minimize the spread of germs. The Munchkin diaper pail doesn't address this.
Odor-Absorbing Disks & Filters
Each one uses an additional accessory in the lid to help 'stop the stink'. The Genie uses carbon filters that should be changed every 30 days, while the Munchkin has baking soda disks that are recommended to be switched out every 90 days. It's easy to see that the Genie requires more carbon filter replacements over the course of a year.
Before you decide to buy one of these pails, I recommend you to check how much the accessories cost to be prepared for the long-term expense (check out Munchkin deodorizers & refills here).
Special Bags
You can use off-brand refill bags (more on that below), but for the Munchkin, if you use only its own-brand bags, the advantage is that they have baking soda-infused bags to help address the smell issue. The Diaper Genie has 7-layer bags to contain the smell.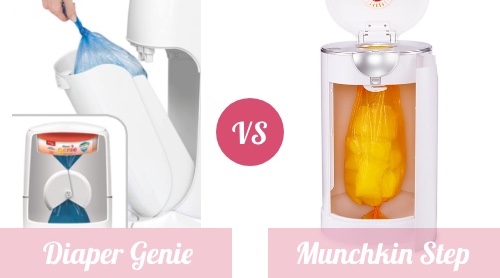 These diaper pails advertise that you need to use special bags with them, or their own proprietary bags. While regular kitchen trash bags aren't ideal for using in diaper genie pails, there are plenty of other knockoff pail liners that fit just fine and hold the same capacity.
Refill Rings
One Munchkin refill ring holds up to 272 diapers, and the Diaper Genie holds almost the same amount, up to 270. Keep in mind, these numbers are for used diapers that have been folded tight and are compact.
Ease Of Use
Like most diaper pails, both of these are an easy hands-free operation and work with a foot pedal. They also have a 'trap door' in the front for easy diaper disposal. You need to push diapers through the Munchkin's mechanism, but they should just fall through the flaps into the Genie.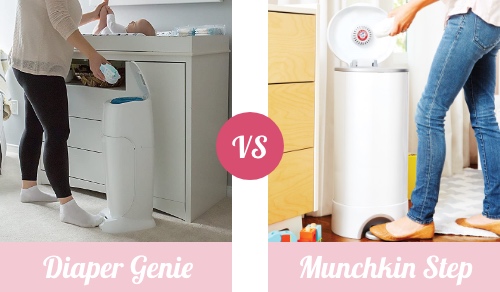 Safety
The Munchkin Step pail is tall and has an 'out of reach' button for little fingers, but neither of these pails have a child lock. While the foot pedal makes for hands-free, easy access for parents, it can also pose a danger for little ones. You may want to consider a child lock of your own when your baby starts crawling and walking.
Blade
Both pails have a built-in blade to cut off the liners at any length. Then, you can pull down more of the continuous liner and start fresh. The idea is to save on waste and use less plastic.
Material
Both the Munchkin and the Genie are plastic pails, which makes them easy to clean, but also means they are porous and can slowly absorb smells over time.
PRO TIP: If you want something other than a plastic diaper pail, look up this Ubbi steel diaper pail. It uses powder-coated steel and rubber seals to keep in smells. You can use regular trash bags with it, and even use it as a pail for cloth diapers if you are cloth diapering.
Cost
The Diaper Genie has lower upfront price than Munchkin plastic pail. When you purchase all the Diaper Genie essentials like carbon filters and some refill bags, the cost will add up, but it's still the cheaper option.
The good news is that for both diaper pails you can find knockoff refills and odor-absorbing disks. If you want to save even more money, it may be a good idea to check out some DIY mom hacks for using these pails with regular plastic bags.
And if you're on tight budget or simply want to check other diaper pails that work better than Genie, I recommend you my ranking of the best Diaper Genie alternatives.
Munchkin Step Review
Now, let's look at one of the best diaper pails and Genie alternatives out there: the Munchkin Step pail.
The Munchkin Step Diaper Pail also uses a foot pedal and trap door (like many other diaper pails), but what makes the Munchkin step the best diaper pail is its superior odor control.
This diaper pail uses three approaches to control odors: a self sealing system, special liners and disks that absorb odors.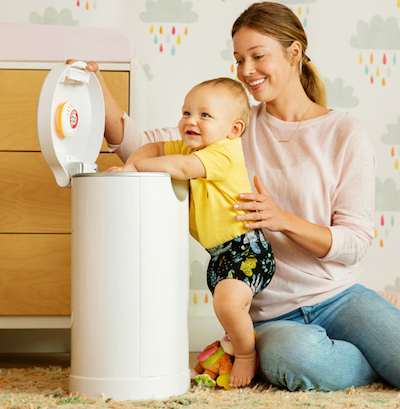 Munchkin Arm & Hammer Disks
When the lid opens, the first thing you will see has an Arm and Hammer baking soda "disk" fitted inside of the Munchkin Step. This is used to absorb odors and also releases a nice, lavender scent.
What I particularly like about the Arm and Hammer disks are that you can easily replace with baking soda from your own kitchen. Also, they recommend changing them out every 90 days, giving you more time than the carbon filters of the Playtex Diaper Genie Complete.
Odor Control
Dealing with messy, smelly diapers is the biggest factor, and guys, I am pleased to announce that when the Munchkin is sealed shut you won't smell dirty diapers!
The self-sealing system works to prevent odors and it doesn't smell when the Munchkin pail is sealed. When you lift the lid to put a new diaper in, you may get a little stinky sniff, but it's not a big waft and goes away when the lid is down.
No pungent smell filling up the air of your baby room here! When the top is sealed, the air will not smell bad and you won't even notice you have a collection of dirty diapers in a pail.
PRO TIP: If you decide to get the Munchkin Step right now, you will receive the Munchkin Toss FOR FREE! It's a fantastic disposable diaper pail for travel and vacation. It can hold up to 30 newborn disposables and it's foldable so you can fit it in your diaper bag. Get your Munchkin Step + FREE travel pail here >>
Refill Bags
The Munchkin pail accepts two types of bags: the continuous liners or snap-close bags. The snap-bags are more like trash bags, because you have to lift them up and out of the containers. I think they would be good for places like daycares or if grandma helps with babysitting and has a hard time changing the continuous bags.
It is difficult to find off-brand bags that fit the Munchkin Step pail, so beware of liner bags that claim they fit the Munchkin Step Diaper Pail! I found out that only these knockoff refills work with Munchkin.
Although they are more expensive, the Munchkin bag refills are nice, because they have baking soda for maximum odor control.
Inserting Diapers
One complaint of the Munchkin pail is that the mechanism that seals in odors makes it hard to get a diaper into the pail. It is a pretty tight fit, and I could see how someone would be worried about 'puncturing' extremely messy diapers and making an even bigger mess.
With this diaper pail, you do need to push the diaper into the pail, it will not just drop in like with the Diaper Genie (you might feel a bit dirty after this, but I certainly hope you're washing your hands after a diaper change, anyway).
Expense
Between the two, I think the Munchkin Step is the best diaper pail because it does a better job at containing bad diaper smells. However, it is more expensive, both up front and in the long-run, because you will probably have to buy the name-brand refill rings.
Playtex Diaper Genie Complete Review
The Diaper Genie is so popular that the name 'diaper genie' has become synonymous with all diaper pails. There are a few other Diaper Genie models out there, but let's keep it simple: my review is specifically for this Playtex Diaper Genie Complete, not the Diaper Genie Expressions or Diaper Genie Essentials.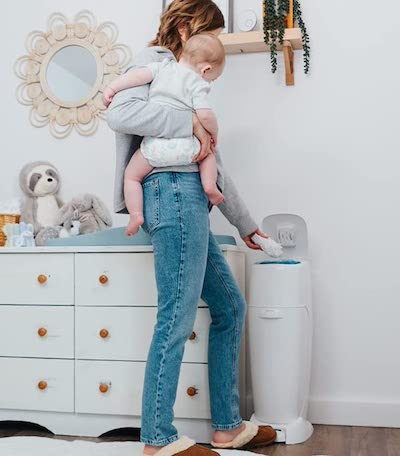 The Diaper Genie Complete is a sleek-looking, plastic diaper pail. It comes in four colors – pink, grey, while and blue.
Like pretty much all the pails out there, the Genie has a foot pedal and a trap door at the front. It is easy to use: when your bag has reached capacity, just open the door, cut the liner and tie it off. Then, dispose of the bag of soiled diapers.
Opening The Lid
The best and worst part of the Diaper Genie are the two 'clamps' at the top. On the one hand, it's it an easy, one-handed operation to drop the dirty diaper into the pail. If it doesn't drop down right away, just use the step lever a few times to make the diaper fall down.
But, once you open the lid, the two flaps or 'clamps' move aside, unlock the seal and release a pungent odor of poopy diapers.
Guys, this diaper pail is just containing the smell of dirty diapers in order to let out a fierce odor when you open the lid. And then, the smell is just out there, stinking up your nursery.
I found that I have to use this pail together with an air purifier to avoid my nursery smelling of baby poop.
Carbon Filters
Fitted inside of the lid of the Diaper Genie is a carbon filter. Sorry, but I see these odor-absorbing filters as more of a drawback than an advantage.
First of all, you can only insert the Diaper Genie brand pouches in the slot (no other type will fit) and you also need to replace them every 30 days.
They aren't super expensive, but a busy mom with a newborn doesn't need to be thinking about ordering something like carbon filters for a diaper pail.
Refill Bags
You don't need to use only Diaper Genie special bags with these diaper pails. Off-brand rings fit just fine. Save money in the long run by using another refill ring for less cost.
Most generic bag refills offer the same 7-layer odor protection and I find they work just as well as the Diaper Genie brand. They also hold just as many diapers (270), all for less cost. These bags are the cheapest option that I found.
IMPORTANT NOTICE: Are the off-brand bags odor sealed? Many of them say they they offer 7-layer protection to minimize odors, but I think that after a while all bags don't seal in the stink – even the Diaper Genie-brand liners. For the best value, get a durable bag for a decent price, but look for a quality diaper pail that has a strong seal in the lid that won't allow smells to escape.
Odor Control
The main test of any diaper pail is if it controls the stinky diaper smell, or not.
I find that the Diaper Genie Complete does a better job than a regular trash can, but, even when the lid isn't open, after a few months of use, the Diaper Genie has a constant unpleasant smell around it. You may find yourself ready to toss bags out before they are at capacity because the room is smelling of dirty diapers.
We could say the Diaper Genie is a decent budget pick, but it doesn't win for maximum odor control.
Final Decision: Is Munchkin Or Diaper Genie Better?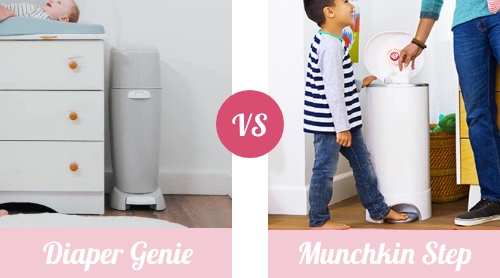 Everything considered, I think that the Munchkin Step Diaper Pail is better than the Diaper Genie Complete. The main difference between the two is the Munchkin's self-sealing system, which really does a better job at odor control over the Diaper Genie's folding slats.
The Diaper Gene releases a bad smell into the air when you open it to drop in a new diaper, the Munchkin only allows a tiny bit of stink to escape.
I also like that you can switch out the Munchkin's disk less frequently, and save money by using your own baking soda.
The entire purpose of a diaper pail is to prevent odors and the Munchkin simply does it better.
Munchkin Vs. Diaper Genie – FAQ
Are Diaper Genie Refills Compatible With Munchkin?
Diaper Genie refills are not compatible with Munchkin brand.
You can find off-brand refills for the Diaper Genie, but it is much harder to find off-brand bags that work with the Munchkin pail. Read reviews before buying anything other than the Munchkin brand bags.
How Often Do You Empty the Diaper Genie?
H0w often you need to empty your diaper pail depends on how many diapers you have in there – which depends on the age of your kids, and how many kids you have.
In my case, it's not very frequent because I use cloth diapers during the day.
My sister was plowing through disposables when she had a newborn baby and an 14-month old, and needed to empty her Diaper Genie every 3 days.
How Does The Munchkin Step Work?
Step on the foot pedal, allow the lid to lift up and insert the soiled diaper through the gap in the center of the pail.
The self-sealing contraption means there is a tight squeeze to get the soiled diaper into the pail. This is to be expected, but if you have a very, very full diaper, you might have a bit of worry about 'squishing' a diaper through the opening and possibly getting a bit off a mess on yourself.
First, wrap the diaper into itself, nice and compact.
If you still think it's going to 'squish' against the entrance to the pail, wrap it in another mini trash bag (like a pet bag) before putting it in the diaper pail.
When you think you are reaching bag capacity for your Munchkin pail, simply open the little door at the front, pull down the bag, cut it with the internal blade and tie it off. Pull a new bag through, tie a knot and start again.
Take the bag of used diapers to your regular trash outside.
Do You Really Need Diaper Pails?
Friends, diaper pails are not a necessity, but rather a luxury. They are supposed to make things more convenient with a baby, but there is no hard-and-fast rule that you must have one in your nursery.
If you have a small apartment, it might be easier to drop them in a trash bag on your balcony, or throw in the dumpster as you go for a morning walk so you don't have several day's worth in the house. In this case, you can use regular garbage bags and don't fret over odor containment, because you're removing the smelly mess every day (or more frequently).
But, if you have pets that get into the garbage, or live in a warm climate that would make the smell even worse when left outdoors, then a diaper pail might be especially useful!
---
Sources of pictures:
Pictures of Munchkin Step belong to Munchkin brand.
Pictures of Diaper Genie belong to Playtex Baby brand.
The purpose of this article is informative. It's not a substitute for professional medical advice or medical care. Remember: safety first! Consult your doctor/pediatrician in case of any doubts. The author of this article does not accept any responsibility for any liability, loss or risk, personal or otherwise, incurred as a consequence, directly or indirectly, from any information or advice contained here.
Your trust is really important to me: This article includes affiliate links to products that I think are useful for our readers. If you make a purchase through these links, I may earn a small commission at no extra cost to you. Your support helps me run this blog – thank you!