If you're a breastfeeding mama, you may be looking out for the best milk collector to catch the letdown milk from the other breast while you're nursing your little one. Your choice boils down to Elvie Curve vs. Haakaa.
They differ a lot and those differences make one of them WAY BETTER. Are you curious which one?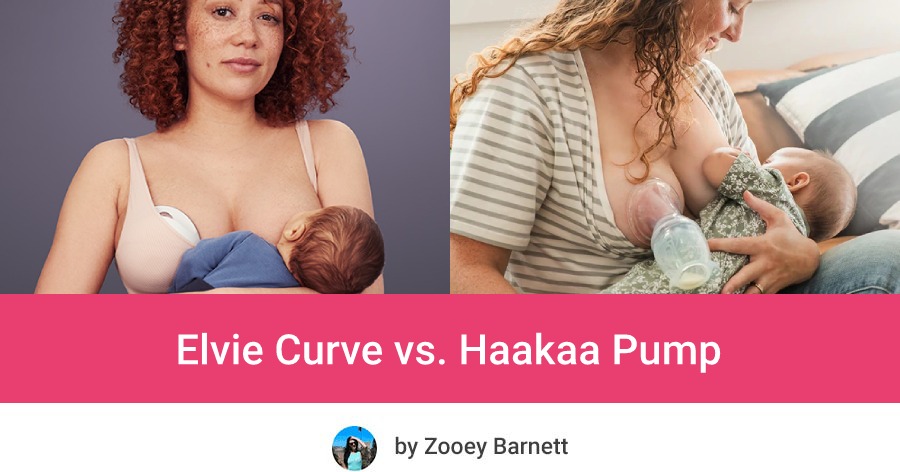 This article is not a substitute for medical advice. It contains affiliate links.
When I started my breastfeeding journey with my baby no. 1, lots of my fellow moms were raving about Haakaa so I decided to give it a try.
It helped me to create my stash of milk for when I got back to work, but it also had some drawbacks that I didn't like.
A few years later, when I was nursing with my third baby, I came across this new silicone pump – Elvie Curve. Its unique in-bra design seemed to solve all the issues that I has with Haakaa.
Now I'm going to share with you my experience with the original Haakaa and Elvie Curve and reveal my favorite manual pump.
Best Features
❤️ Suction feels more comfortable & gentle = no sore nipples
❤️ It's so easy to adjust the suction
❤️ Fits in your bra = it's completely discreet
❤️ Because it's secured in your bra, your baby cannot kick it off of your breast
❤️ No spills
❤️ Super strong suction for quick milk expression (but it also can be painful)
❤️ Way cheaper than Elvie Curve
❤️ If you're on the budget, this manual pump does the job (but you can't hide it, it hang off of your boob)
❤️ Very easy to clean, it's just 1 piece and there are no crevices
advantage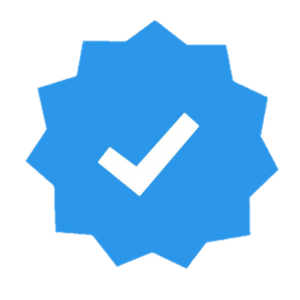 Recommended by 81% of verified buyers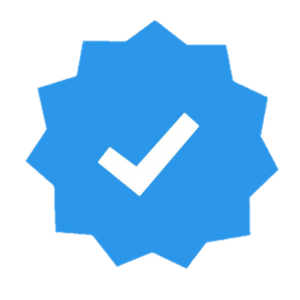 Recommended by 87% of verified buyers
My Top Choice
Best Features
❤️ Suction feels more comfortable & gentle = no sore nipples
❤️ It's so easy to adjust the suction
❤️ Fits in your bra = it's completely discreet
❤️ Because it's secured in your bra, your baby cannot kick it off of your breast
❤️ No spills
advantage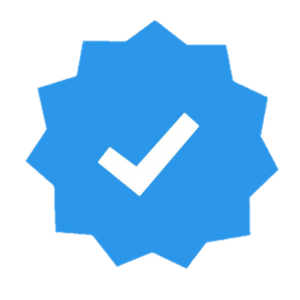 Recommended by 81% of verified buyers
Best Features
❤️ Super strong suction for quick milk expression (but it also can be painful)
❤️ Way cheaper than Elvie Curve
❤️ If you're on the budget, this manual pump does the job (but you can't hide it, it hang off of your boob)
❤️ Very easy to clean, it's just 1 piece and there are no crevices
advantage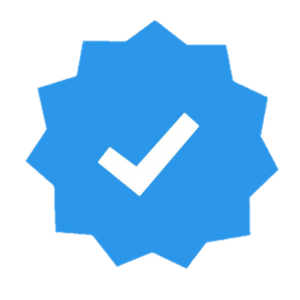 Recommended by 87% of verified buyers
Last update on 2022-11-28 / Affiliate links / Images from Amazon Product Advertising API
What Is Haakaa? What Is Elvie Curve?
Both Elvie Curve and Haakaa are silicone manual pumps which use natural suction to collect milk during the letdown while you're nursing your baby on the opposite breast.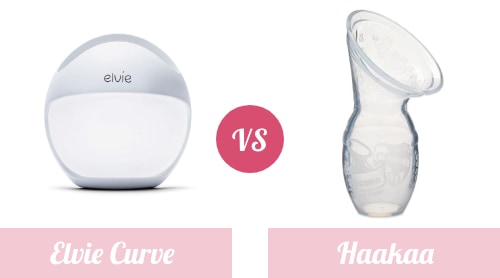 If you're expecting mom, you may not know that yet, but when you're breastfeeding your baby on one breast, the other breast is leaking.
Of course you can put a nursing pad into your bra to absorb all that milk. But lots of mamas see this as a waste of their golden fluid!
And here the Elvie Curve and Haakaa come in handy.
The main purpose of using either Haakaa or Elvie Curve is to catch milk during the letdown which would otherwise just go into a breast pad and waste.
With these two you can build a nice freezer stash, which will be useful when you go back to work and the baby stays with granny or babysitter, and they'll be able to continue to feed the baby with your breastmilk.
Another reason to get Elvie Curve or Haakaa is to help relieve engorgement, as they help to get the milk down a little quicker. Plus they may help to build your milk supply, but you need to be careful with that because they might lead to oversupply too – more on that later.
By the way, in this article I am going to compare the original version of Haakaa and Elvie Curve, but I'll also briefly mention the Haakaa Ladybug version and Elvie Catch, just to give you wider perspective on all milk-catching products.
Is The Elvie Curve The Same As The Haakaa?
Although these two pumps basically do the same thing, they have completely different design.
Discreet Design
Elvie Curve has breast-like shape and fits in your bra, while that Haakaa has more bulky design and hangs off of your boob. The Curve is WAY MORE convenient and discreet.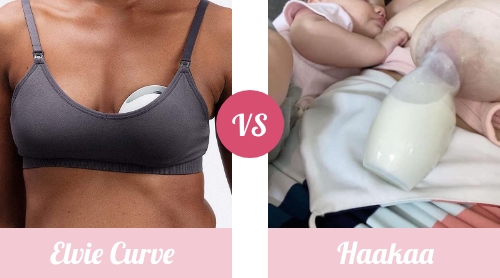 You can use the Curve in public, because it's possible to wear it in a bra, and no one will notice it (it doesn't even make your boob look unnaturally huge). It was a game changer for me, especially when we travelled a lot and I was often nursing on the go.
On the other hand, Haakaa doesn't fit under the shirt and it's not discrete at all.
Spilling Out The Milk
The main complaint that mothers have about Haakaa is that once babies start to move more, they may kick the pump off of the breast and spill the milk. The same thing may happen when you try move or readjust it. For me this was a deal-breaker.
So with Haakaa you're more likely to end up with your breastmilk spilled out on your chest (or your sofa), while with the Curve you won't have this problem because it's hidden and secured in your bra.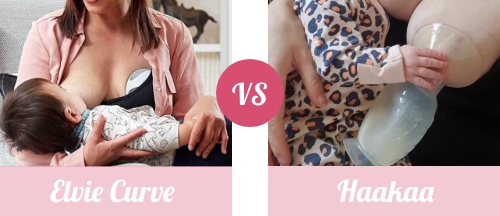 Some moms recommend breastfeeding in football position so your little one doesn't have a chance to knock off the Haakaa. But once they grow and start to move their arms more, they will be able to manipulate with Haakaa!
Suction
Lots of mothers say that Haakaa has super strong suction, and for some of them it's even TOO strong and aggressive.
If you're going to use this pump it will definitely take some time to learn how to attach it to your breast without hurting your nipples (it may be better not to press it all the way down when you put it on your boob, otherwise it may hurt a lot).
Of course there are also some women who prefer stronger suction because it makes the milk expression quicker.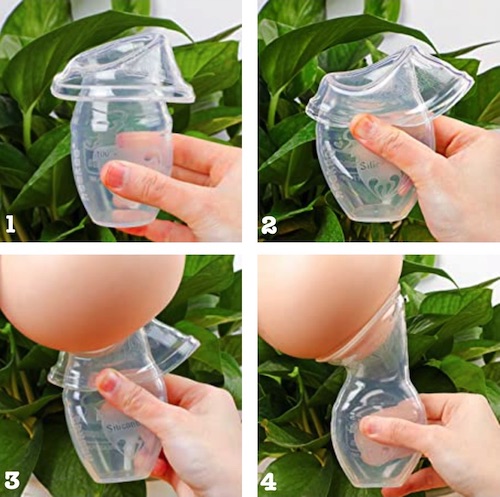 Nevertheless, majority of breastfeeding mothers say that Elvie silicone pump has better, gentle suction. It's enough to collect the letdown milk, and it doesn't put huge (and painful) pressure on nipples.
It's also very easy to adjust the suction on Elvie – there is a little bubble (knob) at the top, which you can squeeze it to release some air until you find the comfortable level of suction.
There's one more thing that make me prefer Elvie over Haakaa: even when you press the Curve all the way down and it will suction your nipple in, the silicone part doesn't touch and irritate your nipple.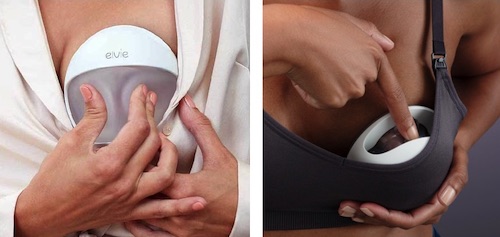 With Haakaa it's very easy to create aggressive suction and the nipple gets "trapped", touches the silicone and just hurts a lot.
I also think that Elvie is much easier to put on the breast and it's really user-friendly. With Haakaa it took me a lot more time to find proper suction to express the milk without awful nipple soreness.
How Much Milk Can You Collect?
Each pump allows you to collect 4 ounces of milk. However, some mothers say that Elvie holds that amount of milk better. Some women are not able to express 4oz. with Haakaa because of its specific shape.
Pouring Out The Milk
With both pumps it's really simple to pour out the milk without loosing even one drop. I would say that Haakaa is a little bit easier in that aspect (because of its shape), but it's a minor difference and definitely not something that should have influence on your decision.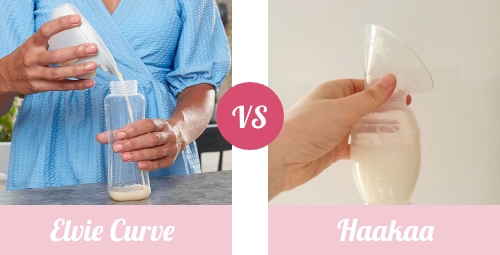 By the way, with either of these pump you don't have to worry about spillage. You can lay Elvie flat and Haakaa stands on its own, which ensures no spills.
Cleaning
I must admit that Haakaa is slightly easier to clean, because it's just one-piece pump, without any crevices or nooks that would be hard to reach and clean properly.
With Elvie you have two parts that come apart easily and it's pretty simple to wash them under running water with a regular bottle brush.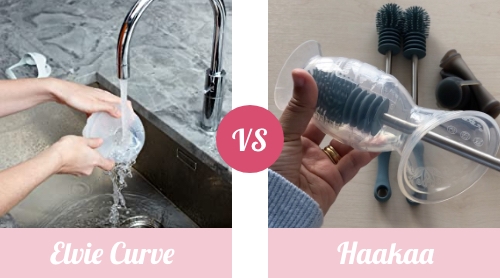 The Curve's silicone pouch has rounded shape and smaller whole for the nipple than Haakaa, that's why it's a bit more difficult to clean, but it's definitely not a deal-breaker. It's also dishwasher-safe.
Both pumps can be sterilized in a steam sterilized which is a big plus.
Price
I would say, you get what you pay for. Elvie Curve is about 3 times more expensive than Haakaa, but it's so much more convenient, gentle, truly hands-free and user-friendly. Haakaa is more simple and just does the job.
But be prepared for stronger (and possibly painful) suction and a lot of mess when your little one kicks it off of your breasts!
Final Decision: Should You Choose Elvie Curve Or Haakaa To Catch Milk During Letdown?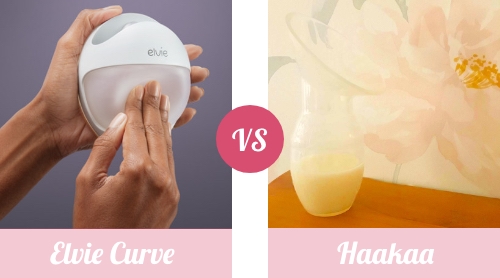 If you want more discreet pump, that your baby won't be able to kick off and spill out the breastmilk, Elvie Curve is totally worth the money. I would recommend it for mothers who have sensitive nipples or simply prefer gentler breast pump that doesn't hurt!
On the other hand, you're on the tight budget and need a simple silicone pump to catch the last drop of your milk when you nurse on the opposite side, Haakaa will do the job. Just keep in mind that it may feel less comfortable.
Elvie Curve vs. Haakaa – FAQ
You already know how these two milk collectors work, and what are their pros and cons. Here are more details about different versions of Haakaa and Elvie, and tips for using these manual pumps.
Haakaa Ladybug vs. Elvie Curve
There is also a completely different version of Haakaa pump called Ladybug.
In contrast to Elvie, Haakaa Ladybug has just 1 piece, and it all made of soft silicone. REALLY SOFT silicone. You can squeeze it and bend it in all directions – I would say it's TOO soft and it feels flimsy. It's more like a baby teether!
Another thing is that Haakaa Ladybug has large whole for the breast and because it's so soft, it easily looses suction and just fall off (and you end up with milk spilled all over you).
If you're debating between Haakaa versus Elvie Curve, you should definitely consider the original Haakaa, not the Ladybug version.
Can You Use Elvie Curve As A Pump?
Elvie Curve is not a substitute for double electric pump (like Elvie Pump, Medela, Spectra etc.), especially if you plan on exclusively pumping. But you can use this manual pump to express additional milk while you're nursing (or using electric pump) on the opposite breast.
How Long Can You Wear Elvie Curve? Can You Wear Elvie Curve All Day?
You can wear you Elvie Curve in bra on one side, while feeding your infant on the other side, while pumping on your opposite breast, or when your breasts feel full and you need help to relieve the engorgement.
Once you've finished expressing the milk, remove Elvie Curve and transfer the milk into a separate storage container/bag.
You should not wear Elvie Curve all day long. If you feel like your breasts leak a bit between feedings, you may want to insert nursing pads inside your bra.
PRO TIP: If you decide to choose Elvie Curve, I recommend you to get a comfortable nursing bra that ensures quick breastfeeding access and holds the manual pump securely attached to your boob. Check out my ranking & pick the best Elvie pump bra or if you prefer a tank top – here you can get the best nursing tanks and camis.
Can You Pump With Haakaa?
Similar to Elvie Curve, Haakaa is not a substitute for electric breast pumps, but it's a great help for collecting extra milk while you're breastfeeding or pumping and your other breast is leaking. Haakaa is a milk catcher and it's designed only for letdown. It may also help you when your breasts feel full, but it's not designed for exclusive pumping.
Why Is Haakaa Not Recommended?
Some moms do not recommend using Haakaa or other manual silicone pumps (like Elvie Curve) because they can lead to oversupply which may be really difficult to deal with.
Using manual pumps can stimulate letdown and milk flow, increasing your breastmilk supply. But if you overdo it, especially in the first few weeks after the birth when your supply is not established yet, it may stimulate your body to produce TOO much milk.
That's why you should be careful while using Haakaa or other silicone pumps that use natural suction. Once your breastmilk supply is established using Haakaa or Elvie Curve is safer.
---
The purpose of this article is informative and entertaining. It's not a substitute for medical consultation or medical care. Remember: safety first! The author of this article does not accept any responsibility for any liability, loss or risk, personal or otherwise, incurred as a consequence, directly or indirectly, from any information or advice contained here. This article contains affiliate links which means I may receive a small commission when you make a purchase through these links, at no extra cost to you. This helps me to run this blog – thank you for your help!
Source of pictures:
Pictures of Elvie Curve belong to Elvie Brand.
Pictures of Haakaa Silicone Pump belong to Haakaa Brand.