Are you wondering how to make pack n play more comfortable for your little one to sleep on it?
Maybe you just got one of the popular playards and you're worried if your baby is going to sleep well on this thin and firm mattress? So you might be considering adding a mattress topper to make the sleeping surface softer.
Beside, the baby will sleep so close to the floor, so you might be wondering if you should add additional blankets or thicker quilted sheets.
I need to tell you right away that not all of these ideas are safe for babies and they actually won't make the baby sleep better!
If you're really worried that your little one will have trouble falling asleep in the playard, check out my ideas for how to make pack and play more comfortable for sleeping, without compromising safety of your child.
Let's start by inspecting if pack n play is really uncomfortable and what you can do to help your baby sleep better.
Is Pack N Play Uncomfortable?
Let me start by saying that pack n plays are meant to be a portable and affordable option for parents who are often on the go. They are smaller than full-sized cribs and have foldable design.
PRO TIP: If you're short on space in your house, you may want to go for a portable mini crib with wheels, instead of a pack n play.
This means they can be a great alternative to standard cribs for parents who live in smaller apartments, as well as for frequent travels or sleepovers at grandma's house.
Pack n play can also come in handy if you live in larger house and prefer to keep baby's crib in the nursery, and what to have a second sleeping area in your bedroom or living room.
What parents love most about pack n plays is that they double as a bed and a playpen – meaning they proving a safe space for your child for both sleep and play time.
Pack n plays are designed with portability and baby's safety in mind – that's why they have a foldable design and a firm, thin mattress.
Lots of parents complain that pack n play mattress seems to be lacking comfort level and being too hard and thin, especially when compared to crib mattress.
This is because playards mattresses are usually only 0.75″ – 1.5″ thick and they seems to be too thin and uncomfortable. As adults we need higher mattresses, more padding and cushioning, but you should know that babies require something completely different.
Young babies don't need that kind of padding and it actually would be UNSAFE for them to sleep on soft and cushy mattress!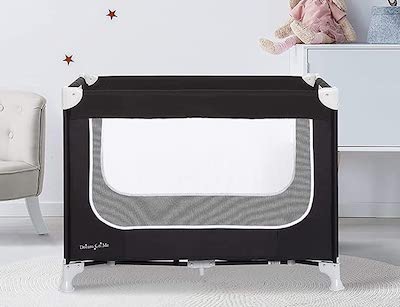 Why Are Pack N Play Mattresses So Hard?
Remember, firm mattresses are the safest option for babies sleep. The American Academy of Pediatrics recommends to "use a crib, bassinet, or portable play yard with a firm, flat mattress and a fitted sheet".1 Moreover, "a firm surface means that it shouldn't indent when your baby is lying on it".2
Moreover, cribs, bassinets and pack n plays have to meet CPSC standards for infant sleep products.3
This means that if you are getting one of the popular pack n plays that has CPSC approval (for example Delta Children, Sleep On Me or Graco pack n play) you can rest assured it has been tested and it's safe for the baby's sleep. Avoid playards (as well as cribs or bassinets) that do not meet CPSC standards!
To wrap it up: even though the pack n plays have thin mattresses, they are safe for babies to sleep on. I'm aware that some parents will still be worried about lack of padding or the mattress being too hard and thin, making them wondering how to make the pack n play more comfy.
Pack n play portable crib has fabric sides and the folding mattress is firmer and thinner.
This design is intentional to avoid fabric sides stretching out and creating gaps between the playard frame and mattress sides – which would be a safety hazard.
Can I Add Mattress To Pack N Play?
Some parents try to change manufacturer included mattress for new padded mattress or add pack and play mattress topper.
This makes the sleeping surface higher which actually poses a threat to child's safety, because it creates pressure on playard fabric sides and stretches them out.
This in turn leads to gaps developing between the mattress side and playard frame. This increases the risk of SIDS. Your baby could roll over and get trapped in that gap (suffocation risk!).
I know that for many parents empty pack n play with a thin and hard mattress and only tight-fitted sheet doesn't look cozy for a newborn baby or an infant, but it's actually the safest option for this sleeping place.
How To Make A Pack N Play Mattress More Comfortable
Most popular playards are safe and comfy enough for kids to sleep, but if you want to make them even more comfortable make sure to choose the manufacturer approved solutions.
1. Organic Cotton Sheets Specifically Designed For Pack N Play
Babies have delicate and sensitive skin, that's why getting a high-quality soft pack n play sheet can help your little one feel more comfy sleeping on the playard mattress.
Organic cotton is one of the best fabrics you can choose, it's buttery soft, nice to the touch, breathable and doesn't irritate baby's skin.
Make sure to choose sheets that are specifically designed for pack n play mattress and double check the dimensions. The sheet should fit the mattress snuggly, without any excess of fabric that could bunch up and increase the risk of SIDS.
Getting cozy and tight-fitted play yard sheet is a solution you could try with infants, as well as toddlers.
Brands that I can recommend are: American Baby Company and Burt's Bees.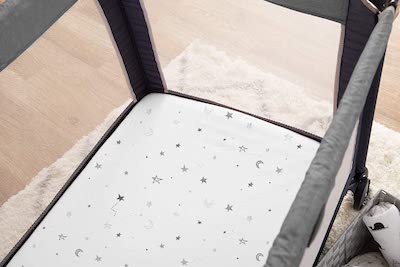 2. Padded Sheets
One of the best options to make pack and play more comfortable for sleeping is using thicker quilted pack n play sheets. Thanks to sewn-in thickness and padding they feel more comfy.
Just like regular sheets, quilted sheets should also fit the mattress tightly. Choose sheets that are specifically made for playards.
I recommend you padded sheets from Graco – they are thicker, but still fit over the mattress pad snuggly and don't bunch up. They are compatible with all Graco Pack N Plays. You can also search for third-party cheaper options – just make sure you're getting the right dimensions for your pack n play.
I recommend this solution only for babies above 12 month old and toddlers. Use your own parental judgement to avoid creating unsafe sleeping environment.
3. Waterproof Sheets
All parents know that diaper blowouts and leaks happen during the night. It's so much easier to clean up afterwards if you have a waterproof sheet (or a bed wetting pad).
Moreover, it will protect the pack and play mattress from soaking up the moisture and getting bad smell.
Besides, using a waterproof sheet adds a soft layer for your little one, making the pack and play more comfortable for sleeping.
Of course you should choose tight-fitted sheet that matches your pack n play mattress pad size.
Brands that offer the best impermeable sheets for play yards are: Ely's & Co and Graco.
4. Mattress Topper (Not Recommended)
You can find lots of different types of pack n play mattress toppers, some of them designed by popular and safe baby brands. They are specifically designed to fit inside the playard and feel firm.
But even if you choose the best topper, it is still against manufacturer's guidelines to use it on top of the original mattress pad!
In my opinion this is not a safe option, either for infants or toddlers and I do not recommend it.
Even though it may seem like additional topper makes the pack n play more comfortable, it can actually increase the risk of suffocation.
If you still want to add it, do it at your own risk – after all each parent knows what's best for their child! At least make sure to get a non-toxic mattress topper that is free of nasty and harmful chemicals. Elastic straps are another useful feature because they ensure the topper stays firmly in place and doesn't shift.
5. Swapping Pack N Play Mattress Pad (Not Recommended)
In my opinion this solution is not safe to try out, especially with young baby. It's also against manufacturers advise and can increase the risk of Sudden Infant Death Syndrome.
I've heard that some parents, who want to provide their babies with softer sleeping surface, just swap original mattresses included with their pack n plays for third party mattresses.
So if you really want to change the manufacturer mattress for a different one, despite the risk, you should look for mini crib mattress which has similar size to pack n play mattress. It should be firm and supportive for baby's body.
Make sure it fits perfectly, without any gaps between playard frame and mattress. It should fit snugly even in the corners to avoid suffocation risk, otherwise your baby's face or limb could get stuck in the gap.
Even though it may seem like changing the mattress for a new one is not a big deal, it is in fact unsafe solution and I don't recommend it.
6. DIY Foam Pad (Not Recommended)
Some of the parenting hacks include DIY foam pad as an idea for making pack and play more comfortable.
Parents who have tried it solution shared that they got a piece of 1″ – 2″ foam from a local soft furnishings store and cut out a foam pad out of it, using the original pack n play mattress as a template.
Then they used this foam pad as an additional mattress and covered it with a tight-fitted sheet to hold both mattresses together in place.
The biggest problem with this solution is that it's really difficult to cut out the right size of DIY mattress which may lead to gaps around its edges (suffocation risk!).
Besides, baby's mattresses are designed and tested to be free of unsafe chemicals. Adding a cheap polyurethane foam to your baby pack n play folding crib is not really a good idea, because it may contain toxins.
That's why this option is not recommended by manufacturers and I also strongly advise against it!
Other Ideas For Making Pack N Play More Comfortable For Sleeping
If your little one is having trouble falling asleep in the pack n play, there are other things that you can do to make it more comfortable, without changing the mattress height or its softness and risking your child's safety.
Here are the best parenting tips for getting a baby to sleep in pack and play.
1. Dark And Secure Space
In general babies fall asleep easier and sleep better in a blackout dark room.
However, it's best to avoid hanging blankets or putting towels over pack n play sides as it would decrease airflow inside it.
Instead, use the blackout blinds to make the room darker. If you're on vacations you can use blankets or towels to cover the windows in your holiday house.
One of the best ways to make the room dark for better baby's sleep is using a darkening tent like the SlumberPod (it's you're on smaller budget check out my ranking of the best cheaper SlumberPod alternatives).
These blackout tents are tested to be safe for infant sleep and need to meet the same safety standards as cribs and bassinets! They are made of breathable fabrics, lots of them have mesh sides and zippered flaps that allow you to adjust the level of darkness in the pack n play.
2. The Right Temperature
No one likes to sleep in a stuffy room or feels comfortable being all sweaty while falling asleep. It's the same case with infants and toddlers.
Moreover, babies tend to sleep better in a bit cooler room so it's important to set the thermometer lower. Make sure the temperature in baby's nursery is right and dress them accordingly to the season to keep them warm enough.
If you're worried you baby gets cold on chilly night, dress them in layers or use a wearable blanket.
For parents going on road trips or holidays, it's a good idea to pack a room thermometers (or if you have a young baby, a 1in2 bathtub thermometer that doubles as a room thermometers may be a better option).
3. White Noise
White noise is soothing for children and helps them to fall asleep and sleep more soundly.
If you're on a budget or travel light, you can use some smartphone apps for playing white noise.
And when you're at home you may want to use a sound machine (that also doubles as a night light) like Hatch Baby Rest or Rest Plus. The latter one is also a 2-way audio monitor!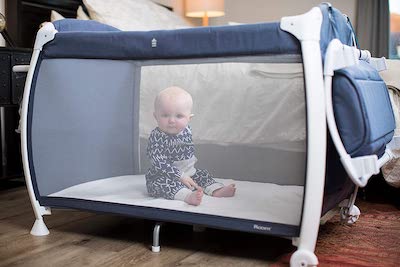 4. Sleep Area Free Of Accessories
It may be tempting for new parents to put a blanket, pillows or stuffed animals inside the playard (or crib) to make it more comfy and cozy for the child.
AAP actually advises against keeping any soft items in the sleep space as they put baby at risk of entrapment, suffocation or strangulation.4
For infants under 12 months: the crib should be empty and only the baby should be inside, to decrease the probability of SIDS.
5. Mommy's Smell
Especially when you're traveling your little one may struggle to sleep, because of the new environment. Besides, when you're on holidays or spending weekend at grandparents' house sticking to the bedtime routine may be more difficult.
All of this can make your child more fussy before bedtime and make it harder for them to sleep well.
The pack n play will be more comfortable for them, if it smells like you mama!
Just wrap the sheet around you or wear baby's sleeping sack/pajamas like a scarf for a few hours before bedtime.
It may feel a bit awkward but mamas will do everything to help their babies rest, right?
Your smell will help your baby drift off to sleep because it gives them sense of security and keeps them calm.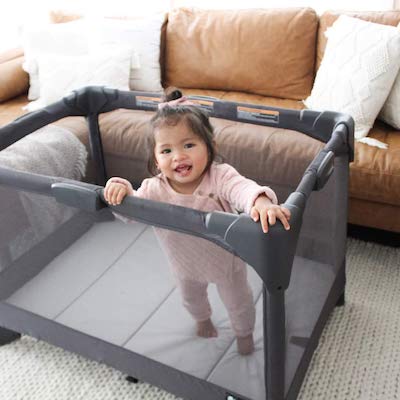 6. Swaddle / Sleep Sack
Wrapping your newborn in a swaddle (or sleep sack if they are a bit older) can help them to sleep better in a pack n play because it provides them with the same snuggly and comforting feeling that they had in mom's womb, and gives them the sense of security.
Even during summer it's a good idea to wrap baby in a sleep sack, but you need to choose a lightweight and breathable one with low TOG rating. Here are my favorite sleep sacks for warm weather >>
Wrap Up: Can You Make A Pack N Play More Comfortable?
Pack n play or playard can be a fantastic travel crib option for parents who are often on the go or have little space at home.
Remember that all cribs that meet CPSC standards, are tested and approved as safe for infant sleep. This means that you don't actually have to make your pack n play more comfortable or try to soften the mattress!
Pack n play mattress needs to be firm and only an inch thick because it's foldable and have higher or softer mattress would lead to dangerous gaps between its edges and the frame.
The best and safest option is to avoid making any modifications to the original pack n play mattress. Always keep the sleep space free of soft objects, blankets, pillows or plushies.
---
The purpose of this article is informative. It's not a substitute for professional medical advice or medical care. Remember: safety first! Consult your doctor/pediatrician in case of any doubts. The author of this article does not accept any responsibility for any liability, loss or risk, personal or otherwise, incurred as a consequence, directly or indirectly, from any information or advice contained here.
Source of pictures: