In this article I'd like to share with you my recent discover – something that can be a great help for new parents and make first months with their new baby a lot easier. Let me introduce you: The Ollie Swaddle.
This article in not a substitute for medical advice. It contains affiliate links.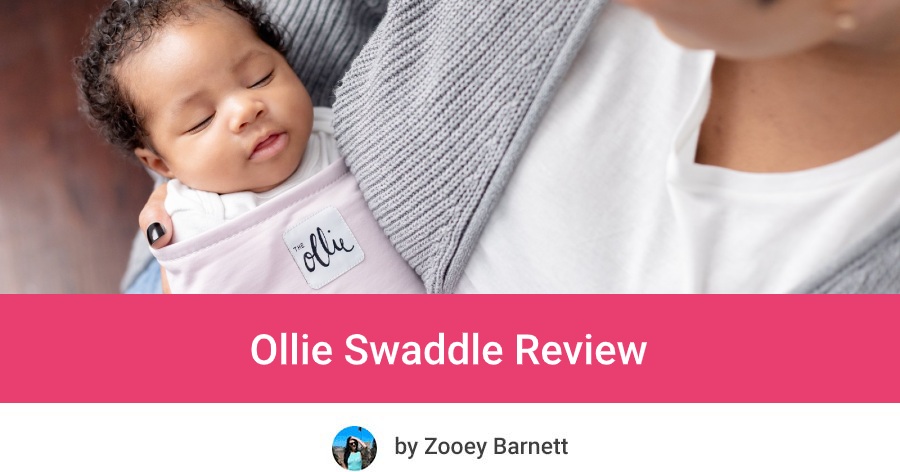 Choosing the best swaddle for baby is so overwhelming! There are dozens of brands that offer multiple designs, there are also different techniques of swaddling, and on top of that you have to remember to choose a swaddle that is safe for baby's hips and stretchy enough not to block their hip joints moves. All of that make it really hard to decide if you really need one, and which one is the best…
If you've been on the market on the hunt for best swaddle for your baby, you have probably already heard about Ollie.
According to many parents Ollie is the solution to all swaddling problems! It has simple design which makes it very easy to use, it's safe for infant's hip and shoulder joints, it grows with the baby, and it looks so cute.
But is it really a must-have? It is worth the high price tag?
In my Ollie swaddle review I will tell you more about its benefits and things that I love about it, as well as the things that I don't like. And in case you decide to buy this swaddle, at the end of my review I share my tip how to get it a bit cheaper!
PRO TIP: If you're looking for safe baby swaddle, but you don't want to spend a fortune on Ollie, I recommend you this Solly Baby Swaddle. It's approved as hip-healthy, it's made from more breathable fabric to prevent overheating and it's over $30 CHEAPER!
What Is Ollie?
It's a swaddle made of a stretchy and moisture-wicking fabric, that has soothing and calming properties for infants, that was designed to support their neuro-development, while being also safe for their hip and shoulder joints.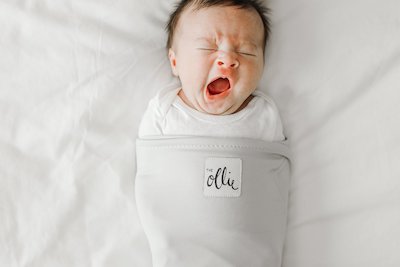 How Does Ollie Differ From Other Swaddles?
Ollie has really simple design which makes swaddling much easier. It is a Velcro swaddle blanket which is very easy to adjust, and fits babies from day one throughout their first months of life.
It's different from many other swaddles, because the fabric goes slightly below infant's shoulders not to strain their joints. At the bottom it has a loop to secure the swaddle just below baby's feet. Such a design allows you to change baby's diaper without un-swaddling them.
Is The Ollie Swaddle Safe?
Ollie was designed with babies safety in mind. There are two common concerns when it comes to swaddling: the risk of suffocation and hip dysplasia, and Ollie was designed to deal with those issues.
Its design – fabric below baby's shoulders – is very unique and it was made this way to eliminate the stress on baby's shoulder joints. Moreover, this way the fabric doesn't get any near baby's neck or face which eliminates the risk of suffocation.
Its elastic fabric gives the baby warm and snuggly feeling while allowing their hip joints to move and flex as they naturally do. It doesn't force the baby to straighten legs or hips. Infant's hips and knees can stay naturally bent, and the risk of hip dysplasia is decreased.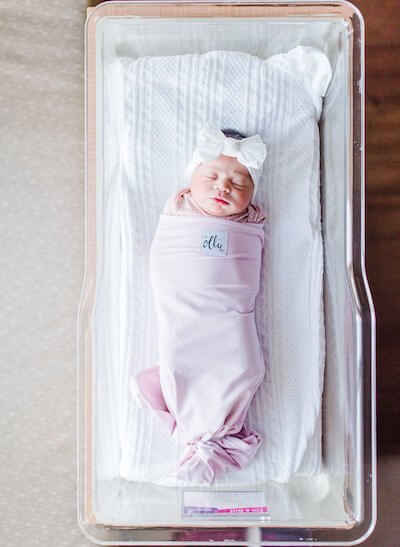 What's also important, swaddling in Ollie helps the baby to maintain supine position which is best for sleeping as it helps to avoid the risk of SIDS (always follow the rule "tummy to play, back to sleep").
Of course it's crucial to do the swaddling properly and use Ollie as intended. That's why I always recommend consultation with certified expert, if you're new to swaddling.
Size
Ollie Swaddle measures 30.5″ x 28″ (L x W). It's a one-size-fits-all swaddle and with its elastic fabric and Velcro closure it allows for a custom fit for all babies.
Moreover, it has a elastic loop at the bottom which you can adjust accordingly to your baby's length. According to many parents, Ollie works wonderful for small newborns, as well as bigger, taller infants. It really grows with the child and it can be the only swaddle you will need during the first few months.
Keep in mind that you should observe your child for signs for developmental milestones. At newborn stage you can use Ollie as traditional swaddle with arms tucked in. When your little bundle of joy is able to roll from back to stomach, it's time to stop swaddling or to use Ollie as a transition swaddle with one or both arms out.
Age Recommendation
Generally speaking you can start using this swaddle from day one (some moms have been using it also for preemies!).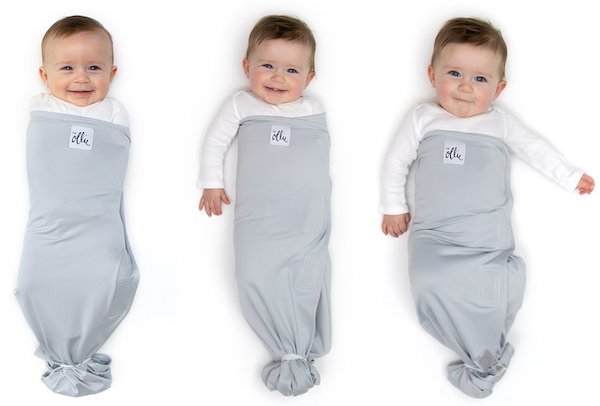 How Long Can You Use Ollie Swaddle?
There is no age/weight limit, everything depends on how quickly your infant will achieve next milestones, especially rolling from back to stomach. All swaddling experts agree that this is the moment when you should stop using swaddles. With Ollie you have one more option – you can use it as transition swaddle with arms out.
According to parents it is mostly usable during the first 3-4 months.
Fabric
This swaddle is made from 85% polyester and 15% spandex which makes it very stretchy and elastic. This means the swaddle is cozy and snuggly for babies, but doesn't block movement of their joints. Besides, the elasticity makes it so easy to adjust for a custom fit for every little one.
The swaddle has a thread of moisture-wicking fabric on the inner side which pulls the moisture away from the skin and brings it to the top of the fabric. It allows the skin to breath because the sweat is not trapped between the body and fabric. It works great for minimizing the risk of overheating on warmer days, as well as reduces the risk of skin rash on infant's delicate skin.
The ability to wick the moisture away from the body doubles for keeping the little one warm on colder days. It's important that the sweat is wicked away, otherwise it would easily cool down in lower temperature and could cause the body temperature to lower as well. This obviously would be dangerous for the baby.
It's so great that Ollie Swaddles are made of this type of the fabric. And what's important, the thread is patented and maintains its moisture-wicking properties over time.
But it's actually a 2in1 fabric that also keeps the baby nice and cozy on colder days without making them too hot.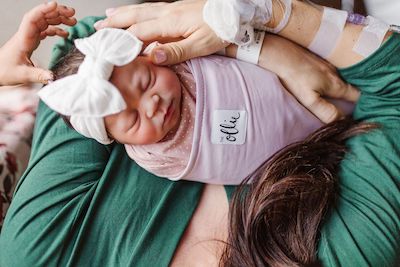 Cleaning
One of the advantages of the Ollie Swaddle is the ability to wash it in the washing machine. And the best part is that you will receive a special delicates laundry bag – to protect the swaddle from any damage (as well as to protect other tiny clothes – the Velcro on Ollie is really strong!).
How To Wash The Ollie Swaddle?
Always put your Ollie Swaddles in the delicates laundry bag (remember to secure the hook and loop first), and wash it on delicates cycle in cold water. Use baby-safe detergent. You can also tumble dry it on a low temperature or air dry it
Patterns
The Ollie is available in 5 cute, delicate colors: Stone, Lavender, Sky, Meadow and Steele. All of them look so gorgeous you will probably want to buy all of them!
The price is rather on the high end, so it's best to look for promotions or bundles. If you order a bundle of two Ollie World Swaddles on their official website you will save $19!

How To Do Ollie Swaddle
First, smooth the swaddle out flat, for example on your bed. You will easily recognizer where the top and bottom is which will make positioning the baby much easier. It's important to position the baby in the right way, to avoid fabric bunches around baby's neck and mouth, as well as joints strain.
The top – where the baby's head should be placed, is a bit rounded, and at the bottom part you will find the loop for securing the swaddle below baby's feet.
Lay your child on back centered on the Ollie with their shoulders slightly above the top of the fabric. Fold the first side of swaddle over your baby – stretch it across infant's torso and his opposite arm and tuck it over. When both arms are snuggly covered with the swaddle, stretch the second side across baby's torso and use the Velcro to close it tightly around the torso. It should be slightly looser around. the hip joints. It's important so the hips remain bent and have freedom of moment to prevent them from dysplasia.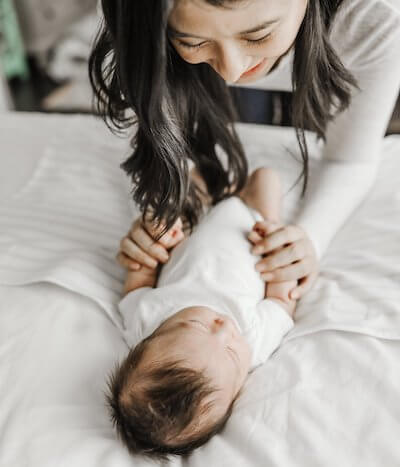 Do each Velcro separately, starting from the top and moving one by one downward. Make sure that both pieces of Velcro are properly attached (and not with the fabric).
Make sure that Ollie is just below your child's shoulders – this will ensure that there is no stress put on their shoulder joints and that the fabric won't bunch near their neck or face.
At the end, use the elastic loop at the bottom to secure the swaddle, right below those little feet. This way infants will have a room to wiggle a bit and move their hips and feet, while feeling cozy, warm and secure.
When swaddling the baby it's important to do it tightly, so it could resemble the containment and soothing feeling of the warm womb. If you leave the fabric loose, it may pose a risk of suffocation and basically it defeats the purpose of swaddling. At the same time, the fabric is so stretchy and flexible to give all joints freedom of movement.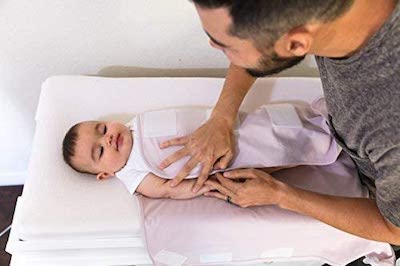 You will definitely need to practice swaddling a bit, but once you get a good hang of it, you will know exactly how to tie it, and how snuggly your baby likes to be.
If you're new to swaddling or confused and not sure how to do Ollie swaddle, I recommend you to check brand's official website and check out their tutorials. I also recommend you to consult with licensed expert – it's the best way to start your adventure with swaddling (as well as babywearing).
How To Use Ollie Swaddle – 5 Key Safety Points
Use it only when your child is lying on their back
When the infant is able to roll over from back to belly, it's time to fully stop swaddling or use it as transition swaddle (tie Ollie with baby's arm/arms out)
The fabric should start right under infant's shoulders – no fabric above shoulders, near baby's neck, chin or face
Tie the elastic loop right underneath child's feet.
One indication that you have swaddled your baby properly is the Ollie logo – it should be centered on baby's chest, 2-3 inches below their chin.
What Do You Wear Under An Ollie Swaddle?
Ollie has Thermal Overall Grade (TOG) rating of 0.8 which means it's made of a light, thin fabric, and has just one layer. This makes it suitable for different climates and temperatures, you just need to dress your baby properly. So what to pair Ollie with?
If the room temperature in your house is above 75°F, your baby could wear onesie with short sleeves under the Ollie Swaddle. If the room temperature is around 70°F, breathable sleepsuit with long sleeves under the Ollie may be a better choice.
PRO TIP: We recommend consultation with pediatrician for in-person assessment what room temperature is best for your child and what to pair Ollie with.
How Does The Ollie Swaddle Work – Benefits
Ollie gives moms all the benefits that swaddling has in general: it gives the baby feeling that resembles how they felt in the womb: warm, tight and snuggled. This often has soothing and calming effect on the baby and eases the transition from womb to new and unknown outside world.
Parents whose babies had problems with colic or latching say that Ollie has helped their little ones to relax which in turn help the child to focus on feeding better (better latching, less air swollen during feeding = less risk of colic). It also help with sleep problems – when the baby is calm and relaxed it's easier for them to fall asleep.
All of these benefits support baby's neuro-development and helps them to reach next milestones in their physical and cognitive development.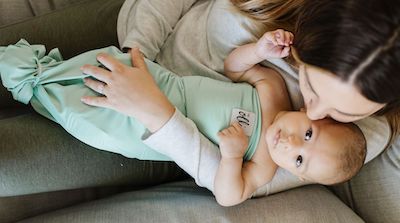 Other benefits include:
Moisture wicking fabric prevents from overheating during summer, and keeps the baby warm but not too hot during colder months
Elastic fabric gives baby's joints freedom to move, while it still keeps baby in that soothing snuggle position similar to womb environment and provides containment
Grows with the baby – stretchy fabric allows for custom fit as the baby gets bigger. Ollie size is also great for tall infants
You can use it as a transition swaddle when the baby starts to roll over
Reduces startle reflex – baby sleeps soundly and sudden waking up is reduced
Helps the baby to relax, reduces fussiness and irritability, promotes self-soothing
Ollie helps babies who have problems with falling asleep or nap shortly during the day and helps them calm down before falling asleep and to sleep longer. This is also beneficial for parents giving them piece of mind when their baby is calm and sleeps soundly, besides – gives mom and dad more time to relax or just have a moment for themselves
Ease of use – the simple design is really user-friendly with the Velcro closure
You can change diaper without taking it off, you just need to undo the loop at the bottom
Are There Any Disadvantages?
There are a few small downsides. Velcro closure is an advantage and disadvantage at the same time. It's really strong and when you're not careful with it, it may pill the fabric. This is also the reason why you should wash it in a delicates laundry bag included with it.
The second issue with Velcro is obviously its loudness. If you're baby is a light sleeper, he/she may wake up or get scared a bit when you try to readjust the swaddle or take it off.
The last downside is the price. Ollie is one of the most expensive swaddles out there, but the good news is that you can save some money if you get a bundle. Besides, parents who have been using it, say it's a life saver and totally worth the money.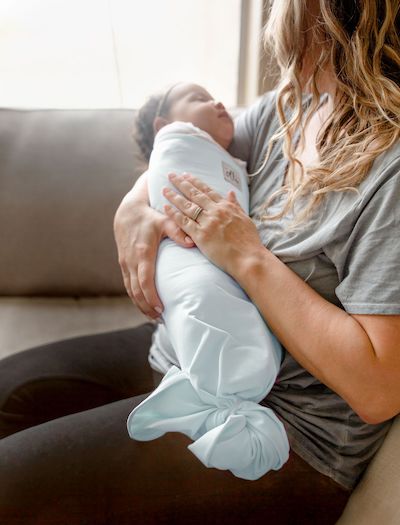 Where Can I Buy The Ollie Swaddle?
It's best to purchase it from brand's official website: The Ollie World. This way you can rest assured that you're getting the original swaddle with full warranty. At the same time, you'll be also supporting small business run by single foster mom!
PRO TIP: If you decide to get bundle of two Ollies, you will save 16% on each! Check the brand website for available patterns and bundles!
Ollie is also available on Amazon, but unless you have a coupon code, it's actually cheaper on Ollie website!
Ollie Swaddle Reviews – What Other Parents Say About It?
Among advantages moms usually mention the soft fabric and strong Velcro that keeps the baby secure and there's no way for them to wiggle out of it. Most of parents agree that it works like a miracle for sleeping problems: it helps to put babies to sleep and helps them to sleep longer. Just check the customer reviews on Ollie World website – there are hundreds of satisfied parents and babies.
The fact that Ollie is "one-size-fits-all" is another advantage because you can continue using it as your little one grows. The fabric ensures that your infant isn't too hot or too cold. Plus it's safe for baby's developing joints – allowing them for flexible moves, while keeping the baby cuddled and snug, just like in the womb. The included delicates laundry bag for washing Ollie is a nice touch.
Many moms say that this swaddle is a wonderful baby shower gift. And they also recommend getting at least two – to have a spare when you need to wash one.
One major disadvantage is that the Velcro is loud and may startle the baby, but there is solution for that: you can change baby's diaper without taking the swaddle off and waking them up.
According to majority of parents, it is a worthy investment, because it works like a miracle for soothing infants, and it helps with feeding and sleeping problems. The first 3-4 months are a challenging and it's often quite a difficult time for new parents, and it's so worth it to have something that can help them during this time. Ollie is a game-changer!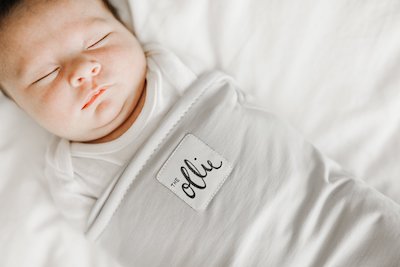 Ollie Swaddle Alternative
If you feel like Ollie is too expensive for you, but you'd like to have a hip-safe cute swaddle, there is more pocket-friendly alternative.
In my opinion Solly Baby swaddle is a wonderful choice if you don't want to spend a fortune on this piece of baby gear (save 13% when buying two swaddles with code SWADDLE). It's made of a unique super delicate fabric that prevents the child from overheating, and it's approved as hip-healthy product by the International Hip Dysplasia Institute!
If you're looking for cheaper Ollie swaddle alternative – this is your best option!
Still unsure? Read my full review of Solly Swaddle!
---
The purpose of this article is informative. It's not a substitute for medical consultation or medical care. Remember: safety first! If you have any doubts about your child's health or want to start swaddling, consult with certified expert and/or pediatrician. The author of this article does not accept any responsibility for any liability, loss or risk, personal or otherwise, incurred as a consequence, directly or indirectly, from any information or advice contained here. The article contains affiliate links – your support helps us run this blog!
All pictures belong to The Ollie World.