Best postpartum leggings provide support and stability for new mama body. They hold your swollen belly, weak abdominal and pelvic floor muscles, and provide extra shaping to your thighs and bum.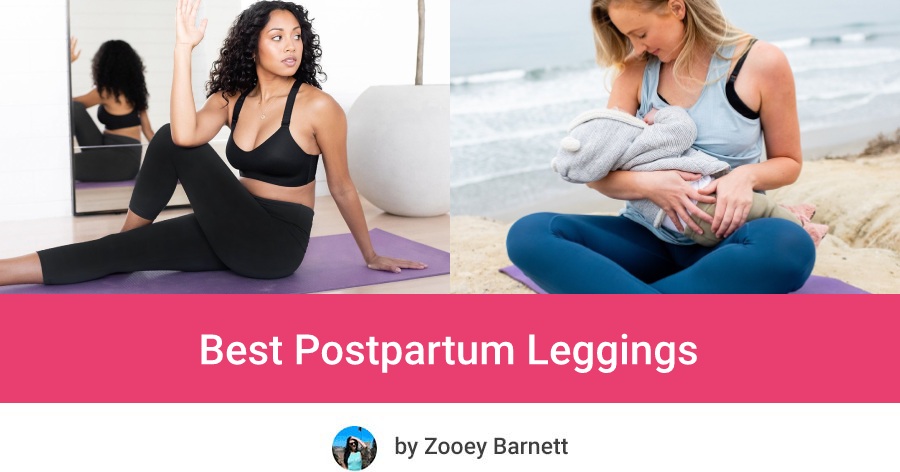 After giving birth, your body hurts a lot. Postpartum leggings have supportive design and are designed to help you during the recovery period. Thanks to built-in compression they support your abdominal muscles and pelvic floor muscles, which are weakened after the pregnancy and birth.
This article is NOT a substitute for medical advice. The content and pics may contain affiliate links.
5 Most Comfortable Postpartum Leggings & Compression Leggings In 2022
Here are my favorite 5 best leggings for postpartum designed to slim post-baby bodies and support new mom's achy tummy, thighs and butt without restraining her movement.
Whether you're in the hunt for leggings for lounging around the house, napping or light workout, you deserve to feel comfy and secure the whole time.
I picked 5 pairs in various styles and in a wide price range so every mom could choose leggings that suit her personal style and budget.
In my opinion these are the best postpartum leggings, given their quality, durability and flattering design.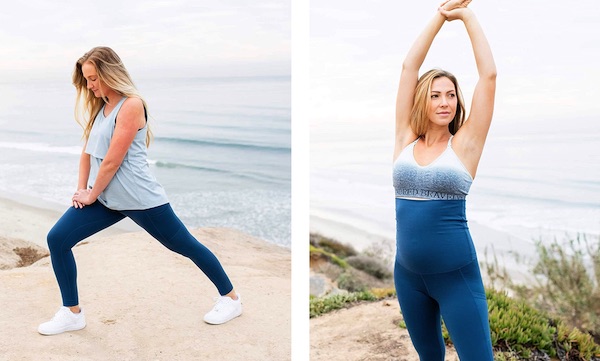 What you are going to love about these leggings is that you can wear them throughout the pregnancy and postpartum period, because they are designed to support your changing belly.
These are light-compression leggings which means they don't feel too tight and they don't squeeze your baby bump or postpartum belly, but they hug your curves. Nothing digs or rubs in!
Kindred Bravely Louisa leggings have REALLY high waist. It reaches all the way up to your underbust, which is actually a good thing because it provides full coverage even for your 9-month-pregnant baby bump.
You will also love the fact that they stay up and cover your belly really well while you're breastfeeding your baby. The fabric doesn't wrinkle or roll down on its own.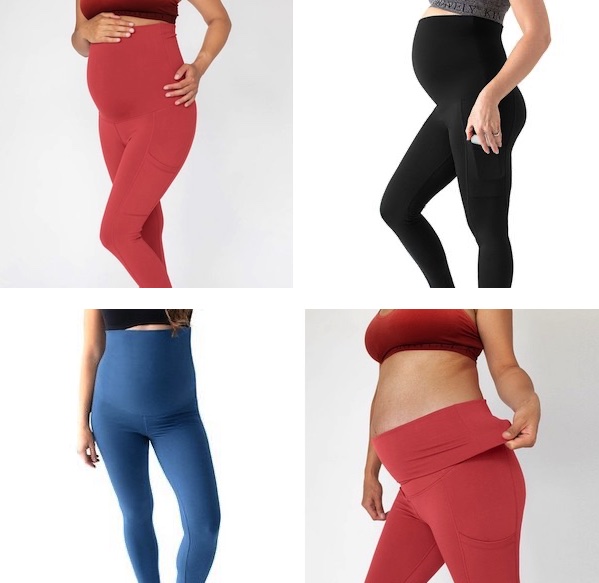 The waist panel looks so flattering on the baby bump and also provide gentle compression on the post-baby belly to make you feel more comfortable. Moms who had cesarean delivery also love wearing Kindred Bravely leggings, because they don't rub their incision site.
Thanks to elastic fabric (87% polyester + 13% spandex) these leggings adjust to and support your changing body, without loosing their shape. By the way, they are machine-washable.
I would say that Kindred Bravely Louisa leggings are perfect for moms who usually feel uncomfortable in leggings with tons of compression. These have just the right amount of compression to hold your belly and still allow you to breathe easily. 🙂 Besides, you are going to love their slimming effect.
Oh, one last thing that you are going to love about these ankle-length leggings: you can choose Classic Style or Pocket Style with two side pockets (big enough to fit your smartphone).
My favorite pair is this Classic Style in Black. They look great with all of my nursing tank tops. There are also 2 other colors to choose from: Storm and Terracotta.
Kindred Bravely is definitely my favorite brand when it comes to postpartum wear – they just know how to make new mommy feel comfortable!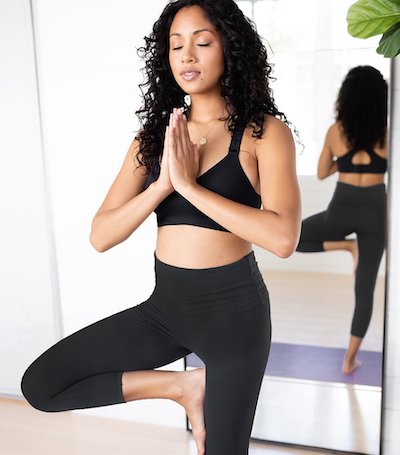 These leggings are quite similar to the pair I reviewed above, but these have cropped length. They look cool with sneakers, but you can also pair them with ballet flats.
Kindred Bravely Martina leggings are elastic and they adjust to your changing shape during pregnancy, postpartum and beyond. Some moms wear them everyday (and even wash them everyday) and they don't loose their shape, don't shrink or get saggy. Plus, they are really durable and should last you for at least a year of constant wear!
These are high-waisted leggings – the waist panel will fully cover your tummy when you're pregnant. You can also fold it down when you need extra support.
Lots of moms say that these leggings supported their belly in third trimester really well and did not put pressure on their bladder like some other leggings with more compression.
This ultra high waist band reaches up to the underbust which means it covers your stomach and gives you some extra discretion when you're nursing.
Ultra high waisted leggings are also fantastic choice for moms who had C-section, because they sit higher than the scar.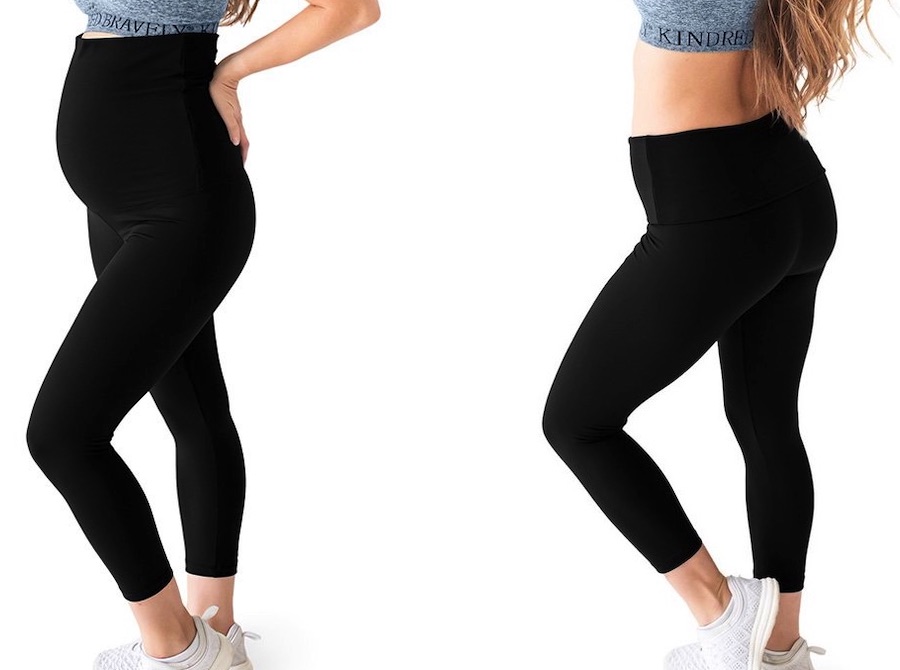 What I like about Kindred Bravely Martina leggings is that they hug my curves and help to smooth out my post-baby body. With the gentle compression my belly feels less saggy and look firmer. Plus, they are not see through, and they feel breathable. For me these are the most comfortable 7/8 postpartum leggings after C-section.
You can choose them in two styles: with or without pockets. My favorite is this Classic Style (no pockets) in Black, I love wearing them with my white Converse sneakers.
Postpartum mamas love these leggings because they feel super attractive wearing them which is a really nice thing during postpartum recovery, because many of us (including me) have been struggling with postpartum body image1.
>> Best Nursing Sleep Bras To Wear At Night
These are more affordable leggings that you can wear through all stages of your pregnancy and also after having the baby. They don't have a lot of compression, but they are incredibly soft, comfy and stretchy enough to hold your postpartum belly while your muscles and C-section incision are healing.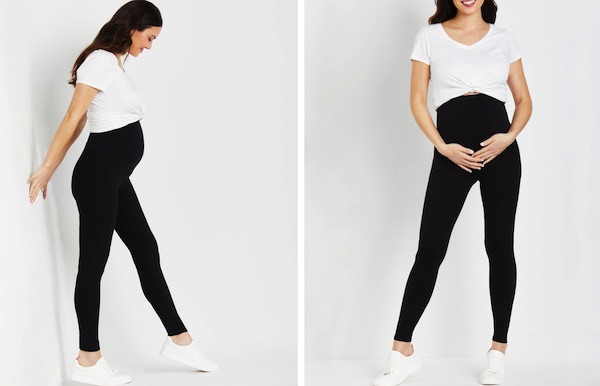 Motherhood Maternity high-waisted leggings are a bit different than Kindred Bravely pair, because the legging and tummy parts are made from different fabrics.
Legging: 88% Cotton + 12% Spandex
Tummy Area: 84% Nylon + 16% Spandex
The waistband is elastic and whenever you need extra coverage you can pull it over your bump, all the way up to your underbust. For more support fold it under your tummy.
The legging fabric feels SO COZY, it makes this pair perfect for everyday wear, when you lounge around the house with your newborn baby and want to stay comfy all day long.
These full-length leggings are available in multiple sizes and cute colors (my favorite are these black ones).
Keep in mind that these maternity & postpartum leggings are quite inexpensive and they may be less durable than Kindred Bravely Louisa or Martina.
PRO TIP: If you're looking for leggings with more comforting compression, only for the postpartum period, I recommend you these seamless Postpartum Compression Leggings. They have special built-in compression waistband which provides better tummy control as you heal and recover after giving birth.
Fourth place in my ranking of the best postpartum leggings goes to Lululemon Align. These are actually regular, not maternity or postpartum, leggings. But they are so elastic, supportive and work wonderful! Some moms sticks with them through the pregnancy and during postpartum healing.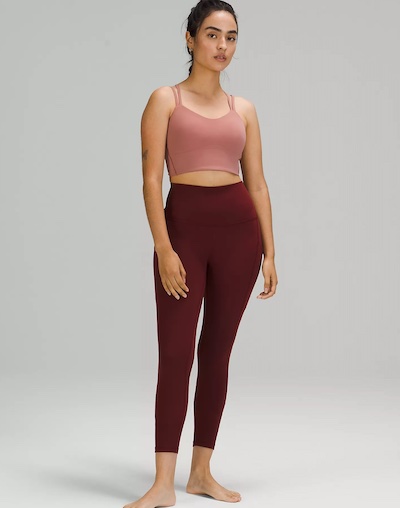 These are probably the SOFTEST leggings in the whole World. 🙂
They are made of Nulu fabric which is extremely lightweight and crazy soft. Lots of moms say that Lululemon leggings feel like a second skin. There's also a touch of spandex to make them more elastic and flexible.
In contrast to other best postpartum leggings in this ranking, these ones don't have compression almost at all. However, moms agree that they smooth everything out! At the same time they are extremely soft, the waistband lies flat, nothing digs in and you can move freely.
The high rise waist keeps your tummy secure and covered, but keep in mind that it's not as long as the waistband on Kindred Bravely or Motherhood Maternity leggings. That's why I recommend them for postpartum period, rather than pregnancy (unless you want to wear them under your bump).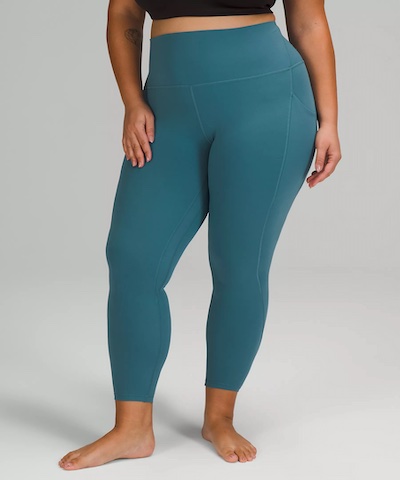 There's a hidden waistband pocket for your keys or credit card which may be useful when you need to run to the supermarket to buy diapers.
You will also love the 7/8 length – it looks trendy and pairs with sneakers and flats really nice.
These are great leggings for sporty and outdoorsy mamas, who want to get their body back after the childbirth. If you want to go back to your yoga sessions, light workout, jogging (or whatever your doctor allows you), these leggings will be extremely comfortable for you.
PRO TIP: If you're on tight budget, and looking for Lululemon cheaper alternative that you could wear after giving birth, check out these Dragon Fit Leggings. These are regular, inexpensive leggings with high raise waistband that provides good tummy control.
If you're on a small budget and looking for the best postpartum compression leggings with tummy control, here is one of the best options for you.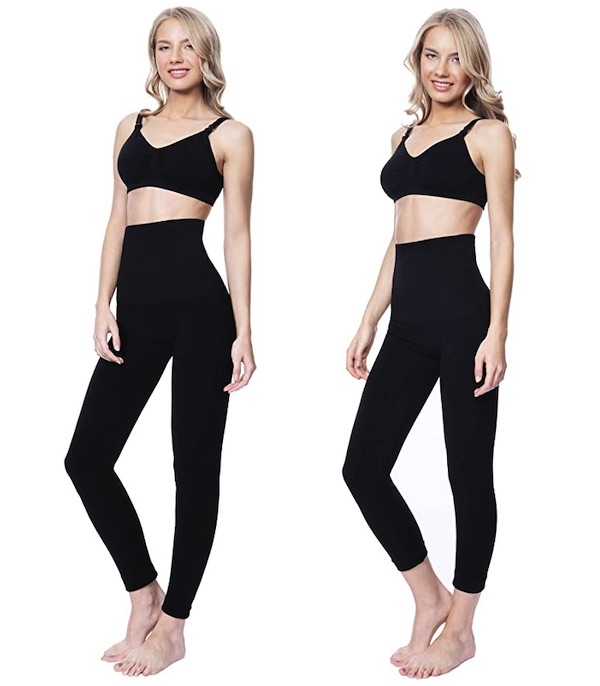 These are seamless leggings which means there are no annoying stitches between legs or at waist, that could irritate your sensitive areas. The high waist has built-in compression which smoothes bulges out and trims the love handles.
The band from hips to waist is ribbed, and many postpartum moms say that they've been impressed with the compression level. It may leave ribbing marks on your skin, but it is comfortable to wear and supports your post-pregnancy belly area really well.
Moreover, these postpartum compression leggings are made of polyamide (nylon) and elastane blend. This is a moisture wicking material – it moves moisture away from your body – so you don't get sweaty in them. Besides, this fabric is thick enough so your undies don't show.
The fabric has stretch in it, but it doesn't feel loose or baggy. They fit snuggly and hug your hips and tummy nicely. New moms agree that these leggings are incredibly comfortable for all day wearing.
Another good thing is that the waistband doesn't roll down so you can even sleep in these leggings and nothing will dig in.
If you don't have a lot of time (and budget) to come up with an entire new postpartum wardrobe, you will need a few basics that will make you feel good in your new body during the transition period.
PRO TIP: Lots of moms recommends buying 2 or 3 pairs, it's still a good deal because they are way cheaper than other leggings. Create your bundle here >>
These leggings are definitely a life saver for new moms who don't want to waste time on concerns about dimples or belly fat. They have a slimming effect and seem to smooth out bulging hips or uneven skin texture on tummy and bum.
I went through dozens reviews and it turned out that some moms who have diastasis recti wear these leggings because the compression is so good and helps to keep the stomach secure. Other postpartum mommies say that these leggings also help with leg circulation, and when they wear them, their legs seem to be less tired.
There's one thing you should know about before buying – they may start pilling after a few weeks. The good news is that frequent washing doesn't make them less supportive!
Best Postpartum Leggings – FAQ
Here are some things that you should know before you decide to get a pair or two of leggings for the post-partum period.
What Are Postpartum Leggings & How Do They Differ From Regular Leggings?
Postpartum leggings are made for postpartum mamas – they are designed to support post-pregnancy body and provide the coverage a new mom needs.
In contrast to regular leggings, they provide compression and better tummy control and they don't put pressure on your incision site (some of them are seamless leggings without any seams near your C-section scar or vagina).
They are usually made from breathable, moisture wicking fabric. What's important, they have different sizing than regular leggings so you could move freely and don't feel restricted. They stretch to fit your changing body, but they are way more supportive.
Postpartum leggings are designed to make new mom feel more comfy and not to cause any more pain.
What Do Postpartum Leggings Do & Why Should I Get Them?
The reason to get post-pregnancy leggings is that they help your body to heal. They provide support, stability and shaping that many new moms need after having a baby. Thanks to high waist and lack of itchy seams, nothing digs in when you're walking around or bending.
My recommendation would be getting multiple pairs: for those days when you don't move around as much leggings with smaller amount of compression should be sufficient. But when you plan on doing some chores, running errands or exercise a little but, supportive pair of leggings with compression fabric is a must-have.
Best Postpartum Leggings – What To Look Out For?
There are 5 main things to keep in mind when buying postpartum or compression leggings.
You can choose between leggings with high / moderate compression or normal leggings with no compression features which are usually more loose and stretchier. Compression leggings are great because they provide the support your swollen tummy need and make your stomach look firmer. They are fantastic choice if you move around the house a lot, do chores or have more kids to run around after. For more "lazy" days, lounging or napping you may want to choose leggings without compression, if that's more comfortable for you. Choose what fits your needs better. You may want to get more pairs for different type of activities.
Choose bottoms that are made from elastic and breathable fabric. Cotton and spandex blend will feel softer, while nylon and lycra blend will have some moisture-wicking properties. Make sure your leggings are machine washable. I recommend you to air dry them, tumble drying will age them.
The waistband should be high enough to cover your post-baby belly (or baby bump), hold and smooth out all buldges, provide support for your weak abdominal muscles, pelvic floor, and swollen uterus. If you undergone cesarean section, pick leggings that sit above your scar.
If you're option for maternity & postpartum leggings, I recommend you to order your pre-pregnancy size. If you want to wear normal leggings after having a baby, it's best to size up. Make sure to check the size chart or consult sizing advisor if you're unsure about your size.
Postpartum and maternity leggings are more pricey than regular ones. If you feel like your don't need extra compression and shaping, you may save your money by choosing standard stretchy joggings. Besides, there are a few affordable companies that make good postpartum leggings, so even if you have smaller budget you may find something for yourself.
Can I Wear Leggings After Giving Birth?
Yes, you can wear leggings after having a baby, they will be definitely much more easy and comfy to wear than other bottoms like jeans or pants!
With postpartum leggings you can navigate the postpartum time period more comfortably, until your belly and uterus return to their original shape and size. During that natural process of resizing leggings are key part of post-pregnancy clothing.
Can You Wear Postpartum Leggings After C-Section?
Yes, you can wear postpartum leggings are cesarean section. Just make sure to pick ones with high waistband and no seam near your stitches.
For extra precaution you can consult your doctor too.
How Soon After Birth Can You Wear Compression Leggings?
Whether you've delivered vaginally or undergone cesarean section, your sore body requires special postpartum care, and during that time leggings are your friend.
If you don't have any medical problems, you can start to wear leggings in the first week after the childbirth.
How Long Can You Wear Postpartum Leggings?
It usually takes about 6 weeks for your uterus to return to the old shape (for some mothers it can be longer). During that time your belly will look swollen.
Moreover, your weakened pelvic floor muscles and stomach will also need support and shaping. Usually postpartum leggings fit well up to 3-6 months postpartum, some moms wear them even for 12 months after having a baby.
After that time you will probably need smaller size and you may no longer need such a high waistband with compression.
---
The purpose of this article is informative and entertaining. It's not a substitute for medical consultation or medical care. Remember: safety first! The author of this article does not accept any responsibility for any liability, loss or risk, personal or otherwise, incurred as a consequence, directly or indirectly, from any information or advice contained here.
Source of pictures:
Picture at the top of the article was created with photos that belong to Kindred Bravely. All pictures of Kindred Bravely leggings belong to Kindred Bravely brand. Source: https://www.kindredbravely.com/
Pictures of Motherhood Maternity leggings belong to Motherhood Maternity brand. Source: https://www.motherhood.com/
Pictures of MOTHERS ESSENTIALS leggings belong to MOTHERS ESSENTIALS brand. Source: http://www.mothersessentials.com
Pictures of Lululemon leggings belong to Lululemon brand. Source: https://shop.lululemon.com/