For stroller enthusiasts like me, the beginning of the new year is always exciting. Some of the new strollers have already hit the market, while others will be rolling out in the following months of 2020. I'm thrilled to tell you more about them!
One thing is sure: if you're "soon to be mommy", there are undoubtedly lots of new strollers as well as updated models that are worth checking out. Maybe one of them is the stroller you've been looking for!
Most of the popular stroller brands that are known to parents have already released their new strollers or at least hinted information about their new collection and given release dates.
So, without further ado, let me take you on a tour of the improved models and new strollers for 2020.
UPPAbaby VISTA V2 2020
For 2020, the UPPAbaby VISTA will roll out with a new name, the UPPAbaby VISTA V2. This newer model was released at the beginning of February 2020 and has a roomier seat to accommodate taller riders and a no-rethread harness system for breezy adjustments. The canopy has also been redesigned for improved ventilation and sun protection.
This model uses the same great frame that UPPAbaby has been using for its strollers for the last couple of years. That's to say that it has the same great fold and maneuverability. One of the important changes is the upgraded suspension.
VISTA V2 2020 is compatible with Rumble Seat, besides accommodating 2015-to-present car seat adapters.
Another significant change that the UPPAbaby VISTA V2 brings is its 4 new colors: Finn Deep Sea, Hazel Olive Green, Sierra Dune Knit, and Alice Dusty Pink. Most of the 2019 Vista colors are available in 2020 too, but these 3 have been discontinued: Henry Blue Marl, William Oxford Chambray and Spenser Tartan Plaid.
UPPAbaby MINU 2020
The UPPAbaby MINU 2019 is currently most compact stroller in UPPAbaby lineup. Weighing around 14.5 pounds and with a compact fold of 11.5" L x 20.5" W x 23" H, this has been a perfect go-to stroller for quick runs to the stores and fully packed road trips and adventures.
This stroller didn't get any functional change in 2020 – and honestly, I'm really excited that it stayed the same. I bet this stroller's effortless one-hand fold and seriously compact design can't get any better than that.
However, I have great news for you! In 2020, there are 2 awesome accessories for UPPAbaby MINU: a snack tray and a basket cover that is water-resistant.
Lack of snack tray is something that many parents have been complaining about so I guess we will all be very happy with this new accessory. Great thing is that the MINU 2020 folds with the snack tray! It's a really clever solution that you don't have to detach the tray every time you want to fold your stroller.
Similar to the VISTA V2, MINU snack tray is available for purchase from February 2020.
Are you looking for a lightweight stroller? Check my full list of travel strollers for 2020.
UPPAbaby CRUZ V2 2020
CRUZ V2 2020 is hands down the most improved stroller that we were expecting in February 2020. Considering that CRUZ 2018/2019 was already a fan-favorite, I expect the V2 to receive much more love for a couple of reasons.
Essentially, UPPAbaby CRUZ V2 is not a completely different stroller, but a refreshed version of the 2018/2019 model (as you can read in my in-depth review, for 2018 and 2019 CRUZ was exactly the same in term of functionality).
The seat is one of the areas that the V2 got an improvement. This stroller has a higher backrest, longer leg rest, as well as a notably deeper footrest.
CRUZ V2 2020 has also bigger wheels with both dual-action suspension and a rear suspension system. There have been some complaints about this stroller not-so-smooth ride in the past years, so I'm glad UPPAbaby has took care of it! Further, the updated stroller's frame fold has been downsized for compact storage.
Put together, these changes mean that UPPAbaby Cruz V2 is much more comfortable and easier to stroll around with.
Note, however, that CRUZ V2 is 4 pounds heavier.
Thule Spring
The Spring is an entirely new stroller that debuted in February 2020. This model's design seems to have been inspired by that of the Thule Urban Glide 2. The major difference is that the 2020 release is expected to bring optimum convenience to city explorations – not jogging.
This stroller has 8.5-inch foam-filled wheels and accommodates riders from birth (using a car seat) up to 65 pounds. With a width of 17.7″ and a weight of 21 pounds, I expect this model to rank highly among the most compact everyday strollers for 2020.
Other great features include an extendable UPF 50+ canopy with ventilation and a peek-a-boo window, a 3-wheel system with front-wheel suspension, and a one-hand folding design.
Thule Spring is one of the top everyday convertible strollers in 2020 – see other strollers here.
Baby Jogger City Mini GT2 Double
A few months ago the Baby Jogger City Mini GT single got a complete makeover into its current design and functionality – and it looks awesome.
Interestingly, this double stroller has been updated as well, into a much sleeker design, and it also comes with new fabrics.
The new Baby Jogger City Mini GT2 Double was released in the beginning of 2020.
It now has a revamped frame with adjustable footrests that will allow you to access the basket with much ease. It is compatible with 1 or 2 prams, and 1 car seat using a car seat adapter.
The wheels are among other areas that have been upgraded. These wheels, coupled with the all-wheel suspension, adjustable handlebar, and handbrake are definitely going to make park strolls, and city rides much smoother and hassle-free.
Generally speaking, the GT2 Double will be the same as single GT2 times two.
You can find more fantastic double strollers for 2020 in my ranking.
Baby Jogger City Mini 2 Double
The Baby Jogger City Mini 2 Double also brought a few updates in 2020. The most significant update is its sleeker frame.
The fabrics have also been upgraded to complement the frame.
This stroller has also independently adjustable footrests that makes it easier to access the basket underneath the seats.
Nuna Triv
Nuna Triv is actually already on the market. But because it arrived in stores at the end of 2019 I decided to include it in this list. It'll still be a fairly new stroller in 2020.
This stroller comes in 2 colors: Caviar (black) and Frost (gray). It is compatible with kids from birth thanks to the included car seat adapter and comes with a rain cover.
Among its key highlights, the Nuna Triv brings the iconic all-season seat of the Nuna Mixx. This seat allows you to snap off the fabric part to reveal a mesh backing that is handy during warm weather. In addition, this seat is reversible, so the child can ride facing forward or towards you.
Other great features include a 3-position reclinable backrest, an adjustable footrest, a UPF 50+ expandable canopy with a flip-out eyeshade, and a unique under-the-seat spring suspension system.
>> Check my full review of Nuna Triv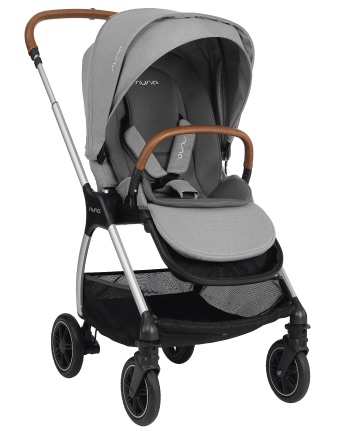 Nuna MIXX NEXT 2020
The Nuna Mixx 2020 brings a lot more changes besides its new name- the Nuna Mixx Next. Nuna recently announced that this updated model will be available in Summer 2020. Going through its new improvements, there's no doubt that this is worth waiting for!
The Nuna Mixx Next has the same clamshell folding function of its predecessor that protects the fabrics from getting dirty.
However, the folding joint on the new stroller has been redesigned, so the stroller will be a few inches shorter when folded.
The sturdy wheels and all-wheel suspension of the Mixx have also been improved on the Next to make it more potent in absorbing more shock when traversing on uneven terrain.
I'm not so sure whether the 3 colors of the 2019 Nuna Mixx will remain or whether we'll be treated to newer colors. All in all, I will update this section as soon as Nuna offers more info.
Bugaboo Donkey 3
Bugaboo Donkey 2 has been one of the most luxurious and stylish strollers in 2019. The manufacturer announced the release of Bugaboo Donkey 3 in Spring 2020 – and the good news is that this new model will be tackling most of the issues that plagued the Donkey 2.
One of the issues that the Donkey 3 will solve is the canopy. The 2019 Donkey 2 was not ideally suited for warm weather since its canopy was not ventilated. The only way around it was to purchase a breezy canopy, which meant parting with more money.
The 2020 Donkey 3 canopy will have 2 ventilation panels for excellent air circulation.
This new model will also be a pound or so lighter because the wheels have reduced weight. The luggage basket has been improved too. In place of the cover that used to fit atop the basket, the Donkey 3 2020 now has a zippered pouch inside the basket. This pouch can be extended to create more storage space or tucked away when not necessary.
I also like that the new release will allow some level of customization on the color of the grips.
Bugaboo Ant 2020
When we thought that we had seen it all with the lightest stroller of 2019, Bugaboo decided to make the Ant even better for 2020!
The Bugaboo Ant 2019 received a lot of praise thanks to its featherweight status, but also quite a lot of complaints – mainly about the fold mechanism that takes so many steps, flimsy handlebar, short backrest and lack of carrying strap. Good thing is that Bugaboo has took care of at least one thing – the shoulder strap.
The new Bugaboo Ant 2020 is much more portable when folded credit to its new carry strap design. This stroller also comes with a redesigned footrest to add to the rider's comfort. In case you are wondering, the new layout of the footrest doesn't alter the weight of the Ant.
The accessories for Bugaboo Ant 2020 have been already released, but they sell out really fast! If you happen to find them "in stock", order them quickly because they are rarely available!
Bugaboo Fox 2
The original Bugaboo Fox was like a dream to most of its admirers since its debut in 2018. It's about to get even more fascinating, especially with the announcement of its new iteration – the Fox 2 that is expected to be available for purchase in Spring 2020.
Fox 2 will bring a whole lot of improvements to the iconic Fox. The canopy, for instance, has been updated into a canvas-like material and will feature two peek-a-boo windows. This is an impressive improvement from the original stretch jersey fabric canopy that had no peek-a-boo window.
The wheels have also been re-engineered to make them a little bit lighter. As such, I expect this to reflect on the overall weight of the stroller, but we need to wait for this to be confirmed yet.
Other notable improvements include an upgraded, easier to use, swing-away belly bar, and a more straightforward fold.
Silver Cross Jet 2020
The manufacturer says that the 2020 Silver Cross Jet will bring a total of 64 updates to its already awesome stroller for traveling. The most standout improvement will be on its stroll. A lot of parents who used the Jet 2019 iteration will affirm that it was not the most stable.
The wheels of the Jet 2020 has new and improved bearings to make them more stable, and, therefore, much more ideal for parents on-the-go.
Other impressive changes that we'll see here include a more spacious seat with excellent customization and a redesigned peek-a-boo window.
Shallow seat was one of the major things that parents have been criticizing regarding the previous model of Jet. It's great to hear that Silver Cross has improved the seat and the Silver Cross Jet 2020 may still be one of the best strollers next year.
https://www.youtube.com/watch?v=xk1jiAhAaIE