If you've been waiting for UPPAbaby to release a new stroller that would be suitable for rougher terrain and running, I've got great news for you! Brand-new UPPAbaby Ridge will soon hit the market. Let me tell you more about this new all-terrain jogger stroller.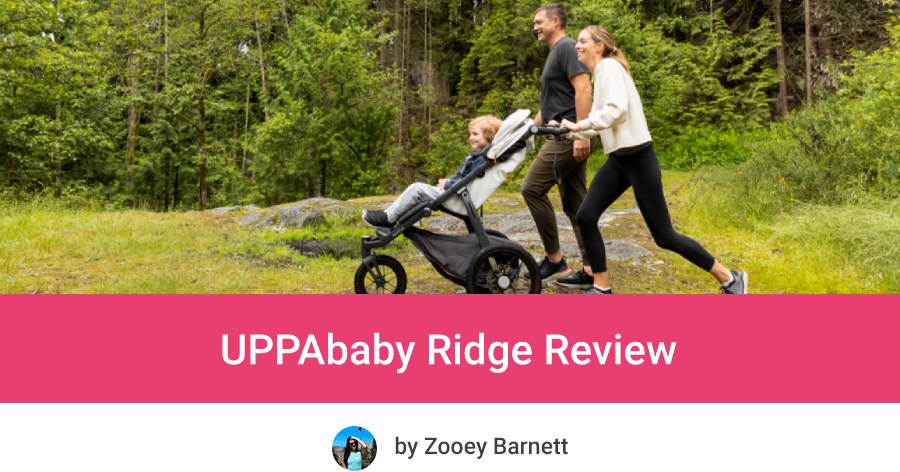 Parents often ask whether they can run with UPPAbaby VISTA and CRUZ. Unfortunately these strollers are not suitable for jogging – mainly because they don't have enough suspension.
Thankfully, soon there will be a new addition to the UPPAbaby strollers family: UPPAbaby Ridge. What features can we expect? High quality, durability and stylish design will be there for sure, but this time with enhanced suspension and completely new 3-wheel design.
This article is not a substitute for medical advice. It contains affiliate links.
UPPAbaby Ridge Release Date
UPPAbaby Ridge jogging stroller release date is set for Autumn 2021. It's not available on Amazon, but you can pre-order it here with free shipping >>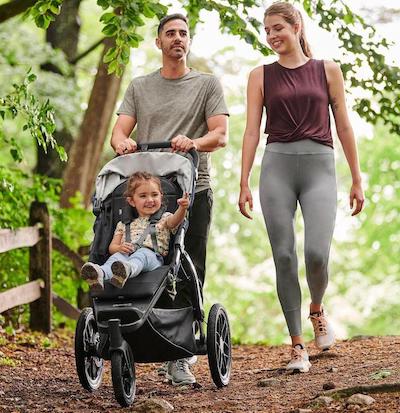 UPPAbaby Ridge Review – Features
Ridge offers innovative features. Let's take a closer look at all functions and find out how this jogging stroller performs.
Age Recommendations
The main seat can be used from 3 months for walks. If you want to run with the stroller, wait until your child is able to sit unassisted and hold their head up. Consult with your pediatrician whether your little one is ready to join you on the outdoor adventures. The max weight limit is 55 pounds.
If you want to use Ridge from birth (for strolls), you will need an add-on: bassinet or infant car seat.

UPPAbaby Ridge jogging stroller is compatible with UPPAbaby bassinet, as well as the MESA and MESA V2 infant car seat with these adapters. Selected Maxi Cosi, Nuna and Cybex infant car seats also work with Ridge, but you need a different set of adapters, which are sold separately here.
Keep in mind that adapters for MESA are completely different from adapters for other car seat brands and they are not interchangeable. MESA adapters are also cheaper.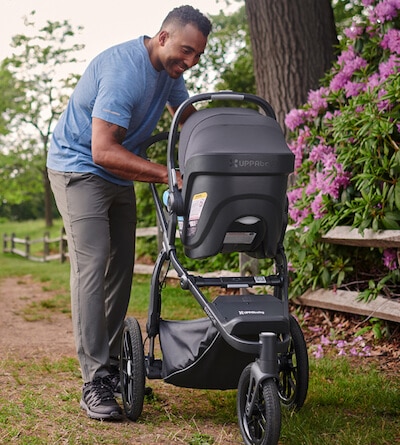 >> Get the UPPAbaby bassinet – approved for overnight sleep
>> Check out UPPAbaby MESA – one of the safest infant car seats in the US
Seat
UPPAbaby Ridge jogging stroller features roomy, cozy seat with deep padding. It feels really cushy. The seat is fairly deep to accommodate bigger toddlers as well.
The seat offers infinite recline which means you can set the backrest at any angle, depending on your baby's needs. You can lower the backrest with one hand, but you will probably need to use both hands to raise it. There's no fully flat position, that's why the seat is not suitable for newborns, but the lowest recline will be sufficient for nap time for sure.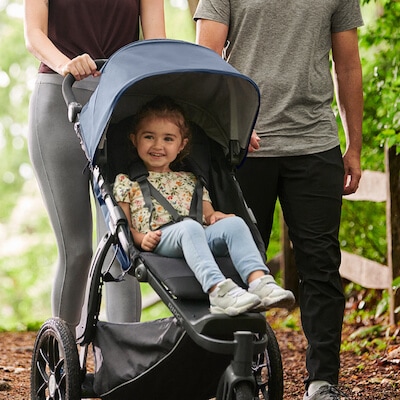 What's noteworthy, the Ridge seat design differs a lot from VISTA or CRUZ. It doesn't have a bucket-style seat where the whole seat reclines, with Ridge only the backrest goes up and down. This construction is more suitable for running and rougher terrain.
Wheels & Suspension
What distinguishes Ridge from other UPPAbaby strollers, is its 3-wheel design. It has 16″ rear wheels and 12″ lockable front wheel.
When you're going at higher pace or getting through rougher terrain, it's best to lock the front wheel (fixed position) for enhanced stability. For smoother surface and slower pace, leave the front wheel unlocked (360 swivel) to make the stroller more agile and maneuverable.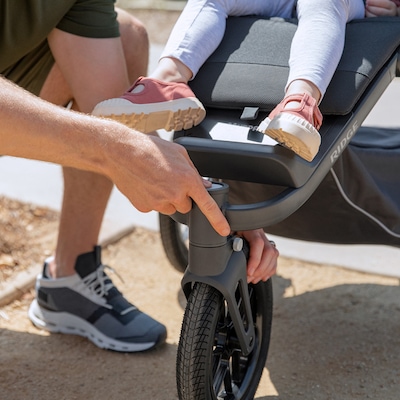 To lock the wheel you just need to push one button, and there is a color indicator that shows you whether the wheel is fixed properly. You can also adjust wheel alignment to make the ride smoother and safer.
What's noteworthy, UPPAbaby Ridge doesn't have air-filled tires like other joggers! It has foam-filled wheels – which means you don't have to worry about keeping the air pump at hand and inflation.
Ridge has much more advanced suspension system than VISTA or CRUZ which make the ride more comfortable for your baby. The suspension system is responsive and has two stages which means it adjusts to different types of terrains and child's weight.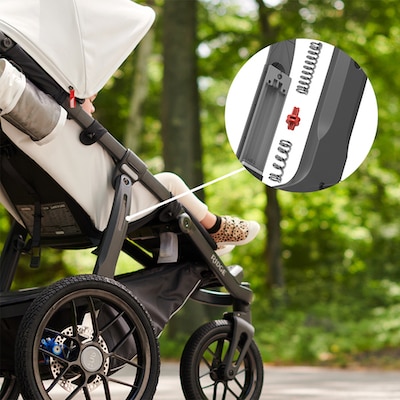 Speaking from my own experience, pumped tires work better for advanced runners who like long distances, fast pace and bumpy terrain. On the other hand, foam-filled tires have a huge advantage – they never get flat. They still work pretty well on harsh terrain like gravel or sand. Nevertheless, pneumatic wheels smooth the ride better.
PRO TIP: If you're looking for an everyday all-terrain stroller that you could also jog with from time to time, UPPAbaby Ridge will be a fantastic choice. If you're a more experienced runner or training to marathon, I would recommend you getting one of the best jogging strollers which I reviewed here.
Brakes
Ridge has color-coded parking brake operated by foot. There's just one pedal, easy to reach and operate.
There's also an additional handbrake that allows you slow down at any time. This way you can control the speed of your stroller better, which is essential if you like to walk or run in hilly area.
The handbrake is a huge bonus – not all jogging strollers have this feature (even some of the pricey models don't have it).
Handlebar
UPPAbaby Ridge jogging stroller has height-adjustable handlebar. It rotates up and down and can be set in 4 positions for more comfortable pushing.
I do prefer extendable handlebar (like the one that VISTA has), but a rotating handle is still a nice addition, especially if you and your partner differ in height.
Being able to adjust the handlebar height allows you to avoid wrist pain and back pain from slouching.
There's also a wrist strap attached to the handle to prevent the stroller from rolling away from you.
Canopy
UPPAbaby is well-known for fantastic canopies that provide lots of shade for the little passenger. Ridge canopy is no exception.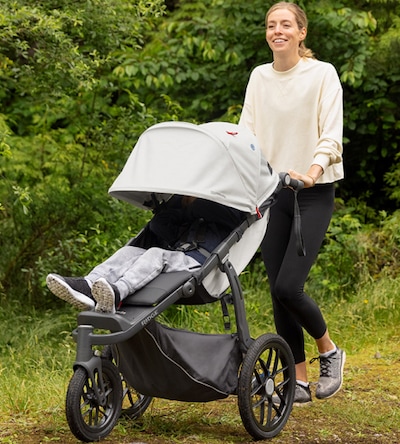 There are 3 panels (1 opens with a zipper), and a mesh window that increases the airflow and allows you to peek in. When the canopy is fully extended is covers the child really well, from knees to head. This means no sun rays in baby's eyes and no distractors during nap time.
What's really cool about Ridge canopy is that it has built-in top pocket with a zipper. It's a convenient and secured place where you can store your phone or some change and keep it always at hand.
Folding
The folding mechanism is very similar to the one we can find on Thule Urban Glide 2 running stroller. You just need to push and twist a lever underneath the seat and the stroller will collapse in half and stand on its own.
Folded dimensions are: 18.5″ x 26″ x 36.5″ (LxWxH). It's only a little bit bigger than VISTA and should fit in most car trunks, although if you have a small car it will probably take up the whole trunk.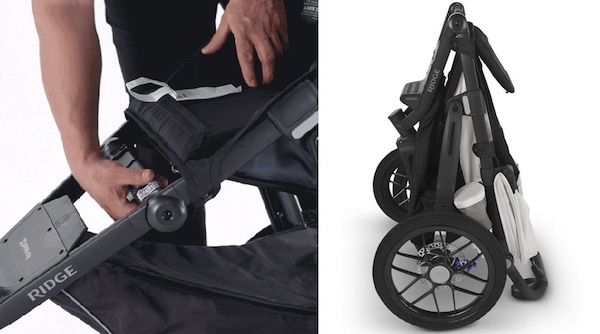 Weight & Size
As for a jogging stroller, Ridge is not that huge or bulky. Its dimensions are: 38.5″x 26″ x 40.5″ (LxWxH). It's only a slightly longer than UPPAbaby VISTA. It's also more compact than BOB Revolution jogging strollers.
UPPAbaby Ridge running stroller weighs 29.2 pounds which is 2 pounds more than VISTA, 4 pounds more than Thule Urban Glide 2 jogging stroller, but 3 pounds less than BOB Alterrain PRO!
Even though Ridge is not excessively large or cumbersome, it's not lightweight either and right after the birth you may need some help to carry it down the stairs or lift and pack in the car trunk.
I'm a petite woman (only 5'2″) and I haven't had any problems with operating or lifting this stroller, but it does take some time to get used to it!
UPPAbaby Ridge Accessories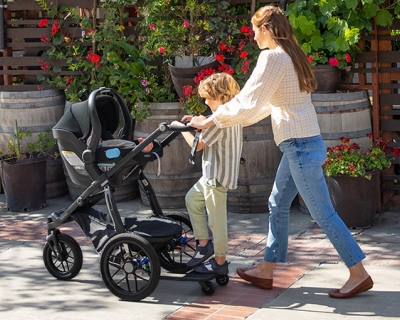 To make the stroller more convenient for you and the baby, you may want to get a few add-ons. My favorites are: the Snack Tray and the PiggyBack Board.
| Img | Info |
| --- | --- |
| | UPPAbaby Ridge Bumper Bar - This is one of the most popular stroller accessories, but a belly bar is a rare thing on jogging strollers. Thankfully UPPAbaby has prepared a special bumper bar for Ridge so your child could have something to hold on to during the ride. |
| | UPPAbaby Ridge Snack Tray - For many parents a snack tray is a must-have. There's a place for a sippy cup and baby's snacks. |
| | UPPAbaby Ridge PiggyBack Board - Your older child can join in and jump on the ride-along board. It has a maximum capacity of 55 pounds. If you have a 5 or 6 year old kiddo who sometimes gets tired on longer distances, this board will be very useful. Keep in mind that Ridge Board differs from VISTA or CRUZ PiggyBack Board! |
| | UPPAbaby Ridge Bug & Sun Shield - With this breathable and mesh cover your little one will be protected from harmful sun rays and insects. |
| | UPPAbaby Ridge Rain Shield - It keeps the baby from rain and wind. If you live in climate where it rains often, this cover is necessary. |
| | UPPAbaby Ridge Cup Holder - It's important to stay hydrated during your outdoor exercises. Jogging mamas and dads will be able to keep their water within reach in this cup holder. It will come in handy if you like strolls with a cup of coffee too! |
| | UPPAbaby Ridge Parent Organizer - Even if you have a roomy diaper bag, having a handlebar organizer may be really convenient. There's a see-through zippered pocket for your smartphone and an enclosed pouch for your other small valuables. It also has a built-in cup holder which doubles as a storage pouch. |
UPPAbaby Ridge 2021 Colors
This new all-terrain stroller will come in 3 fashions: Jake Charcoal, Bryce White and Reggie Slate Blue. You can compare prices for all colors here >>
I think darker colors like Jake and Reggie are better choice, if you intend to use this stroller on rough terrain. White fabric can quickly get dirty from sand, dust or mud. If you prefer running in the city, Bryce may still be a good option, especially for the summer – it won't get hot that much.
Which version do you like most?
UPPAbaby Ridge Video Review
Check out the video below for a quick preview of the new UPPAbaby jogging stroller!
>> Check out my other reviews of UPPAbaby strollers: UPPAbaby VISTA 2017-2019, UPPAbaby VISTA V2, UPPAbaby CRUZ 2017-2019
---
The purpose of this article is informative. It's not a substitute for medical consultation or medical care. Remember: safety first! Consult your doctor/pediatrician in case of any doubts, and before you introduce tummy time. The author of this article does not accept any responsibility for any liability, loss or risk, personal or otherwise, incurred as a consequence, directly or indirectly, from any information or advice contained here. The article contains affiliate links – your support helps us run this blog!
Source of pictures:
Pictures of UPPAbaby Ridge belong to UPPAbaby brand. Source: https://uppababy.com/