Are you hesitating which baby carrier to choose: Ergo Original vs. Ergo 360? In this article you'll find out what carry positions these baby carriers offer, which one is safer for newborns and which one can fit older kids.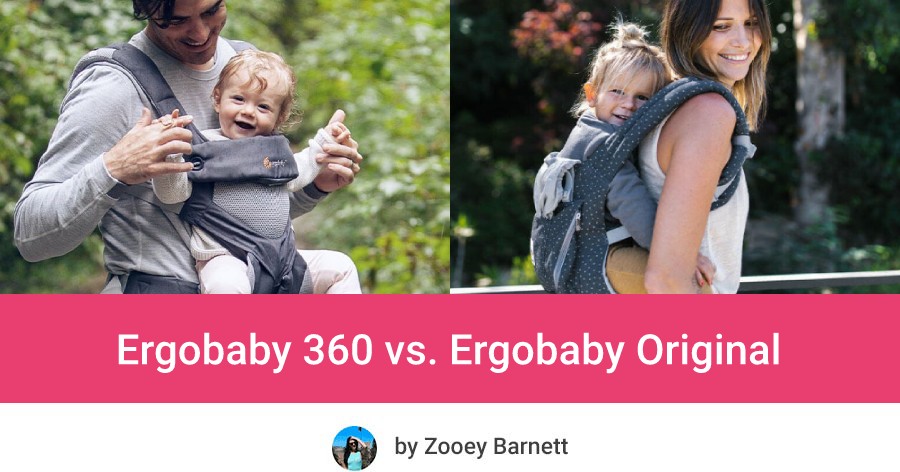 Ergobaby Original and Ergobaby 360 are fantastic choices if you're looking for a soft-structured carrier that is not excessively pricey, yet ergonomic, comfy and safe for baby's hips.
Each is suitable from approximately 4 months and can serve you for about 3 years (or even 4 years, if you choose the Original). With an infant insert, you'll be able to use them from birth. They will grow with your baby and adjust to their size and needs thanks to multiple positions.
Ergo 360 features outward facing position, in contrast to the Original which lacks this feature. Hence the power price of Ergobaby Original.
But is the upgraded Ergobaby 360 really worth the money?
And which one is actually the best option: Ergobaby 360 or Ergobaby Original?
Keep on reading to find answers to these and many more questions.
Ergobaby Original Vs. 360: What's The Difference Between Ergo Original And 360?
Ergo Original is the first Ergobaby's soft structured carrier, while the 360 carrier is the upgraded version. If you're wondering whether the upgrade is worth extra money, first check out the main differences between these two Ergobaby carriers.
In contrast to Ergobaby Original, Ergo 360 offers front outward facing position.
Ergobaby Original feels more roomy and can accommodate larger/older babies – It may serve you for a longer period.
Only the Original carrier features storage pocket.
Ergobaby Original is made from 100% cotton, while the Ergobaby 360 Cool Air Mesh carrier is made from 100% polyester fabric and has mesh panels for increased airflow (so the baby gets less sweaty). There is also a cotton version of Ergobaby 360, without mesh vents.
Ergo 360 carriers have more padding around leg openings to provide better support for baby's hips and thighs.
The Original has a hood for extra privacy during nursing and protection from sun or wind. On the other hand, Ergobaby 360 has foldable neck and head pillow for additional support for younger babies.
The Ergobaby Original is now much cheaper than 360 baby carrier.
This article is not a substitute for medical advice. It contains affiliate links.
Ergobaby Original Review
Now let's take a closer look at Ergobaby Original to find out if it's a goof fit for you and your baby.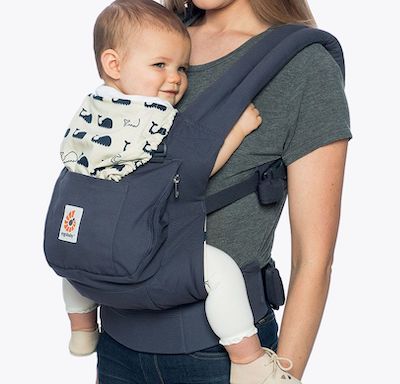 Weight Range
Both the Ergobaby 360 and Original can be used from 12 lbs to 45 lbs without the infant insert. Even though the weight limit is the same for both Ergo carriers, the Original seems to be a better option for toddlers or chunkier babies. It's also a better choice if you want a baby carrier that will serve you for 3 or even 4 years.
Infant Insert Needed
In contrast to other carriers designed by Ergobaby, Original is not newborn-ready. It can be only used when the baby weighs at least 12 lbs / is approx. 4 months old.
But don't worry, there's a way to make this baby carrier suitable from birth. You just need a special infant insert (sold separately) that will make the carrier interior more cozy and provide extra support for baby's head, back and hips. Thanks to an infant insert, newborn baby can remain in natural and healthy M-shaped position.
PRO TIP: This insert is compatible with both Original and 360 carrier.
Carrying Positions
This is one of the main differences between Ergobaby carriers. The Original allows you to carry your baby in 3 positions: front inward facing, hip carry and back carry. In Original, baby cannot face out.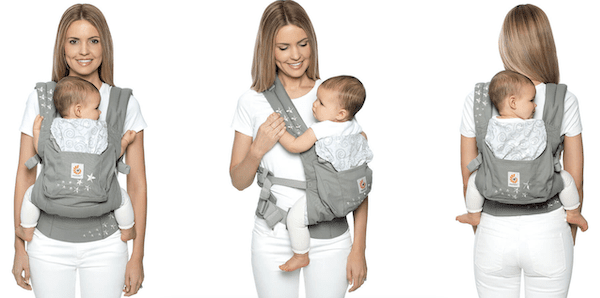 Design
Original Ergo baby carrier has thinner padding around baby's legs – it's less bulky and doesn't make baby's thighs sweaty, but it feels less cushy.
It doesn't have any head pillows, but instead it has a hood which provides extra privacy during breastfeeding or nap time. It may be helpful to prevent baby from overstimulation. The hood may come in handy to protect your little adventurer from sun rays or wind.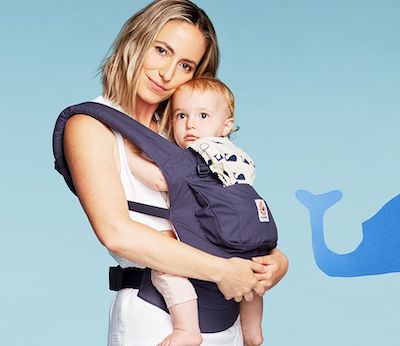 Lumbar Support For Parent & Thick Shoulder Straps
Ergobaby Original has adjustable wide waist strap with cushion for lumbar support, and thick padded shoulder straps which are also adjustable for all body types.
Such design ensures even weight distribution therefore even if you babywear a heavier toddler, it doesn't strain your back or shoulders.
Of course it is recommended to take breaks from babywearing every now and then, but in general Ergobaby Original is really comfy to wear and fits all body types and sizes.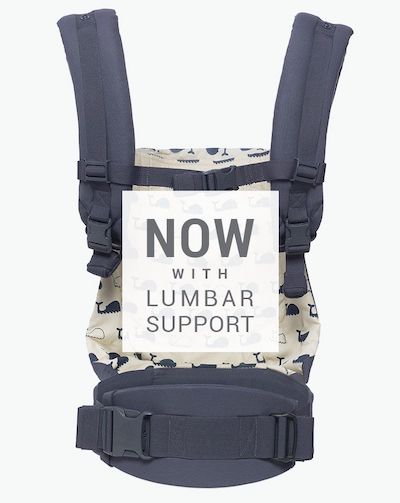 It is noteworthy that first version of Ergobaby Original baby carrier didn't have lumbar support pillow. This version has been discontinued by the manufacturer, but you can still find it for example on Amazon or buy second-hand.
I prefer the newer version of the Original carrier with lumbar support, because it makes babywearing much more comfortable and easier on your back. This extra padding relieves pressure off your lower back.
Fabric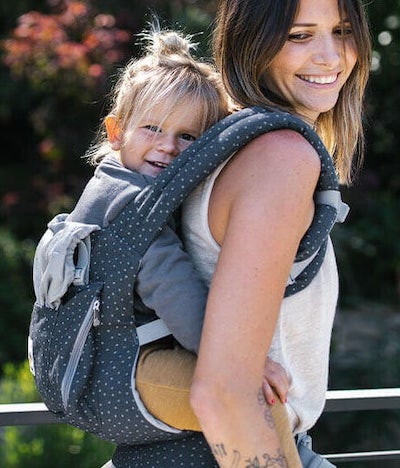 The Original Ergobaby is made of 100% cotton which is delicate for baby's skin. Nevertheless, it's quite thick and may feel hot. If you live in warm climate, you and your baby may get sweaty quickly in this baby carrier.
Storage Pouch
Only Original Ergobaby carriers have a storage pocket. It's big enough to fit mom' smartphone, small pack of wet wipes and a teether. The pouch is zippered so you can be sure your essentials are safe.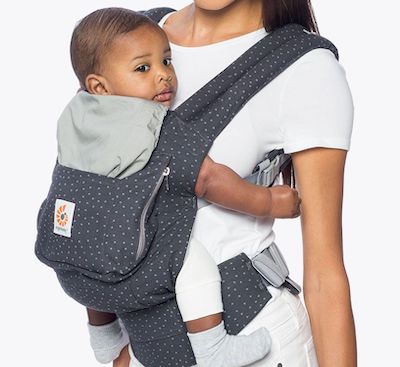 Price
Original is the oldest model among Ergo carriers and now the availability is limited. There are only a few colors left. But I've got great news – this baby carrier is now way cheaper. Here you can get it $21 OFF >>
Ergobaby 360 Review
Let's jump onto Ergo 360 review and see if it suits you better.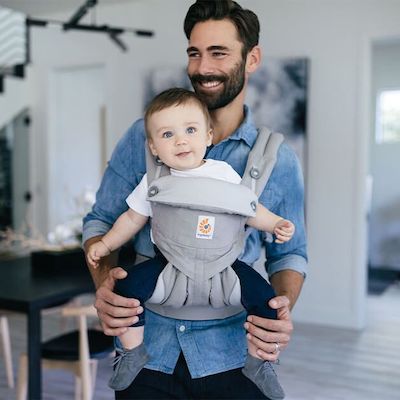 Carrying Positions
Ergobaby 360 has one more extra carry position: front outward facing which is a great option for older babies and toddlers who have good neck control and become more curious around surrounding world.
What's important, 360 baby carrier is designed in an ergonomic way which means in doesn't put pressure on baby's crotch in outward facing position, it provides proper support for baby's thighs (from knee to knee), so baby's legs are not dangling.

Keep in mind that because of a overstimulation risk, child should be carried in forward facing position only for short periods of time.
Weight Range
Ergobaby 360, just like the Original, is suitable from 4 months / 12 lbs up to 45 lbs. Most parents say it works best up to 3 years, then it may be a bit uncomfortable with older and bigger child.
Infant Insert
Similar to Ergobaby Original, the 360 carrier is not newborn-friendly. To make it suitable from birth, you need to add special infant insert that will make the carrier more snuggly and supportive for smaller babies. Whichever baby carrier you decide to buy, this infant insert fits both the Original and 360.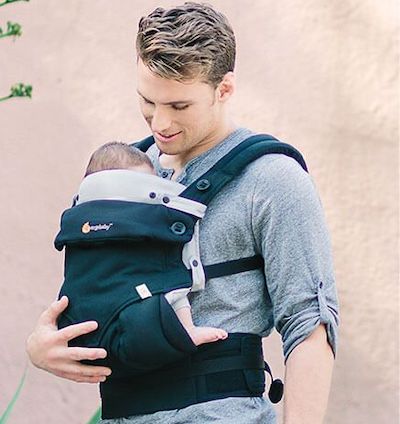 Design
There are a few differences in terms of design between Ergobaby Original vs. 360.
Ergobaby 360 has more cushy padding around legs openings, which provides better support for baby's thighs. Moreover, there is a foldable neck pillow which may come in handy for younger babies who don't have enough head control yet. You can fold it back when your child doesn't need extra neck support anymore.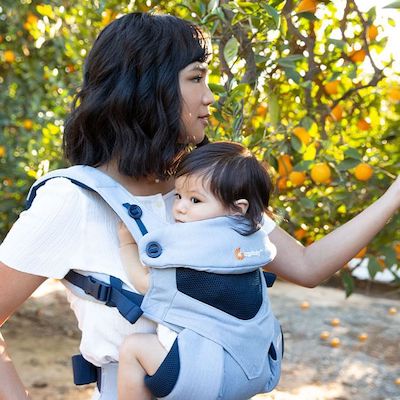 Fabric
Ergobaby 360 comes in two fabric versions. Standard version is made from 100% premium cotton, while the Cool Air Mesh version is made from 100% polyester fabric. The latter one has mesh panels, therefore this baby carrier is more breathable.
But keep in mind that polyester is not a natural or organic type of fabric. Nevertheless, if I had to decide between 360 Cool Air Mesh or 360 Cotton I would pick the Cool Air Mesh version.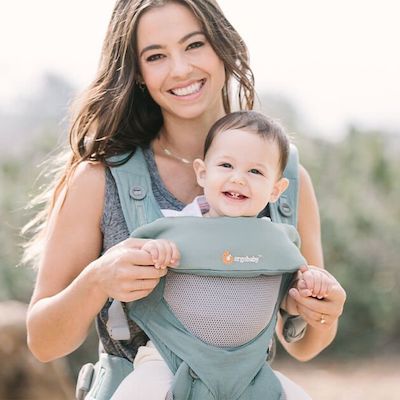 What's more, if you plan on babywearing during summer or you live in warm climate, 360 baby carrier with mesh panels is better option than Original. You may also want to check my list of the most breathable and best baby carriers for hot weather.
Lumbar Support For Parent & Thick Shoulder Straps
Ergobaby 360 and Original share these two features: wide waist belt with padded pillow for lumbar support, and thick cushy shoulder straps.
Thanks to this design, baby's weight is evenly distributed across parent's body. And that means that even if you babywear your child for longer periods, you don't experience back pain or shoulder fatigue, and you don't have to worry there's too much pressure on your pelvic area.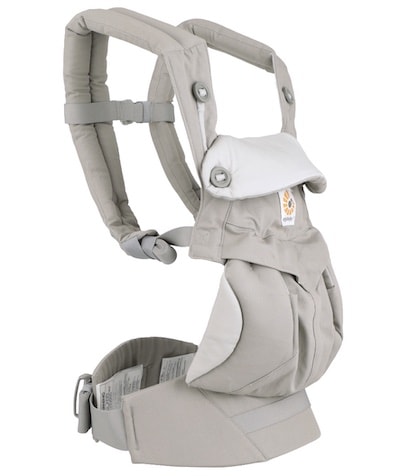 Price
Because of a few extra features (like the outward position), there's a difference in price between Ergobaby 360 vs. Original. Ergobaby 360 baby carriers have a bit higher price. The good news is that there are multiple colors to choose from. It's definitely a more fashionable option! 🙂 Check here color lineup and available discounts >>
Which Ergobaby Carrier Is Best: Ergobaby 360 Vs. Original – Final Decision
Okay, so now you know all the differences and similarities, but which baby carrier should you actually choose: The Ergobaby 360 or Ergobaby Original? It the Ergo 360 worth it or is it better to go for the cheaper option?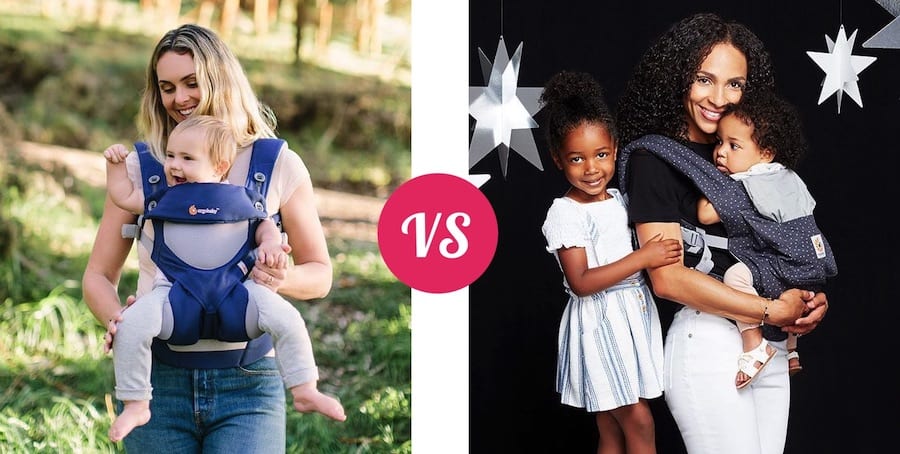 In my opinion, Ergobaby Original is a fantastic choice for parents on smaller budget, who want an ergonomic buckle carrier, and don't need the "facing out" position. It also feels more roomy for larger kids, so if you want to babywear your child when they are 4 y.o., this is a good option.
On the other hand, Ergobaby 360 is definitely worth the extra few dollars, because it has some cool extra features. With the neck pillow newborn babies feel more secured in it, plus you can get it in mesh version which is much more breathable. And it has the forward facing position which lots of parents (and babies) love.
If you feel like you need those upgrades, then Ergo 360 is better choice for you than the Original.
Nanit
Miku

Reasons to choose Ergobaby Original

---

- Lower price

- Large storage pocket for your smartphone, pack of wipes or car keys

- This is one of the best soft-structured carriers for older or bigger kids

- Hood provides extra privacy and makes breastfeeding on-the-go easier

Reasons to choose Ergobaby 360

---

- More versatile thanks to 4 carrying positions

- You can carry your baby facing out - it still provides ergonomic support for baby's hips and doesn't put pressure on the crotch area

- Available in Cool Air Mesh version with mesh fabric for better breathability and less sweating

- More padding around baby's thighs

- Foldable neck pillow for extra support for younger babies without head control

- Available in wider range of colors (my favorite is this Chambray version)
Ergobaby Original Vs. 360 – FAQ & Babywearing Tips
If you're still hesitating which carrier would be the best for your child, read this basic information about the differences between all of them. Do you have additional questions? Ask in the comment section below!
Can Baby Face Out In Ergo Original?
No, baby cannot face out in Ergobaby Original. This buckle carrier is designed for carrying baby in 3 positions: on your front facing inward, on your hip and on your back.
If you want your baby to face out in a baby carrier, check out this Ergo 360 or the Omni 360 (suitable from birth without infant insert).
Can Ergobaby Original Be Worn On Back?
Yes, you can wear Ergobaby Original on your back. This position is recommended for babies that are at least 6 months old and have good neck control.
Is Ergo 360 Suitable For Newborn?
Ergo 360 is suitable for newborn baby, but only with an infant insert which provides proper support for newborn's body. Once the baby is above 12 pounds, you can start using the carrier without the insert.
Is Ergobaby Carrier Worth The Money?
I think Ergobaby is well worth the money, and it's one of the best choices whether you're searching for a newborn carrier or toddler carrier.
Ergobaby is one of the best brands when it comes to ergonomic baby carriers. All carriers from their lineup are designed to keep baby in comfortable, natural position that is safe for their hips.
What's more, all of their carriers have been recognized as hip-healthy by the International Hip Dysplasia Institute. They offer multiple positions which allows them to grow with the baby and serve them from infancy well into toddlerhood.
Carriers by Ergobaby are designed with parents' comfort in mind too. They have highly-adjustable waist strap and padded shoulder straps which makes them comfy for all body types. Whether you're petite or plus-size, Ergobaby will suit you. All these carriers are machine washable.
What Is The Difference Between The Ergobaby Carriers?
The main differences between all Ergobaby carriers are: carry positions, suitability for newborns without infant insert and fabric. All Ergo baby carriers are buckle, soft-structured carriers and they look similar, except for the Ergo Embrace which is less bulky and much thinner and lightweight.
Below you can see the carrier comparison with significant differences between baby carriers designed by Ergobaby.
---
Read my reviews and comparisons of other carriers:
Solly Baby Wrap vs Ergobaby Aura Wrap
---
The purpose of this article is informative. It's not a substitute for medical consultation or medical care. Remember: safety first! Consult your doctor/pediatrician in case of any doubts, and before you introduce tummy time. The author of this article does not accept any responsibility for any liability, loss or risk, personal or otherwise, incurred as a consequence, directly or indirectly, from any information or advice contained here. The article contains affiliate links – your support helps us run this blog!
Source of pictures:
Pictures of Ergobaby carriers belong to Ergobaby brand. Source: https://ergobaby.com/