If you had to choose between the Ergobaby Adapt Carrier and the 360, which model would you go with? At a glance, these 2 baby carriers boast similar pedigrees and seem to have almost identical feature sets. So which one should go choose? My comparison of Ergobaby Adapt and 360 carriers will help you to make the right choice.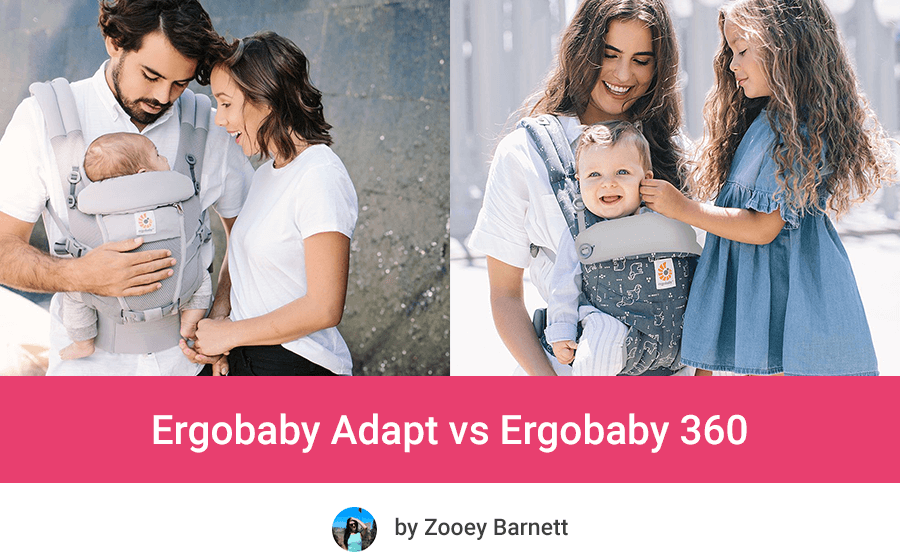 This article contains affiliate links.
Whether you are purchasing an Ergobaby for the first time or you are contemplating switching from one to the other, it can be a little bit challenging to decide which carrier best fits your baby-carrying style while keeping up with your babe's comfort needs.
In my experience with carriers from this manufacturer, what makes it daunting to choose between the most recent models and previous offerings is that they are all made from the same skeleton. The recent carriers are usually redesigned in response to parents' suggestions about extra features that may make the carrier more appealing (and this is exactly what makes this brand such a darling to parents).
However, as you'll find out in this Ergobaby Adapt vs 360 review, the process of upgrading the previous carrier not only brings new features, but it also involves doing away with others.
Of course some parents wish these functions remained while others feel that now the carrier is more effective. And that's the case with the Ergobaby 360 carrier and the most recent Ergobaby Adapt carrier.
Suitable from 12 lbs to 45 lbs
Requires an insert for infants from 7 to 12 lbs
Offers 4 carrying positions, including front facing out
Available in cotton and mesh versions
Highly adjustable so it can be shared between different wearers
Suitable from 7 lbs to 45 lbs
Doesn't require insert for newborn baby
Offers 3 carrying positions (doesn't allow for forward facing)
Available in cotton and mesh versions
Equipped with easy to reach and adjust buckles
Has crossable shoulder straps for more comfy fit for smaller parents
For clarity purposes, I chose to divide this write-up into 3 sections:
Ergobaby 360 Review
Ergobaby Adapt Review
Comparison of these two carriers in terms of similarities and differences
Ergobaby 360 Carrier Review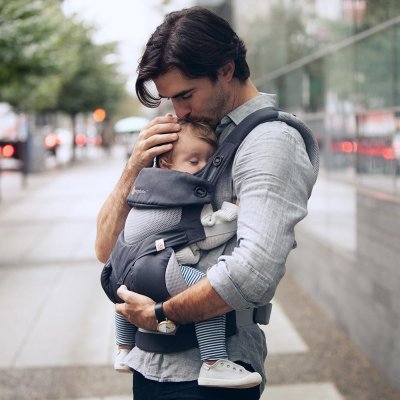 For those who might not be aware, the Ergobaby 360 carrier is a revamped version of the Ergobaby Original, the mother of the recent Ergo carriers, and which was and is still great.
The Ergo 360 carrier was basically released as an answer to moms' request for a carrier that would allow them to carry the baby facing the world. But this baby carrier has a lot more to offer.
This model was designed for modern day moms who want a comfortable and nicely-cushioned carrier that also appeals in terms of urban aesthetics.
Ergobaby 360 Carrier: Construction and Suitability
In line with Ergobaby's family of baby carriers, the 360 carrier has a generally softer structure credit to the 100% cotton used for the entire carrier. The essence here is to make it flexible and consequently allow it to adapt to the baby's c-shaped spine for optimum support.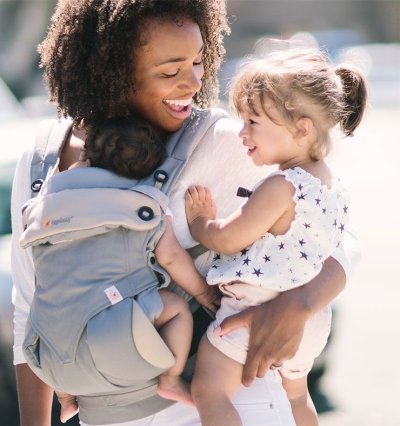 This flexibility also means that it has a lot of give when carrying the baby in the frog-legged and hip positions and this adds to the overall comfort of the passenger.
The Ergobaby 360 carrier is recommended for babies ranging from 4 and 48 months of age, and 12 pounds all the way up to 45 pounds. What's noteworthy when this baby carrier was released for the first time the brand recommended using it up to 33 lbs. However, after many tests the weight limit has been increased and this carrier is safe up to about 45 lbs.
Similar to the Ergobaby Original, the 360 is an insert-style carrier. According to the manufacturer, you should use the insert for a newborn weighing between 7 pounds and 12 pounds. Even if your babe weighs more than 12 lbs but still doesn't have strong neck control, you should continue using the insert.
Depending on your young one's size and head control, you should be able to use the Ergobaby 360 baby carrier without the insert after 4-5 months.
Ergobaby 360 Carrier: 4 Carrying Positions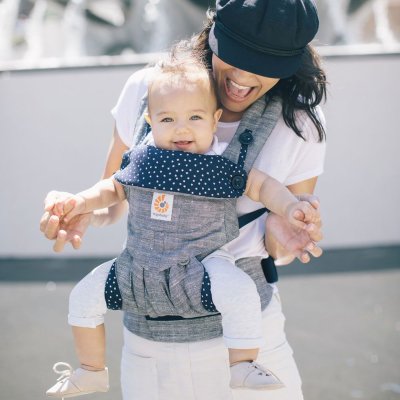 As I told you earlier, the major improvement that the Ergobaby 360 carrier brought was its front-facing carrying position. This is a big selling point for most parents and it means that you can now carry your baby in 4 positions; front facing inwards carry, front facing outwards carry, hip carry, and back carry. The good thing is that all these positions are comfortable as most previous users affirm.
It's worth noting, however, that the manufacturer recommends the forward-facing position only when the baby is 5-6 months and older. In their instructional videos, Ergobaby says that this position should be used only when the baby is awake and for short periods of around 10 minutes.
Ergobaby 360 Carrier: Comfort
The Ergobaby 360 carrier is all about offering utmost comfort to both the mom/dad and the passenger. And this starts right from the 4 baby-carrying positions to the construction materials and design.
This carrier's thoughtful design allows the rider to sit comfortably in an ergonomic M-like position whether you are carrying the child at the front, back, or hip. The seat has a bucket structure that offers more depth compared to the Original and other competitors that hold the bum flat.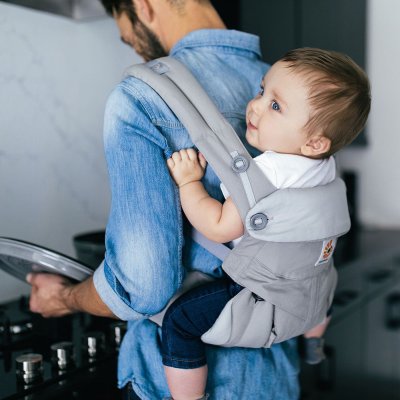 Regardless of the carrying position, this seat holds the baby's weight and distributes it comfortably on parents body, while maintaining baby's knees at the same level (or higher) as the hips. This healthy seated position helps in protecting their hips and spine and allows for proper development.
Another impressive feature here is that you can adjust the seat as the child gains weight and height, something that I find very practical.
The area around the leg holes also has a good amount of padding that offers yet another layer of comfort to the baby even in extended periods.
When Ergobaby claims that they considered every detail when crafting this carrier, do know that they did just that. When carrying the baby at the front position facing inwards, you can unroll a padded panel at the back of the head to offer the baby some amount of support when he/she's tired of taking in the sights and the head starts to roll.
When it's nursing time, rolling the back panel down gives additional room to allow the baby to tilt the head comfortably besides allowing him/her to look at you. In addition, the Ergobaby 360 carrier has a hood to cover the sides when breastfeeding and when the babe wants some privacy when napping.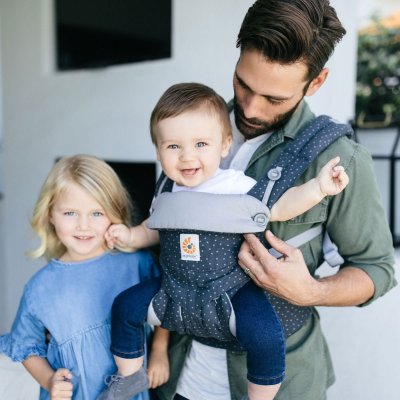 The Ergobaby 360 carrier has also been crafted in a design that makes it comfortable for the wearer as well. The multiple baby-carrying positions, for instance, means that you can carry the baby in whichever style that makes you feel comfortable.
In addition, this carrier has heavily-padded rucksack-style straps that really help in distributing the weight of the child on your shoulders. Unlike the Ergo Omni 360 baby carrier, which came after the Ergobaby Adapt, you won't be able to cross the shoulders of the Ergo 360 at the back. Instead, they are secured by a movable chest clip (or back clip, depending on the carrying position).
This clip makes the straps fully adjustable thereby allowing users of different body builds to tweak them to meet their comfort needs. I believe this will really come in handy especially when mom and dad want to take turns carrying the baby when out and about.
There's also a wide, padded waistband that attaches at the back or front using a strong Velcro. Besides distributing the weight of the baby further around your waist, this waist panel might also help in hiding a postpartum tummy.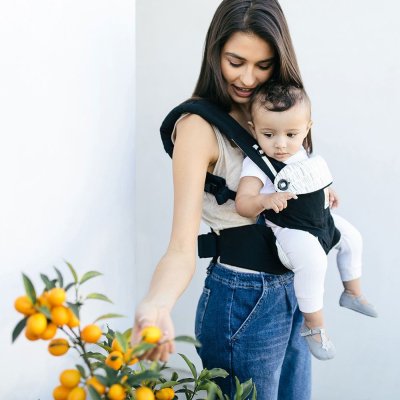 This waistband's Velcro fastening system, however, is its biggest drawback and a source for annoyance for most of its users. The major drawback here is that the Velcro system is annoyingly noisy and can easily startle the baby when putting them down to sleep.
In addition, it's quite hard to adjust the waistband without having to undo the entire Velcro system and then redoing it again (that is, if you fail to get the right tightness the first time).
Ergobaby 360 Carrier: Fabrics & Colors
As other Ergo carriers, this model is available in two versions: one is made of 100% cotton, the other one has breezy mesh on the back panel and leg opening. What's really awesome is that both versions are available in many different colors. Below you can see some of my favorite fashions.

Pros
Cons

Pros

---

+ Very comfortable for both mom and baby

+ Usable from birth (with an insert)

+ Multiple carrying positions, including forward facing position

+ Thoughtfully designed waistband

+ Allows breastfeeding on the go

+ It's fully machine-washable

+ More patterns to choose from (lots of very stylish and cute fashions)

Cons

---

- Velcro adjustment on the waist belt is loud and sucks if you have to readjust it

- It can get a little bit warmer, especially the version without cool mesh

- Does not have a pocket for accessories

- Some wearers find it hard to reach for the clasp at the back and thereby require some help
Customer Reviews
Most parents who have used the Ergobaby 360 carrier seem satisfied by its overall performance. This carrier has been highly rated for its overall quality with most of the users noting that while it's notably pricey, it does offer a really good value for money.
Among other features, the fact that the 360 allows 4 carrying positions including front-facing out is a key selling point for most of its previous users.
Its soft shoulder straps and wide waistband have also been highlighted as chief areas that really make this carrier comfortable.
Although the Ergobaby 360 carrier has several great improvements over the Original including versatile carrying options, there are several drawbacks that have been repeated by most users in most parenting forums and on Ergobaby website review section.
These include the noisy Velcro adjustment system on the waist belt and the fact that you can't carry a newborn in it without using an insert – which you need to purchase separately. Besides, some parents complain the infant insert gets hot making the baby more sweaty.
I also recommend you reading Amazon customer reviews of Ergobaby 360.
Ergobaby Adapt Review
The Adapt is one of the latest releases from this manufacturer. As I told you in the introduction part of this Ergobaby Adapt vs 360 comparison, Ergobaby has a knack for listening to its customers' feedback and designing a carrier that meets parents' needs.
The Ergobaby Adapt carrier was released after the 360. As you can possibly imagine, this model came to fill some of the gaps that the Ergobaby 360 carrier left – something that it did gracefully albeit with its own set of drawbacks, in my opinion.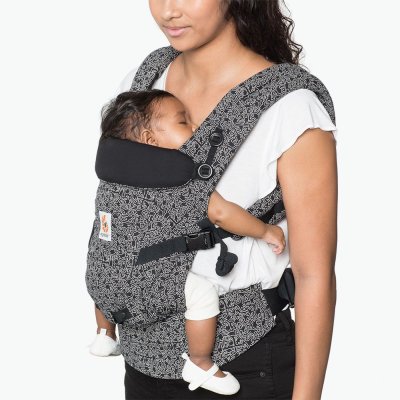 Ergobaby Adapt Carrier: Construction design and suitability
The Adapt was the first insert-less carrier from Ergobaby. This means that you can carry your newborn in it without purchasing anything extra.
This carrier is meant for infants ranging from 7 pounds to toddlers weighing around 45 pounds and 0-48 months. What these limits mean is that you can be able to wear your child from birth till they are around 4 years old.
It really awesome that this carrier is newborn-ready and you don't have to deal with the insert (that makes the carrier more bulky and less breezy). The Ergobaby Adapt can be used from birth, however the baby has to be at least 7 lbs.
The high weight limit will be enough for safe carrying a 4-year-old. Babywearing is not limited only to carrying newborns. There's variety of carriers for toddlers – which come in handy when you're traveling, exploring outdoors or visiting Disney.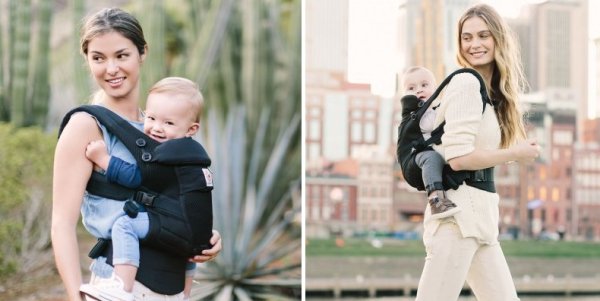 Similar to its predecessor, the 360, the Ergobaby Adapt carrier comes in two versions, cotton and air mesh, but more on that later.
PRO TIP: You can now get Ergobaby Adapt 20% cheaper! Go to 👉 Ergobaby website and use this code: HOME at the checkout to grab your discount.
Save up to $28 today!
Ergobaby Adapt Carrier: It adapts for your baby
This carrier must have derived its name from the way its bucket seat adapts to the passengers' size as they grow. There are 3 Velcro tabs along the lumbar band that widens the seat as the child grows. The innermost setting is for infants 0-3 months old. The second pair takes over at between 3 and 9 months and the last setting is for kids 9+ months old.
At any given setting, this carrier's bucket seat has an ergonomic design that holds the baby in the M-shape leg position that the International Hip Dysplasia Institute advocates for.
Ergobaby Adapt Carrier: 3-carrying positions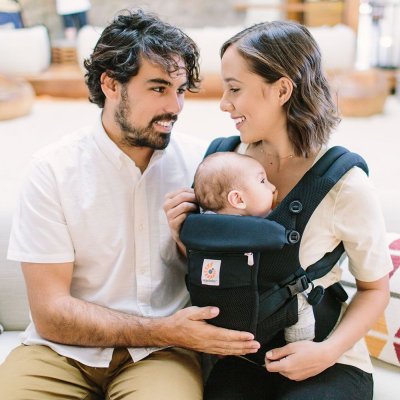 As it's the case with baby carriers from this brand, the Ergobaby Adapt carrier offers multiple carrying positions: front inward carry, hip carry, and back carry. If you're considering buying this carrier you should be aware that it doesn't allow to carry the baby facing forward. I don't think it's a drawback – the lack of outward facing position is just the biggest difference from Ergobaby 360 Carrier. Some parents complain about it, so make sure you're okay with it when deciding on this product.
Ergobaby recommends carrying newborns in the front carry position during the first 5 months before switching to hip carry and back carry around 6 month.
Ergobaby Adapt Carrier: Easy to use and comfortable
The Ergobaby Adapt carrier is designed for moms and dads 5′ – 6'5" tall. Most people within this range find it super easy to put on and off, and it's not hard to see why.
Compared to the Ergo 360, the Adapt's webbing buckles are now within reach having been repositioned from the high back to the sides. Actually, this not only means that you can buckle up without calling for help, but it also allows you to crisscross the straps if that gives you a tighter fit.
The Adapt also has the coveted waistband that helps in distributing the weight of the child around your hip region.
And as it's always the case with Ergo carriers, the lumbar belt, and shoulder straps are padded to offer support without digging into your skin.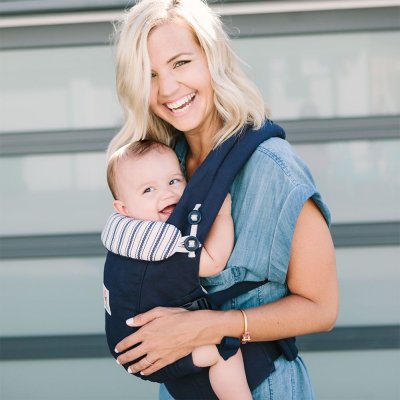 Ergobaby Adapt Carrier: Foldable head support & adjustable hood
The Adapt also brings the head support from the 360 and it can be easily folded up to offer support to the baby's head and later folded down when nursing or sight-seeing.
In addition, an adjustable hood is also in place and it will come in handy when there's the need for a little privacy and when you want to protect the passenger from the elements.
Unfortunately this model of Ergo baby carrier still doesn't have pocket for parent's essentials like keys or wallet. Some parents complain about lack of this basic feature.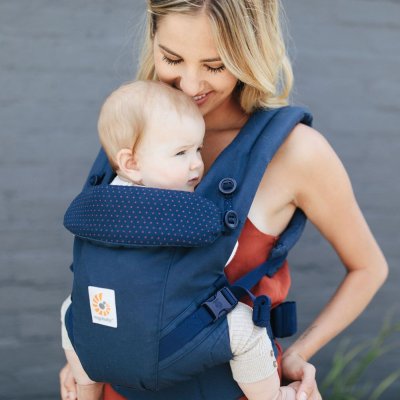 Ergobaby Adapt Carrier: Fabrics & Colors
Similar to Ergobaby 360, this model has 2 versions. One is made of 100% cotton. This material gives it an incredible amount of softness and malleability that means that it won't be rubbing against your baby's delicate skin.
The other version is Cool Air Mesh that it almost fully padded with breathable mesh. It allows the air to circulate through and keeps the baby from sweating and overheating. This one is perfect choice for families living in hot climate or if you and/or your babe have tendency to sweat a lot.

Pros
Cons

Pros

---

+ Does not require an insert for newborn baby who weighs at least 7 lbs

+ Holds baby in ergonomic M-shape position

+ Adjustable bucket seat adapts to your baby's booty

+ Straps can be arranged in H fashion or crisscrossed

+ Machine-washable

+ Easy to put on and off

+ Buckles are easier to reach and adjust than in Ergo 360 Baby Carrier

Cons

---

- Hood is small

- Lacks pocket for parent's valuables
Customer Reviews
Previous buyers' feedback was just as you'd expect for a product that has been crafted in line with moms' needs. Judging by the reviews from the manufacturer's site, this carrier has been well received and continues to garner a lot of marks on almost all the fronts that make a great baby carrier: high-quality construction, breathability, comfort, and multiple carrying positions.
Parents praise it for high adjustability for different body types. Possibility of crossing the straps allows for more secure fit. Moreover, it's comfortable and roomy enough for bigger babies.
This baby carrier is also very easy on parent's back and offers great lumbar support.
Of course there were varying opinions in regard to ease of use. Although most of the people report that it's a breeze to put it on and off, others say that that's something they have had to learn with time.
Choosing baby carrier is an big decision, therefore I recommend you checking some of the customer reviews on your own. You can read other parents' opinions on Ergobaby website or at Amazon.
Ergobaby 360 vs Adapt – Similarities
Both can be used from infancy to toddlerhood (up to 45 pounds)
Shell and lining are made from 100% premium cotton
They offer multiple carrying positions: front carry, hip carry, and back carry
Both are fully machine-washable
They have lumbar support
They have an adjustable bucket seat system
Adequately padded straps and waist belts
They allow breastfeeding in carrier
Have a foldable head support
Both are acknowledged as 'hip-healthy' by the International Hip Dysplasia Institute
Come with a hood for privacy
Both hold the baby in ergonomic M-position in all carrying positions
Both are available in 2 versions: cotton and breezy mesh. Each comes in wide variety of colors (Last time I checked Ergobaby website both Adapt and 360 carrier were presented in 19 different fashions! The availability and price may vary quite a bit therefore you should visit the brand's official website and check it on your own.)
Ergobaby 360 vs Adapt – Differences
Ergobaby 360
Ergobaby Adapt
Recommended from 4 months/ 12 pounds (or 7 pounds if you add an insert)
Recommended from 0 months/ 7 pounds

4 carrying positions (f

ront facing in, front facing out, hip, and back)

3 carrying positions (front facing in, hip, and back)

Requires an insert for newborn baby

(sold separately)

Doesn't require any inserts

H-style shoulder straps

H-style and crisscrossed shoulder straps

Easy to use, but may take some time to learn how to adjust it

More user-friendly thanks to new buckles that are easier to reach
Summary and Recommendations
The Ergobaby 360 and Adapt are 2 amazing baby carriers that have generally been designed to impress. These carriers have a lot of things in common including a bucket-style seat that adjusts to fit your babe while holding them in the recommended M-shape in any of their multiple carrying positions.
They also have adequately padded shoulders straps and lumbar belt that help in distributing the weight of the child around your upper body and hip region. These 2 make it possible to carry the baby for extended periods without breaking your back.
I really like that these models have high weight limit that makes it possible to use them to toddlerhood.
Any of these 2 carriers is bound to impress a wide range of wearers and passengers alike considering the thoughtful design that Ergobaby has put in place to make them comfortable.
However, there are several nuances between them that may highly impact your choice.
Who should get the Ergobaby 360?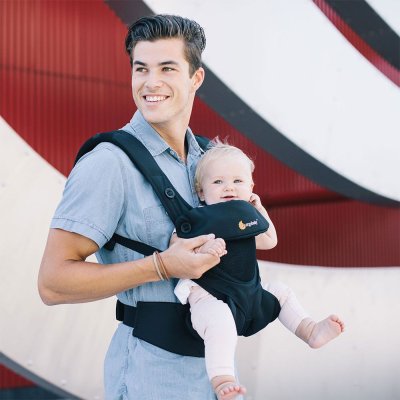 Generally, the Ergobaby 360 carrier may be your best choice if you want something that allows you to carry your baby on your front facing the world.
Note, however, that if you'll be carrying your baby in the outward-facing front carry, Ergobaby recommends using that position for utmost 10 minutes to avoid overstimulation.
This carrier may suit you if you don't mind using a baby insert during the first few months, until the baby develops good neck and head control.
Ergo 360 baby carrier may also interest you if you plan on start babywearing around 4-5 month, and you don't a newborn carrier.
On the other hand, if you live in cold climate using the insert (which may make baby feel warmer) won't be a problem.
This carrier will not be a good choice if you're looking for a newborn-ready carrier or if you'd prefer something a bit cheaper (this is one of the most expensive carriers plus you have to purchase the insert separately).
Who should get the Ergobaby Adapt?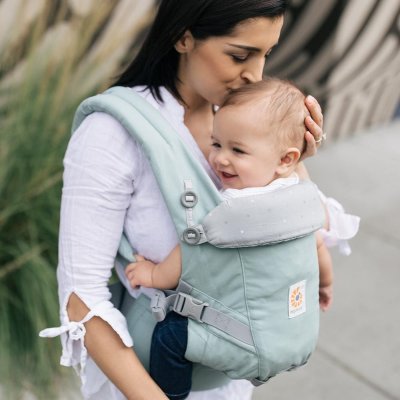 If the idea of having to bundle your baby in the carrier with an insert is a bother to you, the Ergobaby Adapt might be what you need.
The Adapt comes ready for your infant and does not require an insert. It's perfect solution if you want to start babywearing from birth and newborn-ready carrier is a must-have for you.
It's also a good choice if you leave in area where temperatures get high and additional insert for newborn would only make your baby more sweaty.
This carrier might also suit you if you'd like a carrier that allows you to crisscross the shoulder straps for a tighter fit. This is important especially for parents with a small upper body.
Keep in mind, however, that while Ergobaby Adapt allows for the front carry, you won't be able to carry your baby facing out.
Conclusion
Both the Ergobaby Adapt and the 360 are great carriers with a lot to offer in terms of versatility and comfort. In my opinion, and as a recap of the above, your choice between these carriers will depend on what you value most.
If the idea of turning the baby out to see exactly what you are seeing is appealing to you, then the 360 is what you need.
On the other hand, if you want an insert-less carrier, that is newborn-ready out of the box, the Adapt is all yours.
Whichever model you choose, you can go wrong with Ergobaby – this brand is a guarantee of top-notch quality and ultimate comfort.
If these two carriers don't meet your needs, I invite you to check my ranking for 2020 with the most fantastic baby carriers that you can find on the market.
---
All pictures belong to Ergobaby. Source: https://ergobaby.com
Your trust is really important to me: This post contains affiliate links. If you choose to buy something using these links, I receive a small commission, at no extra cost to you. Your support helps me run this blog. Thank you so much 🖤 Zooey