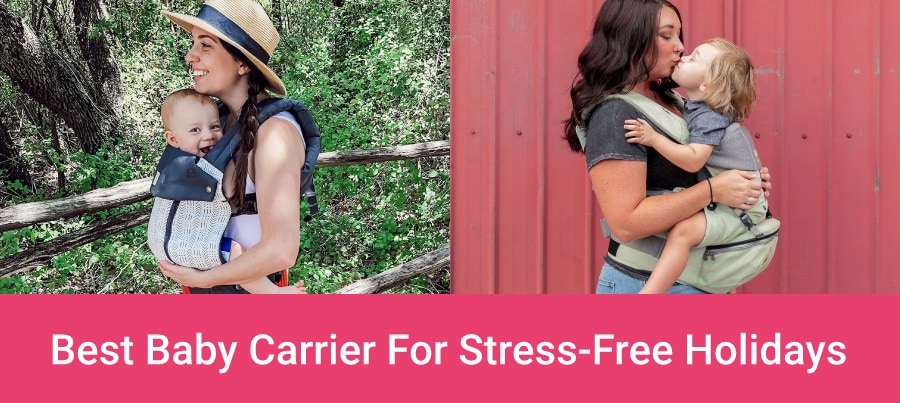 The holiday travel season is fast approaching, and this year looks a lot different than it did in 2020, when we were in the midst of global lockdowns due to Covid-19. This year families are planning trips to spend time together and it means learning how to travel safe and stress-free!
For first time parents, or those who the mere thought of stepping foot into an airport with their little ones in tow, fills them with anxiety – babywearing is a practical solution to help ease those parental nerves, all while keeping baby comfy, close, and safe.
Many airports will let you wear baby even through the security check (you will have to bypass the big machine, and have your hands swabbed), and we all know how valuable free hands can be in those moments!
This article is not a substitute for medical advice. It contains affiliate links.
5 Best LÍLLÉbaby Carriers For Parents Traveling With Their Babies
Finding the perfect baby carrier for your family and lifestyle can seem overwhelming, with so many different styles and options available. In this article we'll look at the line of LÍLLÉbaby carriers and break down their top 5 baby carriers.
For anyone in search of a new carrier, the key to finding the perfect carrier is choosing one that works with your lifestyle, offers an ergonomic fit for both wearer and baby, appeals to your fashion sense, and is within your budget.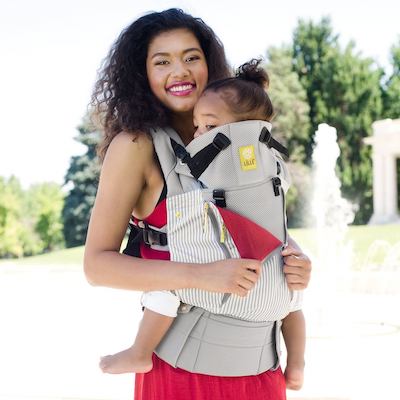 The Complete All-Seasons carrier is a best seller and for good reason. With its ergonomic fit, and versatility, the LÍLLÉbaby Complete carrier has a long-life span during your babywearing journey.
This 6-in-1 carrier allows parents to wear babies 7-45lbs comfortably, in multiple ways – including newborn fetal carry, outward facing, hip and back carry, making travels and everyday life a lot simpler.
The Complete carrier features an adjustable waistband and shoulder straps to fit a wide range of body types, and a lumbar support to aid in the comfortability of the wearer for long periods of time.
The Complete All Seasons carrier features a zip-down front panel which gives you the option to control baby's temperature by revealing a breathable, soft-wearing mesh. This soft structured carrier will comfortably take parents from newborn to toddlerhood with confidence and comfort.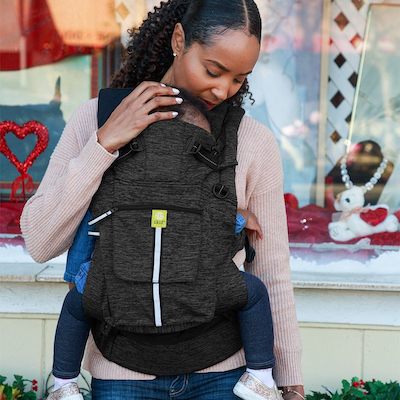 When it comes to functionality and comfortability, the Pursuit Pro carrier is at the top of its class and designed to get you back to the lifestyle you love.
The Pursuit carrier offers the same benefits as the LÍLLÉbaby Complete carrier, with additional soft-knit fabrics giving it a broken-in feel right out of the box, reflective detailing for low light scenarios, and generous storage space with seven convenient pockets. Leave the diaper bag behind and set out to conquer your next adventure together!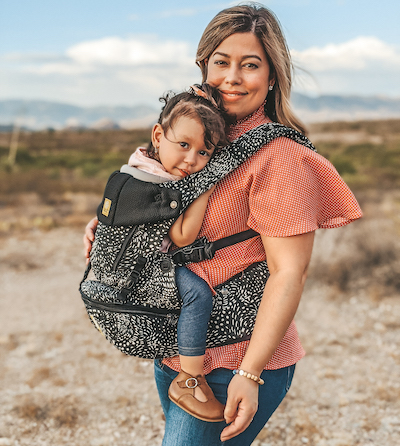 Whether traveling by car, train, plane, or taking the little ones out for a quick visits to the local park – the SeatMe is a unique and versatile carrier, that easily converts from a soft structured carrier for baby, into a true hip seat as they grow into toddlerhood.
By removing the shelf seat for newborns 8-12lbs the SeatMe functions as a soft structured carrier similar to the Complete carrier. As baby gets older and more independent, using the padded hip seat by itself for quick ups and downs gives parents arms a much-needed break and makes outings fun and easy.
An additional bonus is the huge storage pocket for snacks, diapers and changes of clothes, making travels a breeze.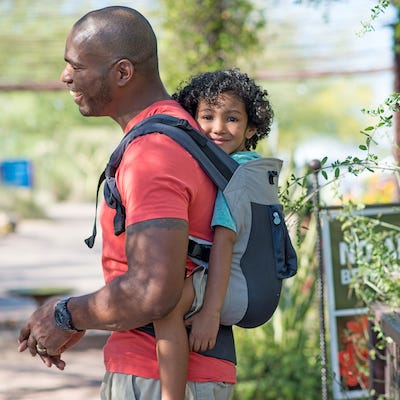 The CarryOn was designed with one objective in mind: to provide a supportive carrier that can accommodate a large toddler or child who needs to be carried.
For most families, the Complete or Pursuit carriers will comfortably carry your child through the babywearing years, supporting toddlers up to 45lbs. However, for families who regularly wear their toddlers and are seeking more specific support, or families with children who have mobility restrictions, the CarryOn is a comfortable and useful option for big kids 20-60 lbs!
If you want to travel with an older (and heavier) child, make sure to check my Ranking: Amazing Toddler Carriers For 1-Year-Old, 2-Year-Old & Up.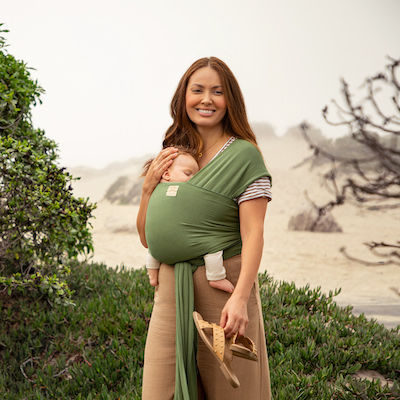 Parents are gushing over the LÍLLÉbaby Dragonfly Wrap. This luxuriously soft wrap is made with organic cotton and natural hemp blended fibers that are oh-so-soft on a newborn's delicate new skin.
Unlike the traditional stretchy wrap – which is one piece of long fabric to be tied, the Dragonfly Wrap comes out of the box pre-threaded and slips easily over the wearer's head like a t-shirt, taking away the guesswork of wrapping, and making it incredibly user-friendly. Soft wraps are great options for newborn – 6 months and can pack down easily in diaper bags while traveling.
Are you thinking about babywearing in a wrap, but you're not sure which one will be best for you and your little one? Here my comparison of two popular options: Lillebaby DragonFly Wrap vs. Solly Baby Wrap.
---
The ability to travel handsfree can provide so much peace of mind to parents and security for babies. You'll love how quickly and easily you can breeze through crowds without a stroller.
Whichever style of carrier bests suits your lifestyle and budget, LÍLLÉbaby has you covered.
Psst! There's one more advantage of Lillebaby carriers – you can nurse in them, without taking them off.
Article By Guest Contributor: Azja Pryor, CBWS Babywearing Educator
---
The purpose of this article is informative. It's not a substitute for medical consultation or medical care. Remember: safety first! Consult your doctor/pediatrician in case of any doubts, and before you introduce tummy time. The author of this article does not accept any responsibility for any liability, loss or risk, personal or otherwise, incurred as a consequence, directly or indirectly, from any information or advice contained here. The article contains affiliate links – your support helps us run this blog!
Source of pictures:
Pictures of Lillebaby carriers belong to Lillebaby brand. Source: https://www.lillebaby.com/