Did you know that regular diapers are made out of volatile chemicals that contaminate the environment? Additionally, it takes approximately 500 years for the earth to decompose these diapers. These statistics should be of concern to every parent, especially because a baby uses around 7,000 to 9,000 diapers before potty training.
To add salt to injury, you can find yourself spending approximately $80-$100 on diapers each month. To put that in perspective, you may end up using upwards of $3,000 on diapers alone for just one child.
The good news is that diaper companies such as Andy Pandy, Eco by Naty and Bambo Nature are taking the necessary steps to ensure eco-friendliness. Some of the measures taken by these companies include the use of a few biodegradable materials to make their diapers.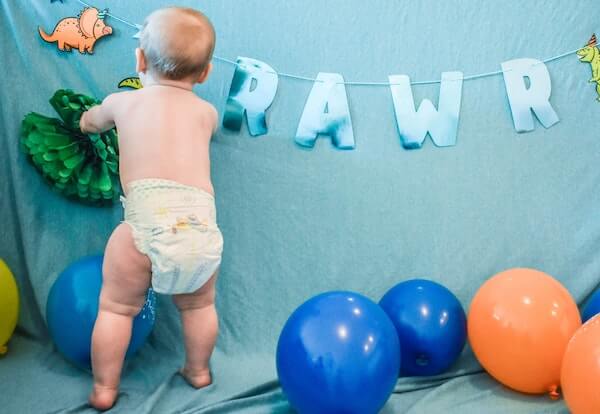 Eco-Friendly Diapers
We need to understand what elements are important in a diaper. Some of these elements will be important to some parents while others will seem excessive.
Despite a parent's preference, it's crucial to pay attention to the effects the purchased products in our homes affect the planet and humanity as a whole. Approximately 7.6 billion pounds of non-biodegradable garbage is created every year from plastic diapers. All of this is a result of the 90% of American parents who buy 27.4 billion disposable plastic diapers per annum.
Are There Biodegradable Diapers?
There is no disposable diaper that is 100% biodegradable. Biodegradable diapers have varying degrees of decomposition due to the mixture of organic, natural, and synthetic materials.
The best biodegradable diapers in the market have a rating of just over 80%. These diapers usually use bamboo fiber for most of the diapers but also incorporate other synthetic materials such as Sodium Polyacrylate and elastics.
Use Of Organic Or Natural Materials
A product's biodegradability is increased by the use of organic and natural materials to make said products. It is however hard to make a product that is fully organic and natural, therefore, don't be shy to opt for one that is not fully organic.
The best way to know if a diaper is organic is to check the product description, companies love to flaunt their organic badges. However, if it is not mentioned on the purchase box, look at the ingredients, raw materials such as bamboo fiber are organic and natural, while synthetic materials are not.
Keep in mind that cloth diapers are still the best choice if you're looking for best eco-friendly diapers.
What Makes For A Safe Diaper?
Some things are more important in a diaper. Such is the comfortability of the diaper, how gentle it is to a baby's skin, stretchability and dump-ness. You also do not want a diaper that can easily leak. However, when it comes to safety, in particular, these are the elements you should keep an eye on:
Toxin-Free
A toxin-free diaper is good for the environment and also helps to keep your baby's skin healthy and rash-free. Some of the toxic chemicals that can be found in diapers include chlorine, TBT, latex, dyes, phthalates, PVC, heavy metals, and dioxins.
Other harmful chemicals such as Volatile Organic Compounds (VOC) can be heated till evaporation to cause bodily damage. Such effects may include irritation of the eyes, throat, and nose on top of liver damage and cancer.
Hypoallergenic
A hypoallergenic diaper will cause little to no skin irritations and allergies. When we say hypoallergenic diapers, we mean that these diapers contain below-average allergy-inducing materials. While choosing the type of diapers you want, pay attention to the number of ingredients. In most cases, the fewer the ingredients the more hypoallergenic the diaper is.
One of the best non-toxic and hypoallergenic diapers is Hello Bello (review).
---
The purpose of this article is informative and entertaining. It's not a substitute for medical consultation or medical care. Remember: safety first! The author of this article does not accept any responsibility for any liability, loss or risk, personal or otherwise, incurred as a consequence, directly or indirectly, from any information or advice contained here.