Lillebaby Complete All Seasons is a best-seller among versatile, all-in-one baby carriers. It has all the features to make babywearing safe and comfortable, both for the baby and the caregiver.
This soft structured carrier is suitable from 7 to 45 pounds. Therefore it is usable from birth only if the newborn's weight exceeds the lower limit. Being able to use this baby carrier for newborn without additional insert is one of the feature that parents love.
The maximum capacity is really impressive and thanks to many adjustments this carrier can serve you even up to 3-4 years.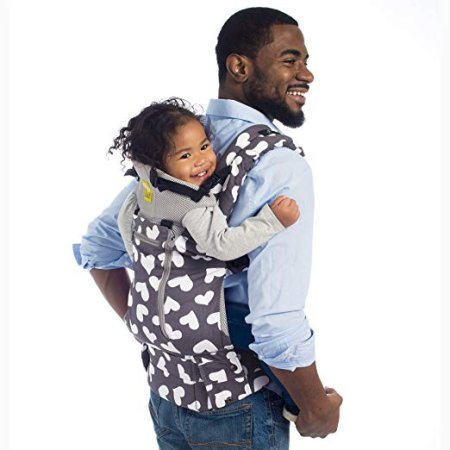 Lots of parents who have posted a review on Lillebaby Website have used this baby carrier for newborn baby, as well as 1 and 2 year old kid.
Lillebaby Complete All Seasons allow you for "360 degree carrying" as it offers 6 different positions. You can carry the baby on your front (in fetal, infant or toddler position), hip or back. There is also option or carrying the baby facing out.
As you can see Lillebaby Complete All Seasons grows with the baby and offers different positions for different age and development stage. You can see all carrying positions in the picture below.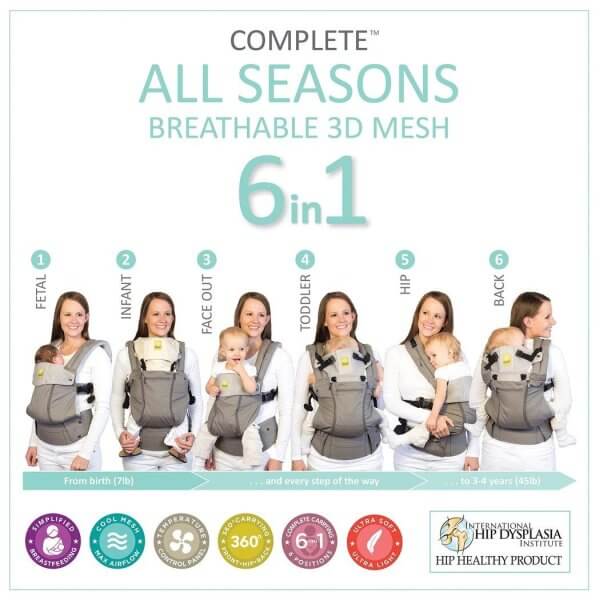 I find it one of the safest baby carriers for newborns as it provides healthy position for baby's hips, whether you're wearing the baby on your front, hip or back.
This baby carrier has been evaluated by The International Hip Dysplasia Institute as "hip healthy" as it doesn't interfere with baby's hip natural development.
There is a bucket seat with adjustable side panels therefore you can widen or narrow the sitting area, depending on your baby's size. Thanks to that the newborn baby can maintain natural frog position with knees bent and higher than the bum and back naturally rounded. This position is crucial especially during first 4-6 months, as it is a kind of prevention of hip dysplasia.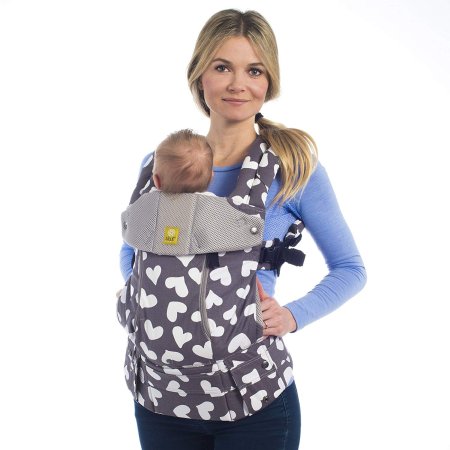 Whether you're using Lillebaby Complete All Seasons for a newborn baby, infant or toddler, child's legs are always properly supported. Moreover, this ergonomic baby carrier provides proper back support and doesn't force the baby to straighten his legs or spine unnaturally.
What you'll also love about Lillebaby Complete All Seasons baby carrier is the extendable back panel. You can fold it down or extend it, depending on baby's size and neck control. It provides additional support for baby's delicate head and back and prevents infant's head from hanging out of the carrier.
You can also adjust the width of the head panel. It's very useful feature during the first few months when the baby lacks neck control. It also allow to keep a taller baby secured in the carrier. This soft structured carrier is a truly long-term investment.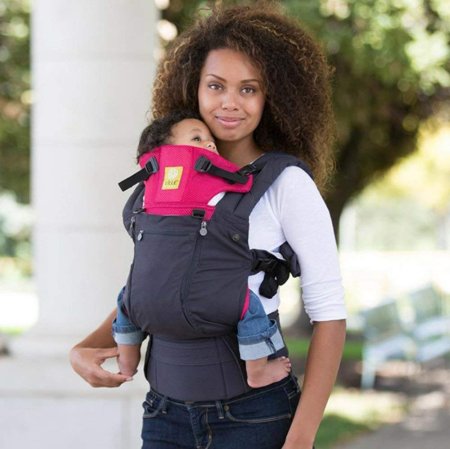 Another feature that makes Lillebaby Complete All Seasons one of the best baby carriers for newborns is the adjustable hood. You can use it to provide extra head support for sleeping infant, to protect the baby from sun and wind or to give you and your baby privacy during nursing. When not needed it can be stowed away or detached.
There's one more important reason why I've chosen Lillebaby Complete All Seasons as an example of the safest baby carrier for newborn. Right after the birth, infant's body doesn't regulate its temperature therefore it is very useful to have a baby carrier that prevents baby from sweating while keeping him warm and cozy at the same time.
This baby carrier from Lillebaby offers all of that. It has adjustable central panel that you can zip down to reveal breathable mesh (perfect for hot weather and newborns born during summer months) or zip up to keep baby warm during more chilly weather. It's so useful to have such a versatile baby carrier – you can use it all year round.
>> Read my comparison: Lillebaby Airflow vs All Seasons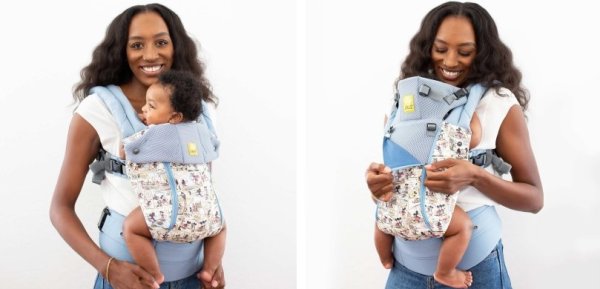 But that's not all!
If a mom is going to use the baby carrier with her newborn baby, it means she'll be using it right away giving birth. Her back and pelvic area are already strained after pregnancy, we definitely don't want a baby carrier to cause additional back pain or pressure on neck and shoulder. Therefore the baby carrier for newborn has to provide exceptional comfort and safety for mom too. And Lillebaby Complete All Seasons does it perfectly.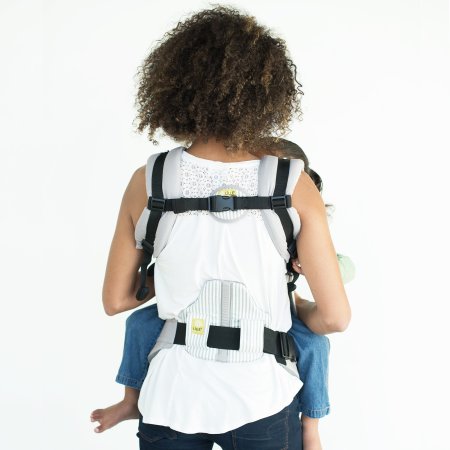 It has wide, adjustable waist belt with deep padding and additional lower back support. Shoulder straps are adjustable and padded as well and can be worn crossed or as backpack. All that helps to spread baby's weight evenly across mom's body without straining her back, shoulders and neck.
All straps adjust easily and offer wide range of settings therefore Lillebaby Complete All Seasons can be shared between wearers. According to customer reviews it's a perfect fit for petite moms (like 5ft tall), as well as plus size moms and tall dads (over 6ft tall).
There is also useful zippered pocket on the panel where mom can put her ID or baby's teether.
This buckle carrier is made of 100% cotton and it is machine washable, so no worries about the stains if the baby spills.
Lillebaby Complete All Seasons comes in wide range of colors and styles. Some of them have colorful patters and pictures on the central panel. Keep in mind that the price may vary for different color versions.

What parent think about Lillebaby Complete All Seasons Carrier?
It's truly amazing how popular this ergonomic baby carrier is.
Parents praise its breathability and the zippered mesh panel. They love the versatility and all the available positions, as well as adjustable sitting area that always provide safety and comfort for the baby. Another advantage is lumbar pad which makes this carrier wonderful for parents who struggle with lower back pain. According to first time parents Lillebaby Complete All Seasons is very user-friendly and ability to use it without bulky and hot insert is great.
This baby carrier is for you if:
You're a babywearing-beginner and need something easy to put on and adjust
You want a carrier that fist different body types
You want a model that you offers many different carrying positions – for different baby's age
You need a carrier that can be used all year round
You have back problems and need a carrier that doesn't strain back and shoulders
This baby carrier is not a good choice if:
You're on a tight budget
You have very small upper body (the shoulder straps may seem a bit too wide)
---
The purpose of this article is informative and entertaining. It's not a substitute for medical consultation or medical care. Remember: safety first! The author of this article does not accept any responsibility for any liability, loss or risk, personal or otherwise, incurred as a consequence, directly or indirectly, from any information or advice contained here.
All pictures belong to Lillebaby brand. Source: https://www.lillebaby.com/