Are you still hesitating between Lillebaby Airflow and All Seasons? There are a few important things that you should know about these two carriers to make the right choice. In this article you'll find my detailed review and comparison that will help you answer the most important question: "Lillebaby Airflow vs All Seasons – which one is the right baby carrier for my child?".
This article is not a substitute for medical advice.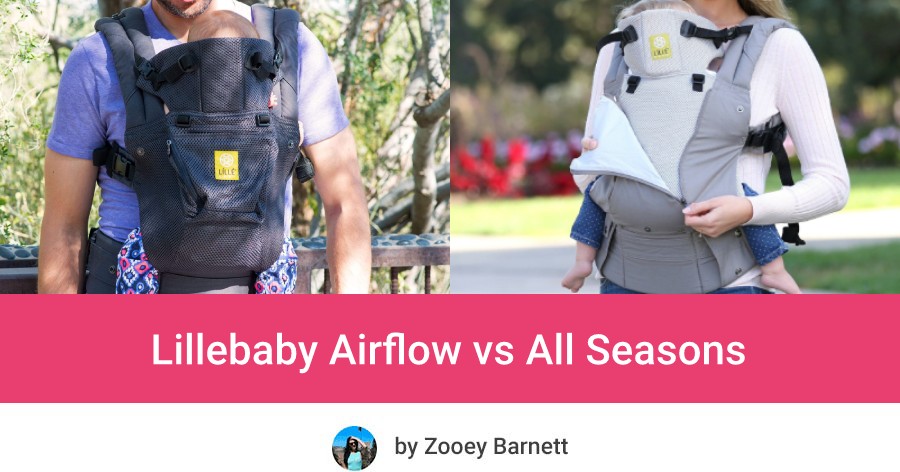 If you've been looking for the most comfortable baby carrier, you have probably come across Lillebaby Complete Airflow or All Seasons. These two carriers are functional and easy to use even for babywearing beginners – no wonder these are best-selling baby products!
These two baby carriers have been designed by the same brand – Lillebaby – and at first glance they seem to be quite similar. Nevertheless there are a few important differences that will have a huge impact on which carrier will work best for you and your baby.
Both Lillebaby carriers have been recognized as hip-healthy by The International Hip Dysplasia Institute. This means, both All Seasons and Airflow help the baby to maintain ergonomic, natural and healthy position (called frog position or spread squat position). Baby's legs are M-shaped, their knees are higher than the bum and legs are supported from knee to knee.
If you're looking for the best baby carrier with buckles in a medium price range, Lillebaby Airflow and All Seasons carriers are definitely your top choice.
These two carriers can be used from 7 pounds and have a weight limit of 45 pounds. Neither of them requires an infant insert which is a big plus because inserts feel bulky and get hot.
Both carriers offer 6 carrying positions and have a tall neck support.
Lillebaby carriers have been designed not only with baby's comfort in mind, but they are also extremely comfortable for parents thanks to built-in lumbar support, thick crossable shoulder straps and wide waist belt that prevents from hip strain. Moreover, for moms convenience there are zippered pockets on both carriers. Both are machine washable.
Of course the best thing about these carriers is that when the baby is lying against mom's chest, he/she calms down and mom has free hands to take care of home duties and other stuff.
Now you may ask – are there any differences between these baby carriers? And how to pick the best one between these two? To help you make the ultimate decision: Lillebaby Airflow or All Seasons, I tested and reviewed both of them. There are a few significant differences that can make you prefer one carrier over the other.
Let's dig into Lille baby carriers reviews and in-depth comparison.
My Personal Choice
LittleBabyGear Verdict: Is Lillebaby Complete Airflow or All Seasons better?
I think All Seasons carrier is better choice. I love its versatility and being able to use it in all weather conditions (including summer days). Breathable mesh material ensures good air circulation inside the carrier, while the cotton panel keeps baby warm on cool days. If you want to use baby carrier throughout the year, this is a fantastic choice.
Thanks to six possible carrying positions it can be the only baby carrier you will ever need, because it's suitable for newborns, infants and toddlers.
Wide adjustable waist belt and lumbar pillow are another advantages – they will prevent you from getting back pain or hip strain.
Lillebaby Airflow Baby Carrier Review
The main part of Lille Airflow (front panel) is made from mesh material, which makes it one of the most breathable soft structured baby carriers. It feels airy and prevents you and the baby from overheating.
The thing that I love most about Lillebaby Complete is its ergonomic design. It offers six carrying positions – depending on baby's age. You can adjust the bucket seat to always keep your little one in ergonomic position with legs and hips well-supported.
You can carry your newborn baby (from 7 lbs) in one of the 2 positions: fetal or infant inward. There are also 4 toddler settings suitable from 6 months: inward, outward, hip and back.
This baby carrier has really impressive weight limit – 45 pounds. This makes it usable for quite a long time. Some parents use it with heavier toddlers and older kids – even 3-year-olds. I think this is a really good investment.
The front panel is long and feature foldable neck support which is very useful when the baby doesn't have the head control yet.
Lille carrier features wide and thick padded shoulder straps. You can wear them parallel or crossed. There is also a wide waist belt which provides FANTASTIC lumbar support. I had some back problems after twin pregnancy and Lillebaby Airflow turned out to be an ultra comfortable baby carrier. If you also struggle with back pain, Lille is one of the best choices.
Of course you can adjust all straps to your body size. This baby carrier can be shared with other caregivers, even those who have really larger frame. Shoulder straps and lumbar support pillow are made from cotton.
Lillebaby Complete Airflow has 2 pockets: large mesh pocket with a zipper that can fit all your valuable belongings and baby's necessities, plus a small open pouch for the detachable hood.
Pros
Prevents overheating and keeps baby's skin dry
Perfect for humid and hot climates or summer heat
Seat can be adjusted as the baby grows
It has a high weight limit and there's lots of room for growth so it can fit even older kids
There are 6 positions, depending on baby's age, preferences and mood
Mesh hood protects from sun and offers extra coverage when you need to breastfeed
Comfortable to wear, doesn't strain mom's hips or back
Cons
For skinny and short moms the longer straps may feel a bit bulky
Lillebaby All Seasons Baby Carrier Review
The All Seasons carrier differs from Airflow carrier because on top of its mesh lining there is a zippered panel which proves extra warmth.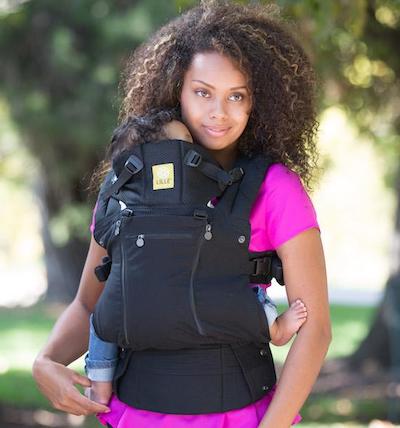 When it's warm and sunny you can unzip the panel and reveal the mesh underneath. It allows the breeze to get through and ensures good circulation inside the carrier. You won't have to worry about your baby overheating or getting sticky. This makes Lille carrier suitable for warmer climate.
On chilly days you can zip it back up to keep your little one warm and cozy. Perfect for cooler months.
This temperature-control panel is made from breathable cotton material.
Similar to Aiflow, All Seasons baby carrier offers six ergonomic positions thanks to adjustable bucket seat. Infant and fetal carry positions (newborn baby facing parent) can be used from day 1, if the baby weighs at least 7 pounds. When the baby is about 6 months old and has good neck and head control you can start using outward carrying positions, hip carrying, toddler inward position or back carrying position. Backpack style is perfect for extended periods of babywearing, while forward facing position should be used only for short periods to prevent overstimulation.
Whichever position you use, you can be sure that your baby maintains healthy and ergonomic position with good hips and back support.
This baby carrier has also long panel which offers proper neck support in both infant positions. There is also an adjustable hood that protects the baby from cold, wind and harmful sun rays.
Crossable and adjustable straps ensure even weight distribution and prevent your arms and back from pain. Additionally, the waistband with lumbar support prevent your pelvic area from stain.
Pros
More versatile than other carriers
Convenient temperature control panel – helps to regulate baby's temperature
You can use it in cooler and warmer months with only little adjustment
Thanks to six positions the carrier grows with the baby from infancy to toddlerhood
Secure lumbar support prevent back strain
Cons
Zippered panel means additional cost
Long and thick shoulder straps may feel awkward for skinny wearers
Lillebaby Airflow vs All Seasons – Differences
Although these two Lillebaby carriers are pretty similar, there are 3 major differences between them.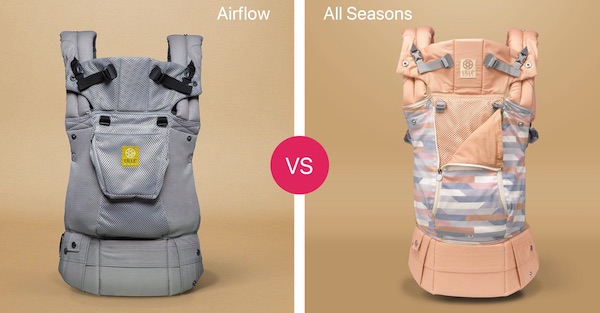 1. Panel Fabric
This is the most significant difference between Lillebaby Airflow baby carrier and Lillebaby All Seasons. The former one has panel made from 3D mesh which allows the air to circulate through. This breathable material keeps you and the baby cool and dry. It's a good option for warm weather.
On the other hand, the All Seasons carrier panel is made from cotton but it has a zipper. On warmer days, you can unzip it to expose breathable mesh underneath, and whenever your little one needs extra warmth you can easily zip it up. This temperature-control panel makes Lillebaby All Seasons baby carrier more versatile and suitable for four seasons.
PRO TIP: Keep in mind that soft-structured baby carriers feel a bit bulky which means you may sweat a bit when the weather heats up. Mesh carriers are better choice than cotton ones for hot weather, but if you leave in very hot and humid climate you may want to consider getting a baby wrap or ring sling made from breathable linen or modal. Check out my

full list of the best baby carriers for summer

.
2. Hood
Both baby carriers feature a hood that protects the child from sun and wind and offers mama more discretion for breastfeeding.
Lillebaby Airflow carrier has a mesh hood, while Lillebaby All Seasons features cotton hood.
Even though the cotton is quite lightweight, mesh is definitely more breathable and better option for summer.
3. Pockets
Lillebaby Airflow is equipped with 2 pockets located on the front panel. There is one small open pouch where you can stash the hood and one large zippered mesh pocket that can easily hold all baby's essentials. I was so surprised to see how capacious the zippered pocket is. It's big enough to accommodate a sunscreen, spare pants and undies, extra diaper, small pack of wipes and a snack!
On the other hand, All Seasons carrier features only 1 zippered pocket. It's longer but also narrower. Nevertheless, it should fit all your belongings like a phone, card and keys or a diaper+wet wipes.
4. Price
On brand's website Lille All Seasons is more expensive than Lille Airflow.
It's more versatile thanks to zippered front panel, hence the higher price.
PRO TIP: You should also check out other Lillebaby carriers. If you want to try toddlerwearing, Lillebaby Carry-On toddler carrier is a perfect choice.
Final Decision: Is Lillebaby Airflow Or All Seasons Better?
You can't go wrong with either Airflow or All Seasons, these are great buckle carrier for early years. They are a good choice for parents who don't want to spend a fortune on infant & toddler carrier.
After testing both baby products I think Lille All Seasons is more versatile option, great for parents who want to practice baby wearing throughout the year. It has double-layer design: cotton panel for winter and meshing for summer.
On the other hand, if you only need a solid carrier for warm months or hot climate, I would suggest going for Airflow version because it's less bulky and most breathable option. It will keep your baby comfortable and cool.
---
The purpose of this article is informative and entertaining. It's not a substitute for medical consultation or medical care. Remember: safety first! The author of this article does not accept any responsibility for any liability, loss or risk, personal or otherwise, incurred as a consequence, directly or indirectly, from any information or advice contained here.
All pictures belong to Lillebaby brand. Source: https://www.lillebaby.com/