New mom deserves the best Christmas present from her husband. Here are a few push gift ideas to celebrate motherhood.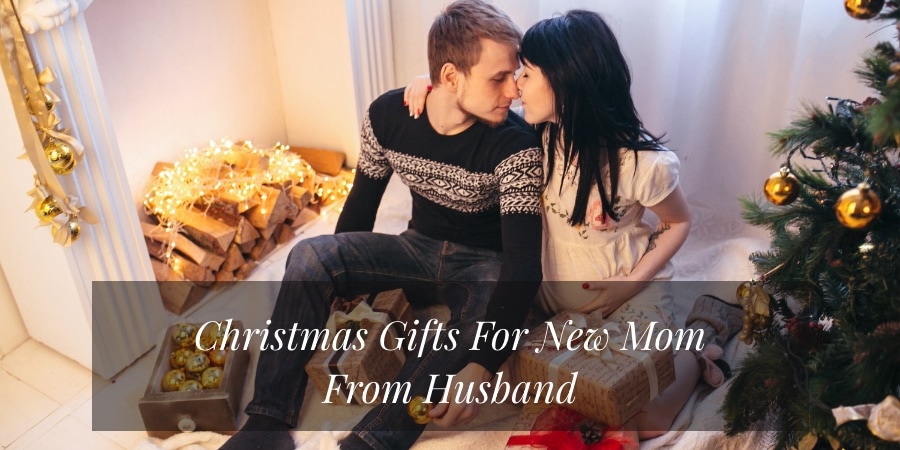 As a new dad you may be wondering what gift you should get your wife for having a baby. The variety of push presents can make you feel overwhelmed. Don't worry – as a mom of three I know what a new mommy REALLY needs and I prepared a list of the best push presents that will be useful for a new mom.
New baby brings new financial pressures and I imagine that you may not have a big budget for the push present. That's why I chose gifts in a wide price range, so you could pick something affordable.
Let's find the most thoughtful gift for your baby mama!
This article is not a substitute for medical advice. It may contain affiliate links.
Best Christmas Presents & Push Gifts For New Moms
I picked 9 amazing gifts that will make a new mom's life easier. You will find here some practical push present ideas, keepsake gifts and pampering gifts for new mamas.
Some of these gifts are a bit more pricey, but don't worry if you're on smaller budget – I included some pocket-friendly presents too!
Here are my favorite gift ideas for new moms for this Christmas.
If you want to give the new mama present that she will actually put to use, her wellness should be top of mind.
Earth Mama Organics is my favorite brand when it comes to natural, eco-friendly and hypoallergenic skin care products – both for the mom and the baby.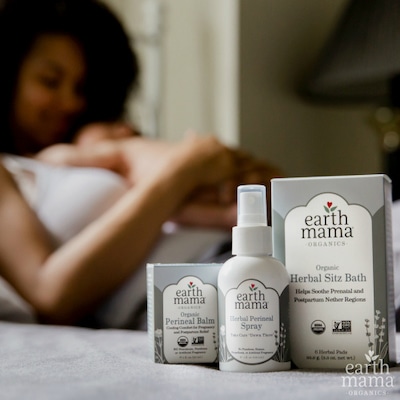 Here are my gift ideas – these products will help the new mama take care of her body in the recovery period after giving birth.
Why these are great gifts for a new mom from her husband?
New mothers who has just gave birth usually struggle to find the time to relax and take care of their body, when they actually need it most.
These essentials will help a new mother to take a good care of her body during postpartum recovery and make her feel fresh and more comfortable.
>> Best Christmas Gift Ideas For Babies: Newborns, Infants & Toddlers
This is one of the most thoughtful gifts for new mom from husband. If the new mama is into babywearing, Solly Wrap is the best choice, because it's ergonomic, hip-safe, lightweight, breathable and buttery soft. FYI, it's machine washable – in case of a diaper blowout.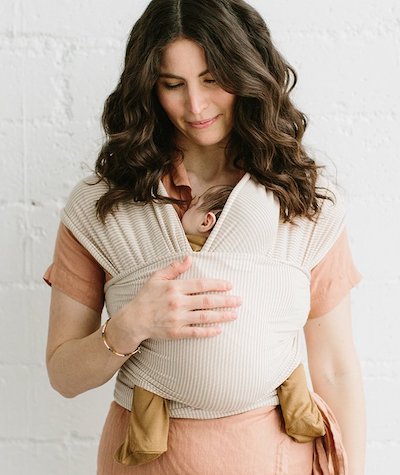 For many new moms, baby wrap has been a game changer in the early months of motherhood. It helps to make the transition from the womb to the new world a lot easier for the newborn baby and has many benefits for the emotional development. It reduces crying in infants, aids in digestion and helps to soothe colicky babies.
Using baby wrap in the first months is a great idea particularly for multi-tasking moms who need to work from home, want to do some chores while taking care of the newborn baby, or have more kids to run around after.
First weeks and months with a new baby may feel overwhelming for the new mommy, and the babywearing can be a great help. It allows mom to have free hands for a few moments, while keeping her tiny human in cozy and secure wrap. What's more, babywearing has soothing effect on newborns.
By the way, new dads will be also able to use the wrap and enjoy the babywearing. And give the new mommy a few moments for herself.
Why this is one of the best gifts for new mommy?
Babywearing with a wrap has tons of emotional benefits for the mama and baby. It has calming effect on the little one by giving them a sense of closeness and security. It has also positive effect on mom's wellbeing and reduces the risk of postpartum depression. It allows to cherish those beautiful precious moments of motherhood. Plus, it gives mommy hands-free time whenever she needs to multitask.
PRO TIP: Do you think your wife would prefer a soft-structured baby carrier? Personally I've been using this Ergobaby Omni 360 for 3 years! It's a fantastic option for babywearing with infants and toddlers.
Swaddle is a fantastic present for any sleep deprived new mom. I found Solly to be the best swaddle out there, because it's made of the softest fabric ever that feels so cozy for the newborn baby. It's also super lightweight and breathable so you don't have to worry that your little one will get sweaty or anything.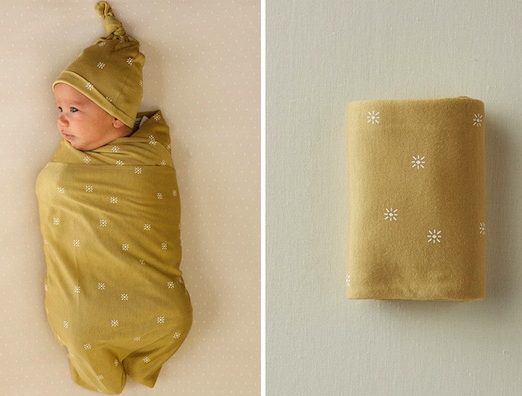 Swaddling helps to soothe fussy and colicky infants, and generally speaking it makes it a lot easier to put the baby to sleep.
Swaddled baby feels similar to the way he/she felt in mom's womb: warm, snuggly, and secure.
Lots of new moms say that baby swaddle is a lifesaver and helps the baby to sleep longer through the night.
For me it was the greatest gift – my first baby was such a light sleeper and struggled with colics. She immediately calmed down when swaddled and loved to sleep in it.
Why this is a great gift for a new mom from her husband?
This is a practical present, plus swaddling has lots of benefits for baby's emotional development.
While sleepless nights can still happen, swaddled babies often sleep for longer periods and are calmer at night. And that means more sleep for the new mom (and new dad too!).
To make a new mom more comfy during the first weeks after giving birth, consider a nursing nightgown and a robe as a push gift.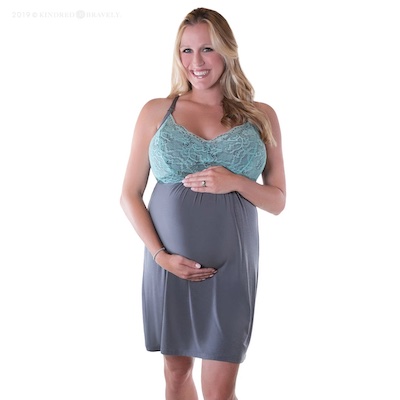 My absolute favorite is the Kindred Bravely Lucille Nightgown – it's perfect for mom-to-be as well a new mommy.
It's designed to make mid-night nursing easier – thanks to special clip-down cups. Flirty lace racerback bodice not only looks beautiful, but also keep the shoulder straps in place during nursing. She'll adore this sexy nightie.
This gown has empire waist which looks so flattering and provides room for postpartum belly.
I recommend paring this cute nightgown with this cozy Kindred Bravely Robe. It's all-season and feels crazy soft and so luxurious.
If your wife prefers sleeping in pajamas – check out my list of the best nursing pajamas here.
Why this is a perfect push gift for a new mommy?
Nursing nightgown is super useful – it makes night feeding a lot easier plus it's comfy to wear whether the new mom had vaginal birth or C-section. Nothing digs in or irritates her sensitive areas.
Kindred Bravely gown is so feminine and has cute lace – I'm sure the new mommy will feel beautiful in it. The robe will provide her with extra coverage and discretion, whenever she needs it. It can be also a great gift for mom-the-be so she could pack it in her hospital bag. It will come in handy for late night breast feeding or visits from the family.
Postpartum leggings are a key part of a new mom's wardrobe. I'm 100% sure this is a gift she'll use during the first few weeks after giving birth.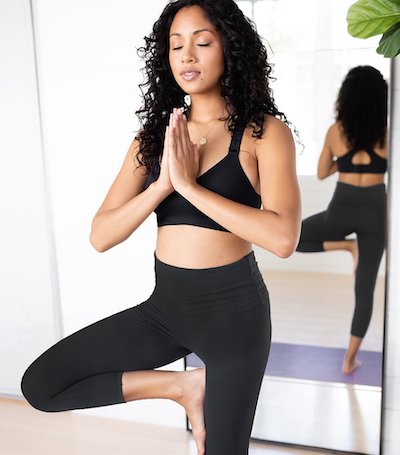 These leggings are designed to aid in postpartum recovery by providing compression, support, stability and shaping to her weakened abdominal muscles, pelvic floor and swollen uterus. They are elastic and adjust to her changing body size, without blocking her movement.
My favorite postpartum leggings – Kindred Bravely Martina – are breathable and have a cute 7/8 length that looks great with sneakers.
The ultra high waistband is perfect for covering the postpartum tummy and smooth out all bulges.
I recommend choosing pre-baby size, but make sure to check the sizing chart here.
Why this is an amazing gift for new moms for Christmas?
Lots of moms say that they were practically living in leggings during the postpartum period – they are so much easier to put on than jeans and much more comfy.
Kindred Bravely postpartum leggings are not only ultra comfortable, but they also provide support and shaping for mama's body and they have a flattering design. Your partner deserves to feel comfortable and pretty after the childbirth!
>> Read more about nursing clothes for new moms
Fashionable diaper bag is a fantastic gift for new mommy. And this Boss Backpack diaper bag is an absolute best-seller.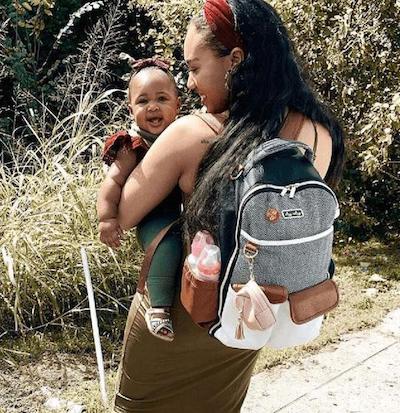 It has 17 pockets, including two insulated bottle pockets, which means it has enough space to fit all mama's essentials even for a day trip and keep everything well organized. The best thing about this diaper bag is that you can wear it like a backpack or attach it to the stroller handlebar (straps included) – which is super convenient.
Oh, and it comes with a changing pad for those on-the-go diaper changes.
Itzy Ritzy bag is available in multiple gorgeous and elegant colors for fashionable mamas.
Why this is a great push present for mom from husband?
Generally speaking, diaper bag is a must have because you can put all your necessities there and keep them organized, when you're out and about with your little one. So why not choosing something that also looks trendy and chic? I'm sure your wife will love this fashionable backpack diaper bag – it's practical, has tons of space for her stuff and looks so fashionable.
Technically this is a gift idea for a new baby, but lots of new mothers dream about the DockATot pillow. If your wife has been searching for a newborn lounger, DockATot is a fantastic choice.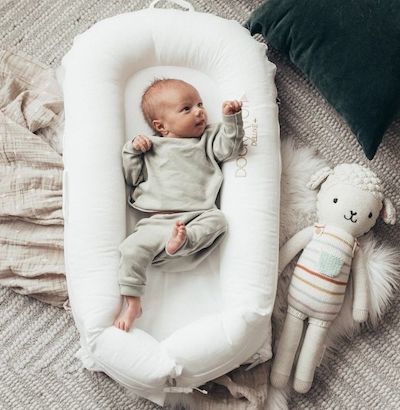 It's more of a luxury item, but you can also check out my favorite affordable DockATot alternatives and knock-offs, if you're on smaller budget.
Baby lounger provides a safe and cozy space for baby for play time, as well as tummy time. DockATot is one of the best loungers thanks to thick and padded mattress in the middle that provides good support for baby's body and high side walls that prevent the infant from rolling over.
DockATot will look amazing in any nursery design. They have a huge collection of different colors and patterns and they all look lovely. My favorite is this White Pristine version.
I think that baby lounger is one of the best baby products that you can give a new mother. It is a comfortable environment for the infant during awake times. It can be used for reading to the baby, playing with other kids and bonding with other family members.
Why this is one of the best gifts for a new mother?
Lots of new parents say that a baby lounger is an essential nursery item. It's a cozy and comfy place for the new family member to lounge and rest in. You can also pair it with a wooden toy arch to engage your little one in overhead play, reaching and grasping (which is an excellent exercise for fine motor skills).
What's more, DockATot is perfect for taking baby milestone photos. If you're wife is into sentimental keepsakes, she will love this idea!
This is one of the best and thoughtful gifts for new moms who plan on exclusive pumping or mix breastfeeding and pumping.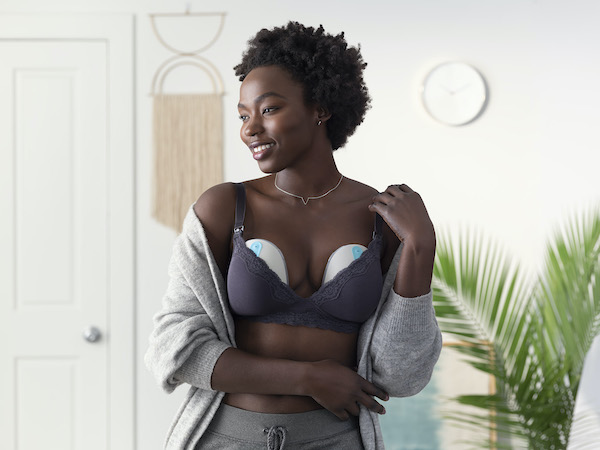 With a portable wireless breast pump mama can multitask. Instead of sitting chained to the wall outlet, she can do some house chores, play with the baby, prepare a meal or even drive a car. All of that while pumping the milk from her breasts!
The pump has different speed and strength settings, so her'll be able to adjust it to her sensitivity level and maximize the output. Moreover, Willow is way more quiet and discreet than other pumps like Spectra or Medela.
This is one of the pricey push presents, but it's super useful and makes new mothers life a lot easier.
What makes it a perfect gift for a new mom from her husband?
It's one of the best push gifts, because it frees new mom hands and allows her to do other tasks and express the milk from her breasts at the same time, without being chained to the power socket. The pumps fit in her bra and she can move around freely. This is an amazing gift for all new mothers who plan on using the breast pump.
This is one of the best keepsake gifts for a new mom. If you want to surprise your wife with more meaningful and sentimental present – this kit for making baby's handprints and footprints will be perfect.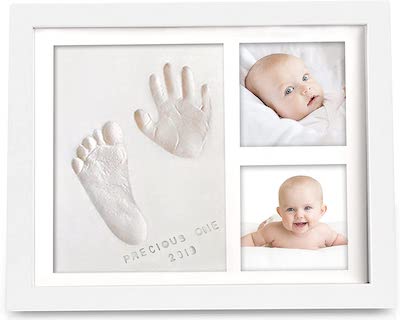 This set includes air-drying clay that allows to capture those prints of baby's little hands and feet. Just imagine how sweet those little toes will look like! It's an excellent option to cherish first moments of baby's life and capture those priceless memories.
There's also a place for two pictures of your little bundle of joy.
Why this is an amazing idea for a gift for a new mom from husband?
With this gift you and your wife will be able to create meaningful and adorable keepsake and preserve these precious memories forever. It's also a fun and easy DIY project that you can do together and use this time for bonding as a family.
Plus, once your little one is not so little anymore, he/she will love to see how much they have changed over time.
What Should I Give My Wife After Giving Birth?
After pregnancy, many women prefer practical presents. After having 3 kids, I realized that the best push present is the one that help new mom to survive the first weeks with newborn. That's why baby carrier, baby lounger, baby swaddle, or nursing clothes are great choices.
If you want to make the new mom feel loved and beautiful you can also get her skin care essentials because her body need extra nourishment during postpartum.
Another type of amazing push present for Christmas is a jewelry for new mom. You can choose a personalized necklace or bracelet – with your baby's name and baby's birth date engraved. This will be a fantastic keepsake.
If you have a small budget for the push present, consider getting your partner baby's first personalized handprint and footprint kit.
If you're on more flexible budget, gift certificate for a massage or spa day is definitely a great push present for a new mom from a new dad.
---
The purpose of this article is informative and entertaining. It's not a substitute for medical consultation or medical care. Remember: safety first! The author of this article does not accept any responsibility for any liability, loss or risk, personal or otherwise, incurred as a consequence, directly or indirectly, from any information or advice contained here.
Source of pictures:
https://www.kindredbravely.com