I've noticed that there is a lot of confusion regarding different versions of Willow Pump and in this article I am going to show you the differences between Willow Generation 3 and its previous versions. Keep on reading to find out why I like this wearable pump so much!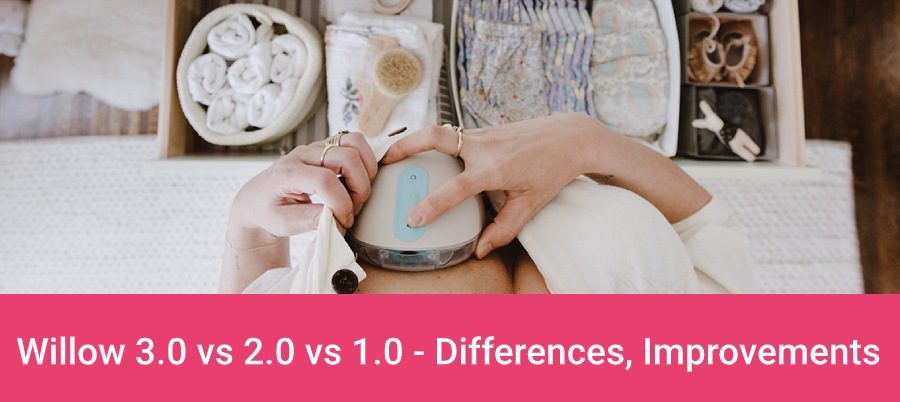 There are a lot of Willow Pump reviews on YouTube where moms say that Willow has really strong suction. But most of these videos don't mention which generation of Willow they review – and usually it's the older one, the first or the second generation which differ a lot from the newest, third generation.
I've got a lot of questions from moms whether the Willow 3 is more gentle than previous generations. Lots of them were worried that Willow could be too strong for them and were hesitant about getting it.
To address all moms' concerns about Willow vacuum strength, I prepared detailed comparison of all three generations of this smart hands-free pump to show you how Willow 3 beats all previous versions.
Below you can read about major improvements and upgrades that Willow Generation 3 offers.
This article is NOT a substitute for medical advice.
#1 Willow Breast Pump 3.0 has the "sensitivity setting"
In my opinion, this is the most important update made for 3rd generation. With Willow 2.0 and 1.0 some moms were complaining that the suction was too strong for them, and they could only use level 1. Otherwise, higher levels of suction would cause nipple soreness.
The good news is that the brand has added slower and more gentle pumping suction setting.
So if you're hesitant about purchasing Willow because you're afraid it will be too strong or the pumping will hurt, you need to know that these issues has been solved with the Willow 3.0 and now the pump vacuum is noticeably more gentle and softer.
What's important, more gentle suction doesn't mean you will get less milk (in fact, stronger suction doesn't guarantee that you will express more milk). The brand says that you may even pump up to 20% more milk, thanks to the new suction settings. Moreover, lots of moms praises Willow for being much more effective at expressing milk than other pumps (e.g. Elvie).
>> See my comparison of 3 popular hands-free breast pumps
#2 Express your breast milk into reusable milk containers instead of disposable bags
Willow 3.0 (as well as 2.0.) is compatible with a reusable milk containers – each can hold up to 4oz of milk. These containers can be used multiple times, they are also dishwasher-safe. The brand recommends to replace containers every 3 months which is still much more affordable solution than plastic milk bags (especially if you pump 4 or 5 times a day). This means that moms who are pumping frequently or exclusively can save quite a lot of money by choosing the milk containers over milk bags.
>> Check out my detailed comparison of Willow milk bags and milk containers
It's important to notice that the first generation of Willow Pump is not compatible with the milk containers (it lacks magnetic attachments), but there are some hacks tested by other moms that allow you to make it work.
#3 Flanges attach more easily and securely
Willow 3.0 and 2.0 have magnets that allow you to attach the flanges. This type of attachment is much more sturdy than clip-ons previously used on Willow 1.0, and it keeps the flanges securely in place. The flanges simply click onto the breast pump – everything works so easily.
The magnets that you use for attaching flanges are the same that hold the reusable containers. This is the reason, why Willow 1.0 doesn't work with milk containers – it doesn't have magnets that would hold them!
>> Read full review of Willow Wearable Breast Pump
#4 Easier nipple alignment
Some moms have also complained about problems with proper alignment, but only the Willow 1.0. had this issue, mainly because of opaque flanges. For the Willow 3.0 the brand improved flanges and made them clear to make nipple alignment easier for moms.
All the improvements that the Willow 3 now offers make this wearable breast pump more user-friendly, more gentle and more effective. All those issues that moms had with older versions of Willow have been solved and now the Willow 3 performs so much better.
PRO TIP: Are you having any issues with your Willow Pump or the milk container? Here's my "Willow Pump Troubleshoothing" article with tricks shared by other moms and answers to most common questions about using this wearable pump!
---
The purpose of this article is informative. It's not a substitute for medical consultation or medical care. The author of this article does not accept any responsibility for any liability, loss or risk, personal or otherwise, incurred as a consequence, directly or indirectly, from any information or advice contained here. All pictures of Willow Pump belong to Willow1.