Lots of moms wonder if they can nurse in the Solly Baby Wrap. Babywearing and breastfeeding are actually perfect combination! In this article I'm going to share my tips on how to breastfeed in a wrap carrier like Solly Baby.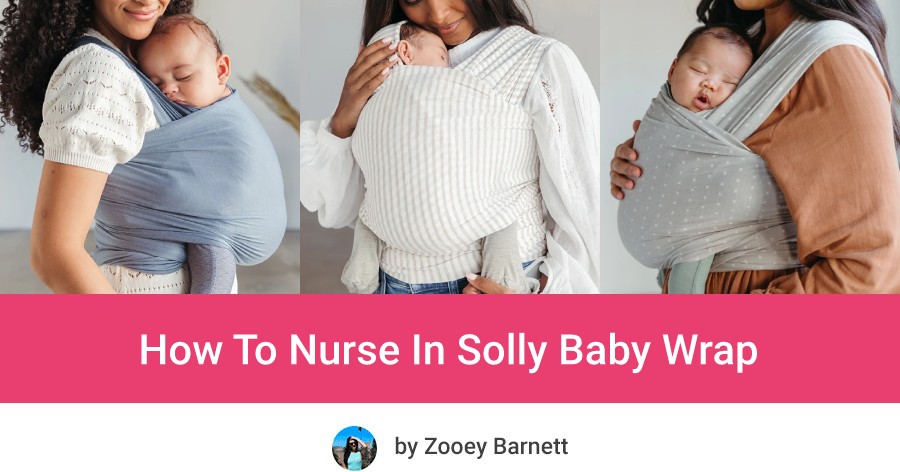 There are many benefits of babywearing with Solly Wrap and being able to nurse your little one in it, is one of them.
It is important to remember that breastfeeding in a wrap carrier will be much easier for new moms when the breastfeeding relationship is already established (as well as your lactation).
Babywearing educators recommend to start breastfeeding in a wrap once:
The baby feels comfortable in the wrap,
You feel confident about the wrapping technique and adjusting the fabric,
Both you and the baby are accustomed to nursing.
So the simplest answer to question: Can you nurse in the Solly Baby Wrap? is:
Of course you can nurse in Solly Wrap, but it's best to first practice breastfeeding and wrapping separately.
If you want to nurse in a Solly Wraps you will also have to learn how to adjust it to keep your baby in a safe and comfortable position, and make the latch easier.
Nursing In Solly Baby Wrap – How To Do It?
In order to be able to breastfeed in a wrap carrier, you will have to lower the baby to your breast. If you're wondering how much you should loosen the fabric and lower the baby – it will depend on your body and breast size, as well as baby latch.
Nevertheless, always remember that when you loosen the material, the wrap is no longer "hands-free". This means that you have to support baby's body and head at all time when you're adjusting the wrap, and during nursing.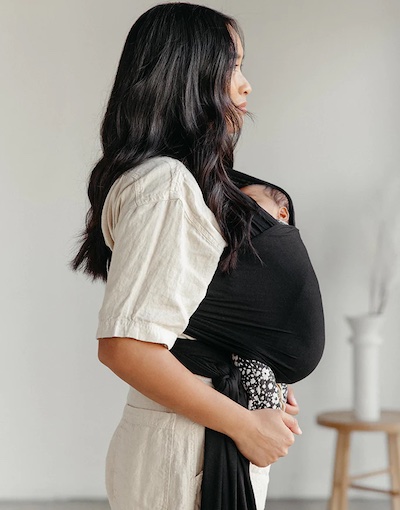 How To Adjust Solly Baby Wraps For Breastfeeding In Cradle Position
Go to the double knot on the side, loosen it a bit to add some slack and tied it up again.
Now you have more loose fabric around you waist, move it forward so the slack is right under baby's legs.
Gently lean forward and pull one shoulder strap a little bit – from front to back. Adjust the other shoulder strap too. Remember to support baby's spine and neck the hold time and do the adjustments slowly.
Now you can gently shift your baby down to your breast to allow them to latch.
Once the baby's done nursing, adjust the wrapping again to bring the baby above your breast (baby's head should be rested against your chest and the airways should be clear at all time).
How To Adjust Solly Wrap After Breastfeeding
Shift the baby up to more upright position so their head is above your boobs.
Pull the should straps gently from back to front to bring the slack forward.
You can lift up the horizontal strap of the Solly baby carrier – it may be especially useful if you're doing this in front of the mirror.
Now pull the X-crossed straps tight (under baby's bum and thighs) and move the excess of fabric from baby's legs to your waist. Pull the middle section (horizontal strap) back down.
Work the slack from your waist through your back all the way to double knot. Tighten it up again and tie snuggly.
Adjust the material around baby's body to make sure they are well covered and supported. (snuggle fit, M-shaped position, bum higher than the knees, supportive fabric spread from the back of one knee to the back of the other knee, and proper neck support).
Check if baby's chin is not squeezed to their chest and their breathing is not restricted.
How Long Can You Wear Baby In Solly Wrap?
You can wear Solly Wrap until your infant is below the maximum weight limit: 25 pounds.
Most mothers use it from birth up to 9 months – with older baby it may start to feel less comfy.
And if you're wondering how long can you wear your child in Solly Wrap at one time, it really depends on how comfortable you and your little one feel. Most parents take breaks even 2-3 hours.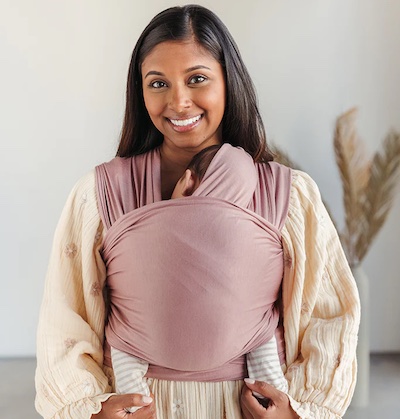 How Do You Breastfeed In A Wrap Carrier?
At first nursing in wrap baby carriers may fell a bit intimidating, as combining these two skills may take a little practice.
Nursing in a wrap can be actually very convenient, because you don't have to take the baby out, you can maintain physical contact (skin-to-skin) and the wrap itself provides extra coverage. If you don't feel secure when nursing in public, you can use the Solly Wrap as a nursing cover to feel more discreet.
The only thing that you need to do in order to be able to breastfeed in a wrap is to learn how to lower the baby to your boob and then re-position them to ergonomic and supportive M-shaped position.
Remember that Solly can be only used in front carry facing inward, it's not designed for hip carry.
For more tips I recommend you to watch Solly Baby video tutorial here and consult their babywearing educator.
PRO TIP: Spit ups will happen and you will need to wash your wrap from time to time. To avoid any snags, holes, shrinking or sagging, make sure to follow manufacturer washing instruction. Don't forget to check out my hacks for washing and drying Solly Baby Wrap.
Woven Wrap vs. Stretchy Wrap – Which One Is Better For Nursing?
In general, stretchy wraps can be easily adjusted, while the woven wraps are more "stiff".
However, getting a wrap that is super elastic and stretchy is not a good idea either, especially if you're a new mother and just starting your baby-wearing journey.
Dealing with a wrap that is excessively stretchy can be really difficult and you may feel like the baby is not supported properly and always too low.
However, breastfeeding in a woven wrap is more difficult than in a stretchy wrap, because it's harder to position the nursing baby in it.
That's why I love Solly Wrap so much, because it has just the right amount of give in it. All thanks to fancy material: Lenzing Modal (which is by the way buttery soft and super breathable – just perfect for summer walks with your infant).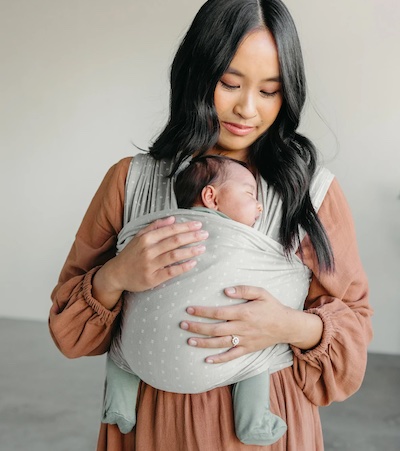 What I also love about Solly stretchy wrap is that is folds down neatly and easily fits in a diaper bag.
As you may already know, with a new baby you will be always carrying A LOT of stuff with you, so it's really handy if the baby carrier is lightweight, portable and doesn't take up a lot of room in your bag when you need a rest from baby-wearing.
What Other Carriers Work Well For Breastfeeding?
There are 3 basic types of baby carriers: wraps, ring slings and soft-structured carriers (also called buckle carriers).
Ring Sling
In general, the easiest and most comfortable baby carrier for nursing is ring sling (my absolute favorite for that is WildBird). Because of the way ring slings are designed: you wear them as a pouch or hammock (with the material going from one shoulder to the opposite hip), this position feels very natural for nursing on the go.
Lots of moms admit that in ring slings it's way easier to find comfortable nursing position than in other carriers.
Wrap Baby Carrier
Wrap is my second favorite baby carrier for breastfeeding when I'm out and about because it doubles as a nursing cover. Nevertheless, wraps are mostly comfortable with infants, for example moms usually use Solly for babies up to 9 months.
Ring sling can be used a bit longer, even with older babies (up to 1.5 year), although when your little one starts to gain weight, baby-wearing with a sling may strain your shoulder too much.
Buckle Carrier
If you're thinking about mixing baby-wearing and nursing older babies, soft-structured carrier is your best bet, because it puts less pressure on your back and shoulders.
This type of carriers has a few buckles that make it easy to lower the baby to latch and then re-adjust them into upright position.
Moreover, lots of soft-structured carriers has neck pillows or even a detachable hood for additional support and discretion during feeding time.
---
You may also want to read:
>> Best Baby Carriers For Newborns
>> Best Baby Carriers For Travel
---
The purpose of this article is informative. It's not a substitute for professional medical advice or medical care. Remember: safety first! Consult your doctor/pediatrician in case of any doubts. The author of this article does not accept any responsibility for any liability, loss or risk, personal or otherwise, incurred as a consequence, directly or indirectly, from any information or advice contained here.
Source of pictures:
Pictures of the wrap belong to Solly Baby Brand.