Are you looking for the best diaper pail to keep the odor at the bay? If you've already narrowed down your choice to Diaper Genie versus Ubbi, you're in the right place. This comparison will help you to decide which pail will work better to keep your nursery smell-free.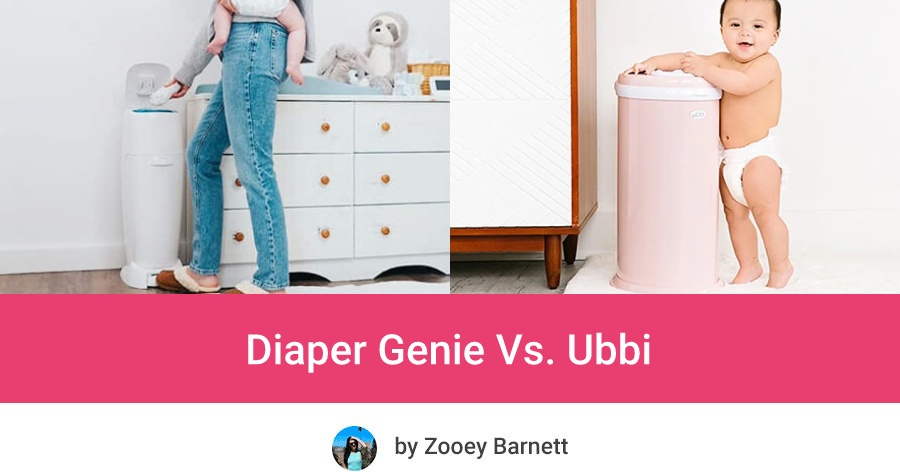 Let's not sugar coat it, diaper changing can be traumatic. New parents might be shocked when they find out just how much of a role poop and diaper disposal plays in their lives, how many diaper changes your baby will go through, and how hard it is to keep the nursery smell-free.
While a good diaper pail is more a luxury than a necessity, don't underestimate how much easier it will make your life. As many moms already know, while you can just throw a dirty diaper in the nearest trash can, this is far from advisable.
You need a safe place to put used diapers, preferably one with an airtight lid which stops the smell from permeating the entire room.
That's why there are special pails invented for this exact purpose. The Playtex Diaper Genie and the Ubbi Diaper Pail, both of which I have used with my children, lead the diaper pail pack and seem to be the most popular diaper pails on the market.
But which of the two is best for your baby? Moms, read on to find out.
This article is NOT a substitute for medical advice. It may contain affiliate links.
Diaper Genie Vs. Ubbi – Main Differences
In the left corner, we have the Ubbi Diaper Pail. In the right corner, we have the Playtex Diaper Genie. Let's see which rules supreme…
Capacity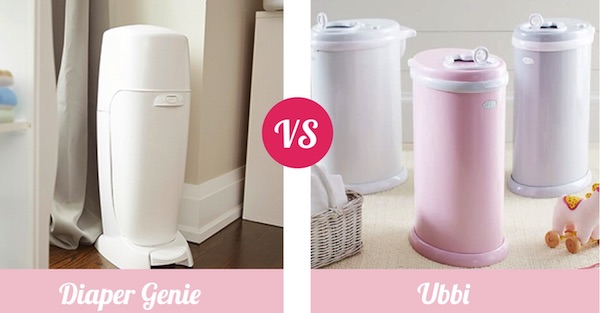 How many diapers can the Diaper Genie hold? While they claim that their refill bags can hold up to 270 diapers, this doesn't mean that the actual bin can take this many used diapers.
The reviews suggest the Genie Complete can hold up around 35 newborn diapers, and this amount will of course be a bit less for an older baby. The Ubbi diaper pail claims to hold 55 newborn diapers, giving them the edge.
It is worth mentioning, though, that if you let any diaper pail fill up that much, it will be impossible to avoid at least some nasty smells in the room. I would suggest emptying your diaper pail long before you get to 50 diapers.
Winner: Ubbi
Material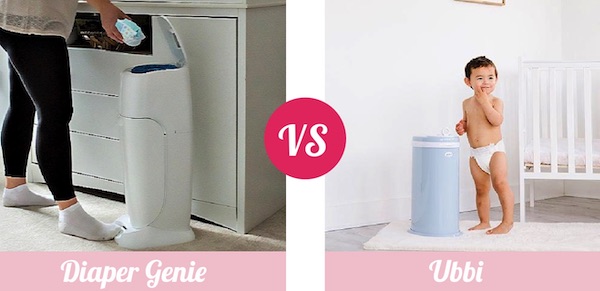 Ubbi is made of sleek steel while Genie is plastic. In general, steel not only makes the pail less flimsy and more robust but also less prone to picking up a yucky odor.
The Ubbi also has rubber seals to make it airtight as an extra measure to control nasty smells. However, the Diaper Genie has a carbon filter in the lid specially designed to minimize odors.
On top of this, most reviews seem to indicate that the special Diaper Genie bags do a great job of keeping smells at bay.
Despite Ubbi's measures for masking unpleasant odors, many reviews say it fails at this task.
I believe both from these reviews and my own experience that the filter that comes with Diaper Genie pails does a better job than the airtight, steel design of Ubbi pails.
Winner: Diaper Genie
Functionality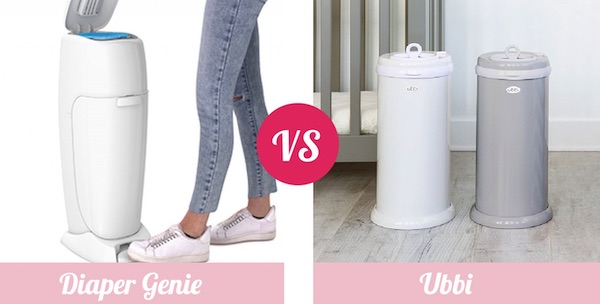 Ubbi has a child safety lock but no foot pedal. Diaper Genie has a foot pedal but no child safety lock.
The child safety lock that comes with the Ubbi diaper pail is a nice touch, as it's great to know your baby is not going to be able to get in there and play with dirty diapers.
That said, the foot pedal that comes standard with Diaper Genie pails is a vital part of its design and one of the reasons it's such a popular product. It makes the diaper pail hands-free and makes using it much easier.
Just imagine, which diaper pail is more convenient for you to use, when you're holding a poopy diaper and have dirty hands: the one that has a foot pedal or the one that requires you to use your hands to open the lid?
Winner: Diaper Genie
Versatility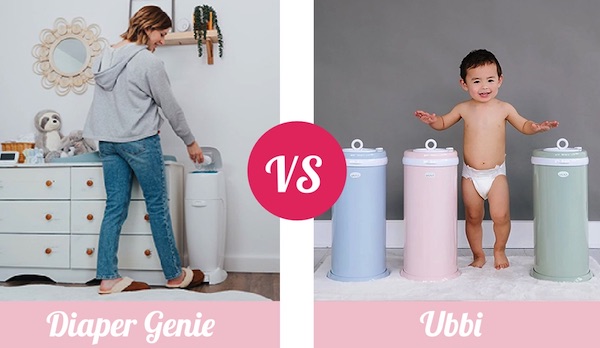 Both the Diaper Genie and the Ubbi can be used with either disposable or cloth diapers.
However, while you can use any bag with the Ubbi, there are special diaper bags you have to buy for the Diaper Genie, and the Diaper Genie refills may start to put pressure on your wallet.
Of course you can go for he cheaper knockoff bags, if you're on tight budget. I recommend these Mama Bear (Amazon brand) alternative refill bags because they fit Genie perfectly.
Winner: Ubbi
Price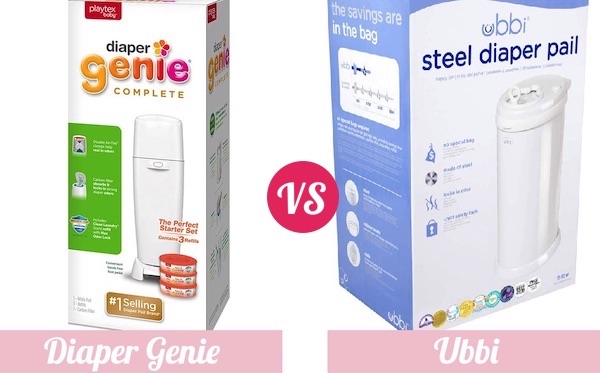 The Playtex Diaper Genie Complete is significantly cheaper than the Ubbi diaper pail (it's usually half the price of Ubbi!).
However, the fact that you can use any trash bags with the Ubbi but need special bags for the Diaper Genie, may even out this difference in price over time. However, for Genie you can find some knockoff refills at more affordable price.
From where we're standing, the Ubbi does seem to be more pricey compared to its rival.
Winner: Diaper Genie
Diaper Genie Review
Complete Or Expressions
We will be looking at the Diaper Genie Complete, not the Diaper Genie Expressions. What's the difference?
The Expressions, which is a bit less costly, is wider than the Complete, holding more diapers, and can be customized to match the colors in your nursery, but in almost every other regard the Complete wins.
Only the Complete comes with a filter to keep out smells plus what the manufacturers call a double Air Tite™ clamp, and only the Complete has a foot pedal, making it a hands-free operation.
The Complete comes with more free bags than the Expressions, and also does a better job of keeping out odors, as you open the foot pedal and then toss your diapers into an antechamber, rather than straight into the pail. The diaper is released into the pail only after you close the lid.
The Playtex Diaper Genie Complete
This Genie is one of the most popular diaper pails available. It is made out of durable plastic and has a special carbon filter to keep out any smells your little one can produce.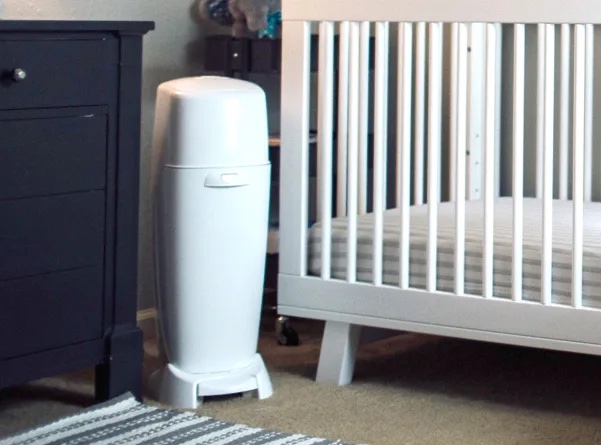 The specific refill bags you buy for it are also great at odor control and keep out the majority of bad smells. That said, a common gripe is that you can only use these special bags, when they run out you will need to buy more at an additional cost, and regular garbage bags are not compatible with the Diaper Genie.
This means more money, but also remembering to stock up on refills. The good news is that you can purchase knockoff refills (like these Mama Bear ones) which also fit Genie and cost less.
This diaper pail can be used with only your foot and also has a special chamber the diaper goes into to save you from odors. While I loved this feature, there are many complaints in reviews of the Diaper Genie saying that it makes you have to "force dirty diapers" through a hole.
Perhaps these reviewers don't realize that these diapers will end up in the pail automatically after you close it.
The Diaper Genie is reasonably priced, although all those branded liners could get expensive in the long run.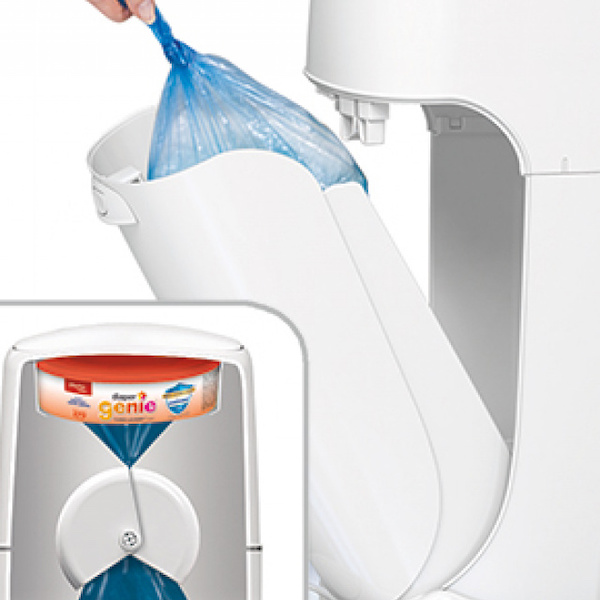 I found that it was easy to use and effectively minimizes those smelly odors, doing in my opinion the best job of keeping odors locked in and stopping the stink from being able to escape.
It's pretty sturdy for a plastic pail but also not too big and clumsy. It's compact and lightweight enough to make itself at home next to our changing table.
The Genie has quite a few features focussing on hygiene, with both refill bag and pail including antimicrobial stuff that stops germs and bad bacteria from moving in.
The verdict?
All in all, it's a well-designed, fairly cost-effective way of keeping life clean and the smell at bay.
PRO TIP: Some people on the internet say that as a hack you can indeed use a normal trash bag with the Genie, but lose many of its odor control benefits in the process. I haven't tried this. Instead, I tried cheaper alternative bags – like these ones from Mama Bear Amazon brand – they fit Genie and lock the odor in really well.
Ubbi Diaper Pail Review
The Ubbi is a sturdy, durable diaper pail and one of the most popular pails on the market. It makes diaper disposal significantly easier than if you were just using standard kitchen trash bags and a regular trash can to dispose of the yucky stuff.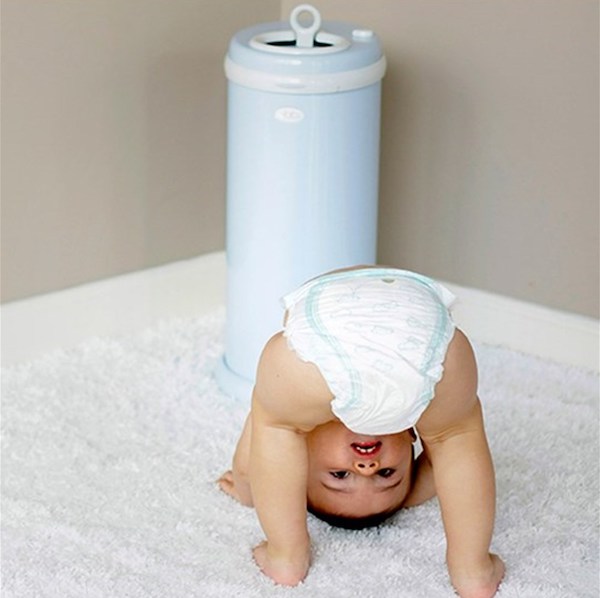 It can be used with regular trash bags and you don't have to purchase specific refill bags.
There are also branded refill bags available, and recyclable ones are available for those worried about the impact of plastic bags on the environment (although if you're truly worried about the earth disposable diapers are not ideal and cloth nappies are your best bet).
The Ubbi uses a sliding door mechanism, you need to slide the lid opening at the top to insert soiled diapers. The sliding door requires some bending, and a significant amount of the stench does escape when you open it and drop a full diaper in there.
It's also a bit of a challenge removing dirty bags from the Ubbi, and I struggled to get the bag out the first couple of times and managed to break the liner.
The lid has a handy childproof lock, keeping your baby or the family pet from getting in. The design is airtight, which is great for the odor but does mean you need to keep the inside completely dry if you want to avoid mold.
The Ubbi pail is made from powder-coated steel whereas most competitors use plastic. Its steel construction has its benefits, as it's less likely to start smelling than a plastic pail, but it also has downsides.
For example, if you clean it with water the moisture trapped inside could cause it to gather mold and bacteria, and the stainless steel could also eventually rust. Ubbi specifies that you should only use a dry cloth to clean the inside of the bin.

The Ubbi pail is one of the most expensive pails out there, but without the need for special refills, you may save money in the long run (don't quote me on this, my math is terrible).
How many diapers can it hold? A very respectable 55 newborn diapers.
The verdict?
It's expensive and it isn't perfect, but the Ubbi has many features that make it a popular diaper pail and one of the best on the market.
Ubbi vs Diaper Genie – Which Diaper Pail Should I Buy
The Genie comes out on top in our comparison. It's better at controlling the smell, thereby allowing you to keep the nursery odor-free.
It has the edge when it comes to stopping your home from smelling and controlling bacteria. While I prefer the way the Ubbi looks, it loses out to the Genie in most other categories.
Ubbi & Genie Diaper Pails – FAQ
How does the Ubbi eliminate odors?
By using odor-blocking steel and airtight rubber seals.
How does the Genie eliminate odors?
With a carbon filter and what they call a double airtight clamp, and with very heavy-duty refill bags.
Which is cheaper, the Ubbi or the Genie?
While the Genie is significantly cheaper, this may work out differently over time due to the special bags you need for it.
Is Diaper Genie Worth It?
Unless the idea of frequent trips to the outside bin and the thought of disposing of diapers as often as you can appeals to you, a good diaper pail is worth it, and the Genie Complete seems to be the best option on the market.
It makes disposing of dirty diapers a hands-free operation, has a high emphasis on hygiene and does the best job of keeping bad smells sealed in and that unwanted odor from your nursery.
If you're on small budget, you may want to check out my list of the best cheap Diaper Genie alternatives.
Is Ubbi Diaper Pail Worth It?
While the Genie comes out on top in our Ubbi vs Diaper Genie comparison, this does not mean the Ubbi is not a decent product.
The childproof lock, stainless steel construction, as well as the fact that you can use a regular garbage bag with it, make it an attractive product. Its biggest shortcoming is it requires you to use your hands when depositing diapers.
What Is Better Than Diaper Genie?
Reading our Ubbi vs Diaper Genie comparison, you might think these are the only two options available, but there are plenty of other diaper pail brands on the block, and most diaper pails do a decent job of making life less smelly, as opposed to if you use a regular bin with regular bags.
Dekor Classic
Pretty similar to the Genie, both price-wise and in terms of the hands-free functionality.
Diaper Champ Deluxe
The Diaper Champ takes any bag, not just expensive branded refills, and reviews say it's pretty effective at keeping smells out of your nursery.
Munchkin Pail
Almost as pricey as the Ubbi, the Munchkin boasts a seriously sleek design and was awarded the 2020 Best Overall Diaper Pail honor by the Good Housekeeping Institute. Munchkin says they'll plant a tree for every diaper pail sold, which is a nice touch.
>> Munchkin vs. Diaper Genie – Comparison Of Diaper Pails
Angelcare Diaper Pail
Not too cheap considering it's made from plastic, the Angelcare diaper pail is nonetheless a popular diaper pail, with many a mama reporting that it's pretty good at keeping your nursery smelling ok.
Why Does Ubbi Diaper Pail Smell?
Like all diaper pails, if you let the poop pile up and leave the bag in there too long there will be a smell in the room. Ubbi has an airtight design that should save you from smells most of the time, but when you open it the smell of previous diapers will get out.
The Ubbi isn't perfect when it comes to odor control, and I think the Genie is better. Perhaps disappointment at the Ubbi is caused by its premium price, and the real question is: Why does the Ubbi smell if it's so expensive?
Can You Use Diaper Genie Bags With Ubbi?
In the words of Barack Obama, yes you can!
Is Diaper Genie Necessary?
Poop happens, and products like the Genie can make it more manageable. Owning a good diaper pail means spending less time taking dirty diapers to the outside trash, trying to mask odors with incense, sprays, or baking soda, and the ability to keep dirty diapers in a bag inside for a reasonable amount of time without nasty smells.
There is, of course, no way of stopping the smell from entering the room when you open the pail to put a new one in, and no way of stopping smells from building up in your baby's room if you don't empty your pail for long periods. A bag full of diapers could make your entire house smell.
Those using cloth diapers may find that a diaper pail is not ideal, as you will still find yourself having to take those stinky diapers out of the pail and wash them. Reusable liners are one way to help make using cloth diapers a better experience.
The reality is that there is no product you can buy that can completely protect you from the smell of a soiled diaper. There is no perfect diaper pail.
I believe Diaper Genie Complete is the best diaper pail, but all it can do at the end of the day is make life a little less poopy for parents. I would say that's an important service to provide.
However, many parents have survived just fine without diaper pails, using standard trash bags. Regular kitchen trash bags are fine as long as you take each bag to your outside garbage as soon as you can.
---
The purpose of this article is informative. It's not a substitute for professional medical advice or medical care. Remember: safety first! Consult your doctor/pediatrician in case of any doubts. The author of this article does not accept any responsibility for any liability, loss or risk, personal or otherwise, incurred as a consequence, directly or indirectly, from any information or advice contained here.
Your trust is really important to me: This article includes affiliate links to products that I think are useful for our readers. If you make a purchase through these links, I may earn a small commission at no extra cost to you. Your support helps me run this blog – thank you!
Source of pictures:
Pictures of Diaper Genie belong to Playtex brand.
Pictures of Ubbi belong to Ubbi brand.