The meaning of Christmas may change as we get older, but to kids it will always be one of their most awaited time of the year. With all the Xmas tree, presents, all those colorful lights, yummy cookies, Christmas smells and positive energy in the atmosphere, the holiday season is indeed the most magical time.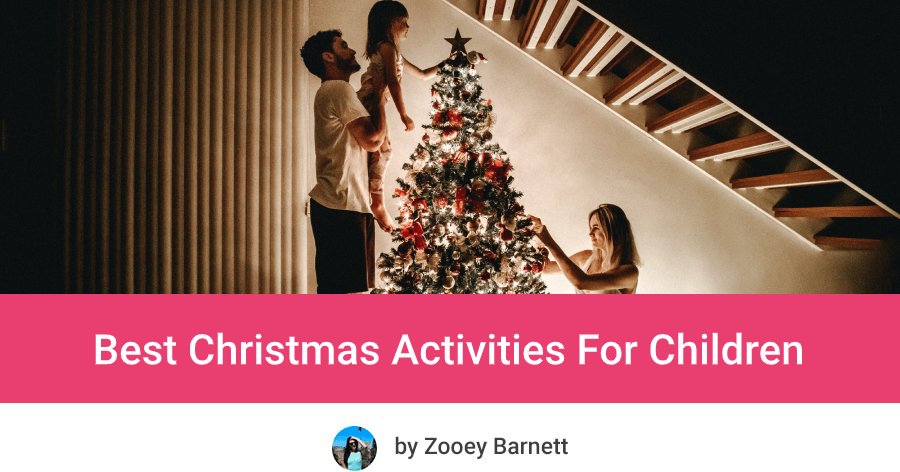 This article is NOT a substitute for medical advice.
This festive spirit is best enjoyed when spent with family. The warmth and joy of Christmas make the bond between parents and children even stronger – much more if the whole family can engage in funny activities that will get them closer to each other. But what are the best activities for babies and parents to get into the festive spirit this Christmas season?
Christmas Activities For Children & Parents
In case you're running out of ideas, I came up with this list of super fun Christmas activities for babies and kids, and their parents. My kids and I have been having so much fun doing all these things last and this year, and I hope to share the joy with you and your family. May we all have a happy and merry Christmas!
1. Making Baby's First Christmas Ornament
Why spend so much money on buying ornaments when you can make personalized ones? You and your kids can try making Christmas ornaments together by using hand or footprints. You can also try putting their names on the ornaments too. This will be a perfect keepsake! Not only that the kids will enjoy leaving their marks, but they can also develop their fine motor skills and creativity.
And as the kids get older you can make together ornaments for your Christmas tree (like paper chains) or create some decoration for your windows.
PRO TIP: On LittleBabyGear Pinterest you can find many ideas for baby's handprint and footprint Christmas ornaments + awesome Xmas crafts! Check all ideas here 👈
2. Getting Baby's Christmas Outfit For Their First Christmas Morning
Ahh, there's nothing cuter and heart-melting than seeing our babies dressed in Christmas outfits! It's just too difficult to resist them! And they also get to enjoy their adorable Xmas clothes. Allowing kids to wear Christmas outfits makes them more familiar with the traditions that we do – and feel how special this time really is.
As they grow older, you may also give your kids the chance to choose their preferred Christmas outfits. The excitement it gives to them is priceless! And don't forget your costume as parents too.
3. Christmas-Themed Pictures To Celebrate Baby's First Christmas
Is it the first time for your baby to celebrate Christmas? Then make sure to take numerous Christmas-themed pictures! It's a great excuse to channel your creative thinking skills, as well as perk up the mood for the holiday season.
4. Choosing A Christmas Tree Together
Sometimes, it's good to listen to our kids from time to time. In case you haven't set up your Christmas tree yet, then bring your kiddos along when you are buying one. It's really fun to allow them to choose and see how they defend their choices. This does not only make them more involved in family decisions but also encourage them to speak up their minds.
5. Christmas Lights Tour In Your Neighborhood
In case the kids are too bored to stay at home and you are also too exhausted to bring them somewhere far, then you might as well take a walk around the neighborhood and allow your kids to appreciate the Christmas lights that each family has set up.
This will give them a broader perspective of how creative other people can be. Most importantly, all of you will get into the festive spirit.
6. Reading Christmas Stories Together By The Christmas Tree
Aside from bedtime, the holiday season is also the best time to teach stories of hope, love, and happiness. Enrich your storytelling activities by bringing together the family around the Christmas tree and allowing your kids to learn the best Christmas stories of all time.
The kids can also be given the chance to share their Christmas story. This can be a wonderful tradition that can be practiced by the family each year.
7. Letting The Kids Choose A Gift For Siblings Or Cousins
As young as they are, it's great to instill the values of gift-giving to kids, to teach them teaching empathy and generosity. Allow them to be thoughtful and put themselves in the shoes of others. Let them choose gifts for their siblings or cousins. This is also a good time to listen to how your kids reason out and prove their point. Believe me, you will be amazed by their choices.
8. An Ugly Sweater Competition
Unleash the family members' creativity by allowing them to decorate their sweaters for Christmas. But this time, emphasize that the uglier the sweater is, the more chances of them winning this family contest.
9. Christmas Family Photoshoot
Maybe it's about time to ditch those overly formal family portraits. If your family is very much prepared for the holiday season, why not initiate a photoshoot? Take your usual Christmas celebration to a whole new level by doing a photoshoot! You can also make use of your photos as greeting cards to send to your friends and loved ones!
10. Getting Matching Pajamas
Okay, let's admit that not everyone loves dressing up for Christmas. Instead, why not get matching pajamas and spend this special season by watching a movie together and sharing a hot chocolate or eating the family's favorite dessert? This way, the kids will also learn that Christmas is not always about glamorous and lavish celebrations.
11. Making Gingerbread Play Dough
Who does not love gingerbread? Kids totally love them! So why not make gingerbread play dough together? Not only that this helps them develop their creativity, but this also allows them to practice their fine motor skills!
12. Writing A Letter To Santa
At an early age, it's good to nurture the kid's writing abilities. Why not practice them by allowing them to write a letter to Santa? This will also give you an idea of what your kids would want to receive for Christmas – if you are not certain what to gift them with.
If you have a toddler or preschooler who cannot write yet, they can dictate you and you will write that down. Maybe your little one will draw a picture for Santa?
13. Christmas Coloring
Guide your little artist and do Christmas coloring together! Learning how to color within lines will truly help your kids develop their fine motor skills, hand strength, pencil grip, and focus. Most importantly, this will encourage self-expression and creativity.
14. Building A Snowman
Outdoor winter play is such an exciting concept for kids (and adults too!). So why not level up your Christmas activities and build a snowman together? This will provide everyone the chance to freely and creatively express themselves. This will totally enhance your kid's creativity and imagination!
15. Christmas Countdown Chain
Remember when you were doing this as a kid? Exciting, right? Why not share the fun with your kids now? Not only that this will make the kids feel more excited about Christmas, but this also improves their readiness for math concepts that they will learn in the future – without forcing them to do calculations. Superbly fun and educational!
16. Shape Scavenger Hunt
Learning about shapes will help your kids identify and organize visual information. Make learning more fun by doing a scavenger hunt! Simply draw the shape on a piece of paper and then have your kids go around the house and look for Christmas items that resemble the shape!
Of course, the adults can join too – just make it more challenging for them.
17. Baking Christmas Cookies Together
Have a picky eater at home? Well, this Christmas, maybe it's time to teach them about nutrition and engage them more in kitchen duties. Allow your kids to help in preparing the food for Christmas or baking simple cookies. Not only that they get to be creative with their designs, but they will also learn to appreciate the people who prepare their food.
18. Preparing Christmas Cards For Your Family
Allow your kids to be open with their feelings and express them to the people that they truly care about. This can be done by encouraging them to join in preparing the Christmas cards for the family.
19. Making A Holiday Greeting Video For Your Family and Friends
Why not create a super fun holiday greeting video to send to your family and friends? You don't only get to enjoy each other's company while practicing your lines and skits, you can also teach your kids the concept of good content: the ones that do not create hate and fear to other people, but only bring fun and good vibes.
20. A Game Night
If you're planning a super fun night to spend with your family, then try turning your Christmas into a game night! You can play charades, message relay, and many other games that will spice up your usual holiday celebration. It's great way to encourage children to be creative, expand their vocabulary and develop their imagination.
21. Sleigh Ride
Instead of lamenting about the weather, why not enjoy the Christmas season? Bring out the kids and go on a sleigh ride! Allow them to practice their motor skills and make the most of the snow.
Don't forget to take numerous pictures!
22. Making Reindeer Treats
As kids are naturally drawn to animals, why not make reindeer treats this Christmas? This will make them love Rudolph and his friends and you can also share with your kids some snippets of how important it is to take good care of all living creatures around them.
23. Decorating Gift Tags
Gifts that are personally designed and customized are truly heart-melting. Allow your kids to help you design and decorate those gift tags. Unleash their creativity by allowing them to add their personal touch to the gifts that you will be giving.
24. Christmas Paper Crafts
If your kids are into arts and crafts, join the fun and do Christmas Paper Crafts together! You can encourage your kids to make paper snowflakes, or homemade advent calendars (and fill them with more healthy stuff than candies). This will not only develop their creativity but also their ingenuity to create something special and beautiful with the materials made available to them.
25. Helping Others
Most importantly, it's best to teach kids the true value of Christmas this holiday season: giving to others. Provide them the opportunity to donate their toys and clothes to charity, give their blankets to an animal shelter, or spare their favorite food (or canned goods) to others.
As parents, we have to make sure that the process of giving becomes a natural part of the kids' lives – this way they will learn that there is happiness in being generous to others.

Christmas always becomes more special when spent with family. Therefore, make sure to initiate activities that both kids and adults will look forward to doing. Be generous with your time and be patient when doing these activities with your baby. Remember that sometimes, it's not about the gifts that they receive, but the amount of love that they feel.
Make it a Christmas to remember. Start planning how you will go about your Christmas now. Don't forget to involve the kids in the planning – you'll be amazed by their ideas. Enjoy!