"Light, portable and so well equipped". "Small, but comfortable for the baby, with a spacious storage basket for parents". "Durable, good-quality and costs less than $100!". This is how thousands of parents describe Summer Infant 3Dlite Convenience Stroller. Is this stroller really so awesome?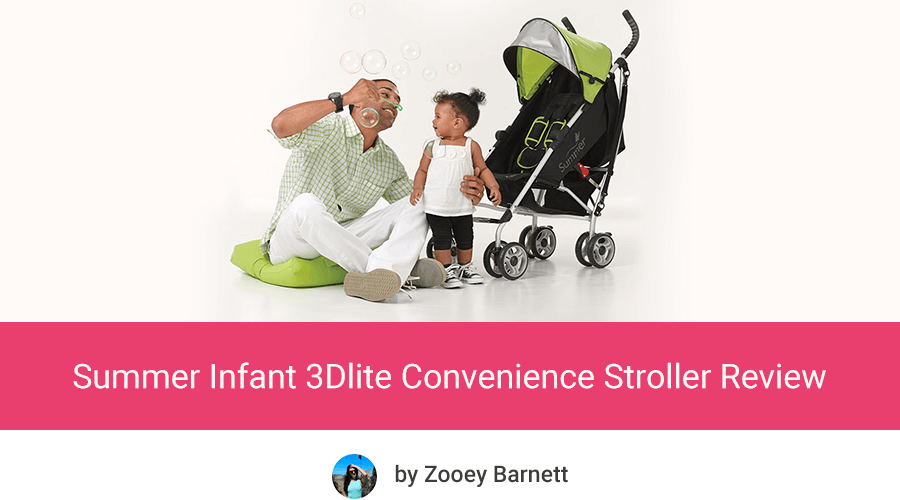 This model has been a best-selling lightweight stroller for a very long time and that's not a surprise when we consider how cheap it is!
Lots of parents have fallen in love with Summer Infant 3Dlite Convenience Stroller and you can find thousands of positive reviews of this stroller all over the Internet.
But can you really trust these opinions? I decided to find out on my own, because I wanted to be sure whether this cheap stroller is not poorly made or whether it won't pose a health risk to my children.
And if you're here you're probably wondering what is so special about this lightweight stroller and if it's really worth buying as well. Read my honest review and find out if 3DLite Convenience Stroller is reliable, well-made and safe for your baby.
Stroller
Info
Verdict

Summer Infant 3Dlite Convenience Stroller

Type: Lightweight Stroller

Weight: 13 lbs

Capacity: 50 lbs
LittleBabyGear Verdict:



Works great as a travel stroller or city stroller for running quick errands, going to the mall or grocery stores
Summer Infant 3DLite Convenience Stroller Review – Features
Let's see what this cheap stroller can offer you and your baby.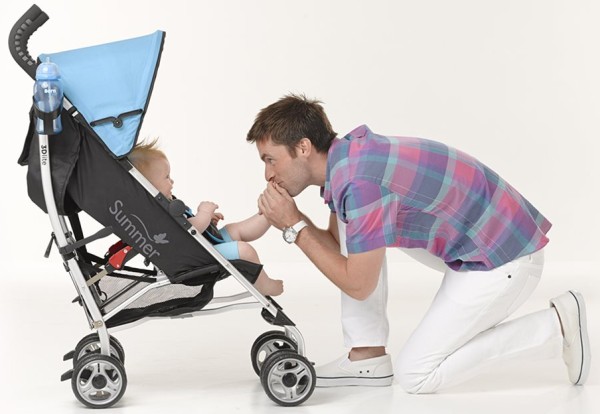 Seat
This stroller has a standard seat suitable for infant who can sit upright unassisted. The weight capacity is 50 lbs and the seat can comfortably accommodate a passenger up to 43" tall.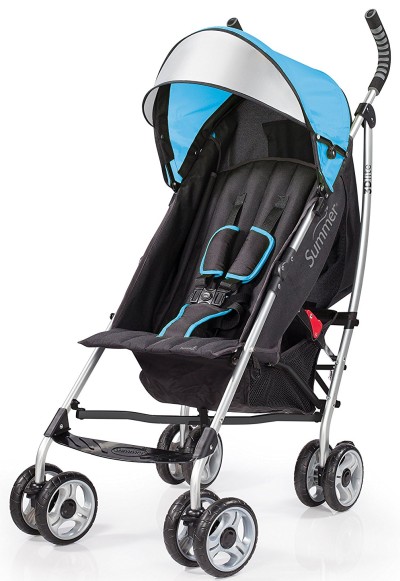 I would say this stroller is most comfortable for a child up to 2.5 – 3 years. The backrest is quite short (18″) so if the child has longer torso his head won't be supported. But it's not the biggest problem.
The worst thing about the seat is that it's rather shallow and the footrest is awkwardly close to the seat so taller/older child cannot comfortably rest his feet on it and usually let his legs dangle. It's really not good, because it's not comfy for the baby and not safe since his feet can even touch the wheels.
I don't recommend this stroller for kids over 3 years old or taller toddlers, unless it's just a quick ride and your kid doesn't need the head support (there are 28″ from the bottom of the seat to the top of the canopy so older and taller children will fit, but the backrest will only support them up to shoulder blades and they will have to keep their legs in uncomfortable position).
The seat has 4 reclining positions: 25, 45, 55 and 60 degrees from vertical. As you can see the lowest position is not fully flat that's why I don't think it's suitable for newborn baby. Only the flat position provides proper support for newborn spine. Besides, the backrest is quite soft, not supportive enough for newborns. Therefore I think this seat is suitable only for infants who have developed head and neck control.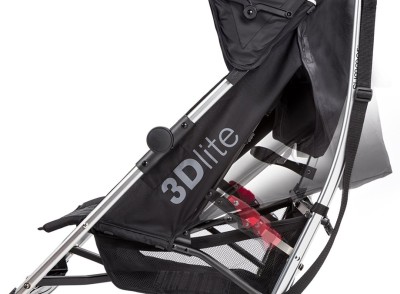 The most upright position is not very straight (25 degrees from vertical) which is a big disappointment for me. If you have a curious toddler who likes to sit upright and watch surrounding like my boys, this seat won't be comfortable for him.
To recline the seat you will need to use two hands (you need to squeeze two handles behind the seat back). There is vented top (but without the mesh) with a fabric cover for colder days.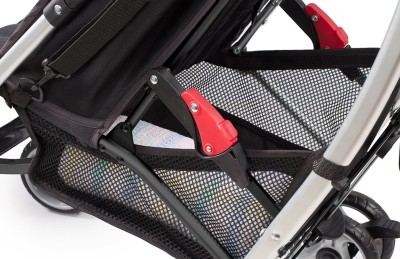 The seat is equipped with adjustable 5-point harness. I like that the shoulder straps have padded covers and the crotch strap is padded as well.
There is no leg rest, but the stroller has a small footrest (non-adjustable).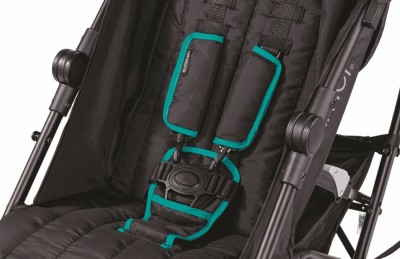 Keep in mind that Summer Infant 3DLite Convenience Stroller cannot be used as a travel system, as it is not compatible with any infant car seat.
Canopy
This lightweight stroller has 1-panel canopy with flip out sun visor that protects baby's head from UVA and UVB rays. This canopy is not very big and doesn't go down very far, so it doesn't provide enough shade, especially for a smaller baby.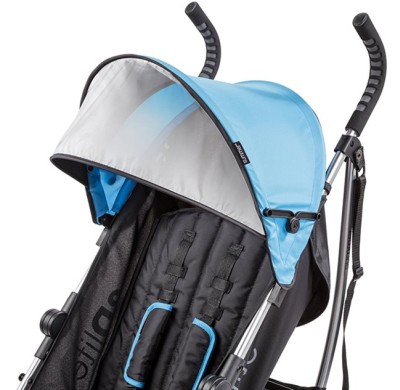 It's bigger than the canopy on original GB Pockit, but it's definitely smaller than the sunshade on Mountain Buggy Nano, BABYZEN YOYO+ or Baby Jogger City Tour.
Handles
This stroller has two separate handles with foam padding. The height of handles is not adjustable, it's just 42″ from the ground which is most comfortable for average and tall parents (from 5'5″ to 6'3″). Tall parents don't kick the back of the stroller and don't have to hunch over it.
Few shorter parents (about 5'1″) complain a bit about the handles, but majority of them say they are fine.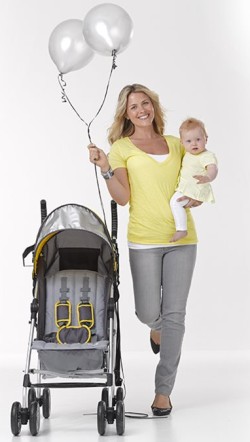 I definitely prefer strollers with single handlebar, but these handles are convenient as well.
The is however one thing that I don't like about these handles. I'm not a fan of the foam covers – they are very fragile and easy to rip off.
Wheels & Suspension
Summer Infant 3DLite Convenience Stroller has 4 dual wheel. They are small (6″) and made of EVA foam, so they are not suitable for off-road cruising or actually any type of uneven terrain.
They work best on flat and hard surfaces like sidewalks, pavement or bricks, but they stroller will jiggle on bumps or even shift to the side. They may also get stuck on the grass or gravel.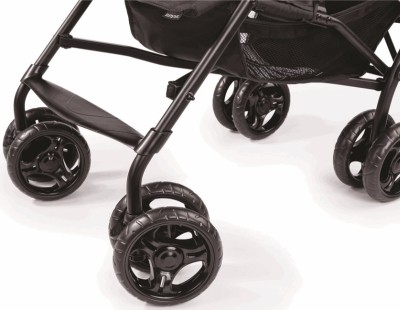 Front wheels swivel a full 360 degree, but you can also lock them when going over slightly harsher terrain. There is also anti-shock suspension built in the front wheels which cushions the ride a little bit, but don't expect ultra-smooth ride with this stroller.
I would recommend this stroller for quick trips to the mall or grocery stores and running errands, but definitely not for longer adventures.
Brakes
There are two pedals, one for each rear wheel. You need to lock the wheels separately, which is kind of annoying, but you can get used to it.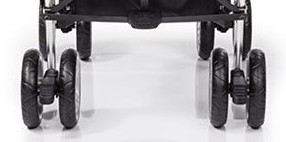 The pedals are rather stiff and hard, so releasing the brakes may be less convenient in sandals.
Storage Basket
As for such a lightweight stroller it has quite a big storage basket which is placed below and behind the seat. It can easily accommodate a medium-sized diaper bag.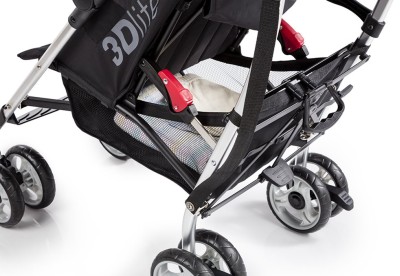 The access to the bin is fairly easy from the back, but only when the backrest is at the highest position. When the seat is reclined the access is completely blocked. It's a bummer that I have to raise the backrest to take something out of the basket, it would definitely wake my baby.
There is however additional storage pocket so parents could keep their essentials at hand. It is placed on the cover for the vented seat top. It's big enough to hold a wallet, cell phone, keys or even some snacks.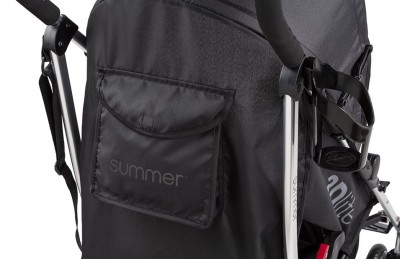 Another advantage is the included cup holder which you can remove and attach anywhere on the frame – for your bottle of water or your baby's sippy cup.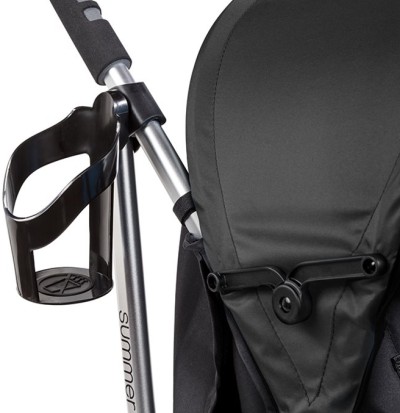 Size, Weight & Fold
This stroller is not very big, so it's quite easy to maneuver through crowds, tight corners and narrow places. Moreover it weighs only about 13 lbs so it's very easy to lift to the car trunk or carry up and down the stairs.
Summer Infant 3DLite Convenience Stroller features quite compact fold. It's not as small as GB Pockit or Mountain Buggy Nano (it's not a square package, it folds in umbrella style) and cannot be taken as carry-on on the airplane. But at least it doesn't take up much space in the car trunk or at home. Its folded dimensions are: 42″ L x 10.25″ W x 9″ H so it's really easy to store.

Folding takes three steps: you need to lift the rear handle, then push the liver with your foot and collapse the stroller. According to parents it's fairly easy, but sometimes you need several attempts to do it correctly. I think it's also a matter of practice.
There is an automatic lock and a carry strap so you can conveniently carry the stroller on your shoulder. It's very useful when your toddler want to walks and only sometimes needs a break. When the stroller is not in use, you can carry it effortlessly. This compact fold and carry strap are also handy for parents who often use public transportation.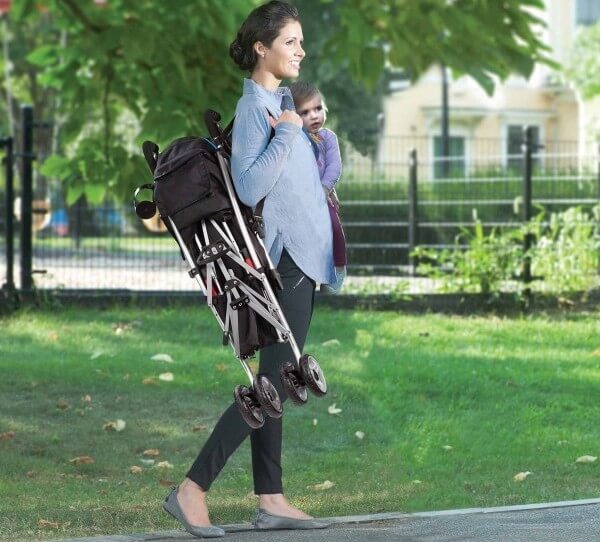 Quality
Let's be honest. This is a cheap stroller so you cannot expect top-quality, but it doesn't mean it is poorly-made either. I would say the overall quality is decent and the stroller gets the job done.
If I were using it occasionally, for quick shopping or during the travels, I think it would serve us even for few years (and kids). But if I were using it as an everyday stroller (which would be very uncomfortable for me and the baby), it wouldn't last very long.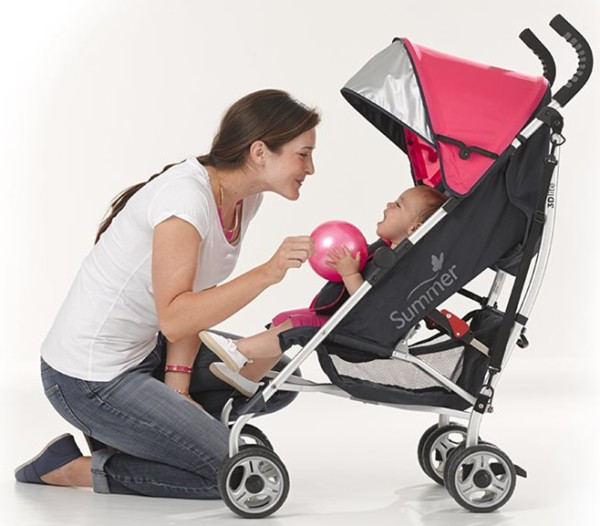 Pros & Cons
To summarize my Summer Infant 3Dlite Convenience Stroller review I put all of the advantages and disadvantages in the table. Keep in mind this is only my opinion 🙂
Pros
Cons

Pros

---

+ Deep recline

+ Good maneuverability through narrow and crowded places (only on flat terrain)

+ Included removable cup holder

+ Useful pocket on the back of the stroller

+ Padded harness

+ Compact fold

+ Very lightweight and portable – you can carry it on a shoulder effortlessly

+ Good quality

+ Pocket-friendly price

Cons

---

- Works poorly on uneven terrain

- Reclining requires using two hands

- Canopy doesn't give much shade from the sun and lacks peek-a-boo window

- Reclined seat blocks the access to the storage basket

- Less comfortable for kids over 3 years and tall toddlers
What other parents think about Summer Infant 3Dlite Convenience Stroller?
This stroller has been a best-seller and has over 2000 customer reviews on Amazon. Yes, that's right. OVER TWO THOUSANDS! It's incredible.
Below you can find my quick summary based on the things that parents mention most often. What they love about this stroller and what are the drawbacks?
The biggest advantage of 3DLite Convenience Stroller according to hundreds of parents is the amazing, lightweight design. The stroller is very easy to carry around and doesn't take up a lot of space when it's folded. According to some parents folding is super easy, while others say it takes some practice.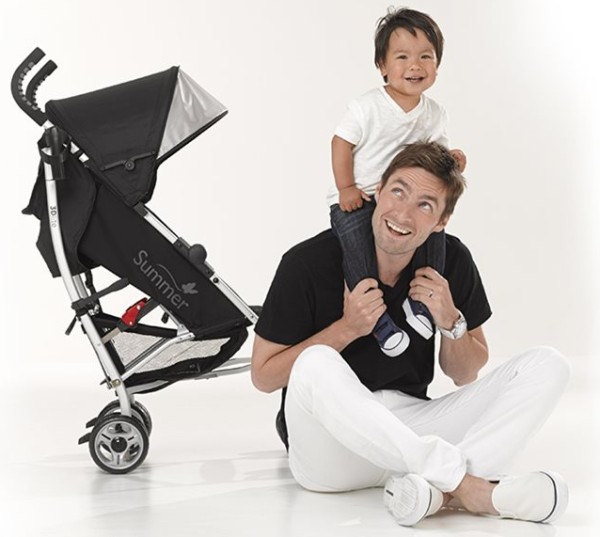 Another features that parents love are: tall handles – perfect for average and tall parents, but also quite convenient for shorter people; deep recline (you can use it for changing a diaper), convenient storage pocket on the back of the stroller and included cup holder that can be attached to the frame higher or lower (for parents or baby). Pushing and steering is more comfortable and easy with two hands.
According to many customers this is a great lightweight stroller for travel and perfect for short walks. Many parent use it for trips to the amusement parks.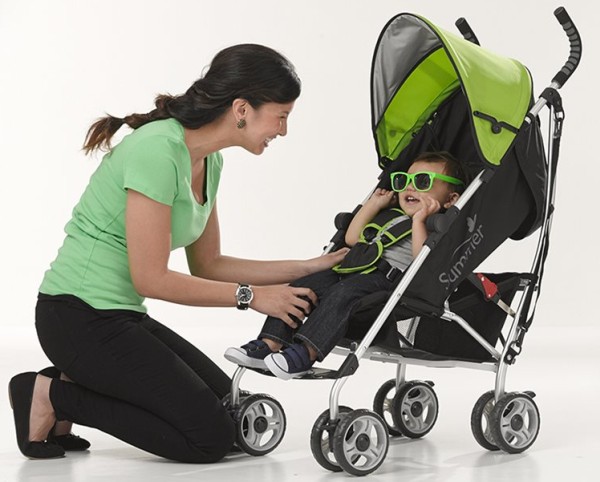 As disadvantage parents mention: small sunshade doesn't really cover the baby, the basket is hard to access when the seat is reclined and the wheels are wobbly on uneven terrain. Moreover the seat is less comfortable for taller and older children, as the backrest is short (no head support for taller baby) and the footrest is very close to the seat.
All in all, most of the parents recommend this stroller, especially for occasionally use: on holidays or trips to Disneyland, running errands etc. Dozens of customers emphasize that's it is a good quality for extremely low price.
Specification
| Stroller | Data |
| --- | --- |
| Stroller Type | Lightweight |
| Stroller Weight | 13 lbs |
| Weight Limit | 50 lbs |
| Stroller Dimensions | 27" x 18" x 42" |
| Fold Dimensions | 42" x 10.25" x 9" |
| Handlebar Height | 42" |
| Wheel Size | 6" |
Colors
Summer Infant 3DLite Convenience Stroller comes in nine color versions, but keep in mind that the only thing that changes is the color of the canopy and border on harness' covers. The whole seat is black in every color version.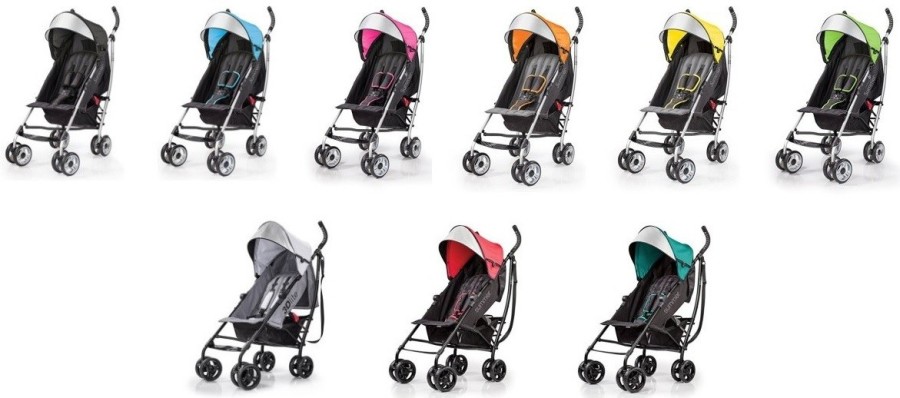 Accessories For Summer Infant 3DLite Convenience Stroller
Good thing about this stroller is that it comes with a cup holder which you can use for your beverage or your baby's bottle.
There are at least two additional accessories that you can buy separately to make Summer Infant 3DLite Convenience Stroller more comfortable for the baby.
Image
Description
Summer Infant Snuzzler

– This pillow provides great head and body support. It's a perfect addition for the fully reclined seat and allow to use this stroller for smaller baby. It can be adjusted as the baby grows.

Summer Infant 3Dlite Stroller + Rayshade Cover

– This cover easily attaches to the stroller and provides additional shade from the sun. It's really great accessory, since the canopy on the 3DLite Convenience Stroller is not very big. With this extended cover your child will be protected from harmful sun rays much better. And since the fabric is water-repellent it will also keep your baby dry during the rain.
Summer Infant Convenience Strollers Comparison
There are few great lightweight strollers from Summer Infant. Although they all are quite similar, they have few different features and, what's the most important, different purpose.
Below you can find my comparison of Summer Infant lightweight strollers: 3Dlite vs 3Dflip vs 3Dtote vs 3D-one Convenience Strollers. These are the main difference between those models.
| | 3Dlite | 3Dflip | 3Dtote | 3D-one |
| --- | --- | --- | --- | --- |
| Stroller | | | | |
| Weight | 13 lbs | 17 lbs | 17 lbs | 16 lbs |
| Reversible Seat | No | Yes | No | No |
| Backrest Positions | 4 | 3 | 3 | 3 |
| Recline | Two-hand | One-hand | One-hand | One-hand |
| Canopy | Tiny, 1-panel canopy with pop out sun visor, no peek-a-boo window | 2-panel floating canopy (full coverage) with mesh peek-a-boo window | Decent 2-panel canopy with pop-out sun visor and mesh peek-a-boo window | Large 3-panel canopy with mesh peek-a-boo window |
| Storage Space | Decent storage basket + pocket on the back of the stroller | Small storage basket + 2 small side pockets | Large, expandable storage basket + side pockets + canopy pocket | Decent storage basket + 3 pockets |
| Additional Features | - | Premium fabrics; infant head support | Diaper bag hooks + toy hooks | Standing fold, adjustable calf rest |
| Best Application | Running quick errands, occasional usage (e.g. during travels) | Longer walks; suitable for smaller infants | Everyday use (especially shopping) | Everyday use |
Keep in mind
If you want to use it for taller or older child, I recommend it only for short walks, as the seat is less comfy for bigger kids. They will fit under the canopy, but they won't be able to keep their feet on the footrest and they would drag them on the ground. Moreover, it's not suitable for uneven terrain, it will bounce and wobble on bumps.
3 Reasons Why You Will Love This Lightweight Stroller
1. This is a good-quality stroller for very low price. Perfect choice for parents on a small budget.
2. It works great as a stroller for travel and quick strolls around the city.
3. It's long but quite flat when folded, so it's easy to store at home or in a car, even if you don't have a lot of free space.
If this stroller doesn't have features that you need, I invite you to read my other reviews of great, compact strollers. Here is my ranking of best-quality lightweight strollers in 2021.
---
All pictures belong to Summer Infant. Source: https://summerinfant.com