Lightweight travel system, with ultra-safe car seat, that won't cost you an arm and a leg? Yes, it does exists! Chico Viaro Travel System comes with light and portable stroller and one of the best infant car seats in the US.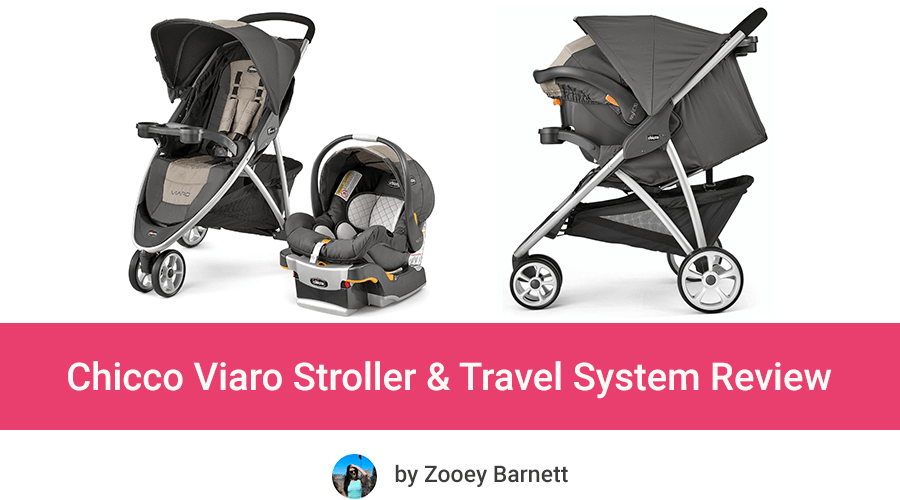 Chicco Viaro Travel System includes KeyFit 30 – infant car seat beloved and highly rated by thousands of parents. It has awesome safety features, perfectly clicks into the base and the stroller and snuggles the baby securely. The stroller itself can be used for an infant who can sit unassisted and it works perfectly for strolling around the city, at the mall and other flat surfaces.
It's a great choice for parents who want to have only one stroller with matching infant car seat for the first few months. This can be your primary and only stroller you will ever need!
Both pieces of Chicco Viaro Travel System are fairly lightweight and easy to carry. What's also very important, it doesn't cost a fortune!
Chicco Viaro Travel System Review – Features
I really like baby gear from Chicco as they make really good-quality products that are not overpriced. Chicco Viaro Travel System is an example of that.
It can be a great, more pocket-friendly alternative for Chicco Bravo Trio Travel System.
Are you curious what features it has and if it's convenient to use? Here are my thoughts on Chicco Viaro Travel System.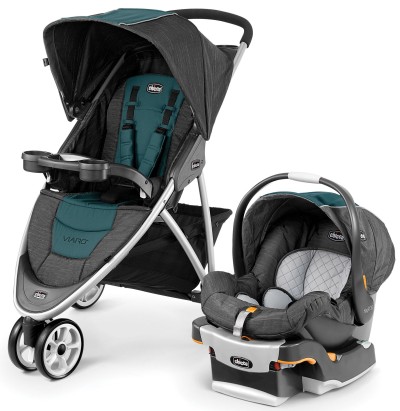 Infant Car Seat (KeyFit 30)
Chicco Viaro can be used from birth only if you add the infant car seat. This stroller is compatible with all KeyFit and Fit2 car seats.
You can purchase the stroller and infant car seat separately or purchase the whole set – Chicco Viaro Travel System with KeyFit 30 infant car seat, suitable from 4 to 30 lbs.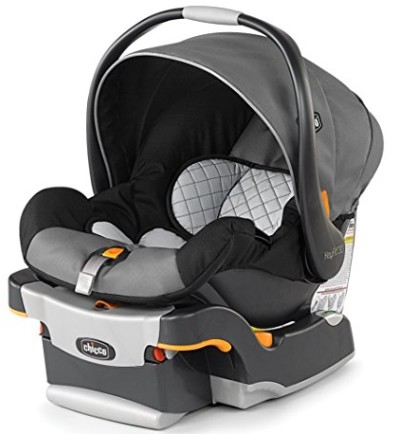 Let's take a quick look at the KeyFit 30. What features it has?
It is one of the most popular infant car seats in the US. It's not only easy to install in the car, but it's also very simple to move from the base to the stroller (you will hear the "click" clearly). For easier transition from car to stroller there is 2-position handle so you could conveniently carry your baby in the car seat.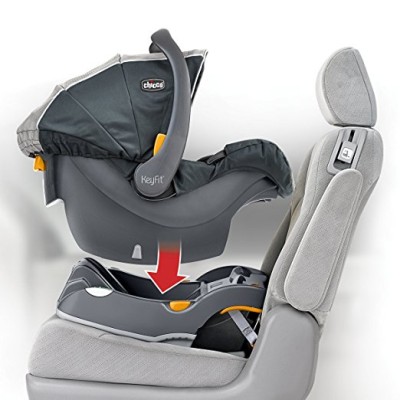 It has a leveling foot and bubble level-indicators that help you to set the base at a proper angle in the car. It is lined with EPS energy-absorbing foam which protects the baby from impact of a collision.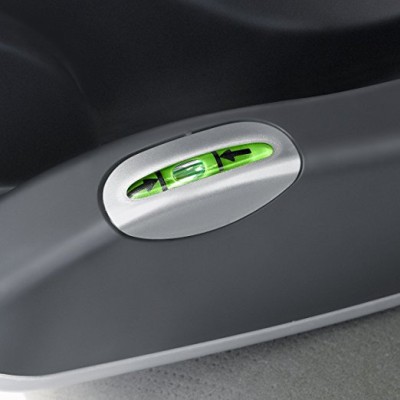 There is removable pillow for small newborns (who weighs 4-11 lbs) to support their head and body. It can be easily detached as the baby grows. For baby's safety there is 5-point harness.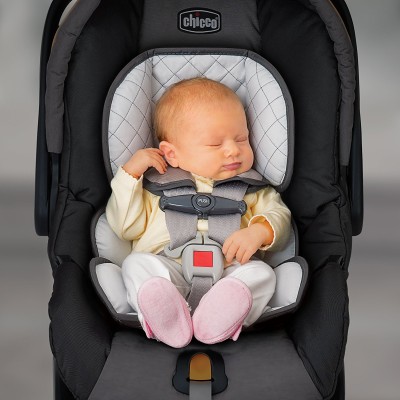 KeyFit 30 has also removable canopy. When you attach the car seat to the stroller you can use both canopies (of the car seat and Viaro Stroller) so the baby is fully protected and shielded from sun and wind. Of course you can use only the car seat canopy if you want.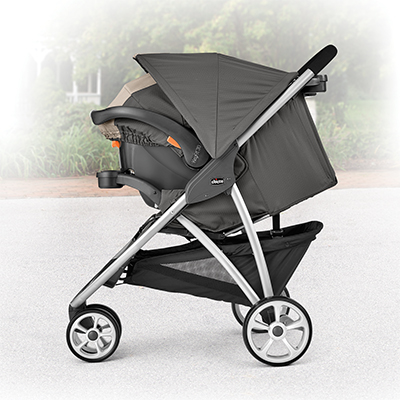 If you decide to buy the Chicco Viaro Travel System the stroller and infant car seat will have the same color. If you buy the stroller and KeyFit separately, you can choose different or the same fashion for both pieces. Don't forget to read more about KeyFit 30 and its safety features.
Seat
Chicco Viaro Stroller is suitable from 6 months. The regular seat is too big and doesn't recline fully flat so it's not suitable for newborn baby. Besides the backrest is not supportive enough for such a little baby. If you want to use Chicco Viaro from birth, you will need to add the infant car seat.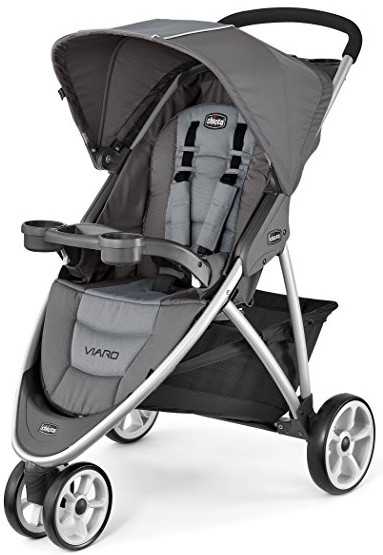 Weight capacity of the regular seat is 50 lbs and the stroller is comfortable for kids up to 3 years (more or less).
The seat features infinite recline – you just squeeze a buckle with one hand and can set the backrest at any angle. The lowest position is not completely flat, but it does provide comfortable position for toddlers who like to nap during the strolls. Keep in mind that you can lower the backrest with one hand, but raising it requires using two hands.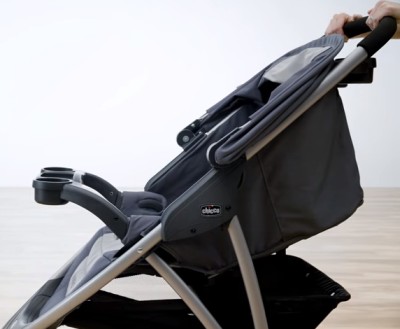 There is soft, comfy padding on the seat and the leg rest (non-adjustable). I like that the shoulder straps of the 5-point harness have padded covers as well.
The seat is equipped also with non-adjustable footrest which is plastic so it's very easy to clean from wet and muddy shoes.
The seat unit is not removable, in contrast to Chicco Bravo Trio, but you can remove the seat padding for hand wash.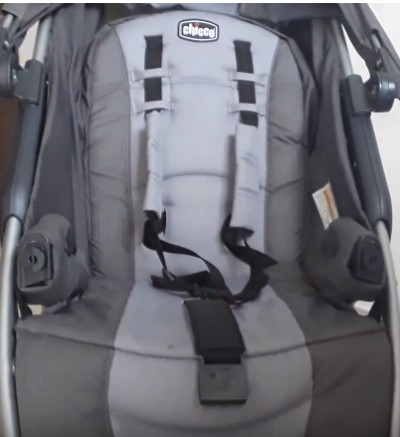 Canopy
There is extendable, removable 2-panel canopy which is very roomy but doesn't go very low so it doesn't provide huge amount of shade, especially for small baby. I wish there was additional flip out sun visor to block out the sun out of baby's eyes.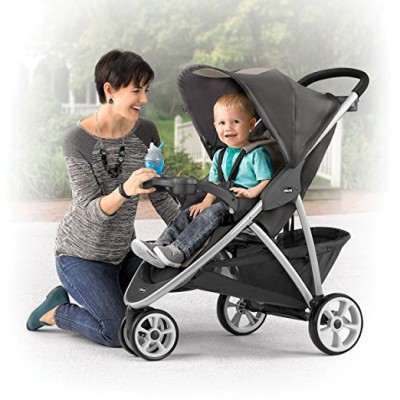 There is one more thing that I don't like about this canopy – there is no peek-a-boo window to check on the child. Some parents say it's not a deal breaker, for me it's a big disadvantage.
Handlebar
Chicco Viaro Stroller has unadjustable handlebar. The height is 40″ from the ground which is comfortable for average in height parents, but may be a bit less convenient for very short or very tall people.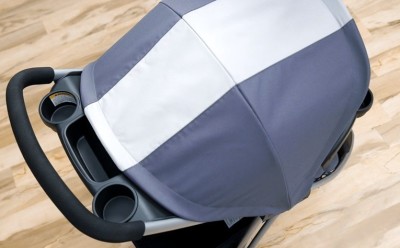 I'm not a fan of the foam cover on the handle – it's easy to rip, so you need to be careful when transporting the stroller in the car trunk or store in garage.
Wheels
This stroller has three-wheel design and swivel front wheel which make it easier to maneuver and turn in tight places like shopping aisles. However the wheels are small and the tires are made of EVA foam which make the stroller suitable only for flat, smooth surfaces.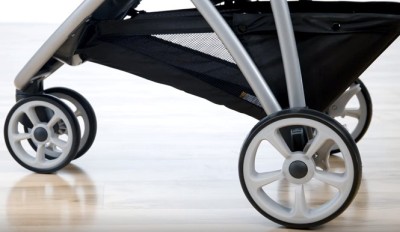 Viaro stroller is great for indoor use (at the mall, airport) and rolls easily on smooth sidewalks and pavement. But it's not suitable even for slightly rough terrain because the baby and you will feel every bump, crack and rock. Although there is built-in suspension in the front wheel, the ride is not very cushioned.
Other travel system from Chicco – Bravo Trio has four-wheel design but has the same small wheels with EVA foam tires and it's not good for uneven terrain either.
If you need a travel system that rolls better and works on more types of terrain, I recommend you UPPAbaby VISTA or Britax B-Agile.
Brakes
The rear wheels lock independently. There are two pedals, one for each wheel which you need to press separately to make the stroller immobile. The pedals are good-sized and easy to use, but lifting it in open-toe shoes may be less convenient.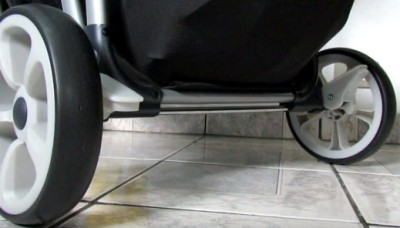 I prefer strollers with single brake pedal, but Chicco Viaro brakes are not that bad.
Storage Basket
Chicco Viaro Stroller has huge storage basket that can accommodate even a large diaper bag. Moreover you have very easy access to the basket from the back (even when the seat is reclined) and from the from, if you lift the calf rest.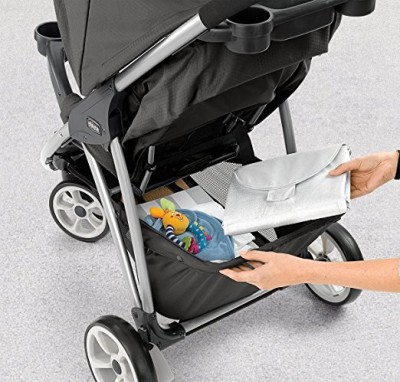 Other Storage Options – Chicco Viaro Accessories (Included)
Chicco Viaro comes with a parent tray and a child tray, each one has two cup holders and open storage compartment. Perfect place for mom's water or ice coffee and cell phone, child bottle or sippy cup and some snacks.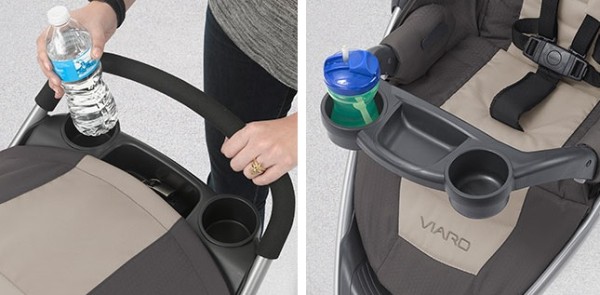 Size, Weight & Fold
This stroller is not small. You won't have problems with fitting through doorways, as Viaro is 25.5″ wide. But some parents complain the rear wheels are wide, making the stroller more bulky.
Chicco Viaro Stroller weighs 18 lbs which makes it quite lightweight and fairly easy to lift or carry. Lifting it to the car trunk or carrying down the stairs won't be very difficult (it's totally doable for a petite woman under 5'4″).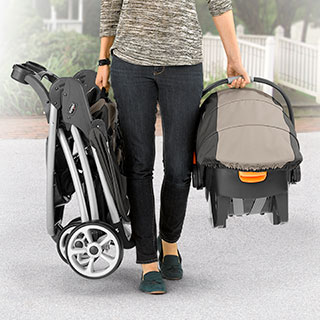 The fold is decent, especially for a standard, everyday stroller, but it usually takes up the whole car trunk. Still, it's not very difficult to transport or store. To fold it you need to lift the seat padding and then pull a handle that is hidden in the middle of the seat and the stroller will close in half. It's easy to do with one hand.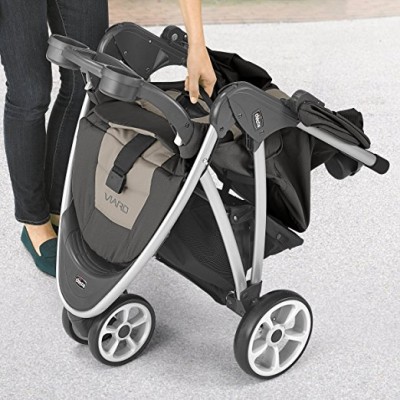 It takes less place if you detach the child tray. The folded dimensions are: 13.5″ x 25.5″ x 33.25″.
The stroller stands on its own when folded, which is an advantage, but unfortunately there is no lock for closed position.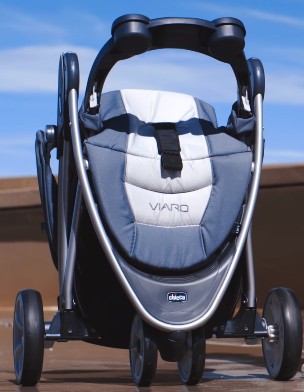 If Chicco Viaro is not what you and your baby need, you may want to check my ranking with other amazing travel systems for 2022.
Pros & Cons
Pros
Cons

Pros

---

+ One of the best infant car seats in the US, highly rated by hundreds of parents

+ Car seat easily moves from car to stroller, it clicks securely

+ Large storage basket ideal for shopping, large diaper bag

+ Parent and child trays with cup holders included with the stroller

+ Lightweight, easy to lift

+ Agile, maneuvers smoothly

+ Easy, one-hand folding

+ Affordable

Cons

---

- Small wheels, no suspension - stroller is not good even for slightly uneven terrain, it wobbles on bumps

- Wide in the back

- Bulky with infant car seat attached

- No fold-lock

- No peek-a-boo window
What other parents think about Chicco Viaro Travel System?
Chicco Viaro is very popular and it's one of the highest rated travel systems. I checked it on Amazon when writing this review and it has almost only positive reviews. There are plenty features that parents love about Chicco Viaro.
The car seat is super-easy to attach to the base and stroller, and it locks securely. The base itself is easy to install in the car as well. The KeyFit 30, included with the travel system, is very convenient to use for newborn baby. It's easy to operate and the harness is user-friendly (it's easy to buckle and unbuckle the baby adjust the straps). The newborn pillow supports the baby's head really well. Baby feels really safe in it.
The storage basket is huge and easily accessible, even from the front (if you flip up the footrest). There's lots of space for diaper bag and groceries. Another advantages are: included child tray and parent tray with cup holders.
Most of the people agree the stroller folds up easily with one hand, even when holding the baby in other hand. Some people say the fold is bulky but it does fit in most of car trunks (takes the whole space).
The stroller is light to lift, even for moms after C-section. The canopy closes and opens noiselessly so you don't have to worry about waking your baby. Lots of parents agree this stroller looks sleek and clean.
According to parents this stroller has some disadvantages. Few customers complain it's big and bulky, even when folded. But it does give baby more space.
If you want to use Chicco Viaro with infant car seat, the stroller has to be reclined and the child tray has to be attached as it serves for installing the car seat. This makes the stroller even more bulky with the infant car seat. Parents complain a little bit about the canopy as it not always stays in place. Lack of peek-a-boo window and lock for closed position are another flaws. One parent mention the fabric is less quality than for example Britax seat fabric.
The biggest drawback is the wheel design – the stroller shakes and bounces on uneven surfaces. It drives smoothly on paved surfaces, sometimes one-hand steering is even possible. Some parents have taken this stroller on gravel and it did fine. But most people agree it's not great even for slightly rough terrain.
Chicco Viaro is great for city use – paved roads and stores. It maneuvers smoothly. Most of parents agree this stoller is good-quality and easy to use. It's a great stroller/ car seat combo.
Specification
| Stroller | Data |
| --- | --- |
| Stroller Type | Travel System |
| Stroller Weight | 18 lbs (Viaro Stroller), 9.5 lbs (KeyFit 30) |
| Weight Limit | 50 lbs (Viaro Stroller), 30 lbs (KeyFit 30) |
| Stroller Dimensions | 38" x 25.5" x 41.25" (L x W x H) |
| Fold Dimensions | 13.5" x 25.5" x 33.25" |
| Handlebar Height | 40" |
| Wheels Size | 7" (Front) & 8.75" (Rear) |
Colors
Chicco Viaro is available in two color versions: Graphite and Regatta. Chicco Viaro Travel System offers much more color options. You can purchase it in 7 colors: Coastal, Verdant, Dune, Nordic, Apex, Teak, Cranberry.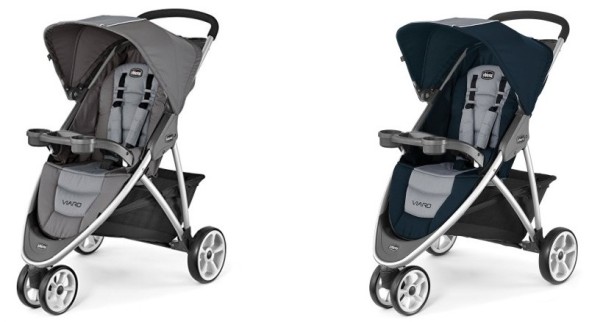 Not every color version is always available on the market so before you decide to purchase Chicco Viaro, make sure to check current colors availability and compare their prices.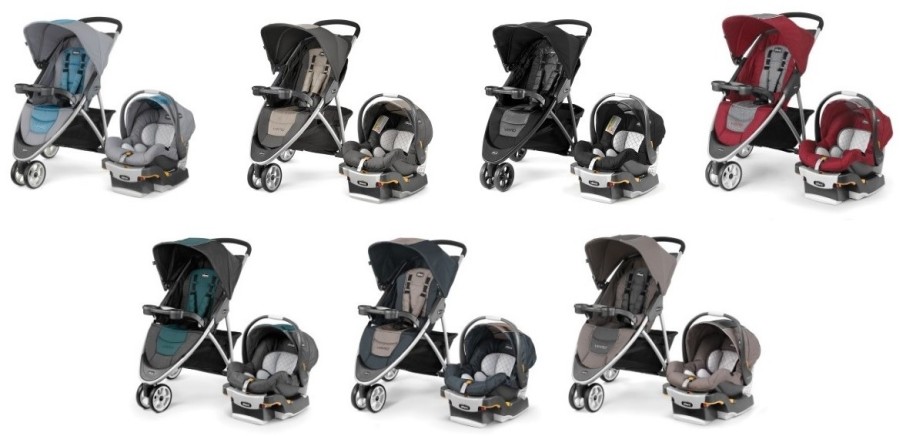 Chicco Viaro vs Bravo – Stroller Comparison
Both these travel systems comes with KeyFit 30 infant car seat, but the strollers differ in many ways. Here is my quick comparison of Chicco Viaro and Chicco Bravo strollers.
Chicco Viaro Stroller
Chicco Bravo Stroller
3 wheels
4 wheels

Front wheel suspension

All-wheel suspension

2 seating options: regular seat or infant car seat attached to the seat

3 seating options: regular seat, infant car seat attached to the seat or infant car seat attached to the frame without the regular seat

Non-removable seat

Removable seat
Multi-position recline
3-position recline
2-panel canopy
3-panel canopy

Fixed handle (40" from the ground)

Adjustable handle - 3 position from 36.5" to 42"

Dual-action brake
One-touch brake
Weighs 18 lbs
Weighs 23 lbs (w/o seat - 18 lbs)
25.5" wide
21.75" wide
Fold:

13.5 x 25.5 x 33.25 in

Fold:

16 x 21.75 x 28 in
Keep in mind
With attached infant car seat it's quite bulky, because the seat has to be reclined and it clicks on the child tray. It's heavier with car seat, because the regular seat is not removable. Moroever, it works much worse on uneven terrain.
3 Reasons Why You Will Love Chicco Viaro
1. As a travel system it comes with one of the best infant car seat, KeyFit 30 which is very easy to use and has awesome safety features.
2. It's an affordable travel system (nice Chicco Bravo Trio alternative).
3. It' great for city use on flat terrain like sidewalks and indoor use – shopping at the mall, especially since it has such a spacious storage basket.
Chicco Viaro Travel System meets your needs and you're thinking about buying it? Make sure to check if there are any discounts – which may vary for different colors.
---
Pictures of Chicco Viaro Travel System belong to Chicco. Source: https://www.chiccousa.com
Your trust is really important to me: This post contains affiliate links. If you choose to buy something using these links, I receive a small commission, at no extra cost to you. Your support helps me run this blog. Thank you so much 🖤 Zooey